Shades of Blue  – Residential Apartment | Maatra Architects 
PROJECT BRIEF
A penthouse in the five story residential apartment is situated in very significant location. The apartment is surrounded by row houses at one side & 1st twenty two story high rise at another side, which is adding more value to the property. The client himself is the developer of this project; hence he was very particular while making of the building. The advantage of the East – West orientation of the house is allowing good quality of natural light throughout the day, pleasing breeze & also vision from all the major spaces.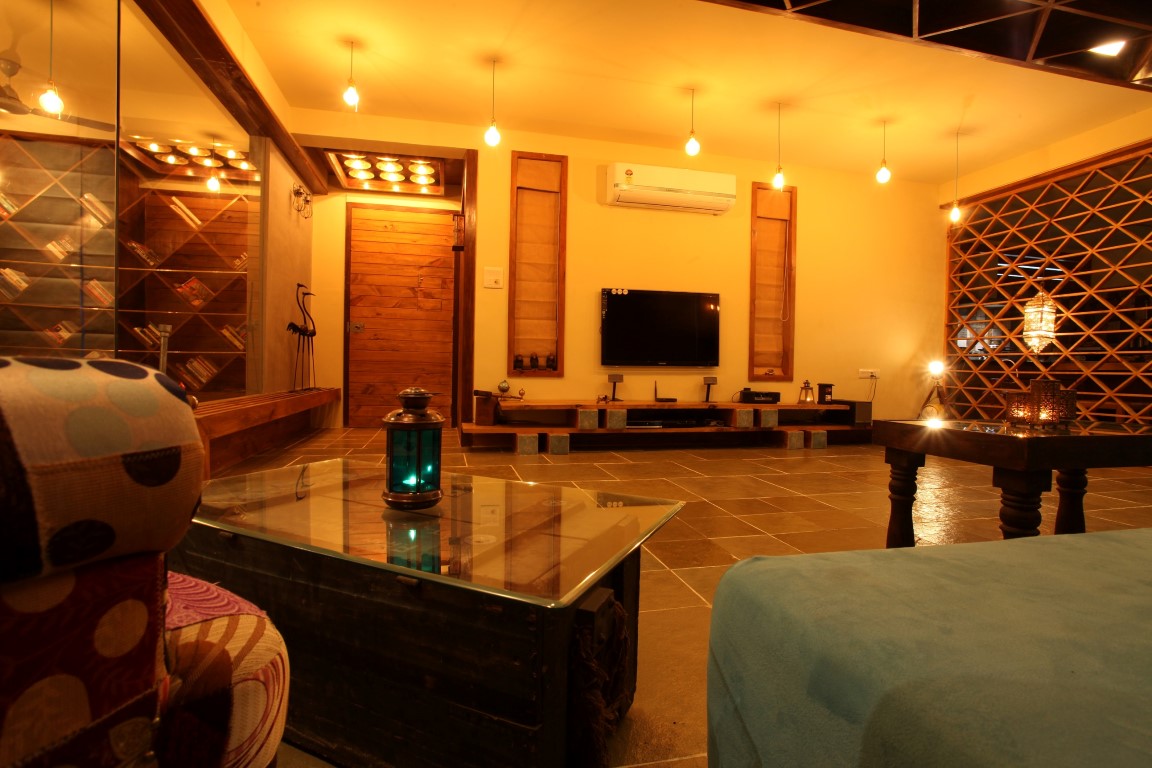 ABOUT CLIENT
The newly married couple decide to settle in Rajkot, wanted their house to be warm and welcoming. Being reputed builder cum developer by profession Aasutosh wanted to create status symbol while his wife Meera recently completed her Doctorate & professor by nature wanted her dream house to be very unique and well designed. Another requirement from the client was, their house should be the reflection of individual's identity. They wanted their house to be very cozy, fully equipped, introvert yet vibrant in nature. Their parent who lives in Mumbai is coming to this place for relaxation.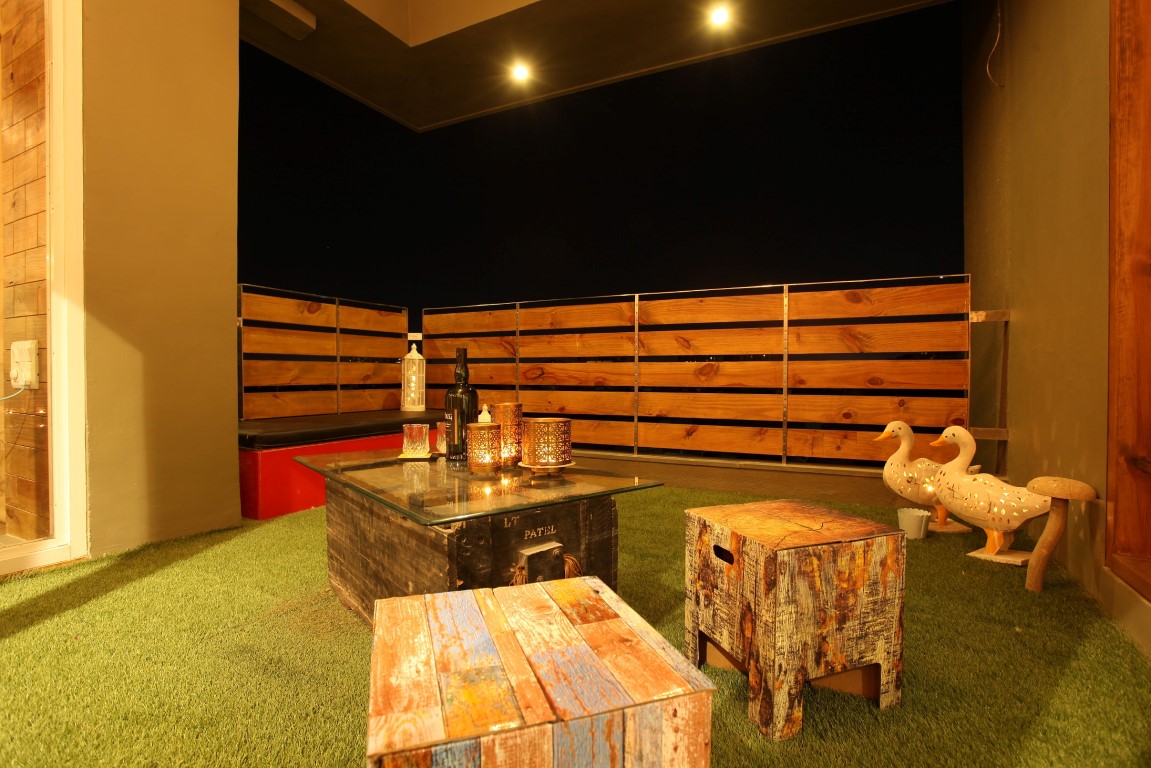 My husband and I had the most fun planning our first home together and this was primarily because we had Nirav & Khushbu on our team. We would come up with a crazy idea and they would tell us how to make it work. It has been 1 year since we have been living in our apartment and we are so happy with the planning that we never have to think 'may be this should have been done differently.' – Meera Shah client.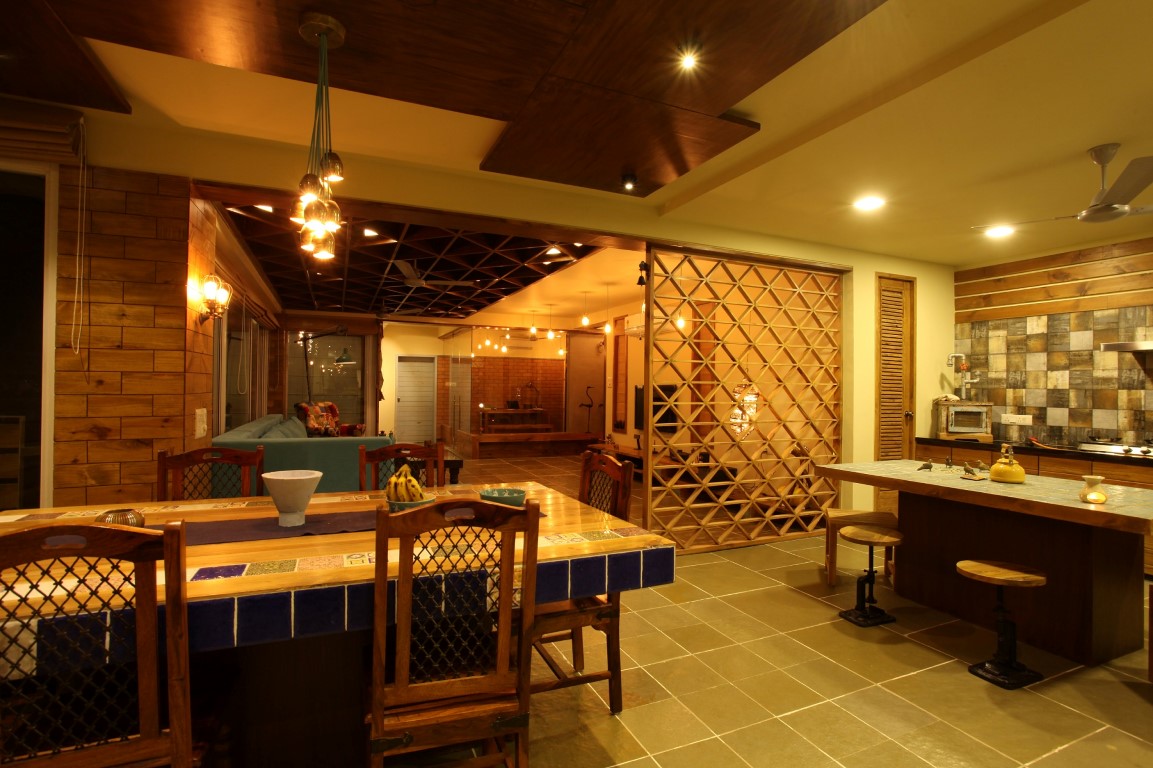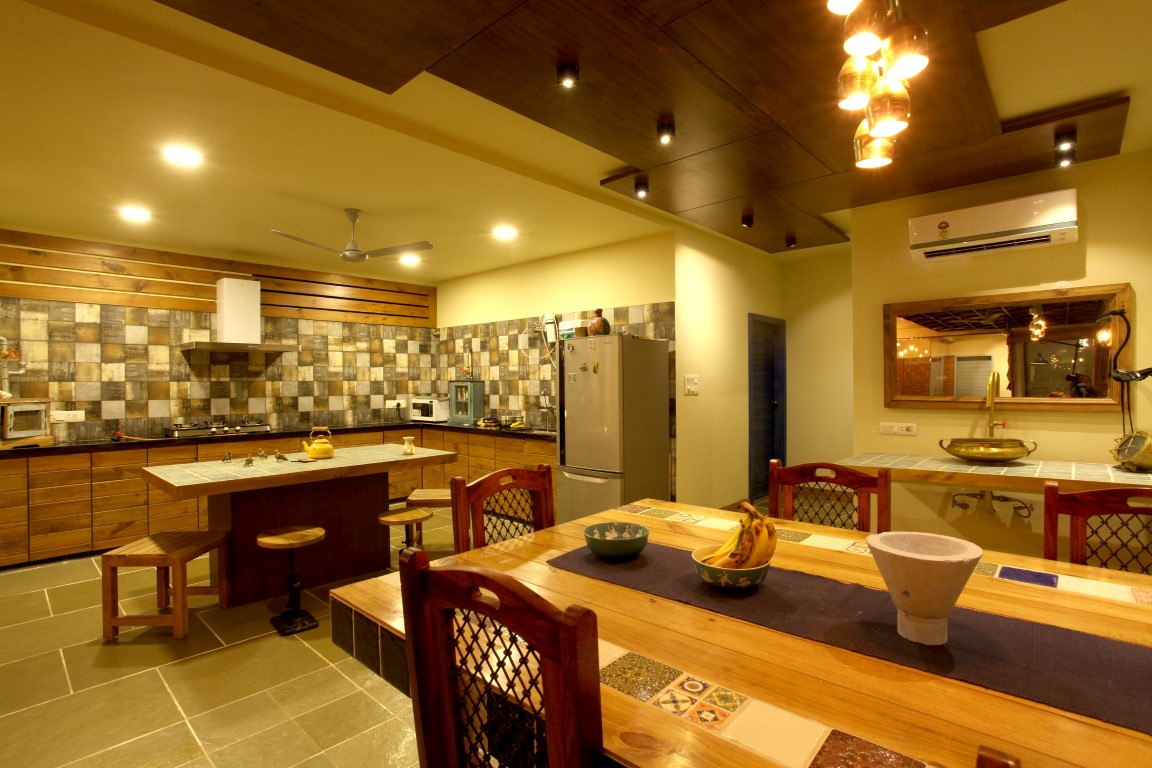 ARCHITECTURAL CONCERNS
Being a very good friend cum collogue I was knowing Aashutosh very closely. I was aware about his party nature, that's why I have created two kinds of spaces. One is public kind of space which includes living, dinning, space for relaxation & cooking where another is very private kind of space which include functions like sleeping, reading & lavish bathing space.
Bold Design is Fearless expression of the Natural material & extensive use of simple geometrical shapes.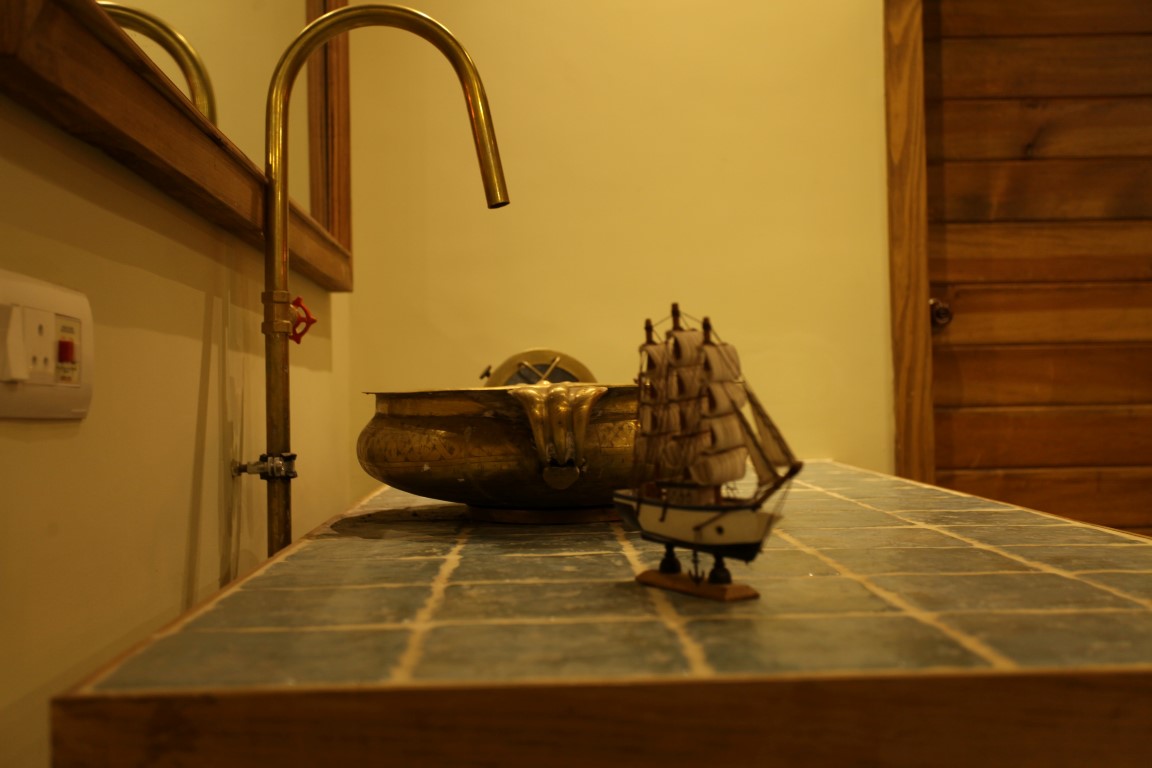 GEOMETRY IN MICRO LEVEL
Hence we have tried to use Basic geometry which reflects in each and every aspects of the interior. Scale of the main door is so huge that it creates a good welcoming & vastness of the house scale itself. Hence, major part of the house interior is replica of triangular shapes.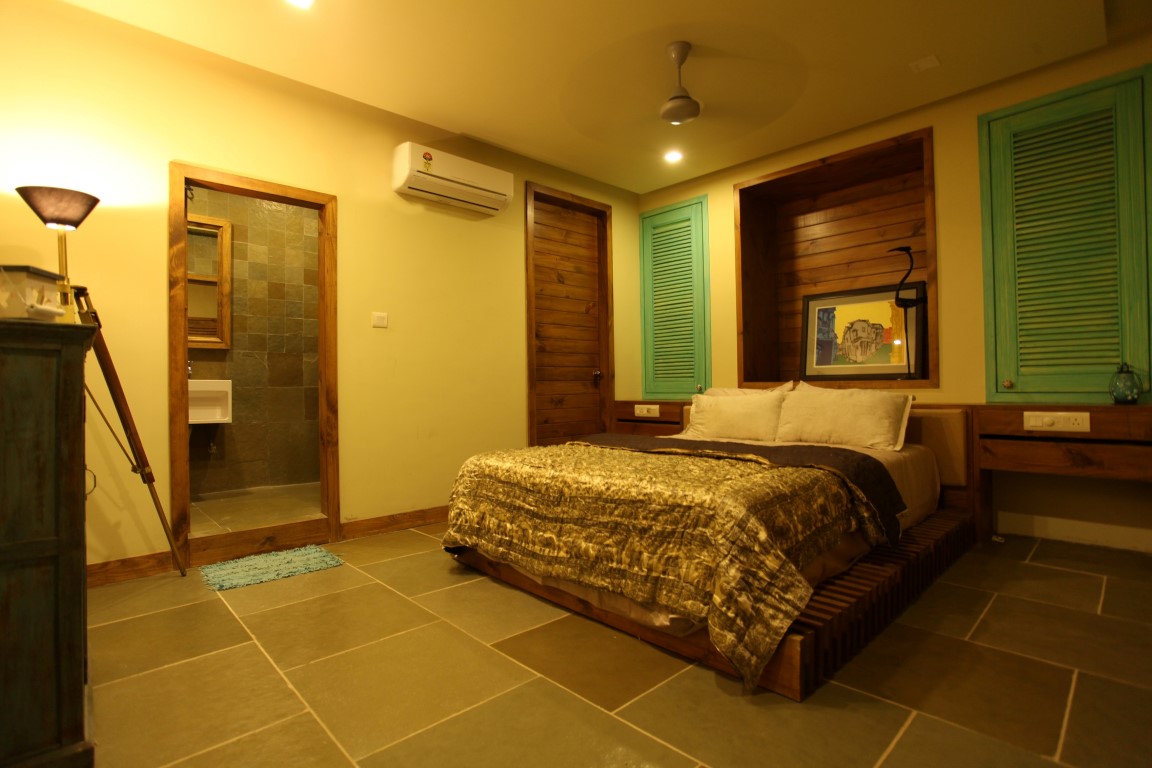 USE OF TRADITIONAL FURNITURE
Major interior of the project follows the contemporary furniture appearance but to break this monotony we have used eye catching traditional & unfinished textured element. By giving uniqueness to the interior it also gives local craftsman touch in contemporary look.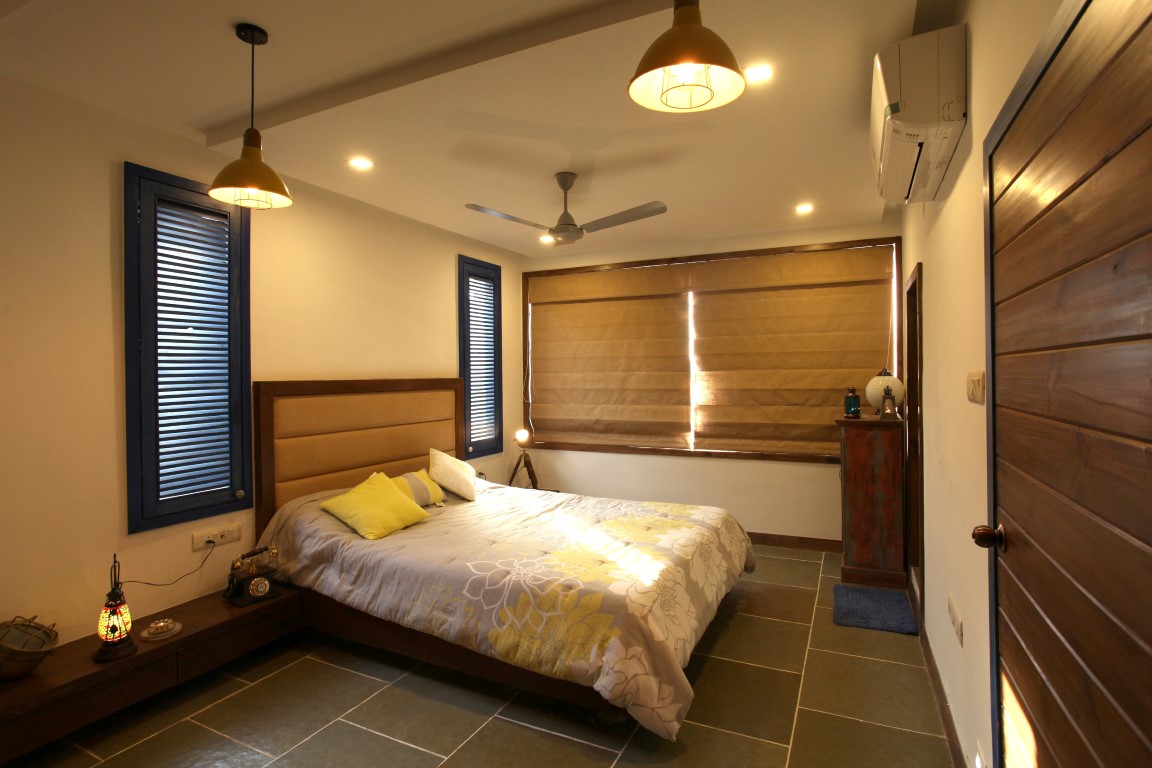 REFLECTED CEILING
Reflected ceiling plan is such that it also creates an ambiance of incline geometry. It gives indirect as well as direct and spot lights as per the requirement of spaces and moods. Ceiling exposed concrete & to complement it we have used rose wood varnish and ceramic lights with defuse yellowish light.  Along with that we have also tried to reflect originality of all the material such as flooring with river wash kotah stone, furniture out of raw unfinished pinewood, wooden & gypsum board false ceiling with water based paint, artificial lights out of ceramic in sleeping space, cooper and brass triangular lights in entrance foyer & living area, wooden console, handmade Italian tiles in dinning, cooking and bathing area, use of brass & copper for designing basin and many more….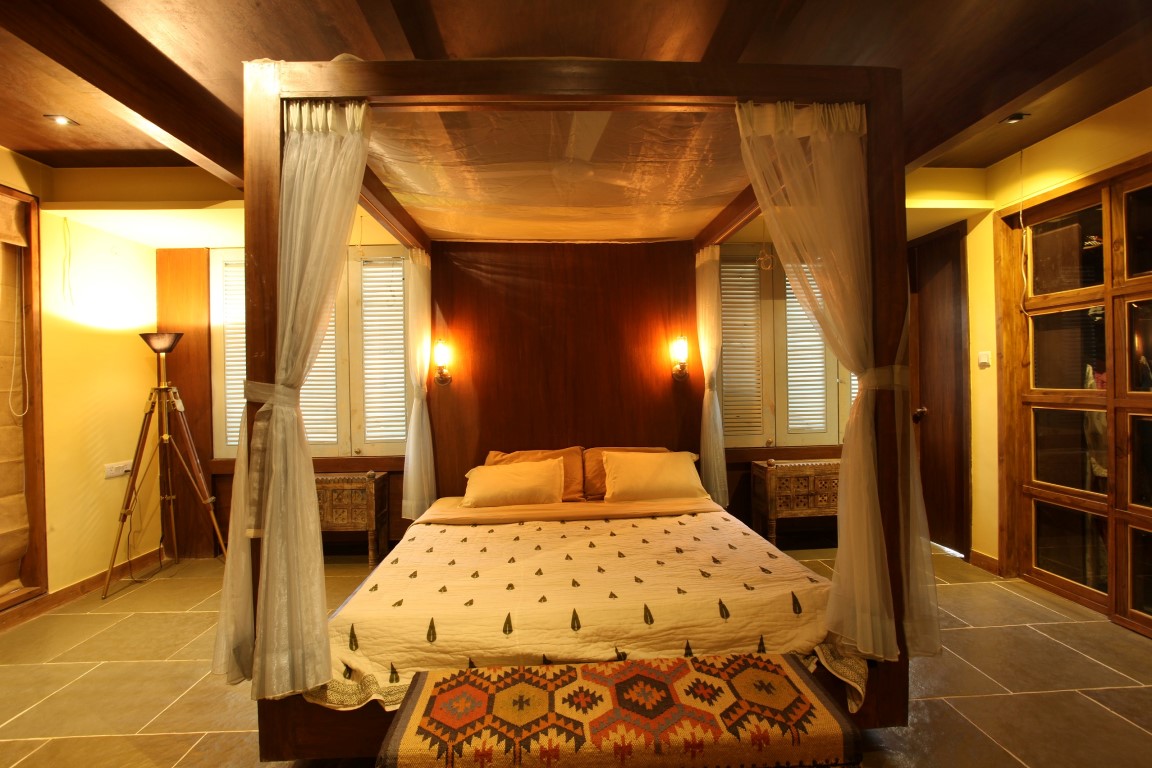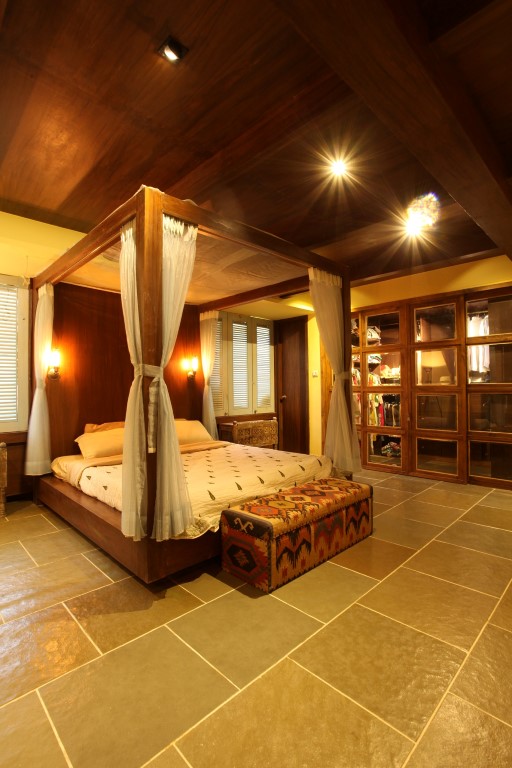 FACT FILE:
Project: Shades of Blue
Location: Rajkot, Gujarat
Type: Penthouse -Apartment Interiors
Client: Mr. Aashutosh Ganatra & Mrs. Meera Shah
Carpet Area: 2200/- sq.ft
Design Team: Ar. Nirav Khant & Ar. Khushbu Khant
MAATRA ARCHITECTS
MAATRA ARCHITECTS is a design studio, led by Myself Architect Nirav Khant and Architect – Urban Planner Khushbu Doshi. We are practicing since 10 years and during this period varied projects ranging from individual residences to mass housing, commercial complexes to hospitals and hotels / resorts to institutions have successfully designed and executed. The projects are spread across various towns and cities of India and also UAE. We dynamic duo focusses on sensitively providing habitable spaces in a constantly growing commercial environment.
Being passionate about travelling and experiencing places themselves, we believe that integrating nature with architecture is the perfect way to achieve the desired spaces imagined by the client. We try to achieve a sense of inclusiveness in all our projects, as we believe that inclusiveness is the source of coherence. It can be achieved in different ways; but, the play of scale and proportion is the most important aspect for us.