Window Blinds Are The New Eye Openers For Your Windows This Season!!
Window treatments have become increasingly significant; they aren't simply for privacy anymore though it's of primary concern in-case of bedrooms. Whether it is Curtains, Drapes, Blinds or Shades each have their own respective roles to play to enhance the decor of the home.
Shuchi Chokhawala, Brand Manager at ad-Blinds says "Window blinds can be purely functional or a part of your decor, depending on the amount of natural Sunlight you receive and filtering the amount you want to let in, Complimenting the colour scheme or contrasting with it. But with the increase in urbanisation we mostly have the nuclear families living, where two or more members are working thus most if the time they opt for least maintenance design ideas, wherein the roller blinds fit right in within your budget along with being easy in application and operation minus the hassle that the drapes and curtains bring along with them. You might just need to vacuum or wipe it clean with a wet cloth, and Viola! Brand new blinds."

&nbsp
Rightly picked out window Blinds can transform your interiors and enhance feel of the entire scheme. We have picked out a few trends that have become a roar this season to make your work just a tad bit easier, and make the window openings a focal point in your house. Hope this makes it a bit easy for you to pick out the perfect window blinds as per your style.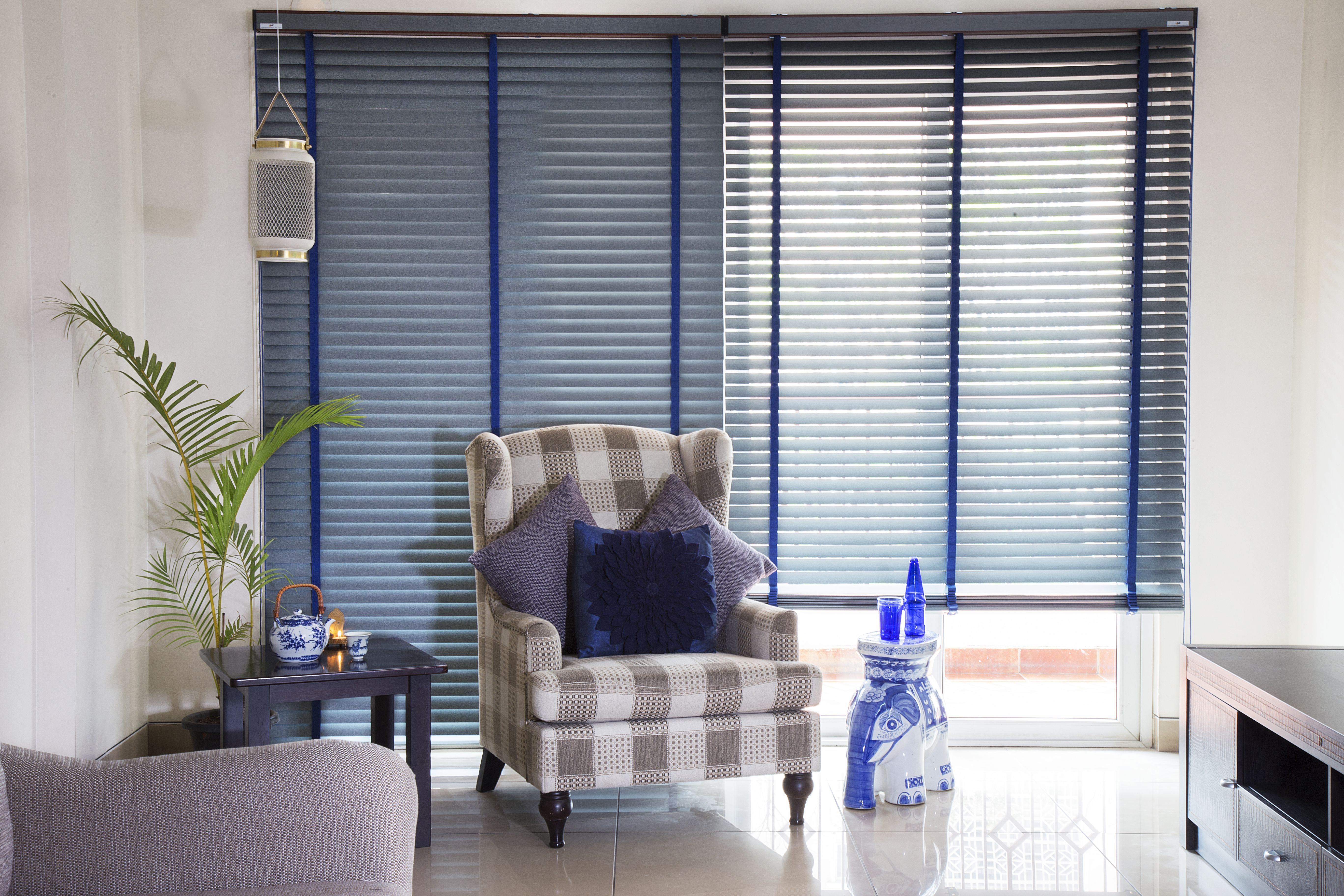 ECO FRIENDLY FABRICS- In these modern times we are careful of what we put inside our body, so why not think about the insides of our house too. Some of the health and planet friendly ideas include Organic fabrics in which Anti microbial threads are woven into yarn, Mildew and mould resistant fabrics, are available in variety of patterns and styles so that one does not compromise on the aesthetical value of the space. Also Non toxic i.e. Natural dyed fabrics can be used.
NATURAL SHADES- Want to add a unique tropical feel to your space, Natural Shades are the way to go. They are mainly made up of Bamboo, grass, reeds and more, and each shade has a unique quality to it. There is a small difference between bamboo shades, Matchstick Blinds and Grass woven shades, Matchstick blinds have very thin slats and can be easily rolled up instead of stacking like a normal Blind used for tight spaces to keep them airy. While Bamboo blinds are usually from renewable resources, adds warmth to the space. Grass shades are woven from variety of materials like, jute, reed etc. you can pick out these Natural Shades for A more authentic and Natural look for your home.
COLOUR POP
In an otherwise neutral space, Some Bright coloured Blinds would complement the space and highlight the Windows. It makes a bold statement. You have a myriad of things to pick from Rich deep Jewel tones complimenting the metallic elements in the Living room.  With Neutral shades of grey a bright blue, yellow. A pro-tip: Don't us Too bright colours for the windows that receive direct harsh Sun as they tend to fade away faster compared to the darker shades.
GEOMETRIC PATTERNS- Want to make the openings and in turn the spaces look bigger, Pick the Venetian Blinds with Geometric patterns with Vertical Axis rather than the ones with Horizontal ones. It gives a Clean and elegant look to the Decor.
LAYERING SHADES (LIGHT AND SHEER)-Layering Shades is a hybrid of fabric and roller shades. These shades offer the contemporary and sleek solution to control the light entering into the space as per requirement with their alternating sheer and opaque fabrics. They protect the space from UV rays. Can be used mostly in Living Rooms, Office Spaces, restaurants, Cafes etc.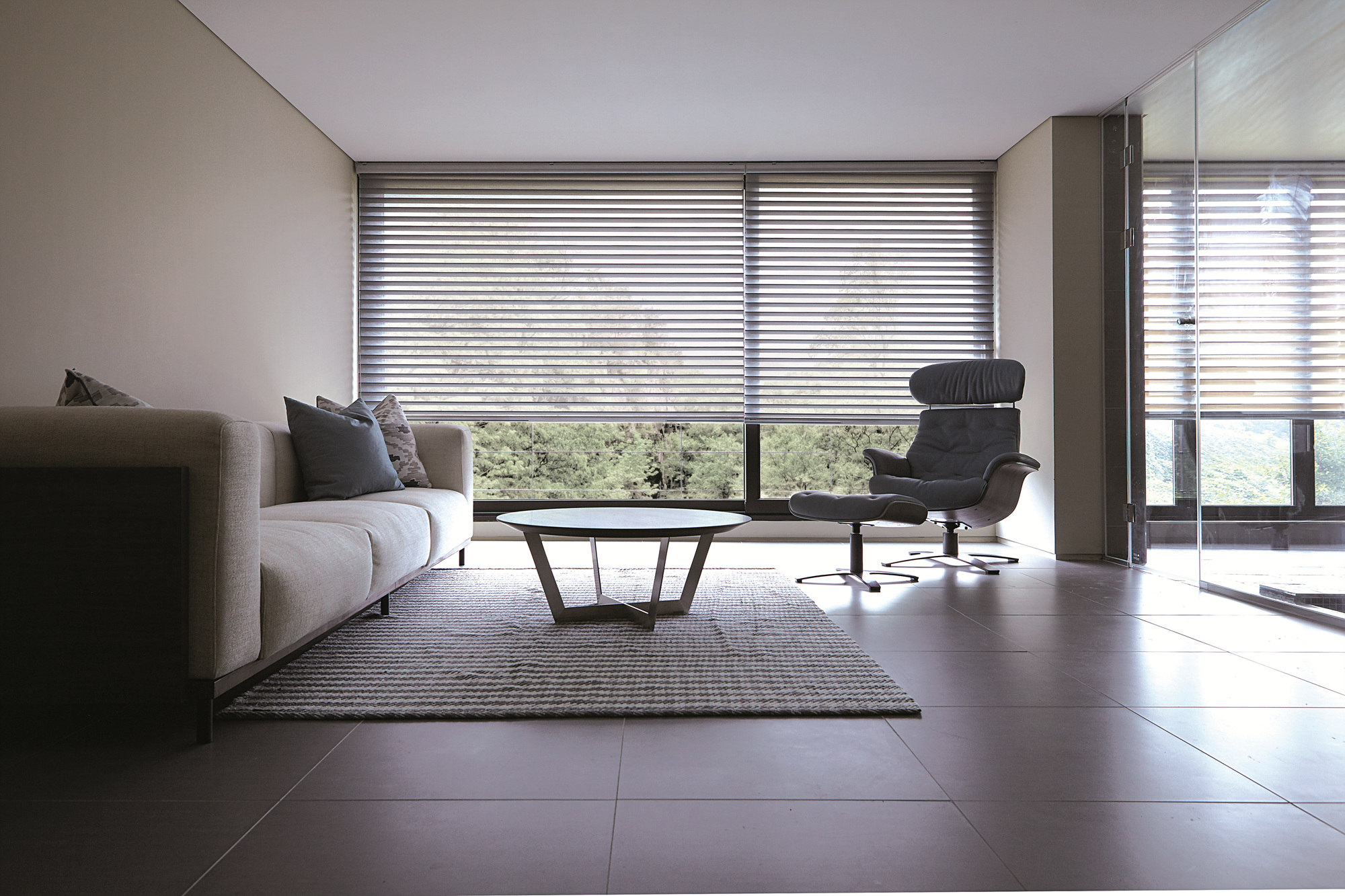 MONOCHROMES-For those of you whose style corresponds with less is more ideology, this is the window treatment you should be looking forward to. Monochromatic Blinds blends in with the overall theme of the room and becomes a part of the design rather than standing out as an individual element. The Colours used are Charcoal, slate, beige etc.. . They add a modern flair to your space.
CELLULAR SHADES or HONEY-COMBED SHADES- Looking to update your window treatments with an economical yet elegant option, Cellular shades are the way to go. Cellular shades also known as Honeycomb shades get their name from the honeycomb shape that traps Air in between the window and room provide insulation and buffering against heat Loss in winter and heat gain in summer. These shades are fully customizable with the amount of Light filter and black-out options in variety of colours and textures.
PERSONALISED FEATURES- Everyone wishes their home to be different than others, Some are a bit resilient to pick from the available options, we can cater to such demands as well, You give us the Pattern that you wish your Blinds to be in and we get the Digital print Fabric as per your requirement and Style.
HIGH TECH TOUCHES – In this technical age, Sandwiched Glass Blinds can be imbibed in the Glass Windows itself. With a click of a button, a switch or magnetic Operation you can draw the shades or open those up, control the amount of natural light entering into the space, morning comes you can increase the black-out percentage and sleep-in.
BLINDS AND CURTAINS– If you are insistent to use drapes in your Interior then also it is advisable to use window Blinds as an added protection to your space. Matchstick blinds would block the sunlight and darken the room while the drapes add a pop of colour and make the space more interesting.
CURTAIN ROOM DIVIDERS: For open plans, curtain room dividers work wonders for maximum usage of each part of the house. Sheer dividers between Living and Dining room, that divides the space and open up in case of large gatherings. A curtain as an option to a solid partition wall is always preferable. These curtain room dividers could be sheers, Rollers, Blinds, whichever fits best into the space requirement.