With every space telling a distinct story with different color palettes, the living room unifies to narrate an old world charm with a warm welcome. Warm browns, cool grays and refreshing greens makes this flavorful living room, embracing the vintage design delights. Period accents such as the swing posts, wood sculpted contemporary diwans and ornate side tables observe Indian craftsmanship that marks simplicity with intricacies in details. ~Yamini Vaswani
Ethnic Milieu with Vintage Design Elements in Lansum Etania Hyderabad | Uniworks Design Studio
Visit: Uniworks Design Studio

This is a throwback to "INDIAN ROOTS" with dramatized traditional materials in a contemporary way. Each space has been given its own essence from the natural elements- Earth, Water, Fire, Air and the limitless Aether. This Traditional interior design is exactly what it sounds like: a traditional, warm, soothing, and familiar home décor style steeped in the customs of the past but not limited to any one historical period. The Design concept is ageless and placeless, pleasant and well-put-together yet not unduly ostentatious. These rooms employ furniture, fabrics, color palettes, and décor that reflect history and are recognizable rather than trend-setting. A classic style bedroom, for example, may include a neutral color palette, a carved wood or upholstered headboard, matching nightstands and table lamps, a chest of drawers, an upholstered armchair and ottoman, and possibly a landscape picture on the wall.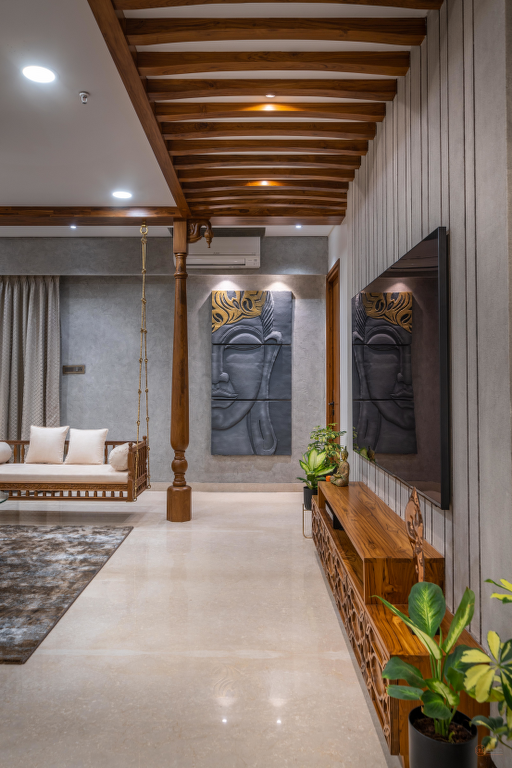 The handmade cement buddha face sculpture used to an extraordinary extent. This sculpture is the more abstract and expressionist form stemming from the experimental wall artwork. The traditional design is twinning with this buddha sculpture.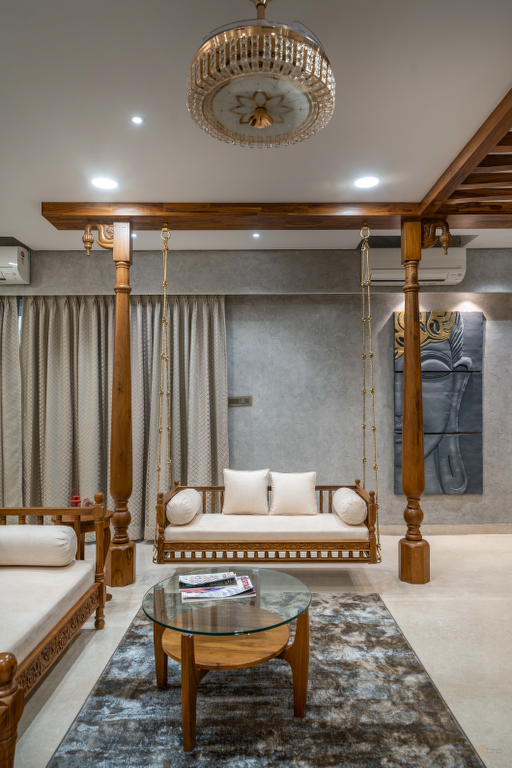 Natural meets modern. These rugged stone walls make a wonderfully cooling contrast with a teak wood frame front door. A warm white profile light under a wooden frame and grey texture walls between the dark grey masses. Grey is one of the most popular colors for any sitting room, but it does lend itself so well to traditional living rooms – the understated and airy quality that is timeless. Pick a soft cool tone grey for the walls and ground that lighter hue with some dark greys and charcoals in your cushions and rugs.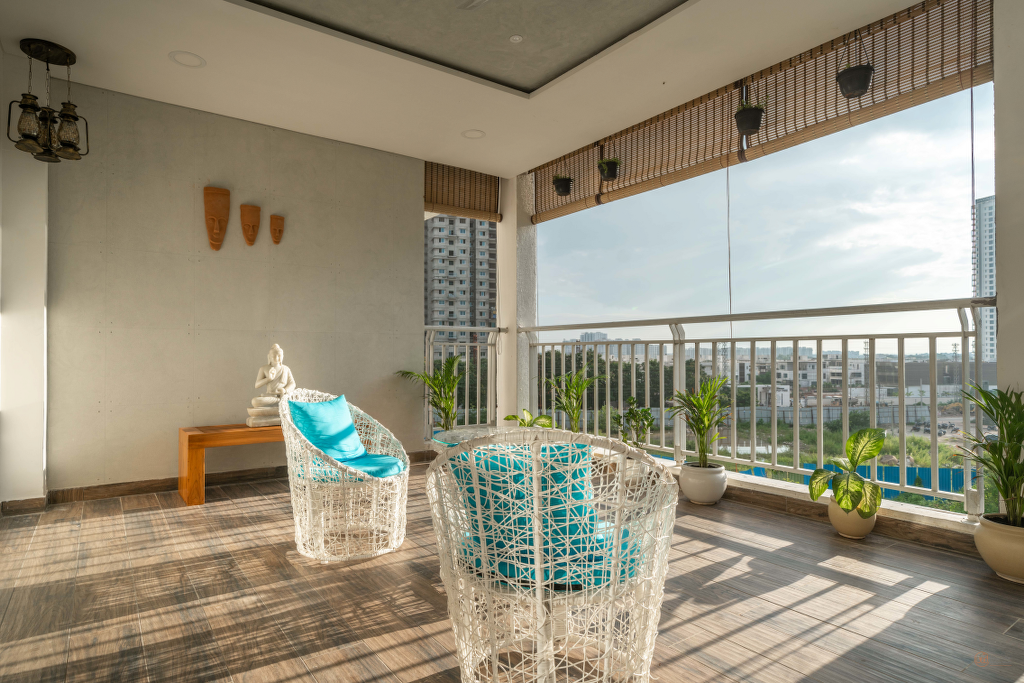 This TV console is complete with teak wood that are paired up with solid wood rafters. Easy on the eye and filled with storage, this elaborate TV unit comes with open shelves and cabinets. Elevated on a platform with wooden rafters on one side, this TV console design is sectioned-off. Place speakers and plants to fill up the area.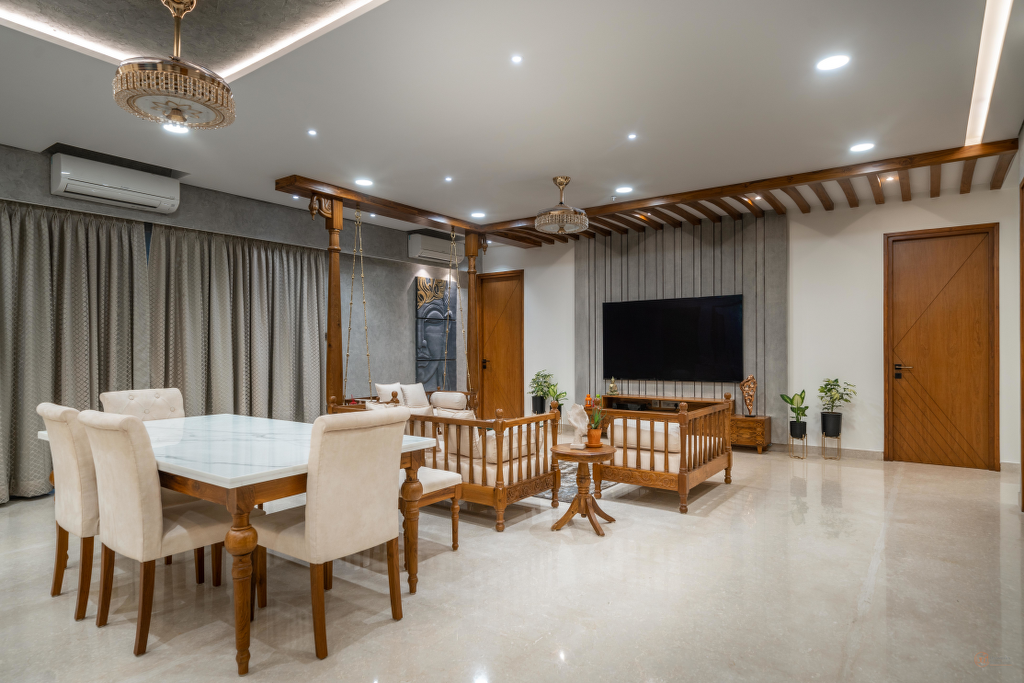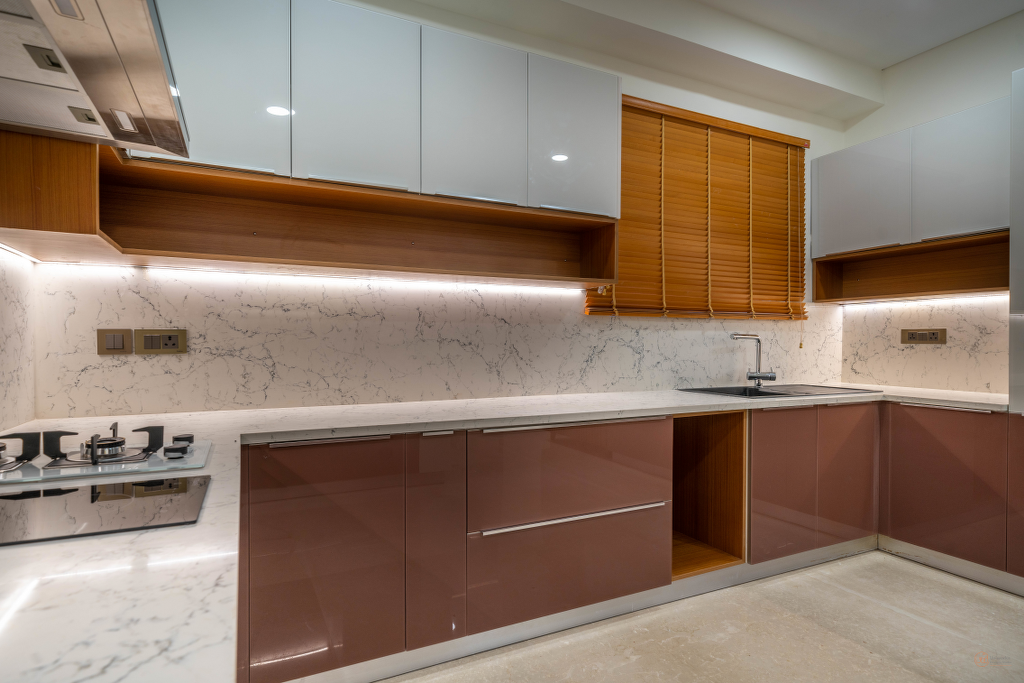 Indian interior design, like everything else in India, is entrenched in a complex cultural mash-up. It is a style that has been passed down to us from our culture, with a variety of inspirations. This Indian interior design borrows significantly on all of these elements, whether it is the temple room or the elaborate carvings artefacts. In the end, we have a style that is as diverse as our culture!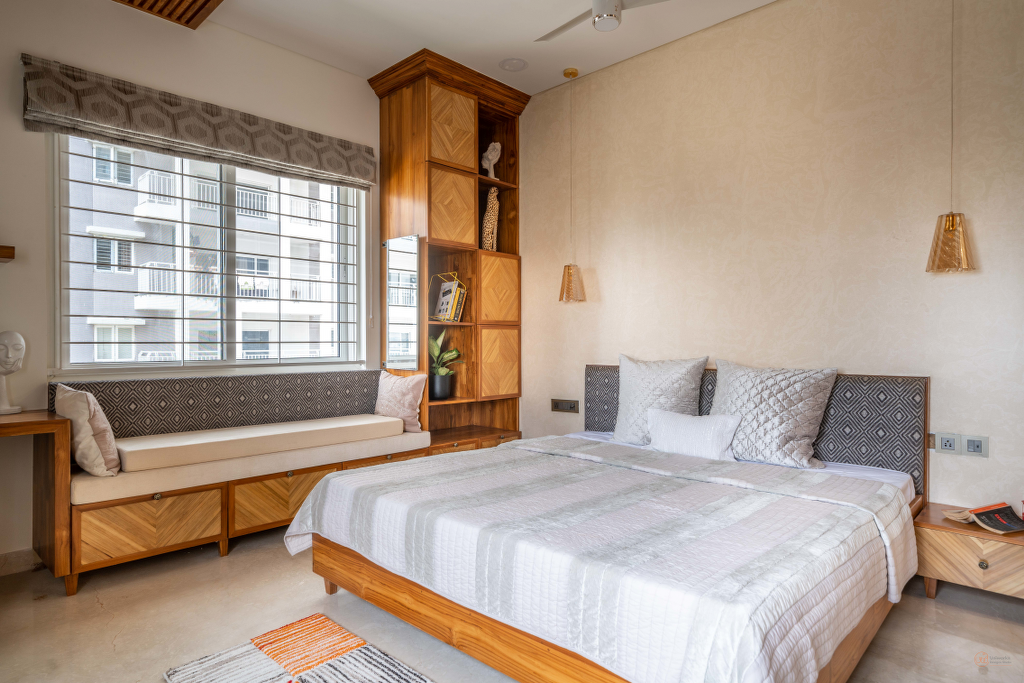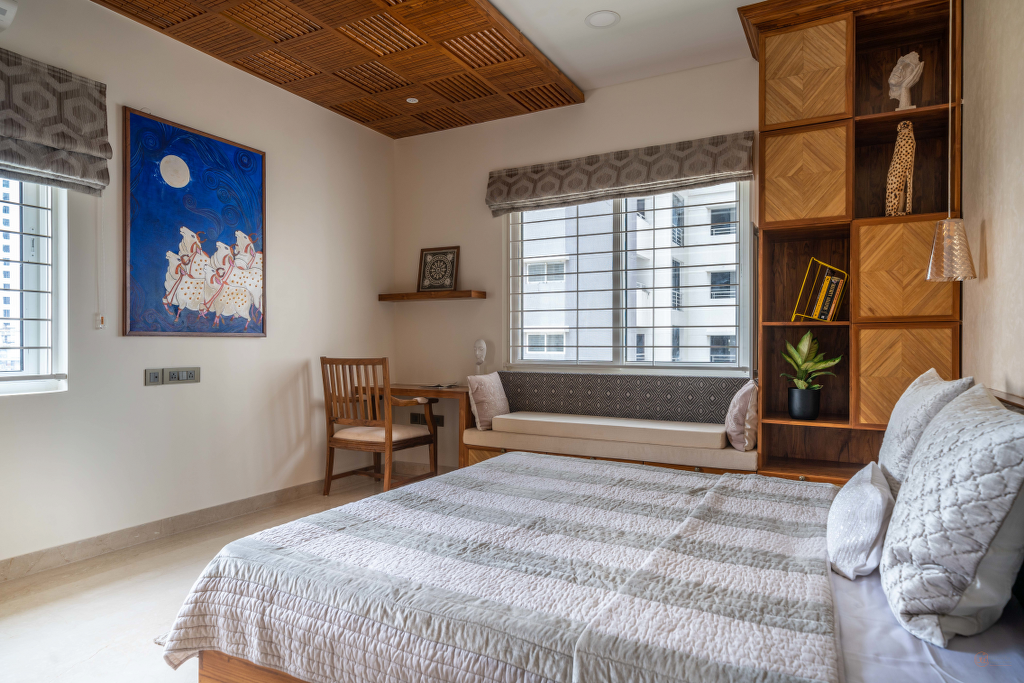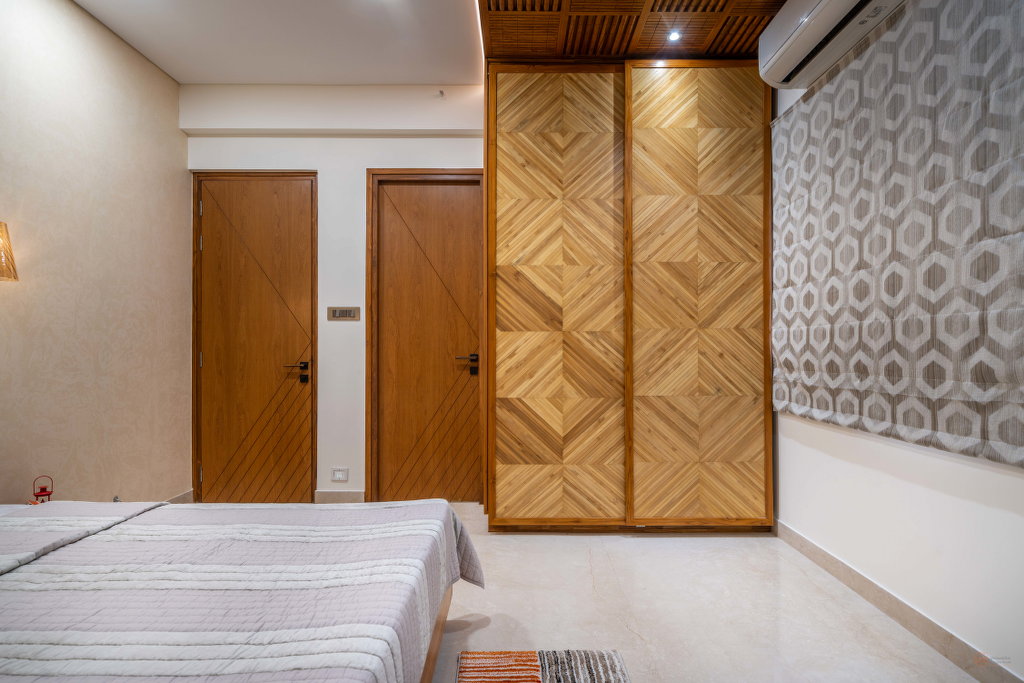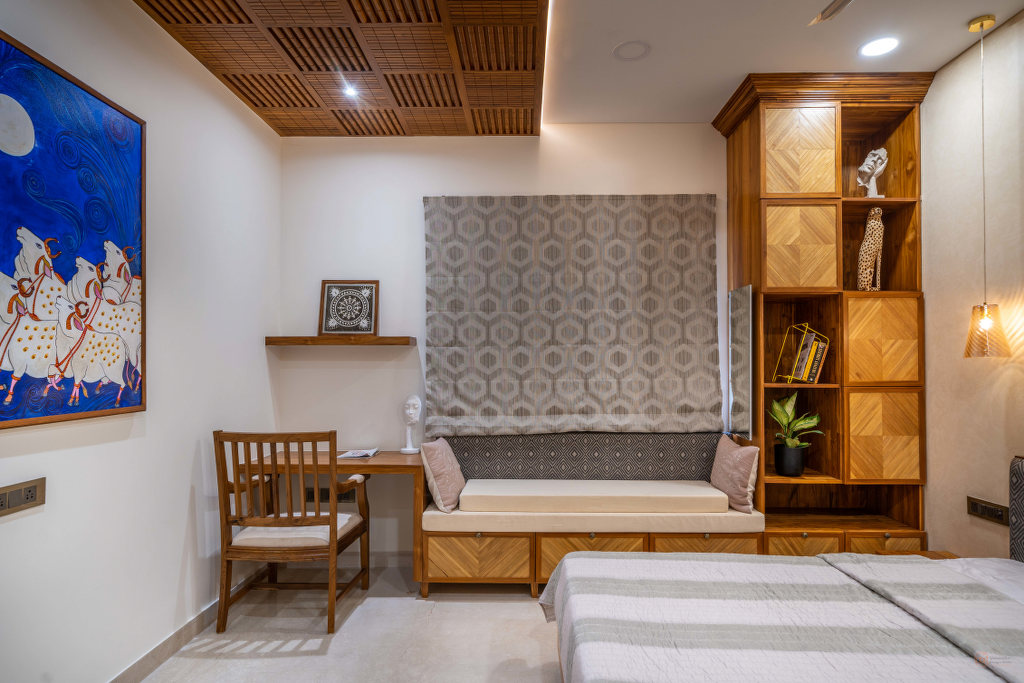 This classic blue and white color pairing as seen in vintage design works in both traditional and modern spaces. Solid wood furniture and a blue, white, and green palette freshen a master bedroom in Hyderabad. TV unit is made up of Vietnamese white marble.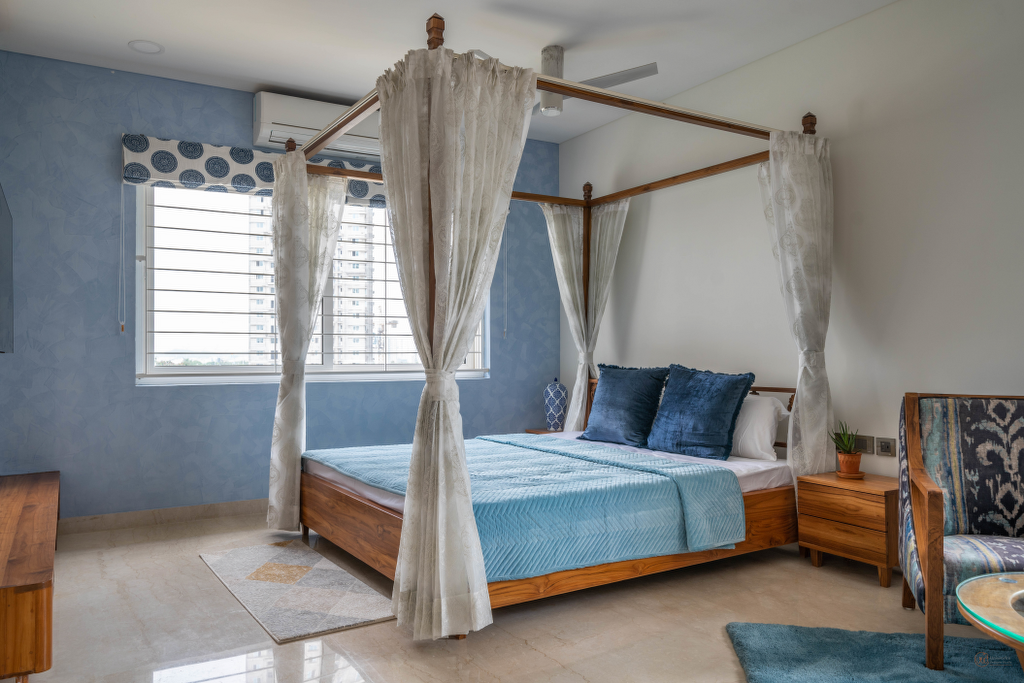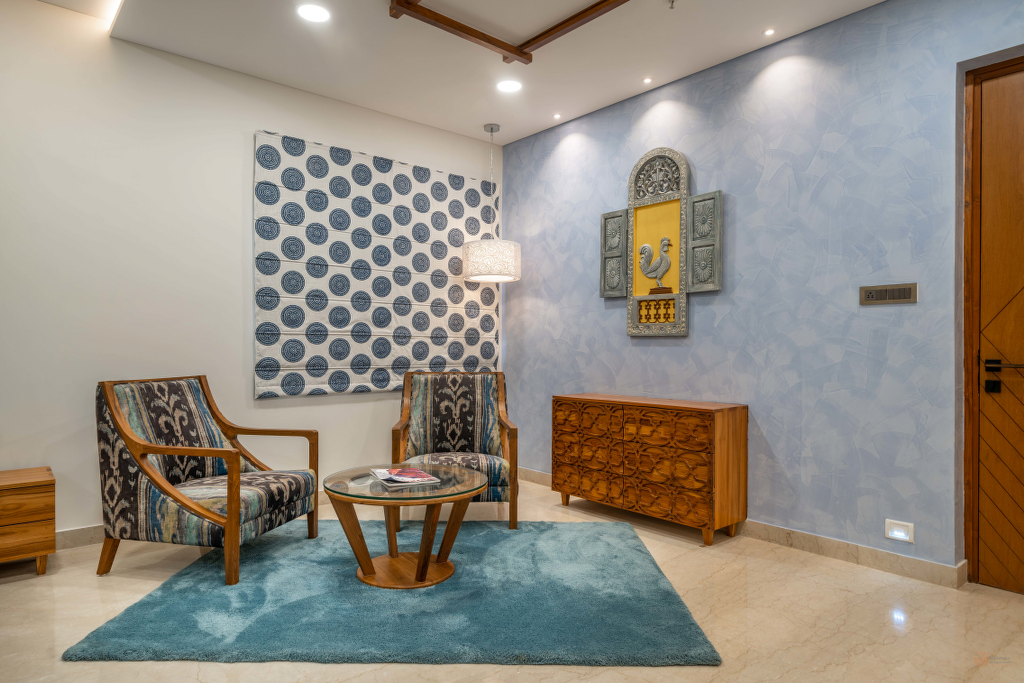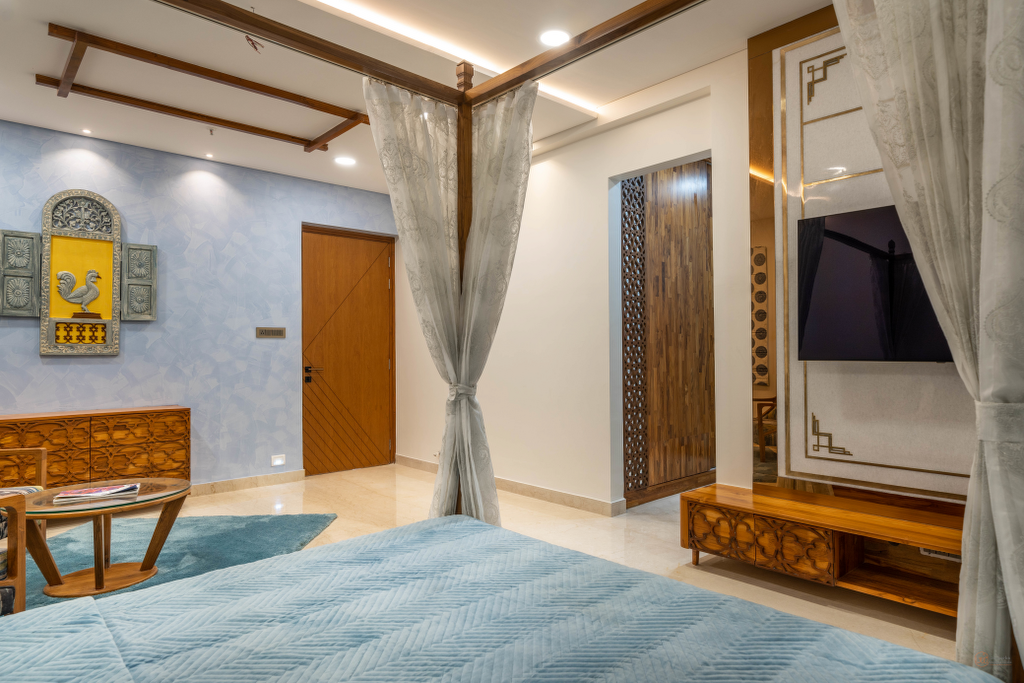 Fact File
Designed By: Uniworks Design Studio
Typology: Residence Interior Design
Project Name: Lansum Etania
Location: Hyderabad, Telangana
Size: 3600 sq.ft.
Year Built: 2020
Duration: 6 Months
Project Cost Appx: 1.4 Crore
Principal Architect: Juhi Jaiswal Chaubey
Design Team: Kumar Abhilash, Rishabh Singh
Photography Credits: Ricken Desai
Products and Materials: Lighting and Furniture: Remole Products | Kitchen: Hafele | Paint: Asian Paints | Wallpaper: World of Nilaya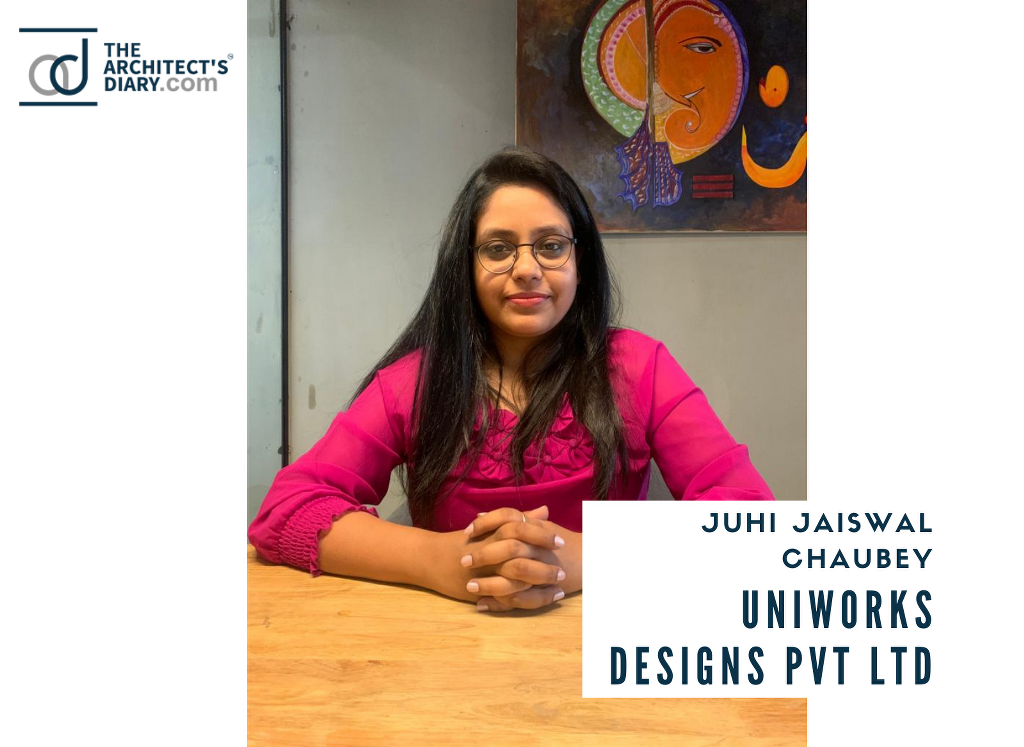 Firm's Website Link: Uniworks Design Studio
Firm's Facebook Link: Uniworks Design Studio
Firm's Instagram Link: Uniworks Design Studio
For Similar Projects >> The Flat Interior Which Gives An Ambiance Of Vintage And Modern Outlook