&nbsp
"SANDHAM – The Courtyard Home" | JGP Consultants, Surat, India.
The designing of residence located in village, a 14000 sq.ft carpet area has been designed by analyzing, exploring and thinking about a Residence along with Office Area in the village, yet not interfering with the Residential working structure.
The designing of this residence puts up a challenge of making an Office and Residential space both efficient and interesting without disturbing the others spaces. The white walls and decent colour of elements adds freshness and vibrancy to the Residence. The output which we get as "SANDHAM" is here.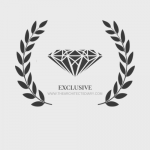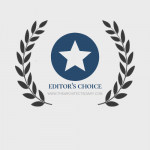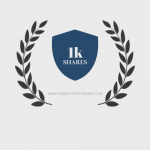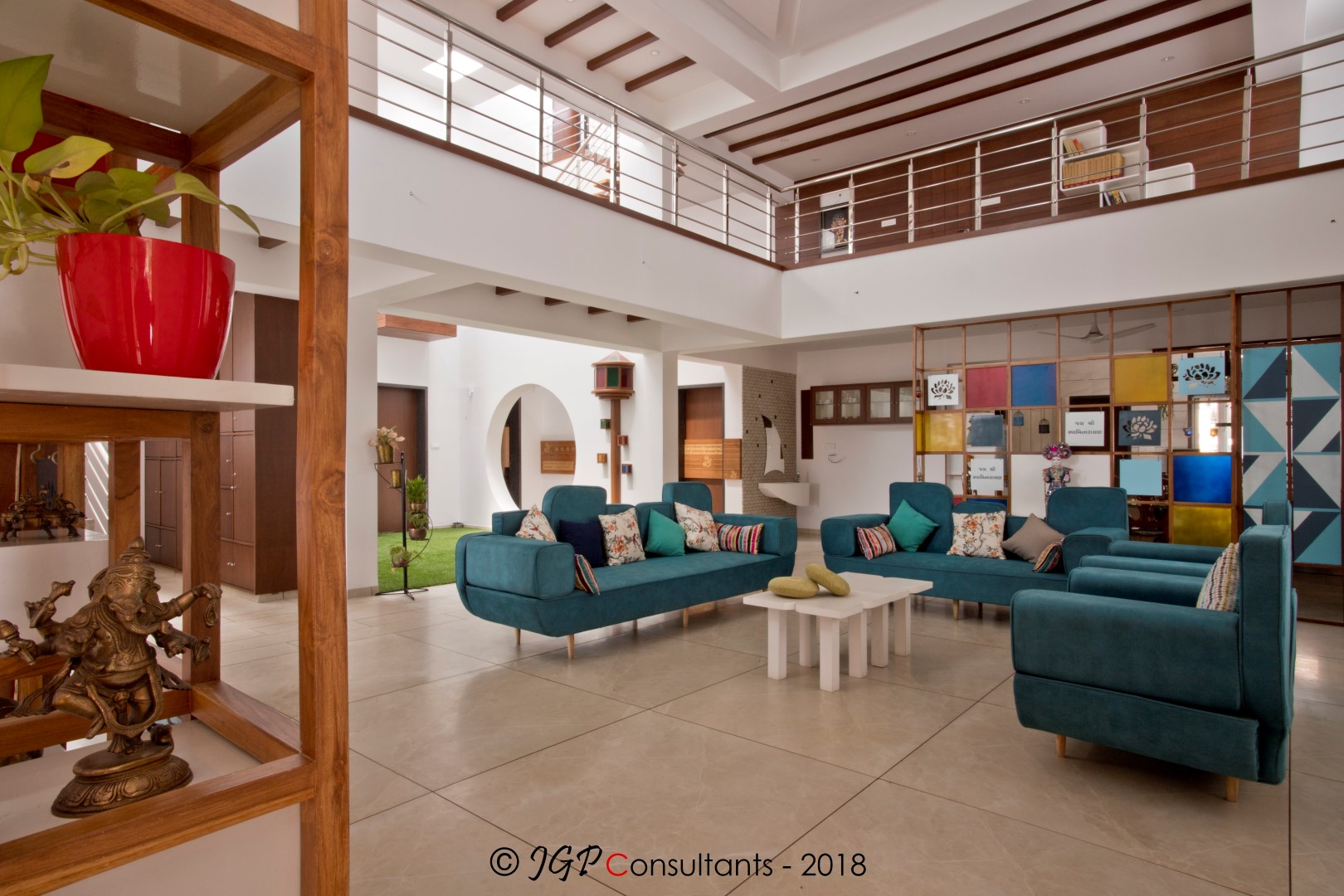 Planning is divided into three different zones like Working area, Recreational area and Residential area. First zone is working area which is planned in Northeast corner where one can move easily to finish their work.
Second zone is a Recreational zone which is designed as a full height courtyard in a canter of the house. Bridges are designed around the courtyard to make freshness into the building during movement. The third zone is a Residential zone which is well planned with office and courtyard.
Foyer
The architecture mainly transforms the house into three different zones, 3 specific entries and Split levelling. The approach towards bungalow is through a driveway where one can occasionally catch glimpse of the bungalow. The Entry itself is struck by the vastness of the foyer such that it informally connects to the living.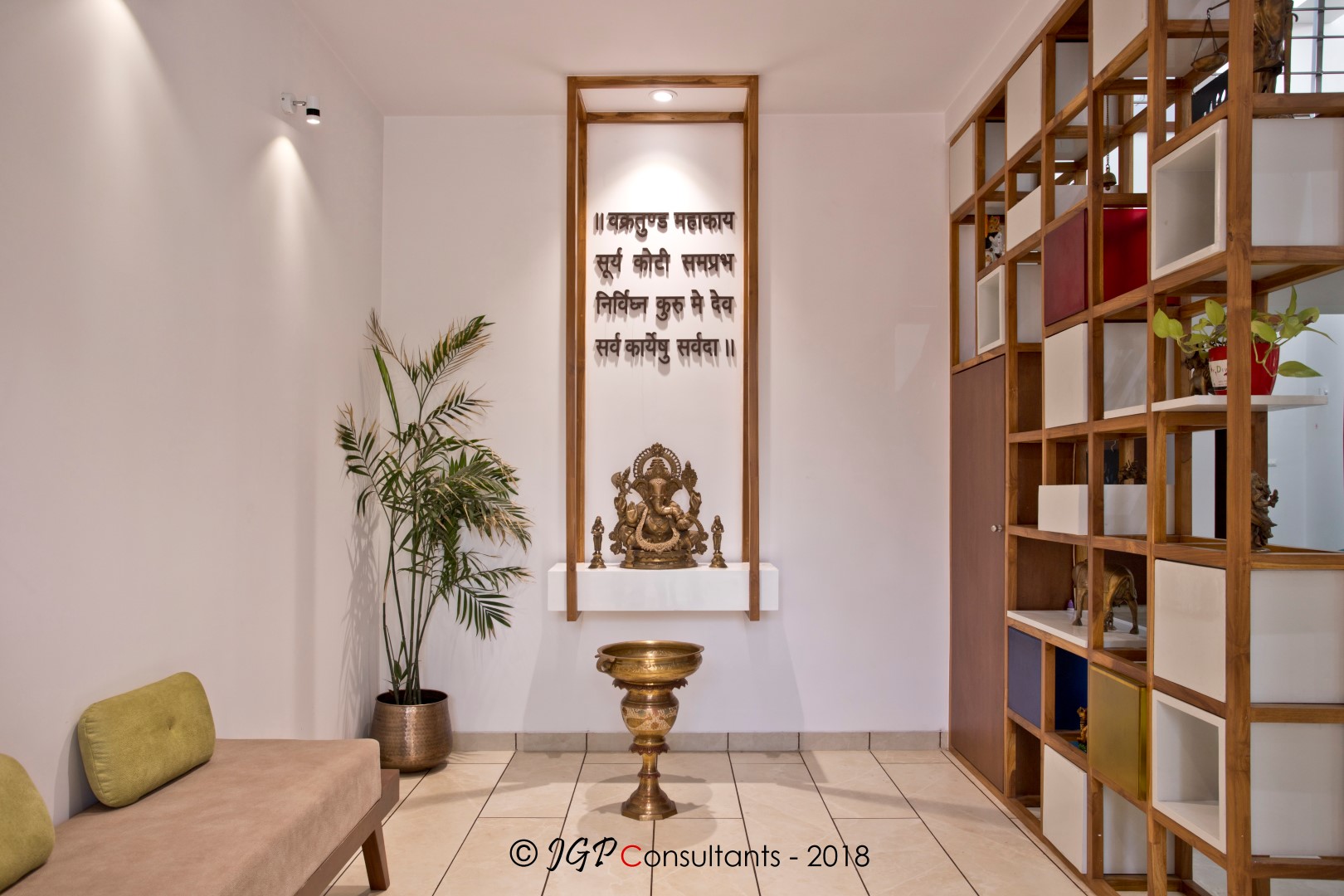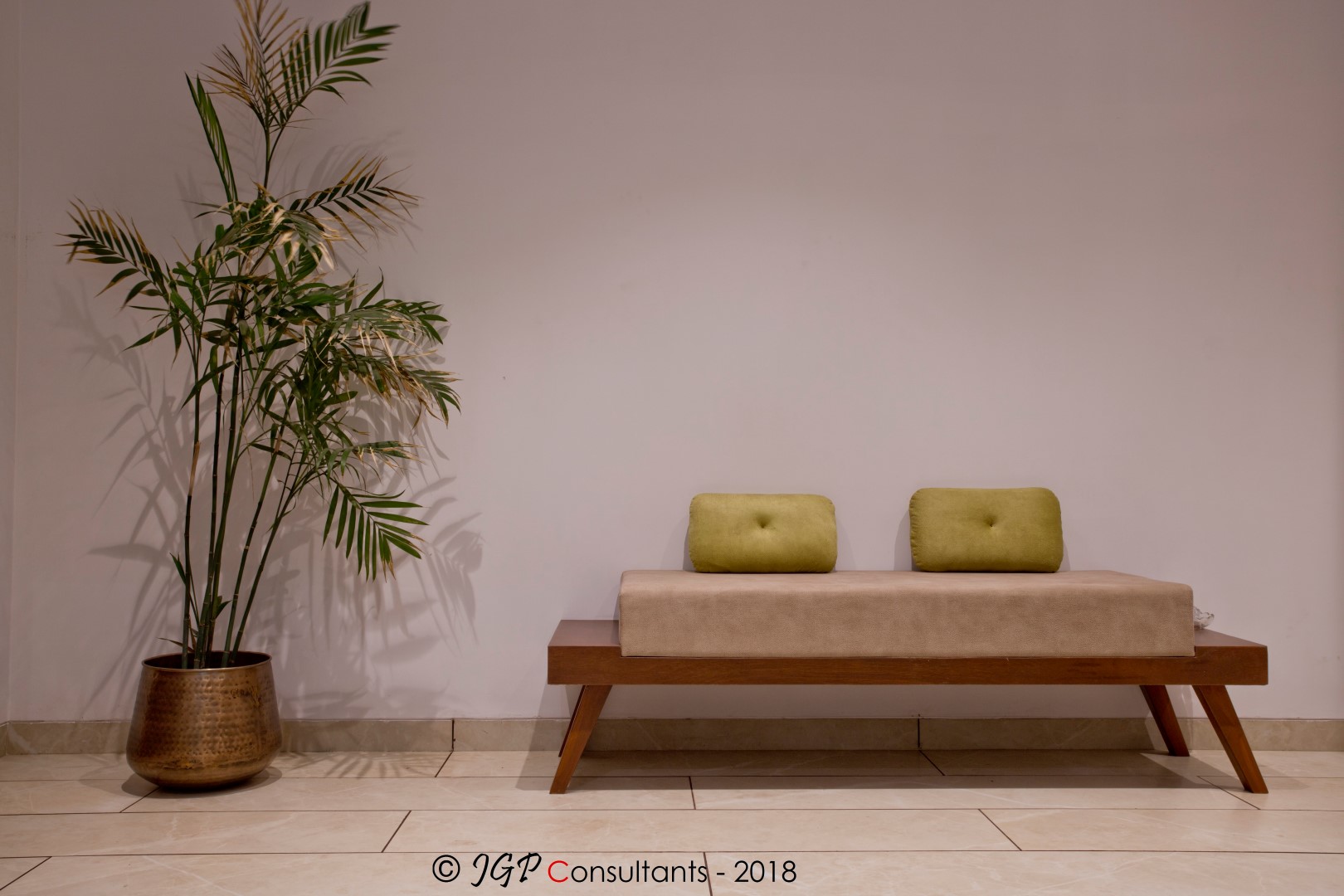 Living room
As entering the living room, one can sense the huge scale of double heighted living room. Exaggerating the vastness of the space the muted tone of colours in the bungalow shows an appropriate look of simplicity and adds vibrancy to the space. The rotating panel partition plays lead role in maintaining privacy between living room and kitchen. Bridges are also planned for movement which are acting as an element in a house.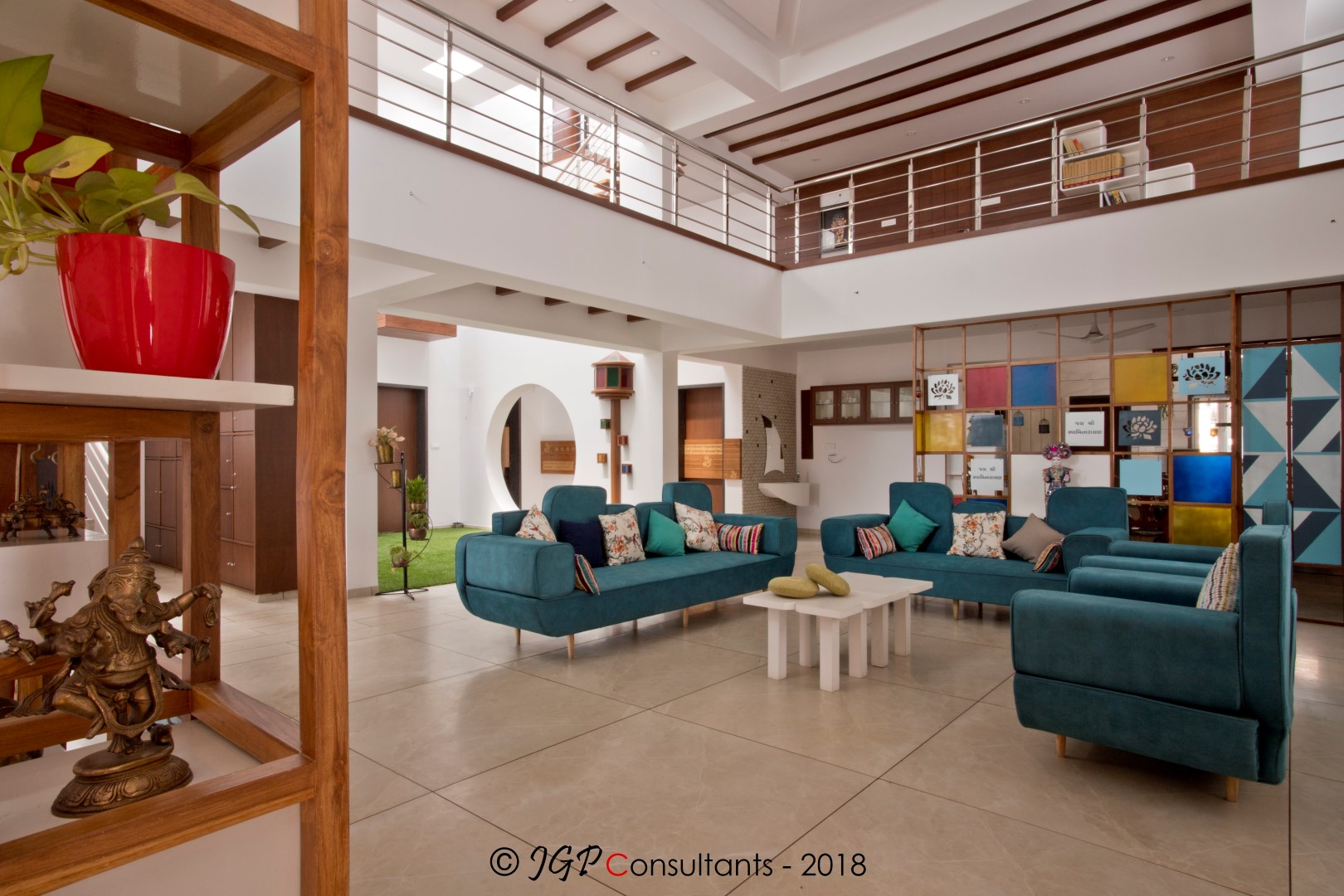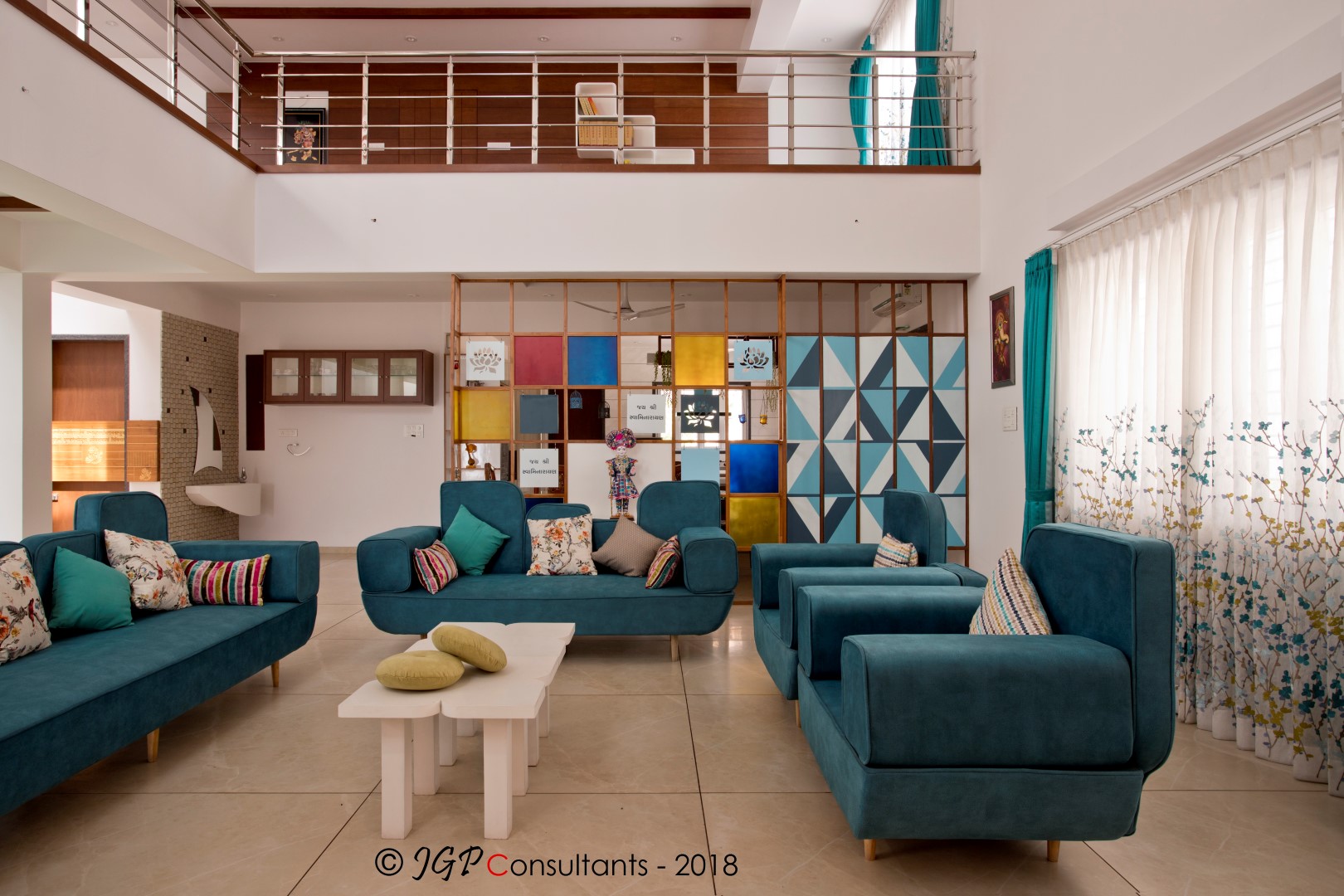 The Central Courtyard:
Adjacent to the living room is the central courtyard which is the heart of the bungalow. It acts as the transitional space between the working and the living area.  The beauty of this space lies in experiencing the ephemeral play of light from the courtyard as the day progresses.
The starkness of the common space gives way to a more personal slightly more ostentatious feel. Circular opening in a courtyard is making beauty in house. Natural sunlight is automatically entering into the house from the top of courtyard. Water curtain is adding extra feature from living area into courtyard. One standing balcony is plan in courtyard which is also making beautiful view in living area.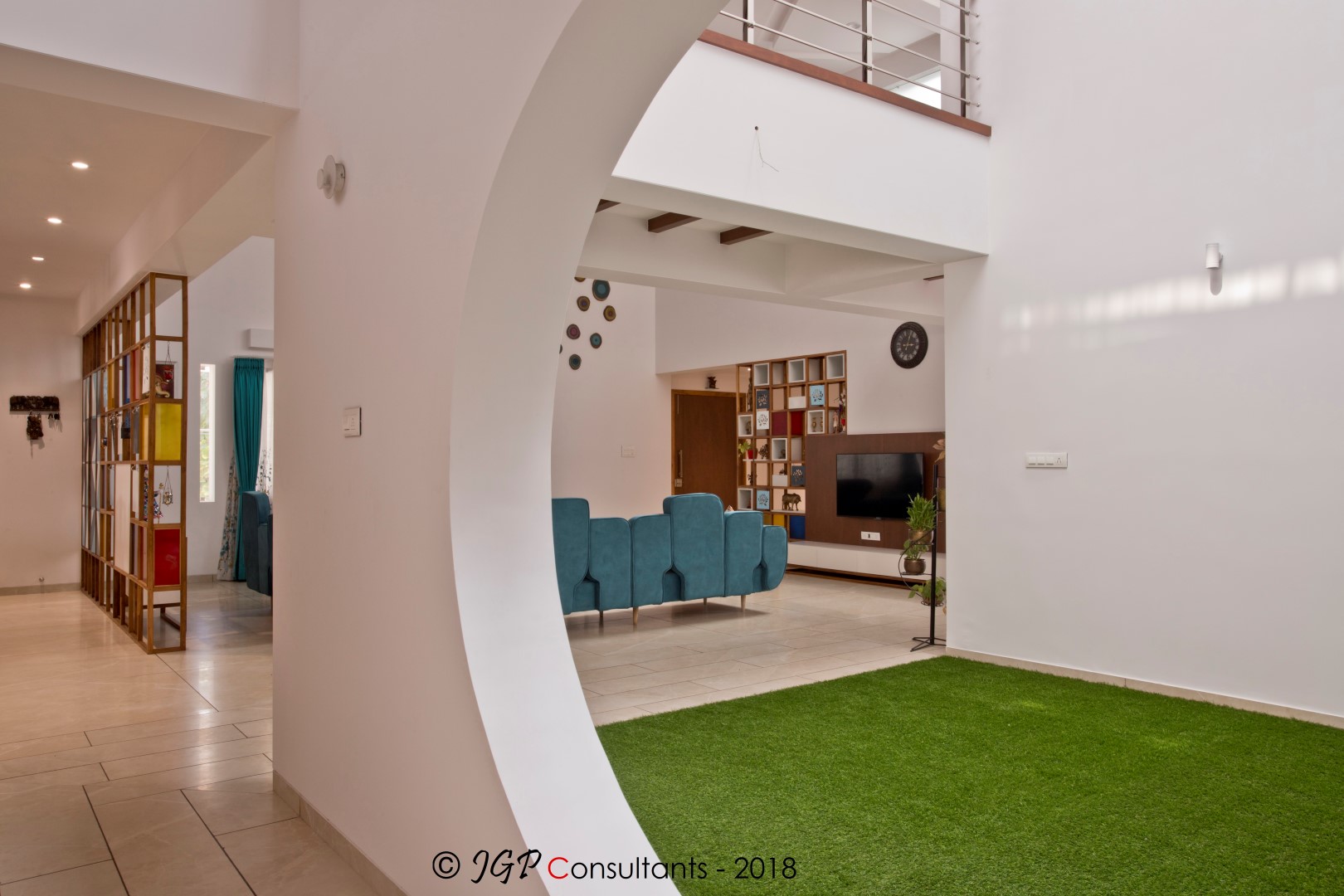 Bedrooms
All bedrooms are well ventilated as well as connected to the outdoor. The rooms contains balcony, sleeping area with storage options, a study area and a wall that holds the bookshelves, television unit and standing balcony.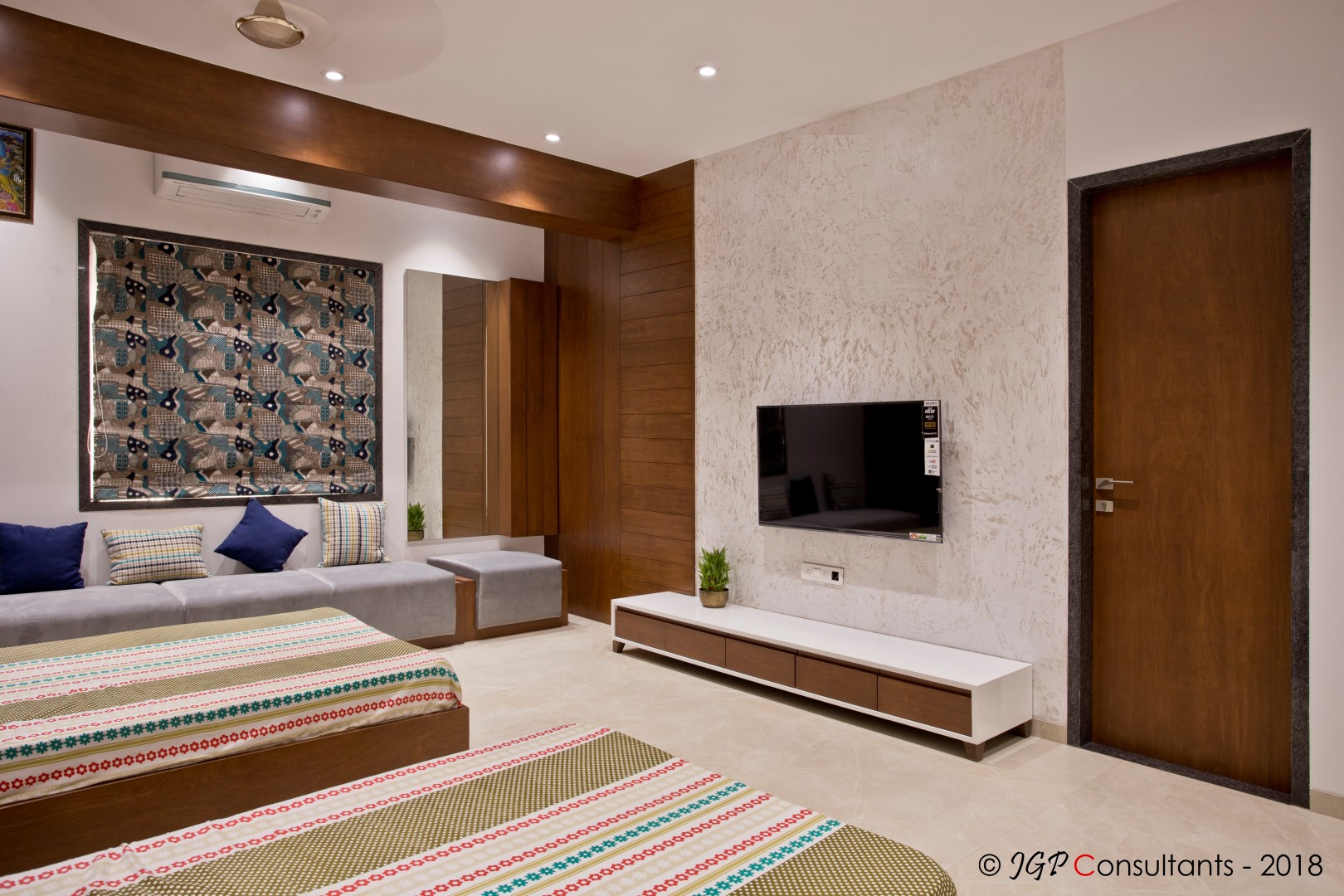 FACT FILES : 
Location: Surat, India
Area (Carpet): 14,000 sqft
Architecture Firm: JGP Consultants, Surat, India
Furnishing Concept:  Blue Orange Furnishing, Surat
Photography: Nikhil Patel, Surat