Located in the West part of Nagpur, the 10,000 Sq.ft Bungalow is designed by nest architects. The traditional design of the house is a mirror reflection of the owners personality , that is Elegant with understated luxury.
Resurgence of Traditional Design Elements with Contemporary Elegance | Nest Architects
Visit: Nest Architects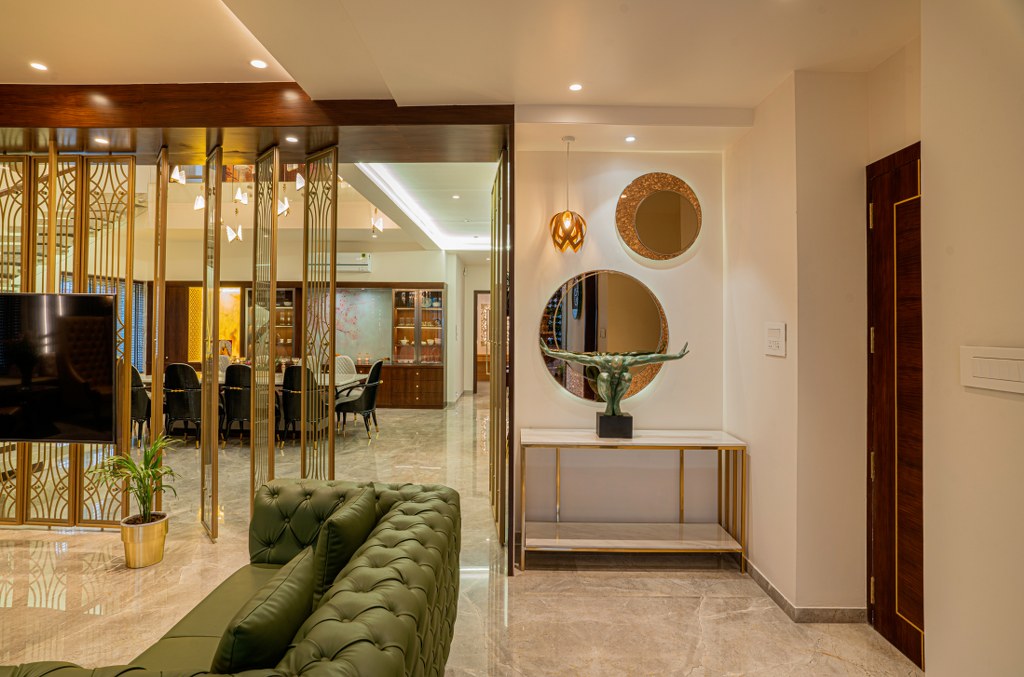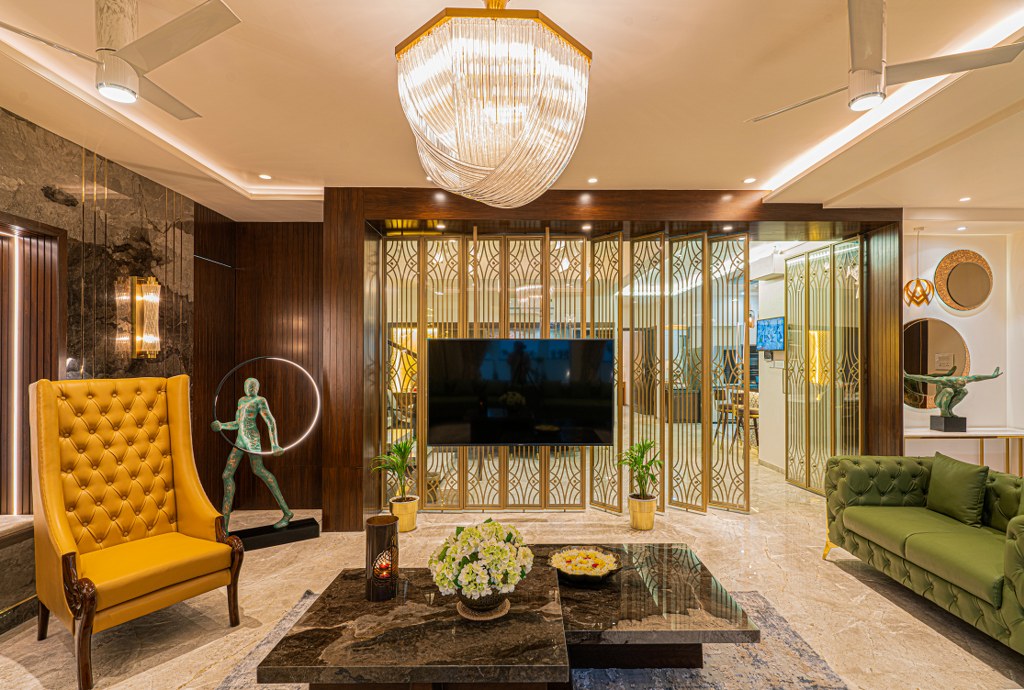 House is comprised of bespoke products which widen the scope of designers in the context of furniture, doors, kitchens, and floors. Every inch layers up to create oneness. We as budding designers had some unique concepts to meet the needs of the space. like a rotating partition between living and dining area which keeps the space visually connected , unfolds grandeur and makes the tv float in the air.

&nbsp
Minimalist white kitchen with the island table is connected to the Dining.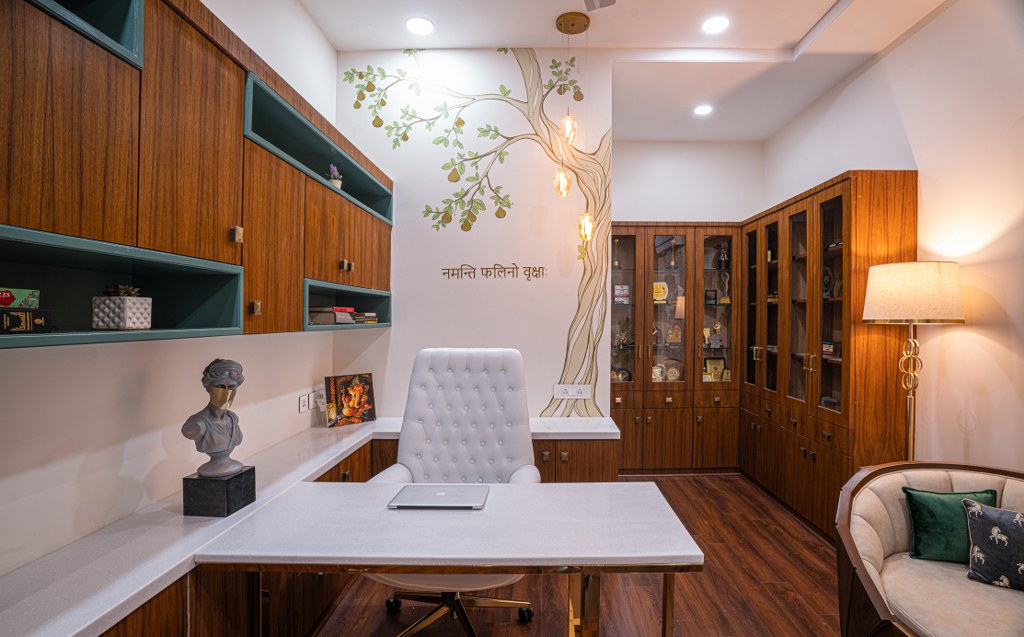 The Quirky Sons bedroom with ochre bed and twisted pastel tint makes this room an extraordinary space , standing out in the crowd & refreshing . Birds on the ring , sunshine on the window and piano in the corner. The love for wood, characteristic light, and rural surfaces of customers encourages us to make an overall look for this room.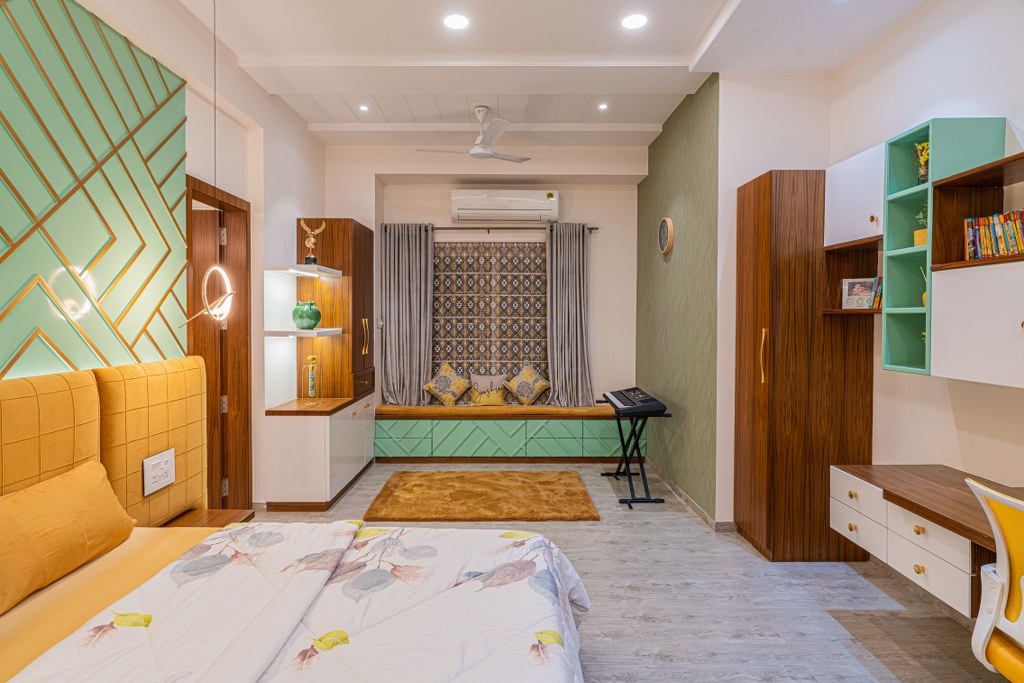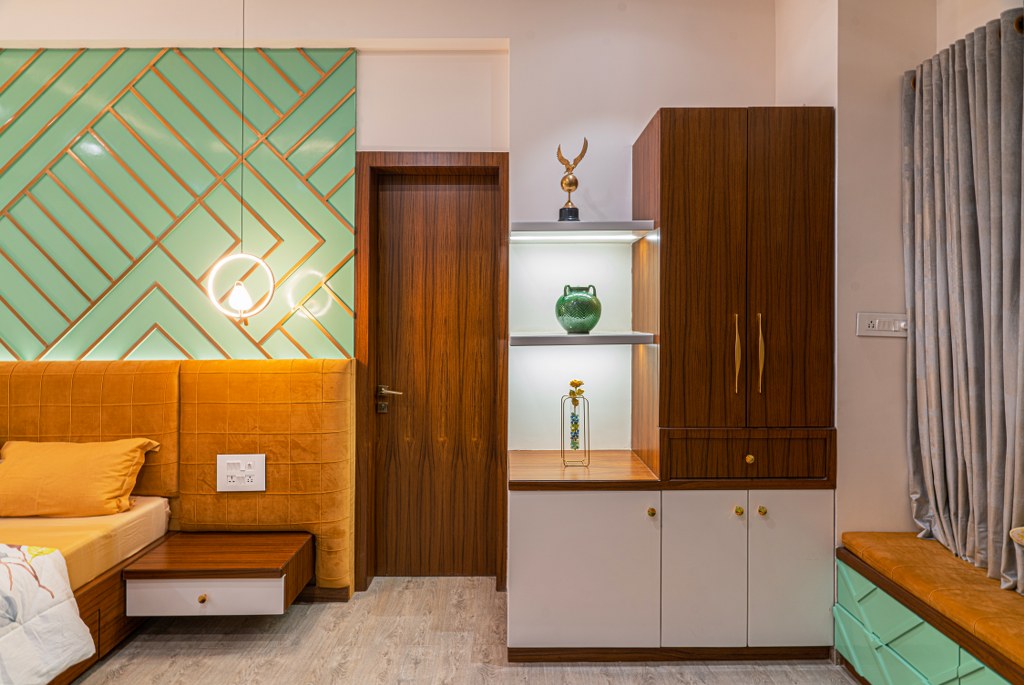 Master Bedroom is marked with artistic vintage style mirror on the entrance , French elegance with platinum rustic finish on intricate carving at the bed back makes it a hero element complimented by rosy metallic wallpaper. The seating near window is designed to enjoy the north light glory.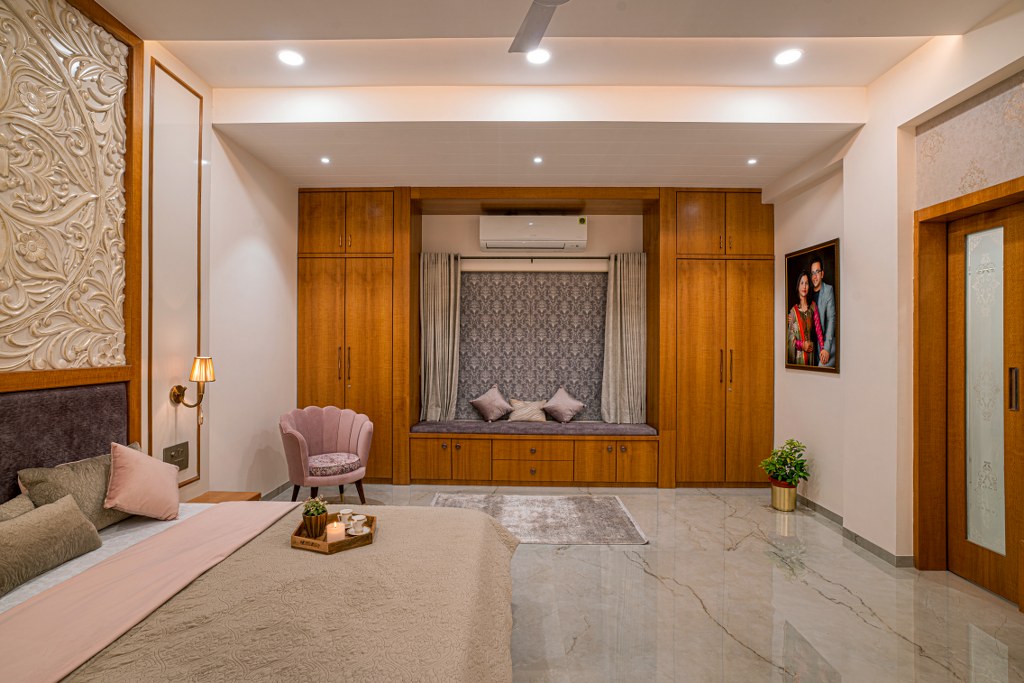 The Double height mirror ceiling with an array of butterflies (lighting) makes the lobby a piece of fairly tale where glittery butterflies surround you when u climb up the staircase. The humble art work by on the lobby wall by artist suruchi expresses the emotion of the family place and adds the art punch.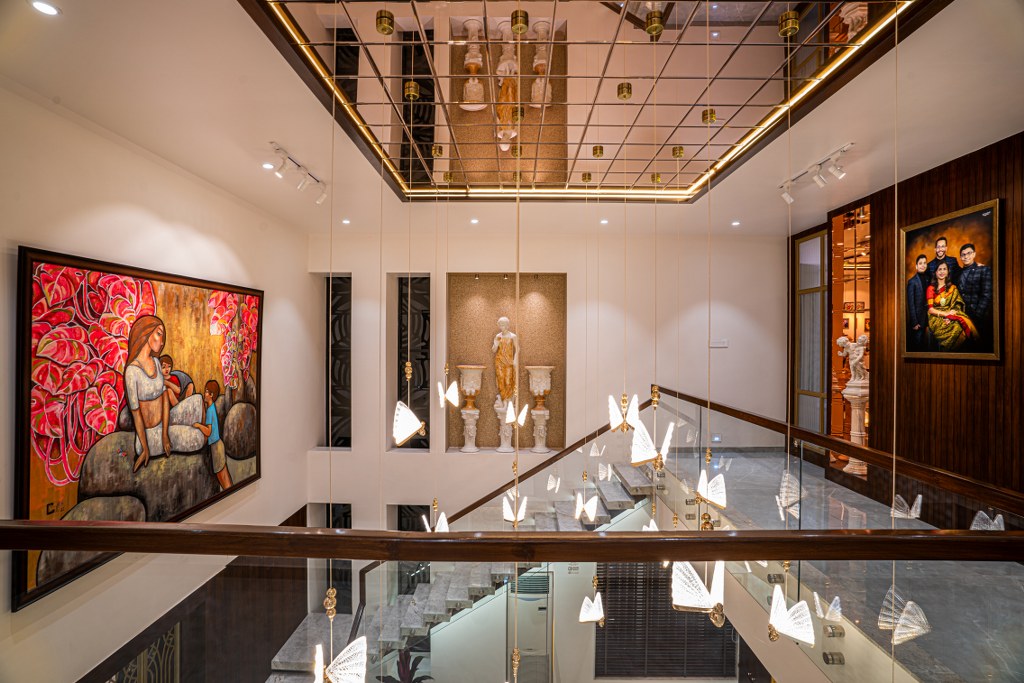 Grandparent room is designed to be as humble and raw as they are. Exposed concrete finish backdrop of bed and louvered wooden strips decorate with exotic metal wall art and wall lamps .Jute textured wallpaper and floral blend from carpet and curtains give the room a fresh vibe connected to organic theme.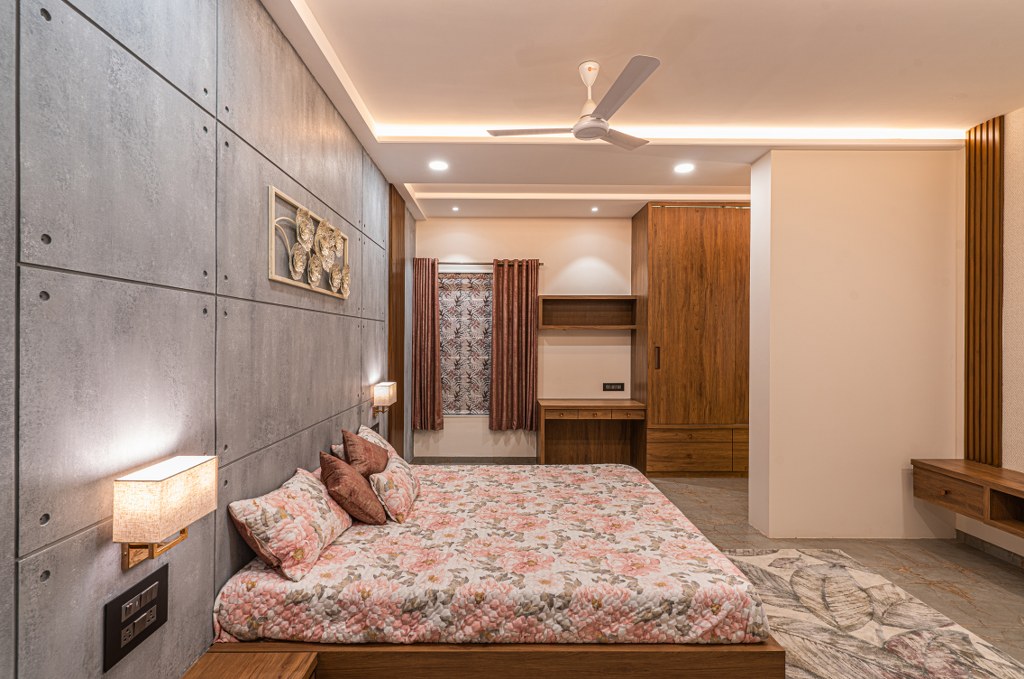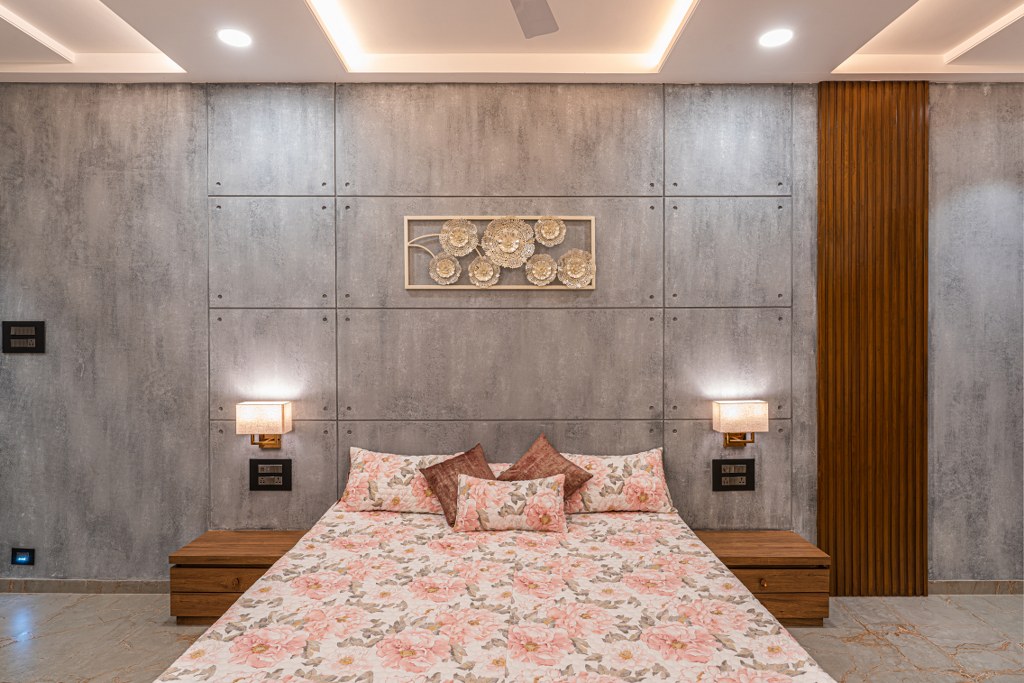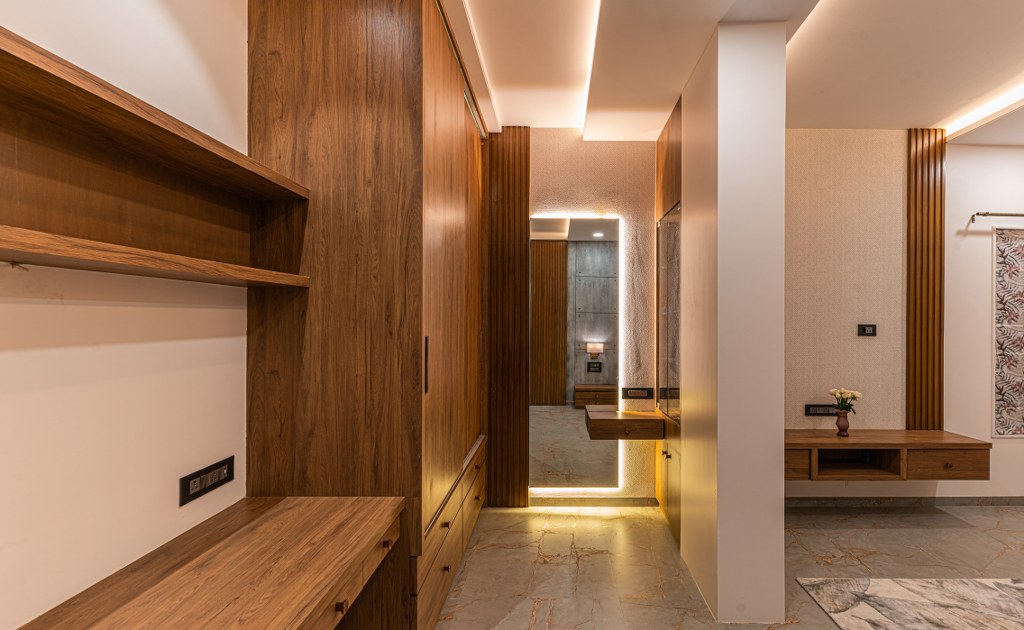 The Quirky family room with blue floor and cream sofas and wooden mosaic clad tv unit form the cosy corner. The tall glass doors scale up the area complimented with subtle metallic wallpaper custom made for the space.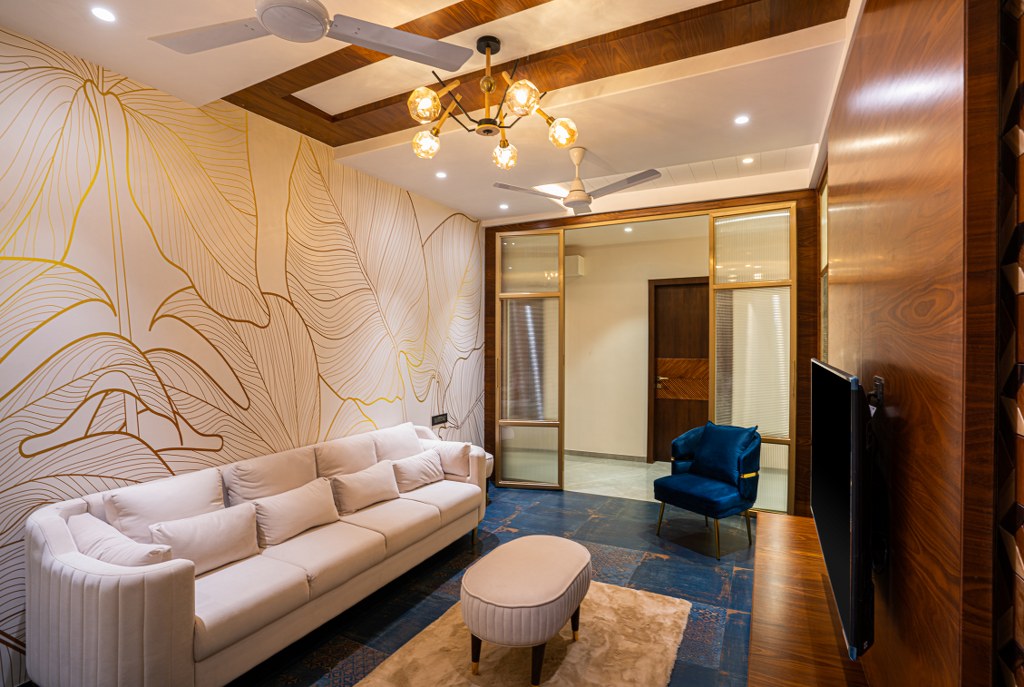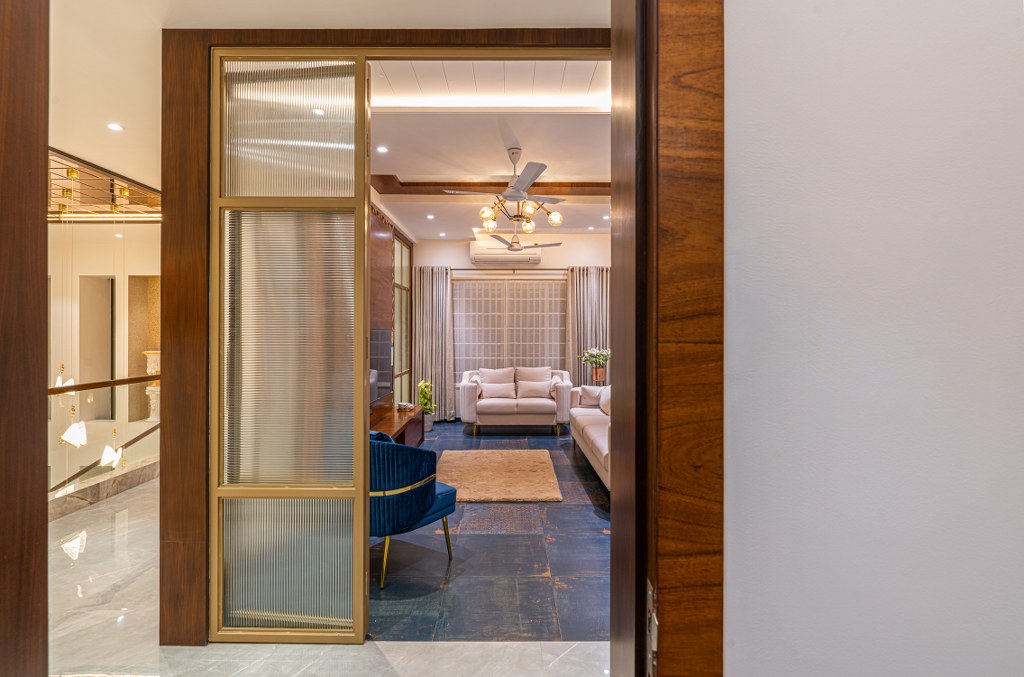 Blue bedroom deigned for the elder son of the couple is street smart blue with teak wood beading , fuss free , accessorised with glass lights. Study table and activity corners were designed with astonishing material and polishes.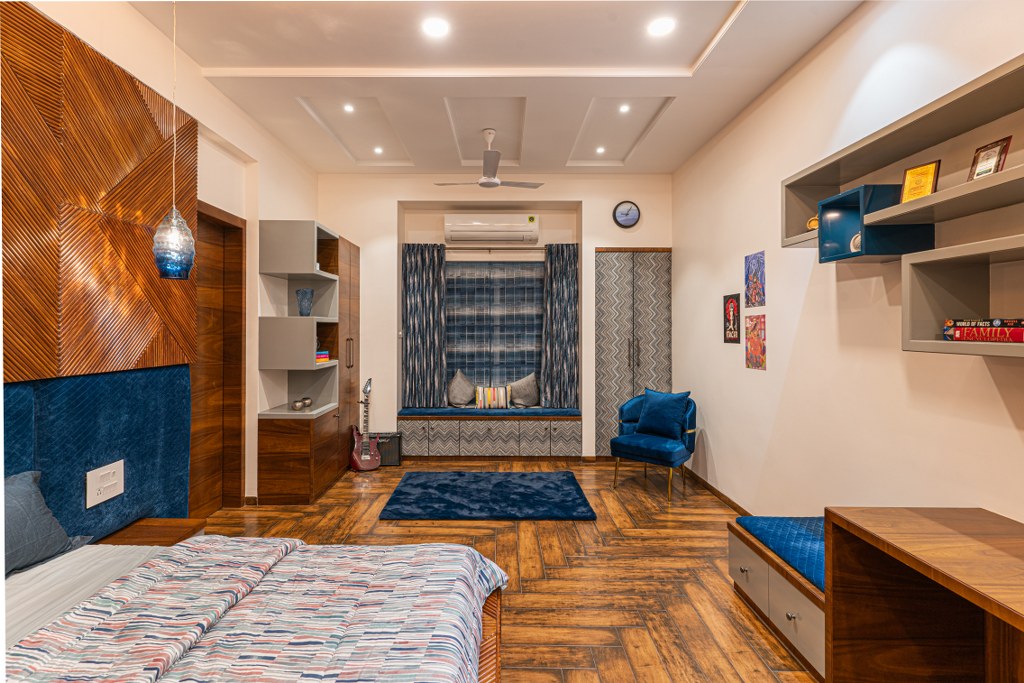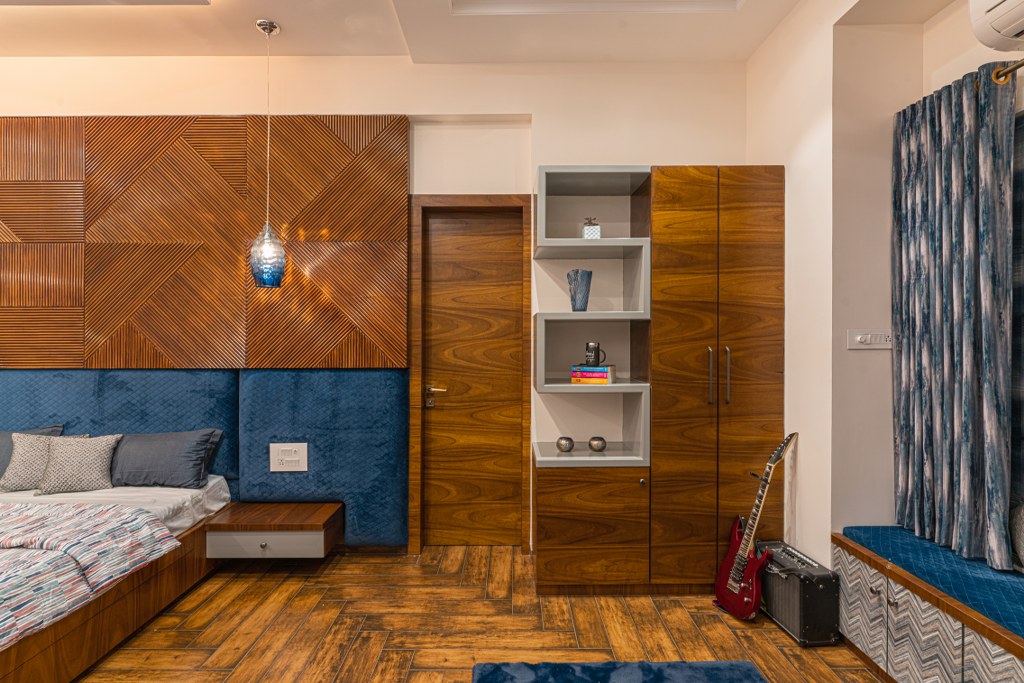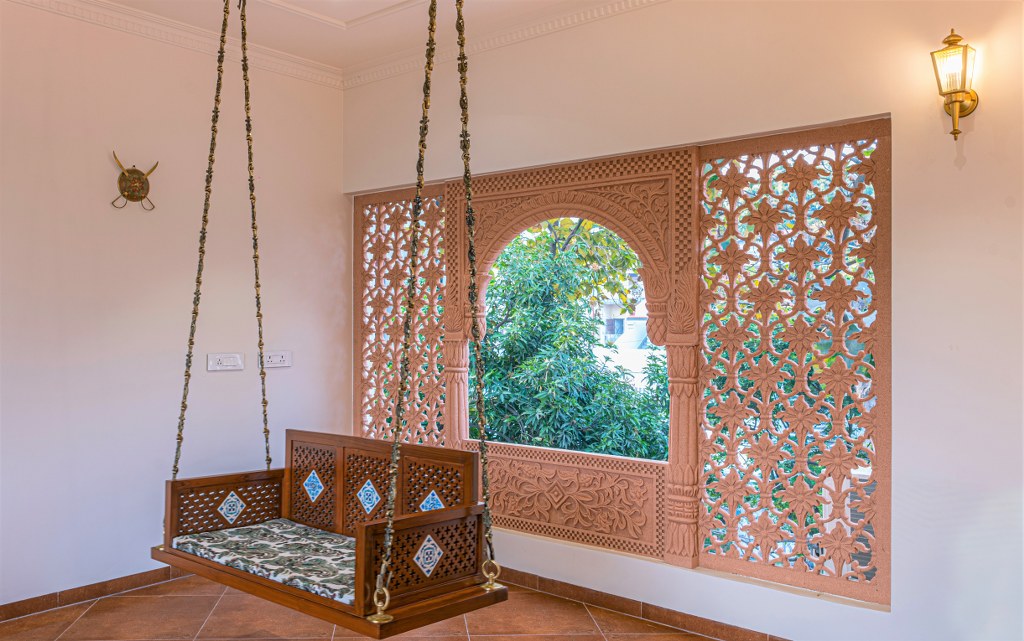 The attached terrace garden has a rajwada style seating with carved syporex jalis , inlay tables and teak wood vintage swing overlooking to the terrace garden.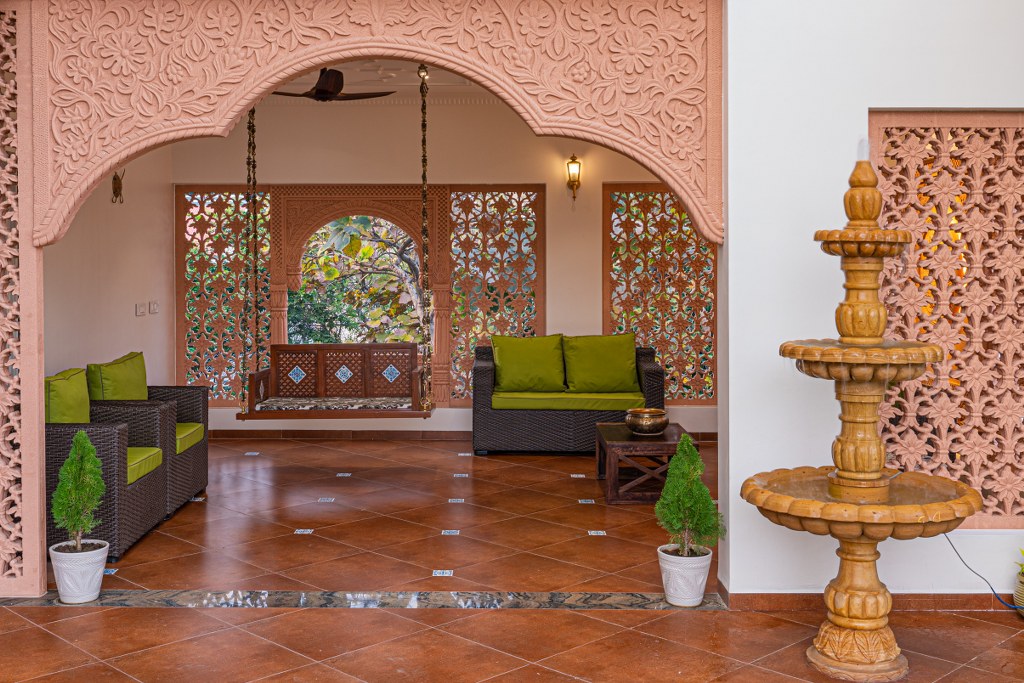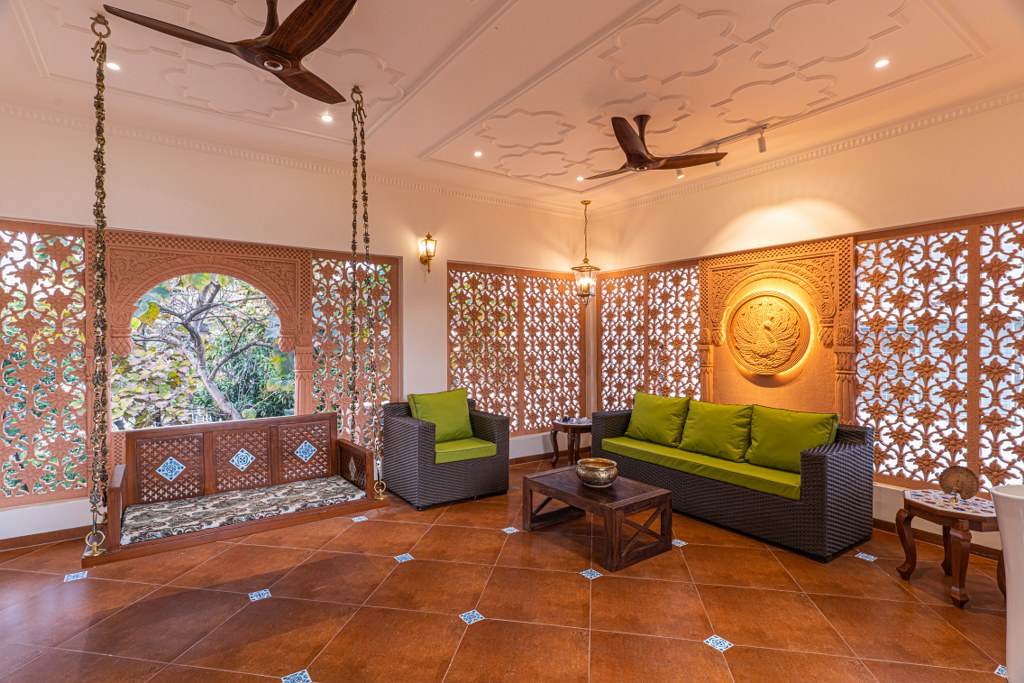 This design style is an amalgamation of components from various styles, encompassing both aesthetics and user comfort. To encapsulate NEST Architect's experience with this project, the process was both enlightening and demanding. The benefits and drawbacks of this particular process enabled us in working productively on assessment and monitoring.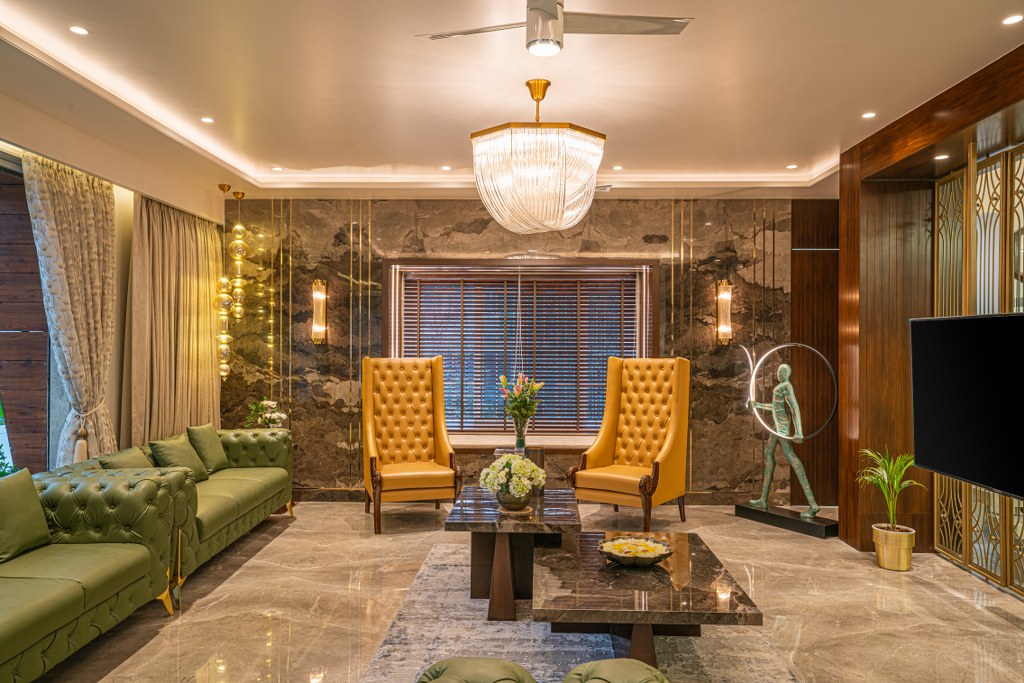 Fact File
Designed by : Nest Architects
Project Type : Residence Interior Design
Project Name : Vijayshree
Location : Nagpur, Maharashtra
Year Built: 2022
Duration of project : 2 Year
Plot Area : 6000 Sq.ft
Built up : 14,000 Sq.ft
Prinical designers: Nikita Tahilyani, Vikram Singhania
Products & Materials: Finishes: Greenply | Construction Materials : Ultratech | Lighting: Philips | Doors and Partitions: Green ply | Sanitary ware: Jaquar , Artis | Windows: Fenesta | Kitchen: Hafele | Paint: Asian Paint | Wallpaper/Hardware: hafele
Firm's Instagram Link : Nest Architects
Firm's Facebook Link : Nest Architects
For Similar project>>Celebrating Indian Traditional Design With Modern Day Retail Sensibilities