The client's brief was to use best of the materials & finishes available and provide them a home which ensured comfort and luxury for all the family members. The choices for material selection for all private spaces were done as per the theme. This residential space designed with a contemporary modern style approach, where all the designs and material selections were taken up accordingly which suits the individual spaces and needs.
Residential Space Designed With A Contemporary Modern Style | Charcoal Hues Design Studio
visit : Charcoal Hues Design Studio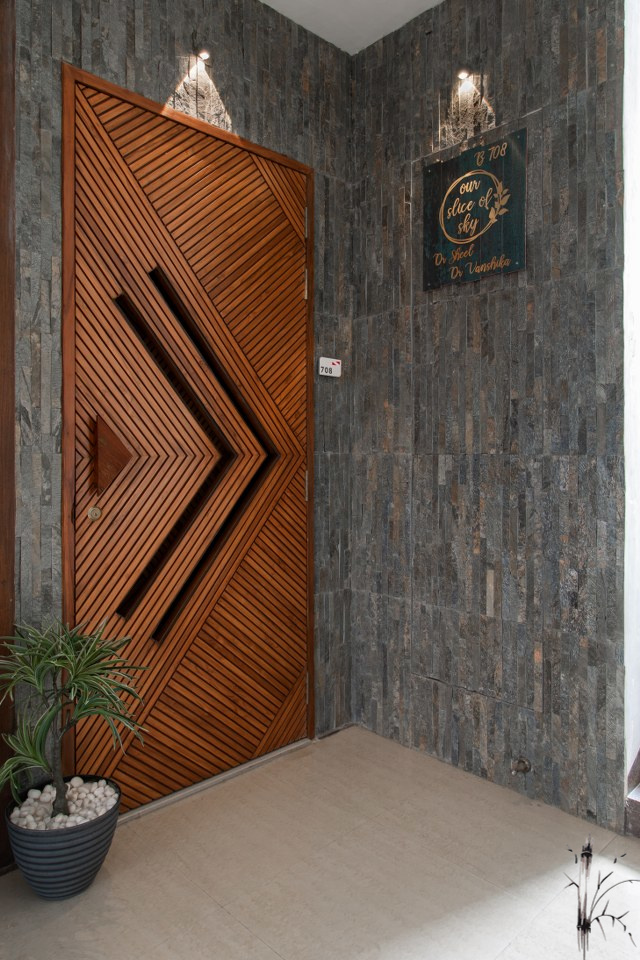 The 3 BHK project bedrooms had deck balconies wrapped around all the bedrooms and full height sliding windows allowed glorious day light to enter the interior spaces. Each element of the space is made in view to make best stylish statements to the space and together whole of the apartment giving a feel of a retreat in home itself.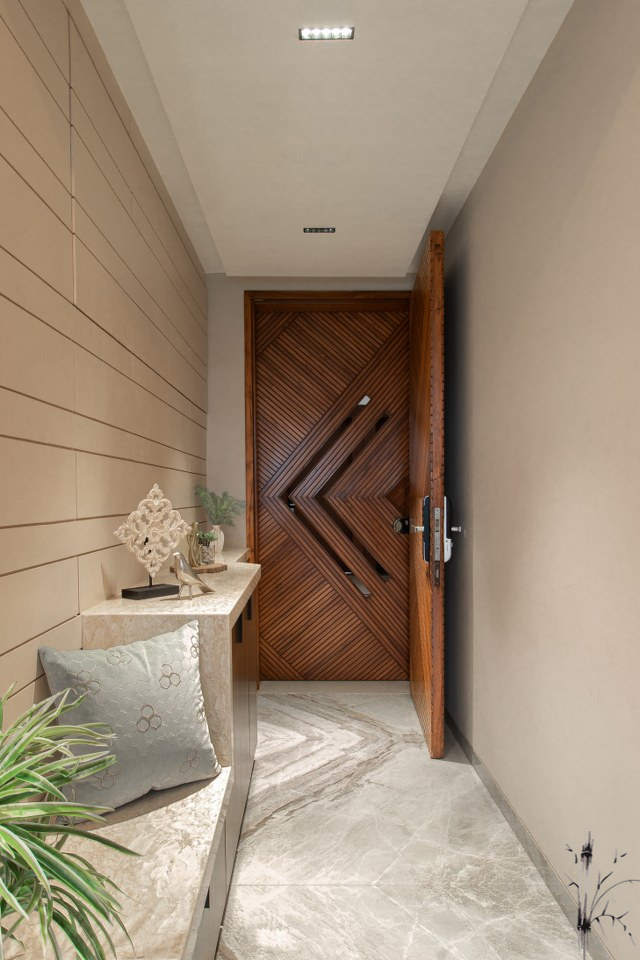 The main door is clad in natural teak wood strips laid in diagonal design pattern and polished. The entrance foyer area is relatively narrow in width yet smartly designed with a shoe rack clad in Italian marble and a sitting area for comfort. The electricity service boards are hidden behind in grooved cement sheet wall paneling with a hidden openable shutter.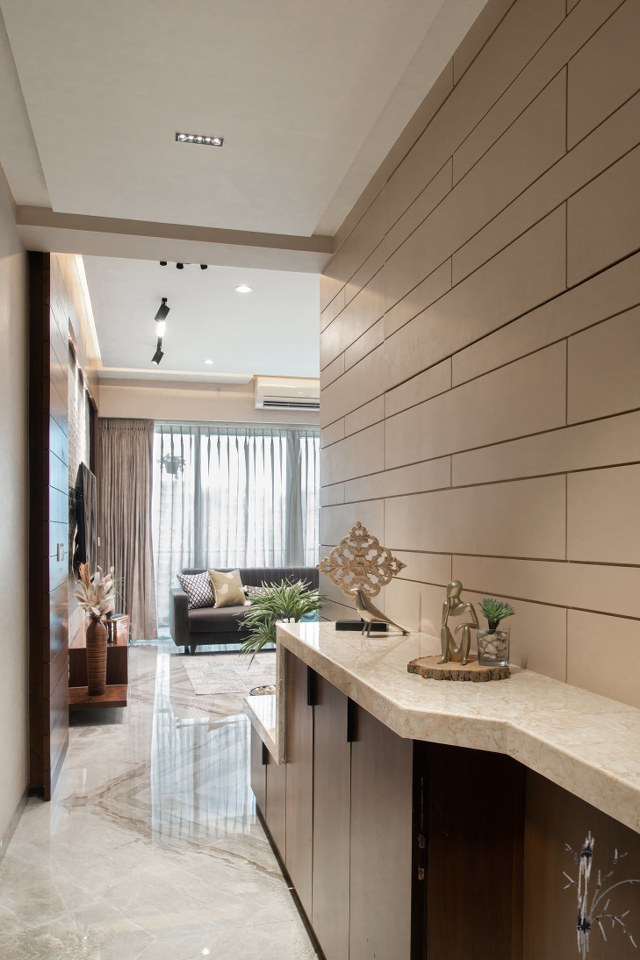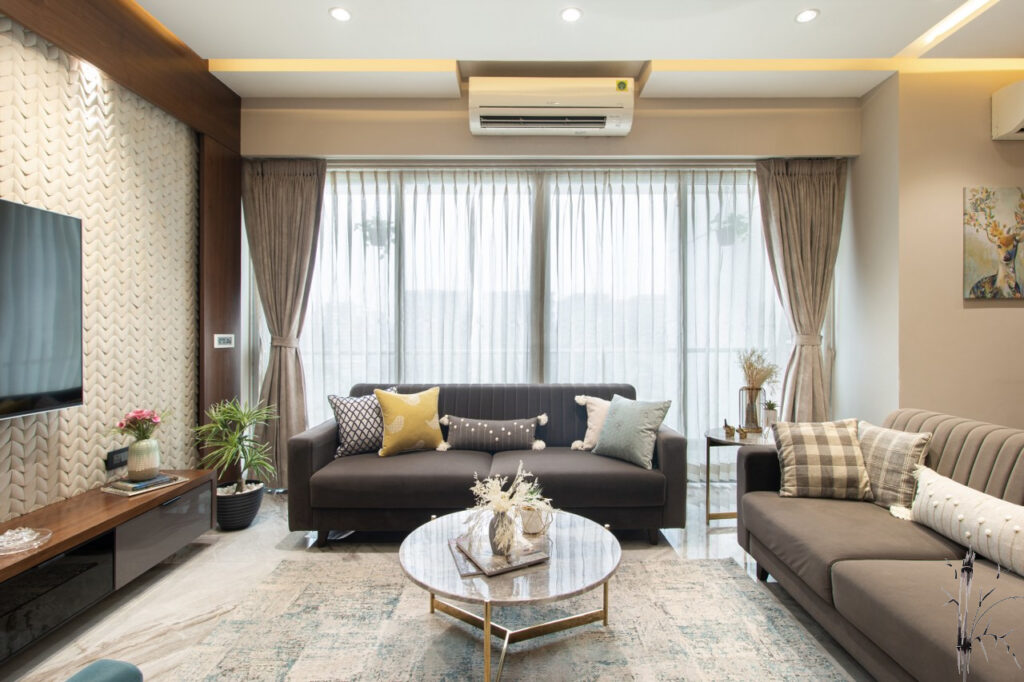 The living area is an open plan with dining area combined – kitchen area was strengthened by a classy breakfast table giving the required entities to all the spaces.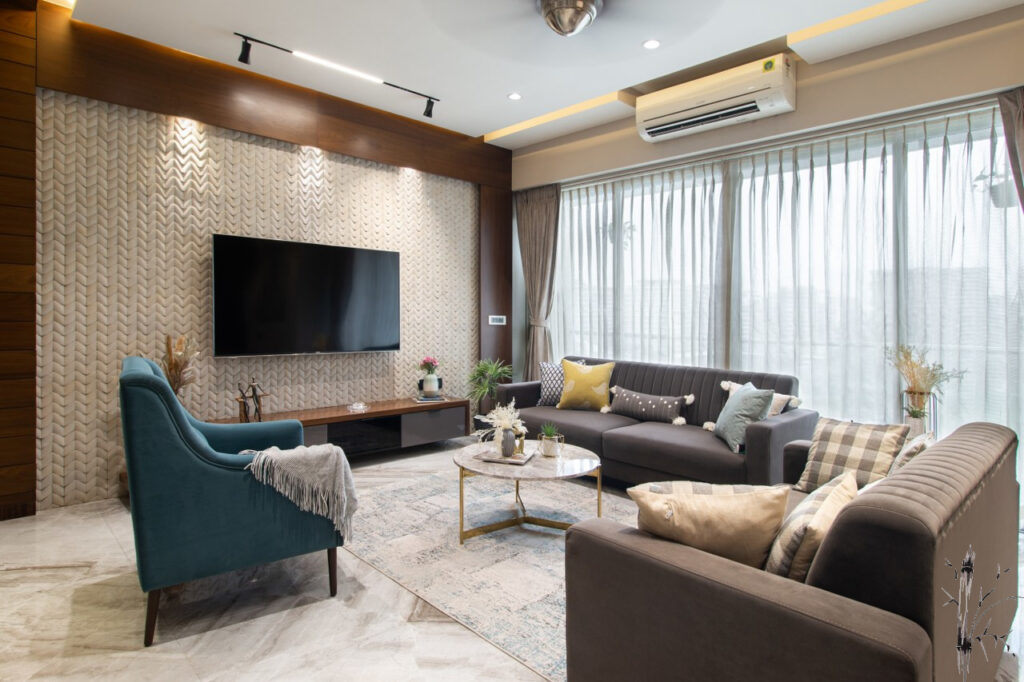 The open passage area in hall is designed with wood veneer ceiling and merged with paneling wall. It strengthened with idea of binding the sitting area and dining (the gathering – activity spaces) in an open planning.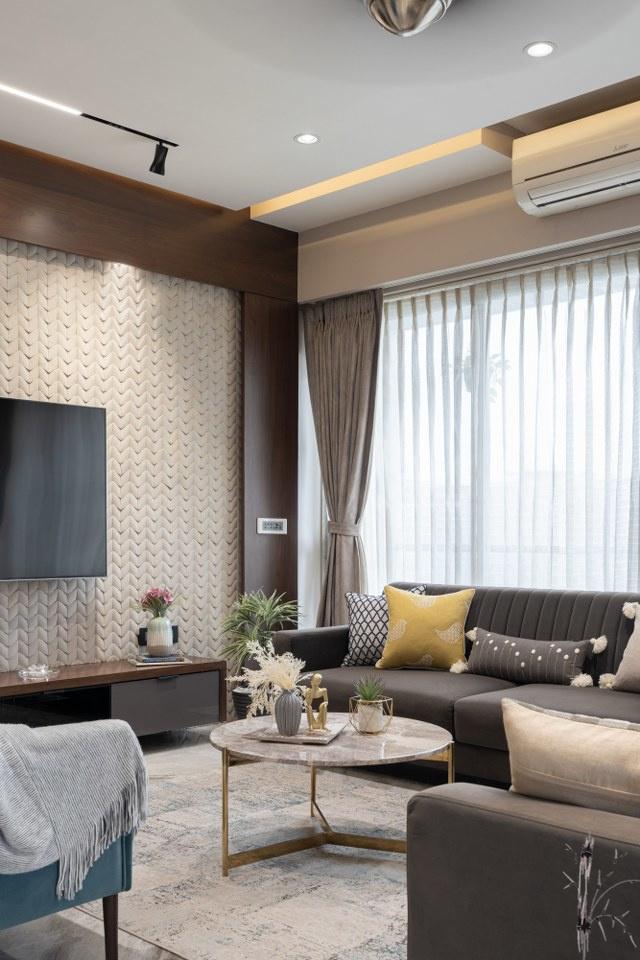 The paneling wall behind dining area consisted of the 3-bedroom doors –it is hidden in the design and supporting as a backdrop wall for the dining area. Natural stone cladding and soothing day light brighten up the space, ensuring a calming vibe to the occupants. Breakfast table design cladded in Italian marble along with hanging lights make the dreamy set up.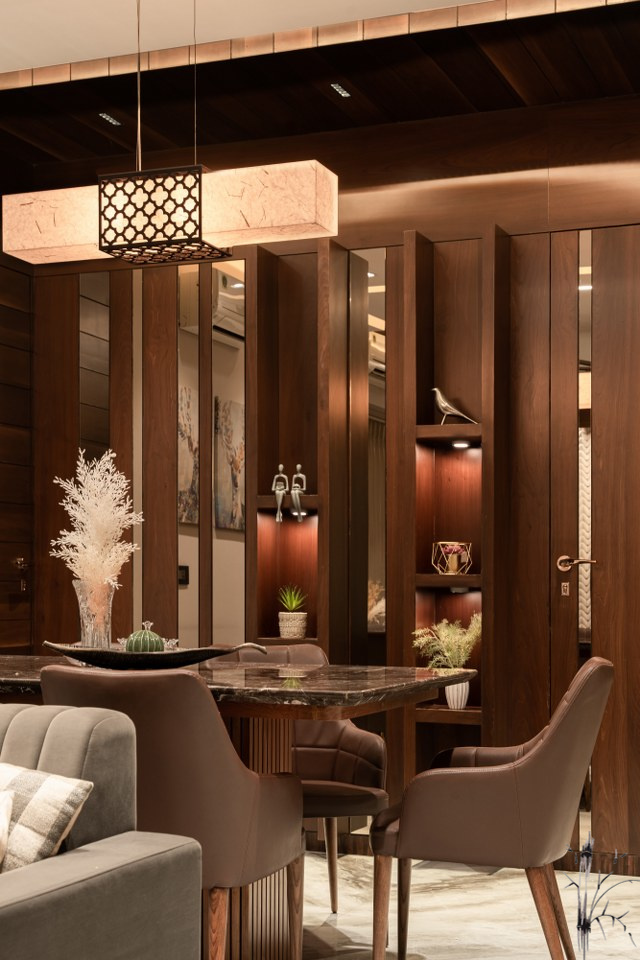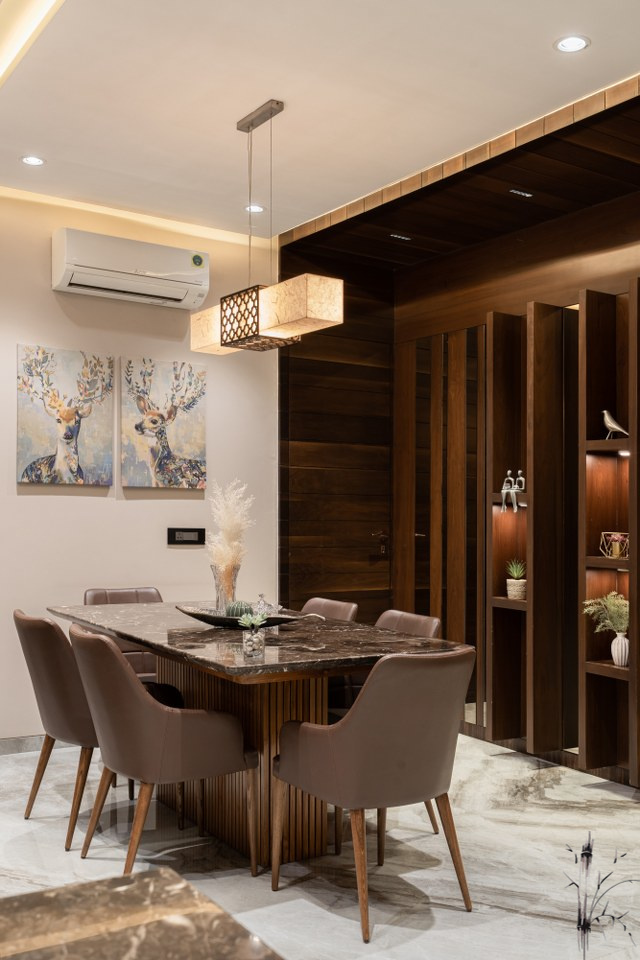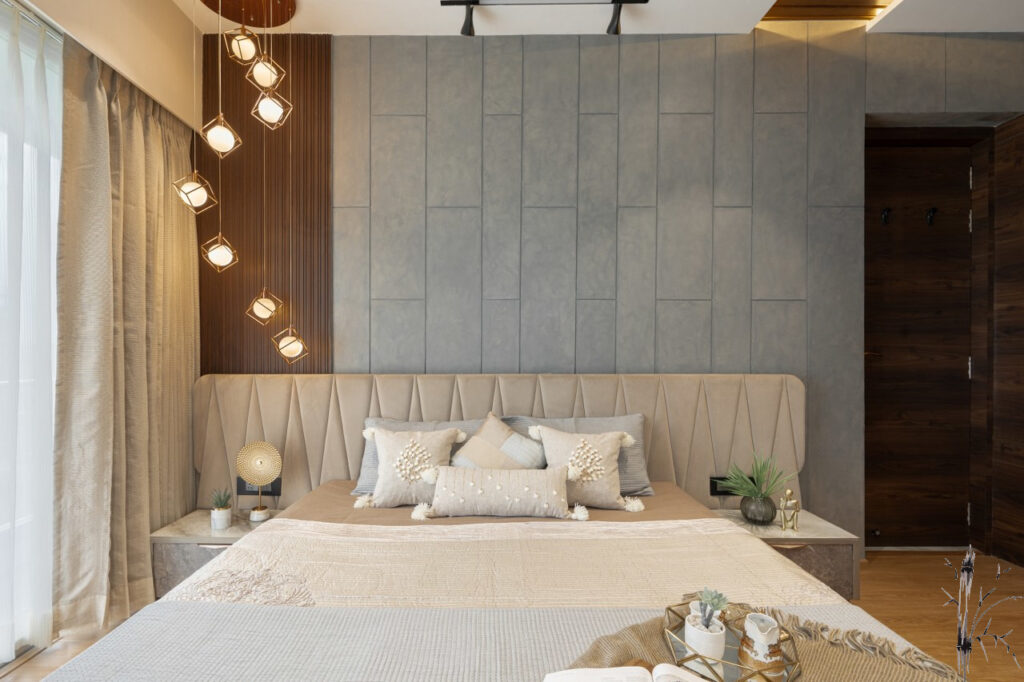 The beauty of natural light filtered through sheer curtains sphere in the bedrooms and living areas providing the ultimate soothing experience in the day time. The play in design of wardrobes was done in order to break the monotony with the help of niches and grooves.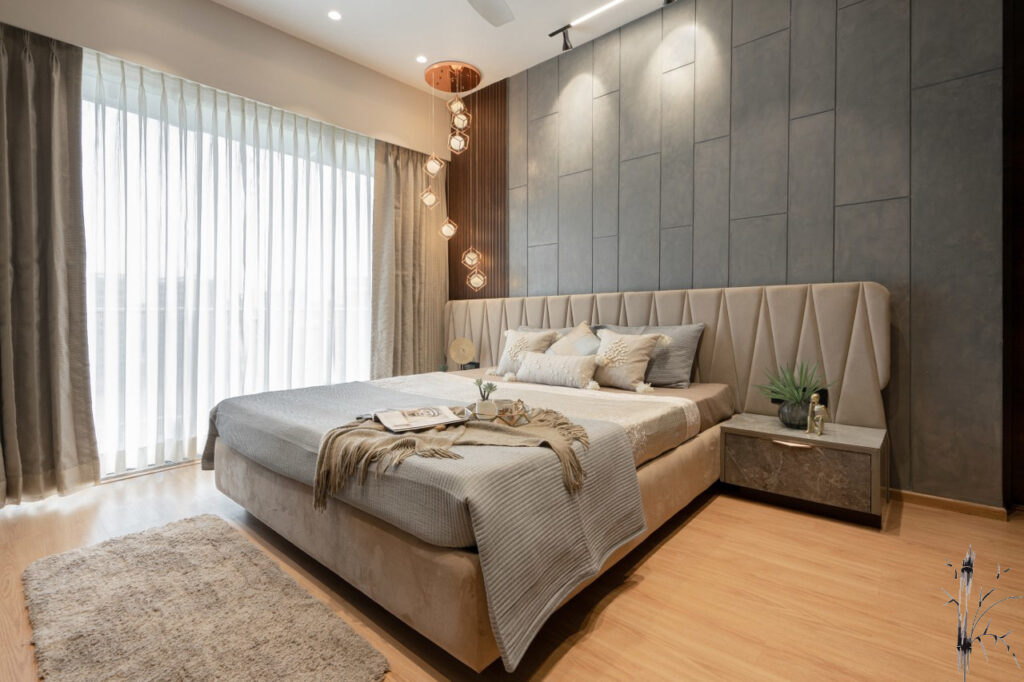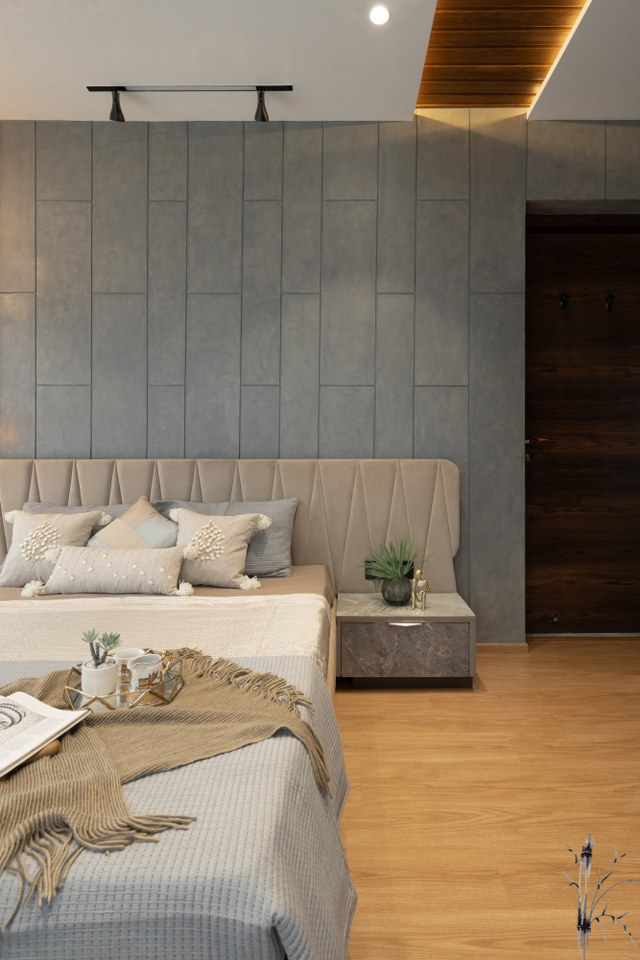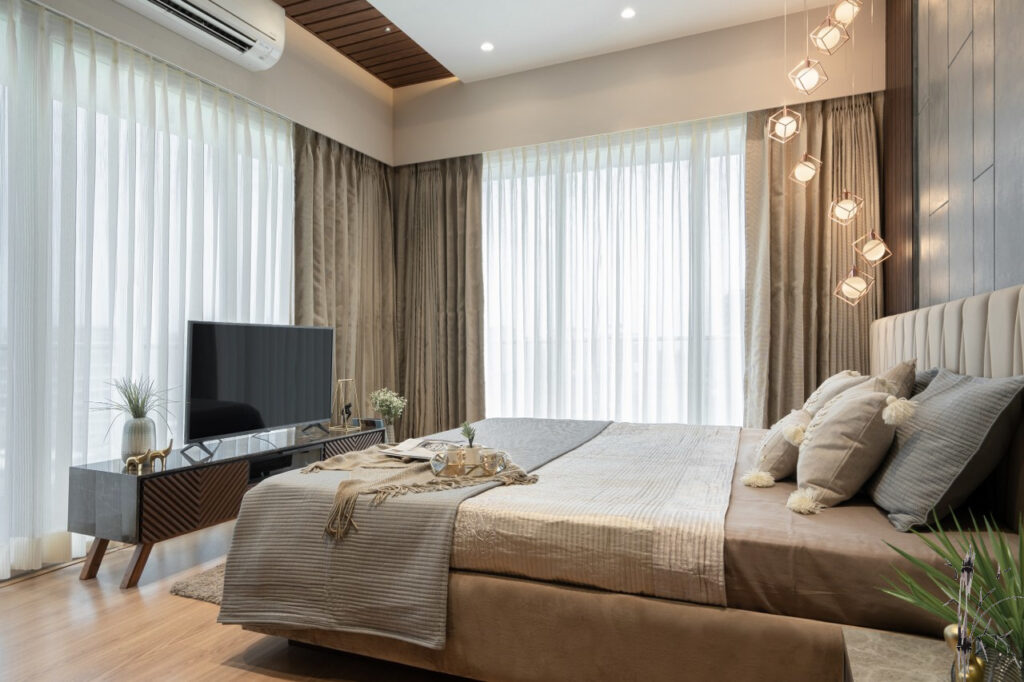 The fluted charcoal panels enhance the beauty of wall paneling and ceilings. Free standing tv unit stand in front of full height French windows. All electrification required were taken below flooring. The aesthetical décor and material details enhance and stand outs the piece of furniture
Theme for parents' bedroom revolved around earthy and calming brown hues. The material selection taken is stone textured finish laminates, fluted panels and teak wood veneers.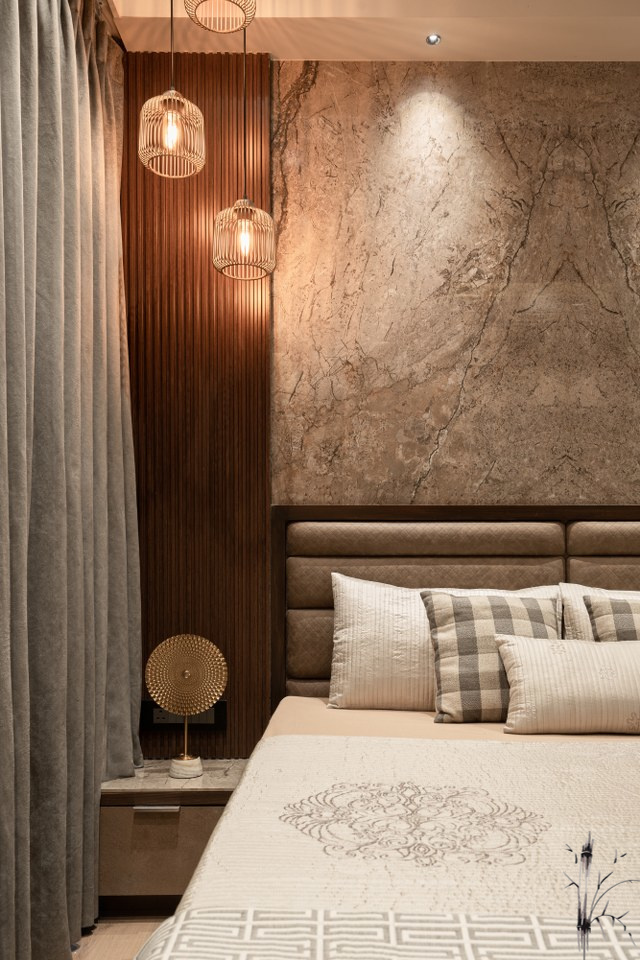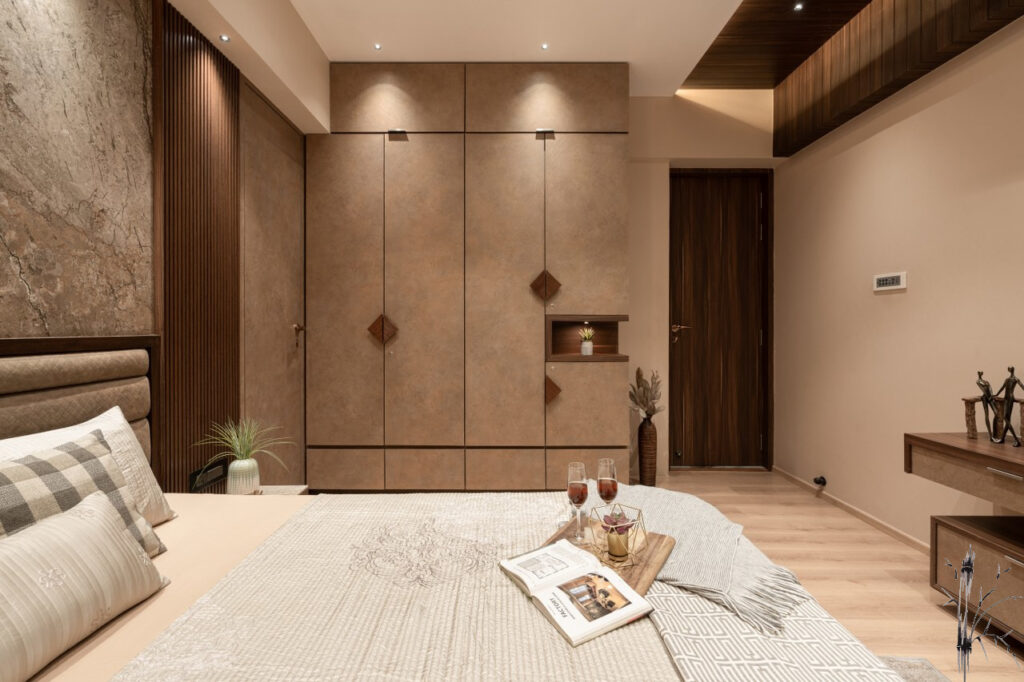 Bed back wall is clad with book-matched wall tile and charcoal fluted panels supported with hanging lights to give elegant and calming hues.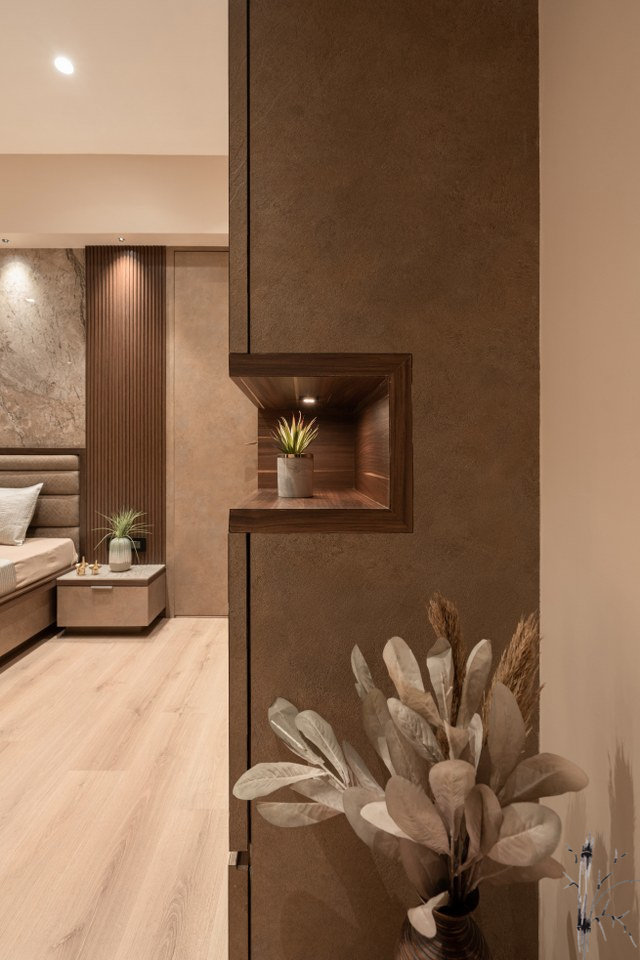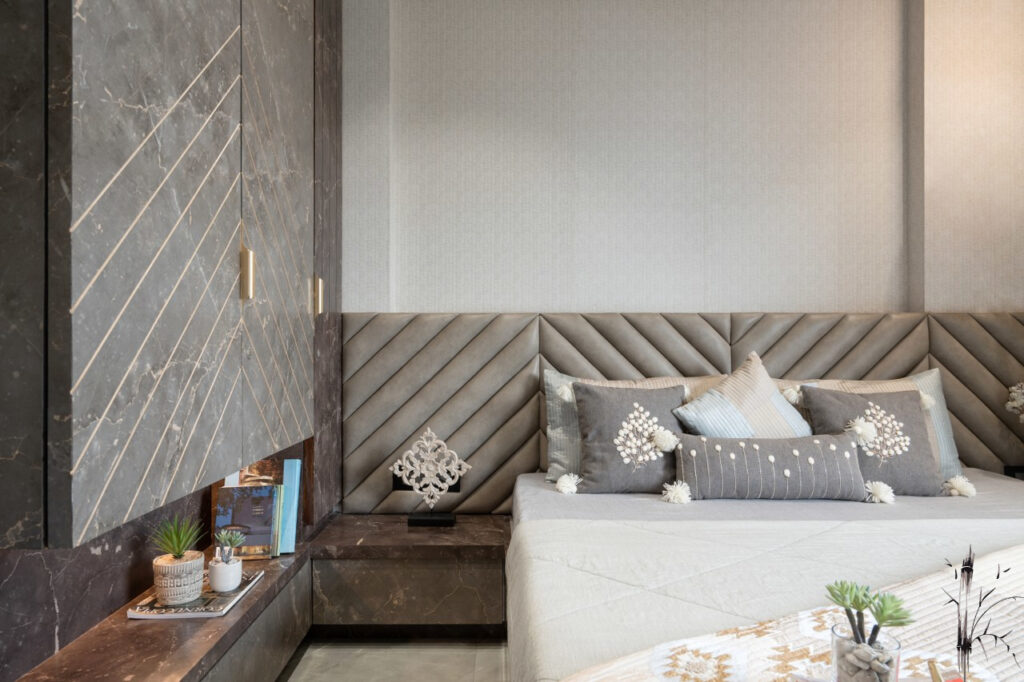 Geometrical play in bed backs complimented with fabrics selection uplift the set up. In the furnishings part- Beddings and Cushions were incorporated to support the décor. Hanging lights and arti-facts were integral part of the design in to uplift the spaces and enhance the ambience and décor.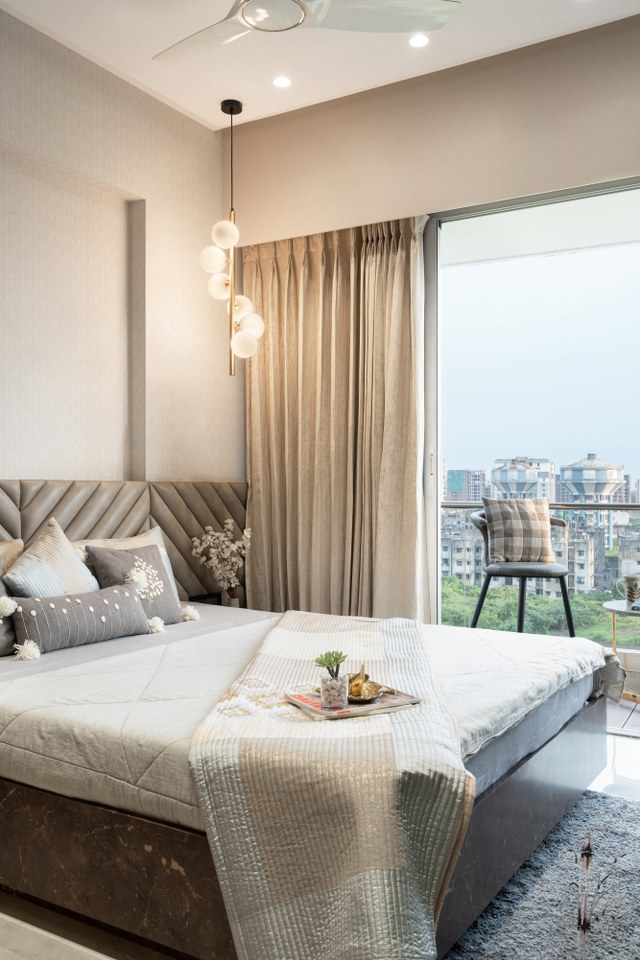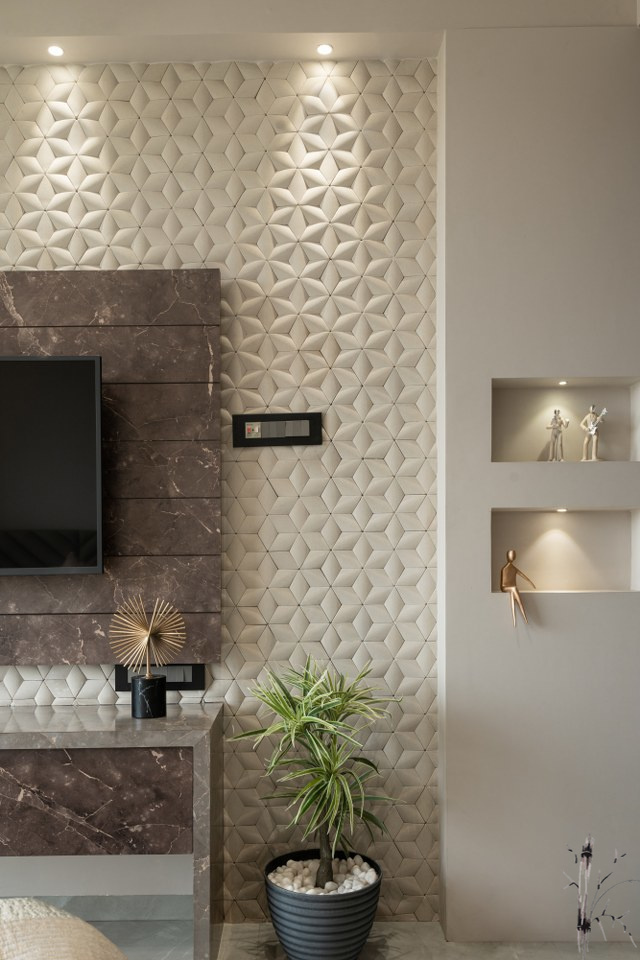 Natural stone cladding with interlocking patterns gives a gorgeous backdrop to a TV / Dresser wall in the room and becomes the focal point of design.
FACT FILE
Designed by : Charcoal Hues Design Studio
Project Type: Apartment Interiors
Project Name : Splendid
Location : Vesu, Surat
Year Built : 2022
Duration of project : 6 months
Project Size : 2000 sq.ft
Project Cost : 35,00,000
Principal Architects : Ar. Krunal Upadhyay & ID. Heena Upadhyay
Photograph Courtesy : Ar. Manan surti
Products / Materials / Vendors : Finishes – Shiv Shakti Laminates, Timberland Veneers / Wallcovering / Cladding – Stone Station, Home Studio / Construction Materials – S. Balchand, Home Studio / Lighting – Sunshine Lighting / Doors and Partitions – Vinayak Steel Art / Sanitaryware – Jaquar / Flooring – S. Balchand / Kitchen – Hafele, Bose / Paint – Dulux / Artefacts – Mango Art, IKEA / Wallpaper & Furnishings – Mahavir Furnishings, Deco Drapes / Hardware – Hafele, Enox, Bose.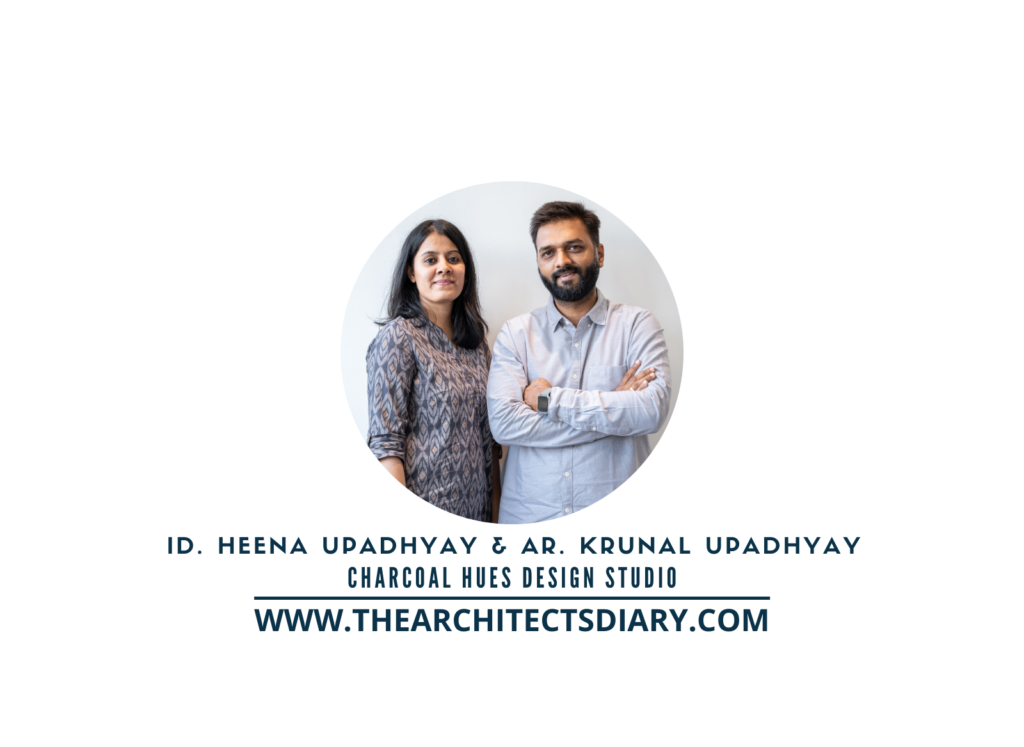 Firm's Instagram Link : Charcoal Hues Design Studio
Firm's Facebook Link : Charcoal Hues Design Studio
For Similar Project >> A MODERN CONTEMPORARY DESIGN TOUCH TO THIS 3BHK HOME