Our client, Mr. Kalpesh bhai Patel, was looking for an elegant and sleek design for their newly purchased 3bhk apartment in Saamarth Heaven 5, Gandhinagar, Gujarat. The total carpet area of the project was 1100 ft.² being an NRI with family members of 5 including 2 sons & a grandmother. Our firm, 'jdesignstudio' tried to give a Modern Contemporary Design touch to this 3bhk home.
A Modern Contemporary Design Touch To This 3BHK Home | jdesignstudio
VISIT : jdesignstudio
The colour palette that we used in this project is grey, white & brown, as our client is obsessed with the colour grey. The crucial materials used in this project are veneer, pu, satin finish grey fabric & mdf. We set the home in the theme of "age grey'' as per our client's liking.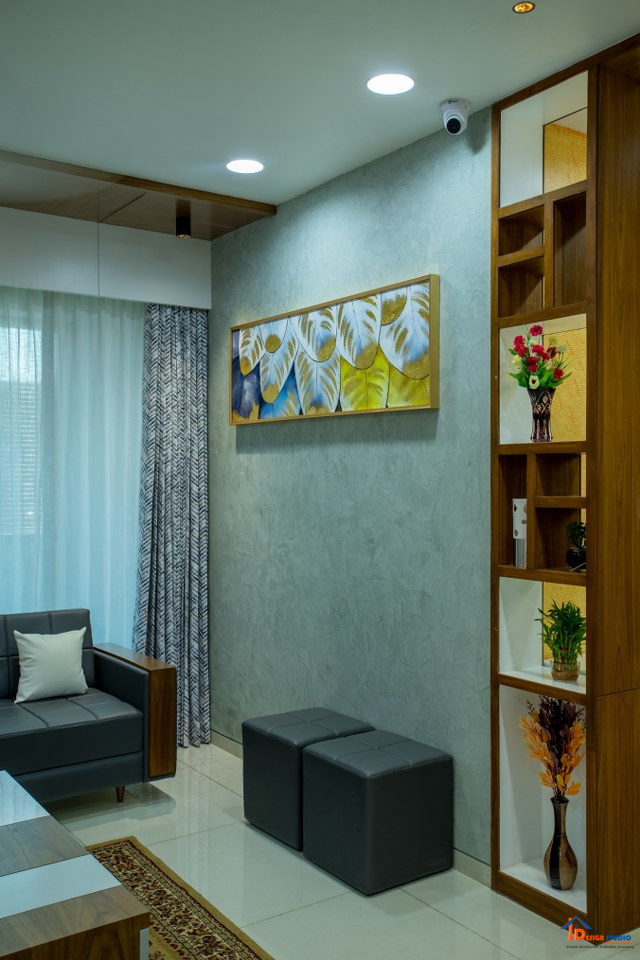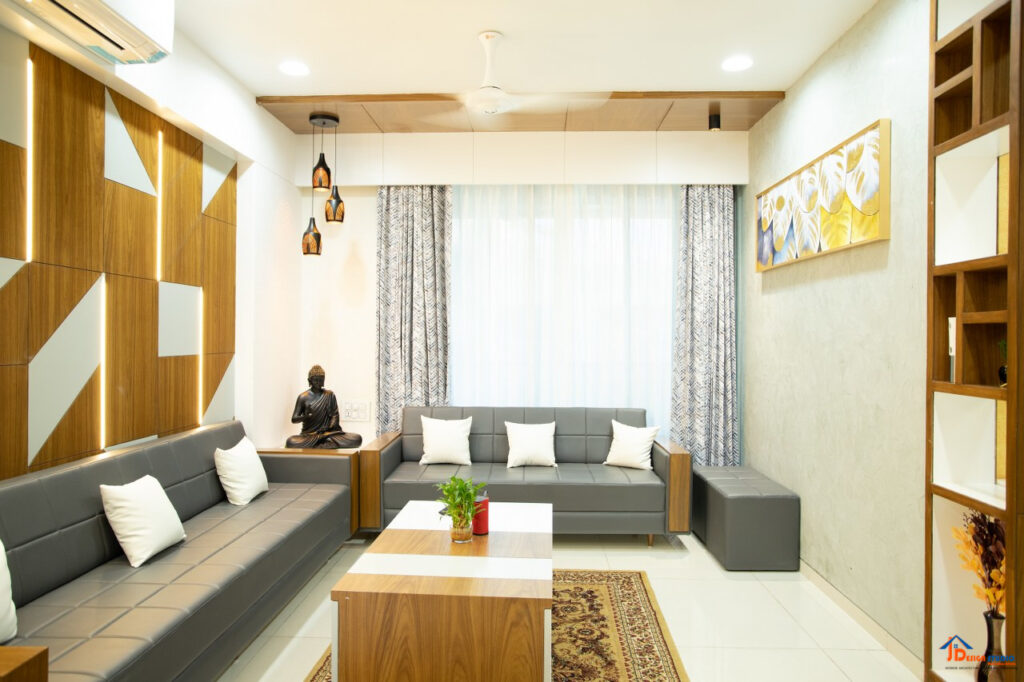 The living room is designed with minimal furniture setup and sleek grey palette. The TV unit has veneer, pu and back painted glass. The 4+3 sofa seating is covered with dark, grey leather and wooden finish. Also we have highlighted the backside of sofa wall with wooden panelling using pu & veneer & to give it some attractive look. We have also used profile lights. We kept the design simple and the lines clean, which is easy to maintain.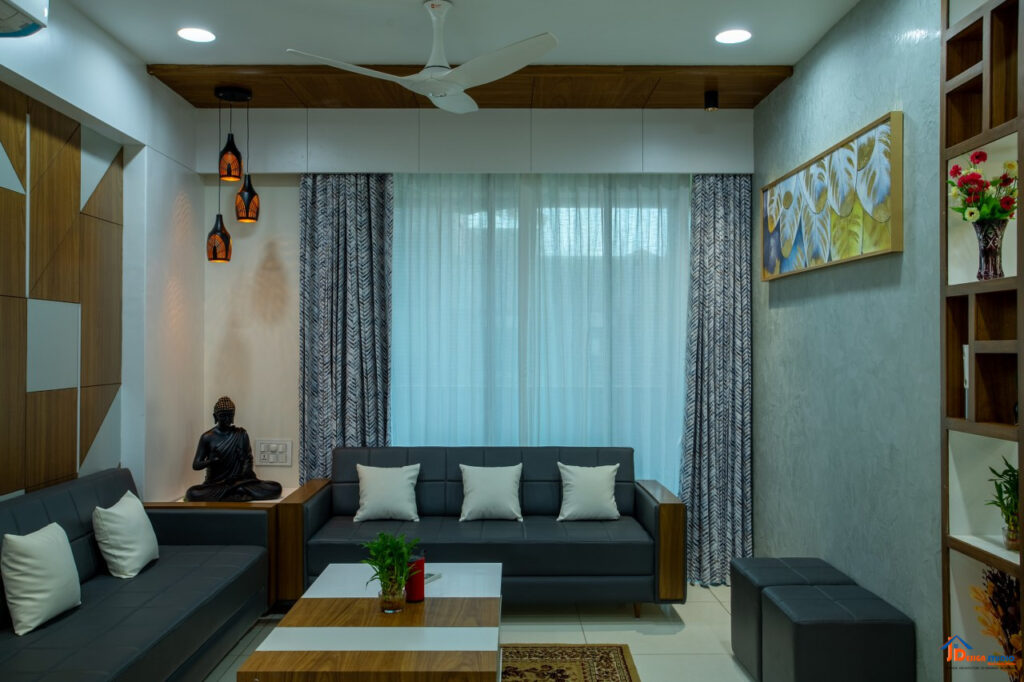 The dining space is in the centre of the house. The silent grey wall on one side and a warm yellow wall on other side makes the dining space lively. The brass and wood partition between the living and dining spaces is designed to be an element that anchors the directionality of spaces as well as governs the visual language of the common areas.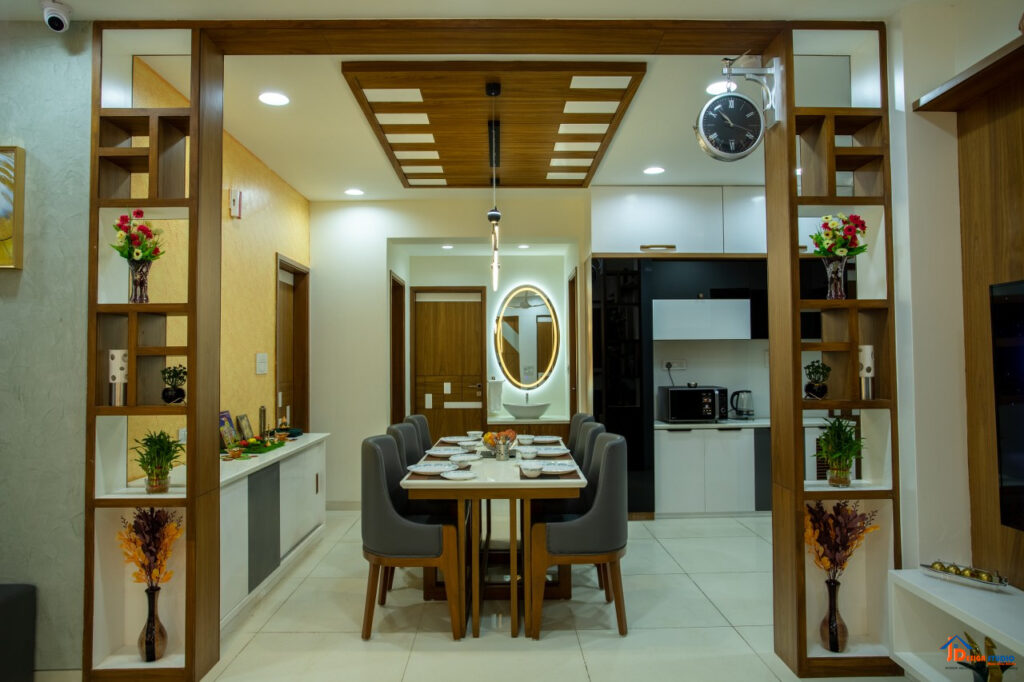 "The kitchen is the heart of every home, for the most part, it evokes memories of your family history." Here, we have designed a straight kitchen using white back painted glass on its wall which is always easy to clean.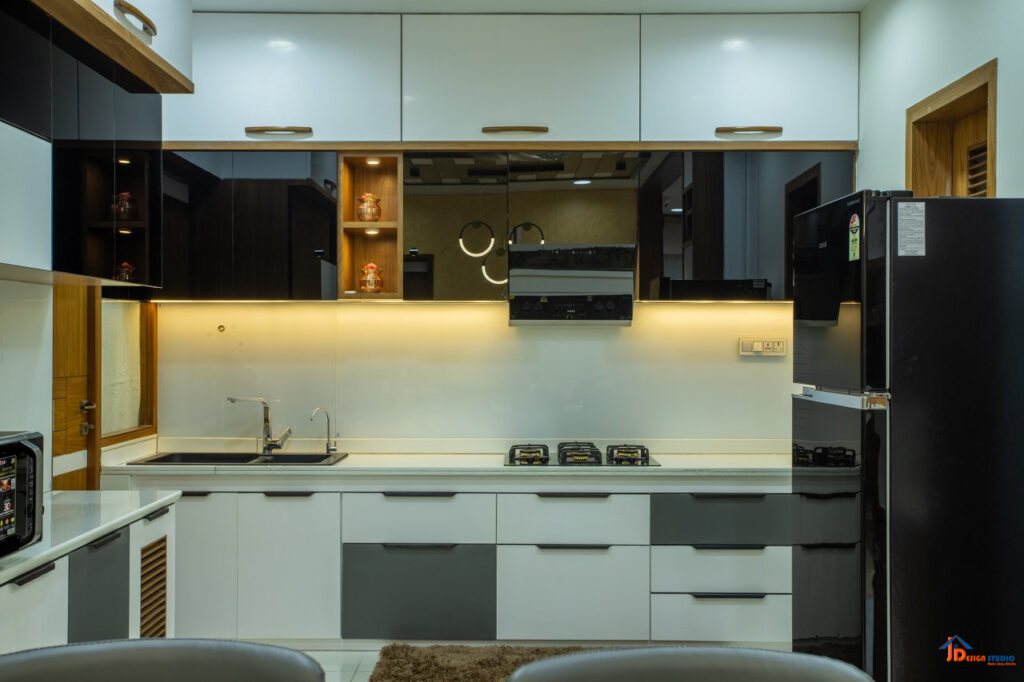 Above that, an overhead storage is designed with black glass shutters continued by loft providing ample of storage. We have made an arrangement of service table for keeping kitchen appliances with a tall crockery unit.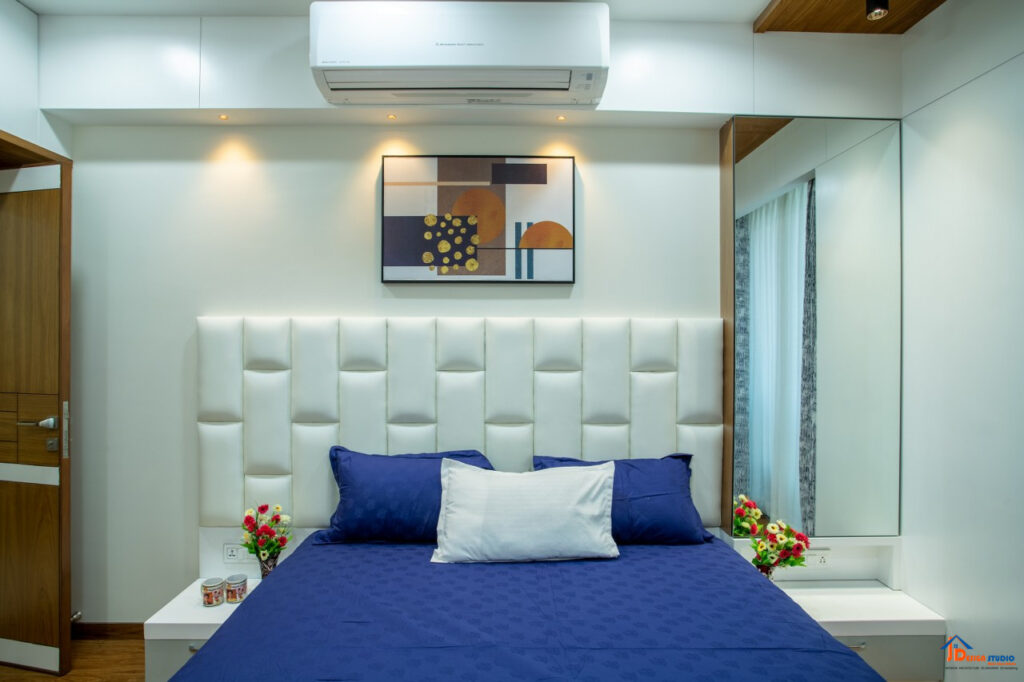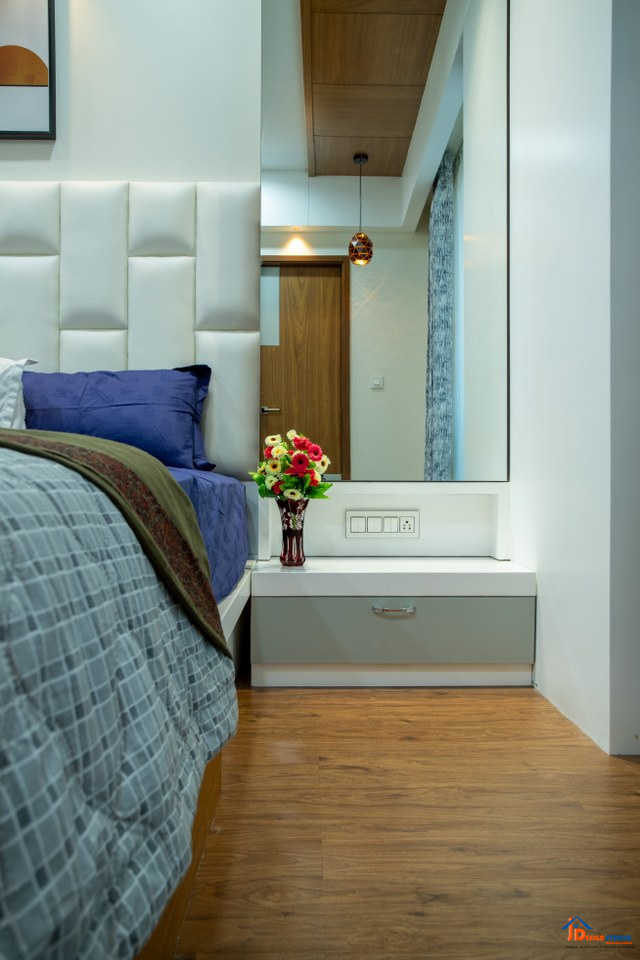 Unlike the other rooms, the master bedroom is a bright, beautiful, sun-kissed space. It is beautifully designed with a minimal white and brown tone palette. The white satin finish fabric is used at the back rest and a grey-coloured shade pu is used in side table and on wardrobe. The overall effect of room is light & airy that feels spacious.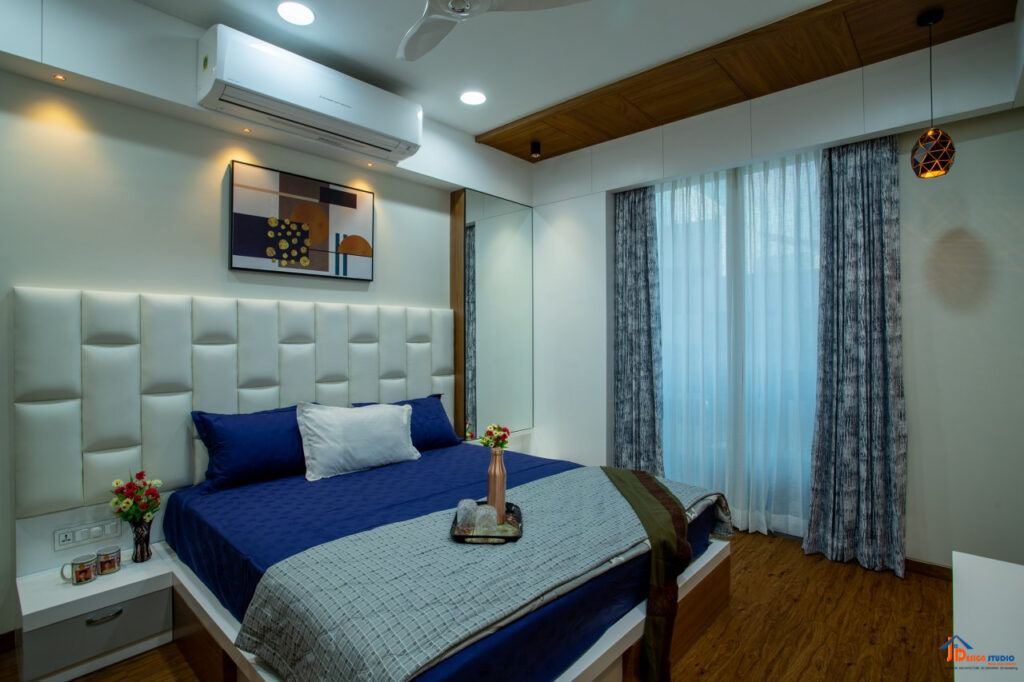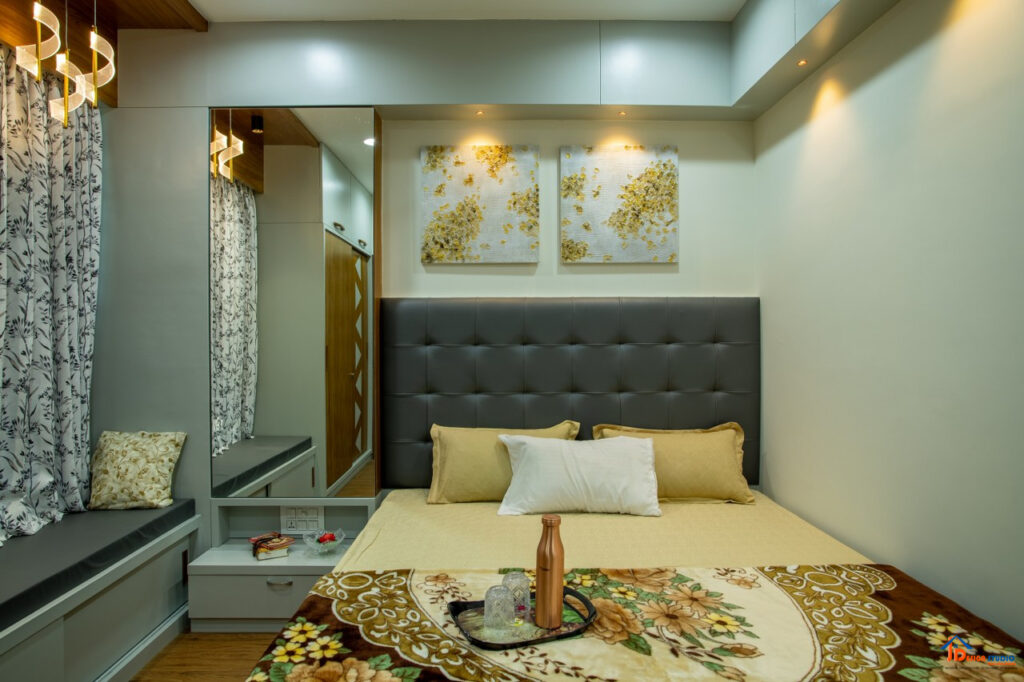 The grandparents' room is aesthetically designed with a brown and white satin finish pu. We have also provided a small seating near the window where one can sit and relax in the evening by having a cup of coffee and reading one's favourite book. With the modern classic theme, white is a popular choice. So we played with shapes and textures using the color pearly white on wardrobes and the main wall.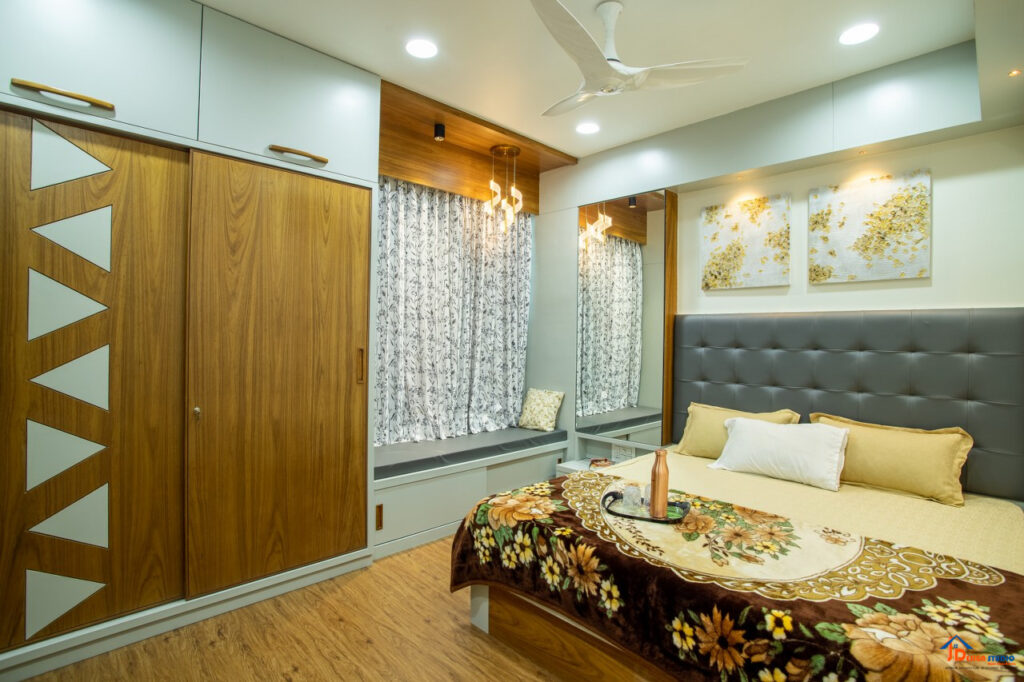 The son's bedroom is a calming space with it's main colour being beige, brown & white as the room is smaller as compared to others. We have arranged a single wardrobe in veneer and a floating study table is connected to it.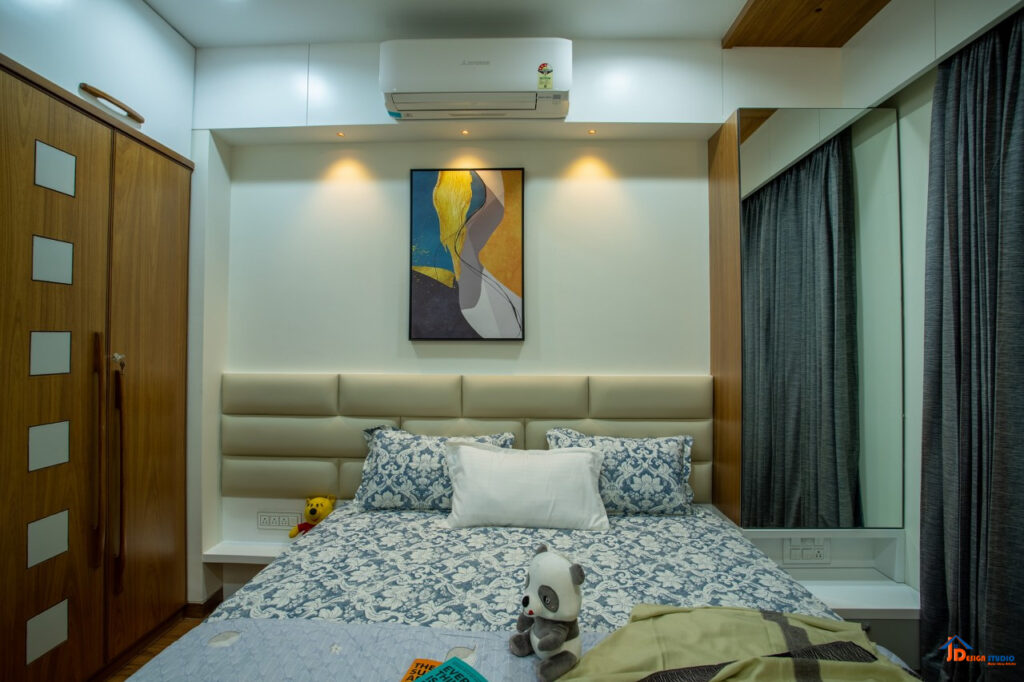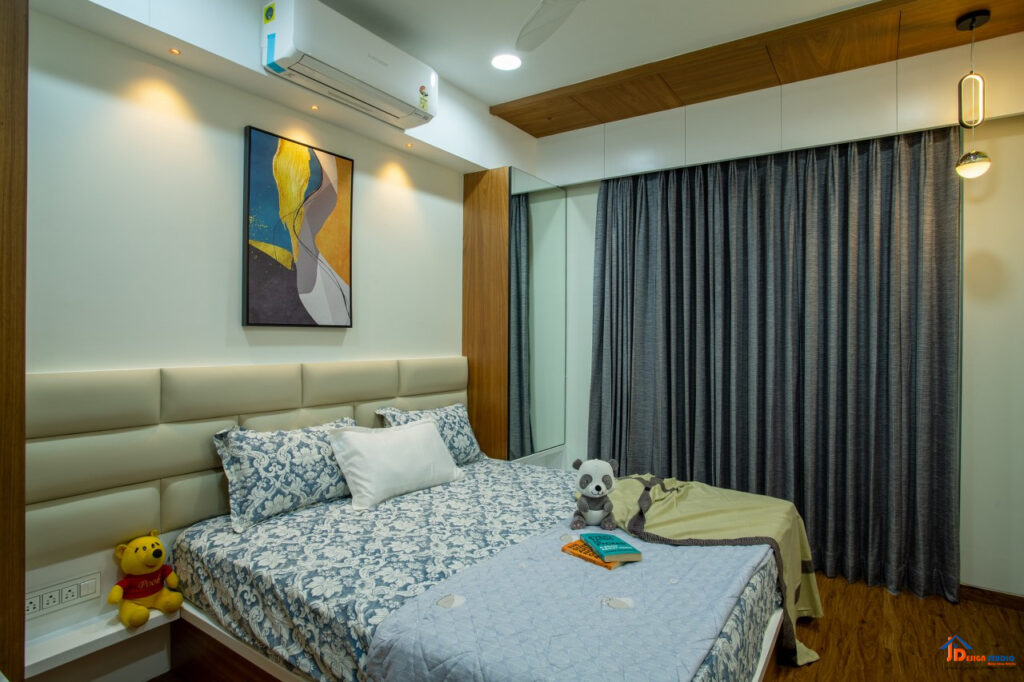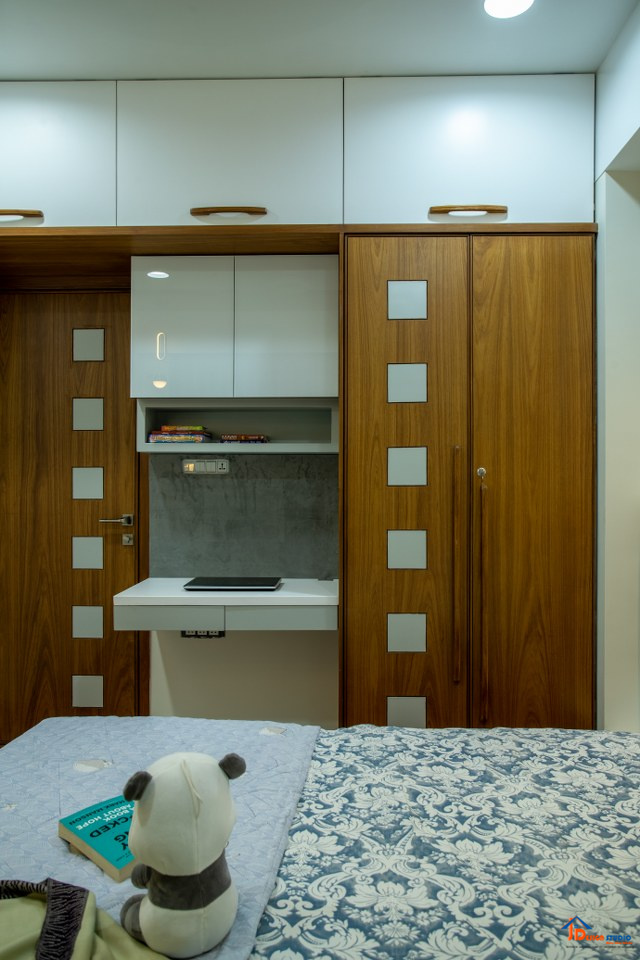 FACT FILE
Designed by : jdesignstudio
Project Type : Apartment Interiors
Project Name : SAAMARTH HEAVEN 5
Location : GANDHINAGAR
Year Built : 2022
Duration of project : 4 months
Plot Area : 1600 Sq.ft
Built up : 1500 Sq.ft
Project Size : 2200 Sq.ft
Project Cost : 20 Lac
Principal Architect : JAGDISH PATEL
Team Design Credits : POOJA CHOUDHARY
Photograph Courtesy : VIRAJ PATEL
Products / Materials / Vendors : Finishes – VENEER ,PU / Wallcovering / Cladding – AISIAN PAINT Construction Materials – NANO / Lighting – NEPUTUNE / Doors and Partitions – AGL / Sanitaryware –JAGUAR, VERMORA / Windows – DOMAIL / Furniture – CENTURY ,DURIAN / Flooring –AGL / Kitchen – NANO AGL TILE / Paint –ASIAN PAINTS / Artefacts – DECORE HOUSE / Hardware –HETTICH,PROZONE, VR INTERNATIONAL.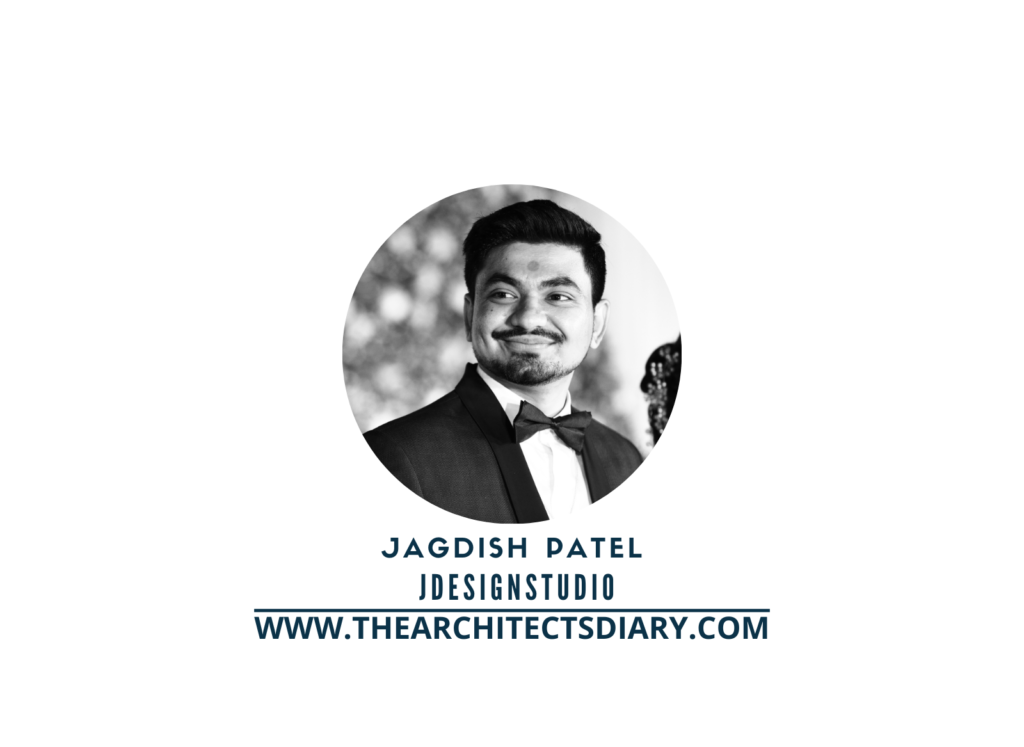 Firm's Website Link : jdesignstudio
Firm's Instagram Link : jdesignstudio
Firm's Facebook Link : jdesignstudio
For Similar Project >> A 2BHK APARTMENT FOR A MODERN FAMILY WITH CONTEMPORARY TASTE