Clients Requirement –
Clients old shop was around 10'X25' so due to lesser space and for business expansion they needed a 5 floor Shop in which Basement will be for material loading and unloading purpose, Ground and First Floor for CP fitting and sanitary display ,Second and Third Floor for Storage Purpose.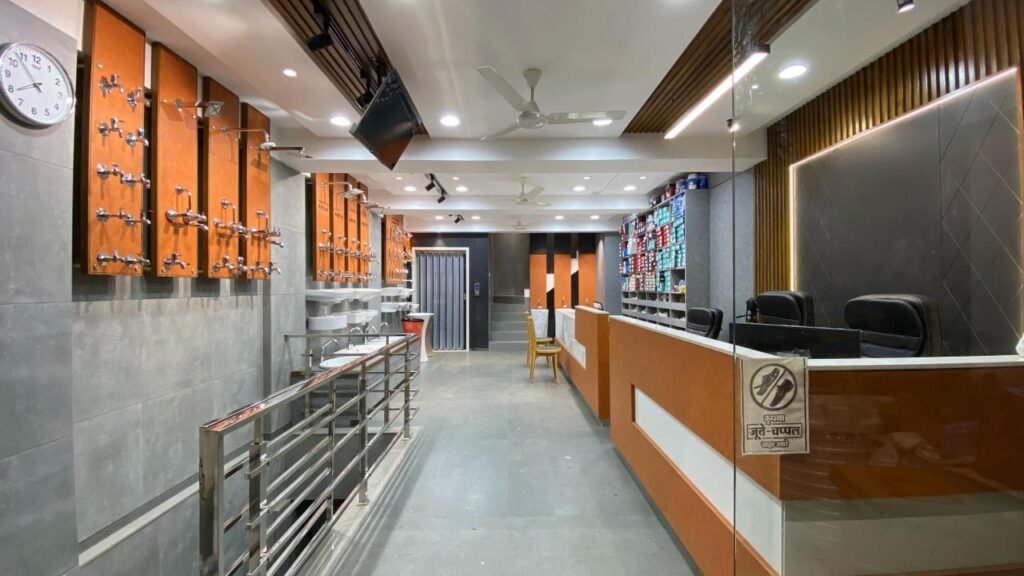 Raavi Sales – Plumbing, Sanitary & Ceramic Store | Studio NKID
Visit : Studio NKID
Design Objective –
The objective was to create a Display centre for Plumbing Fittings and Regular Sanitary on Ground Floor and The Premium Sanitary Display was made on First  Floor so that visitors could see and select from the wide range of products.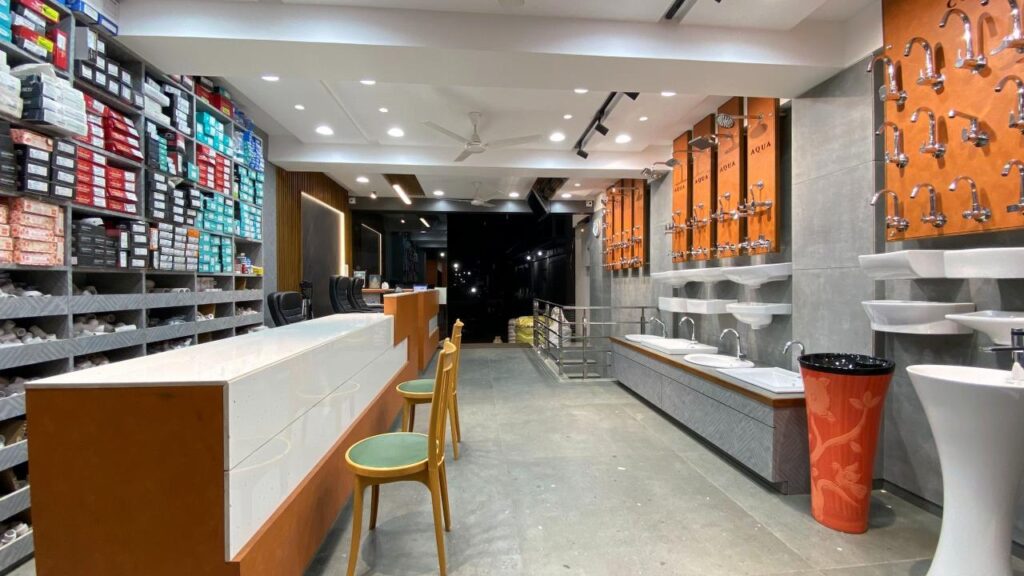 Material Palette –
Designer has used grey tiles for flooring, cement grey tiles for wall cladding, black sparkle stone for paneling, white stone for counters, textured grey and leather finish orange color laminate for furnitures. Grey being a neutral and balanced color was kept as a base color so as to attract a visitor towards orange CP fitting panels, black sparkle stone and white stone countertops.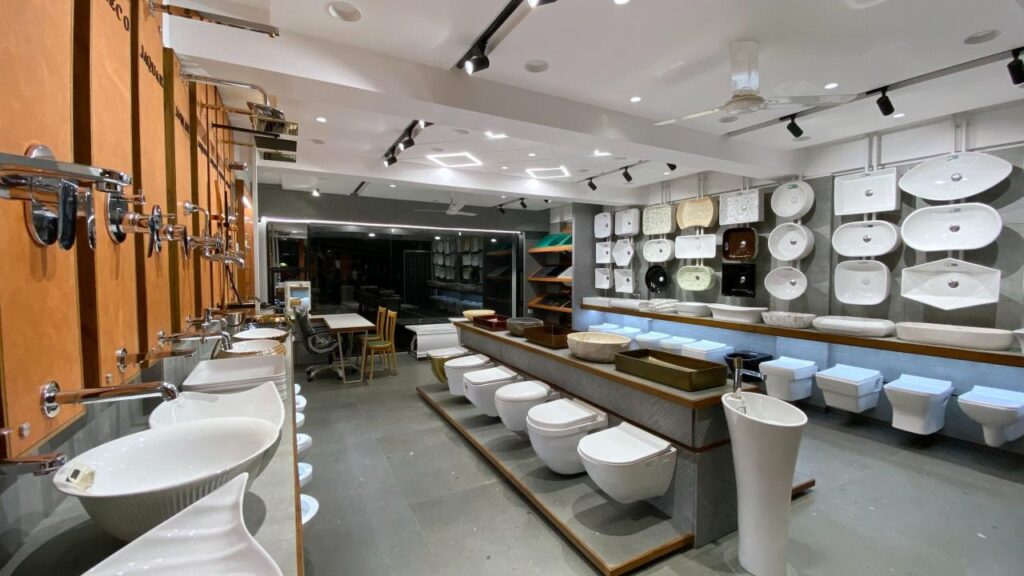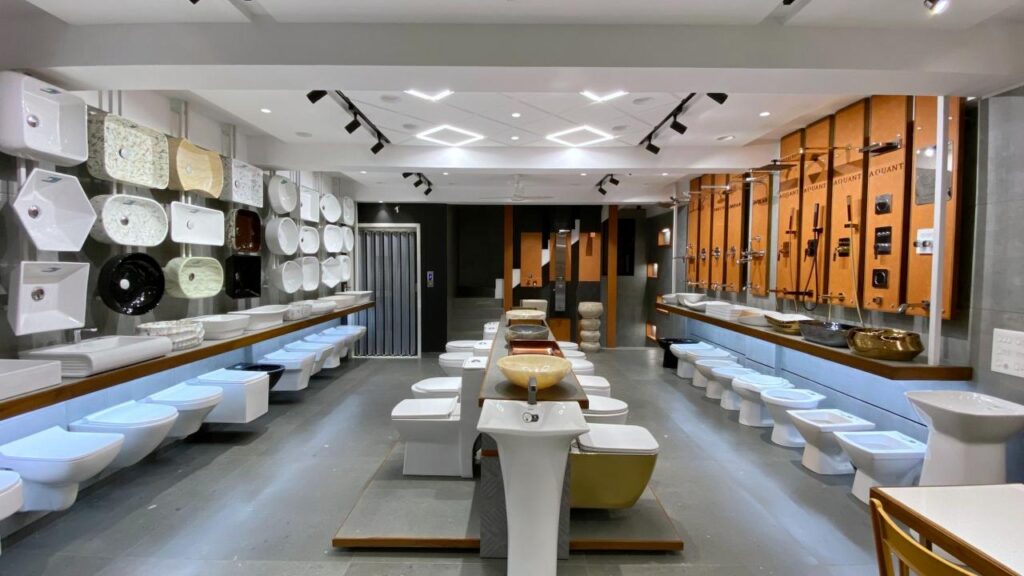 Details –
While entering the showroom, there is a staircase going towards basement on the left side and on the right side there is Owners table followed by a small billing table The Paneling behind the Owners table is cladded with Black Sparkled Stone and PU polished Wooden Patti highlighted with Profile LED Light and  Zoom Light making it an attraction for visitors. PU polished Wooden Patti is combined with gypsum ceiling to highlight the  entrance area and A hanging profile Light is used as task lighting for Owners Table. After the billing counter there is a display counter for visitors to explore the multiple options available for the product they wish to buy.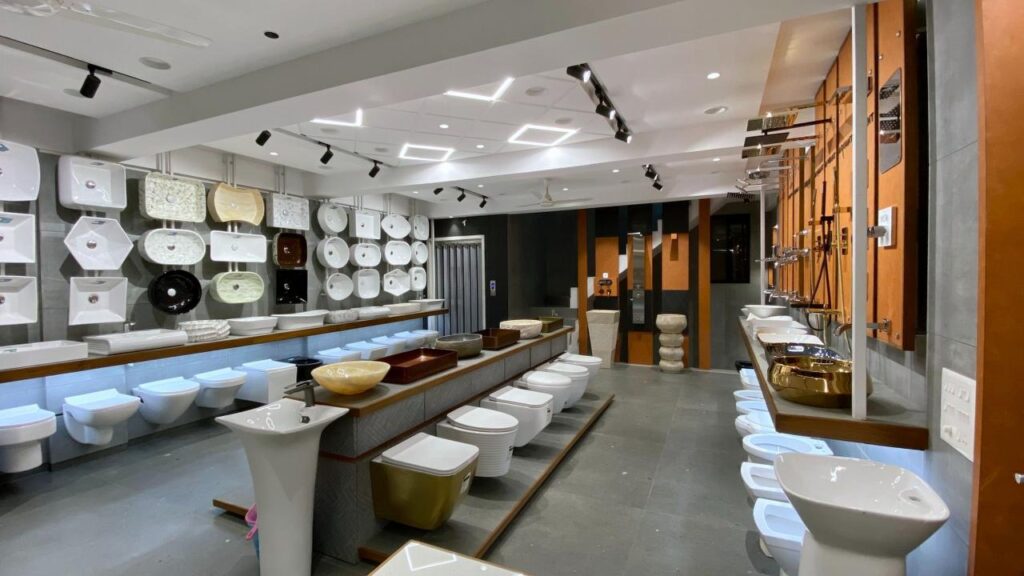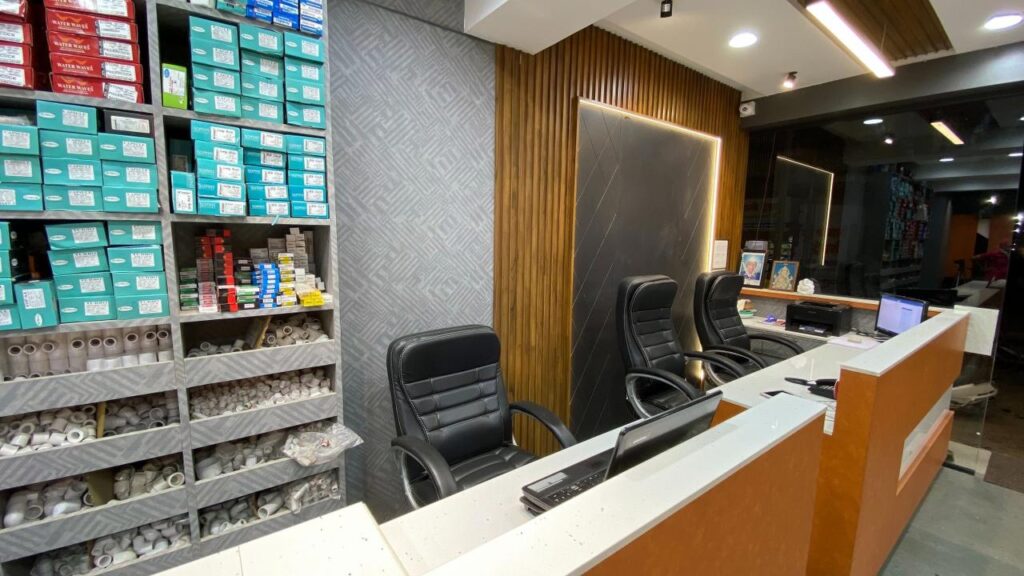 Left wall shows a wide range of CP fittings which are hanged on Leather Finish Orange color Laminated panels with a base of Cement Grey wall tiles, Orange colored panels are used to grab Visitors attention. Below CP fittings panels, there is a display for wall mounted, under counter and one piece basins White and colorful basins stands out due to cement grey tiles and textured grey laminate. Lift is cladded with black sparkled stone with white stone framing to break the  grey color monotony. Grey chips artificial stone applied on steps leads the visitors towards first floor  which has a wide range of premium sanitary ware, CP fittings and kitchen sinks. Left Wall has a display of floor mounted WC with Orange CP fitting Panels and  table top basin over cement grey tiles.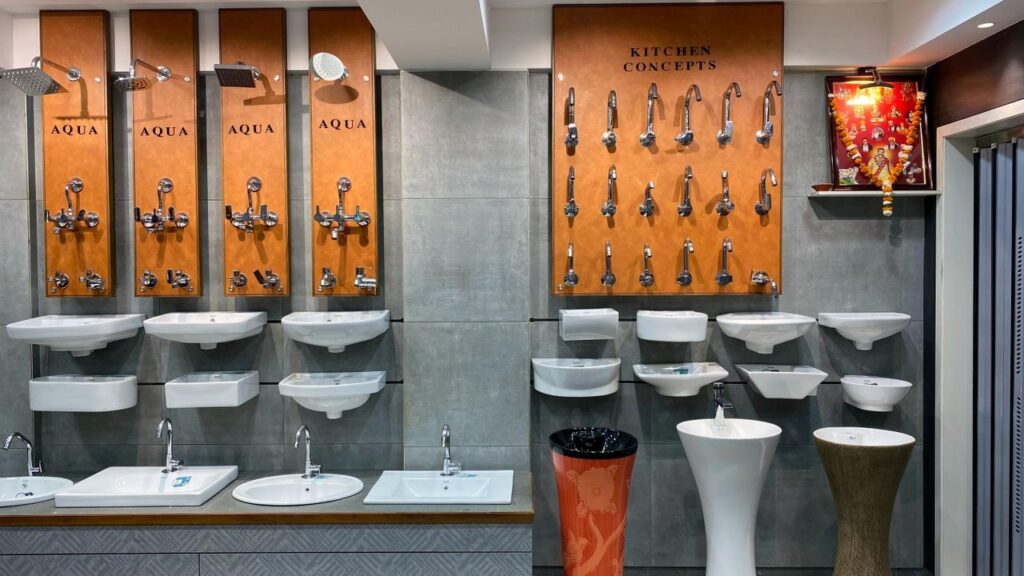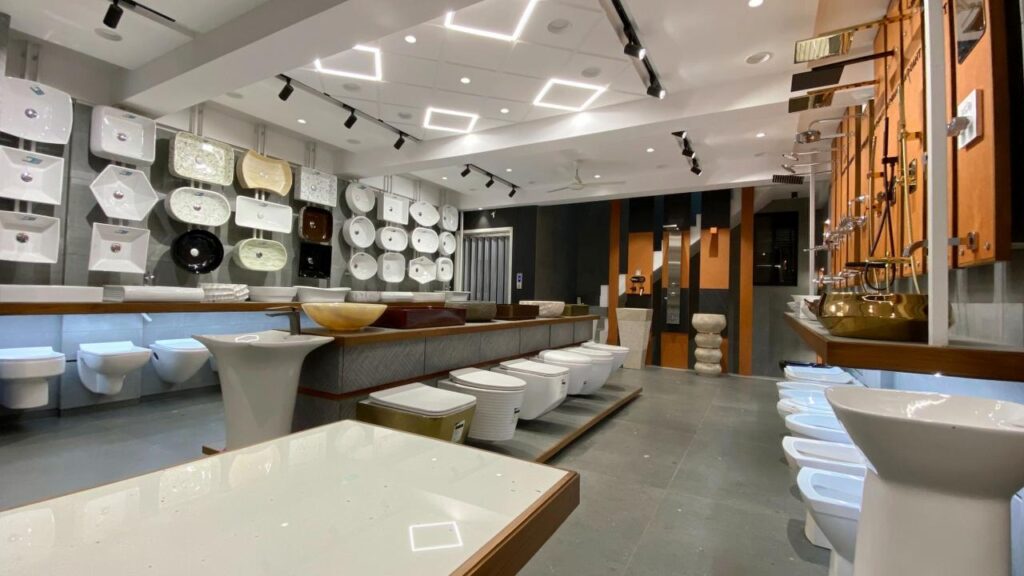 Right wall has a display of Wall hung WC and table top basins fitted vertically on 1"x1" MS pipe. Designer had kept the Ceiling plain throughout the showroom except the center ceiling which is designed with Rhombus shaped grooves and four Rhombus are highlighted with profile LED light which acts as a task lighting for the display counter below. A small discussion table is placed in the left corner of the showroom, Designer has tried to use each and every space for displaying all the products hence the backwall of the table is used to display bathroom accessories and Right corner is used for kitchen sink display. There is a 12feet long counter in the middle of the showroom which displays premium table top basins, wall hung WC and one piece WC, the counter also has a drawer storage and is finished with grey textured laminate.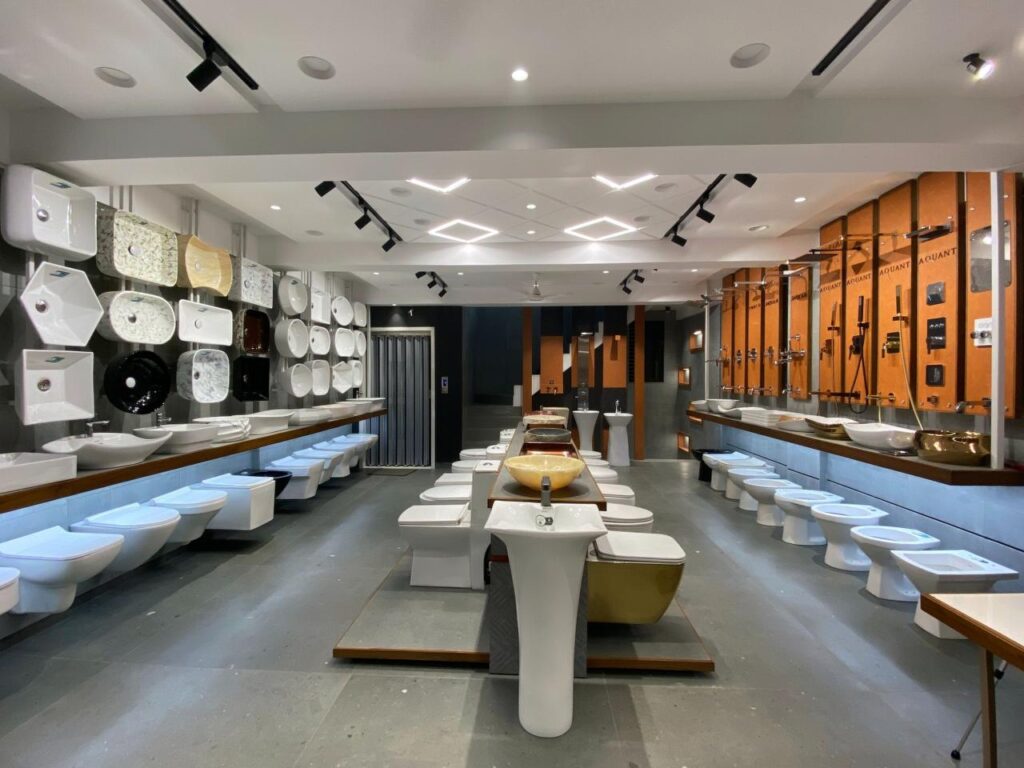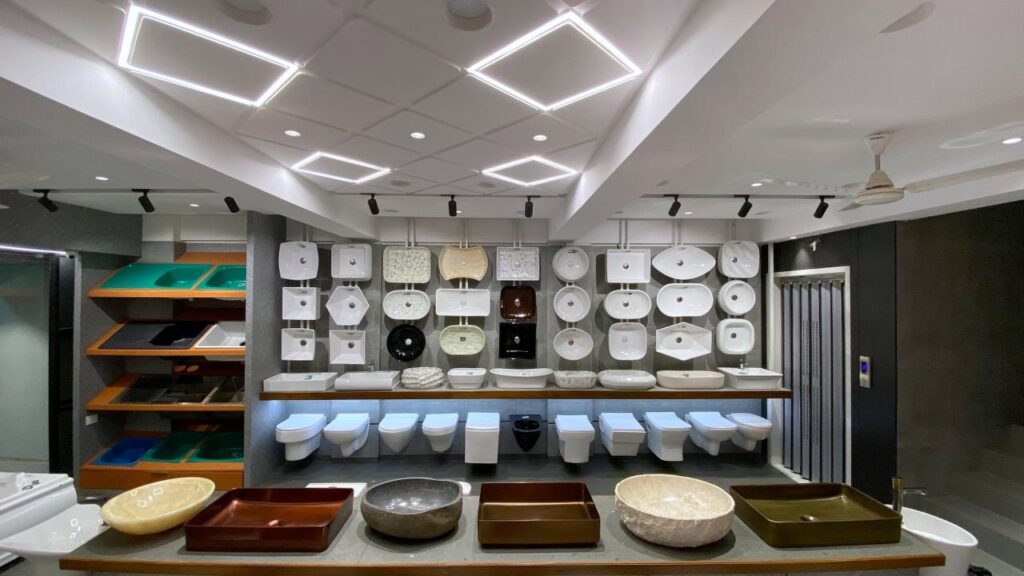 Lighting –
Lighting plays an important role for every space to stand out so the Designer has used White shade as well as Natural White shade ceiling lights with track lights to highlight each and every product throughout the showroom.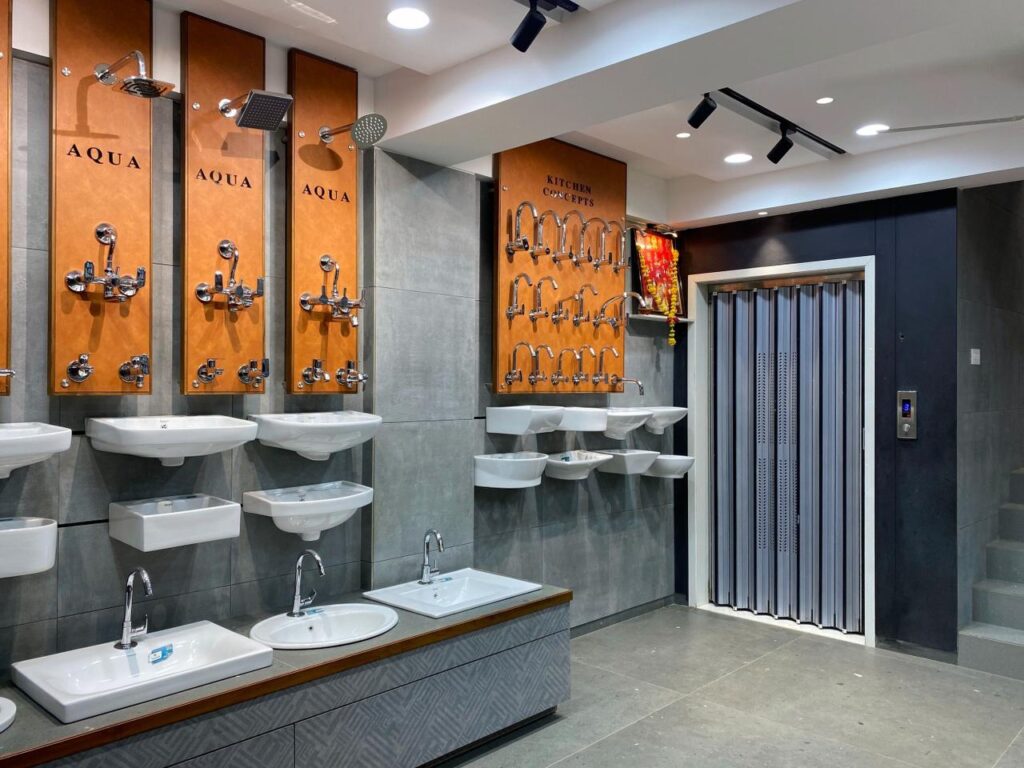 FACT FILE
Designed by : Studio NKID
Project Type : Commercial
Project Name : Raavi Sales – Plumbing, Sanitary & Ceramic Store
Location : Jalgaon, Maharashtra
Year Built : 2020
Built up Area : 2950 sq.ft
Project Cost Appx : 45 Lac
Principal Designer : Nikhil Khanchandani
Photograph Courtesy : Kabir Pirwani
Products and Materials : Floor Tile – IBIS | Wall Tile : Lavish Ceramics | Stones : Accord Ceramics Laminate – Viju's Ply & Laminates | Furniture : Om décor | BTC – PU Polished BTC | Lighting : Filament Led Store, Kritron, Digitech |Façade : ACP (VIVA) | Paint : Dulux |
Consultants for the Project : 
Civil Engineer – Rakesh Lulla | Shree Engineers
Contractors : – Salim & Arun Patil (Civil Contractor)- Sanjay Patil (Plumbing Contractor)- Shantaram Patil ( Electric Contractor) – Afatula Pasha ( Gypsum Ceiling Contractor) – Sunil Sharma (Tile Contractor) – Mahesh Jangid (Furniture Contractor) – Kamlesh Chandwani (Painting Contractor)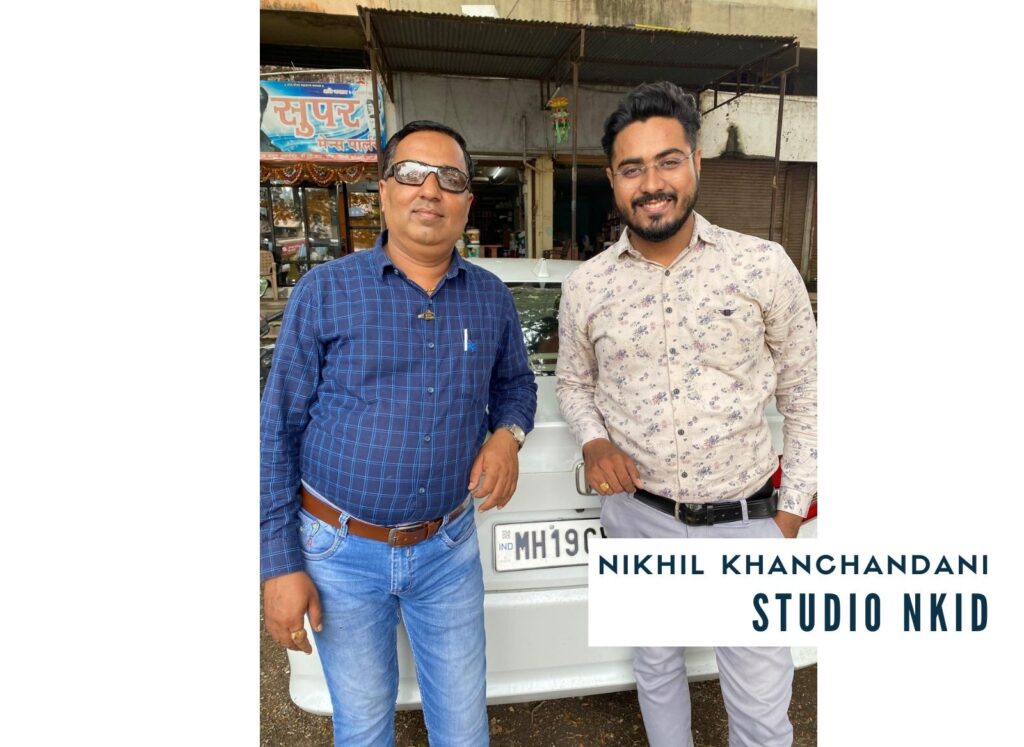 Firm's Instagram Link : Studio NKID
Firm's Facebook Link : Studio NKID
Disclaimer: No TAD editor is involved in the curation of this content.