Concept
For this project we found design ideology rooted in simplicity and minimalism, with the same context, The design focuses on flexibility and pragmatism.
Office Space With Simple And Minimal Design Ideology | Dhananjay Pund Architects And Designers
Visit : Dhananjay Pund Architects And Designers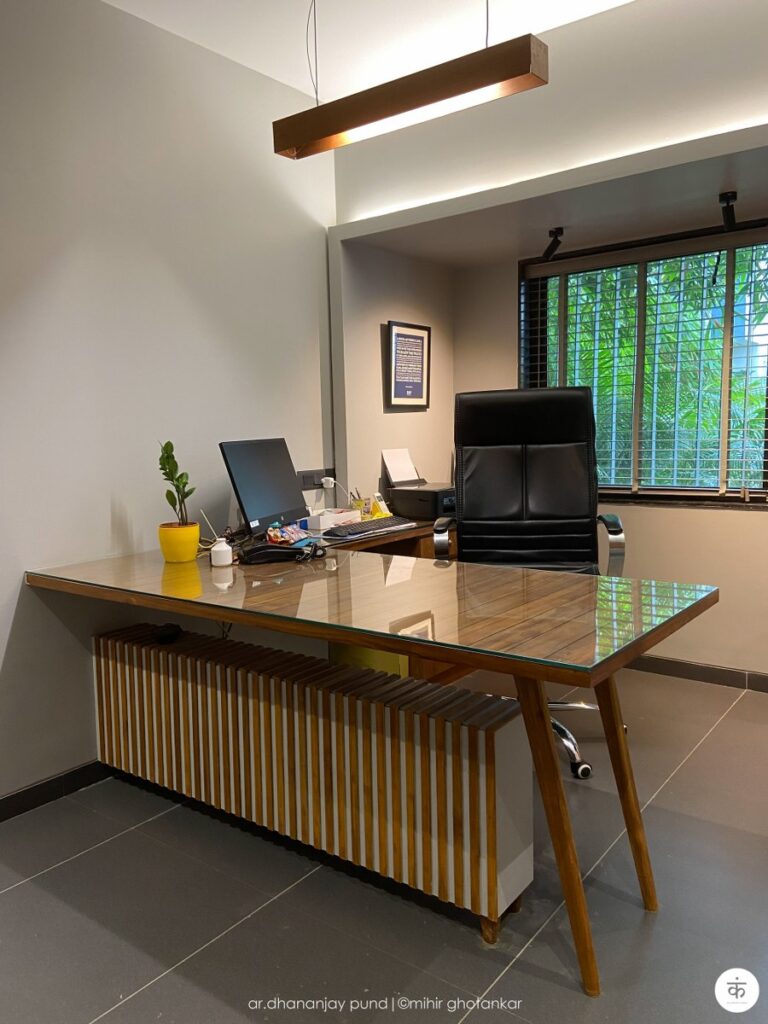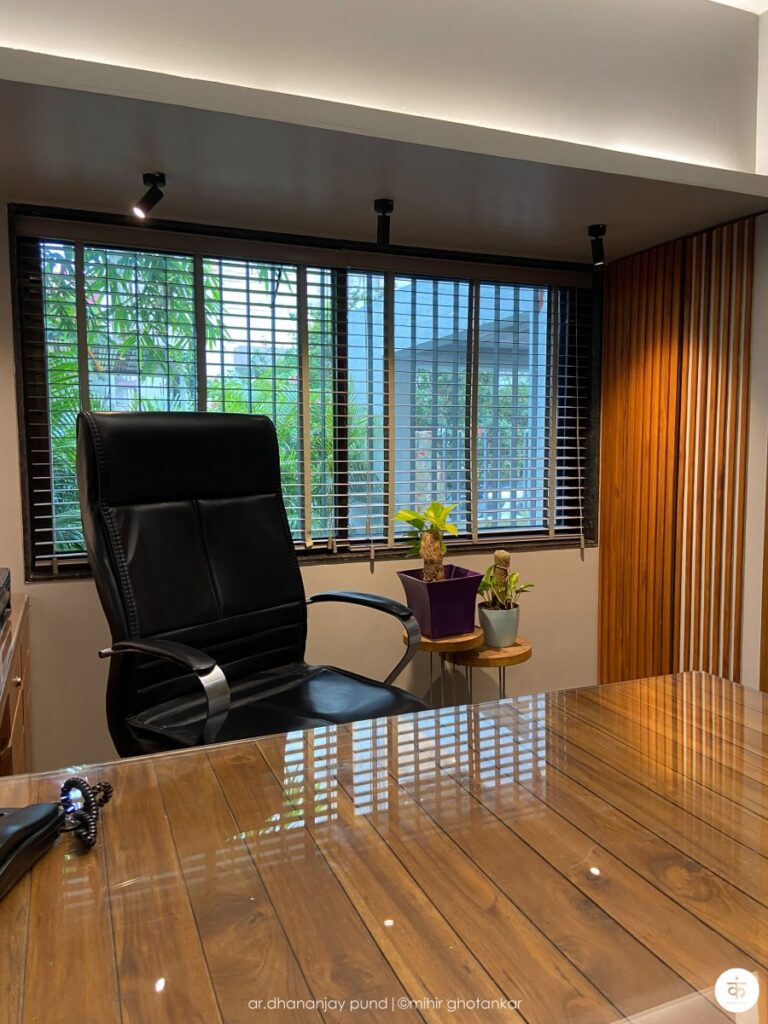 While discussing design with the client we often saw graphs laying on his table as a part of his professional working , helps us to shape the character to the space, here we come out  with a fluted pattern resembling to the graph , which indeed a expression of fact and growth… forms a perfect material and design palette symbolising the profession.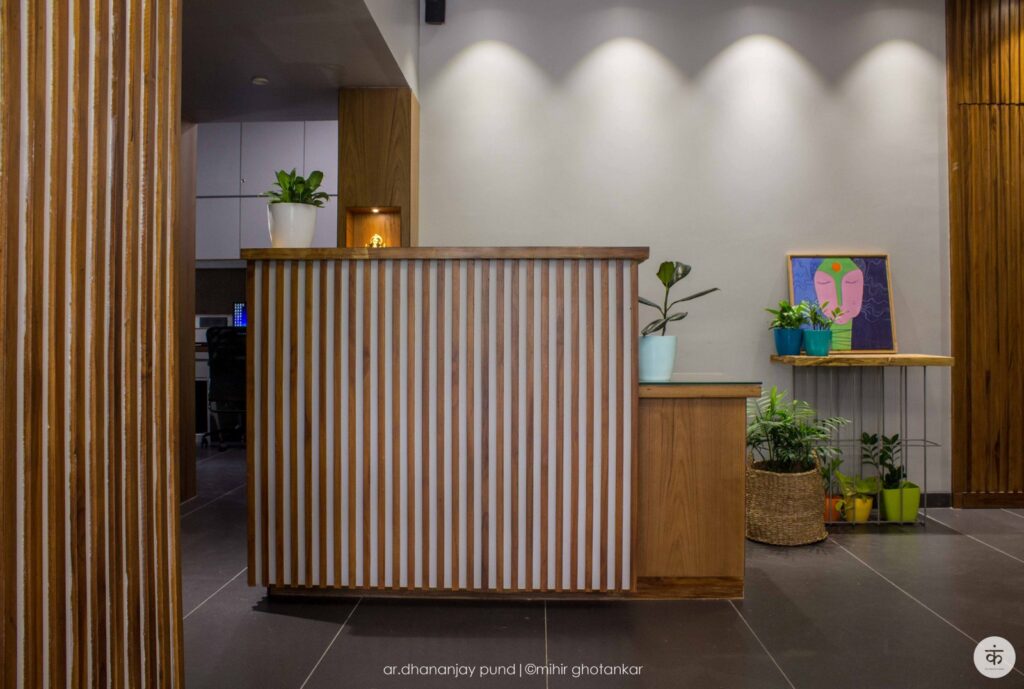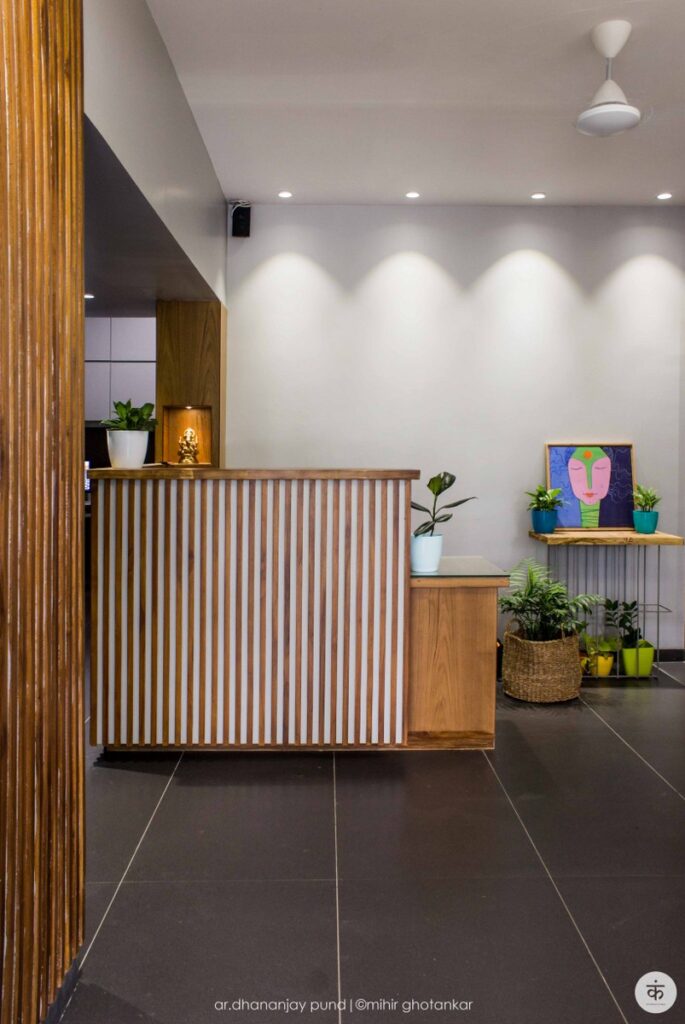 We tried to amalgamate modern and ethnic components to establish a narrative with a contemporary styling with infill of Indian-ness, it has been achieved through the use of the natural wooden logs, veneer texture adds ethnic essence, here the paintings with a subtle pallet background are like a cheery on cake.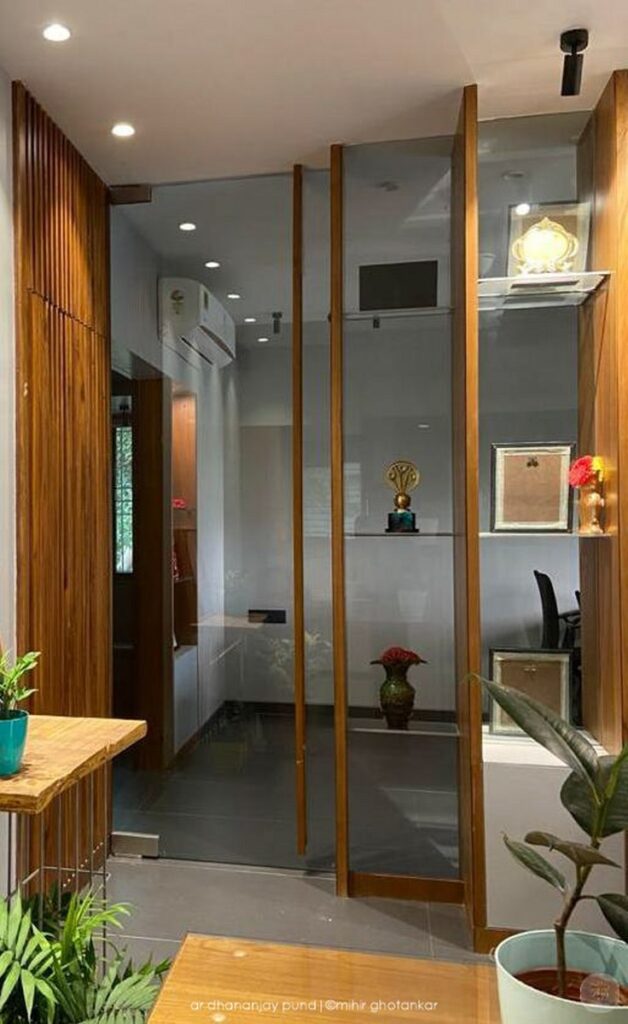 Client's brief
The client had a very clear vision; He wanted simple, non clattery and free flowing spaces, The owner emphasis on transparency as an open work area with insets of glass partitions that connects visually and aurally.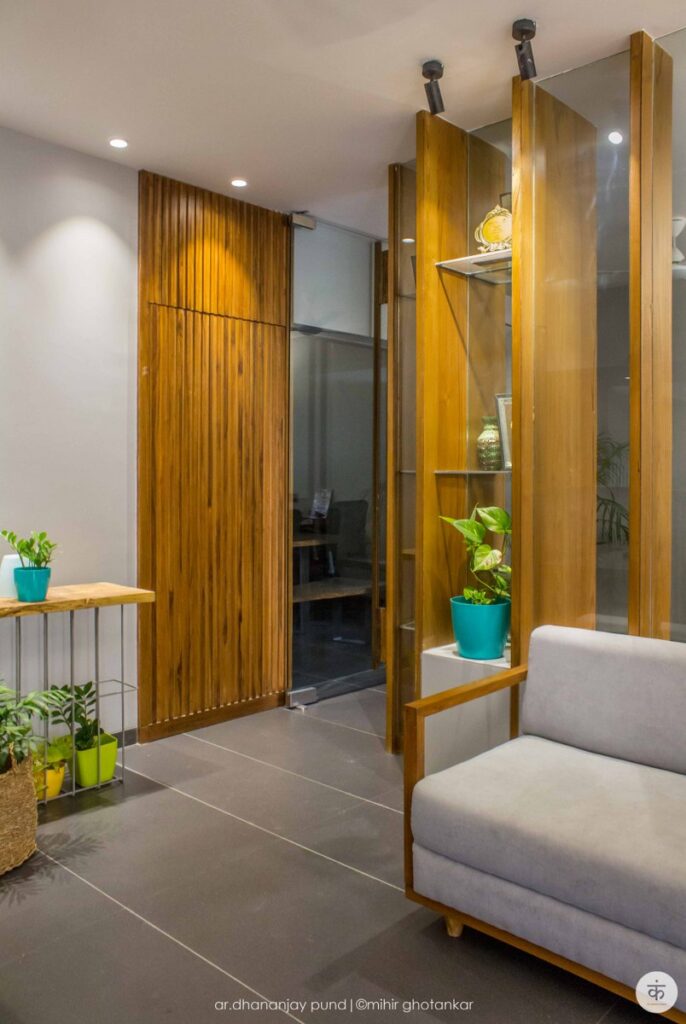 In addition to this, he wanted a conference room, a pantry and specious entrance lobby or verandah in addition to reception and waiting space.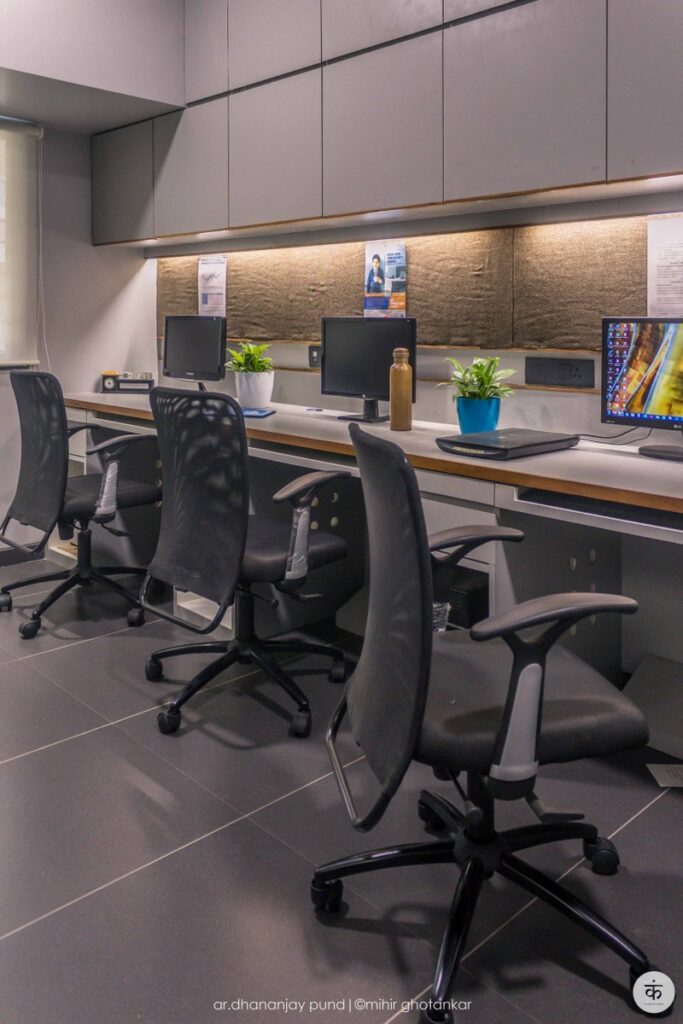 About aesthetics, he wants a contemporary look but at the same time has a carving to add personal styling to it, which can convey a sense of affluence to the space.
Project details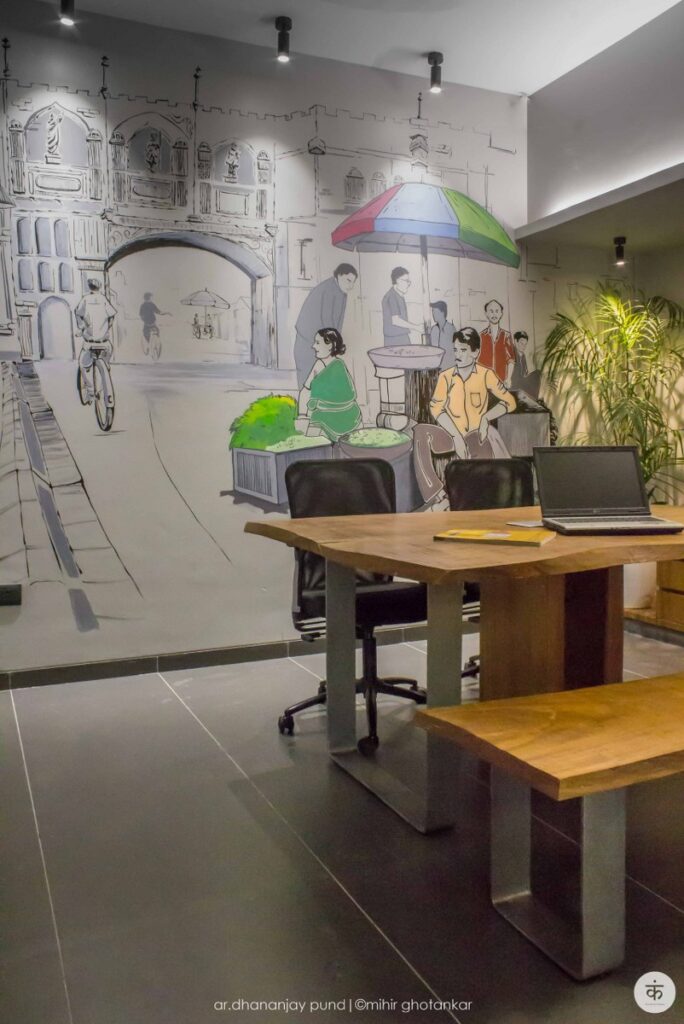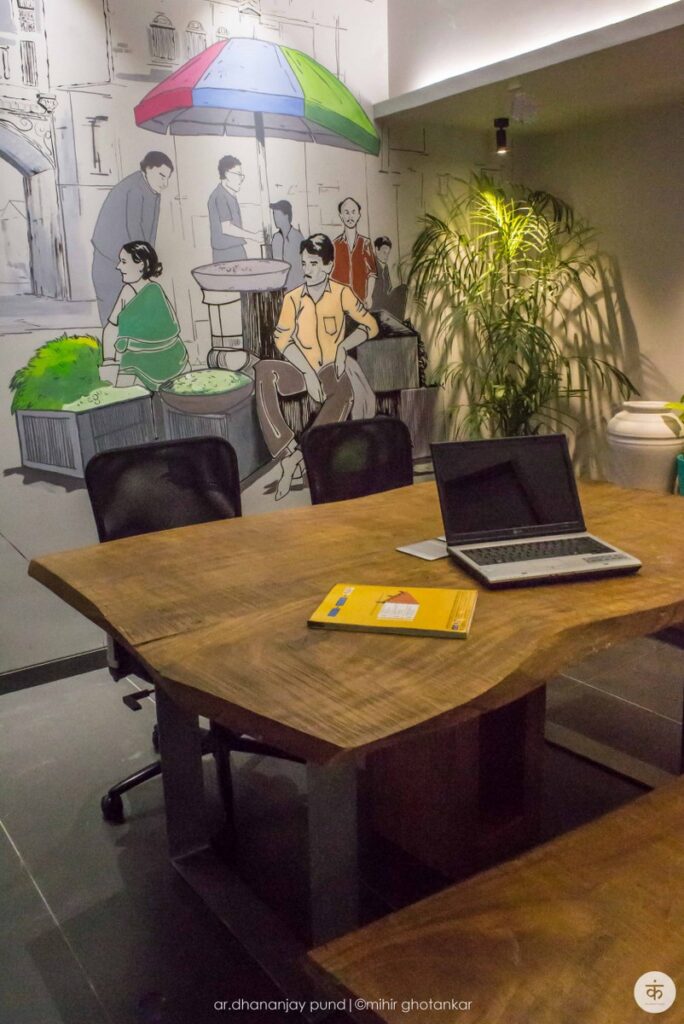 The property located in residential neighbourhood, It is a ground floor tenement in a multi stories apartment having separate entrance with independent parking space .The tenement is having side marginal space on east as well as on south side with approach road from both side, west side of tenement is having common wall shared with other tenement and apartment parking space this brought to fore challenge of the reconciling the requirement of privacy. 
Project-
Simplicity and minimalism are the words that can express the design ideology,  Its transformation of a residential flat into a workplace for a financial service.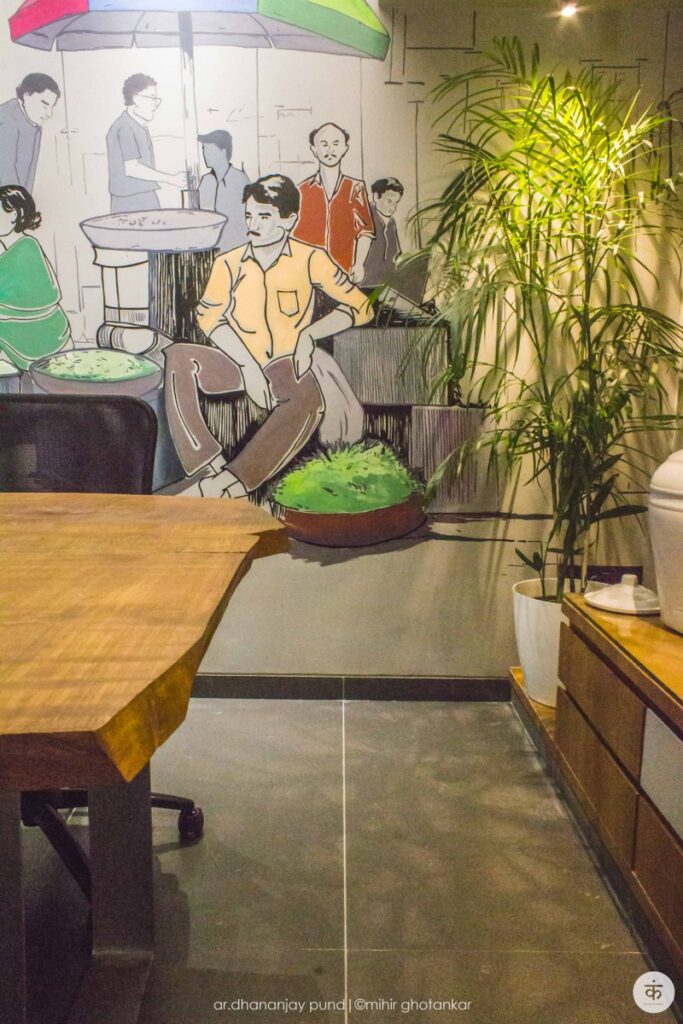 The layout is simple with free flowing spaces, the central reception divides the layout in to two parts -staff area and semi private are with main chamber and conference hall,  The workstations and conference places towards either dead end of the layout which can maintain the privacy, while main chamber is assigned at north east corner towards the side marginal area.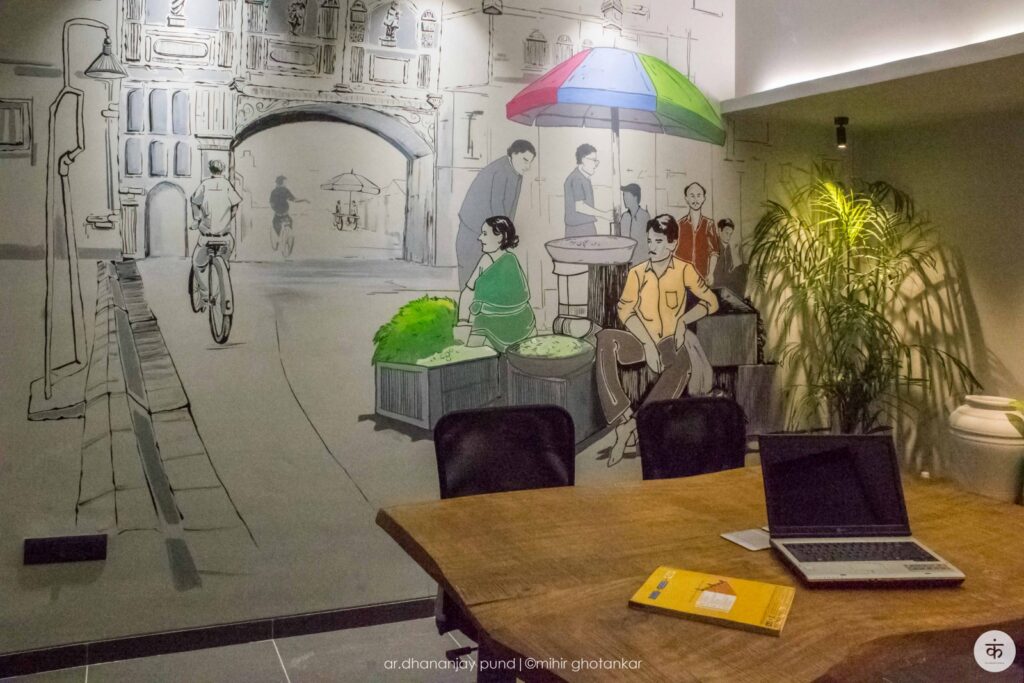 Wooden texture in combination forms the aesthetic of the office. The fluted wooden table, side table with painting on it, having subtle color palette on wall welcomes you at reception. The fluted wooden panels with glass in a proportion, makes the space look balanced where the glass allows a visual connection.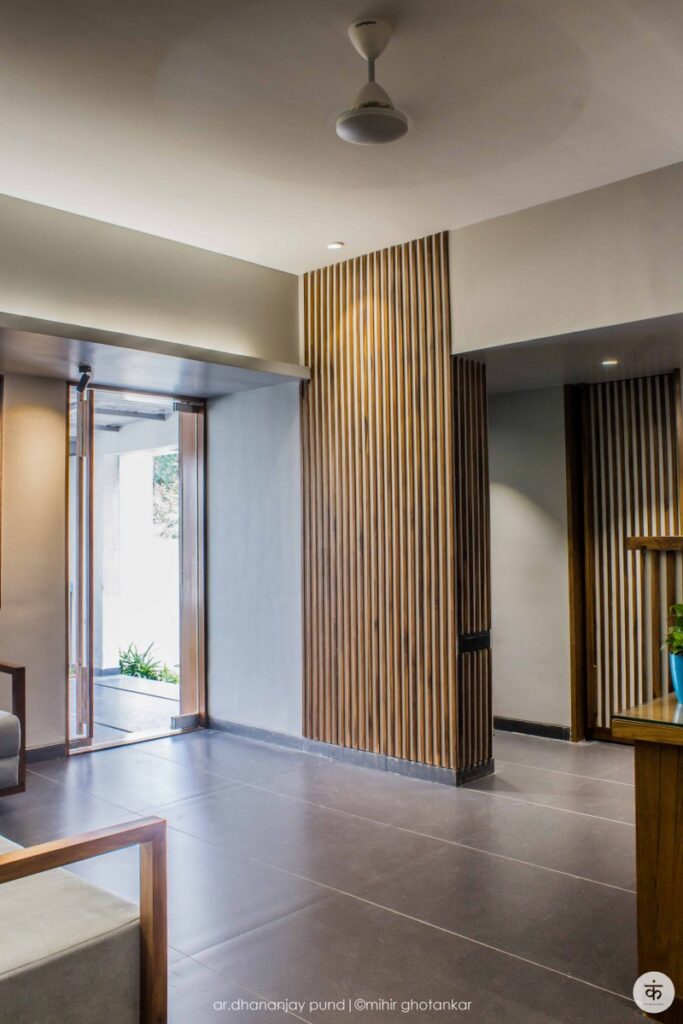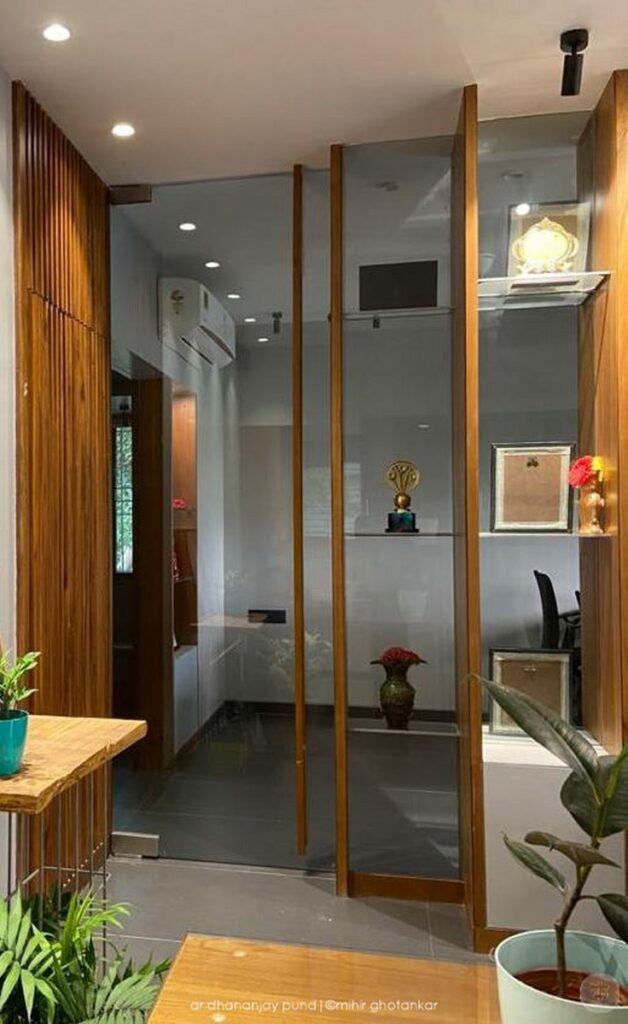 A subtle color palette, the shades of grey colors with a lot of detailing and highlighted with customized art, defines the spatial attributes across this project..!!
The design ideas focus on flexibility and pragmatism of the space gravitates towards minimalism with fewer materials and furniture.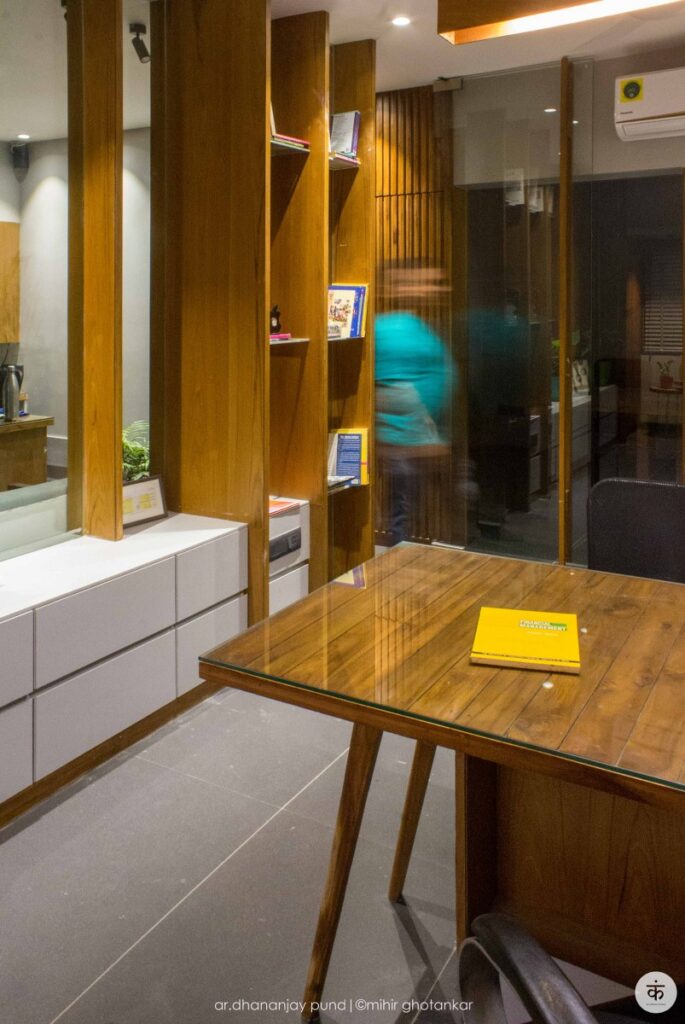 The conference room with natural wooden log table, the painting on wall forms a perfect design palette symbolizing the profession.
Use of black color floor, Natural veneer and raw wooden logs in furniture, the fluted wooden panel, an subtle color palette with the monochromatic shades ,vibrant color paintings. Made the office space visually unobtrusive with ethnic essence, defines the spatial attributes across this project..!!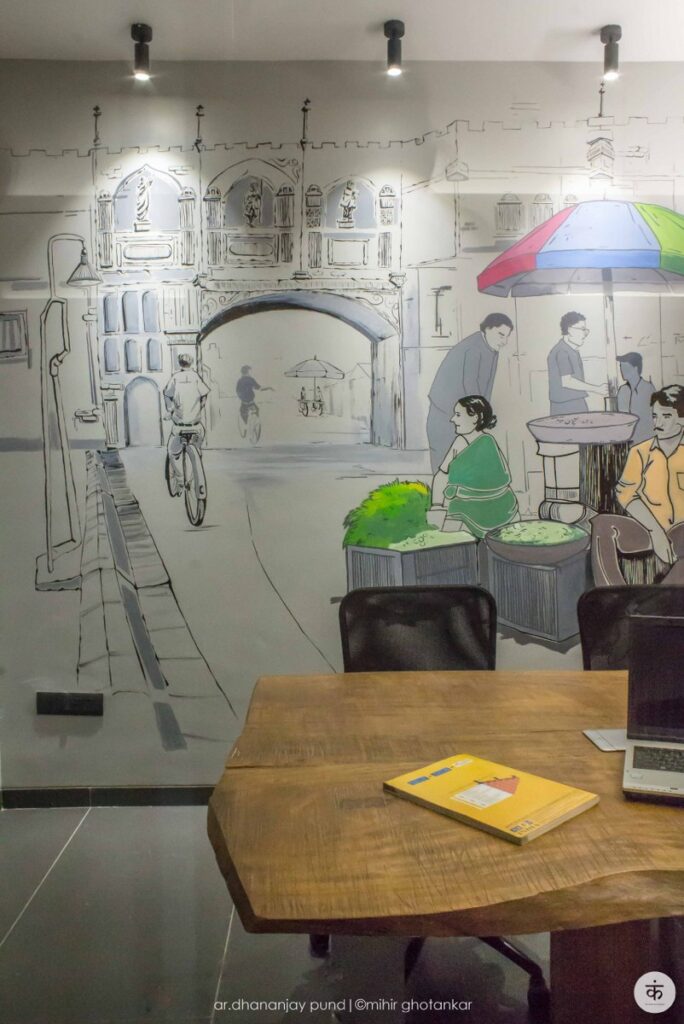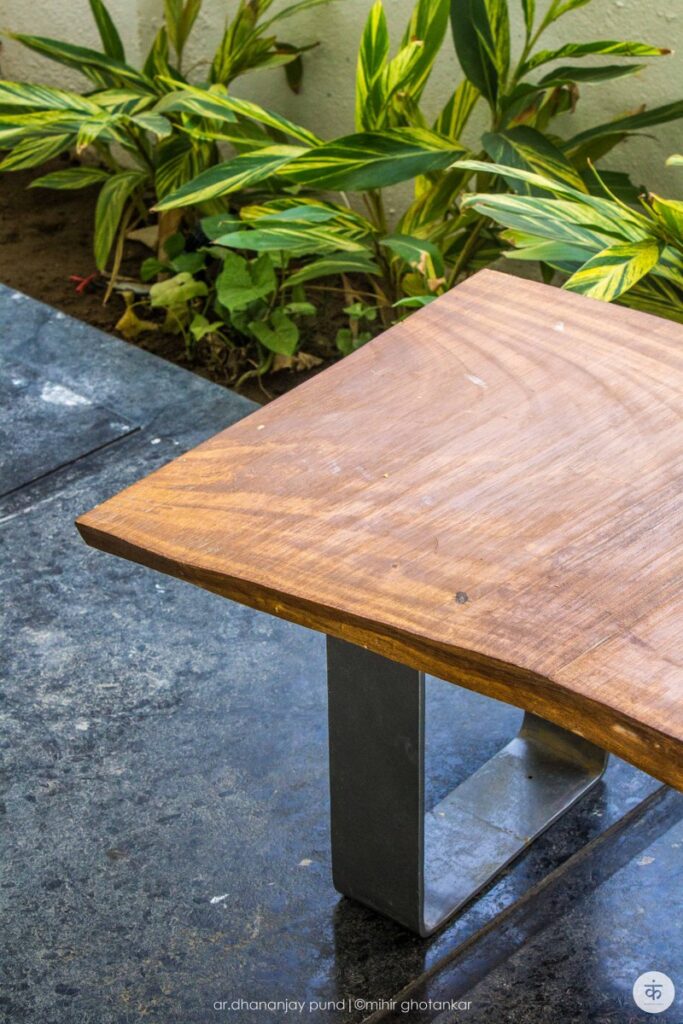 The final look of the office testifies that not only did the experiment pay off but it also successfully transformed the disadvantaged site into a workable, inviting space.
Fact File :
Designed By : Dhananjay Pund Architects And Designers
Project Type : Office Interior
Location : Aurangabad M.S
Year Built : 2020
Plot size : 1745 sq.ft.
Carpet area : 855 sq.ft.
Project cost : 21.00 lac 
Photography : The Craftsman's Company
Products And Materials :

Floor : Kajariya Vitrified tiles | Finishes : Dulux paint | Furniture : Raw wooden logs, Aditya Veneer Aurangabad. 
Firm's Instagram Page : ar_dhananjaypund
Firm Description
Ar.Dhananjay Pund founded the firm in 2007 based  in Aurangabad M.S.An objective of the firm is to create cost effective and energy conscious structures, respect to the nature and its resources are always being the prime concept of designing. While searching ethnic contemporary architecture, we always tried to suffuse natural elements in to design, which can leave an immersion on space and lifestyle. Although, an urge to indulge into experimentation with every new opportunity, the firm has shown its ability to explore, grow, intensify and keep the process of continuous learning on.
Disclaimer: No TAD editor is involved in the curation of this content.