The project is a 3 BHK residence on the tenth floor of a high-rise in Mumbai. A spacious and well ventilated apartment designed for the family of four. The client desired a warm and welcoming home with an Indian dash. The living room was the focal point, kitchen functional and bedrooms as per children choice. During the interaction we realized that the children had themes in their mind for their rooms. The son wanted a classic look while the daughter wanted a bohemian look and the parents sought simple and elegant bedroom. Selection of material was critical, so was clean execution of interior works. While designing the apartment we made sure that the large windows are encapsulated in the design to enhance the look, at the same time we took advantage of the high ceiling height and used satvario Marble flooring to add grandeur to the interiors.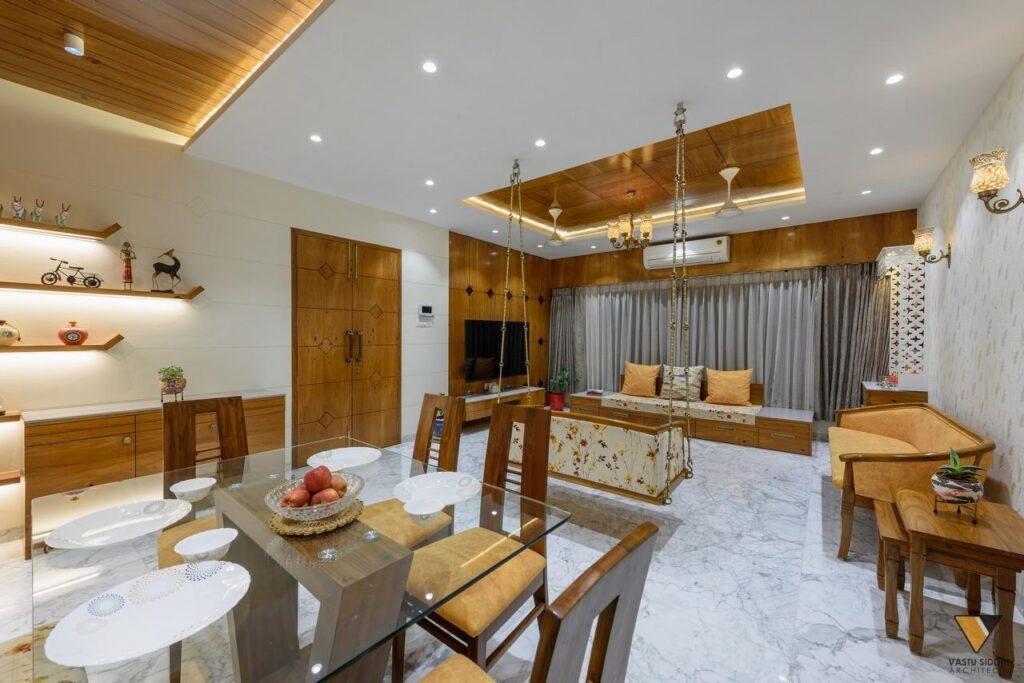 Earthy and Warm Colors Clubbed with White to Accentuate Varied Elements in this Apartment Interiors | VastuSiddhi Architects
Visit : VastuSiddhi Architects
Mood Board: Earthy and warm colors clubbed with white to accentuate varied elements and make the apartment look fresh and spacious. We decided to use geometric forms/design across all rooms to bring about visual connection.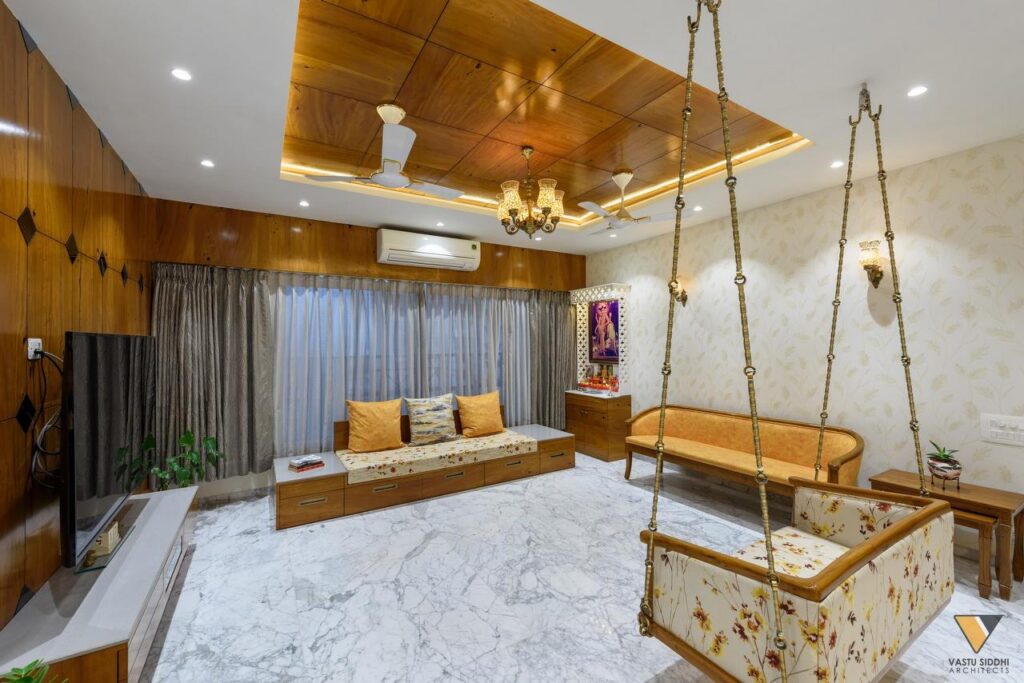 Main Door : Main door along with safety door is veneer finished with Brass fixtures offer it a royal Indian look. A large leaf shaped Jali and its veins in antique finish makes a statement and adds opulence. Shoe storage unit and sitting laterally placed in the corridor is multifunctional. Artefacts and planters in conjunction adds life and energy as we enter the home.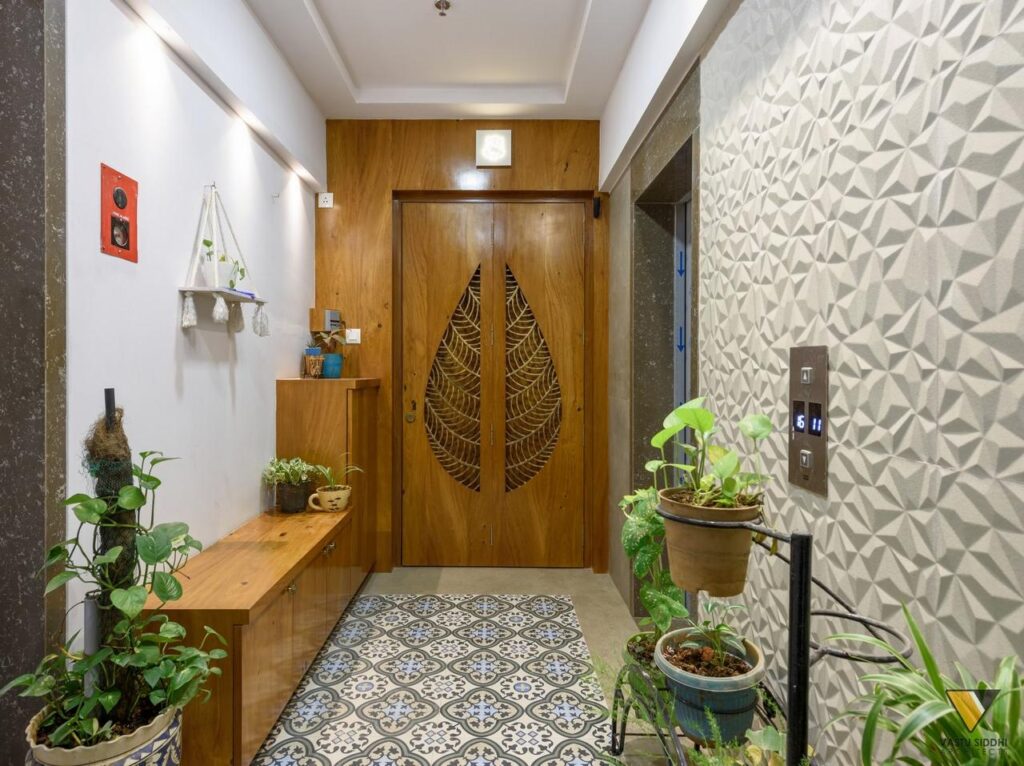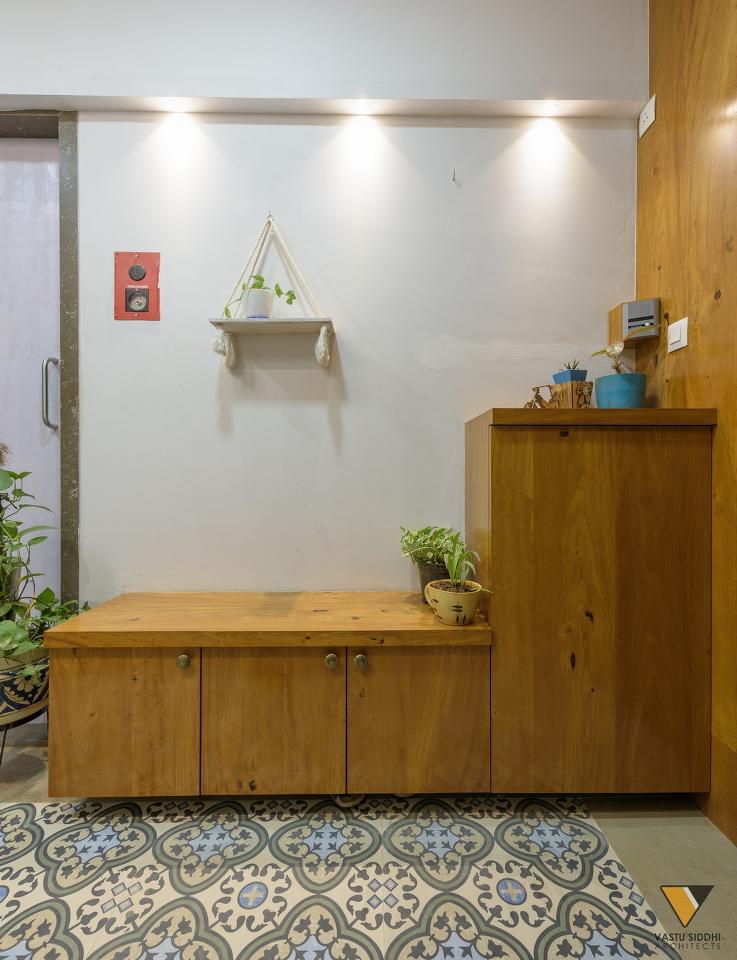 Living Room : Living room is the space where the family wanted to spend time together to unwind. It would also receive guest and visitors. The spacious living room was designed to host multiple activities at any given point in time. We planned Indian seating arrangement parallel to large window which overlooks the mountain in distance. Adjacent to the seating is the mandir in traditional carving design finished of acrylic solid surface placed over a glass top storage Unit. A classical designed three seater sofa and two-seater.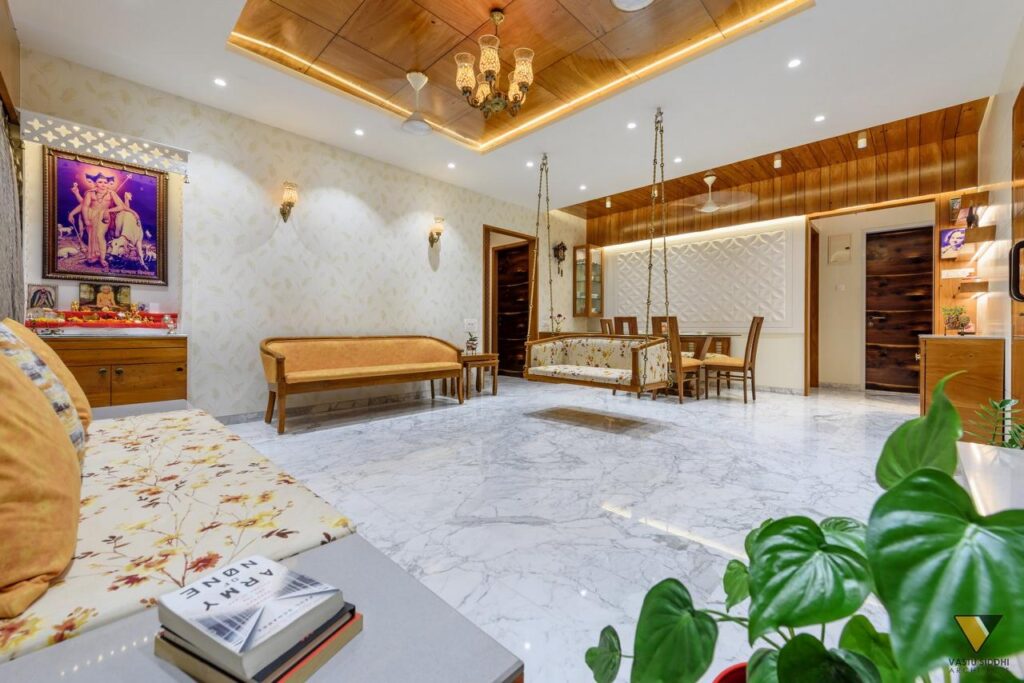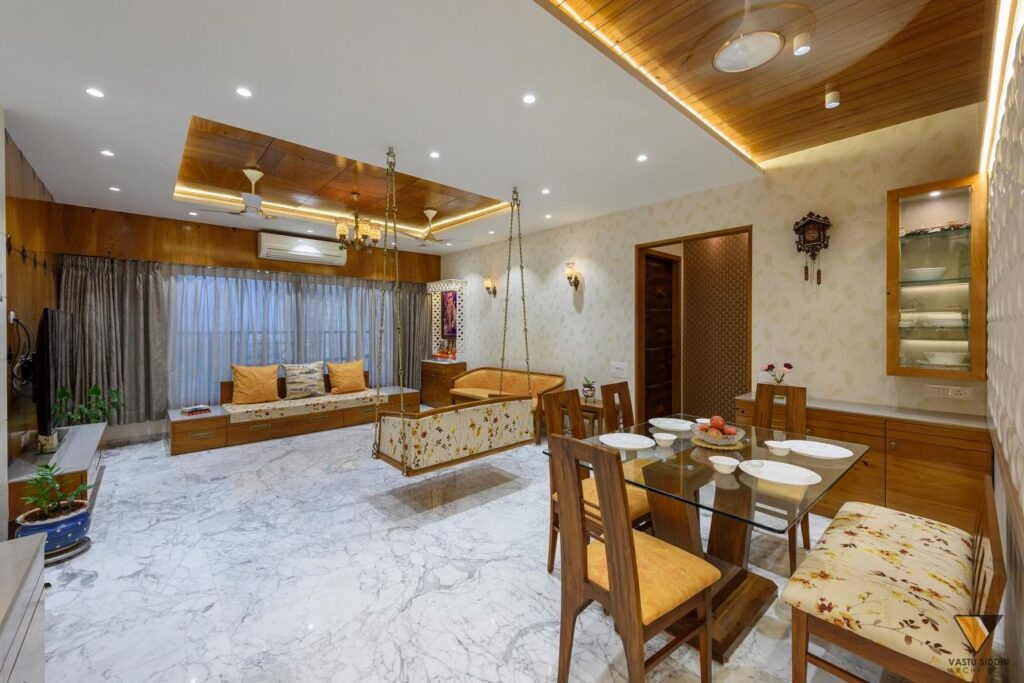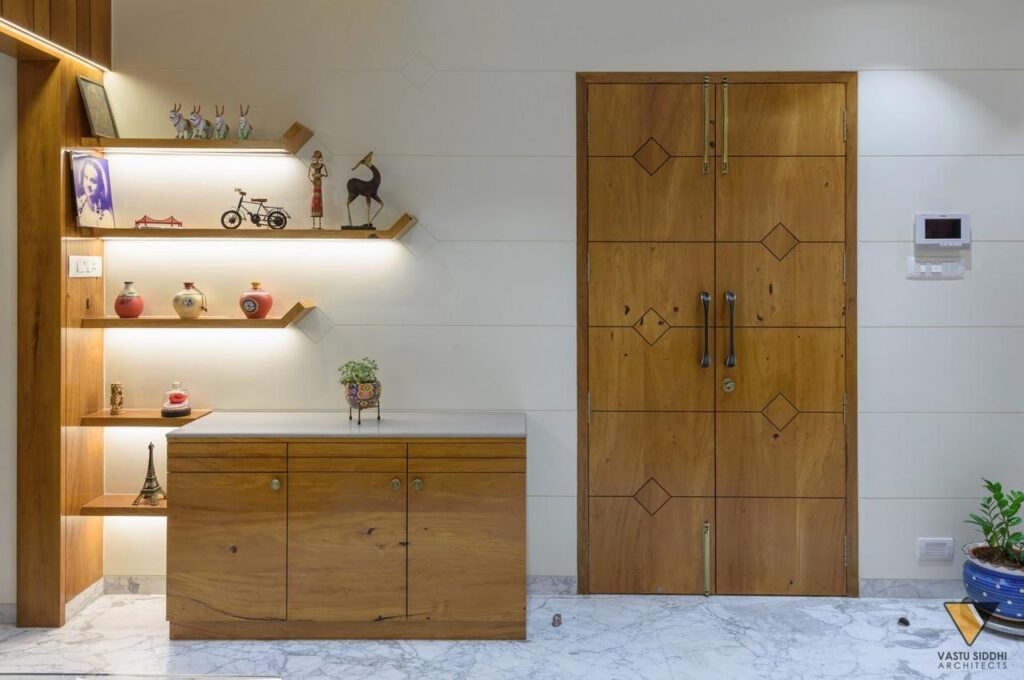 Jhula offers multiple seating options in the living room. The blend of all three types of seating is achieved by clever use of colour and finish. The Classical styled Chandelier and wall lights complements the seating area. The TV paneling is shaped in veneer and Black mirror, which continues onto the main door as well. Dinning wall has a white 3D panel with and overhang of veneer ceiling where the mood lights are incorporated. A subtle floral pattern wallpaper on the long wall envelopes the living room interiors. The colour palette is dominated by Brown and white while grey and yellows used for upholstery adds vibrancy.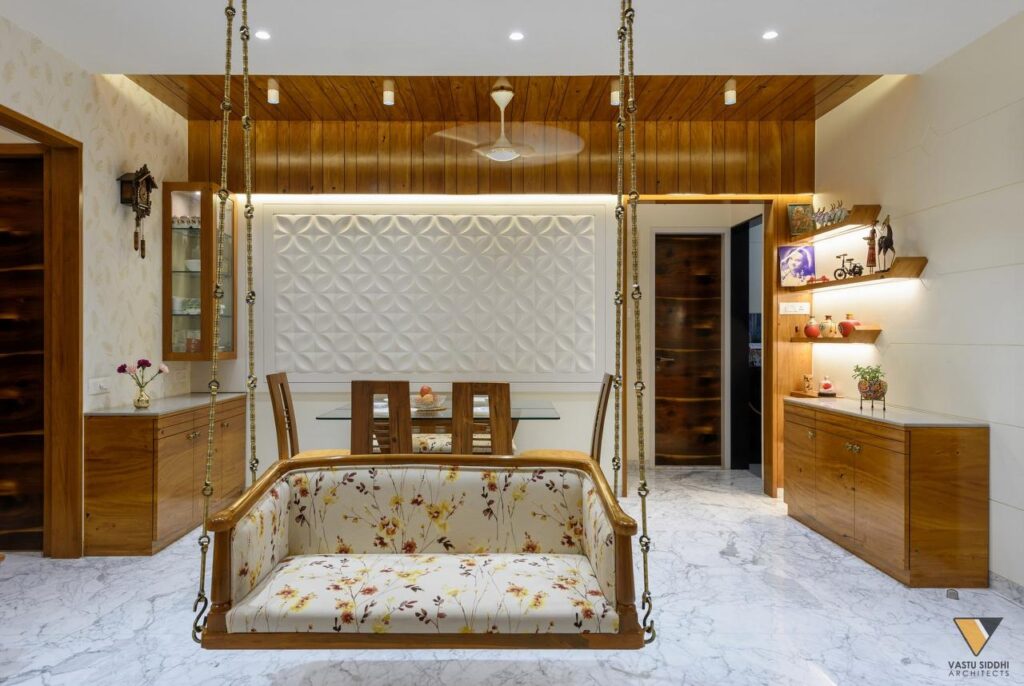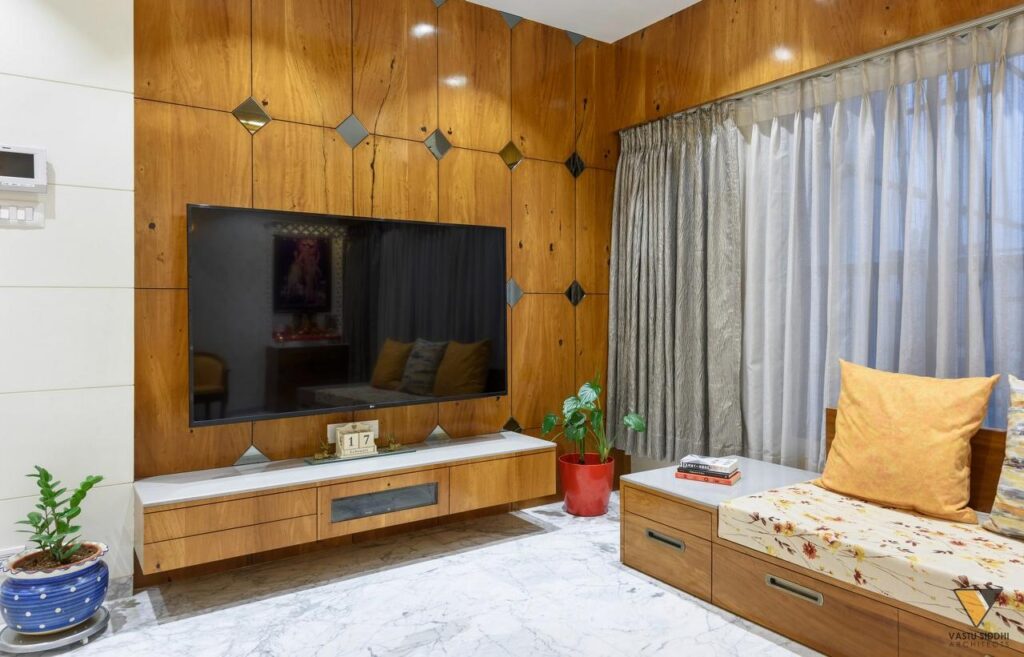 Kitchen: The most functional and busy area of the house is the kitchen. The kitchen space is limited compared to the storage requirements. Modular high-end cabinets are able to help solve the problem. Moroccan design dado is welcoming and brings a visual break to the modular look.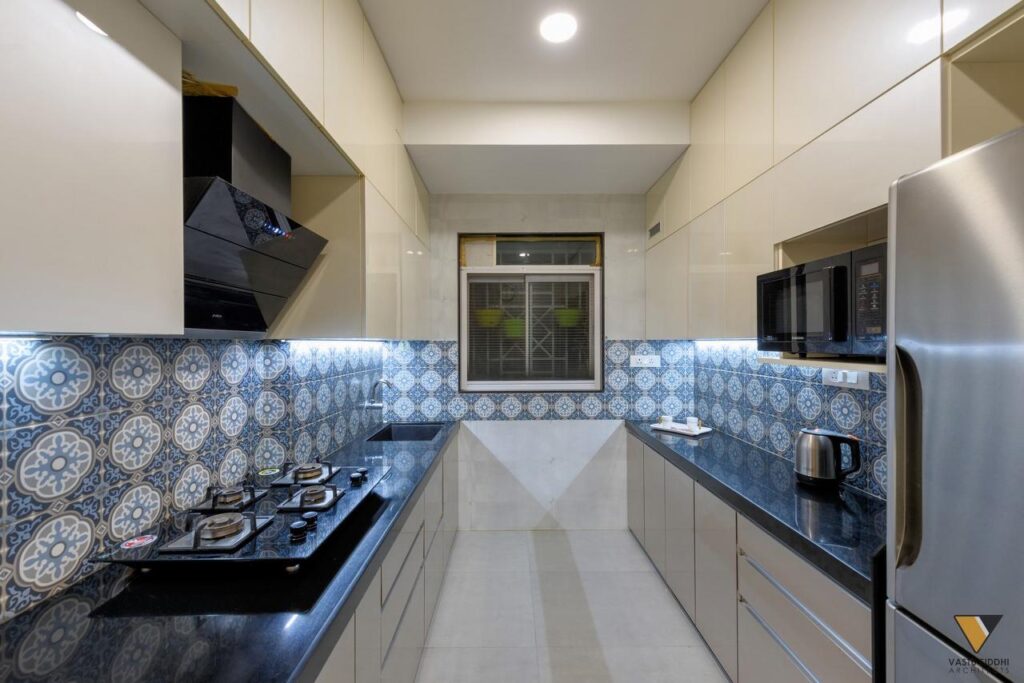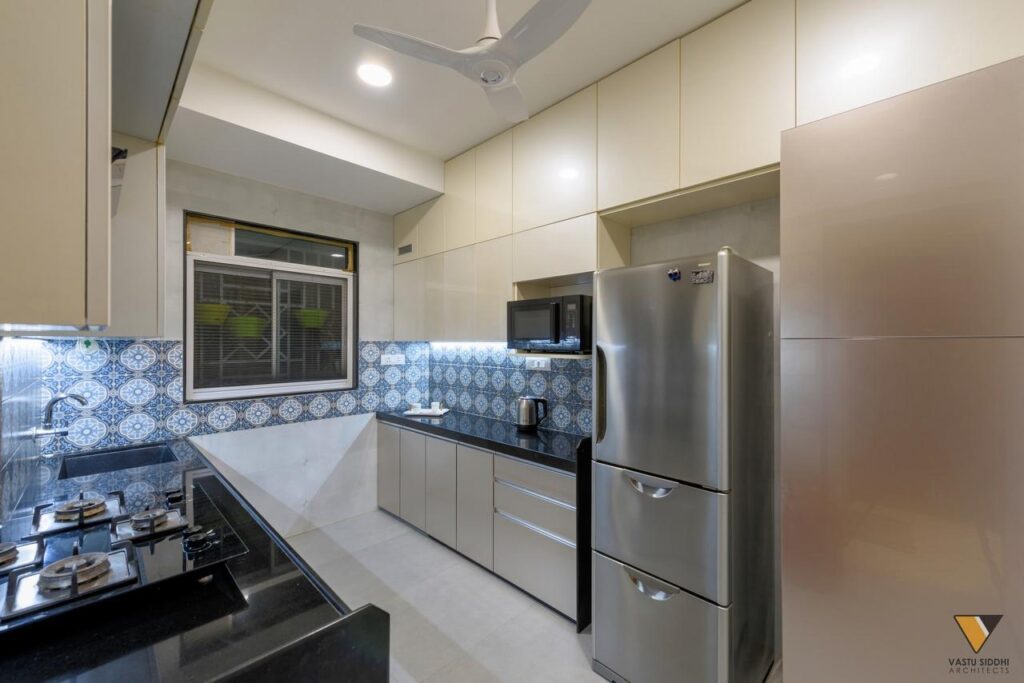 Daughter's Bedroom : This was a bedroom for a free soul – the Bohemian bedroom. The room is styled using various design forms like warli, geometry and wood pattern. The walls were painted in white imitating a fresh canvas. Whereas, wood patterned wall along the large window compliments the low seating. Instead of using distressed furniture we chose laminates to achieve the vibe. Art is displayed in form of Warli print on the ceiling. Geometric niches were created to house artifacts. Corners are aptly used to place planters. Mirrors with storage on either side of Bed holds all the cosmetic accessories.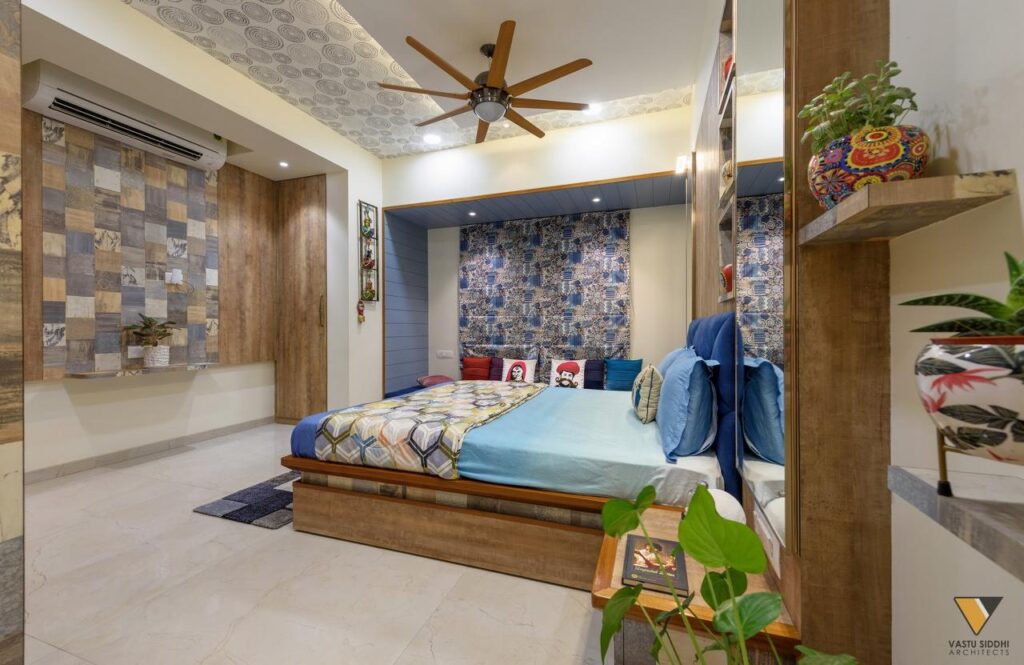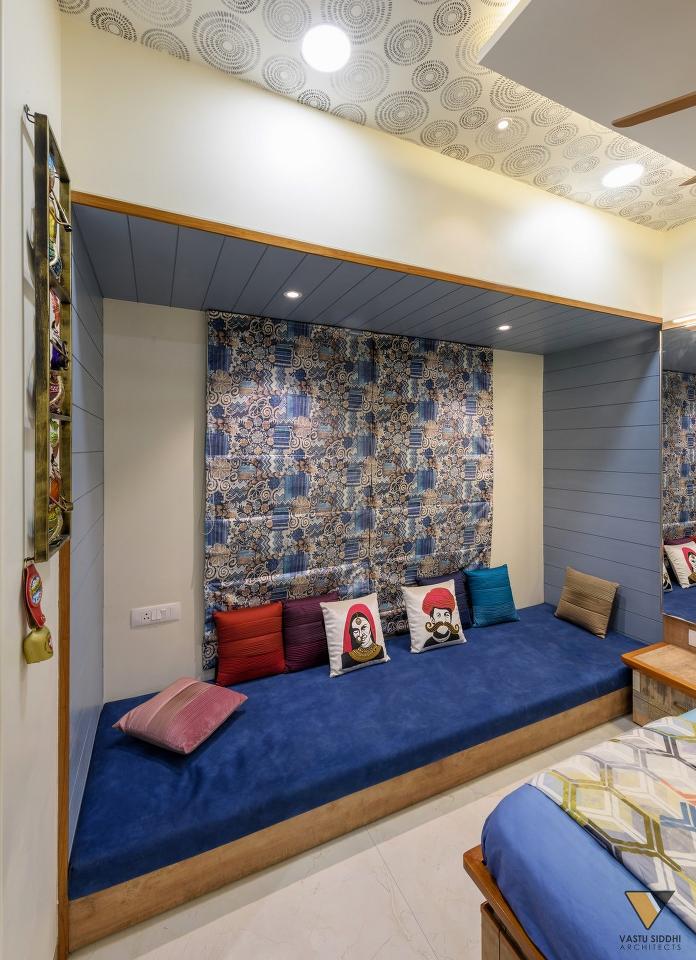 Son's Bedroom: A classic browns and brass Trim dominate this room. A cozy queen size bed with headboard extended up to the ceiling is the focal point of the room. The furniture has brass trim inlays framing the walnut brown laminate. A low seating by the window and a large fancy ceiling fan cannot be missed. Back painted Glass is deliberated to break the monotony. Paneling adjacent to bed hides a storage created due to Column In the room.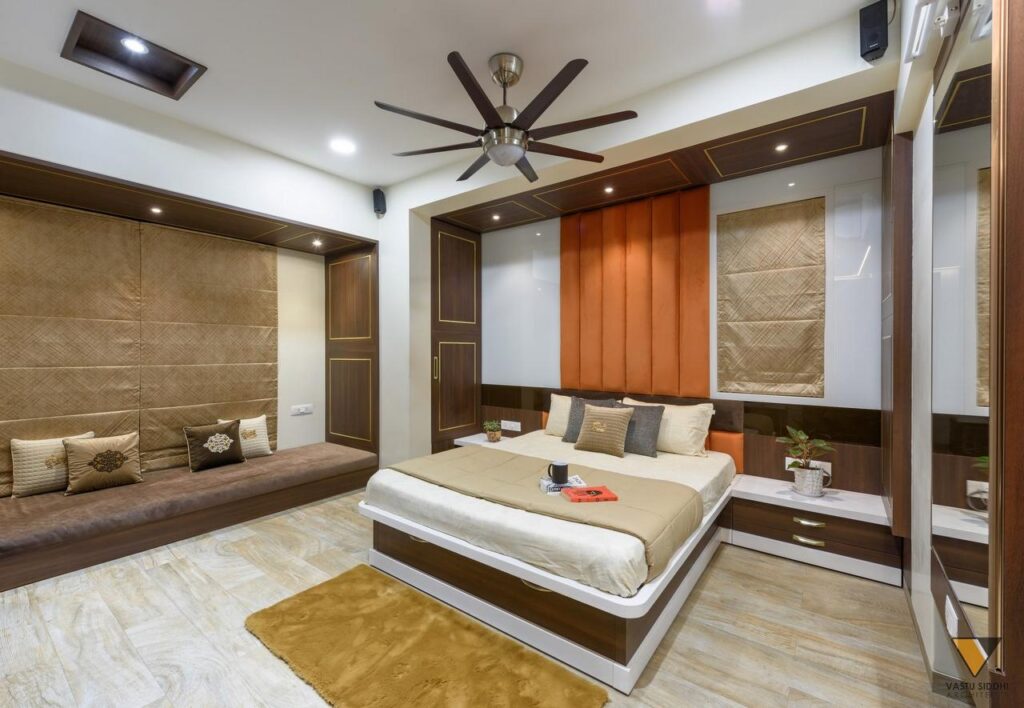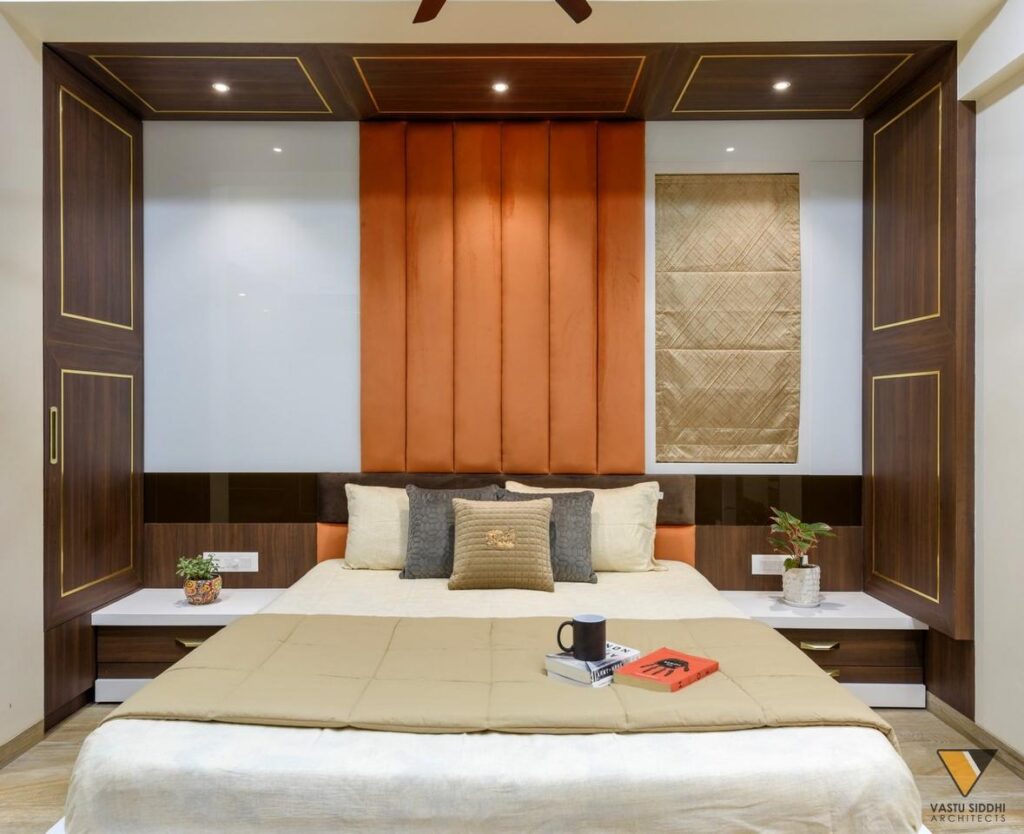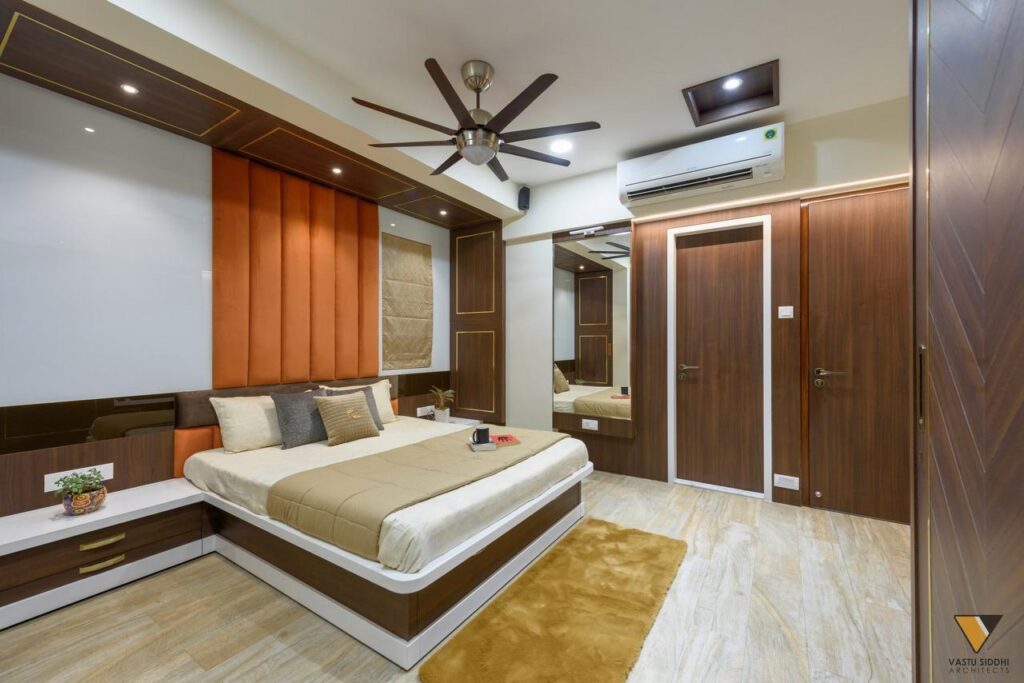 Parents' Bedroom : The most simple and minimalistic room of the house was the parents' bedroom. We used pastel color along with extensive use of back painted glass to make the room look spacious. The simple room has a strong design element in its headboard which is in wood and glass. A simple Leaf shaped pattern is repeated in headboard and is continued on the back-painted glass shutters of the wardrobe. We have kept some open space to accommodate loose furniture as and when required.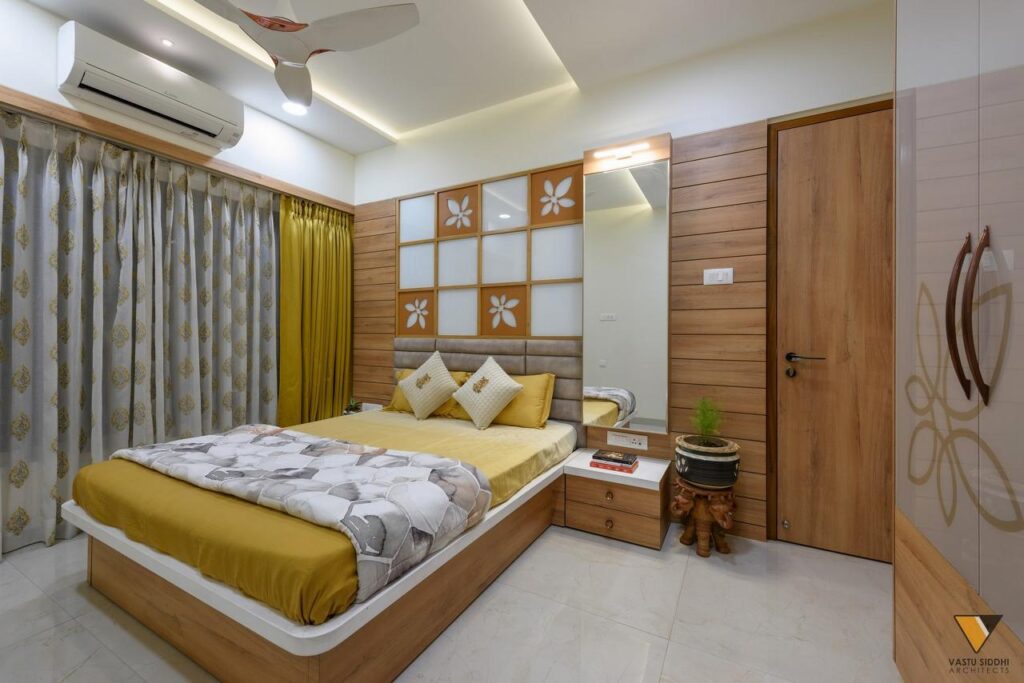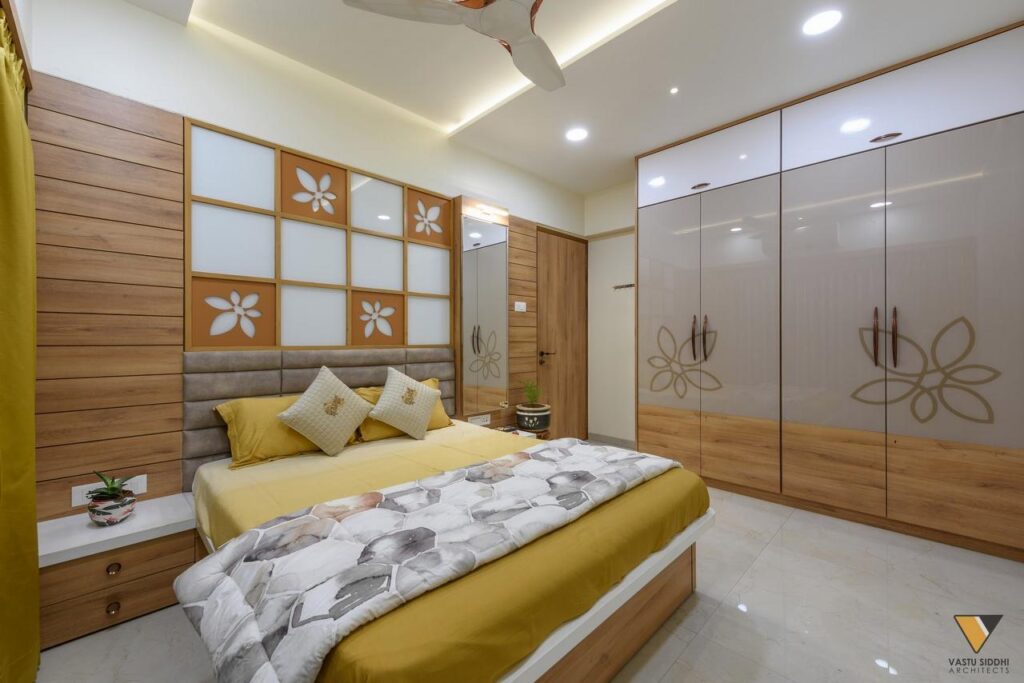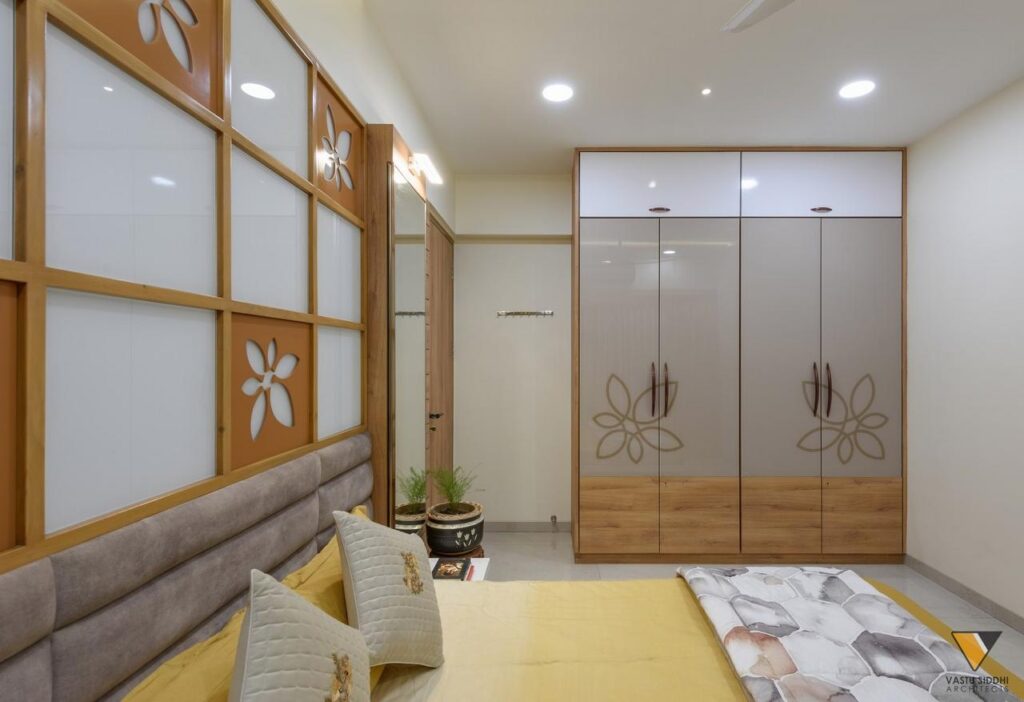 Corridor Ceiling : The ceiling is designed in solid acrylic Jali with light above. This light enhances the Jali and imparts diffuse light in the corridor.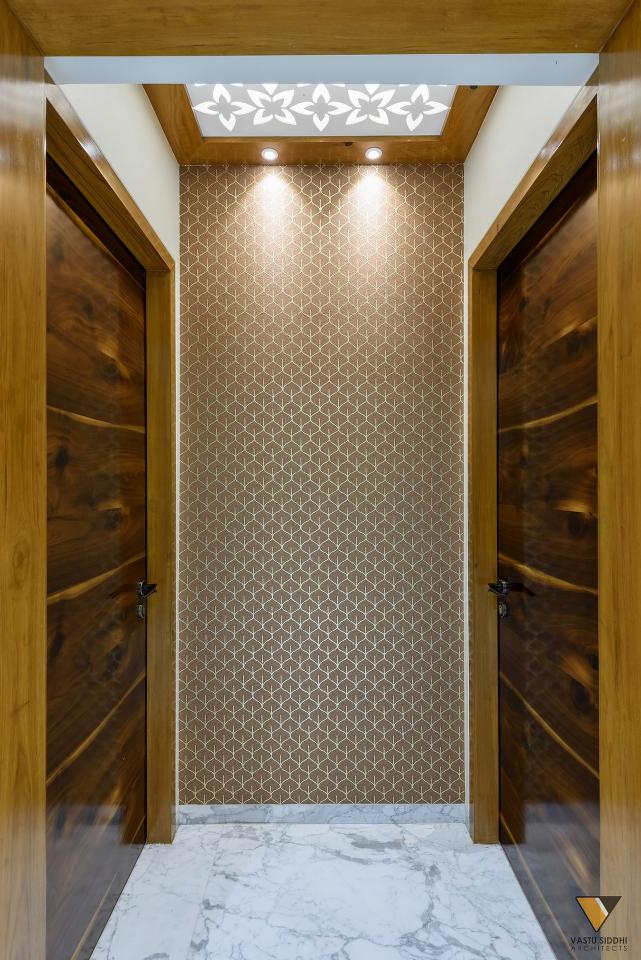 FACT FILE
Designed by : VastuSiddhi Architects
Project Type : Apartment Interiors
Project Name : 3BHK Residence
Location : Mumbai
Year Built : 2021
Project Size : 1150 sq.ft
Project Cost Appx : 75 lac
Principal Architect : Ar. Mangesh Dalvi
Team Design Credits : Isha & Divya
Photograph Courtesy : Mukesh Gajjar
Products and Materials : Finishes : PU finish Veneer , Laminates : Royale Touche, Back Painted Glass , Acrylic Solid Surface : Hi Macs , 3D MDF board | Wallcovering / Cladding : Emulsion Paint , Non-woven Wallpaper, Back painted Glass, Veneer & laminate paneling, Fibre cement Plank : Shera Plank | Construction Materials : Plywood , BTC wood | Lighting : Elegance lights | Sanitaryware : RAK | Furniture : Wood Mall | Flooring : RAK ceramics & Statuario marble | Kitchen : Saviesa Home | Paint : Asian Paints | Artefacts : Satguru's Art & Craft ( Khar) | Hardware : Hettich |
Basic Insights of the project :
Material Palette : Statuario marble (living room floor) , PU finished Veneer (Living room Décor) , Back Painted Glass (Parents room paneling & Wardrobe), Moroccan Tiles (Kitchen Dado tiles), High Gloss Acrylic Laminates (Kitchen).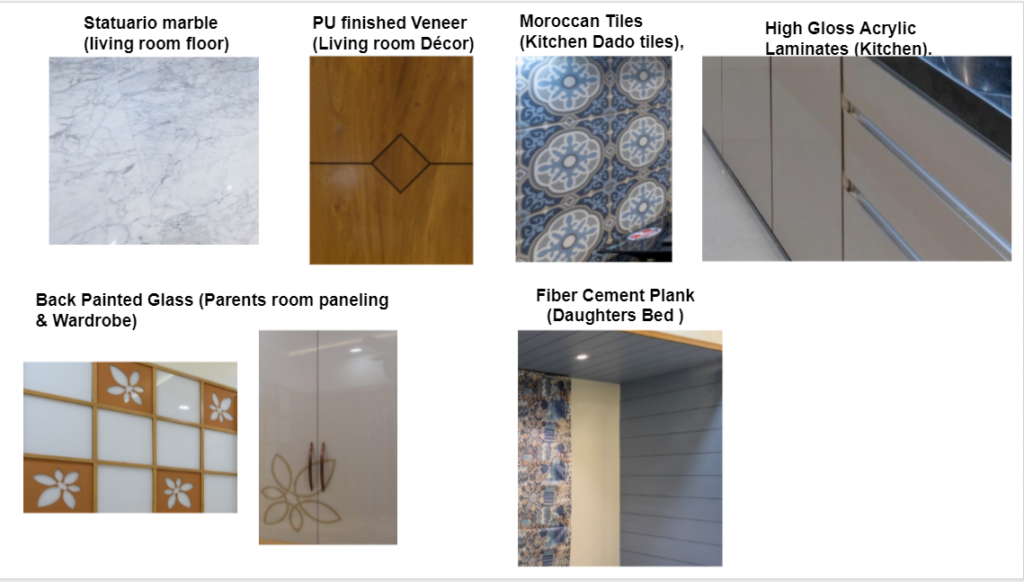 Color Palette for each area : Shades of Brown common throughout the Residence. Yellow & Grey in Living room , Orange in Sons bed, Blue in Daughters Bed and Ochre yellow in Parents Bed.

Q. What is that one design element in the entire space, which has your heart
A. The Main door of the Apartment with Leaf shaped Antique Jali, Living room Jhulla (swing) ,Ceiling Design in acrylic Solid surface & Wallpaper in space between Bedrooms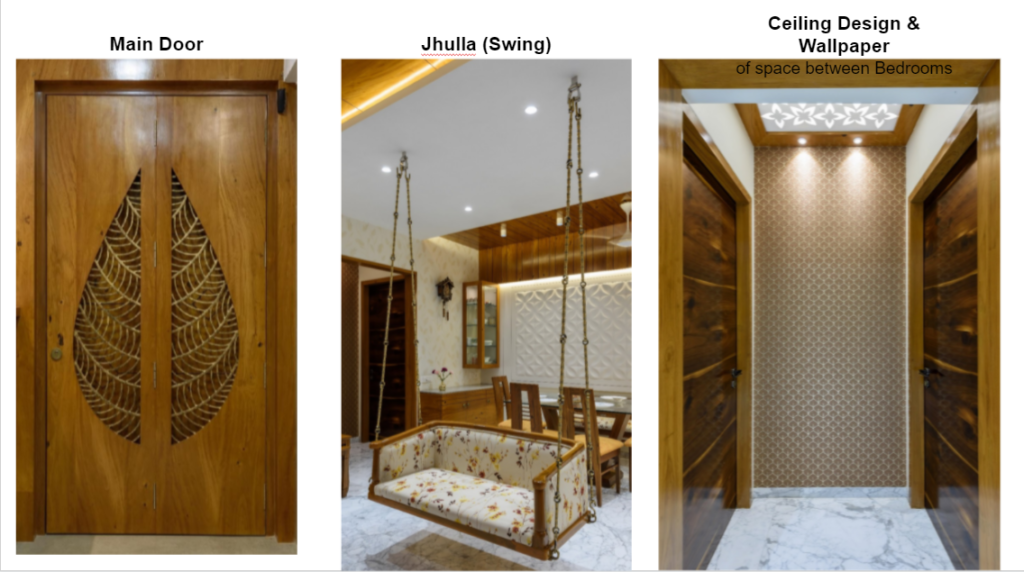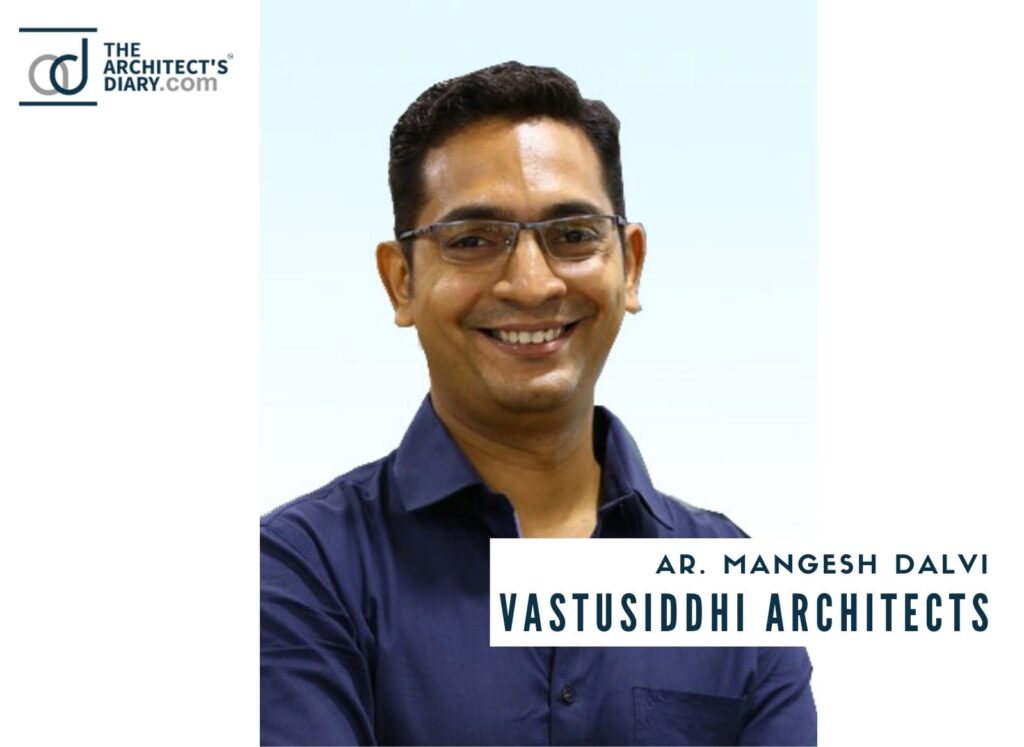 Firm's Website Link : VastuSiddhi Architects
Firm's Facebook Link : VastuSiddhi Architects