Office Design  Creating Transparency and Opaqueness| UA Lab
The design traverses through the dimension of creating Transparency and Opaqueness. The spaces reveals and un-reveals themselves through intricately designed space dividers.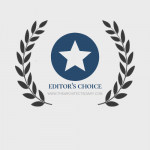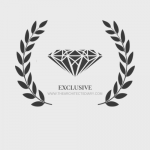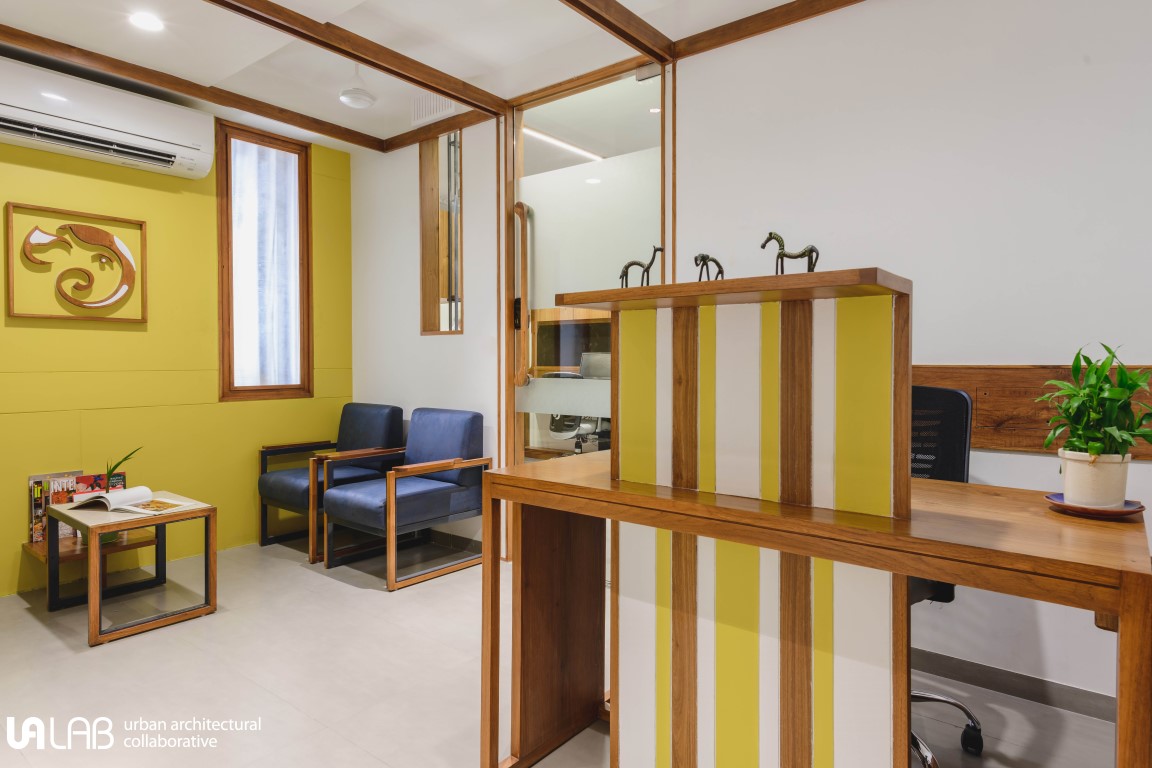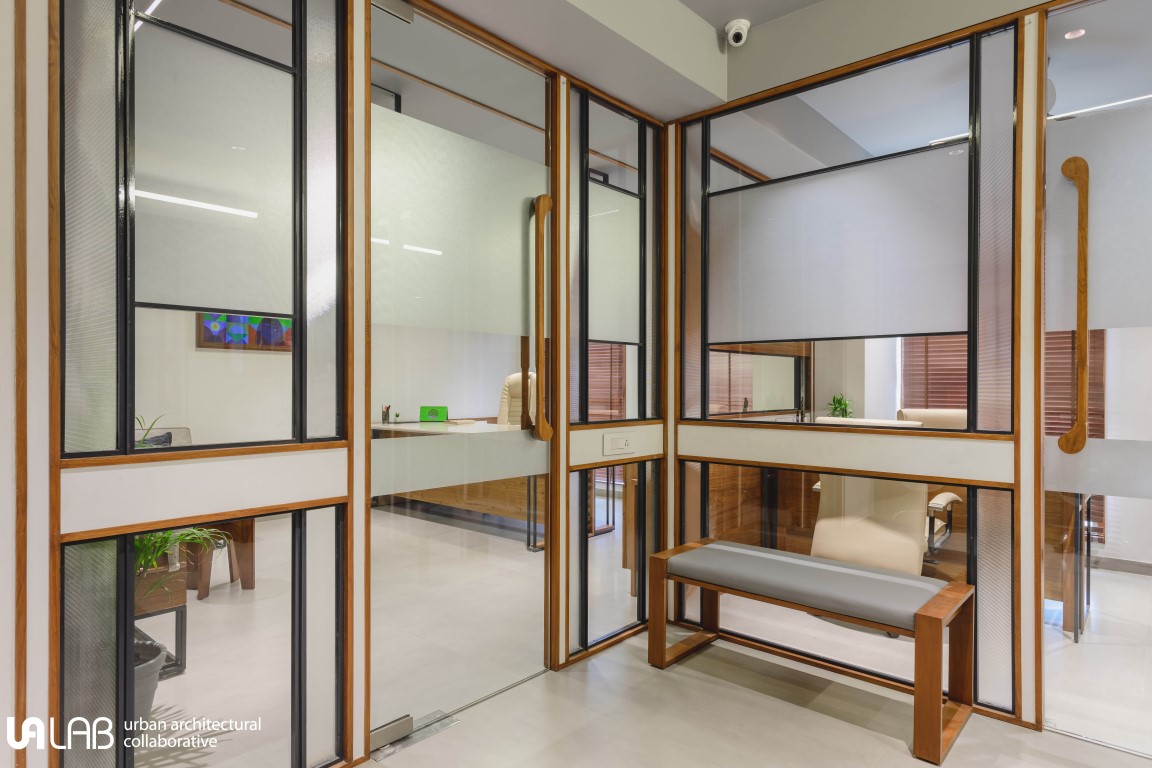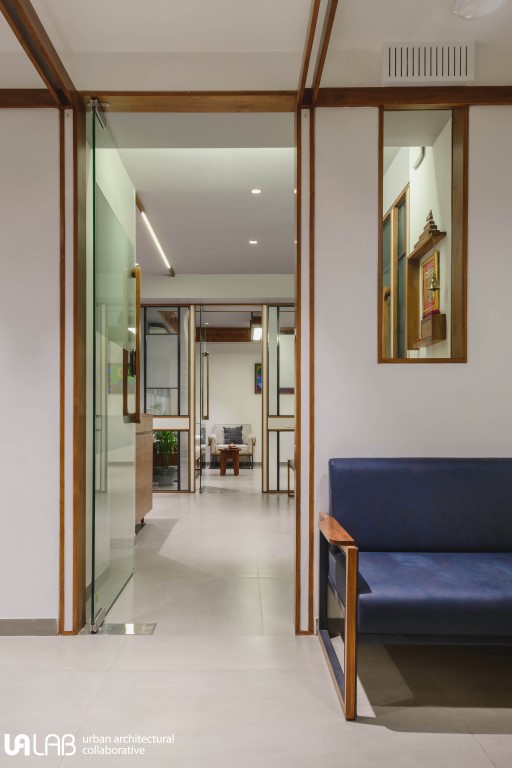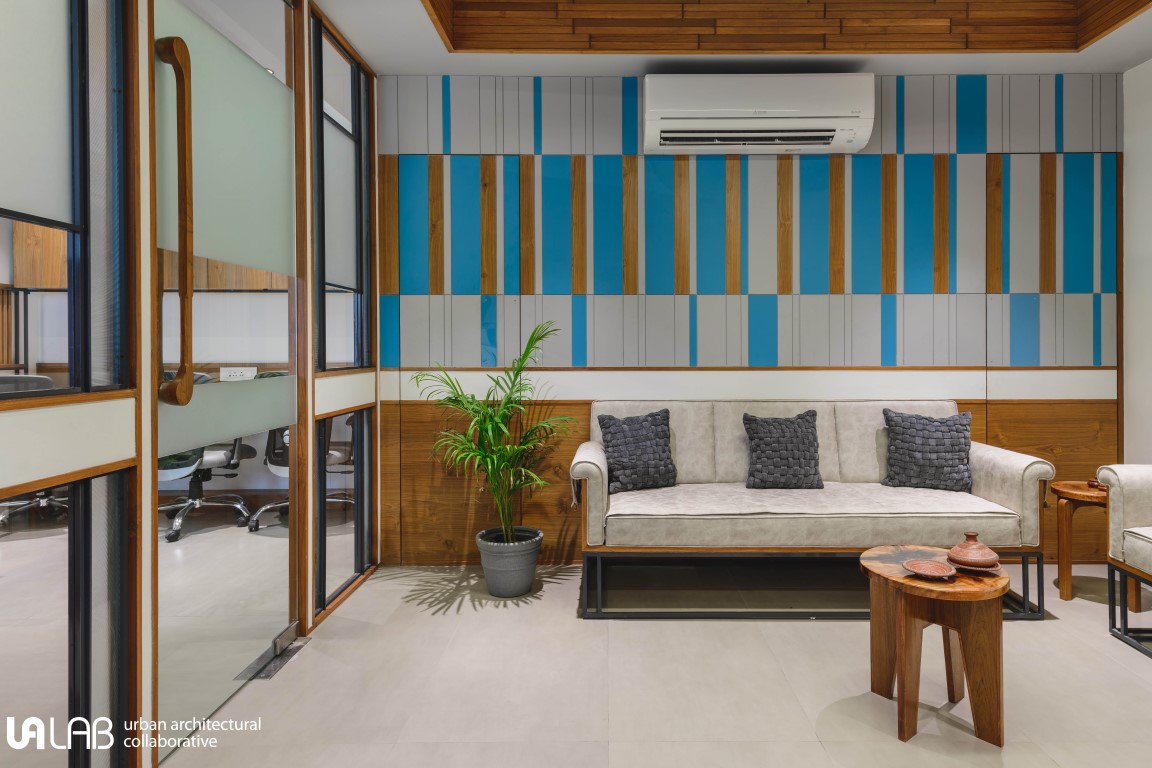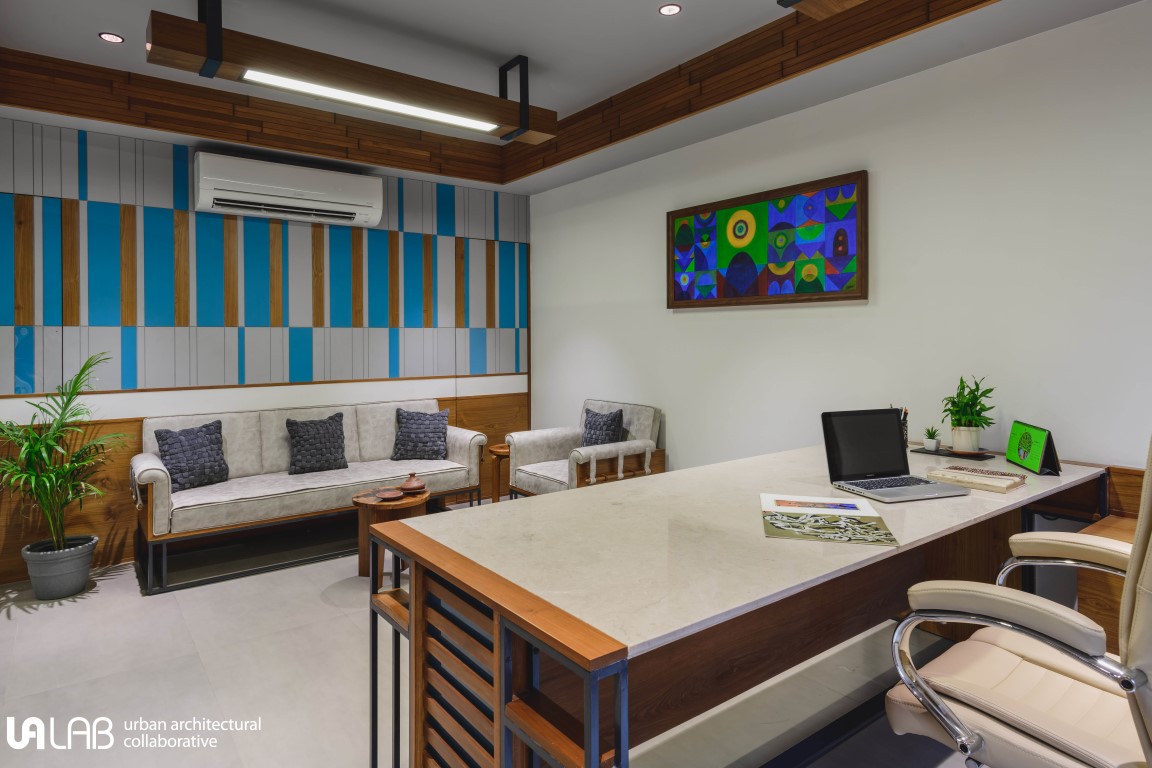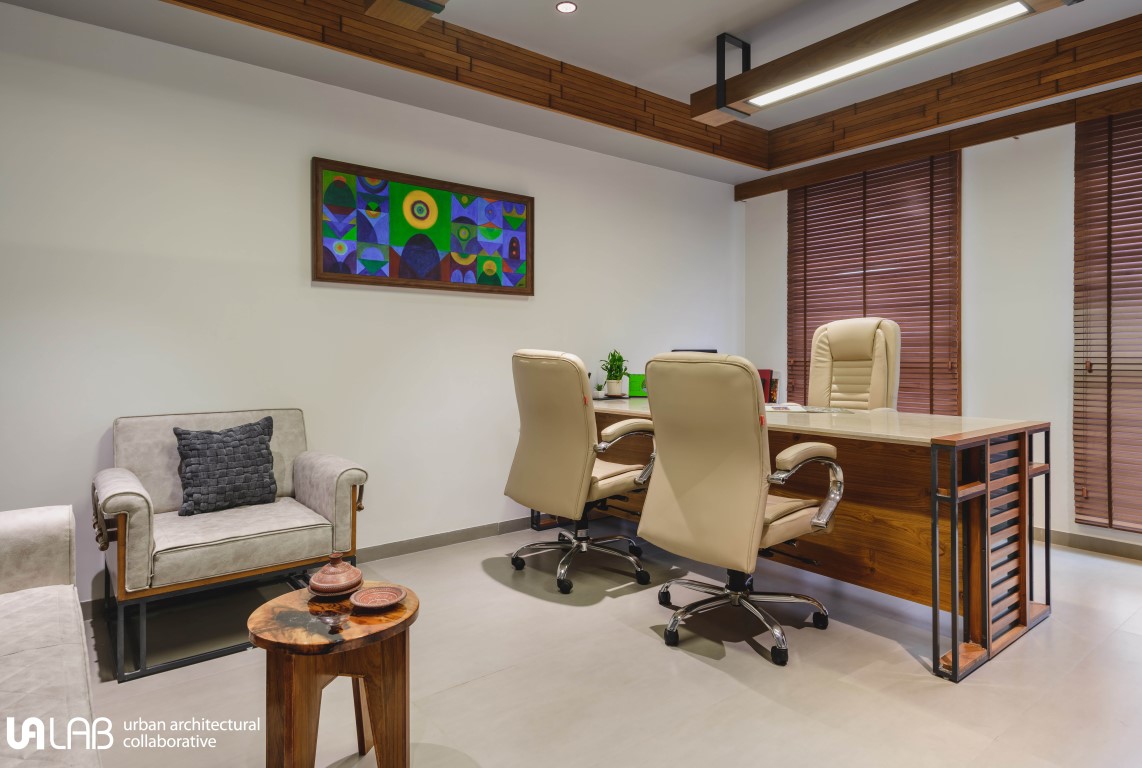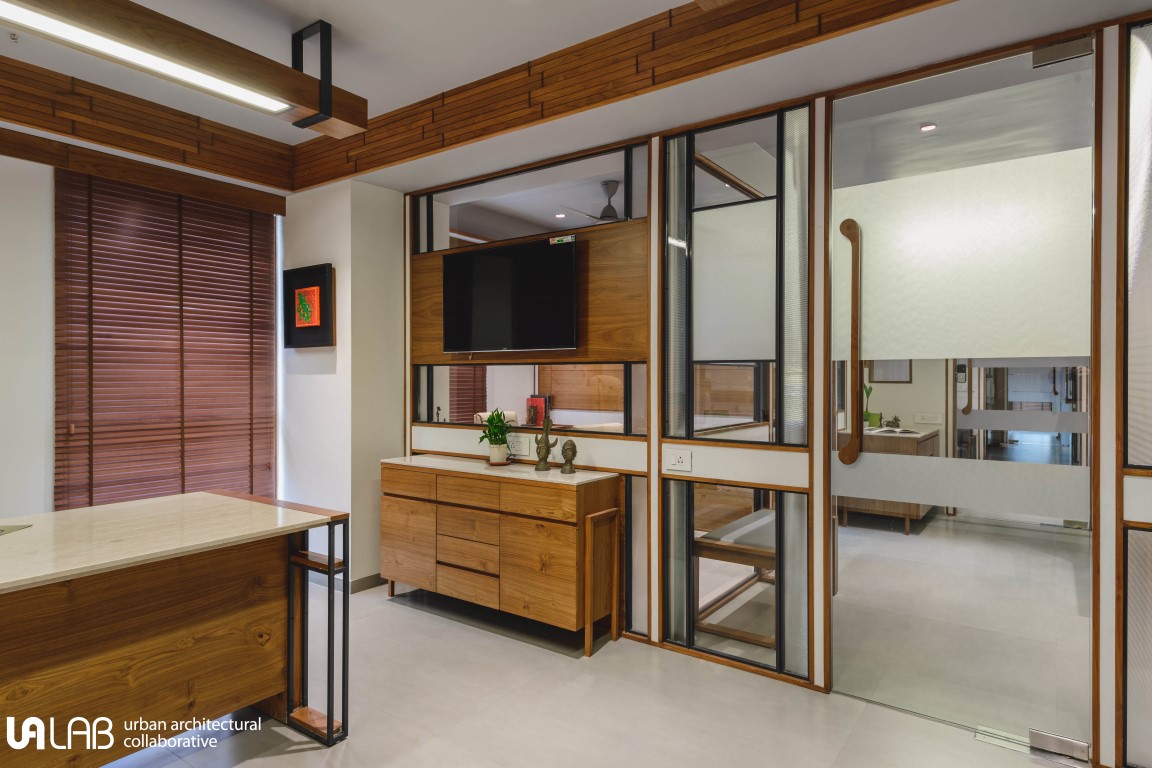 Mild Steel, Glass and Wood are the primary materials used in the design. Combinations of these materials are detailed to create Space dividers, Furniture, Lighting fixtures, Ceiling details and Wall Murals.Mild Steel works as the main structural frame to combine Glass and Wood. Orthogonal geometry with the permutation of horizontal and vertical lines is used to create interesting surfaces. Glass, Wood and Mild Steel are used in their natural form to design simple yet elegant interiors.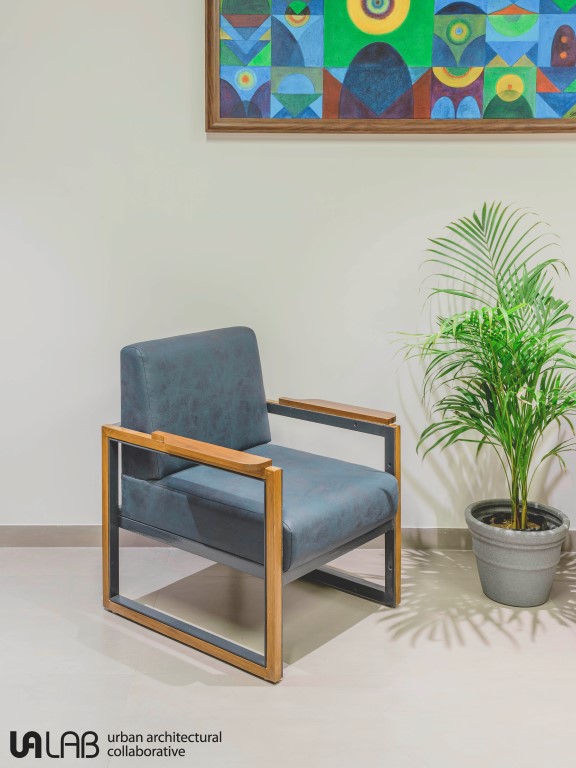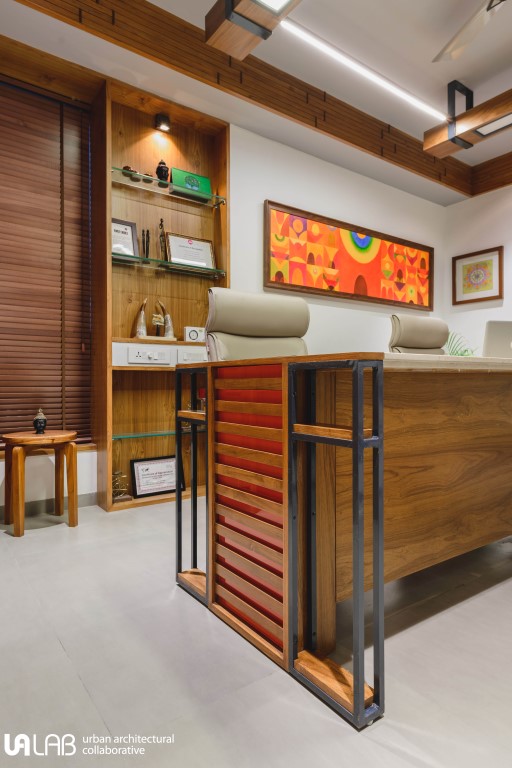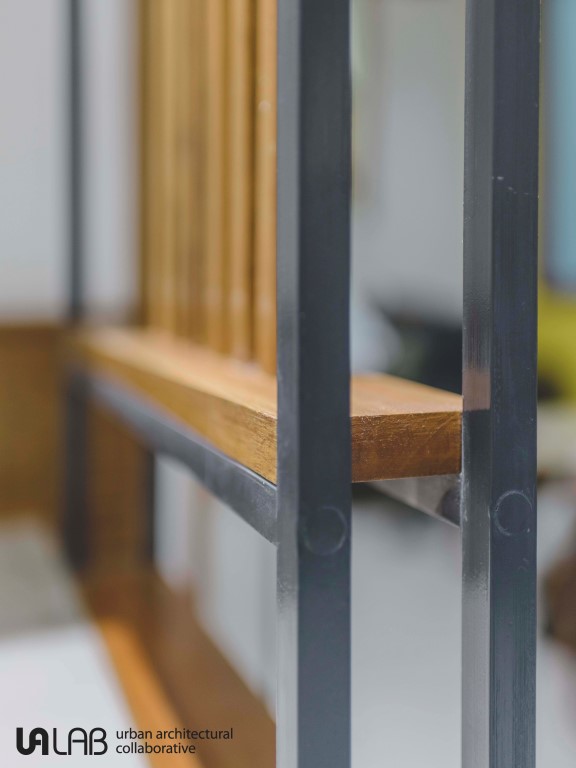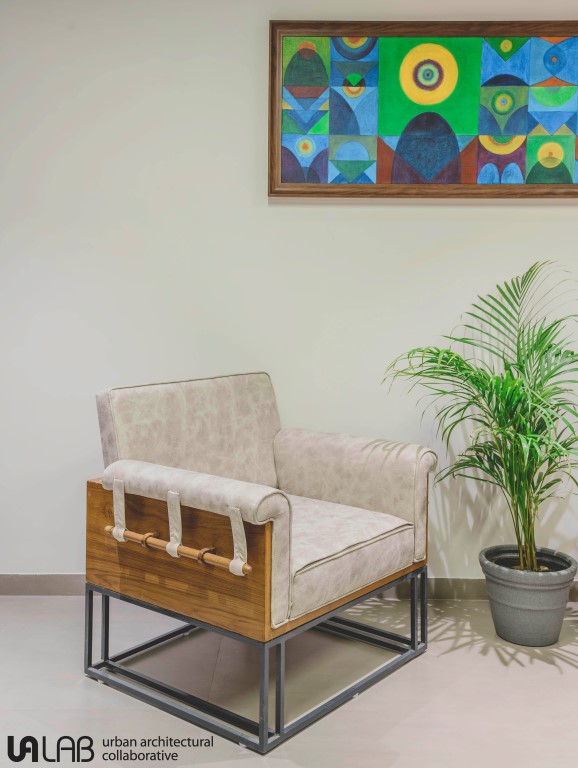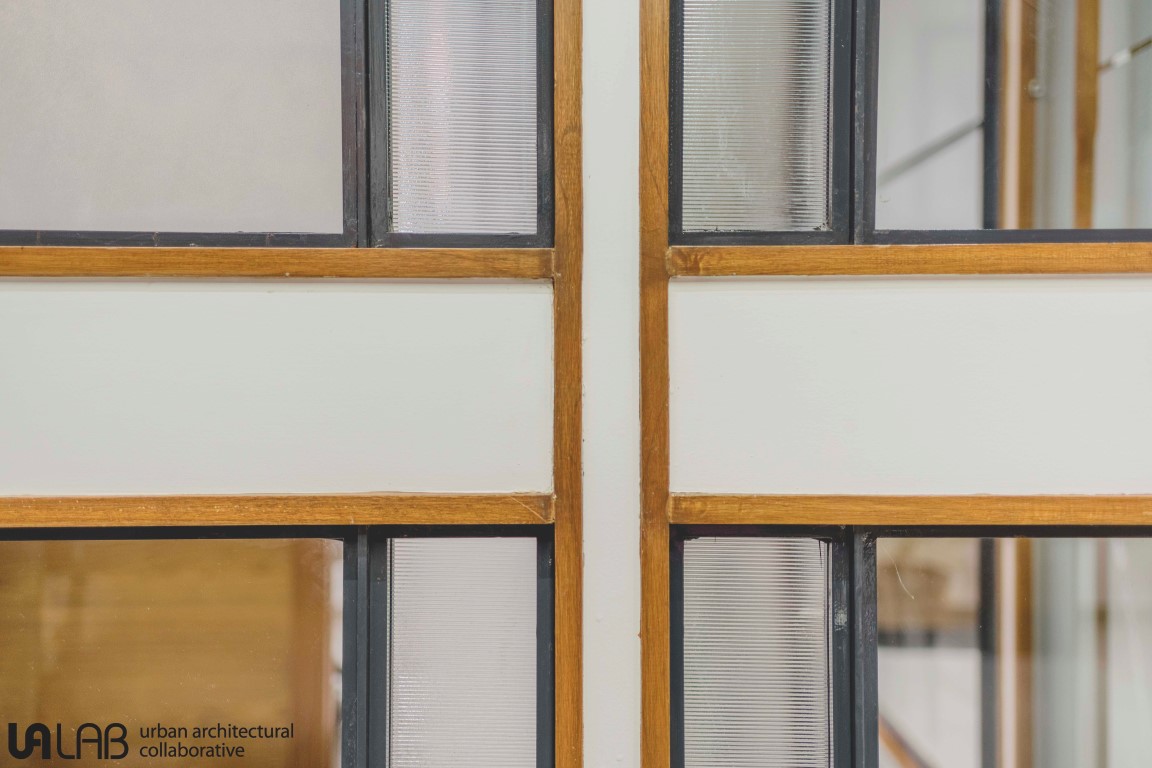 The Space dividers scoop out separate working spaces from the common multi-functional office space. The privacy of these separate working spaces need to be maintained.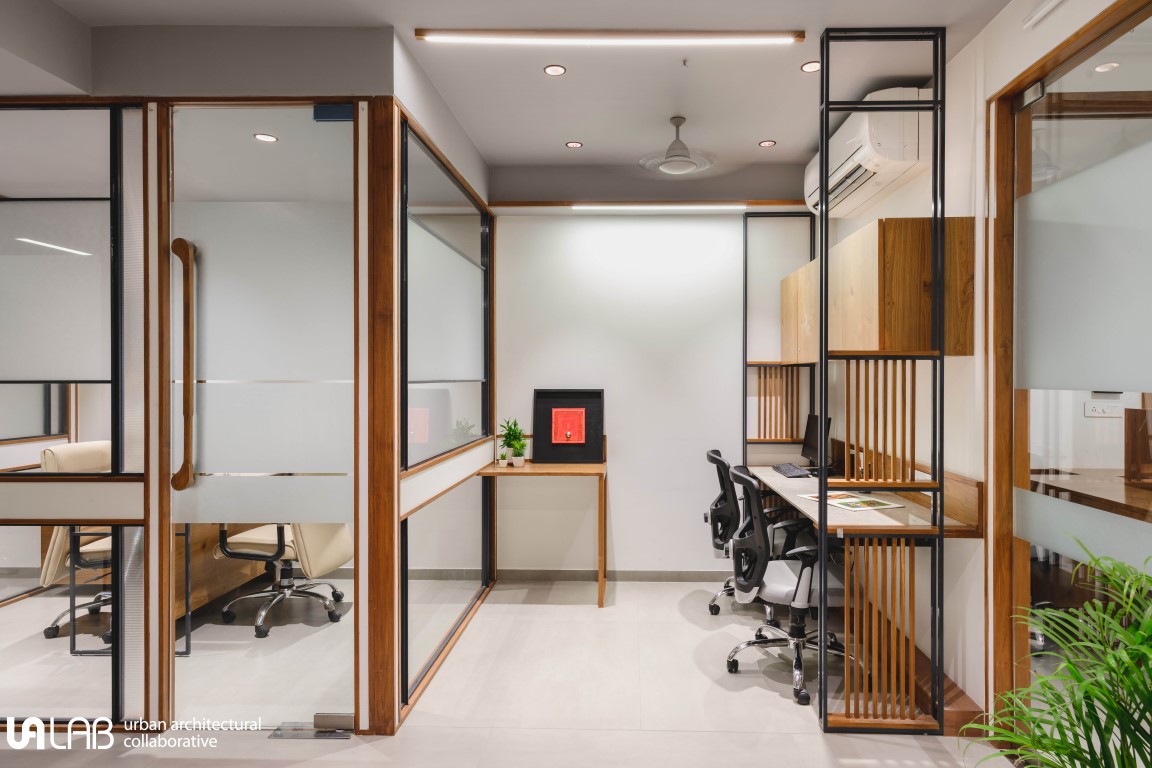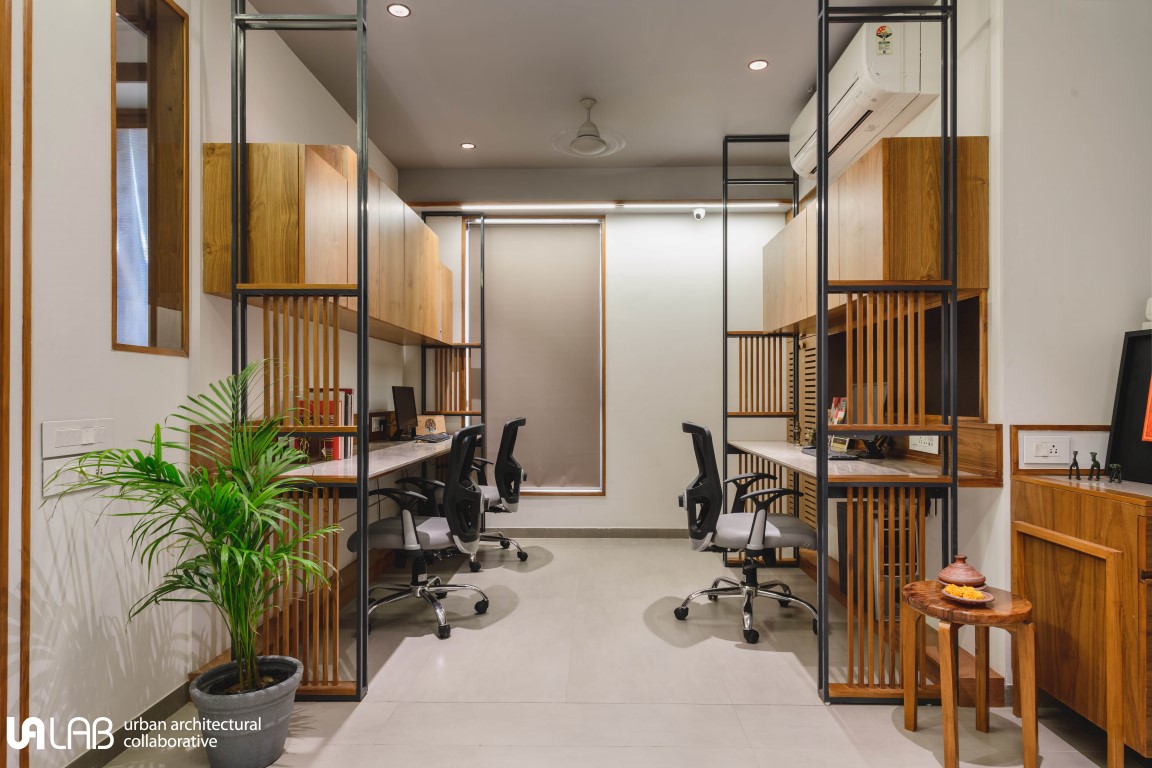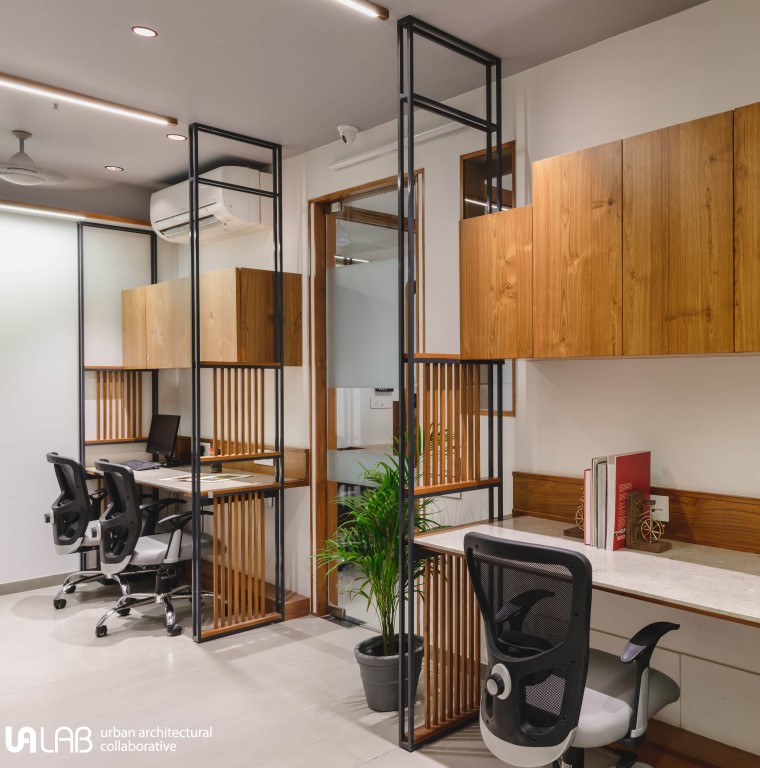 The Space dividers are a combination of Transparent and Opaque surfaces. The transparent surfaces are kept clear and smooth within the simple orthogonal geometry. The opaque surfaces are worked out with the combination of wood panel, colored surfaces, wooden louvers and Mild steel frame. The Dividers show an interesting combination of Clear Glass and layers of opaque surfaces intricately designed. When traverse through the office space interesting play of Transparent and Opaque interiors revealing-unrevealing it self is experienced. The clear glass creates multiple interior reflections making the spatial experience evocative.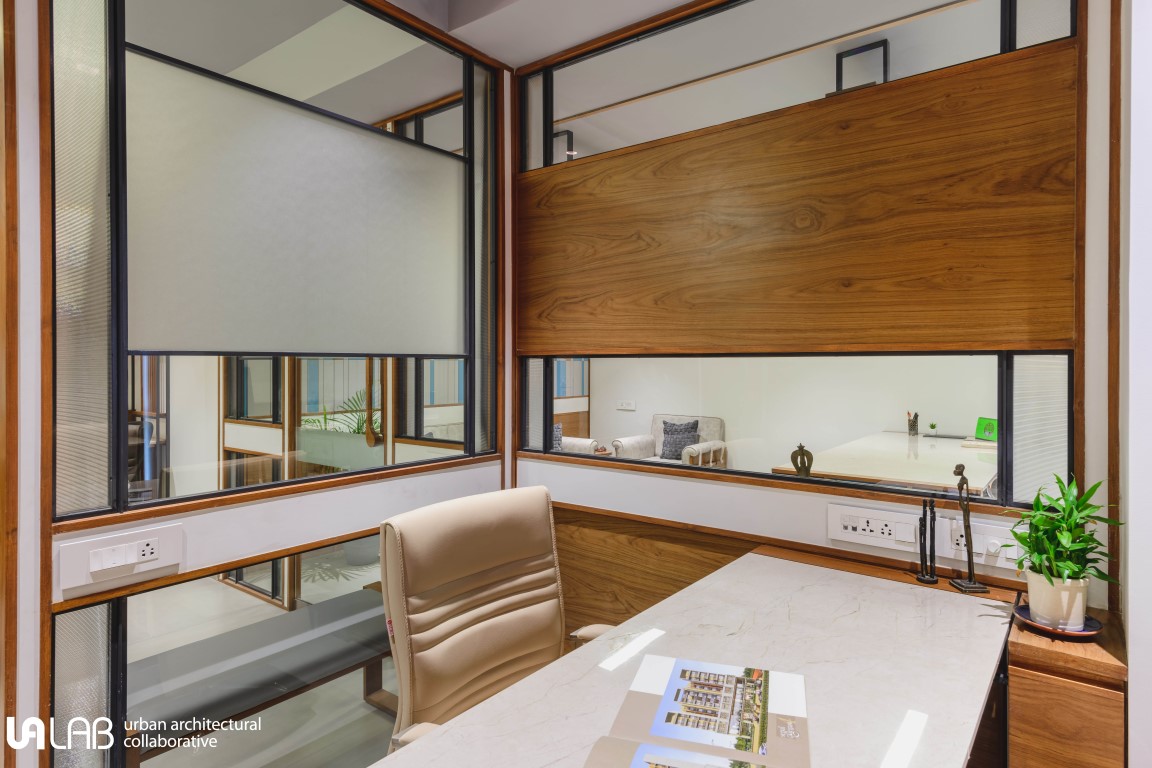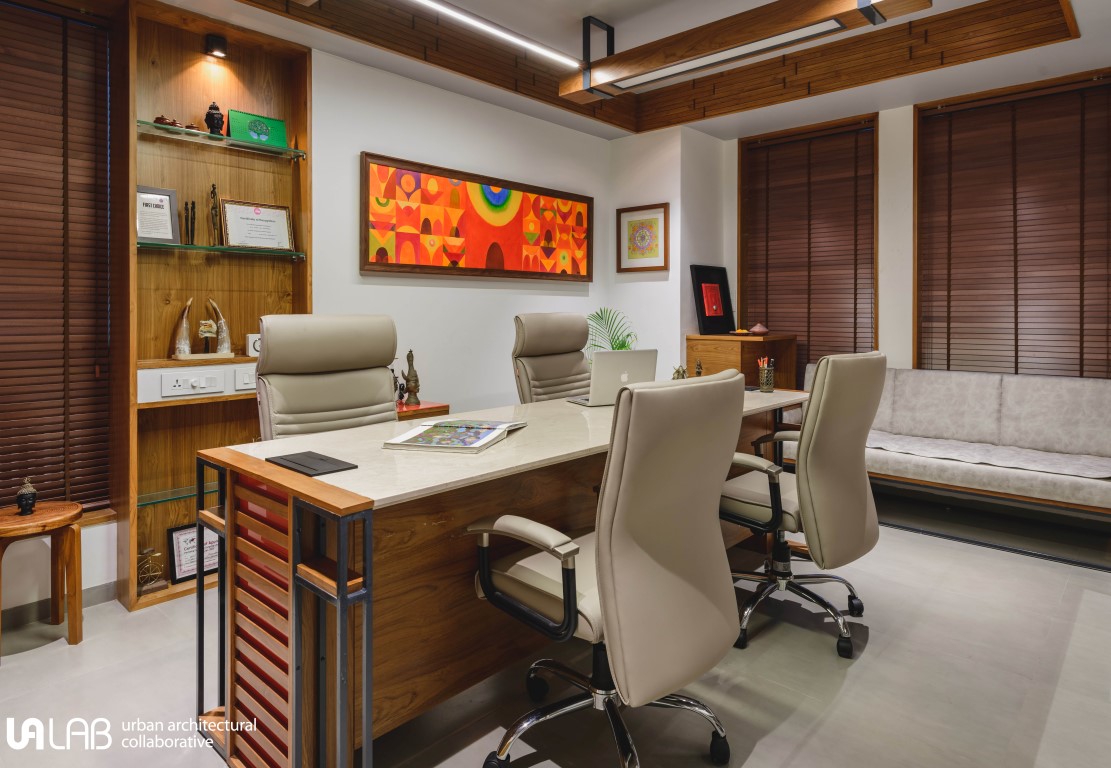 Mild Steel is used in the Furniture as the main structural member. For the Working tables and the sofas, simple Mild-Steel frames are designed. The Tabletops and the Seats are then lodged in these frames. This gives a cleaner finish to the furniture making the structure distinctly visible.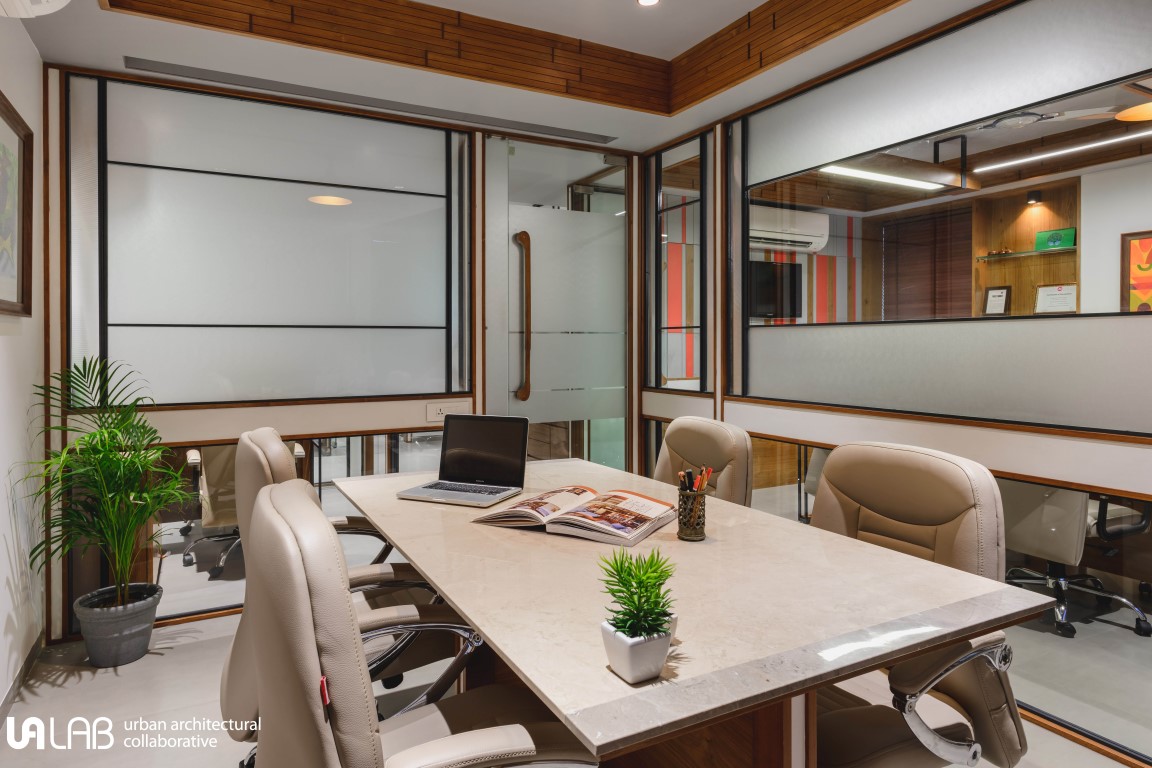 Materials
Floors  – Vitrified tiles
Walls – Plastic paint on cement plaster, Plastic paint on Bison Panel
Furniture – M.S. Angle Section, M.S. Square bar, M.S. Flat, Fluted glass, Back painted glass, Valsadi Sag wood, Natural Veneer on Ply, Laminate on Ply, Wired Glass, Clear Glass, Soft Board
Finishes of Furniture – Tel-Paani Polish, Melamine Polish, Paint
FACT FILE:
Architecture Firm:UA Lab (Urban Architectural Collaborative)
Lead Architects: Vipuja and Krishnakant
Design Team: Kruti, Mitul
Contact e-mail: [email protected]
Completion Year: 2019
Gross Built Area: 125 sq m
Project Location: Ahmedabad, India
Photo Credits:  Ishita Sitwala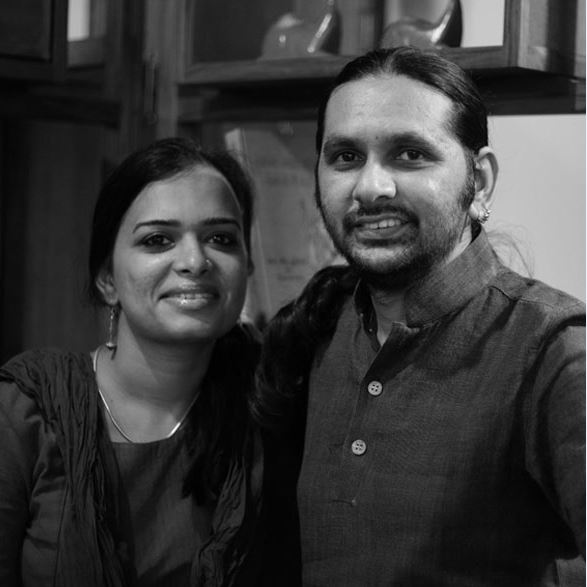 Description of Firm
UA Lab
Urban architecture collaborative lab is a very young design firm formed in 2014 by Krushnakant and Vipuja.  They have an inclination towards vernacular space design which tries to balance the crafting and comfort of space with sensitive use of materials.  At Ualab with every design work, there is a constant struggle to search for a design vocabulary that is innovative to meet the contemporary demands and hold the vernacular understanding of space design.