&nbsp
This Villa is located in Nad-Al-Sheba first district. The interior was created for a couple with a background in business, who appreciate classical traditions and modern amenities. The interior was designed in a lighter version of neo-classical style of design diluted with modern elements. Classic moldings on the walls, classic ceiling, simple and wide baseboards, light complex shade of the walls – all this became a classic background and frame for a modern interior filling. Decorative accents were beautiful unusual chandeliers. The interior design was completed with brass elements.
Neo-Classical Style Of Design Diluted With Modern Elements| Aura Interiors Pan India / UAE
VISIT : Aura Interiors Pan India / UAE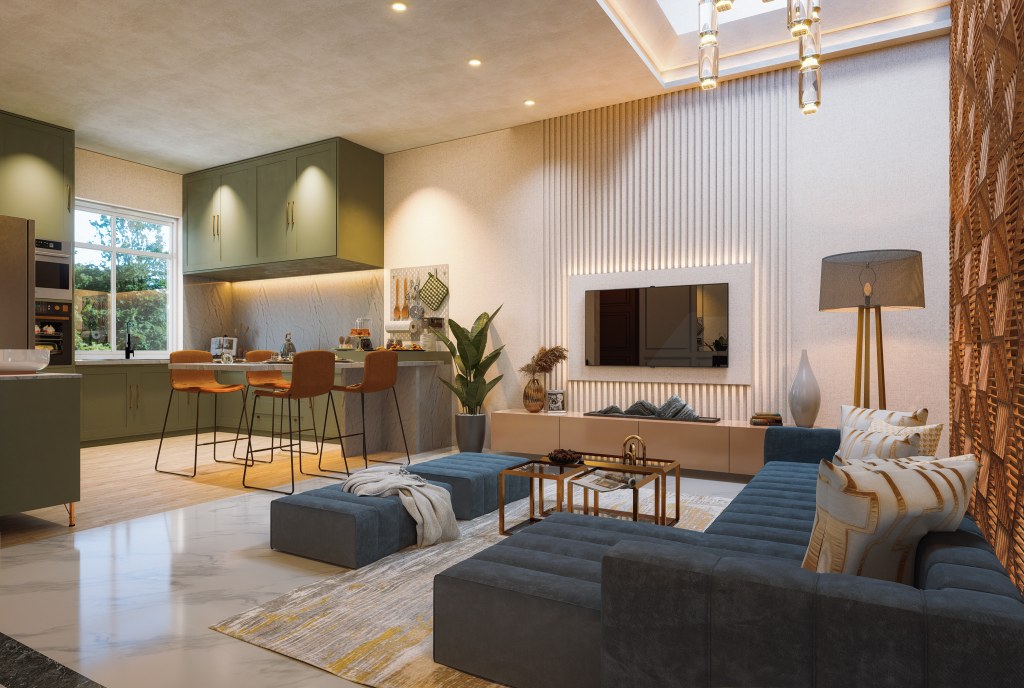 In this spacious villa, you are greeted by Majlis and attached dining room with a lot of air and sun. Beautiful architectural forms with high ceilings and large straight line windows are highlighted even more in a calm neutral interior with the addition of contrasts in natural colors. Large, spacious kitchen- living room, Passage is filled with lots of light and air.
This carefully crafted atmosphere is conducive to relaxation and silent observation of the surraunding nature. The basis for the interior concept is the travertine stone. High ceilings and a large living area are accentuated by a sizeable, exquisite chandelier.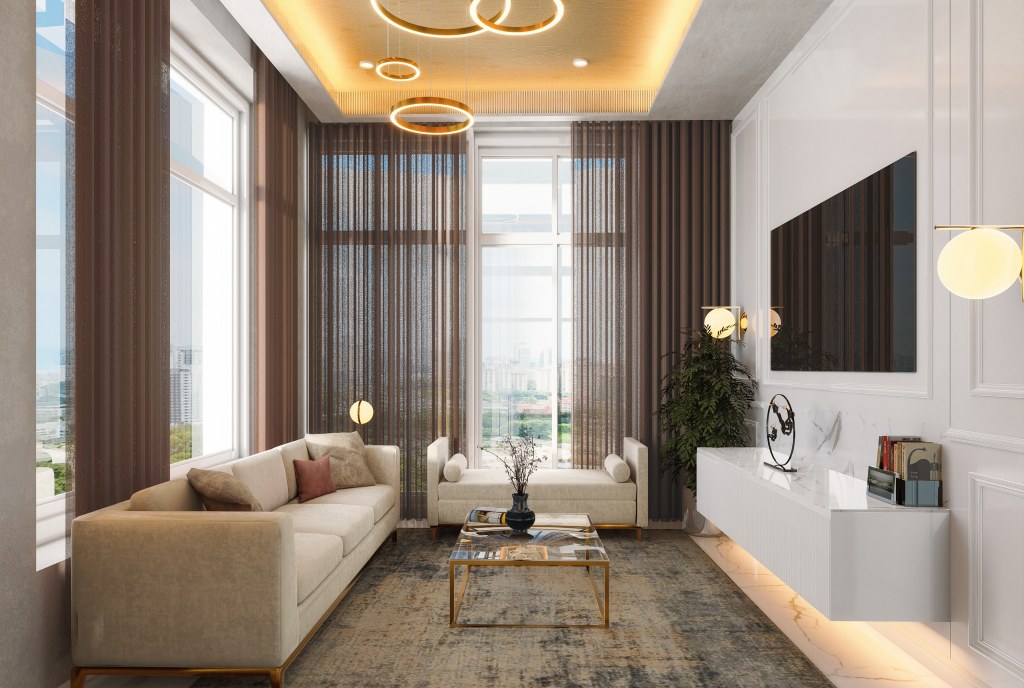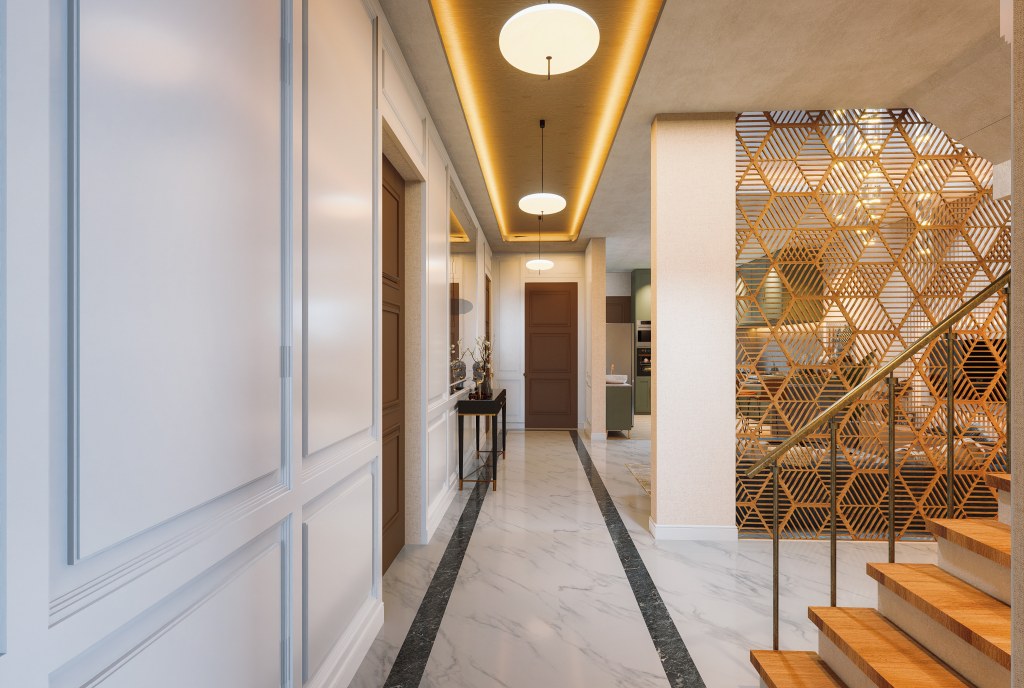 The sensual design is conveyed through the pronounced textures of the materials used. Partially presented visualizations of the bedroom, kitchen and living rooms will help you feel the general concept of the modern classic interior.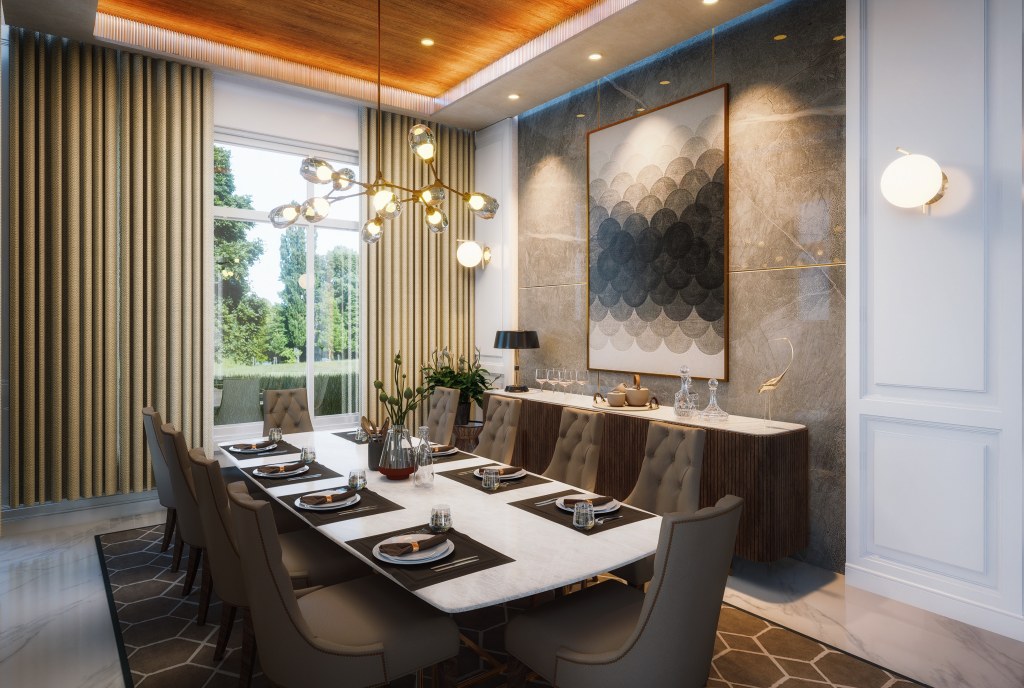 This room has a pretty high ceiling (3.5m), though perimeter-wise it's not huge. We leveled the proportion by hanging linear geometric light that looks chic on the background of the rifled coastal green wooden panels. Built-in wardrobe in fluted glass and storage systems are custom-made. The make-up table was designed as a laptop station as well.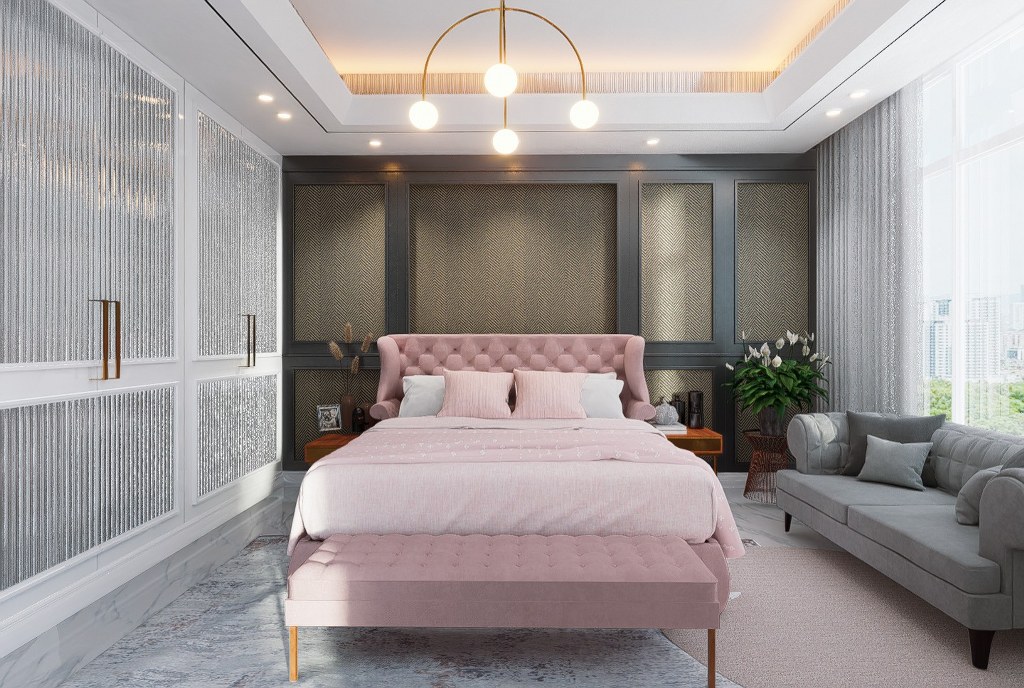 Now, it serves as the daughter's bedroom that has everything needed for a girl child to feel welcomed. In the future, however, it will be turned into a play room without any serious fit-out work. It has a lot of storage to be filled with toys and stuff and it's quite spacious for the kid to to run around. It makes a great playing zone because of it's carpeted and wooden flooring.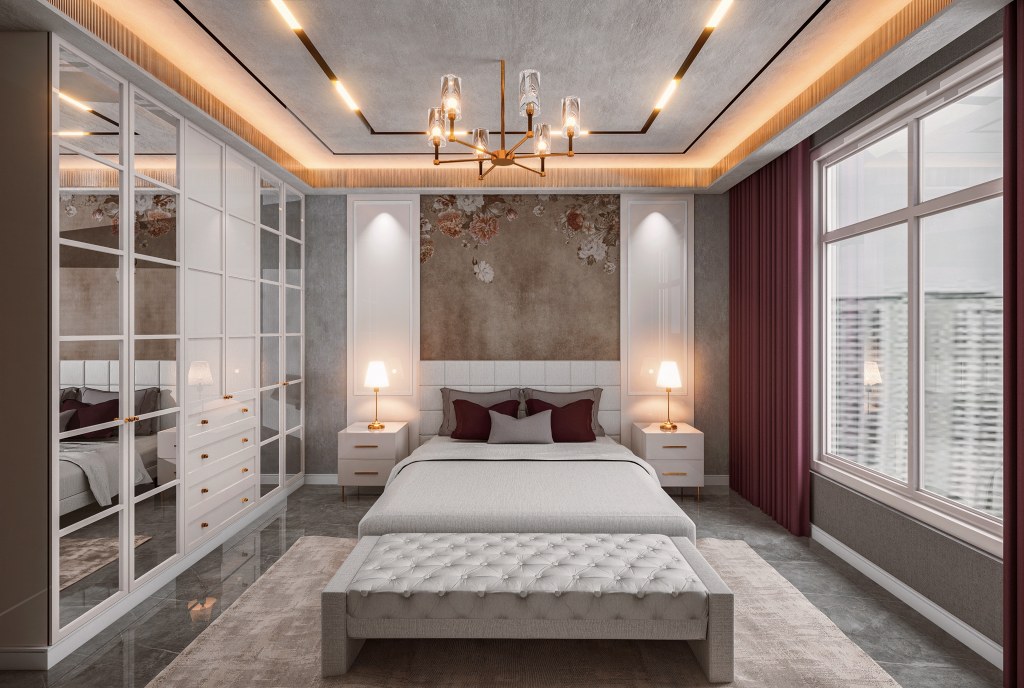 A sleeping zone, a working station, chest of drawers, a free standing mirror and a wardrobe with the canopy bed, textured wall – all this arrangement works great when you want a have-it-all type of bedroom. One of our favorite things here was creating the color scheme so it was relaxing but not too bland, and mixing the warm light and white wardrobe and decor details with cold tones of the rest of the decoration and furniture, created the look we wanted. Concrete, plaster, wood, and steel are the materials used to make the space look modern, reasonably eclectic, and eye-pleasing.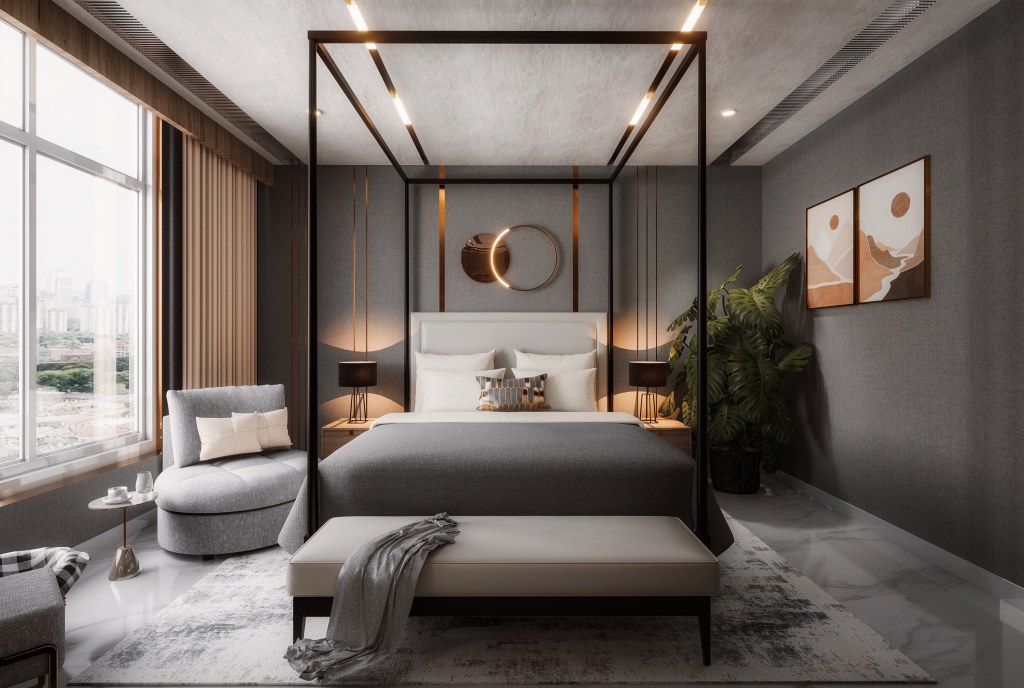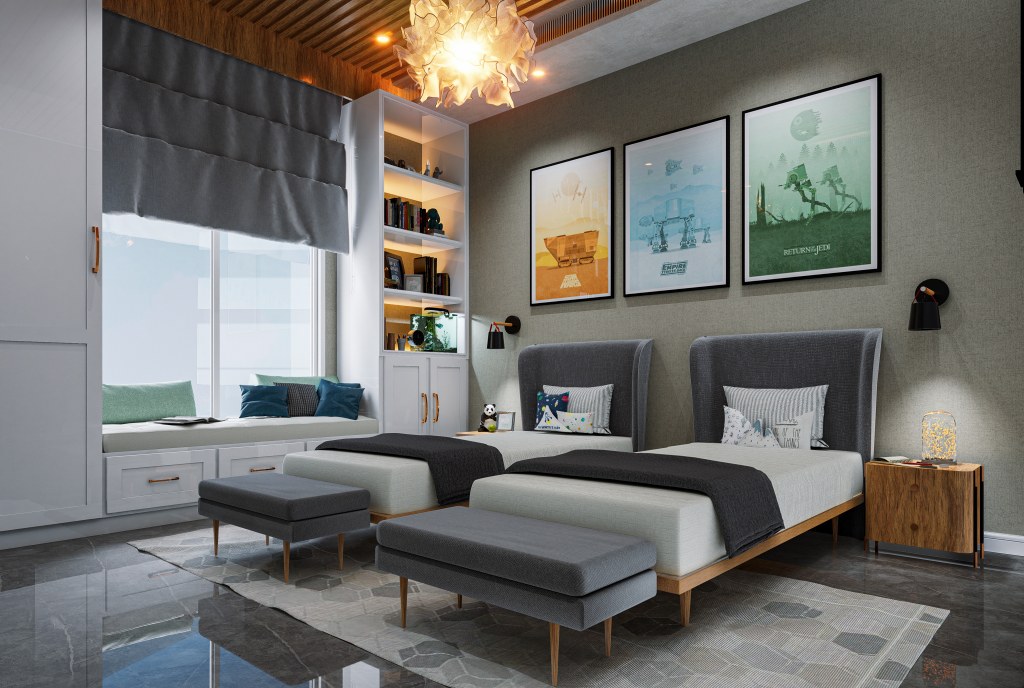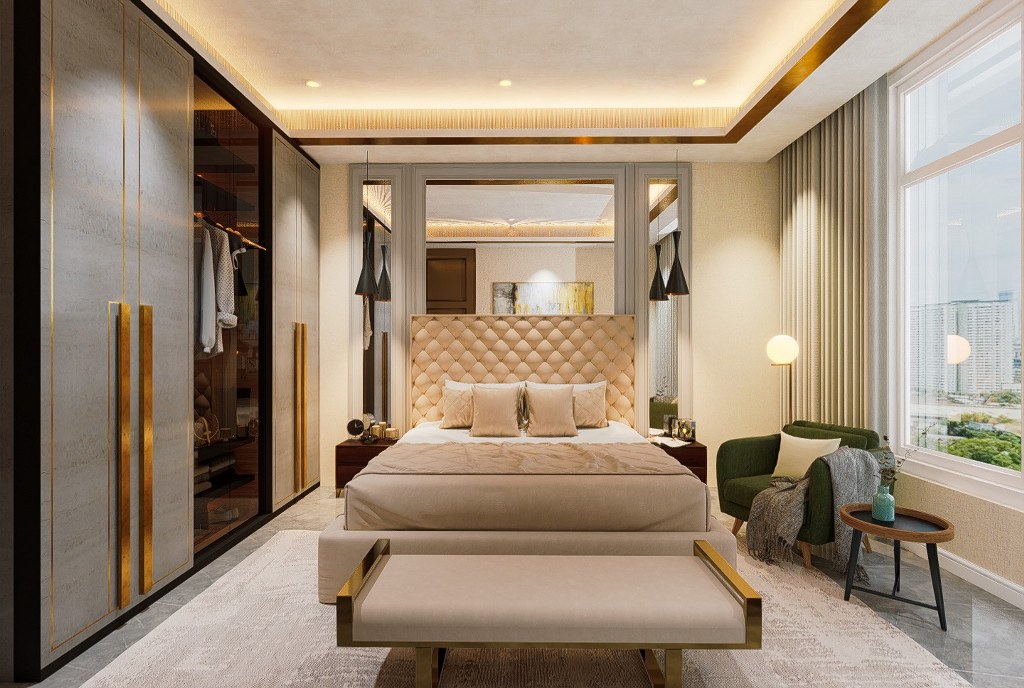 What truly impressive in interior design is to make something look almost unreal, to make someone look at your creation and wonder what it seems like every time one sets their eyes on it. Like this Majlis where the sofa inside the base of gold. Center piece of real wood and artist designed artwork pieces. The handcrafted rug gives the feel of Indian atmosphere. And the list can go on and on!
FACT FILE :
Designed by : Aura Interiors Pan India / UAE
Project Type : Individual Villa
Project Name : Duplex Villa at Dubai
Location : Nad Al Sheba first, Dubai
Year Built : 2021-22
Duration of project : 1year
Plot Area : 8000
Built up : 6400
Project Size : 8000 Sq .ft
Principal Designers : Ruchi Burman & Vivek Burman
Team Design Credits Salma Breik, Tanvi kadam & SS.Adhitya.
Products / Materials / Vendors : Lighting – Dragon mart uae / Sanitaryware – Jaquar / Furniture – Theyyampatti furniture dubai / Paint – Jotun paints uae
Firm's Website Link : Aura Interiors Pan India / UAE
Firm's Instagram Link : Aura Interiors Pan India / UAE
Firm's Facebook Link : Aura Interiors Pan India / UAE
For Similar Project>>> Into A Homely World Of Elegance And Warmth From The Hustle And Bustle Of City Life