Approached with no brief or specific design requirement, TS Design works had to resort to its principles of creating an inside-outside connection with minimal intervention of colours and overpowering interiors. Since this 1500 square foot apartment lies in the lap of open surroundings with gymkhana on the north side that allows ample light to flood in, the key concept was to design this Mumbai apartment with natural materials and a pastel colour palette which would give a Scandinavian vibe to this house. The house belongs to a banker who lives with her son and parents. The challenge in this house was the short time and we completed it in less than 3 months.
Mumbai Apartment With Natural Materials And A Pastel Colour Palette | TS Design Works
VISIT : TS Design Works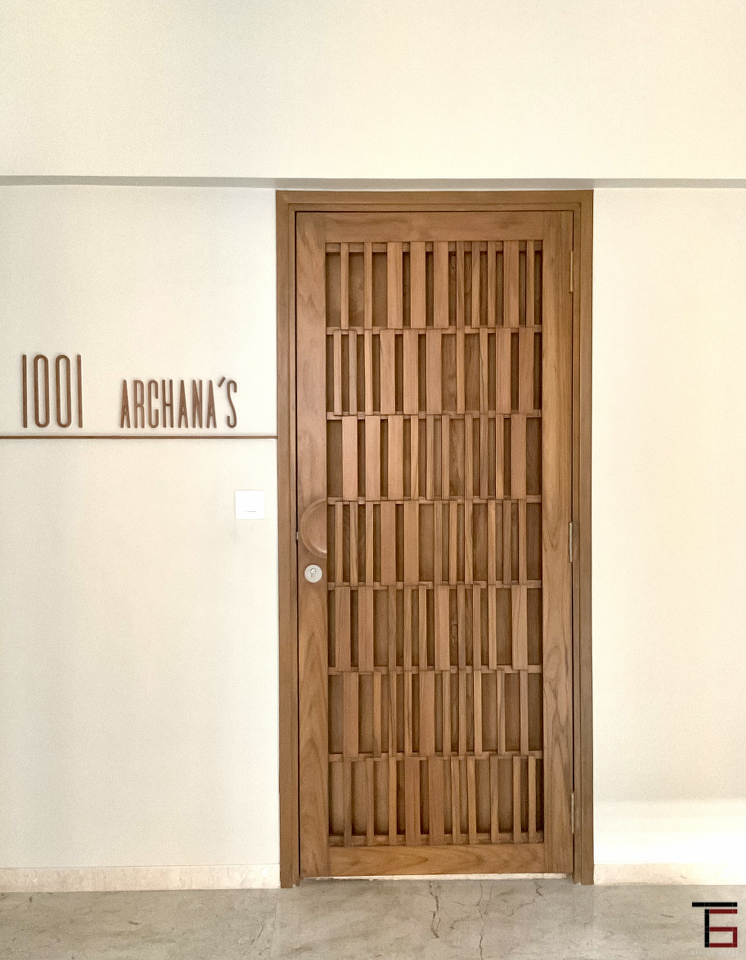 The client wanted optimum storage which we provided without cluttering the space and gave ample room for movement. The apartment had huge columns unevenly placed in all rooms. So, we had to clad these offsets in the rooms that led to panelling all bedside walls and triggered our design.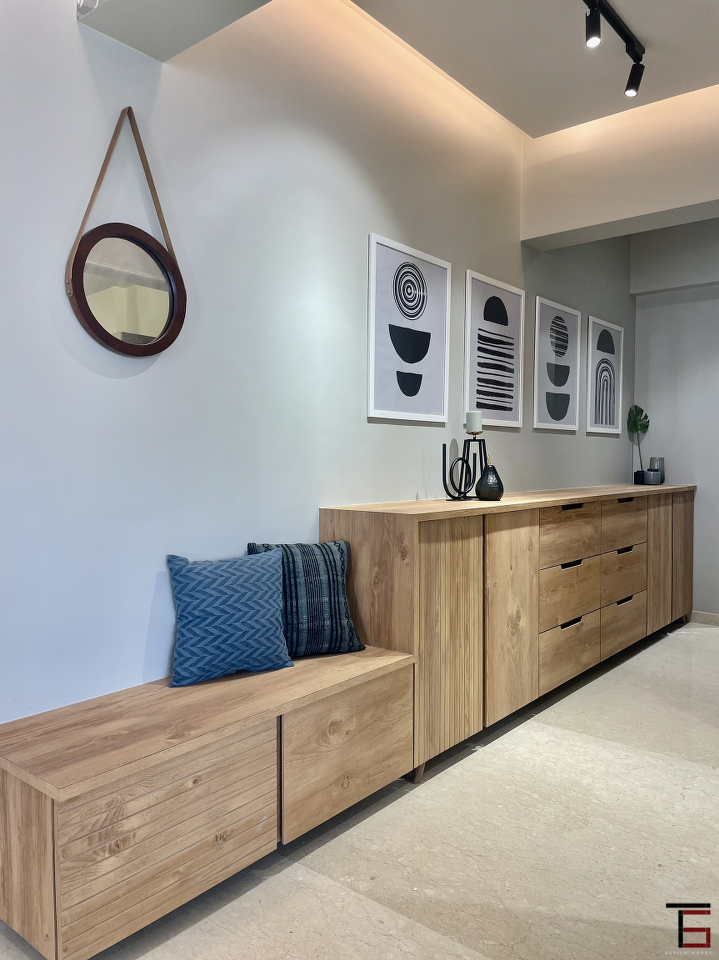 And that, for us, is important as our concepts are contextually relevant and site- specific. Overall, the house has a minimalist style with a hint of decoration.
The living room gets a highlight wall with a monstera plant wall paper along the wall that forms the backdrop of the dining area..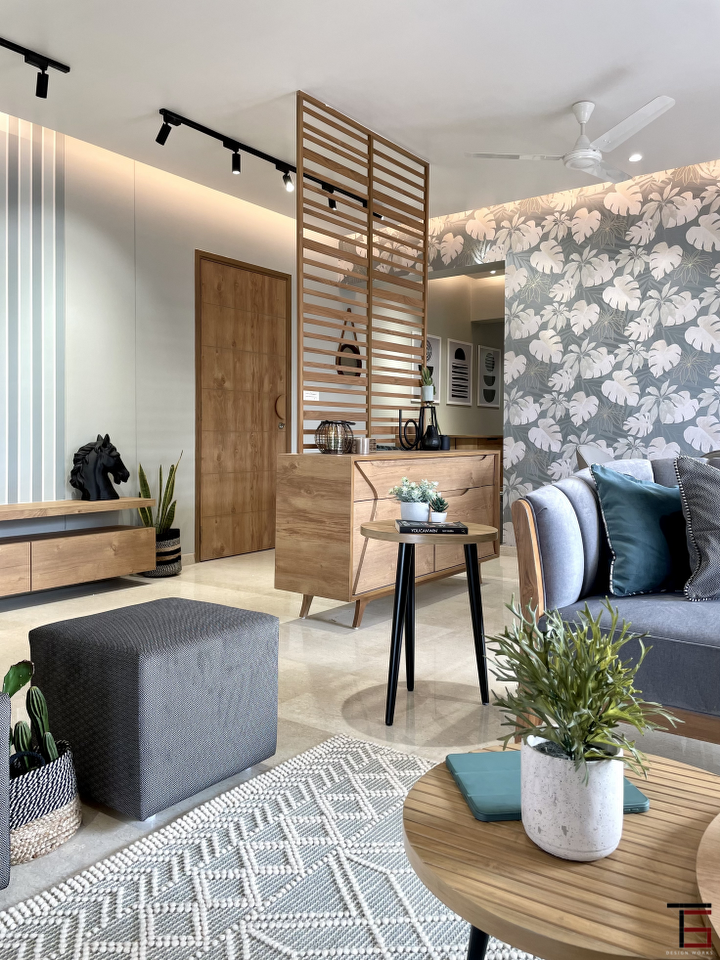 The colours of the wall paper were picked and used in a vertical striped pattern on the TV wall that creates a composition with TV being placed asymmetrically due to a sheer wall on which its mounted , which didn't allow us for any conduiting.
Hence again, the site conditions dictated our design. The dining side board which has a screen creates a pause space after you enter and is in harmony with the entrance door.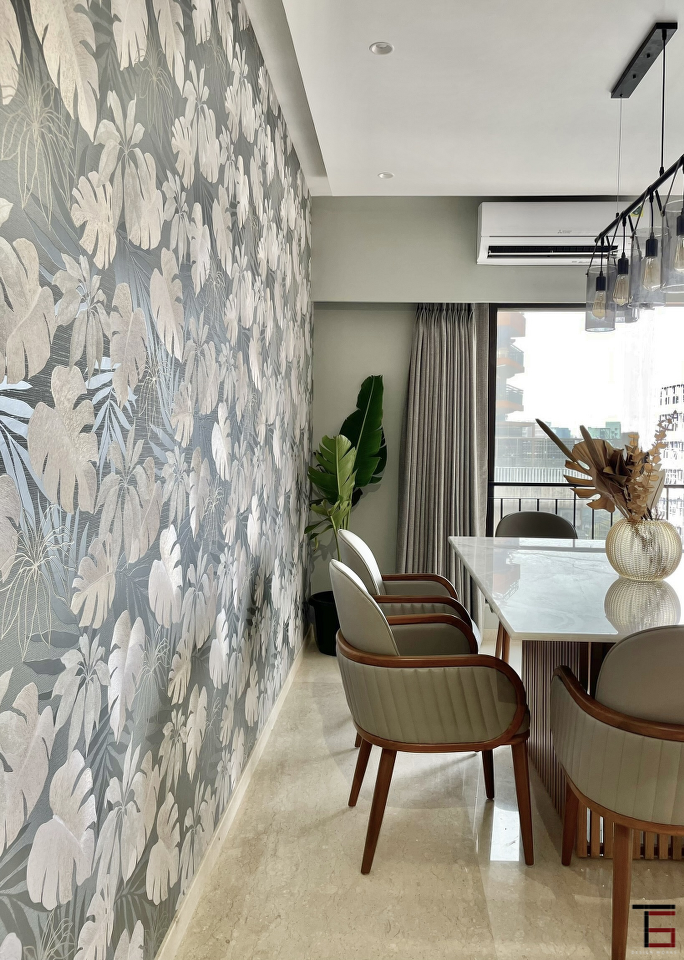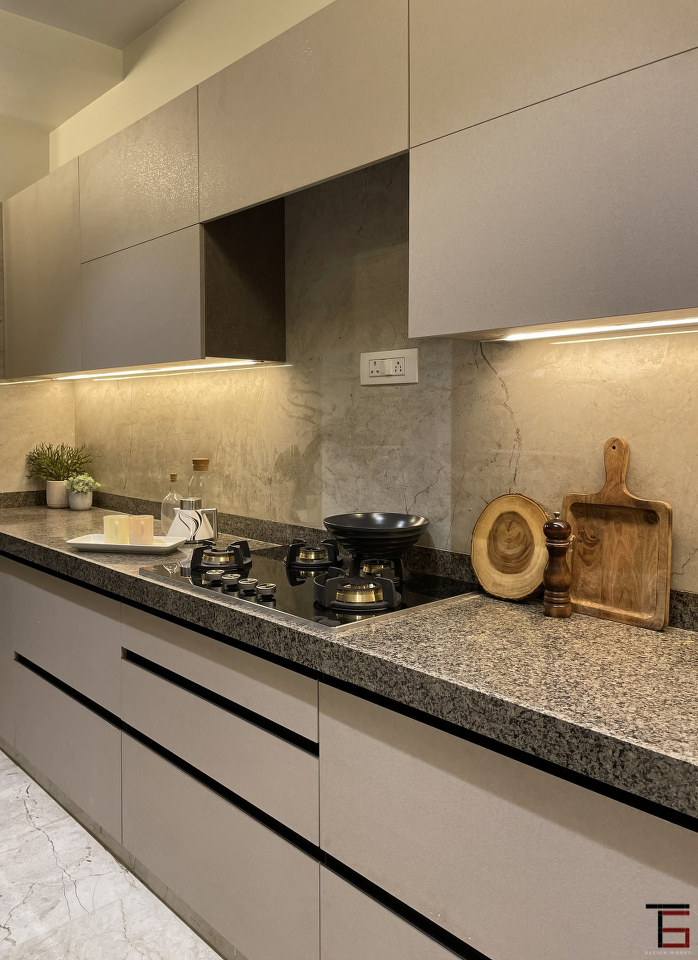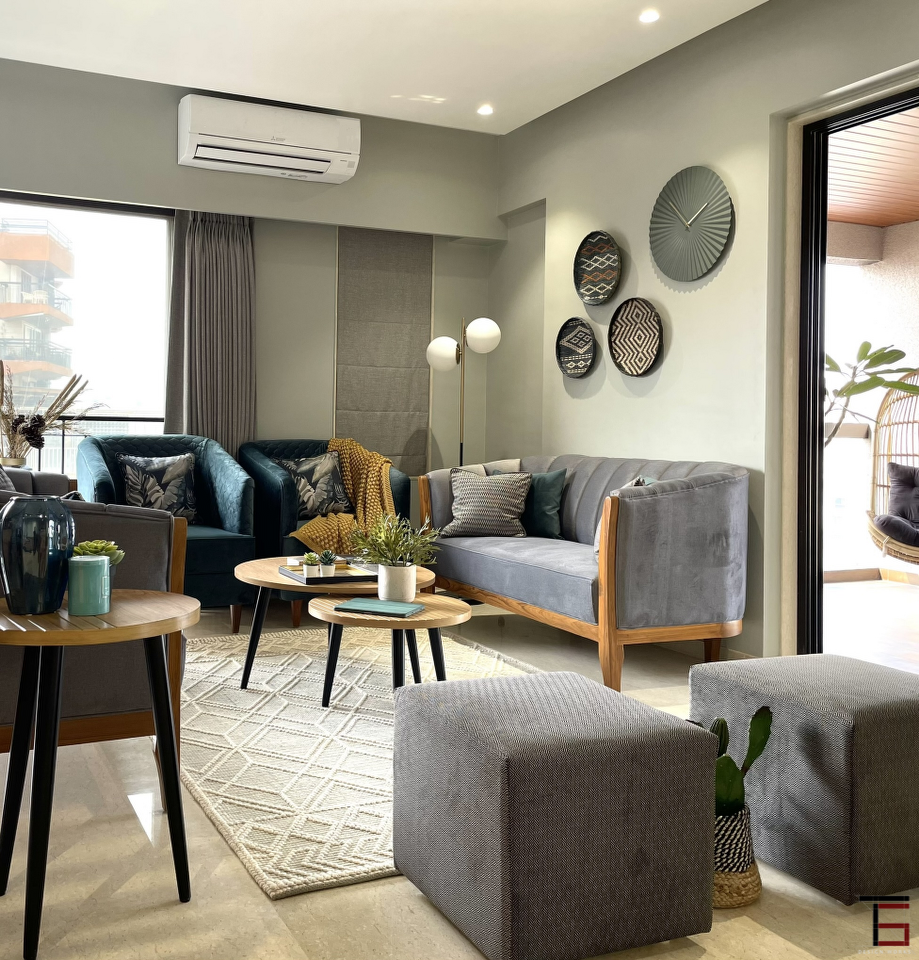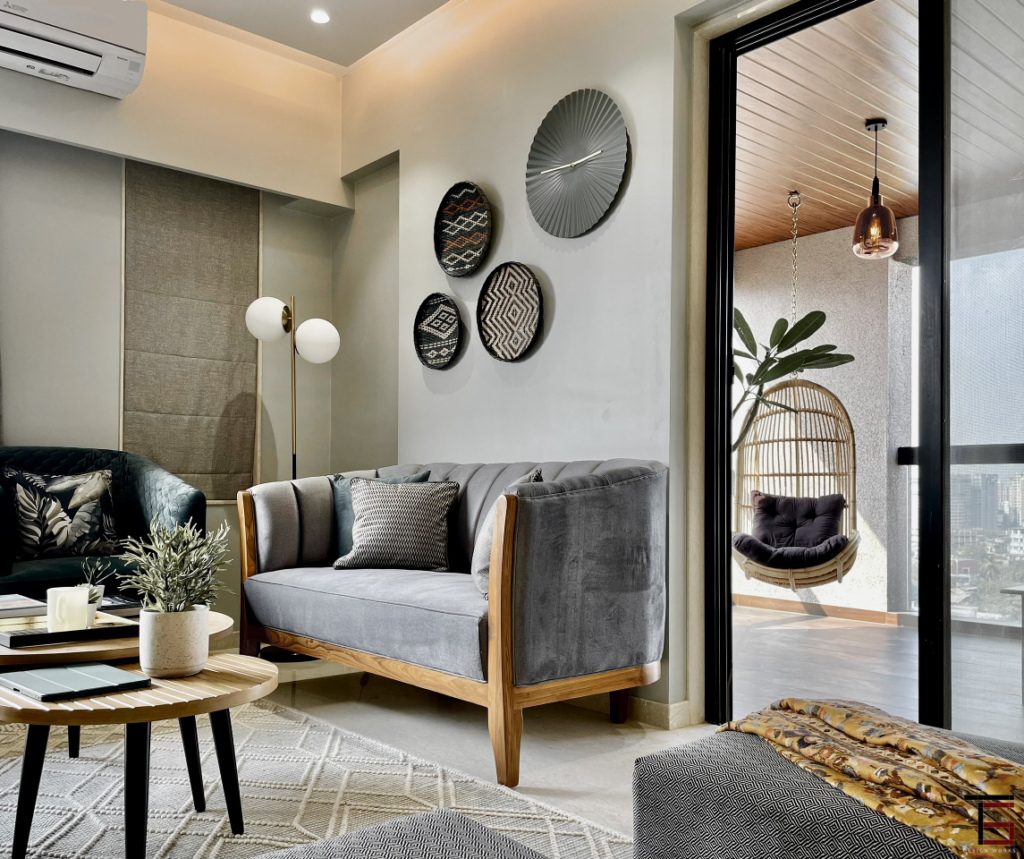 The upholsteries and accessories have an organic texture, and addition of plants in this well-lit house connects the house with outside and creates a dialectal relationship between inside and outside.
The colour scheme of the bedrooms came with the user personalities. Master bedroom to be used by the lady was given a rose gold and Gray palette , an over all pastel colour scheme with light coloured furniture that defined the femineity to a certain degree.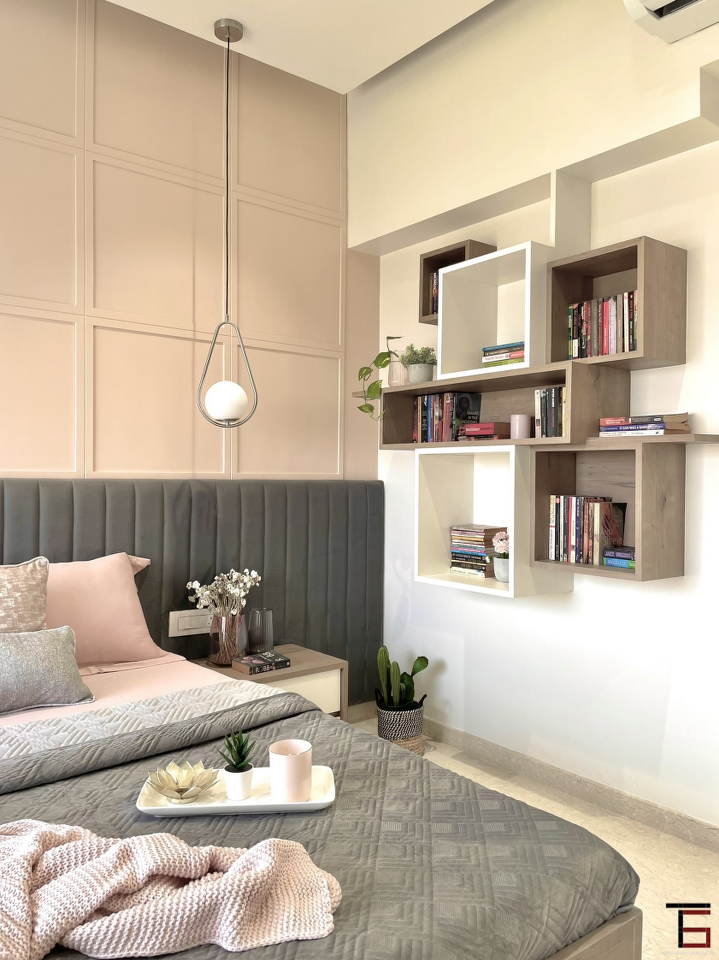 Son's bedroom who has just graduated is a bachelor and hence a black and white look with an accent of ochre was added to the room to define a young dynamic look.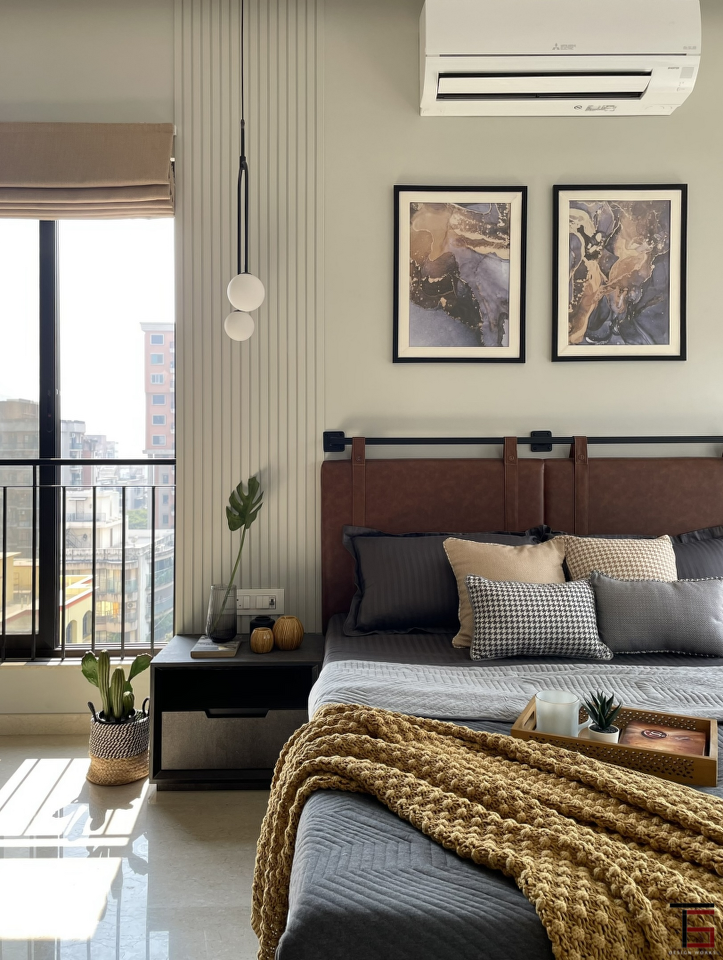 The third bedroom which belonged to the parents where they spend maximum time took a very subdued siege green with a teal head board as an accent colour.
The temple in their room also is designed keeping the modern look of the room with minimalist details and colour so that it seamlessly blends with the surrounding walls.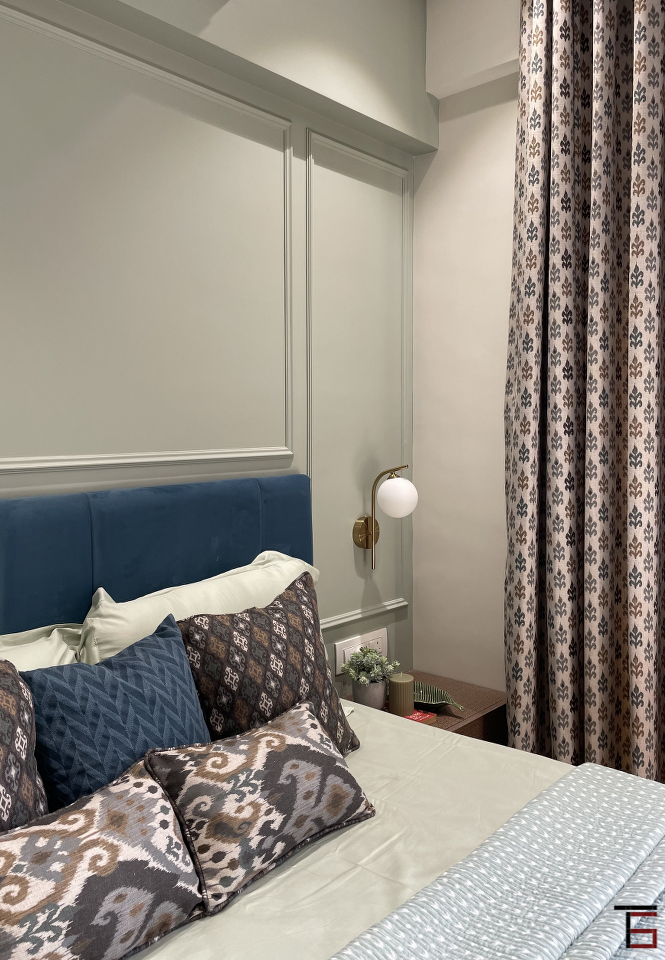 The accessories are also limited in colours and hence we have retained more of a monochrome look with grays and teals dominating the entire colour scheme.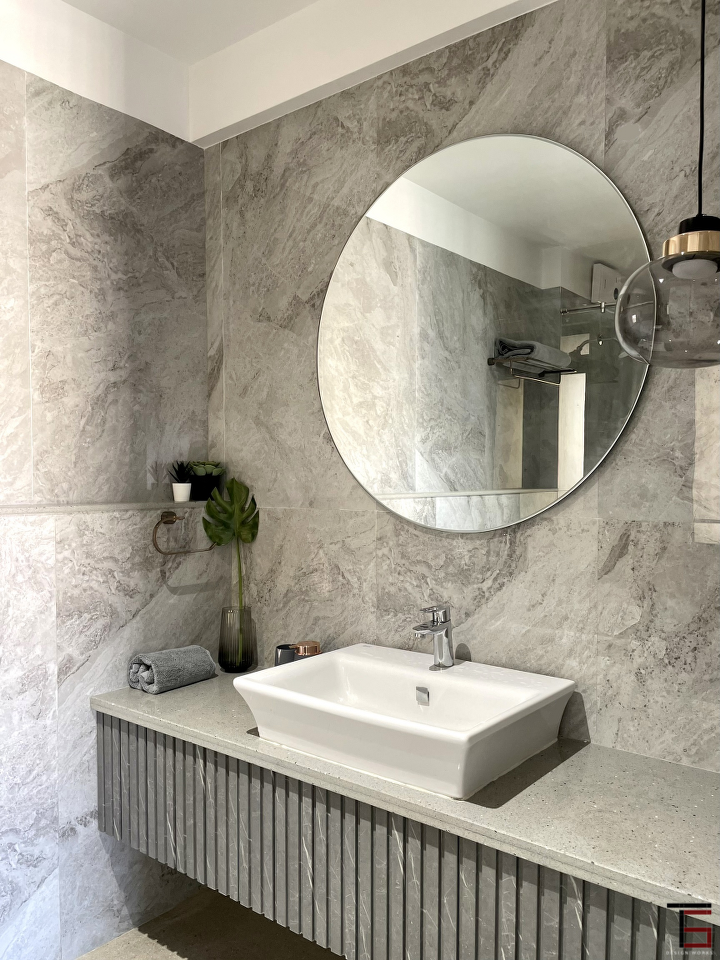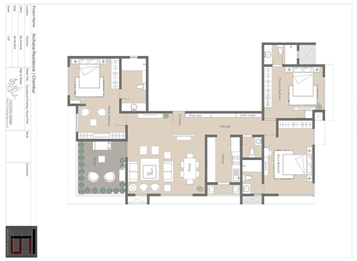 FACT FILE
Designed by : TS Design Works
Project Type : Residential
Project Name : Scandinavian Sanctuary
Location : Chembur West, Mumbai
Year Built : 2022
Duration of the project : 3 months
Built-up Area : 2033 sq.ft
Project Size : 1506 sq.ft
Project Cost : 50 lacs
Principal Architect : Tania Shah
Photograph Courtesy : Tania Shah
Products / Materials / Vendors : Wallcovering / Cladding – Drape Shoppe / Lighting – White Teak company, Nagrik Electricals, Kirti Lights / Doors and Partitions – Custom made on site / Sanitaryware – Hindware / Furniture – Custom made on site / Flooring – Italian Marble provided by the builder / Kitchen – Makwana Kitchens / Paint – Asian Paints / Artefacts – The Mysa Décor, Pure Home and Living, Fabindia, Modern Quests, Coastal habitat, Sasha world, Ikea / Wallpaper – Drape Shoppe / Hardware – Hettich.
Firm's Website Link : TS Design Works
Firm's Instagram Link : TS Design Works
Firm's Facebook Link : TS Design Works
For Similar Project>> VIBRANT HOUSE DEMONSTRATES THE SYMPHONY OF OWNERS