Modernity with Elegance – 2150 Sqft Residence Interiors | Line Design Studio
Warm and neutral colour scheme, customized lights, customized paintings & Wallpaper throughout the house bring the interior of the house to life.
The 2150 sqft residence interiors are an art in itself and have been composed in such a manner where not only aesthetics are kept in mind but also functionality about people and how they live is a prime. The design was meant to keep up with trends and comfort that a modern family and house requires.
Visit: Line Design Studio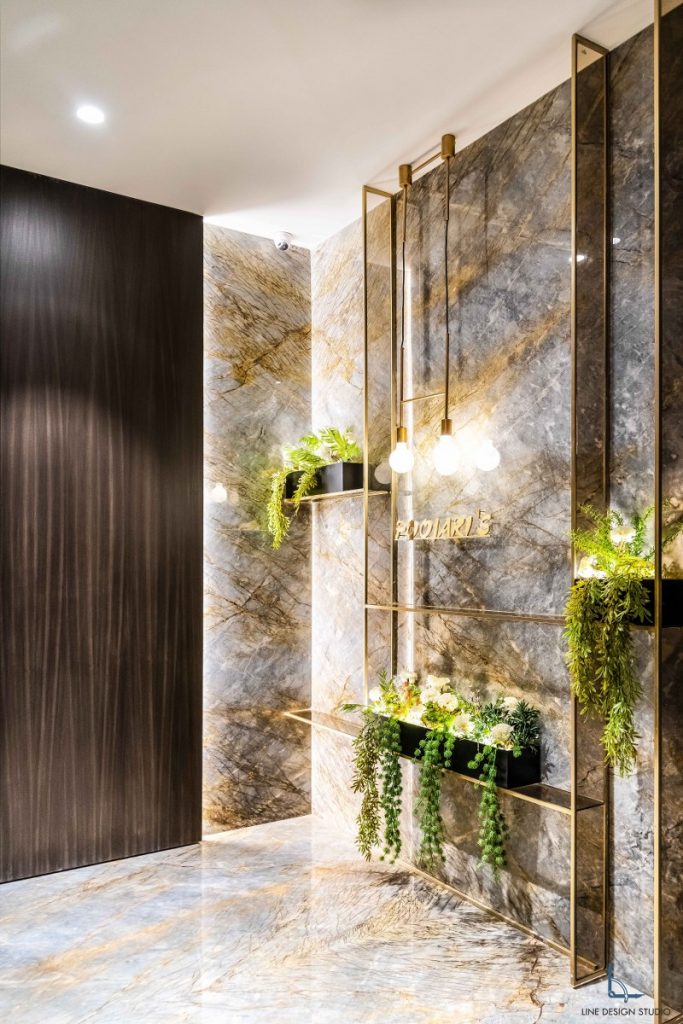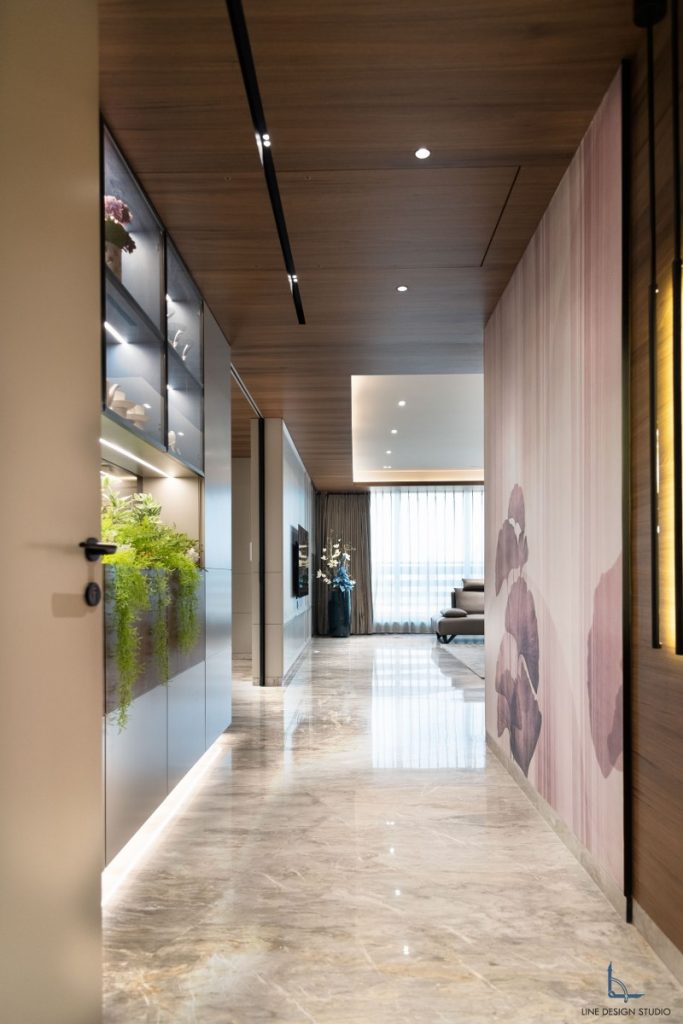 The home was designed for a well to do family of settled in surat. They were easy-going with design choices but aspired for an easy to maintain home, and similar fabric selection. Considering the luxuries and their lifestyle, the house is incorporated with such materials and design concept that keeps it in trend and feels welcoming to family, friends, and their renowned business friends.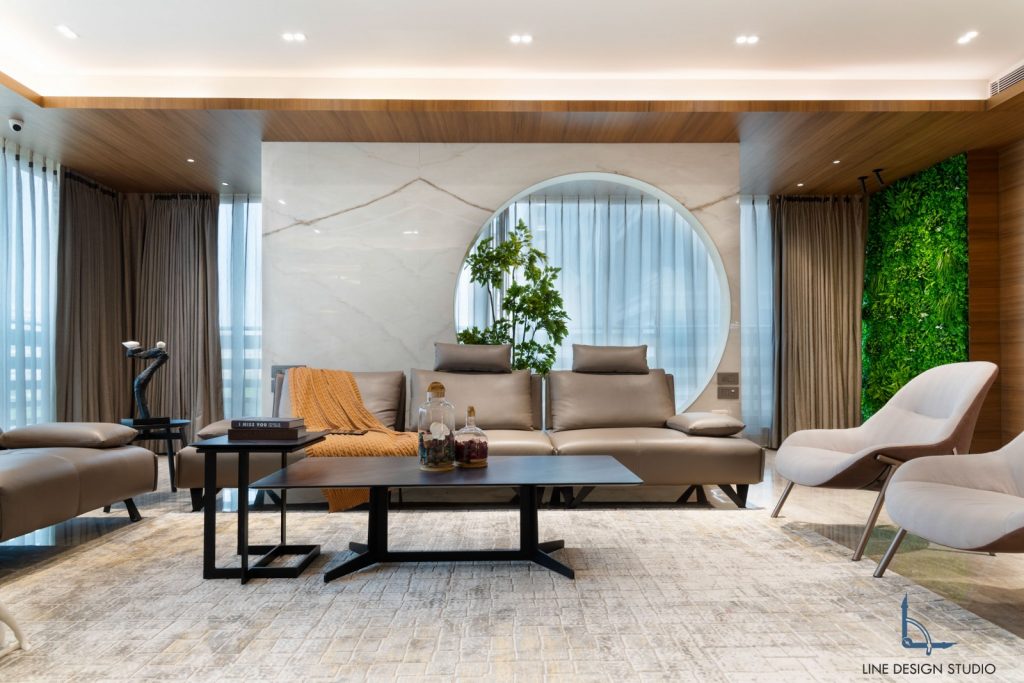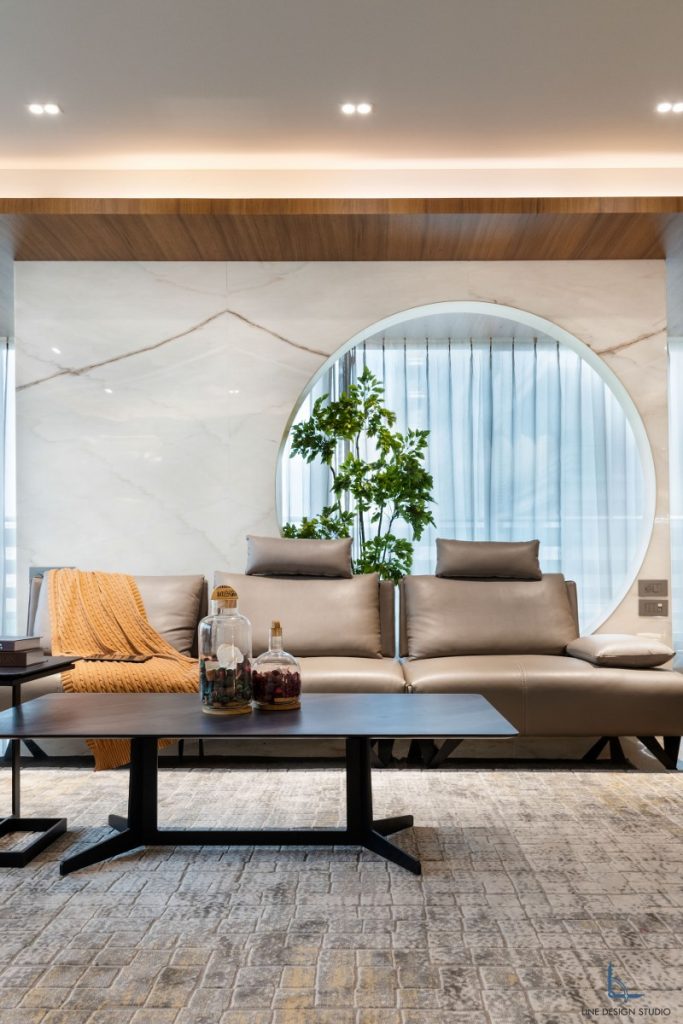 The common area of hallway and living are so planned and detailed that as one enters, a screening played along with hues of green welcomes a visitor in. All the more, the monotony of the passage gets interestingly hurdled with a play of floral wallpaper turned up with that space gives harmony to the area. An apt use of materials and color scheme plays a vital role in enhancing the quality of spaces.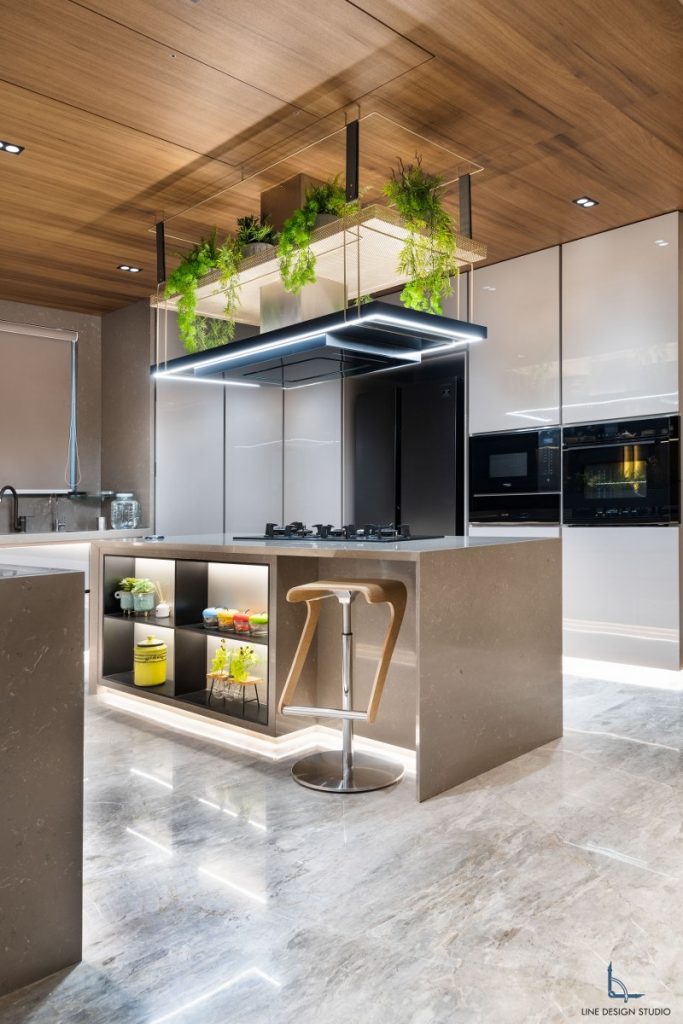 The kitchen here is designed to exemplify modern characteristics with its sober flooring, the wooden ceiling and subtle tones of grey where The element of chimney hangs like an artefact with the sleek finish thus attaining neatness in its design approach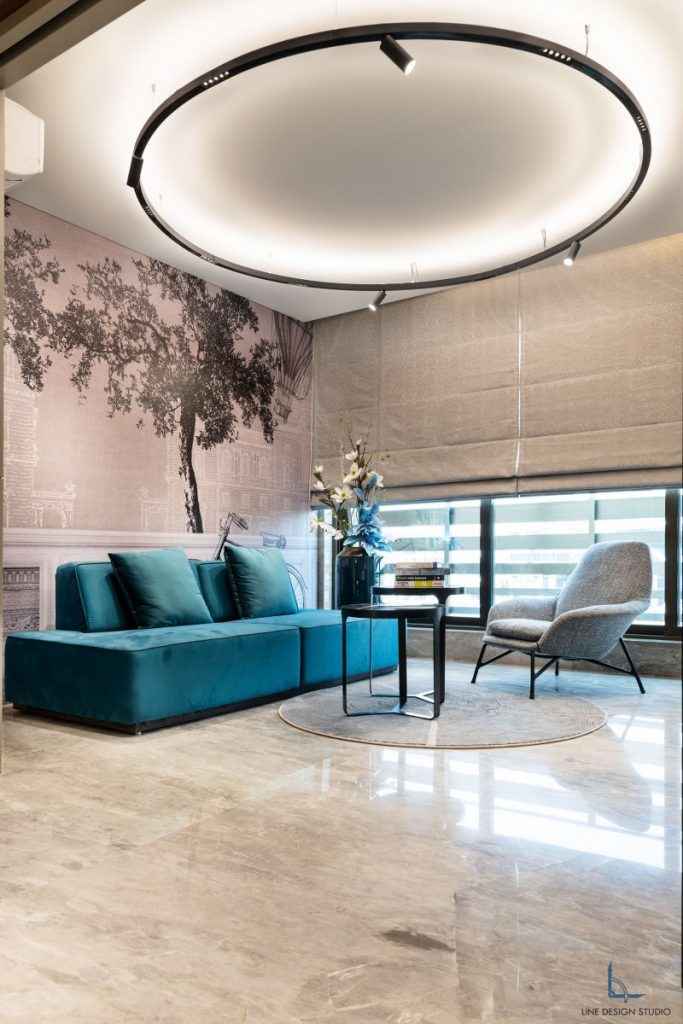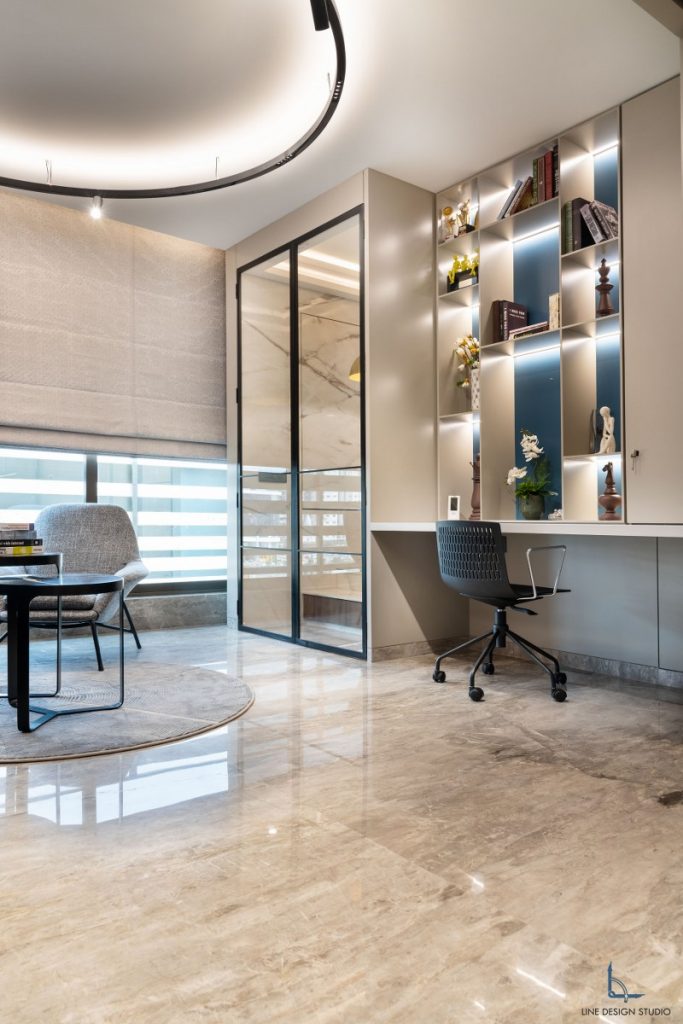 Customized lights and wallpaper provide a soothing ambience for family gatherings in the lounge area. The tint of blue adds charm to the space.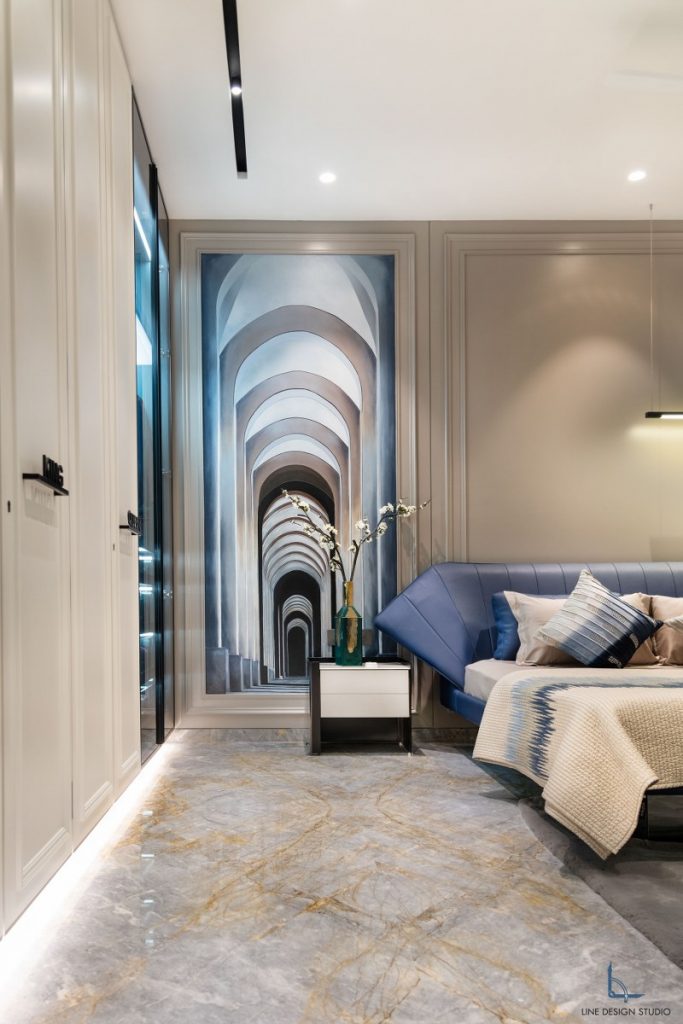 The master bedroom is defined by its detail, material and color scheme and a neo-classical style, where the painting adds more depth to space and hanging light delights the room with its eccentric characteristics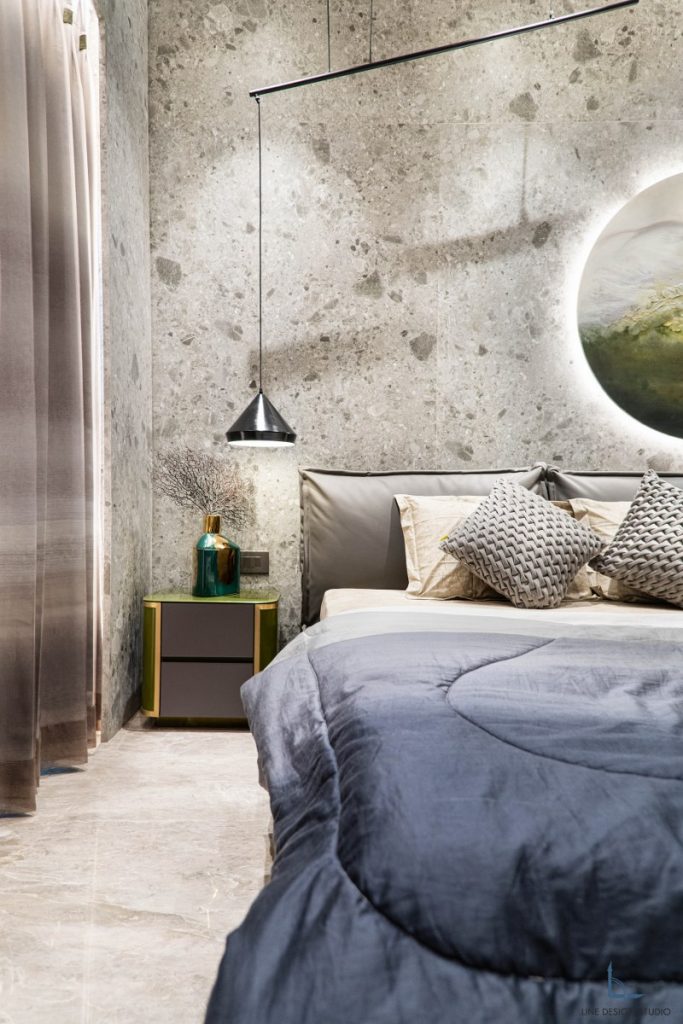 Playing on a palette of terrazzo tiles, Italian flooring and an assorted combination of deep colors and a tint of olive green veils the user with utmost glamour. The circular painting imparts a distinct identity to the guest room.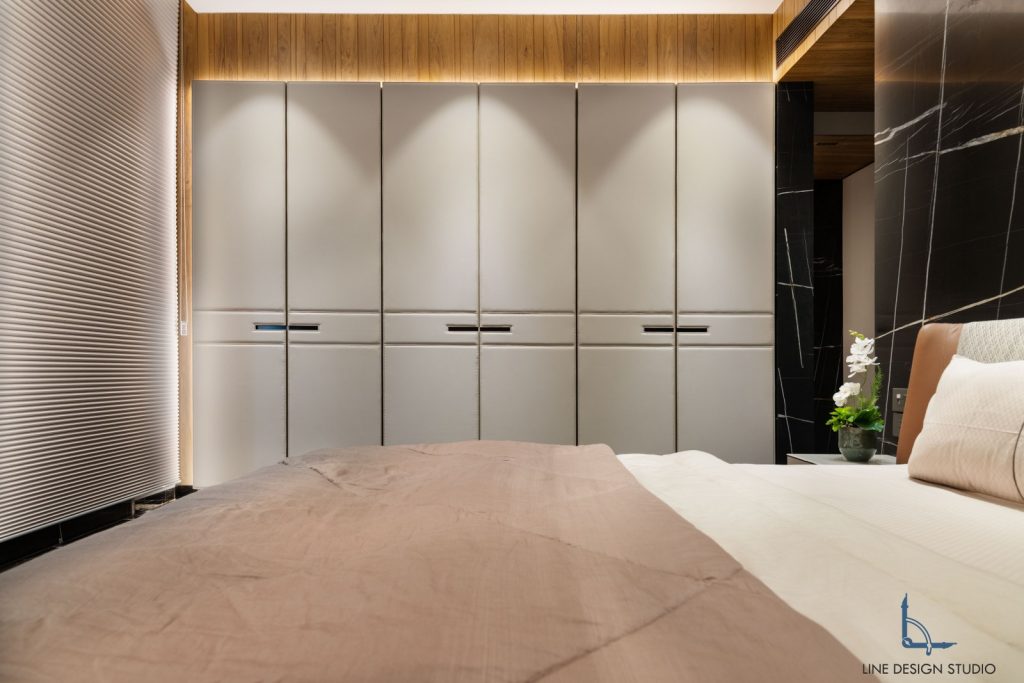 Considering the son's fascination for football, the room stands out having a bed back in bold Italian stone and customized painting wherein the football has been embossed and is backlit. The use of leather stitched pattern on wardrobe relinquishing the feel of luxury and royalty. Apart from the clean and functional planning of the overall layout, even the design of a corner bookshelf has been done thoughtfully.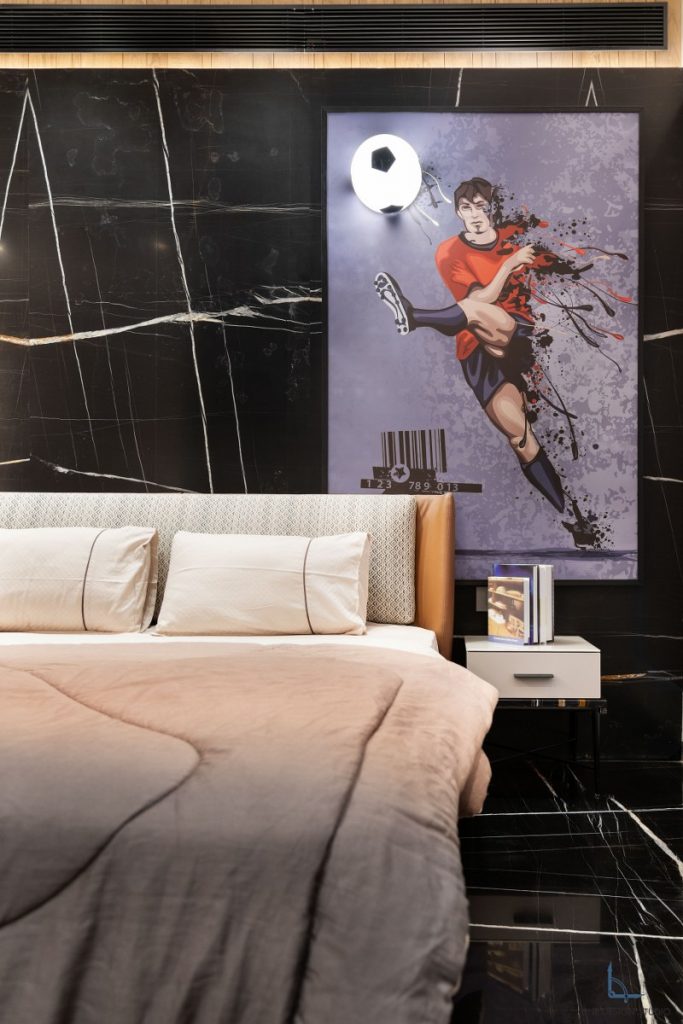 A minimalistic and practical residential design approach has enabled the inherent quality and depth of materials through various planes and surfaces,target-oriented lighting bringing clarity and richness to the house. Warm and neutral colour scheme, customized lights, customized paintings & Wallpaper throughout the house bring the interior of the house to life. We would also love to thank our clients who have believed in us and given us this liberty to experiment with our ideas and designs.
FACT FILE:
Designer Firm: Line Design Studio
Project Type: Apartment interiors
Principal Designers: Akash Dodhiawala & Pooja Shah
Client Name: Jagdishbhai Poojari.
Carpet Area: 2150 sq.ft.
Location: Vesu,surat
Photography: Akhil Patel