&nbsp
De'Caves Studio's 'Para Cubes' is an amalgamation of Parametric and Curvilinear elements, and thus breaking up the stereotypical modern workplace design.
Modern Workplace Design that Induces a balance of Work & Fun | De'Caves by Chitte Architects
Visit: De'Caves by Chitte Architects
It is located within the atrium of Dahod city, where the main approach road connects textile mills on one hand and railway on the other while the residences and patches of greens along the sides. The 1120 Sq. Ft. office is divided into different zones which synchronizes coherently to induce a systematic functional flow in the office.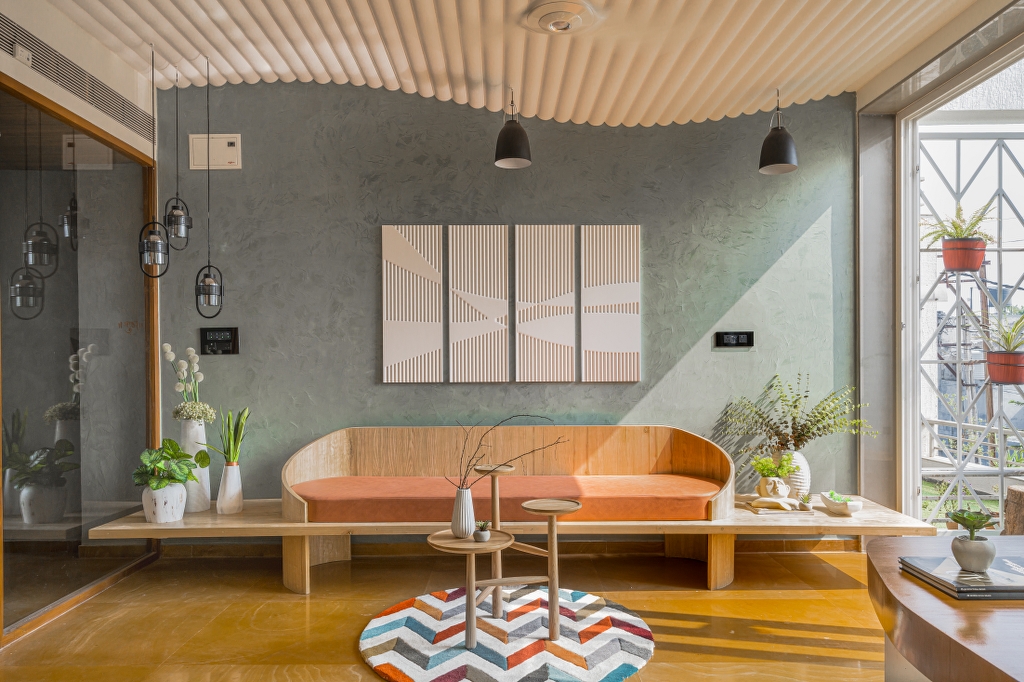 Client always wanted a 'workaholic' but a 'homely' space which gives off a welcoming feel to the visitors as well as the residents. Their requirement was to have interactive arenas that would create a 'work friendly' environment for all.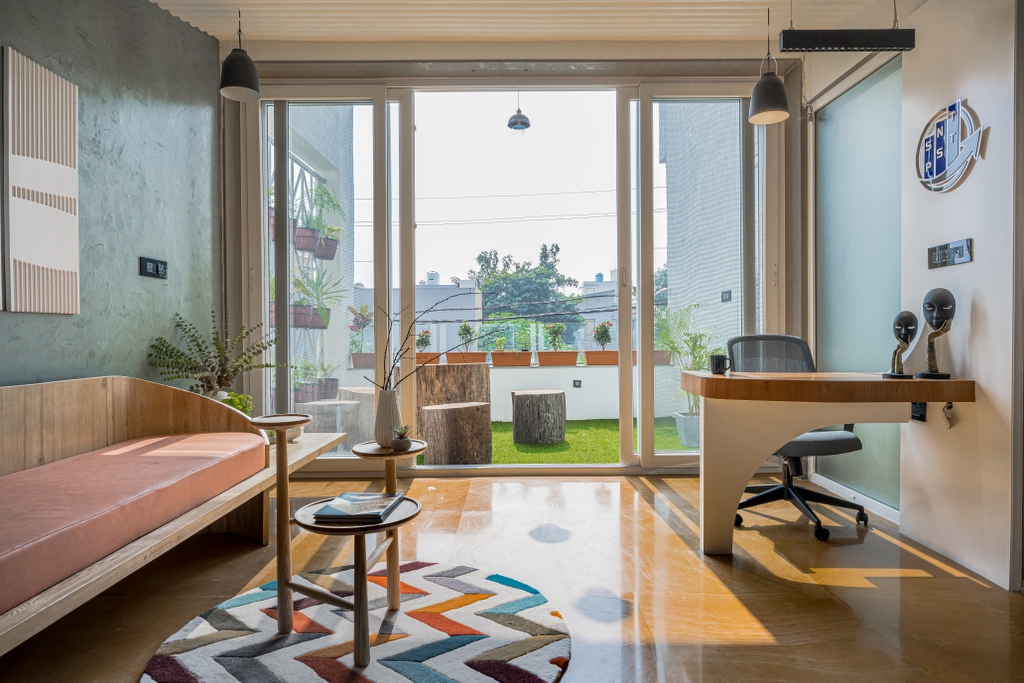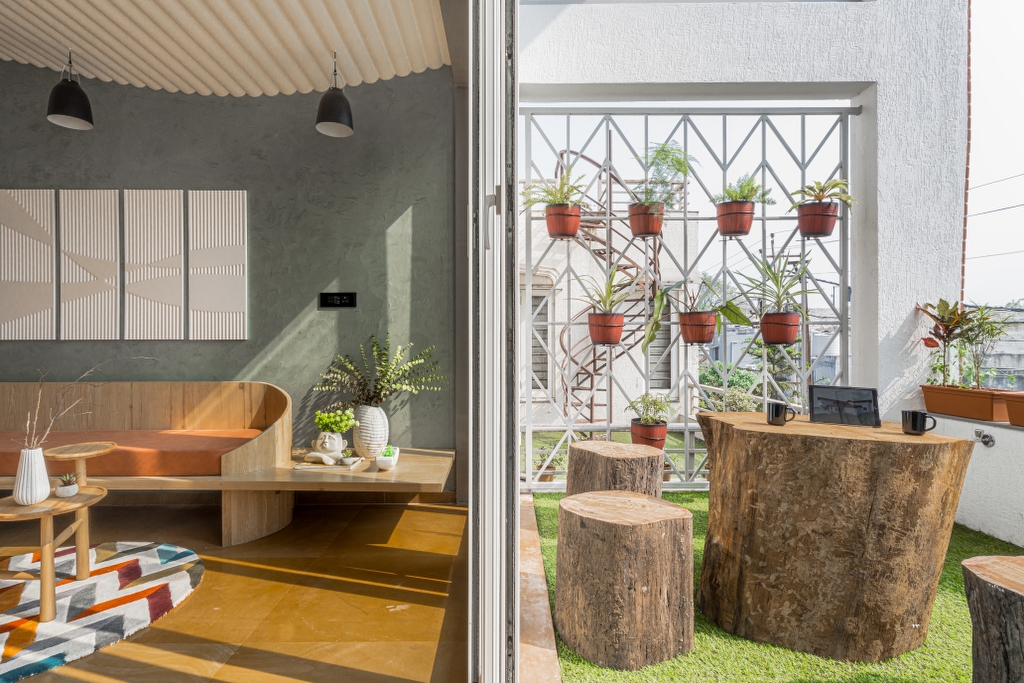 The play of 'twisting the cubes' at an angle on the façade makes the elevation elegant and unfettered. As the façade faces to the south-eastern side, the designers overcame it by using diffused glare free light and different shading methodology. The 'Red Brick' becomes the pop-up facet of the main aspect.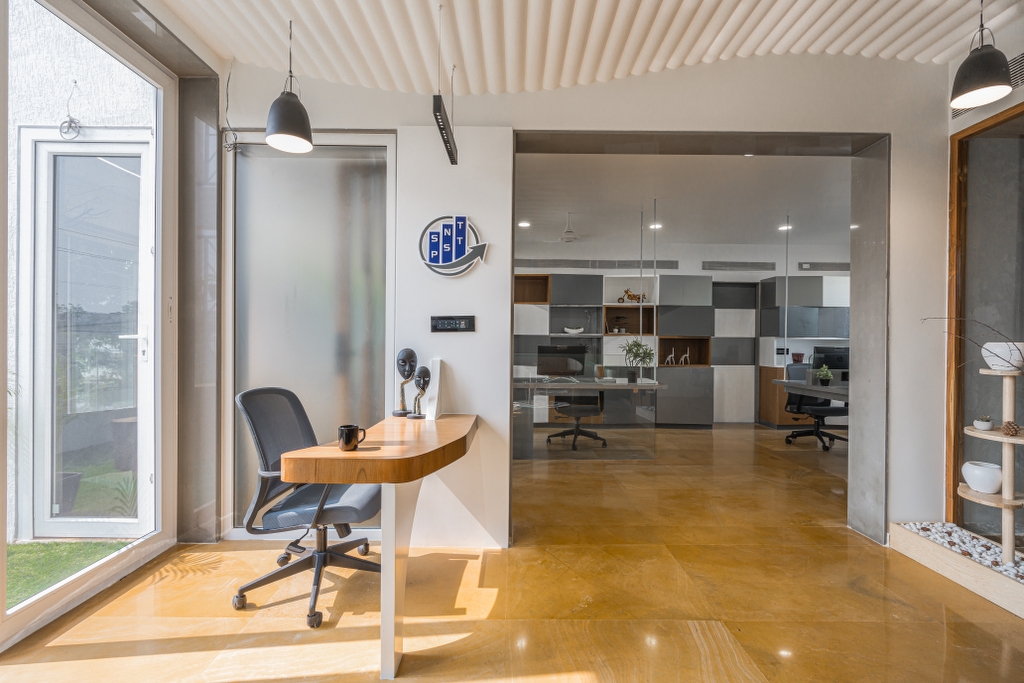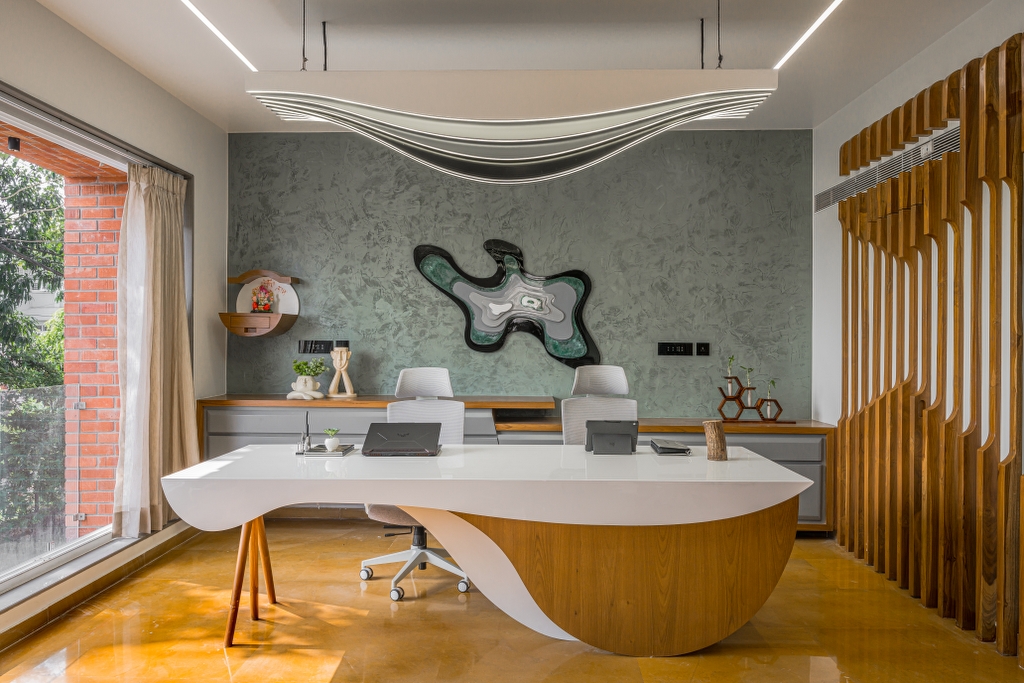 There is a visual connectivity from every corner of the office which makes the space appear perpetual. Utilizing the natural light, dramatic play of light and shadow in the interiors adds to the charm of the design details.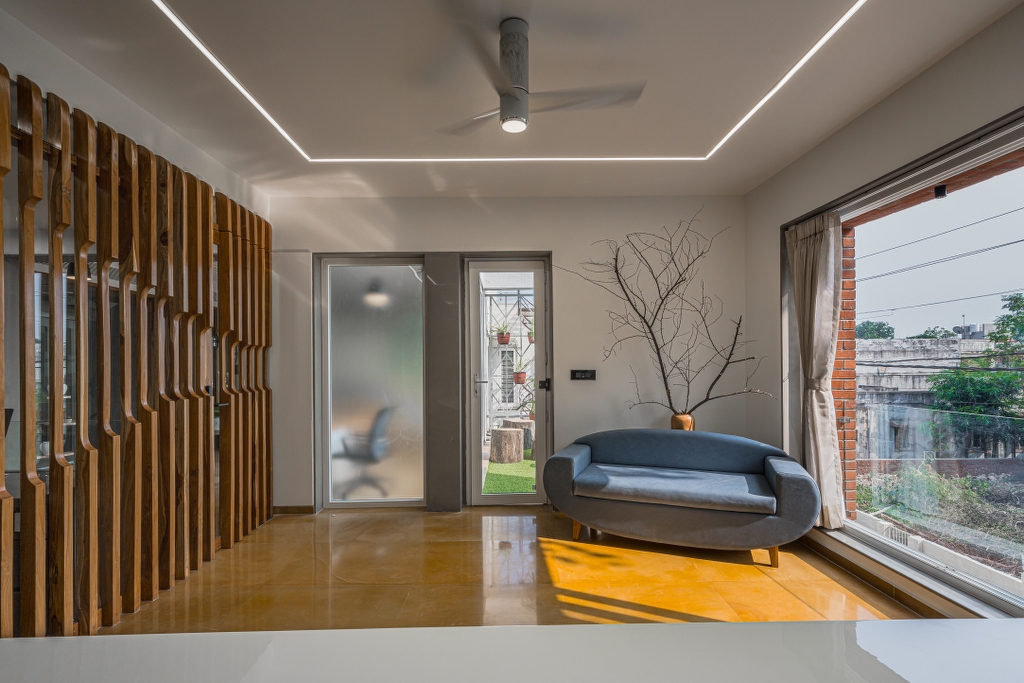 One can witness a unique blend of organic design principles with modern style. Inspired from nature, the exterior color palette of Lime and Terracotta, and interiors of Yellow Jaisalmer and Natural Wood gives a tranquilizing feeling which tends to break the trend of platitudinal cuboidal working spaces. While, the textured subtle teal green shade emerges independently.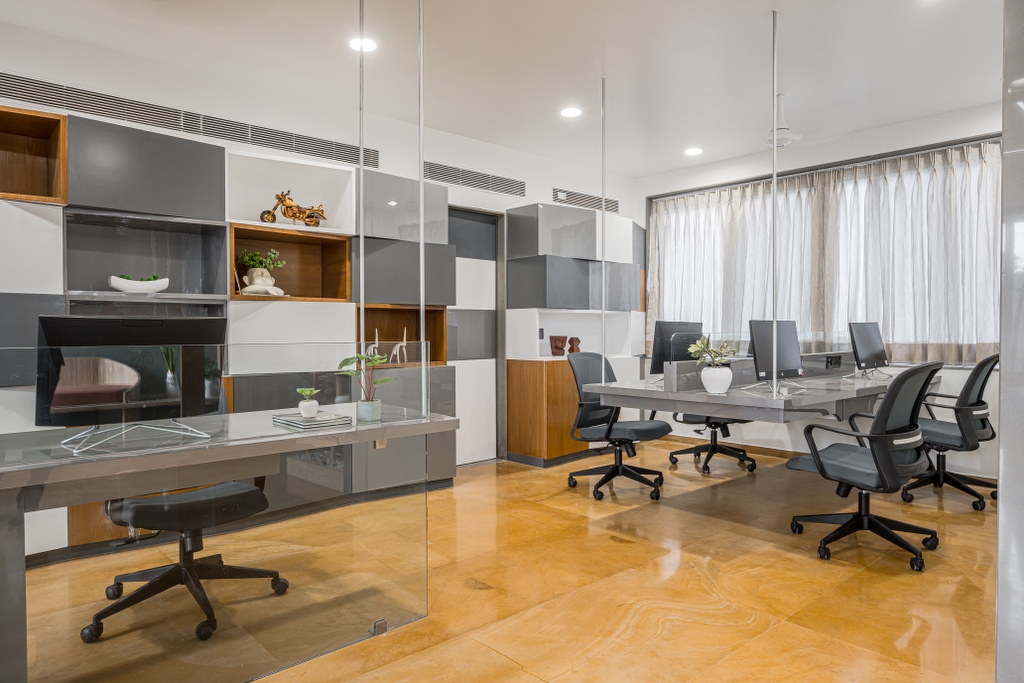 And hence, this free-spirited office designed by De'Caves by Chitte Architects is a melding of 'rawness' of nature with 'soothness' of modernism.
Fact File
Designed by: De'Caves by Chitte Architects
Location: Dahod, Gujarat
Project Type: Office Architecture & Design
Project Size: 1120 Sq.ft
Project Name: Para Cubes
Principal Architects: Parth Chitte & Vishal Chitte
Text Credits: Manushi Sheth
Photograph Courtesy: Murtaza Gandhi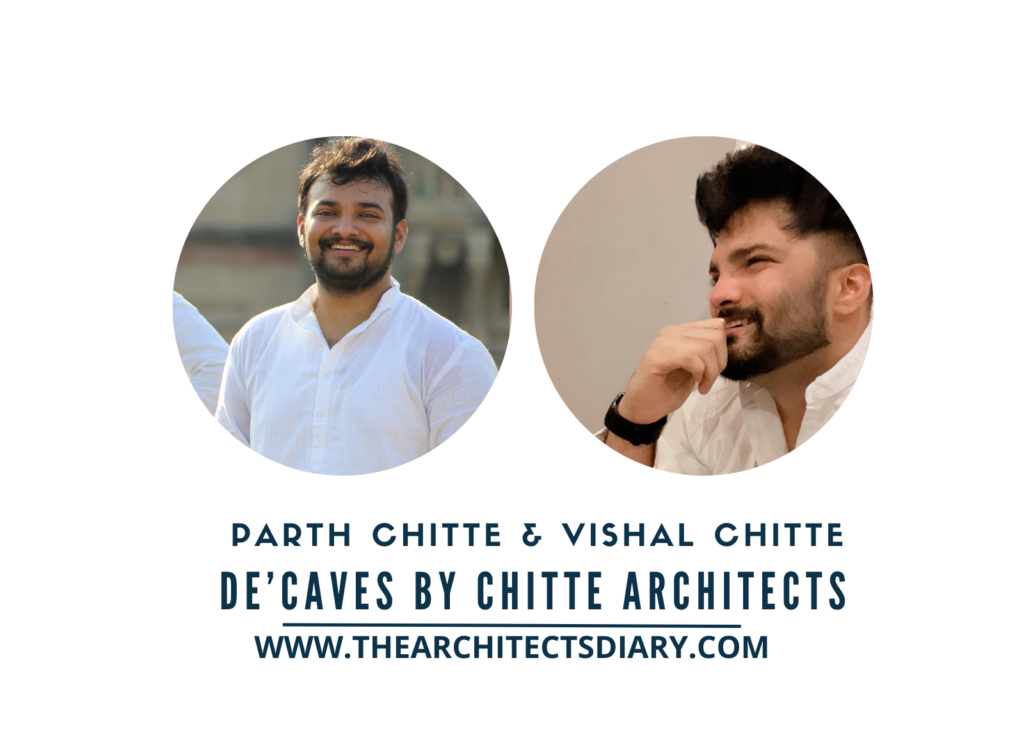 Firm's Website Link: De'Caves by Chitte Architects
Firm's Instagram Link: De'Caves by Chitte Architects
Firm's Facebook Link: De'Caves by Chitte Architects
For Similar Project>>>Residence that Exhibits Traditional Motifs With Contemporary Design Elements in Fine Balance