This 3-bedroom contemporary design apartment designed for a family of 3 exudes contemporary charm. The house is woven with bright colors and unique elements. The 15-year-old apartment located in Chennai was a challenge at hand as the original layout was dark, claustrophobic, and lacked the natural light and brightness a home should need. We knew we had to change every bit of the apartment to give it life.
Residence that Exhibits Traditional Motifs With Contemporary Design Elements in Fine Balance | D IT Architecture Studio
Visit: D IT Architecture Studio
Entrance:
The main door is made of teak with customized brass inlays.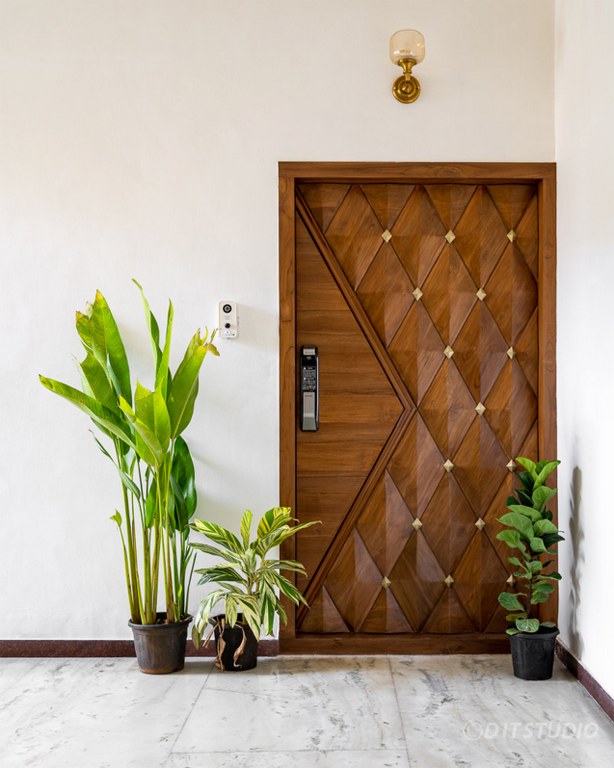 The client's brief was very simple – he said, "Do what it takes to transform the space." He was ready to explore and experiment with unique materials because of which we brought interesting intricate things into the canvas. This contemporary design intent in the house was perceived as a convergence of 'tradition and modernity. The intent was to create a home that is affirmed, cozy, vibrant, and lively rather than a hotel-like space.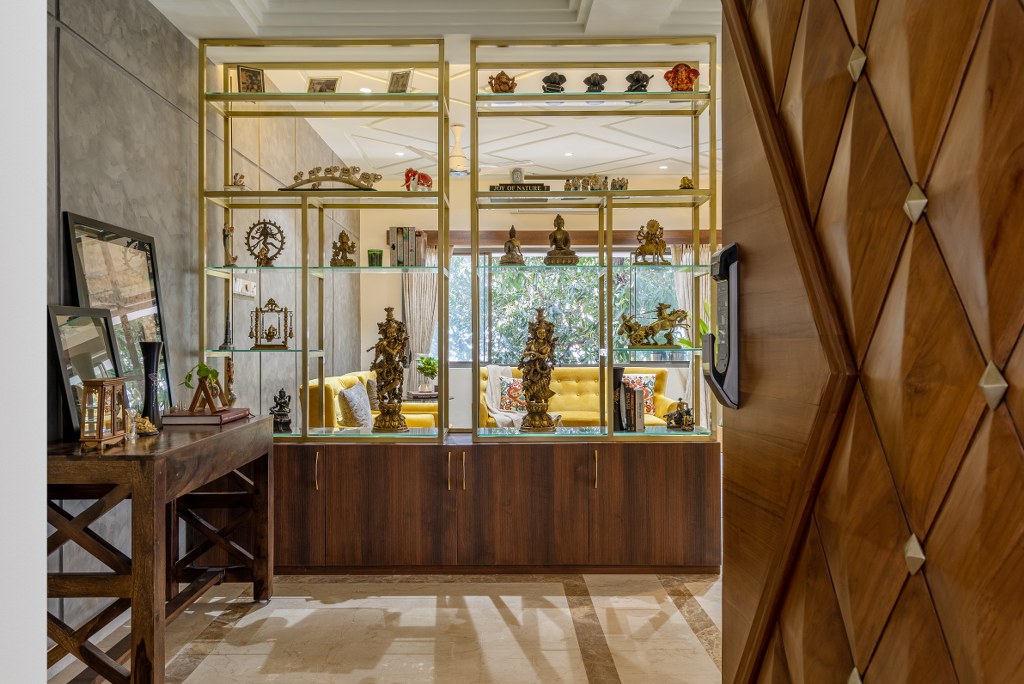 The civil intervention was carried out from day one. We took a unanimous decision to break open and widen the windows in the living room to get more daylight into the house. The windows, doors, and French windows were removed and were replaced with aluminum windows to go with the look. We broke the entire flooring and re-laid it in a lighter color to make the house more seamlessly bright and nice. Changed the toilets and built them from scratch. We grooved the walls in the living area and gave them a nice texture to complement the space.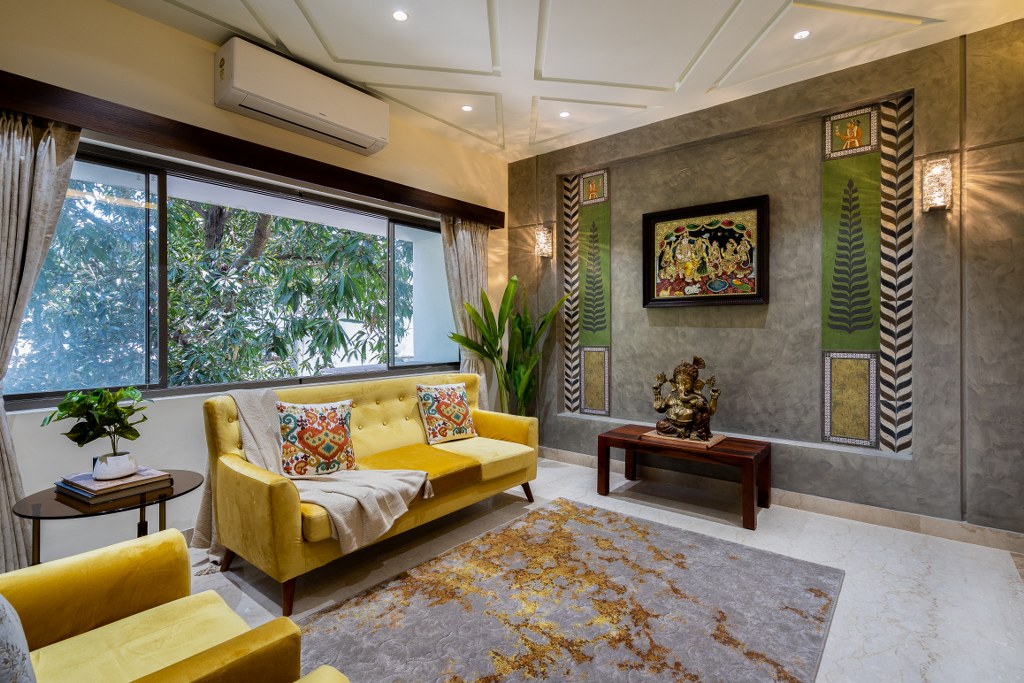 Formal Living Room:
The walls are grooved to create an interesting pattern with a grey texture finish on one side and the existing niche on the other side was adorned with the Gullistan collection by JJ Valaya creating an interesting frame as a wall itself.
Informal Living Room:
The informal living room has a brass screen with stripped glass inlaid to detail acting as a divider again. The wall holds a beautiful passionate granite from Madagascar a luxury stone from "The Quarry" Mumbai.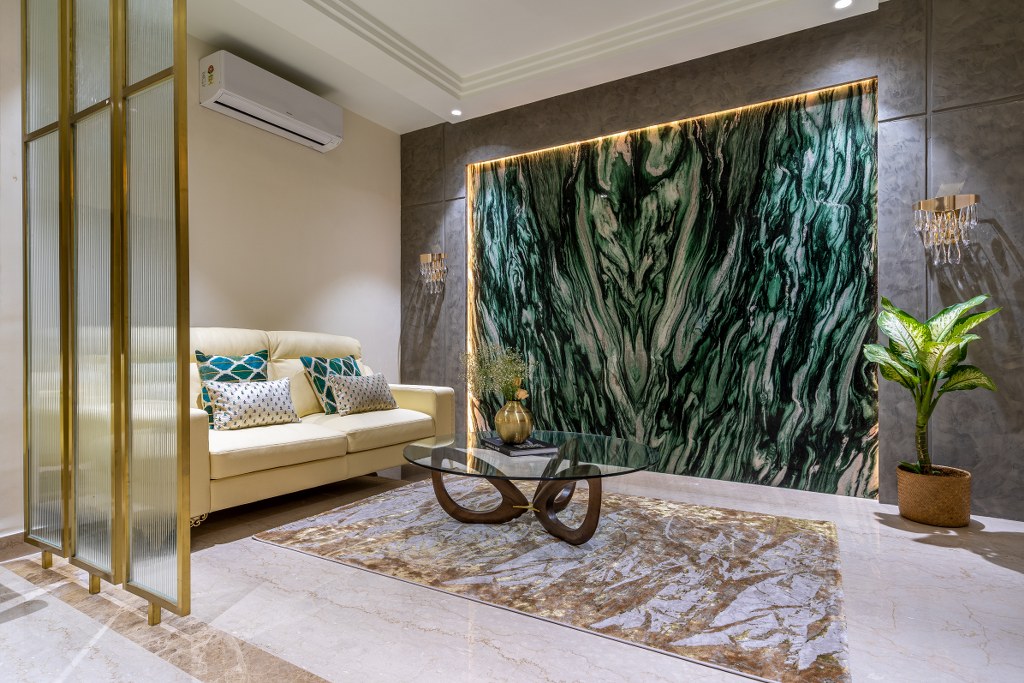 Kitchen:
The beautiful white kitchen is completely swept over by terrazzo tiles from Bharat Floorings.
We picked unique elements from different parts of the world and customized some according to our requirements. The process took a substantial amount of time, and that was reflected in the arrival of the materials at the site. The client also increased his budget in-between the project to try new elements, which came in as a surprise. That gave us the experience to be upfront on what's going where much ahead of time to refrain from delays.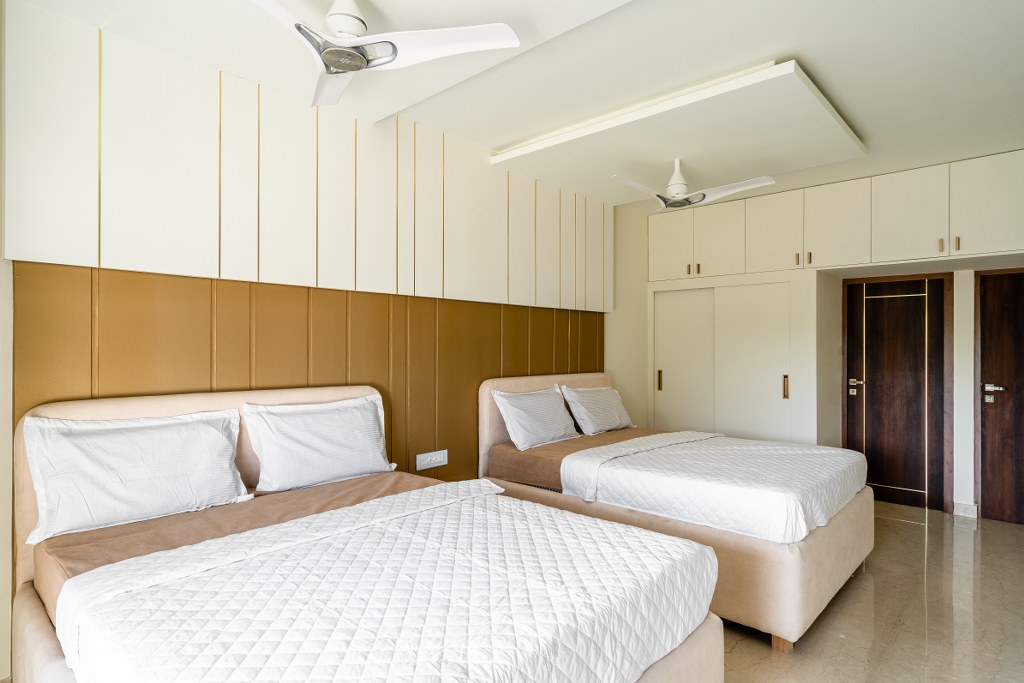 Parent's room:
A fabric-laden cot and a pastel feel are given to the parent's room with intricate CNC cut wardrobe shutters.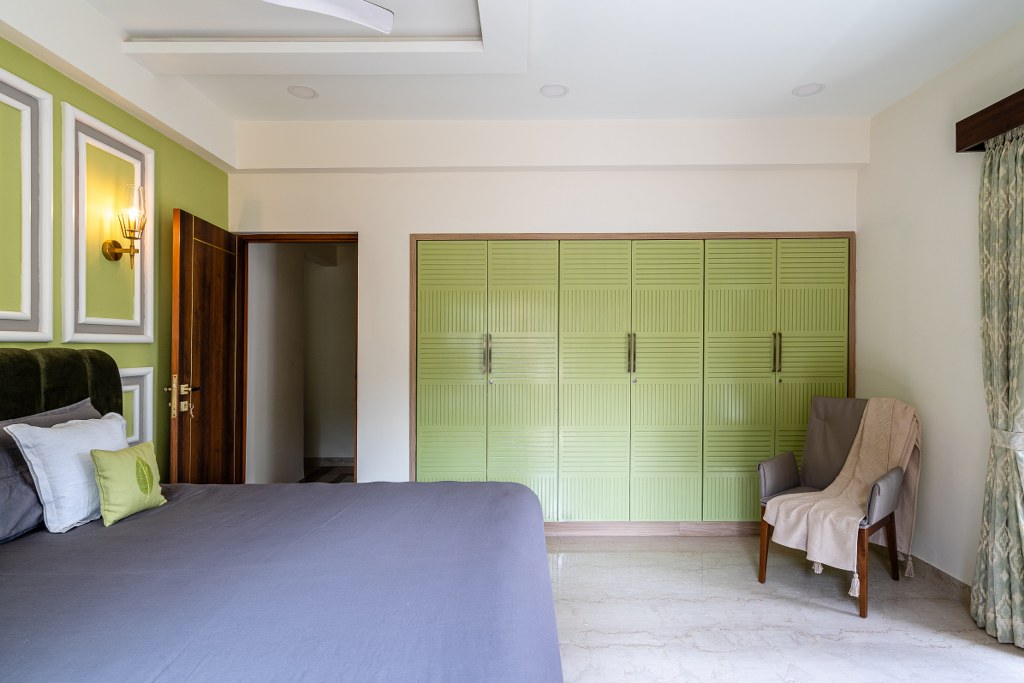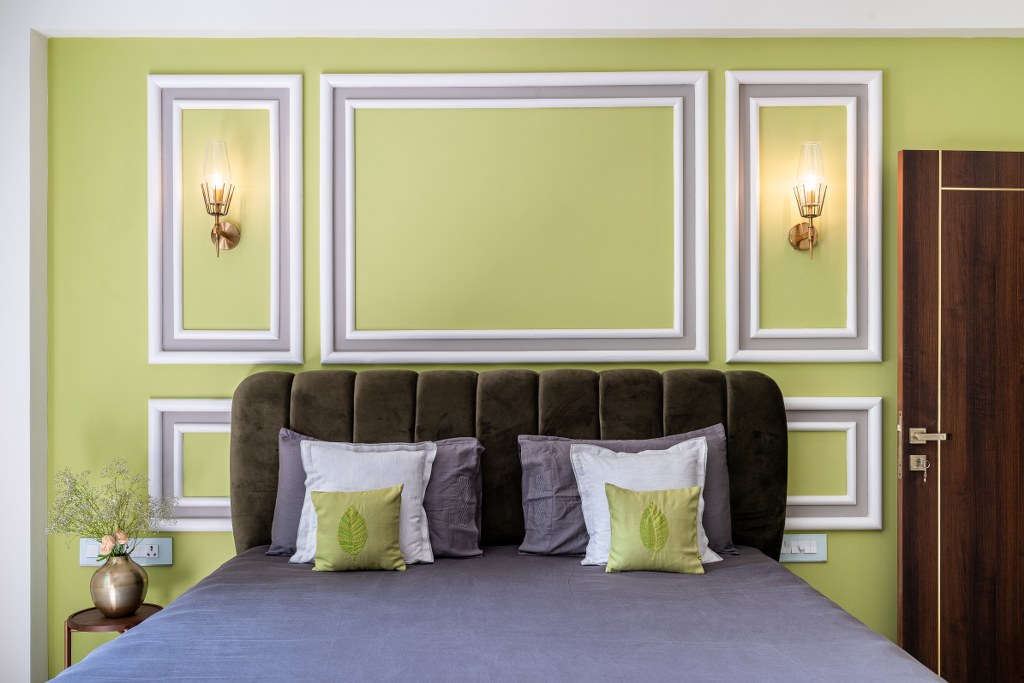 Master Bedroom:
Unique oak veneer is used on the cot, custom made according to the client
Fact File
Designed by: D IT Architecture Studio
Project Type: Residence Interior Design
Project Name: The Apartment 1A
Duration of project: 6 Months
Project Size: 1800 Sq.ft
Project Cost Appx: 75 Lac
Year Built: 2021
Location: Chennai, Tamil Nadu
Principal Architects: Preethi Madhana Kumar
Team Design Credits: Ashika Singh, Harivarshen & Sabaree
Photograph Courtesy: Yashjain
Products & Materials: Wallcovering / Cladding: JJ Valaya Tiles, The Quarry Gallery | Sanitaryware: Indulge | Windows: vitrum | Furniture: Lovestanley | Flooring: Bharatfloorings | Paint: Asian Paints | Hardware: Ebco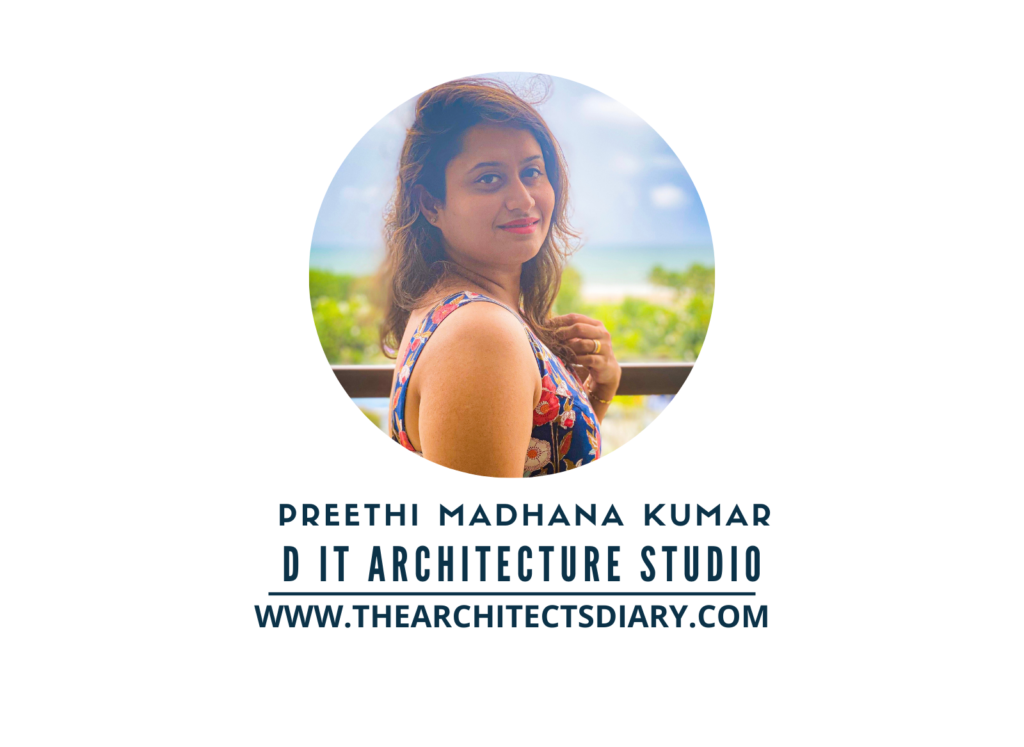 Firm's Website Link: D IT Architecture Studio
Firm's Instagram Link: D IT Architecture Studio
For Similar Project>>>Ethnic Aesthetics with Modern Design Sensibilities for a Residence Design in Surat