&nbsp
Modern-Ethical Bridal wear Showroom Interior | BondStudio Architects
The client came up with an old existing residential flat in the old street of 'Surat' city famously known as 'Zampa Bazaar'. A Street with a mixture of all old buildings overhanging on commercial use on Ground floor level.
Visit: BondStudio Architects
'Shibaam Collection' is a 25-year-old bridal-wear outlook specially design for 'Vohra Community' and a very prominent brand for the last 25 years. Demand from a client was to seek modern-ethical showroom(modern look with all old ethics to be sustained and retained for and new showroom which reflects it an old tradition)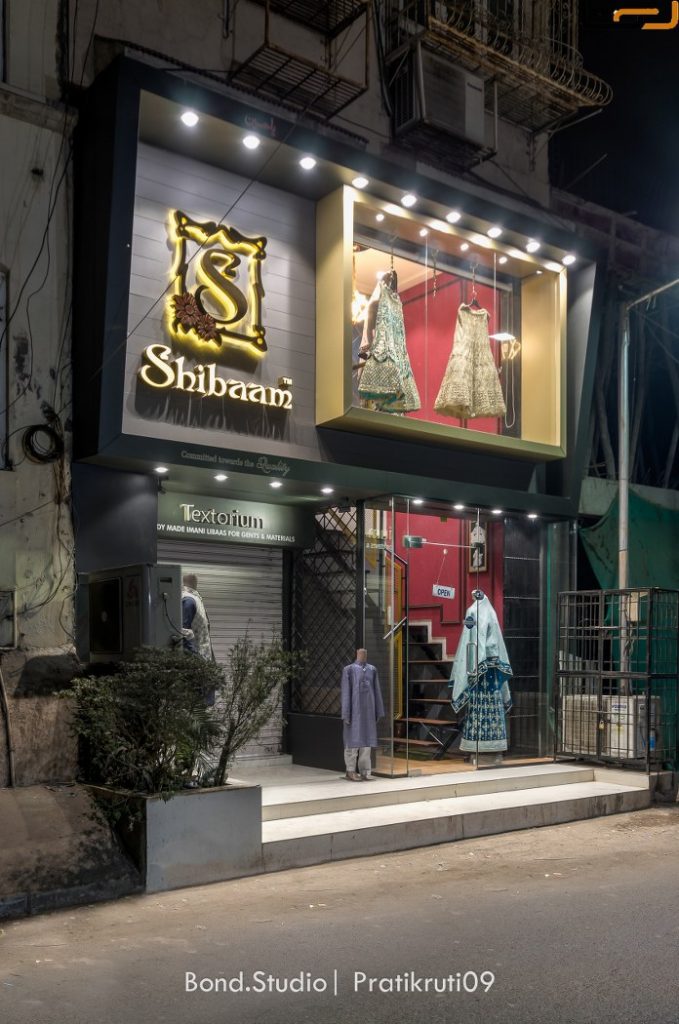 'Looking to the context of the old street, we decided for a contemporary modern look to inherent in elevation of the old facade of residential which in-turn breaks the monotony of traditional outlook of old buildings, comes out to an option eye-catching element of the street.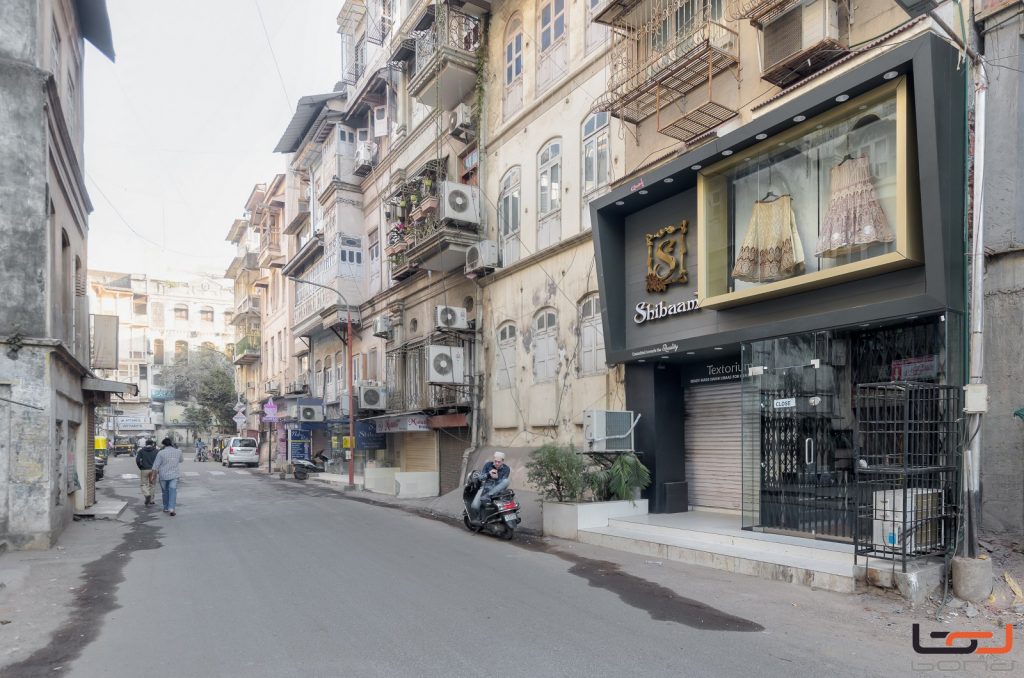 Features of Elevation Facade box: Design carried with Two solid boxes from which One box emerges out from the other box. Outer box has been designed been tilted angular, helps to create a dynamic shape and gives access of clear visibility from the main road and in-turn helps as a function of 'Chajja', protects from rain and water droplets, whereas inner box helps for displaying mannequins which faces perpendicular to the road.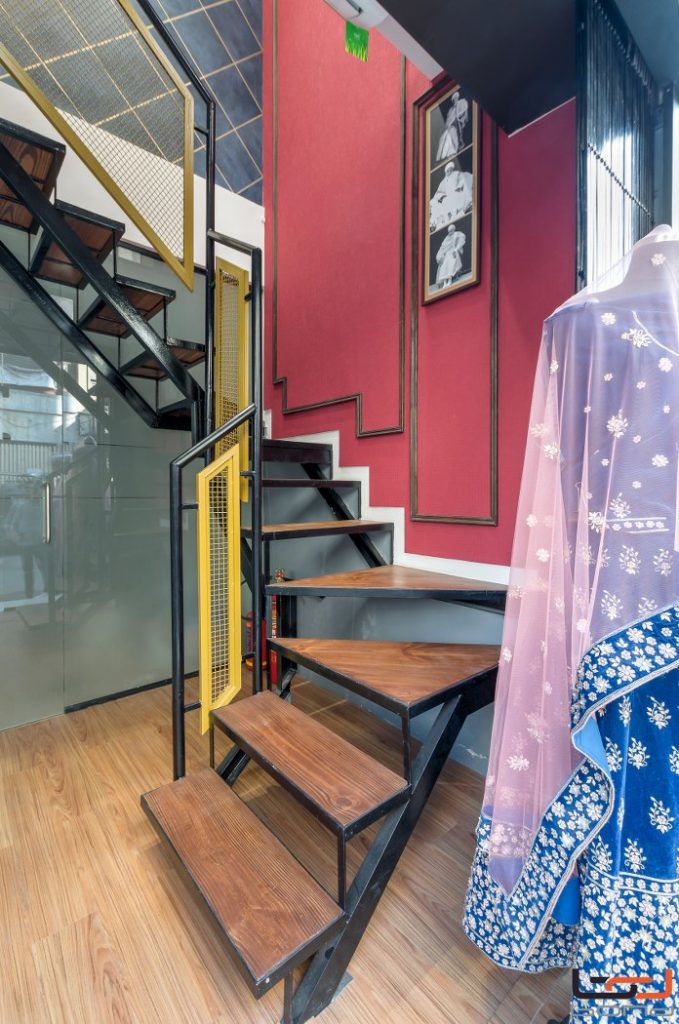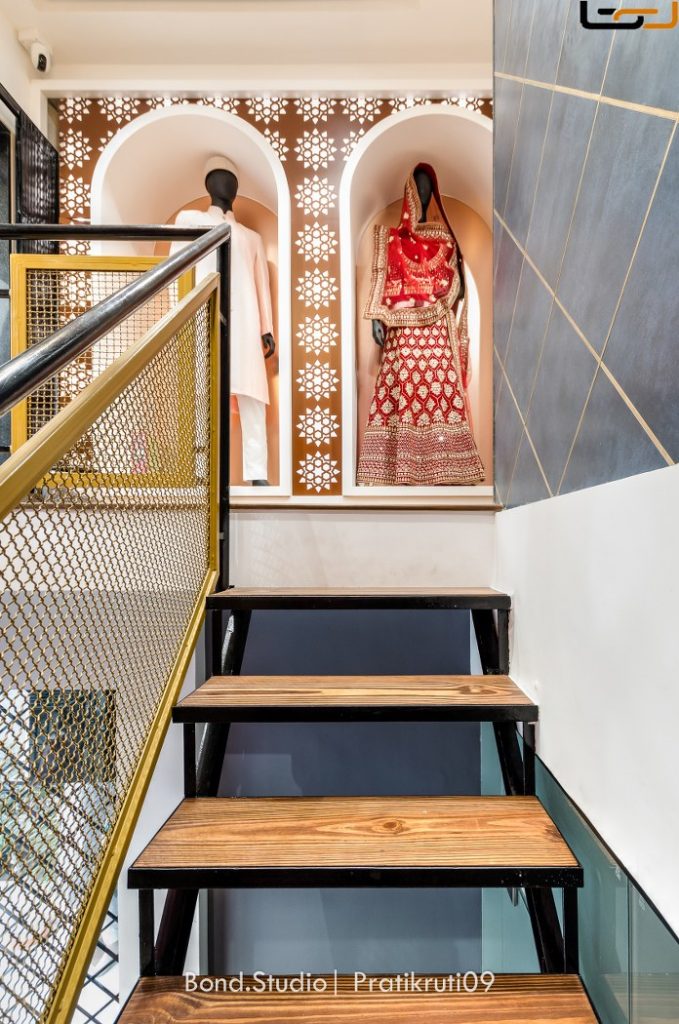 Features of Staircase: Old residential buildings have access from the back internal road in order to secure privacy. As a showroom, it is ideally important to have good access from the main road, thereby, we created and cut-out from the first floor to the ground floor in order to create nice staircase. Further, the Shape of the staircase creates its elegance and nice aroma in the Entrance.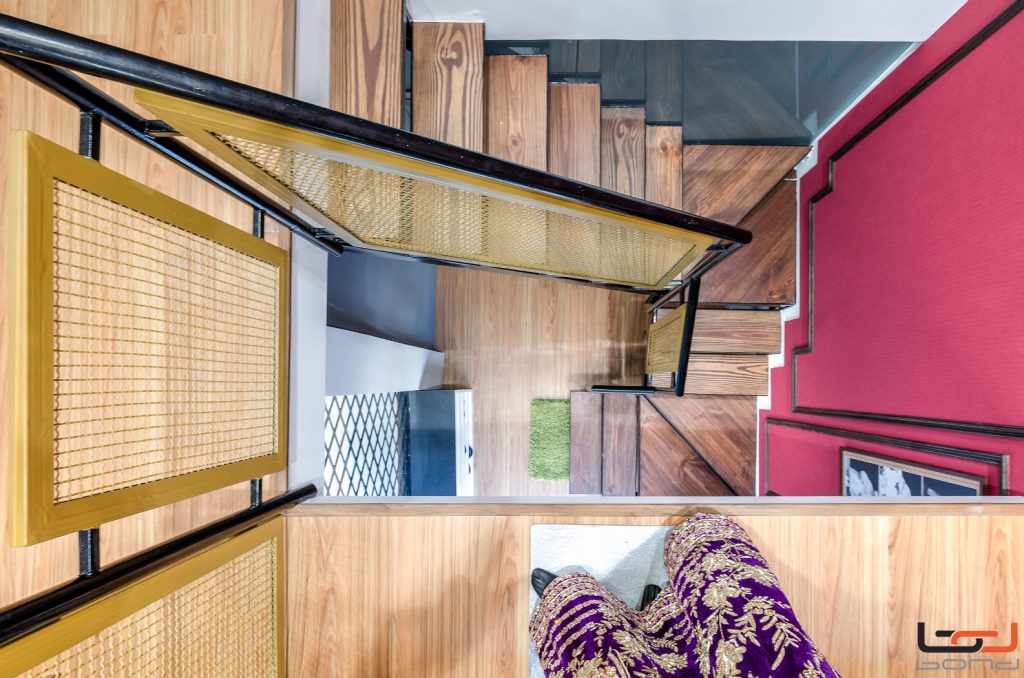 Wall attached with staircase has been balanced with red textured color wallpaper on double-height volume, whereas Traditional jali been used as a stair railing with subtle gold color along with strong black MS bar. Pinewood used on treads of a staircase which in turn gives a sense of harmony of the overall feel of entrance space.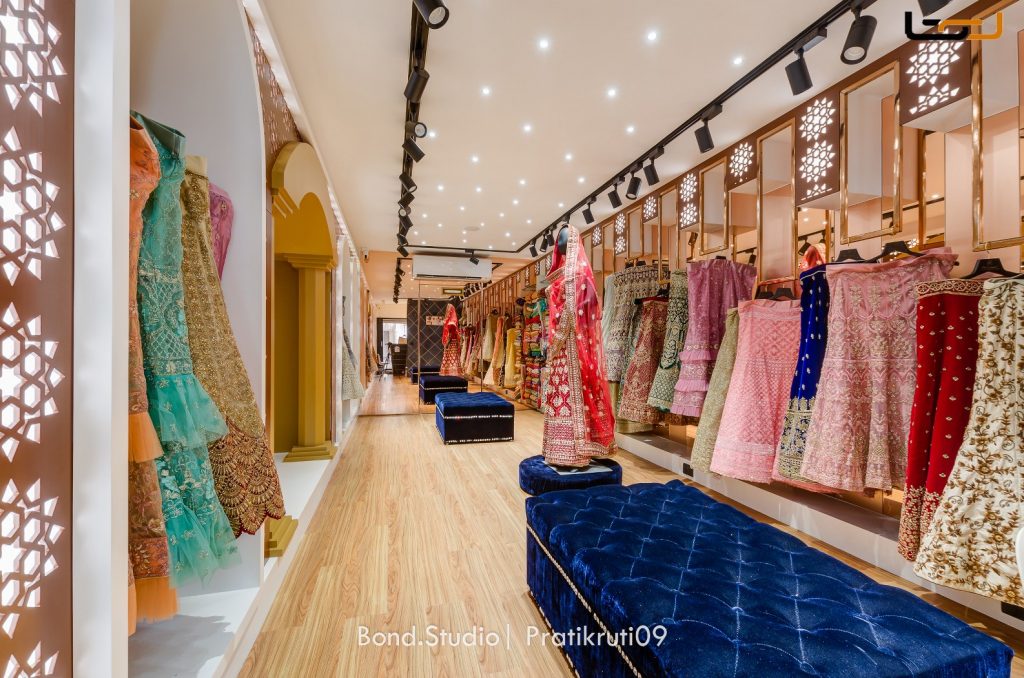 On upper floor level existing apartment has been rectified into the showroom by creating two linear walls parallel to each other creating a space of 10 ft between amongst them in order to create a space for interaction of clients.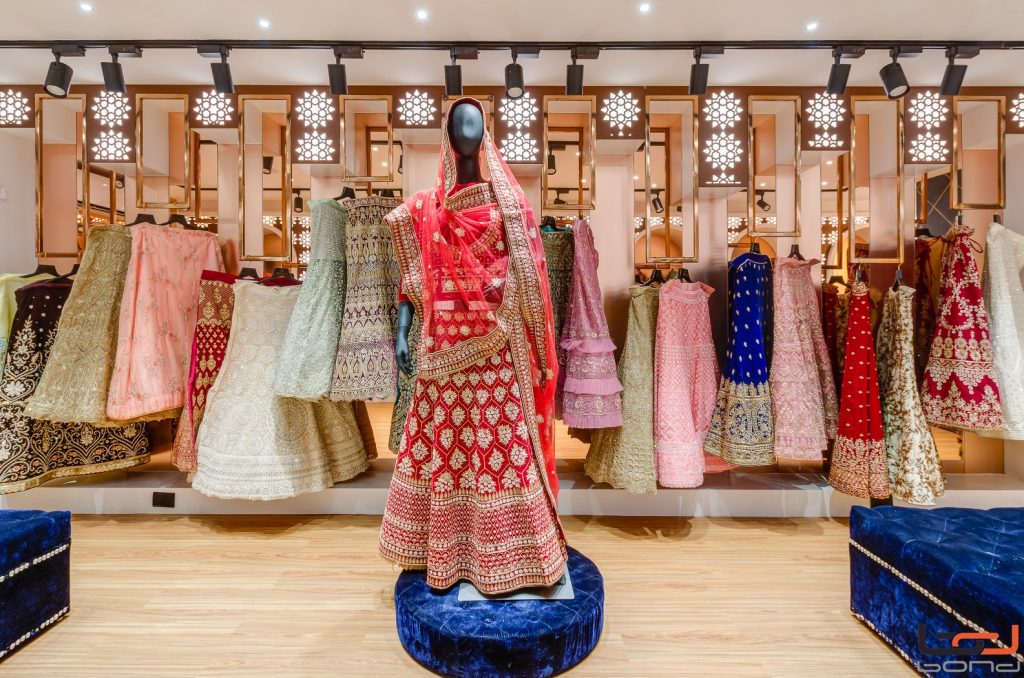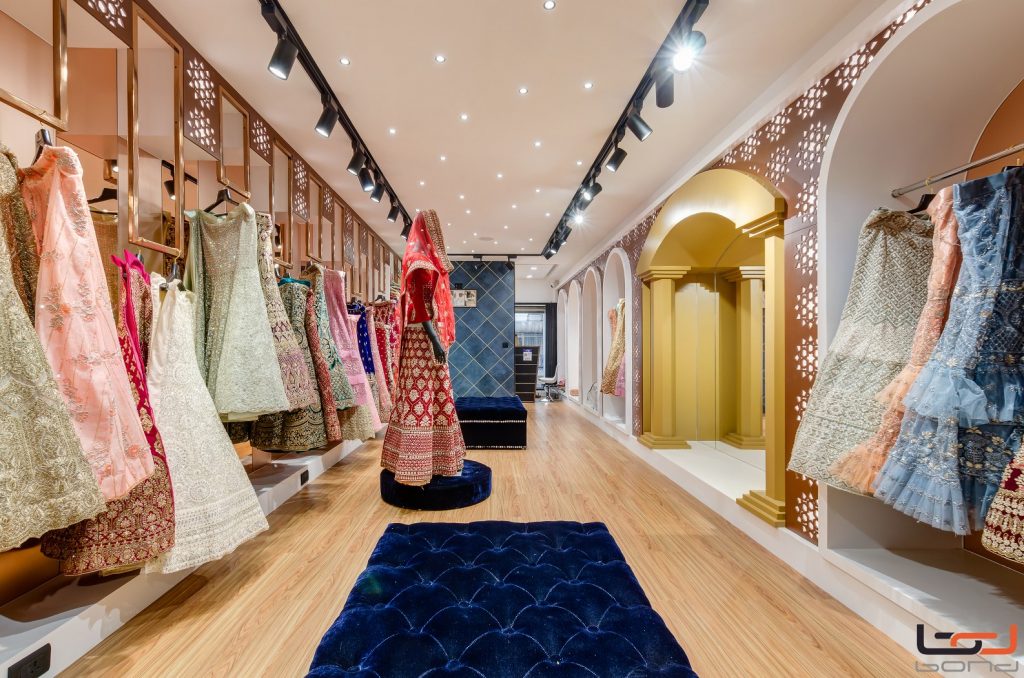 Further, a centrally located space been utilized for Bridal-Stand in order to create a space for bridal-stand on which bridal can display herself in a mirror. Full long mirror has been used on East sidewall which helps to create a depth of showroom to feel of double size and also gives a sense of positive feel like an entrance in a showroom.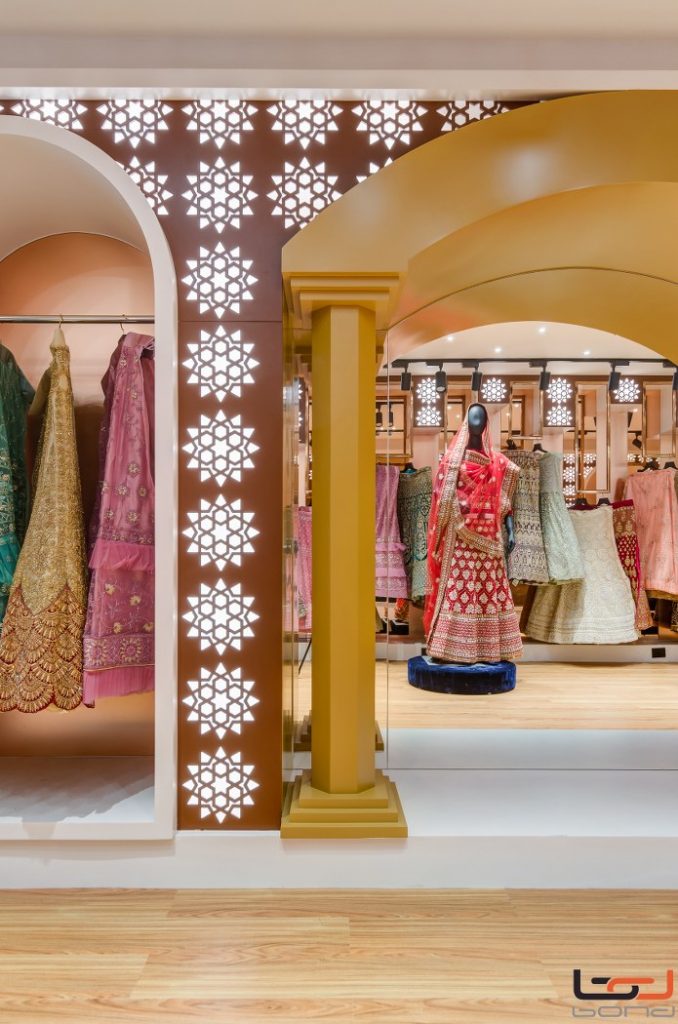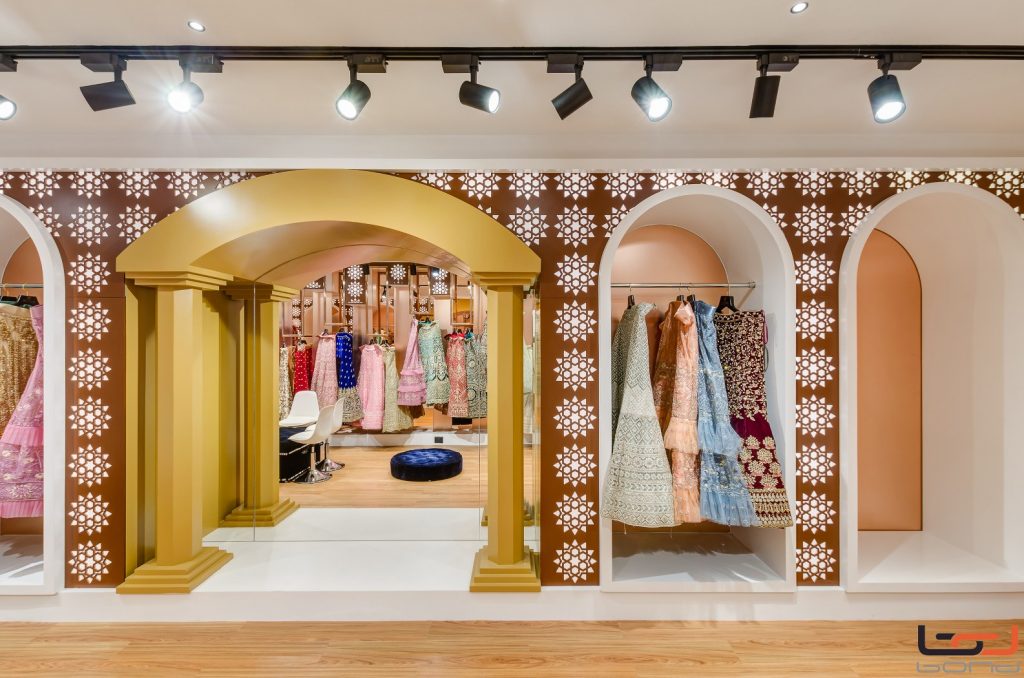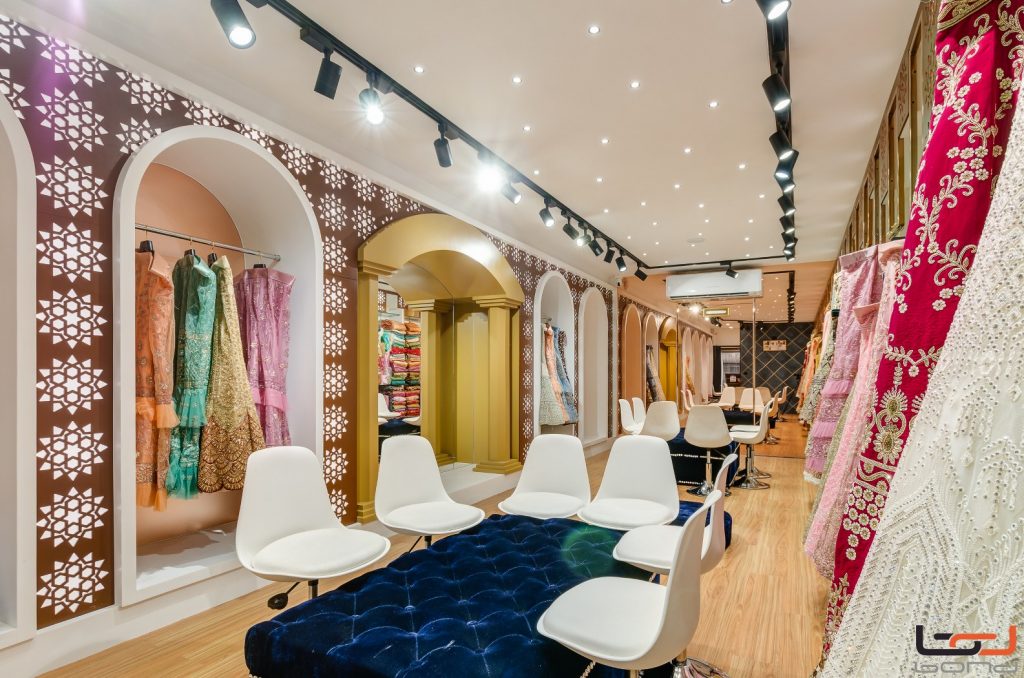 Feature of walls: As to match cultural ethic, two long linear walls of apartment designs with Arches and Jali, where arches can be used as a storage section and jail can be used to create ambiance light for showroom, whereas on the opposite wall, MS section was staggered into different heights in order to create a display of bridal wear clothes which can stagger at different heights.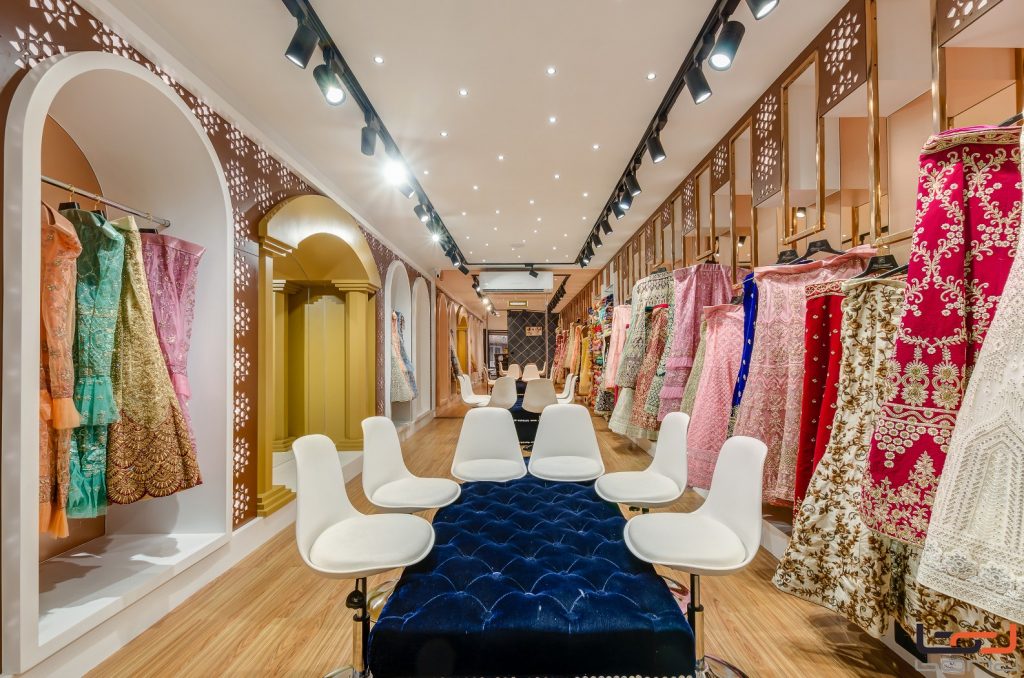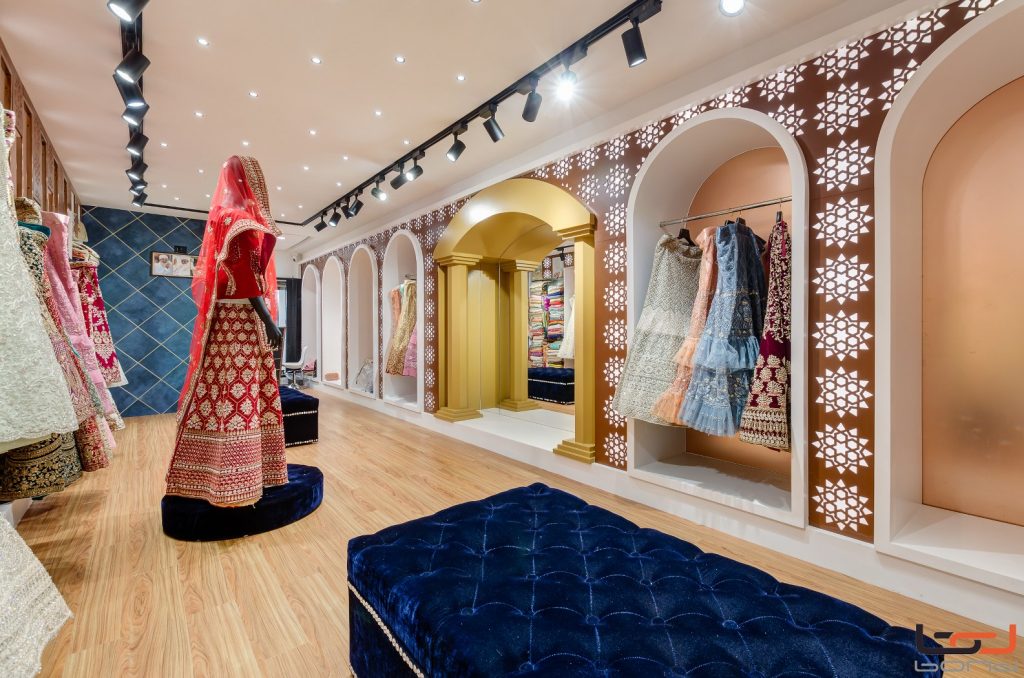 The existing plumbing duct of the apartment was being covered with a linear wall. Further, the same wall been design with arches and jail which became a display wall for the showroom. Ahead of two corners of the apartment (north-east and north-west) attached with duct, been the plan as a storeroom and pantry with attached toilet.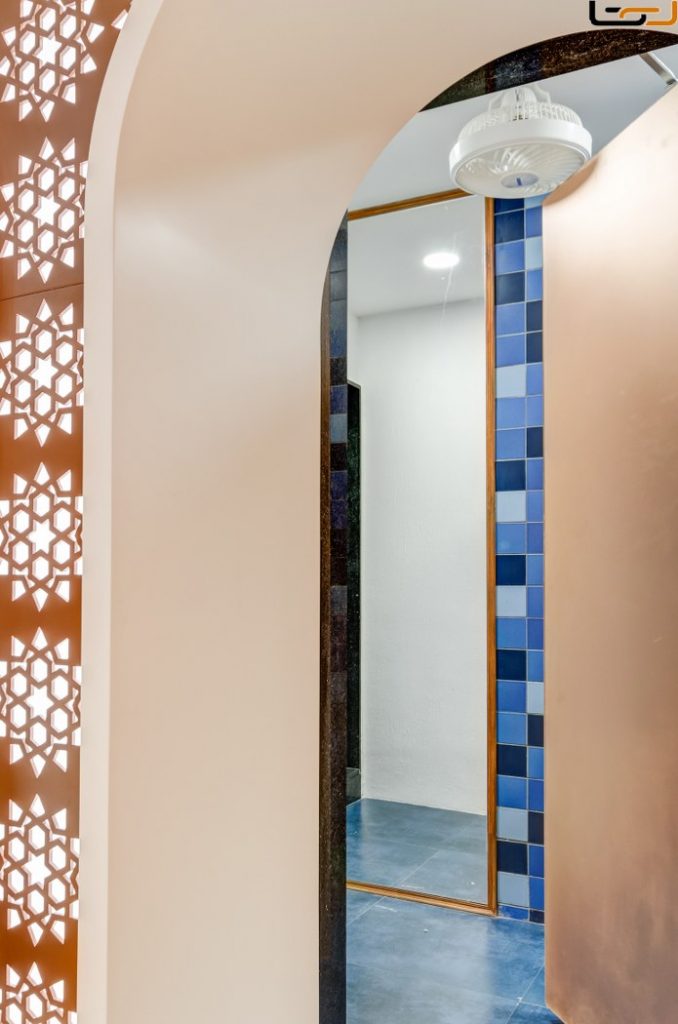 The purpose of the pantry was also to be used also as a changing room where the bride can use a private space for changing the cloths. Blue checks mosaics were used in pantry along with dark blue flooring which in-turn converts a feel of space of pantry to an as changing room where the bride doesn't feel like a separate mundane space different to a showroom. Long size store is used as additional storage which is quite sufficient for approx. 500 sqft size of the showroom.
FACT FILE:
Company Name: BondStudio Architects
Project: Shibaam Retail Outlet
Location: Zampa Bazaar,Surat.
Built up: 590 Sq-ft
Project cost : 15 Lacs
Completion Year: 2020
Client: Shibaam Collection
Owner: Mr.Huzaifa Tarwala,Mr.Yusuf Tarwala
Principal Architect: Ar.KaranAtodaria
Execution Team : Karan Atodaria, Saif Multani, SohailSofawala, Uvesh Saikh
Pic courtesy: pratikruti photography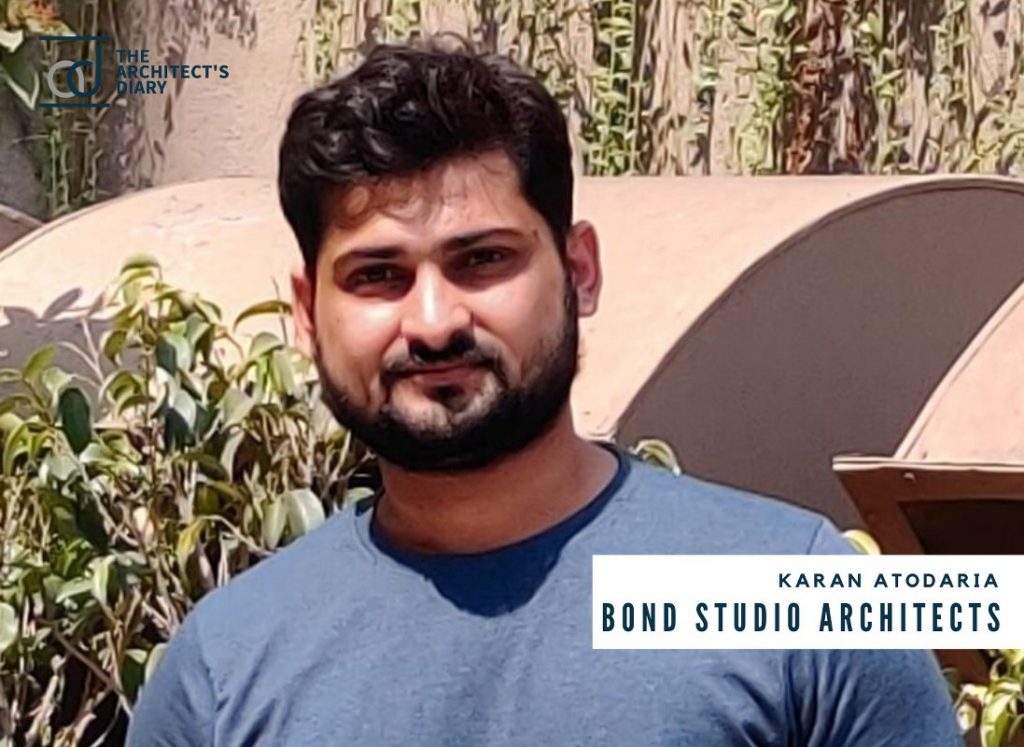 Instagram: https://www.instagram.com/bond.studio/