&nbsp
What does home mean to you? At Art of Space Studio, it's 'our space within this world' – to celebrate family and friends, to love and play, take refuge, and honor life. For this residence, we wanted to craft an environment that would express its resident's personalities and functionally design areas around their needs and comfort. For the transformation of a bare bone structure into a minimal welcoming home, Interior Architect Ayesha Kansal, Principal Designer has focused on the key life principle of connection – connection to ourselves and to one another. All the essential spaces such as the bedrooms, family living room, formal drawing room, dining, and kitchen have been designed around a central double-height lobby area in a contemporary take on the traditional courtyard design.
Minimal yet Balmy Interiors Stirring Mellow Interactions | Art Of Space
Visit: Art Of Space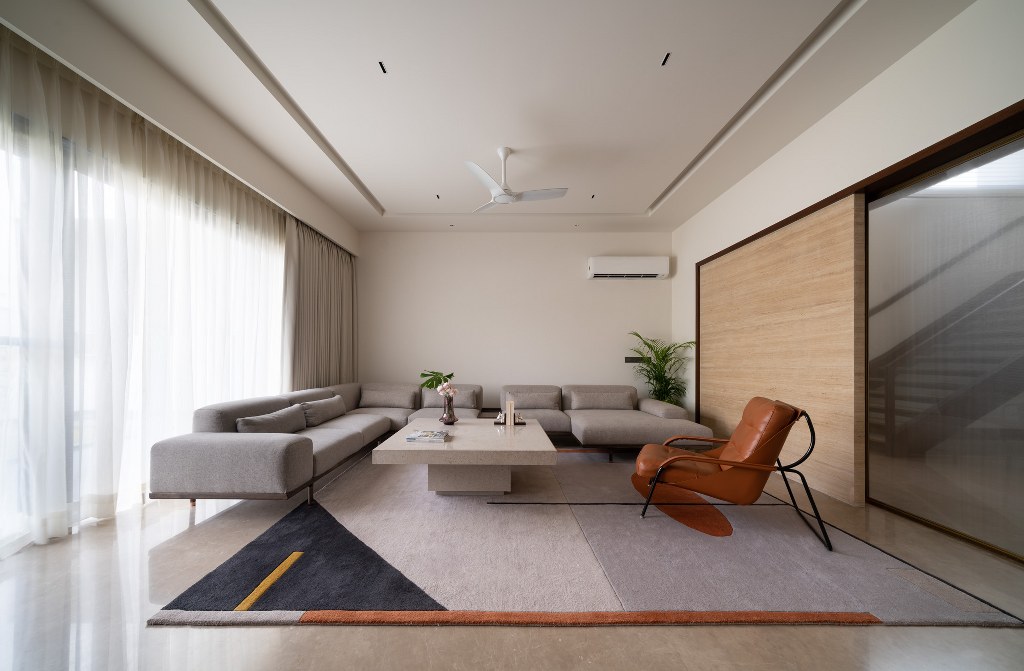 Is there anything more restorative than all the family members coming together for a chit-chat, tea-cake, or the movies and game night? We think not. This spacious family room provides the perfect setting for everyone to sit back, reenergize and enjoy quality family time.
Our custom-designed rug along with the travertine coffee table has been inspired by the art deco style and brings a fun design element into the otherwise muted interior palette. The living room window slides open into a landscaped alley that brings ample natural light into the room.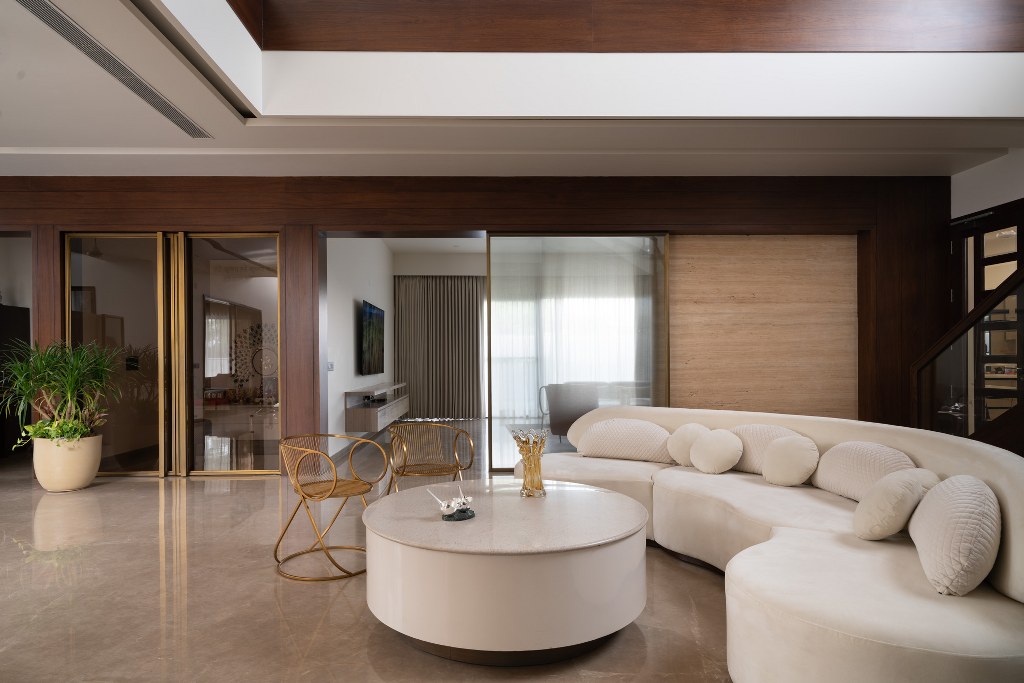 Minimal yet detailed, soft & geometric, luxurious but comfortable – this formal drawing room is a vision of perfection! The tinted glass doors provide a glimpse into the formal drawing room from the entrance hallway.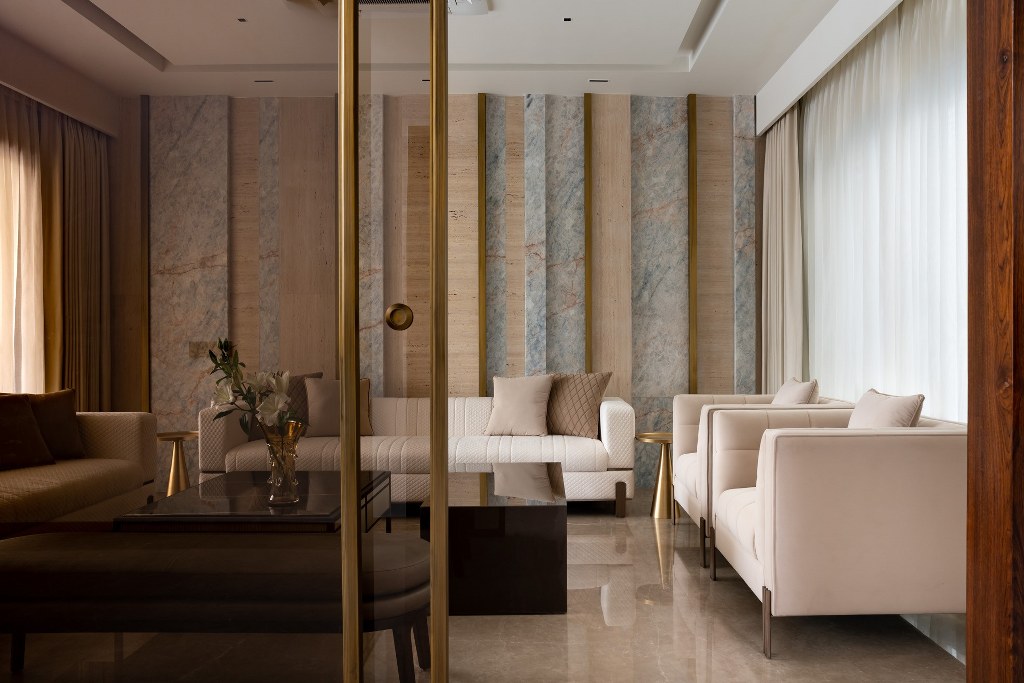 The curiosity soon turns into awe when one enters this gorgeous space, as the eyes travel from the multi-stone wall to the muted sofa textures, a combination of exotic marble and glass tables, hints of antique polished elements, and the views of the garden outside.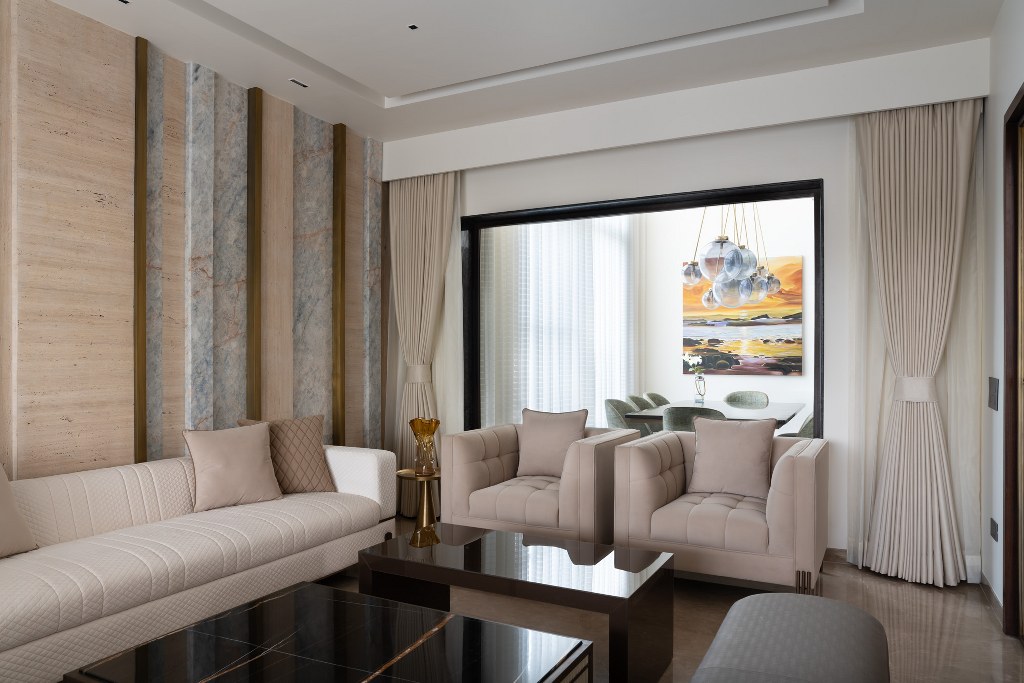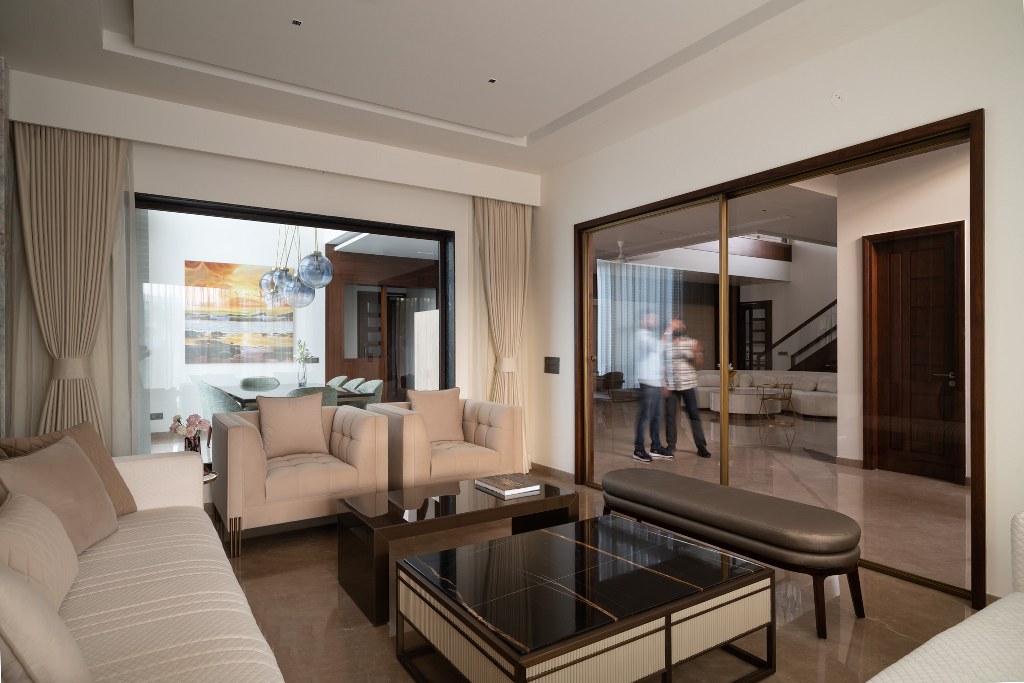 Adoring this fresh and glamour dining area, filled with natural light and green views – featuring an orange spider marble dining table paired with chic dining chairs. The beautiful seascape painting paired with gorgeous over-hanging globe lights create a moody, yet welcoming dining setting.
This gorgeous master is light and harmonious, with a refined material palette. Its muted furniture selections along with vibrant wallcoverings and dramatic pendant light create an exciting yet soothing bedroom for its occupants.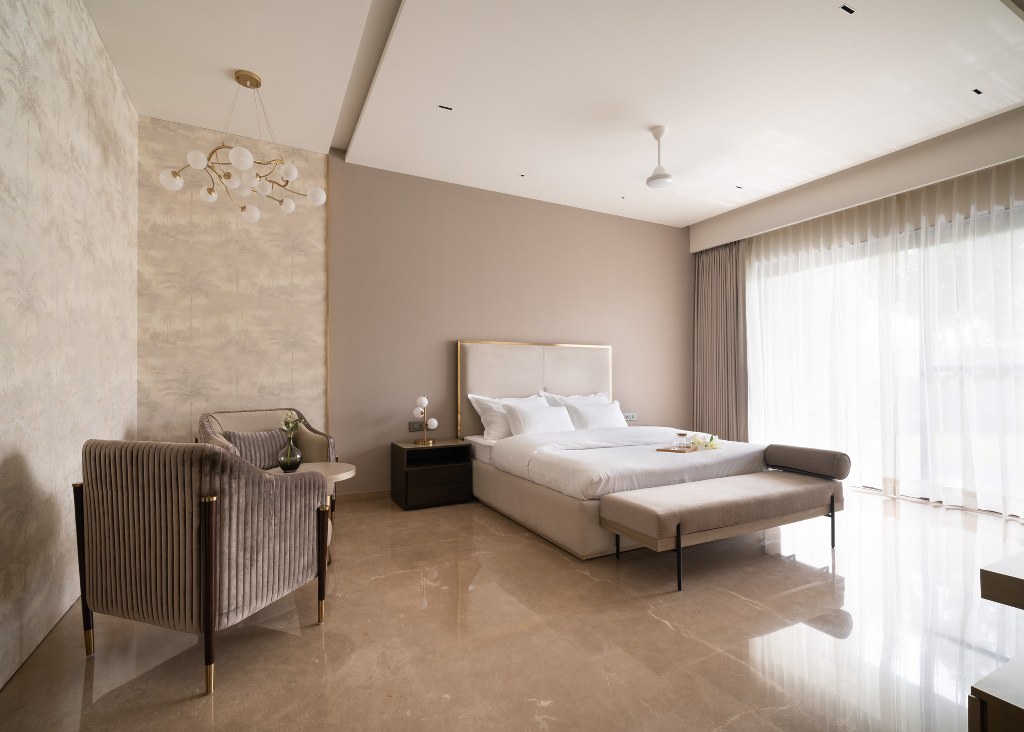 This parent's room is wrapped in warmth and emotions. The design of this room was critical in order to provide all the elements necessary to prioritize rest and maintain a lively uplifting environment.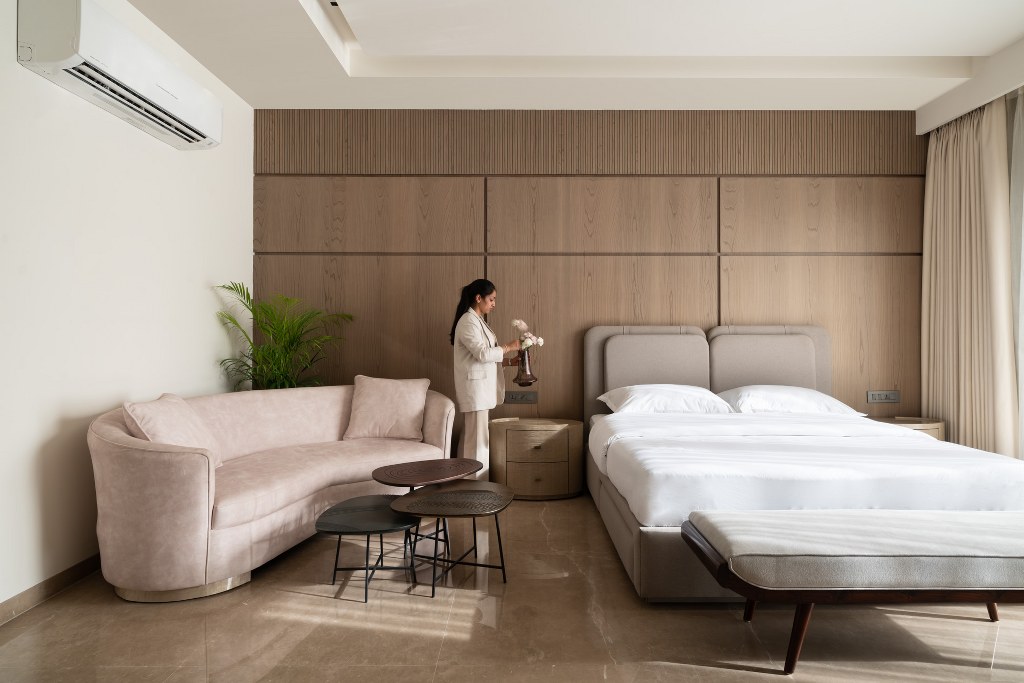 The sofa with its playful tables, along with the bed bench provide enough space for their children and grand-children to sit together for their evening-tea rituals in parent's room.
The mission was to design the kids room to be thoughtful, playful and have the transformational capacity to change as the kids grow. The gorgeous custom palms wallpaper serves as a nature's backdrop for the room.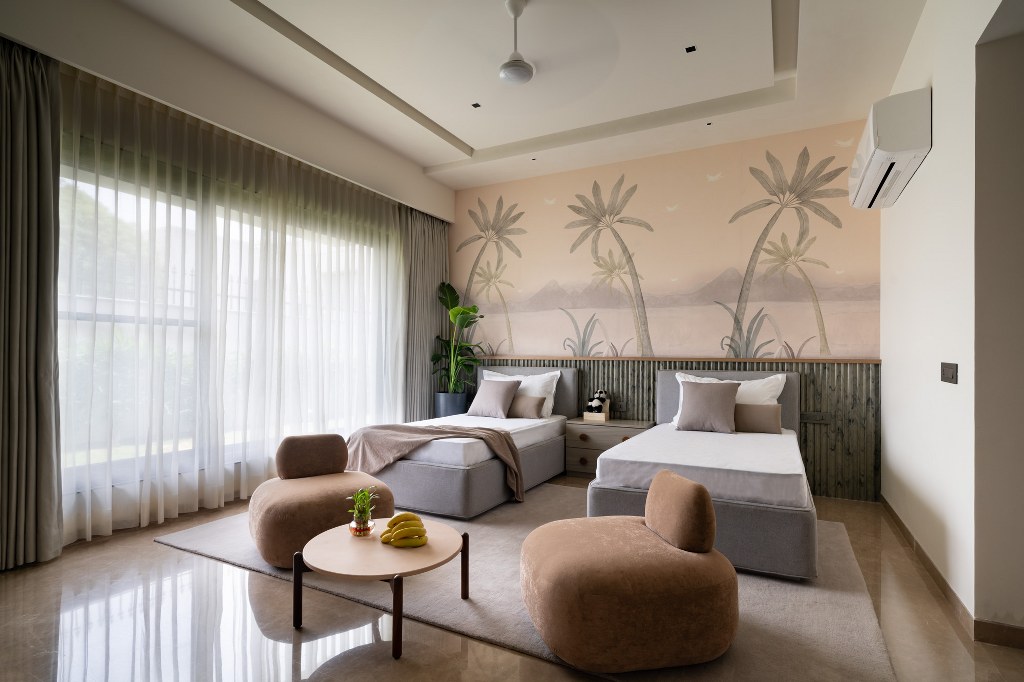 The spacious playspace in the middle with bunny chairs and a low wooden table is to encourage the kids to retreat from their study desk into a more free and creative setting.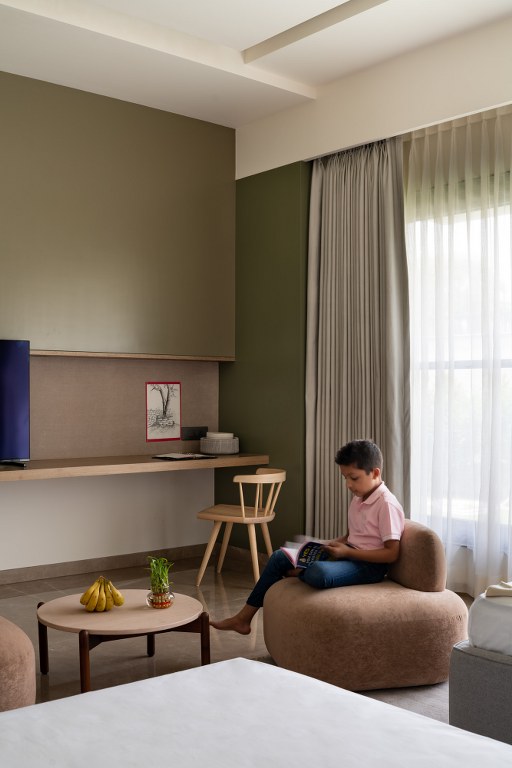 This guest room has been designed to ensure utmost comfort and luxury for the family guests. I took an opportunity to play with design composition and add art elements to the room – in the form of – exotic veneer selections, unique custom-made furniture designs, flexi light pendants, Batik artwork and a gorgeous rose rug.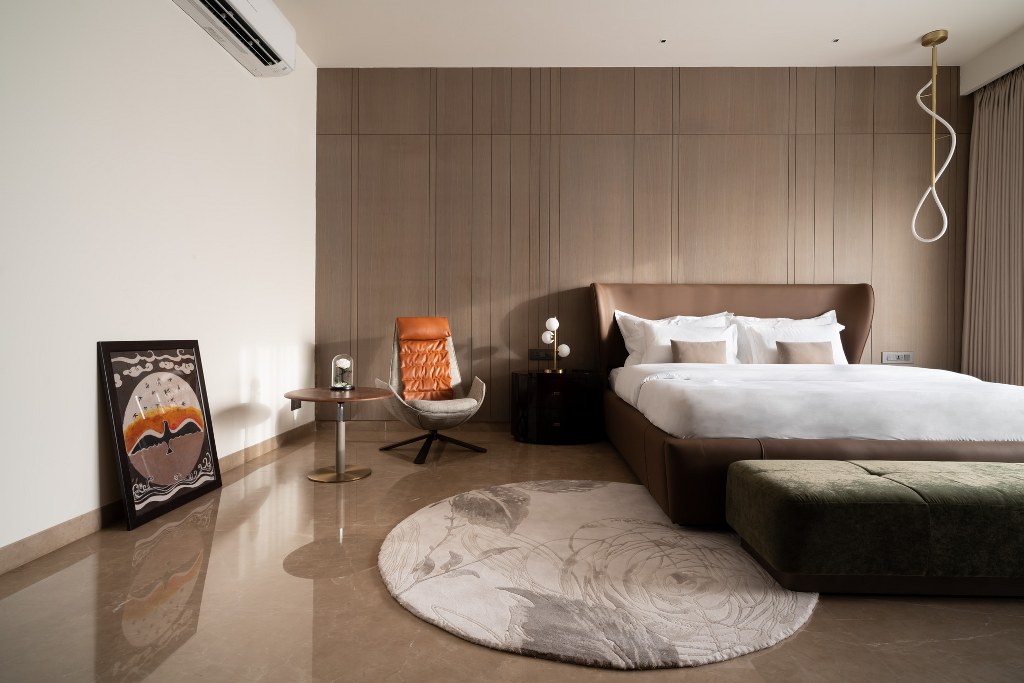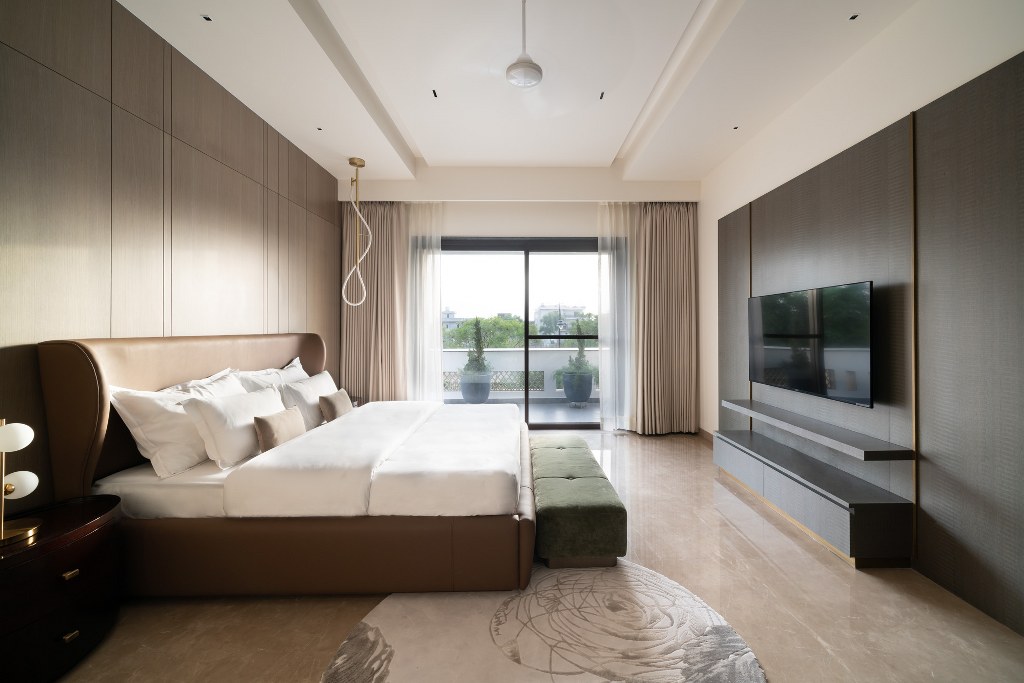 Fact File
Designed by: Art Of Space
Project Type: Residence Interior Design
Project Name: Dream City Residence
Location: Khanna, Punjab
Year Built: 2022
Duration of project: 12 Months
Plot Area: 9000 Sq.ft
Built up: 3500 Sq.ft
Project Size: 6000 Sq.ft
Project Cost Appx: 60 Lac
Principal Architect: Ayesha Kansal
Photograph Courtesy: Nakul Jain
Products & Materials: Finishes/ Paint: Asian Paints | Wallcovering / Cladding: Kalakaari haath | Lighting: Divinity Lights, Hishighness Lighting, Jainson Emporio | Doors and Partitions: Clear choice | Sanitary ware: Jaquar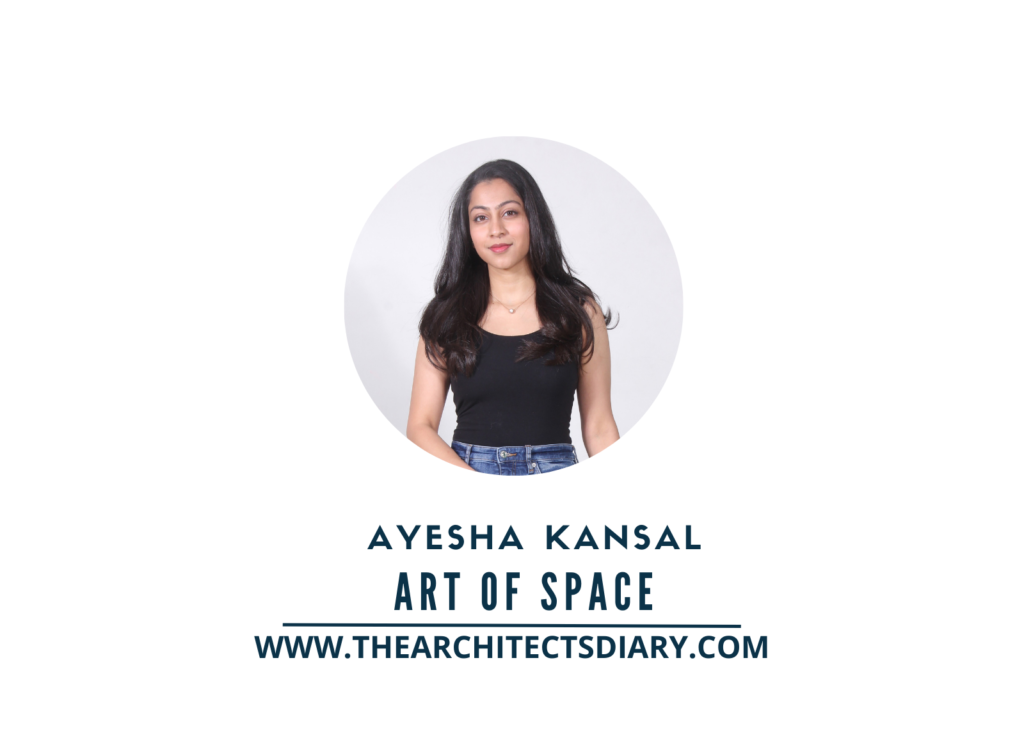 Firm's Instagram Link: Art Of Space
For Similar Project>>>Integration of a Sense of Curiosity and Dynamism for this Home in Bangalore