Founded in 2019, 'The Creative Escapes' is a multi-disciplinary design studio devoted to creating soulful spaces that gets one to fall in love with beautiful nuances of visual storytelling. Each space transits through distinct scenarios that nurture the soul and inspire people to live beautifully. Incorporating a mix of minimal and contemporary designs, Chandni Jain brings to life her passion to curate mindful design that breathes with purpose, function and flow. For the past 3 years, the studio has been designing spaces with an aim to capture the true spirit of the client/brand.
Minimal Contemporary Brand Store For 'Cakes & More' | THE CREATIVE ESCAPES
VISIT : THE CREATIVE ESCAPES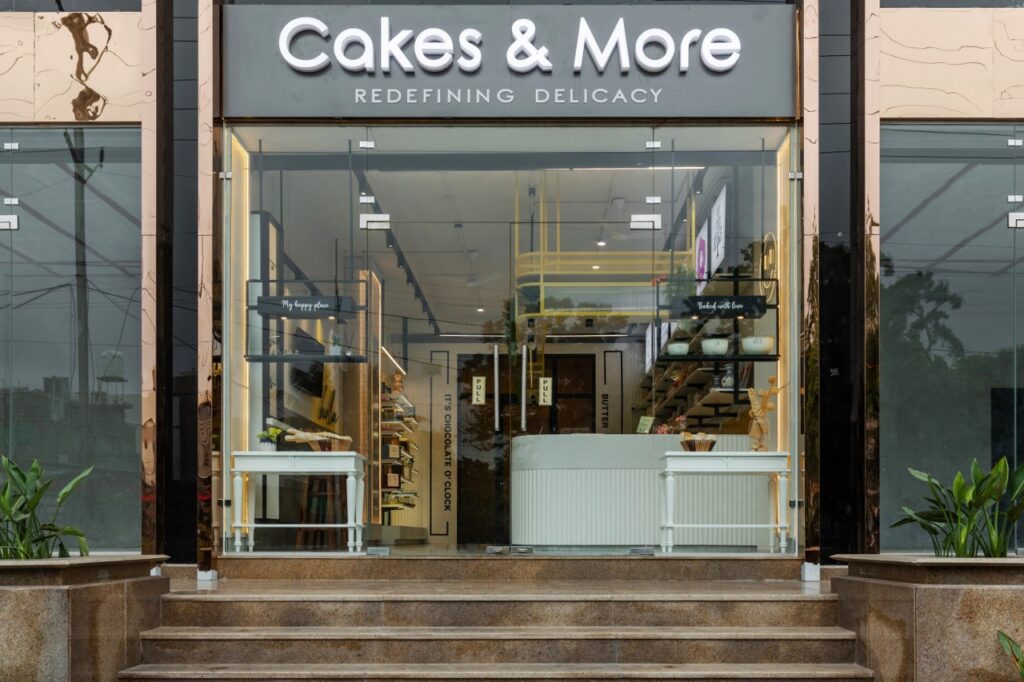 A space that smiles – This minimal contemporary brand store for 'Cakes & More' is designed by The Creative Escapes who have curated the perfect recipe for an enticing eatery space.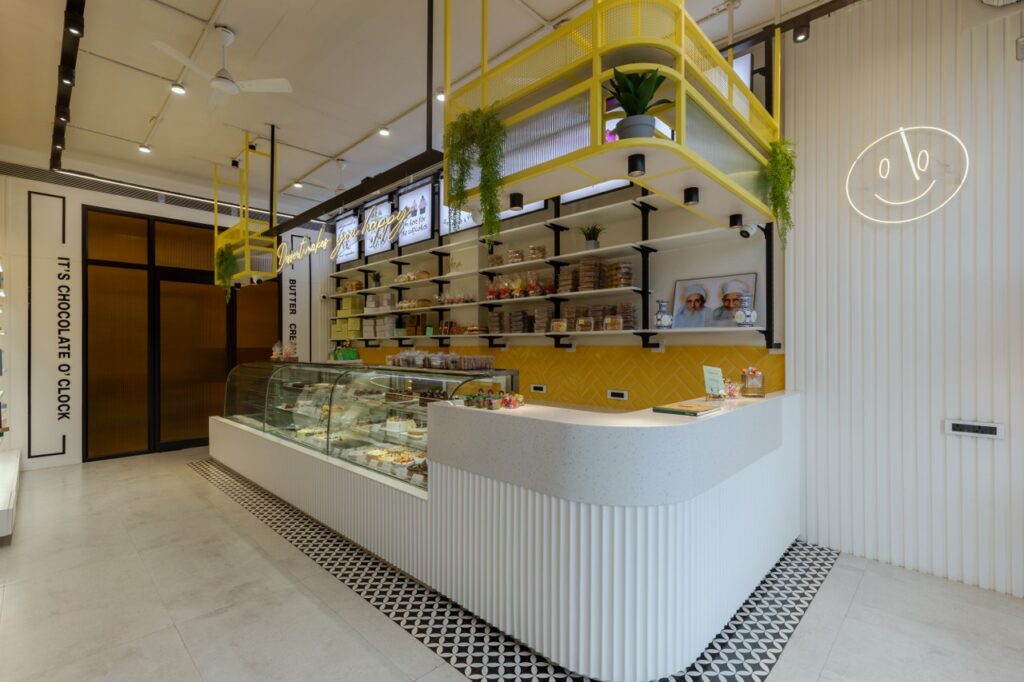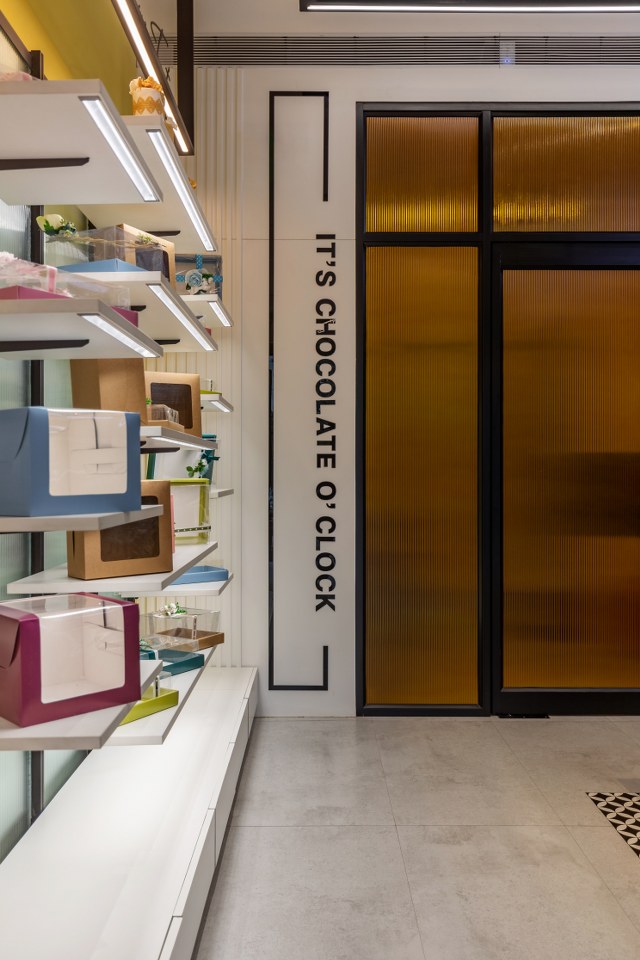 Basking in optimism and the aromas of your favourite desserts, this plush cake and chocolate store in Indore emits an innocent radiance and a sense of sweetness like no other.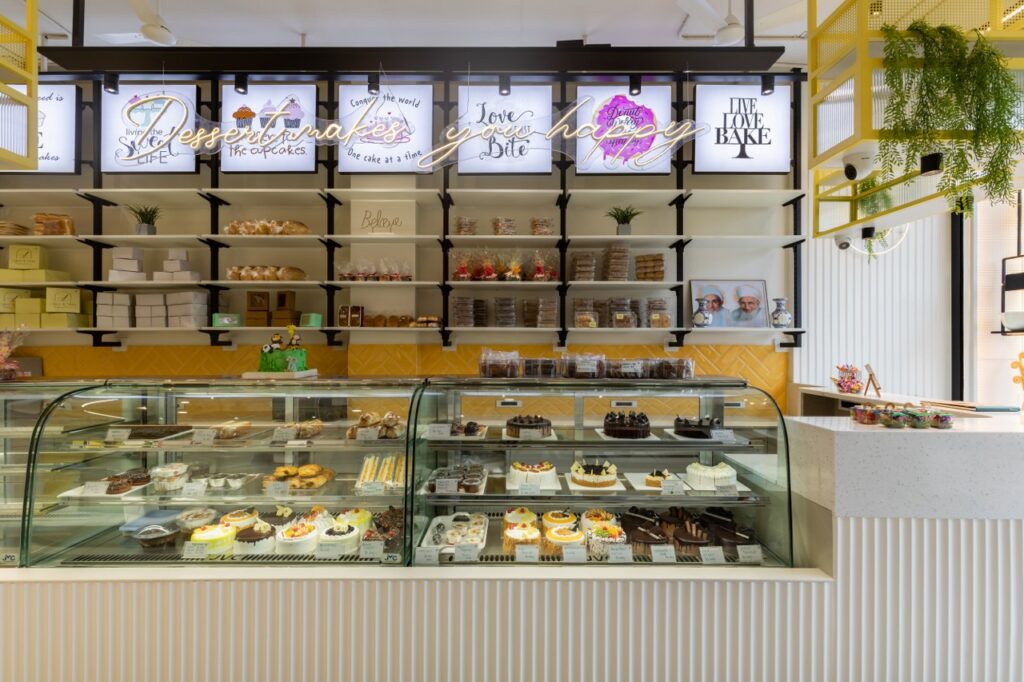 Designed by Chandni Jain, founder of The Creative Escapes, the bakery comes as a breath of fresh air intertwining modern materials with a subtle biophilic design.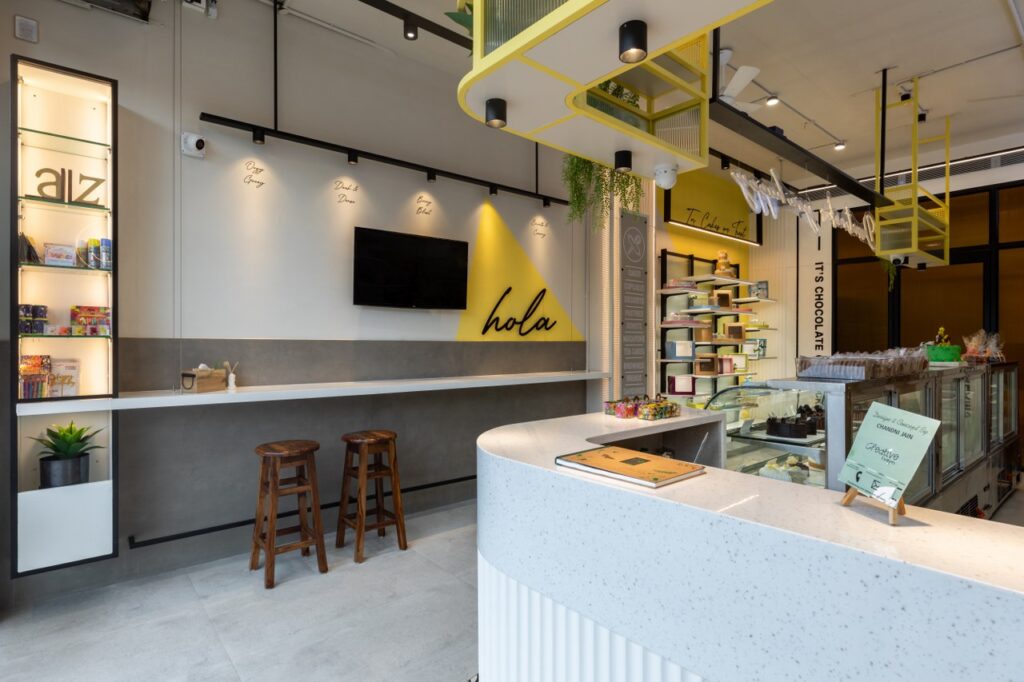 Compact yet comforting, this space spans over 650 sq. ft and utilizes every corner in the best way possible. "The essential concept for this store was to amplify the storage and display units in a way that makes the area look spacious. Moreover, the brand required an inviting ambience, one that makes people smile as soon as they enter inside. It is those smiling faces that would then be accentuated by the delicious spread of sweets and baked items." shares Chandni.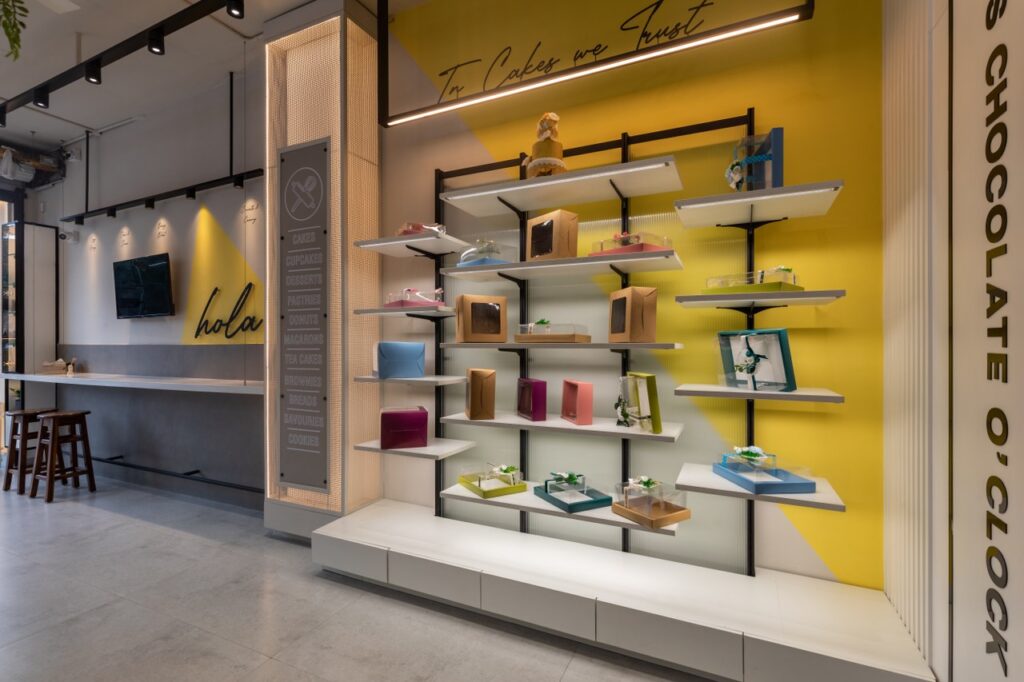 The layout is clean and minimal with splashes of warm schemes. The studio has enhanced that with white paint and yellow subway tiles along with flaunting an overhanging metal structure that makes the raw ceiling stand out. Moreover, the store's glass window adorns vintage tables that overlook the entire space.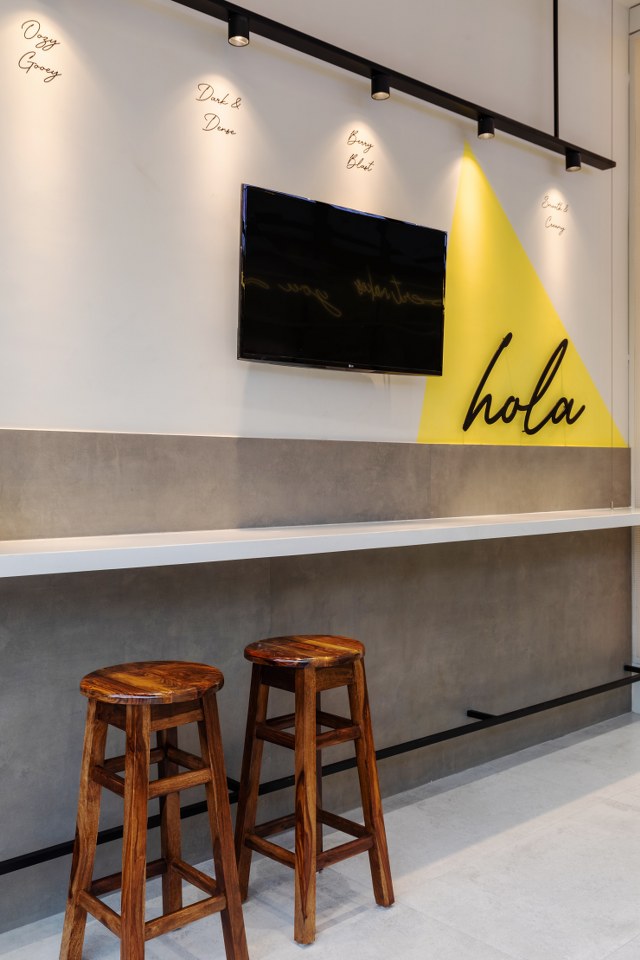 Adding softness to the space is the rounded reception and its counterparts that are created in curved deep and finished in PU paint giving the bakery a warm and eclectic feel. The focal point of the store however is the "HOLA" wall that welcomes customers to have a great time. The yellow M.S hanging above the main counter in is in sync with the yellow tinted glass used in the partition. This also adorns greens which pair well with yellow subway tiles.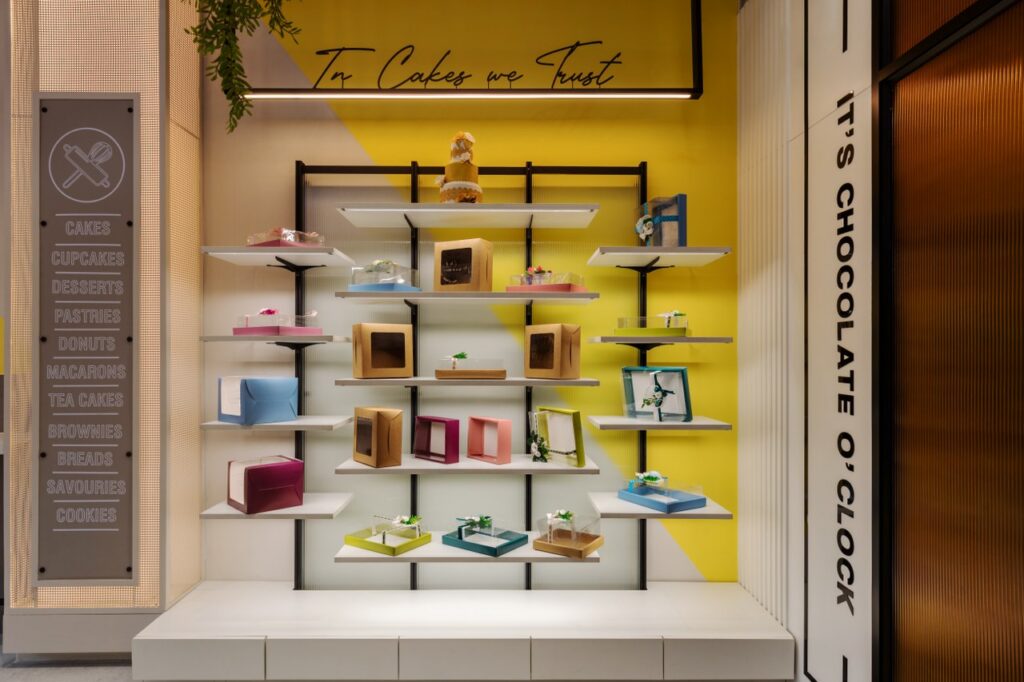 Moreover, the studio manages to create a beautiful continuity in the space with its flooring seamlessly merging into the ceiling thus enlarging the space and allowing customers to view products effectively. Adding a little natural element are the hanging planters paired perfectly with light fixtures by Ledlum lights.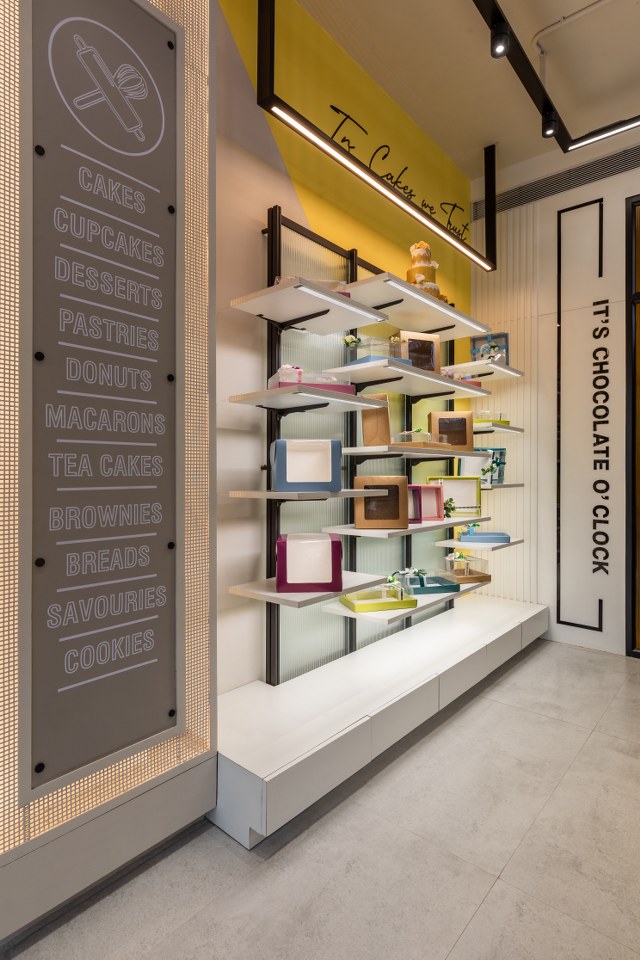 The studio has dressed the display unit in backlighted with adjustable shelves and used INSYNC modular fittings for storage and display making it a great amalgamation of strength, stability and flexibility.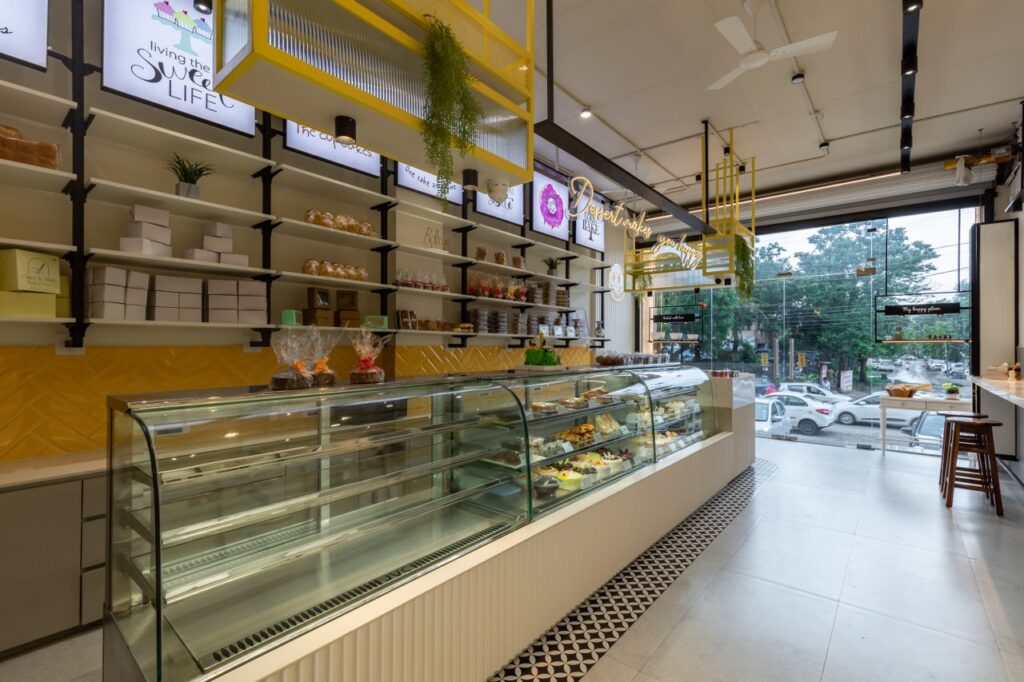 "While building any space we believe that design is something where art and engineering break even which is why our focus is always on creating spaces that are not only aesthetically sound but also functionally acceptable. This space demanded smart functionality and an attractive play of aesthetic and we are so glad we could put those together so well."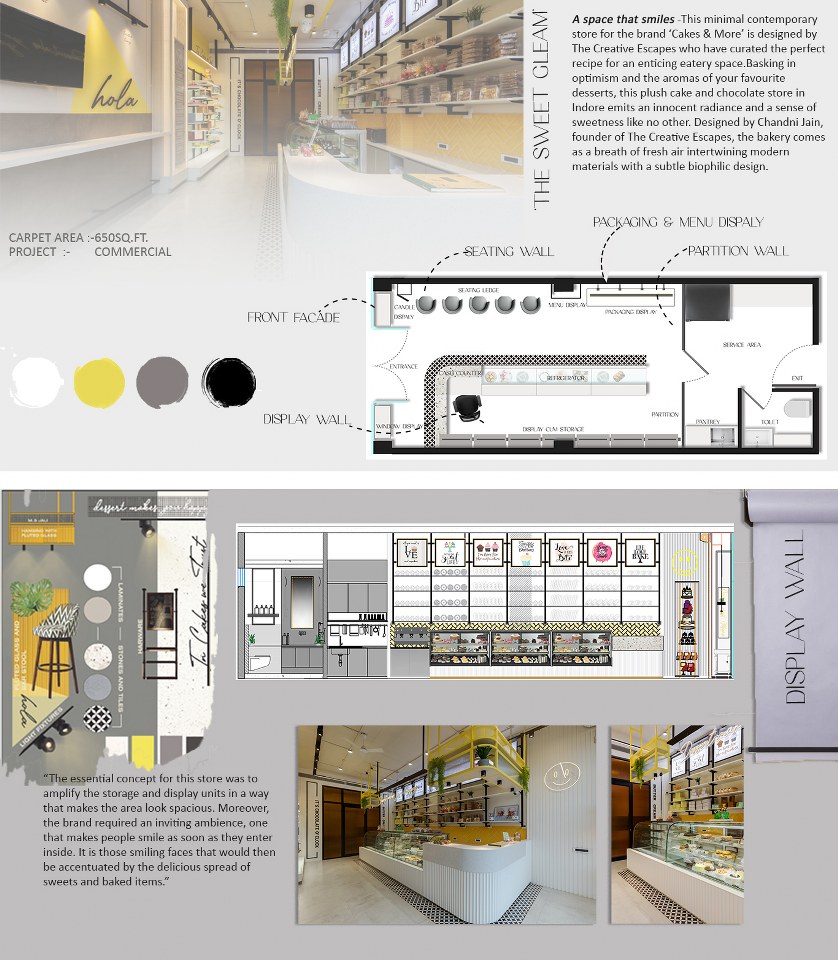 FACT FILE
Designed by : THE CREATIVE ESCAPES
Project Type : Eatery/Bakery
Project Name : THE SWEET GLEAM
Location : HQ Citywalk Building, Scheme no 54, Vijay Nagar , Indore (M.P)
Year Built : 2022
Duration of project : 3 Months
Project Size : 650 sq.ft
Project Cost : 22 Lakhs
Principal Designer : Chandni Jain
Team Design Credits : Vanshika Manjwani, Shaista Khan, Parvinder Kaur & Kajal Soni
Photograph Courtesy : Ruuhchitra
Products/Materials/Vendors : Lighting – Prepack lights, Company – Ledlum / Doors and Partitions – Huzefa Aluminium & Glass / Sanitaryware – Bharmal Traders, Company- Jaguar / Furniture – Shri Dev Furniture, Bar Stools from – Saaj / Flooring – Singhania granites and Marble , Creanza Tiles, BEJ Ceramics Paint – Arora Traders, Asian paints / Artefacts – Westside, Saaj / Hardware – Variety Hardware Store, Hettich / Walldecal / Vinyl/ Stickers – BMD Marketing.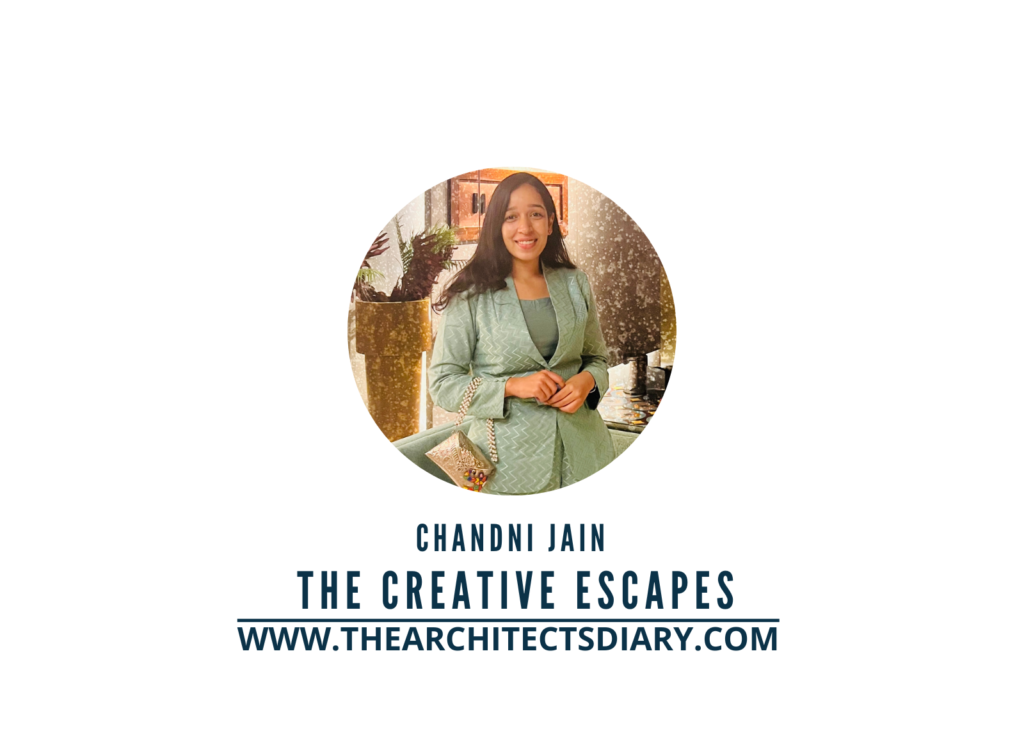 Firm's Website Link : THE CREATIVE ESCAPES
Firm's Instagram Link : THE CREATIVE ESCAPES
Firm's Facebook Link : THE CREATIVE ESCAPES
For Similar Project >>> MAKING THE IMPORTANCE OF DESIGN A NEED FOR ANY COMMERCIAL SPACE