The plot has a massive mango tree, which is Chandrakaran mango known to be one of the most Popular varieties of mangoes in Kerala. Our vision was to make a home while keeping the tree in its true glory and bringing the patio section into there. The patio is the central atherea and this area gives a good view from the dining, foyer, the master bedrooms and the family living area As the inspiration comes solely from this glorious mango tree in the patio, to do complete justice, we named it 'One Tree House'.
Kerala Themed House Is Designed In A Tropical Modern Architecture Style | FARSA BUILDESIGN
VISIT : FARSA BUILDESIGN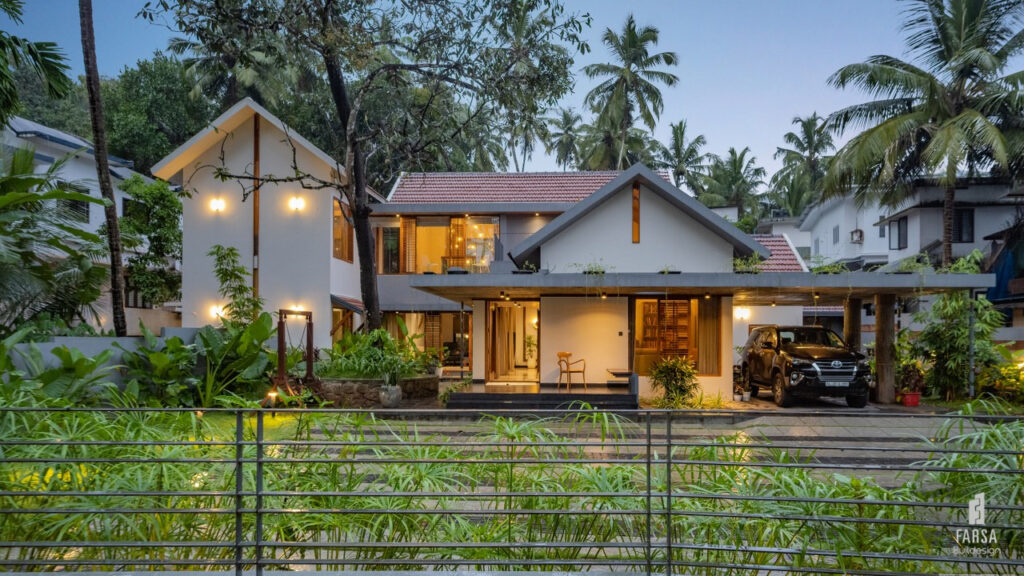 This Kerala themed house is designed in a tropical modern architecture style, a popular design concept in the state. One of the main challenges that we faced was to build the house surrounding that ' One tree'. The second being the difficulty in maintaining proper ventilation as our view was a modern villa with a glass facade. Shutters were installed for air circulation. To ensure more safety we placed security systems and sensors.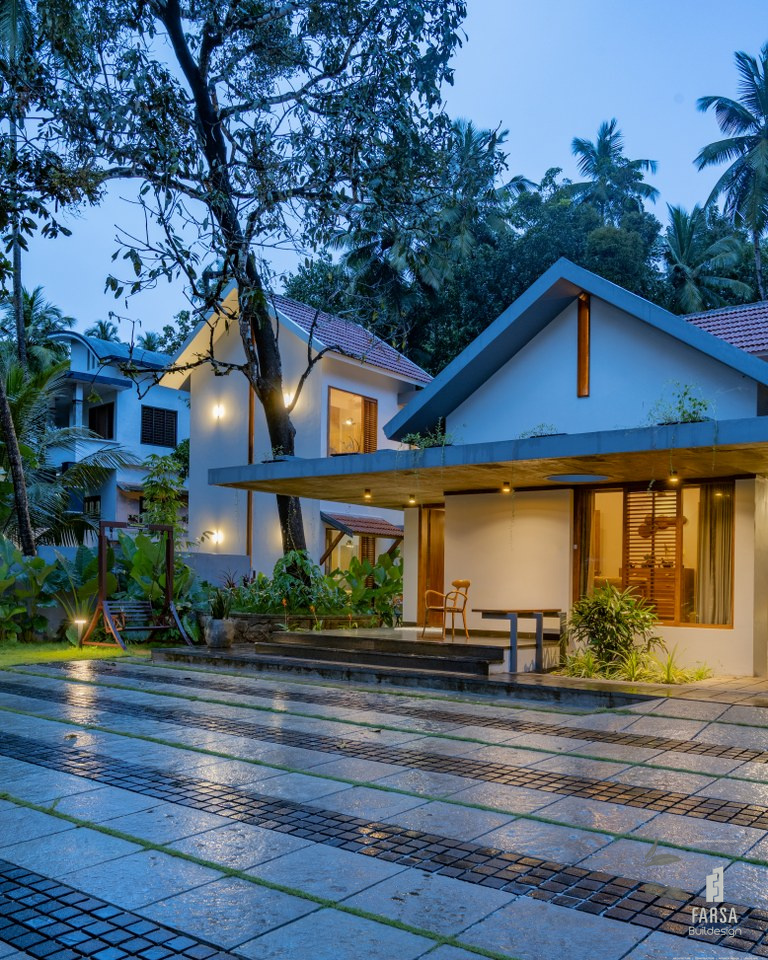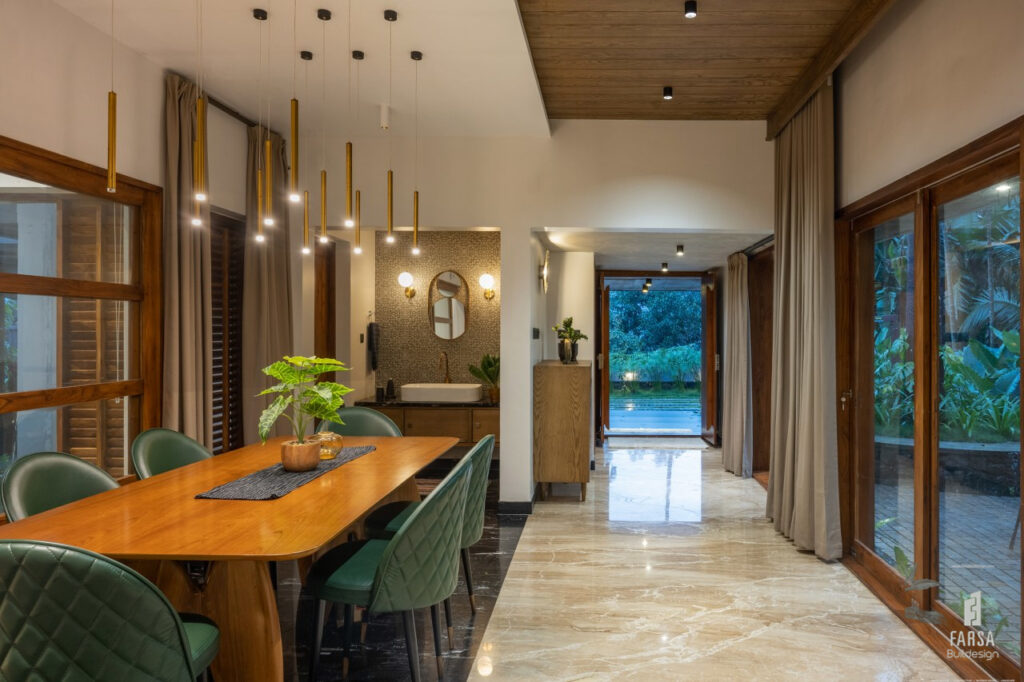 The design of a cantilever slab hanging totally towards the front area was also a challenge. With the help of our structural designer we overcame this struggle. There was a chance of exposing concrete finishes we got over this by giving proper concrete polish.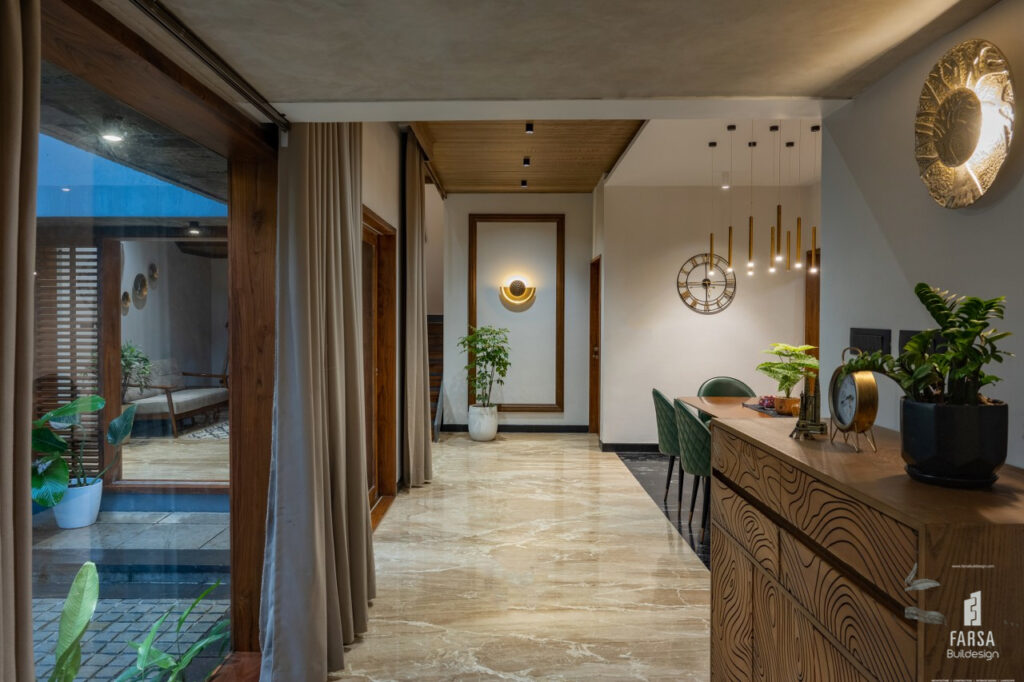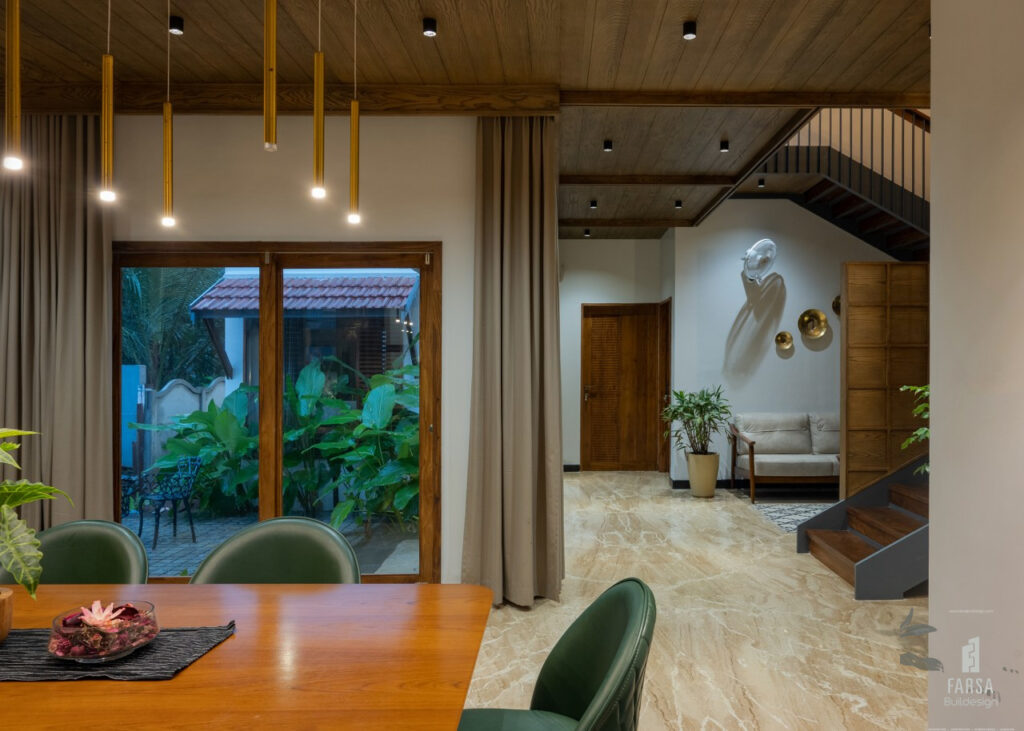 The house is designed for a nuclear family Client is looking to build a multi-family dwelling with at least five bedrooms and bathrooms, a kitchen, a work area, and both a family living area and a formal living area.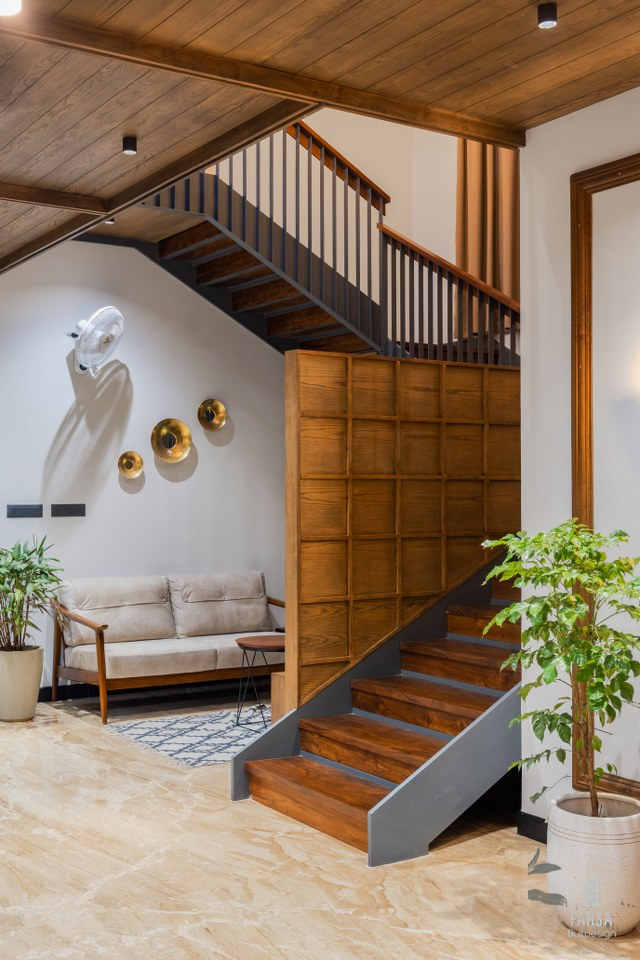 This plot is located in a busy area, and they would like to have a patio in the center of the house that offers views from all areas. This can be a great way to create a peaceful oasis in the midst of a busy area and provide a space for occupants to relax and enjoy the outdoors and client wanted to include in the patio.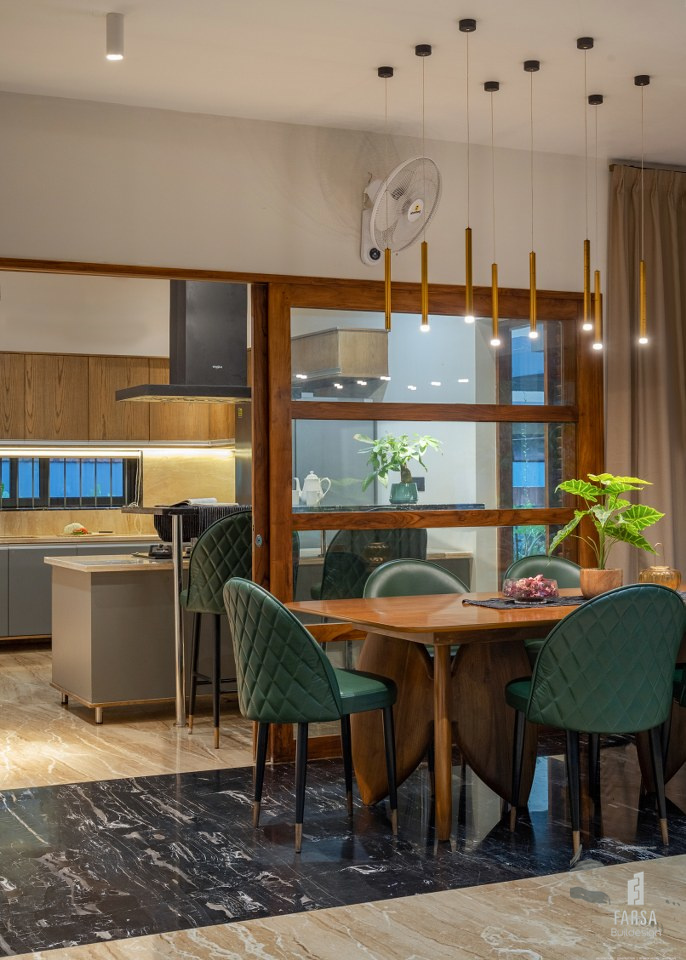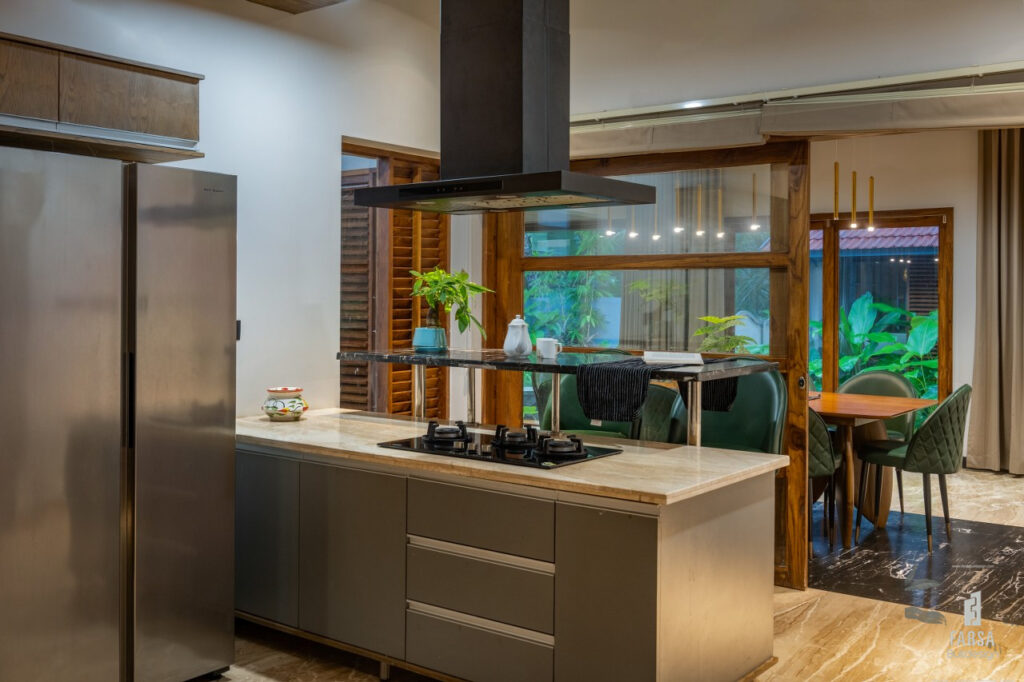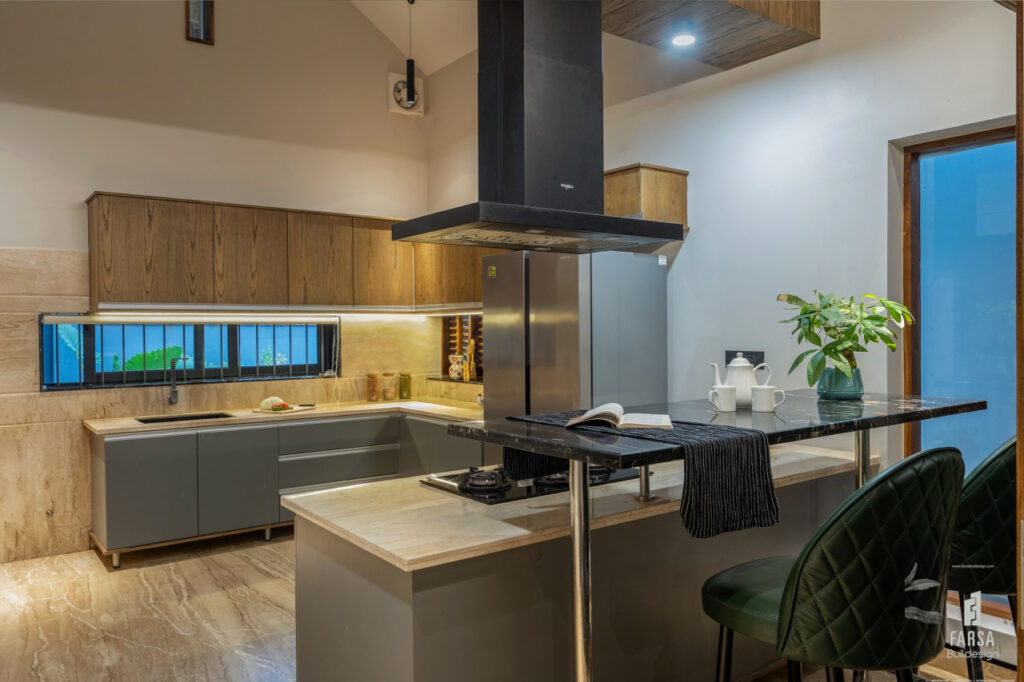 Residence was completed in the year 2022 with a total built up area of 3300 sqft. Material palette for the house comprises Exposed paint finish, concrete raw finish , and clay tiles, buffed Kadappa flagstones, Kottah stones, Laporte, Nilambur teak, Burma Teak and polished metal sheets.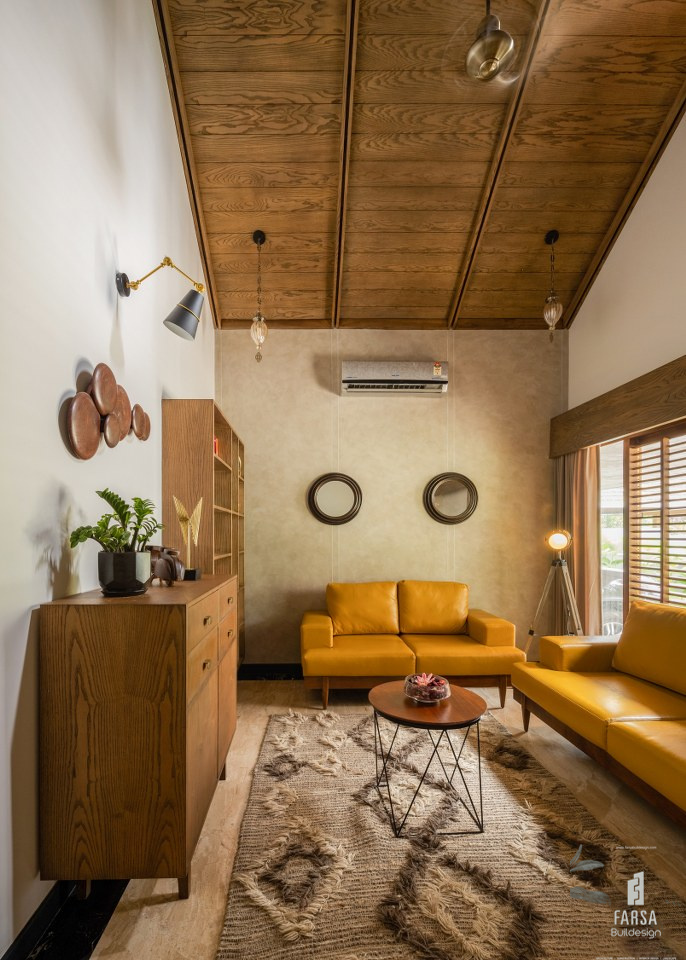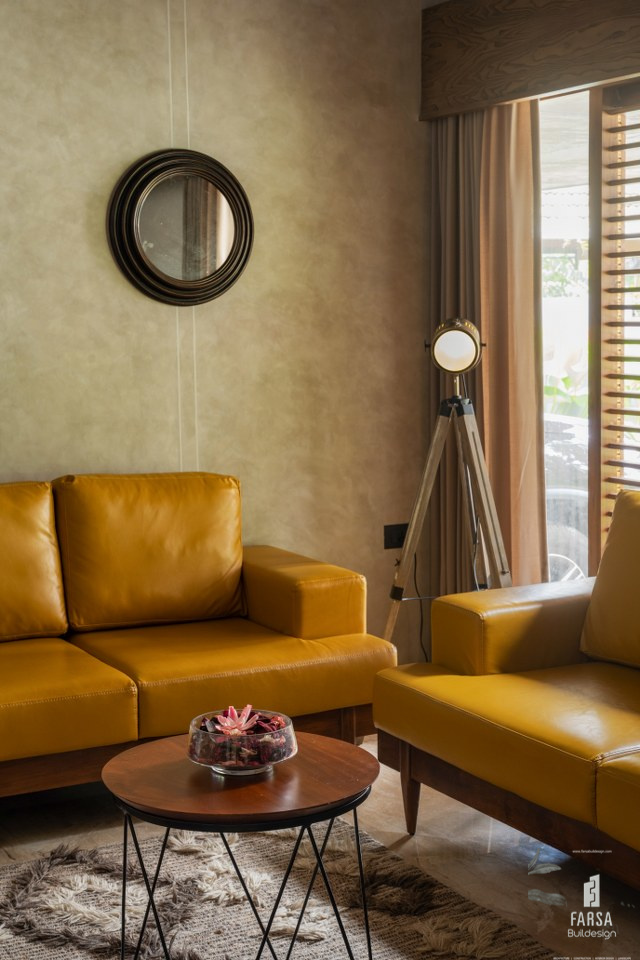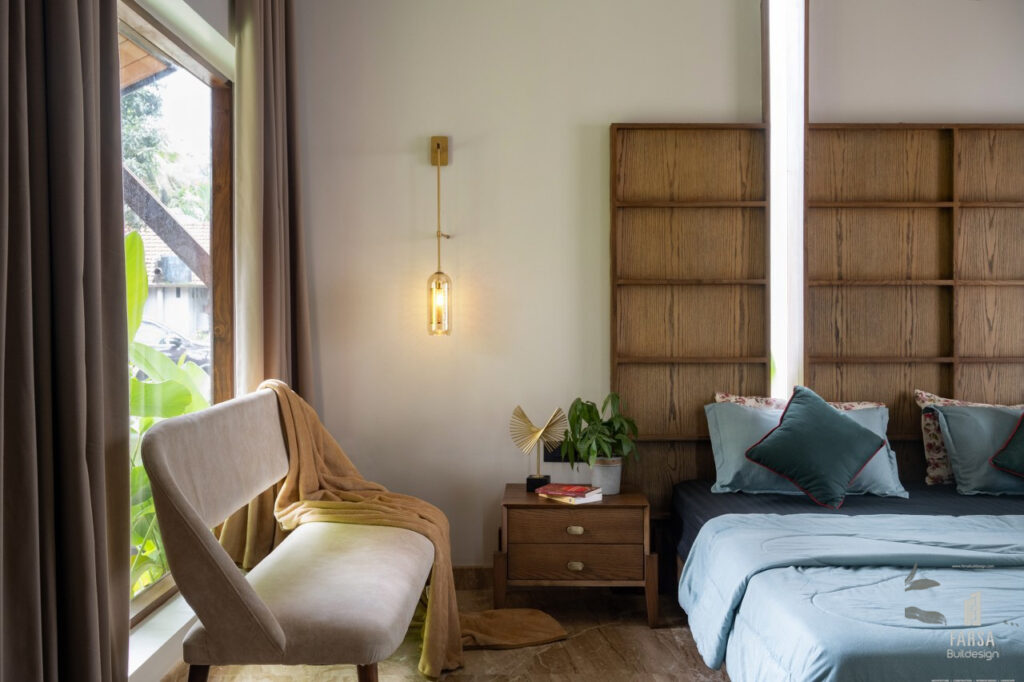 Nilambur teak is used throughout the project in various forms as furniture, and window frames because of its abundant availability in the locality. The quality of light is carefully modulated in the interiors as per the functional and psychological needs of each area.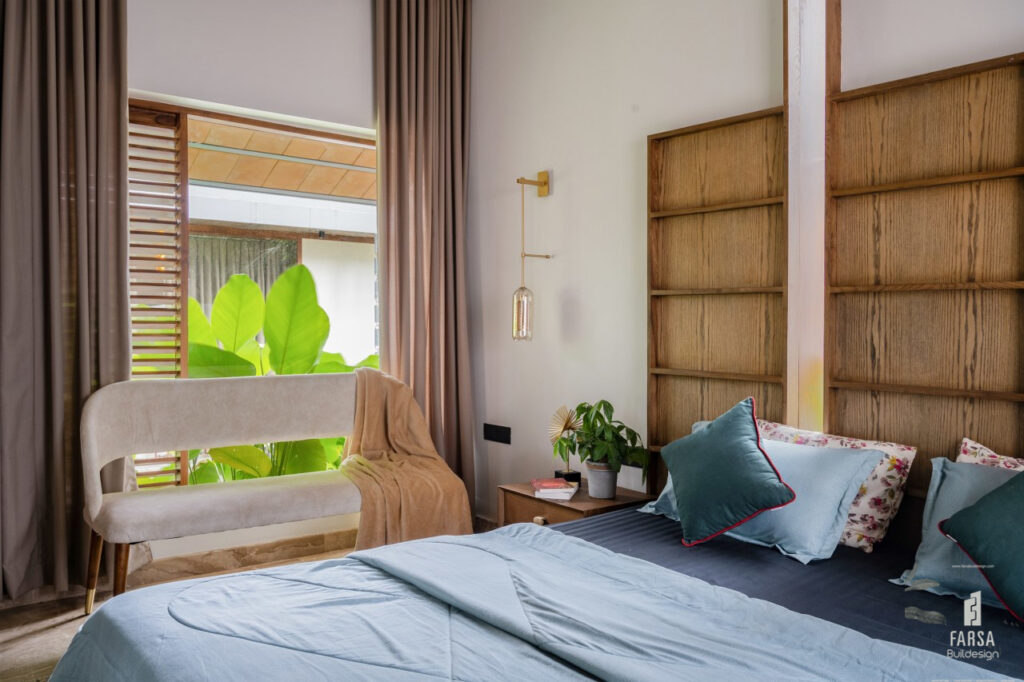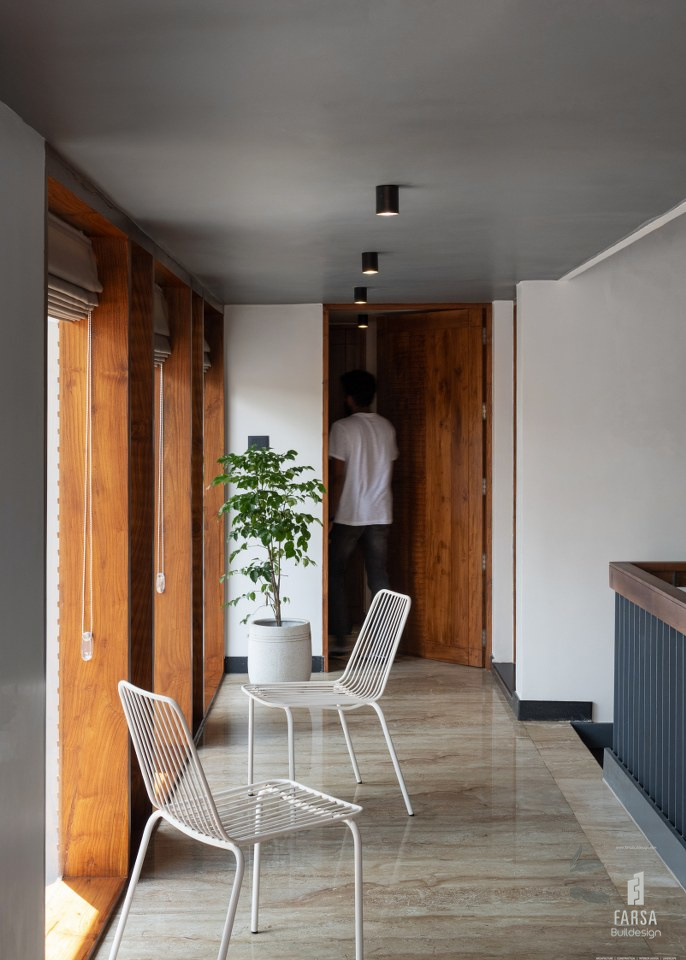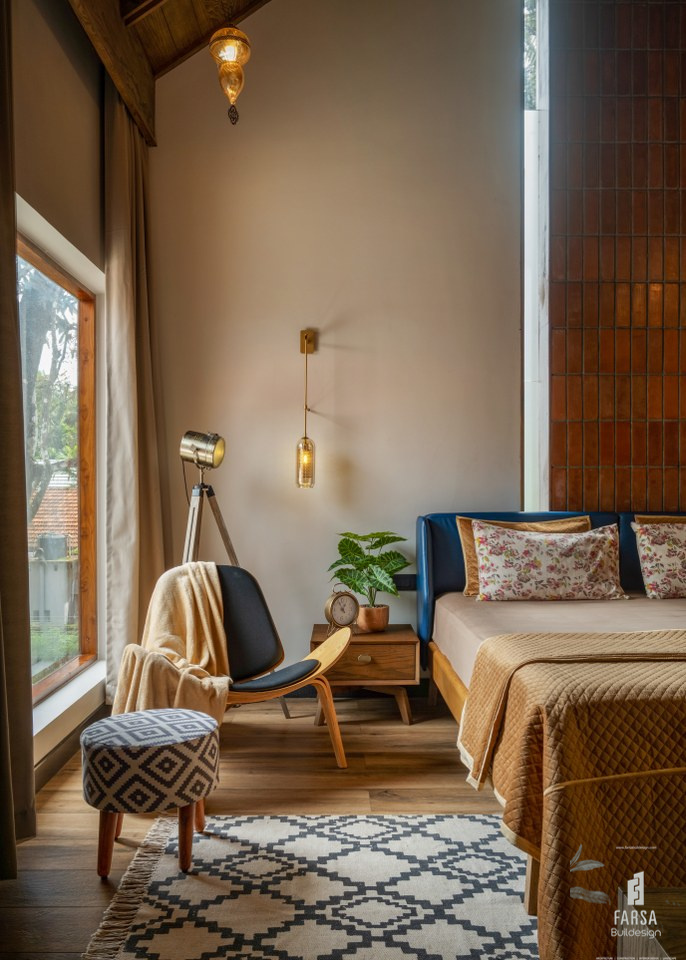 The spaces are planned keeping in mind the time of use and the optimal requirement of light. Interiors are deliberately devoid of decor, which becomes a canvas for the ever changing play of natural light, which is more experiential than visual.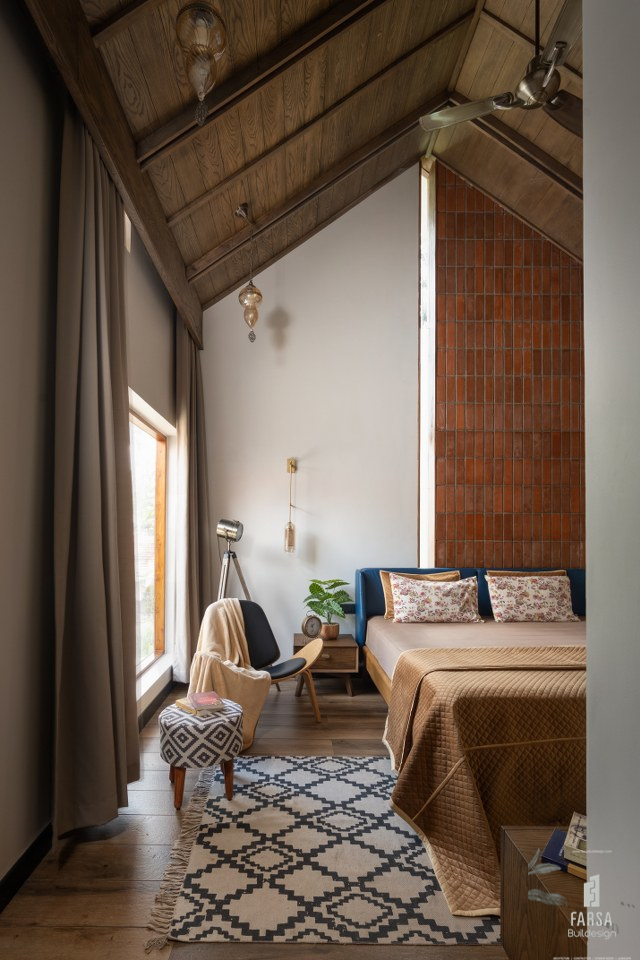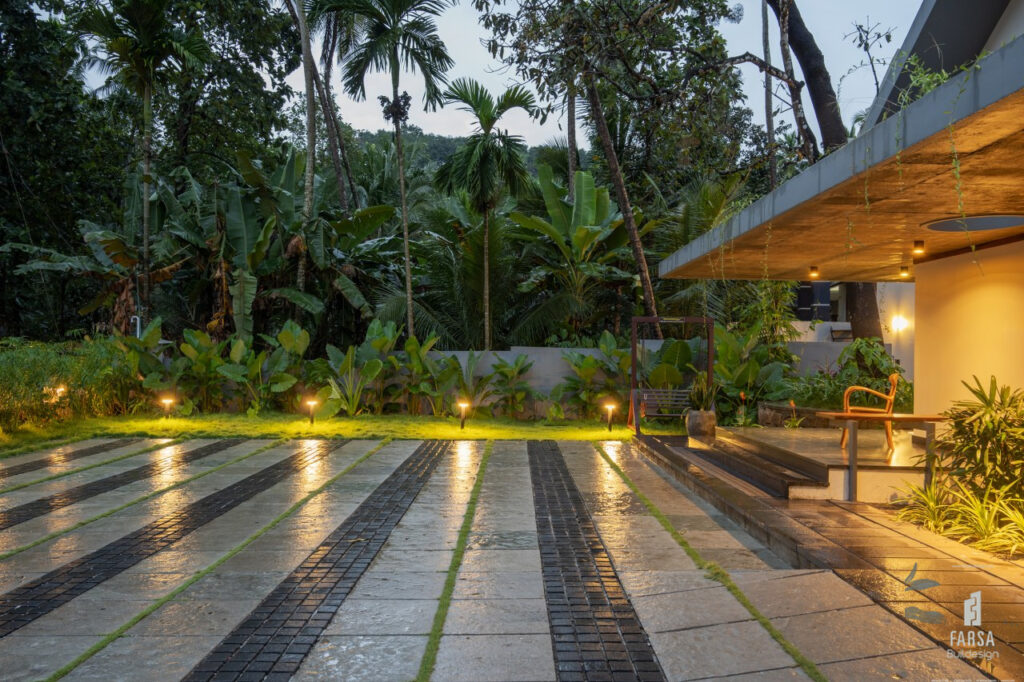 Majority of the furniture and wall hangs were customized to give the residence its unique interiors.
FACT FILE
Designed by : FARSA BUILDESIGN
Project Type : Residential
Project Name : THE ONE TREE HOUSE
Location : AREACODE , MALAPPURAM
Year Built : 2022
Duration of project : 2 YEAR
Plot Area : 16 CENTS
Built up : 3100 Sq.ft
Project Size : 3100 Sq.ft
Project Cost : 90 LAKH
Principal Architect : RISIYAS FARSA
Team Design Credits : NIDHEESH , SHANAVAS , VIPIN CHANDRAN & SHAMSEER
Photograph Courtesy : Nathan
Products / Materials / Vendors : Finishes – Asian paints / Wallcovering / Cladding – local brick KERALA STORE / Construction Materials – FARSA BUILDERS / Lighting – LIGHT POINT MANJERI / Doors and Partitions – WOODKUT / Sanitaryware – AZARA PIPE LINE / Facade Systems – FARSA BUILDESIGN Windows – WOOD KUT / Furniture – WOODKUT / Flooring – ABC TILES / Kitchen – FARSA BUILDESIGN Paint – IWIN MANJERI HARDWARE ASIAN PAINTS / Artefacts – HOME CENTER / Wallpaper – NILL Hardware – KURIKKAL INTERIOR HAFLE.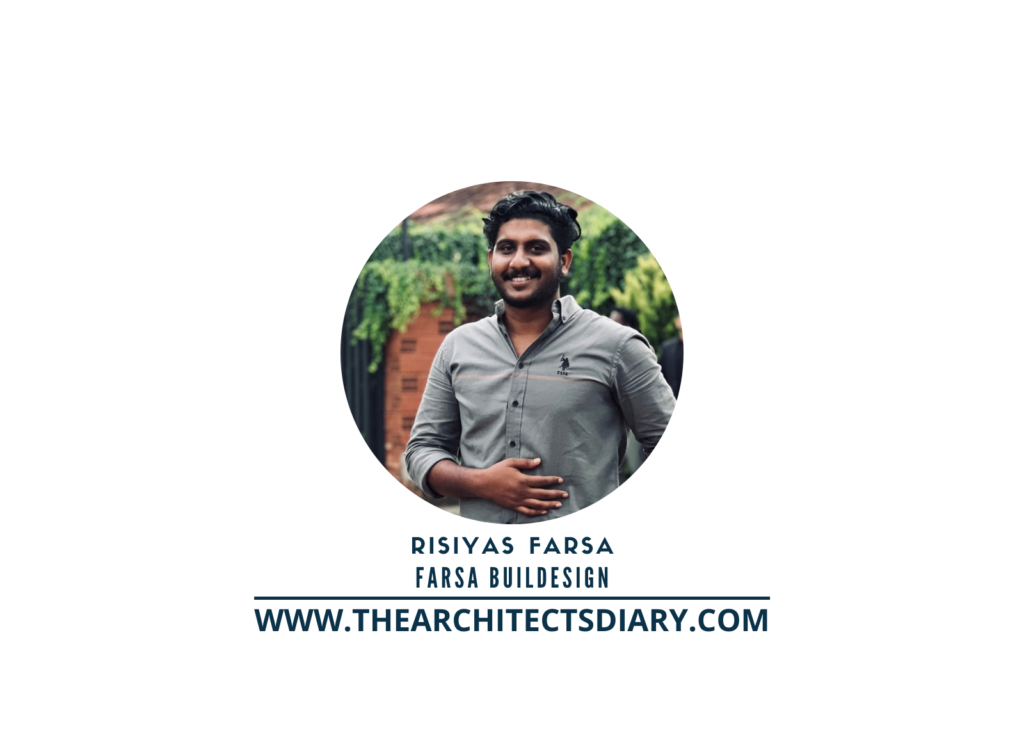 Firm's Website Link : FARSA BUILDESIGN
Firm's Instagram Link : FARSA BUILDESIGN
Firm's Facebook Link : FARSA BUILDESIGN
For Similar Project >> NATURAL MATERIALS, AIRY COLOURS, AND ABUNDANCE OF NATURAL LIGHT BRINGS HARMONY TO THIS BEACH HOUSE