Samadhan residence is an approach to Minimalist Design Style with a poetic look having simplicity, clean lines, and a monochromatic colour palette. It's an open floor plan with lots of controlled natural light, functional furniture, and focuses on the shape, colour, textures and just a handful of essential elements.
The only concept kept in mind while designing this residence for the joint family which was also close to us was modern, minimal and required a residence with low maintenance. The open plan living spaces embrace a modern feel. Subtle shades and delicate natural tones reflect an idea of coziness, comfort and luxury. Due to open plan the family spaces are visually interconnected horizontally as well as vertically to the central courtyard also called 'Brahmasthan' of the residence.
Samadhan Residence Is An Approach To Minimalist Design Style | 'KARIGARS'
VISIT : 'KARIGARS'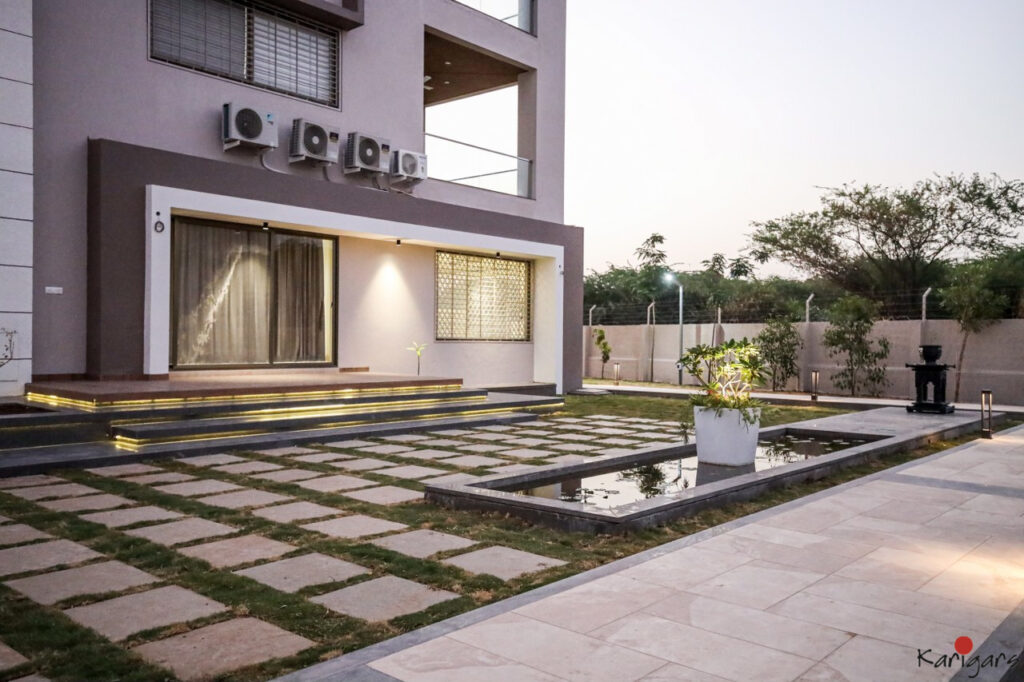 The client is a man of taste with a long-standing wish to build a house with minimal design needs. The client's brief and requirement led to evolve a basic planning of two bed room, hall, family sit out, dining, puja room, store room, central courtyard (bramashthan) and kitchen at ground floor and four bed rooms were planned on second floor and third floor while the fourth floor has one multipurpose room and semi-covered terrace area.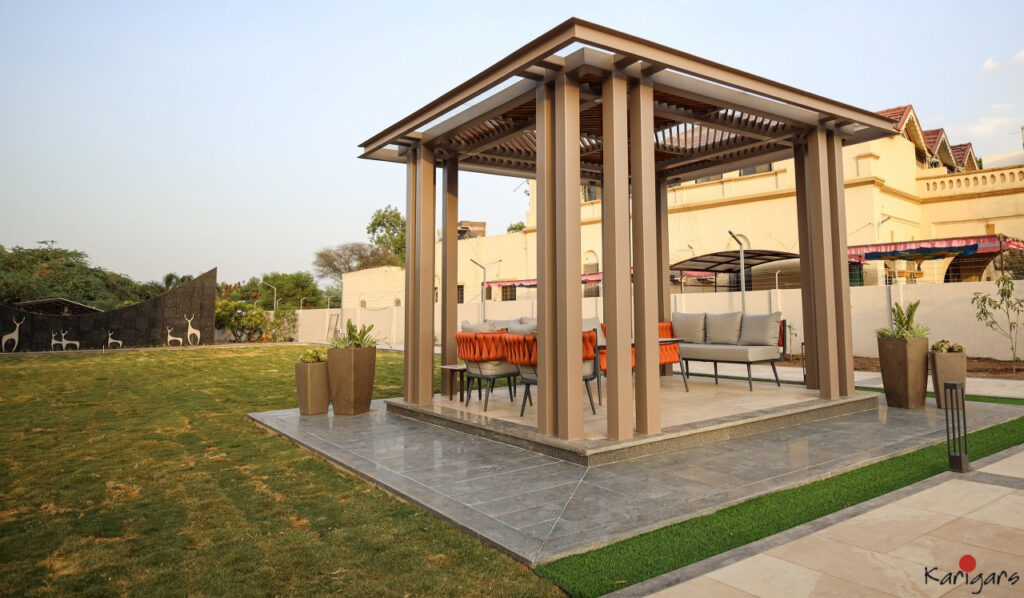 The entire planning was done following the Vastu principles. The client also was very interested in developing a landscape area with a walking track, garden, gazebo seating and a limited unnatural decorative element in the landscape.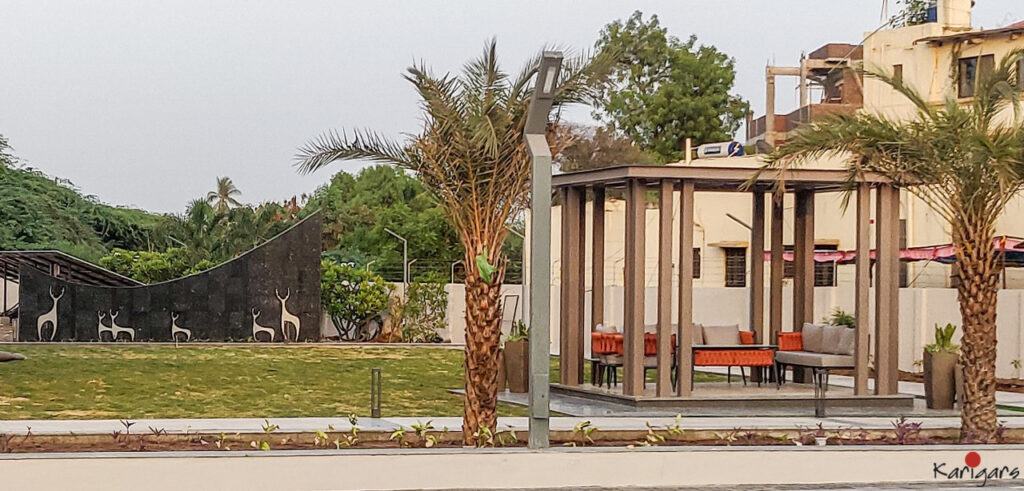 As per the client's need, we setup this beautiful space with a west facing entry, which had a simple but huge porch, so that the harsh sunlight would stay away from the entry. The porch area was done in fabrication to give it a slender look instead of huge concreting.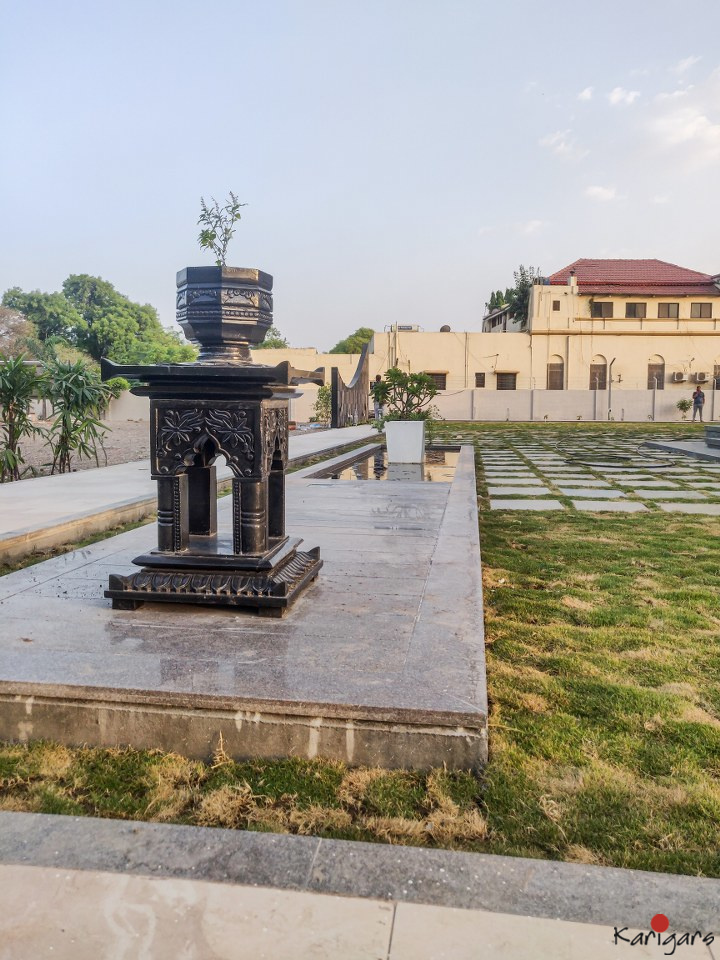 The side walls and ceiling are covered in louvered composite sheets which were customized on site and matching the imported leather finished brown bidasar stone, thus helping to creating the monochromatic feel And to balance the monochrome look, the fluted main door was done in white (door designed inspired from shark tank door) and the window grill was done in mild steel sheet laser cut in warli art.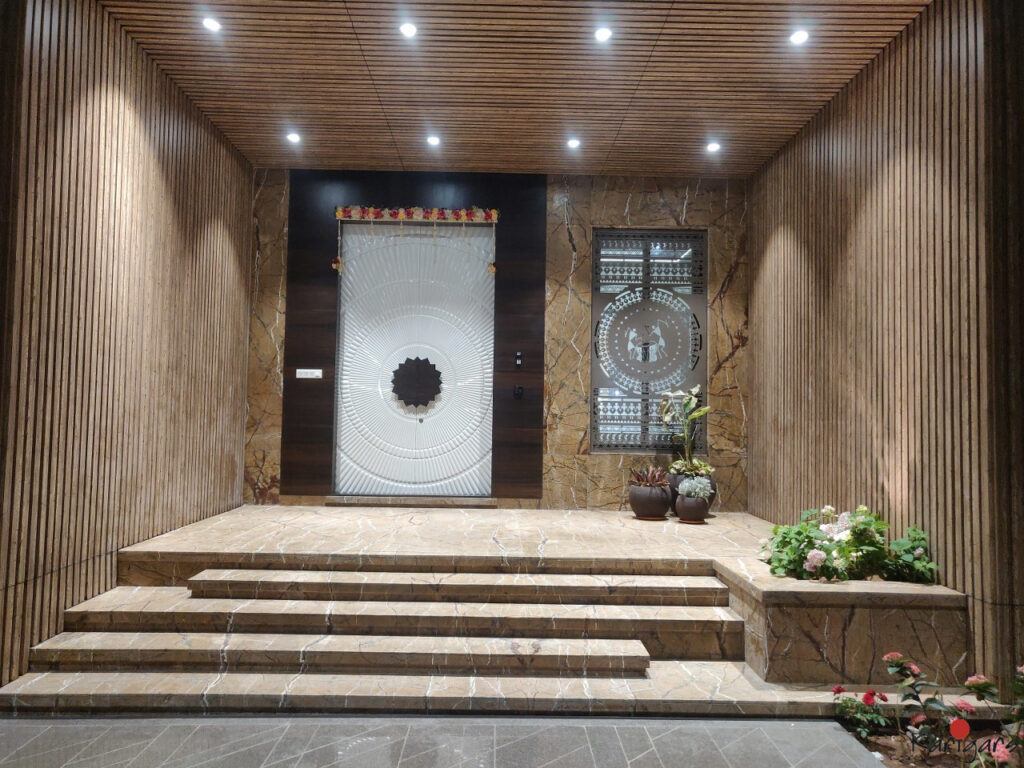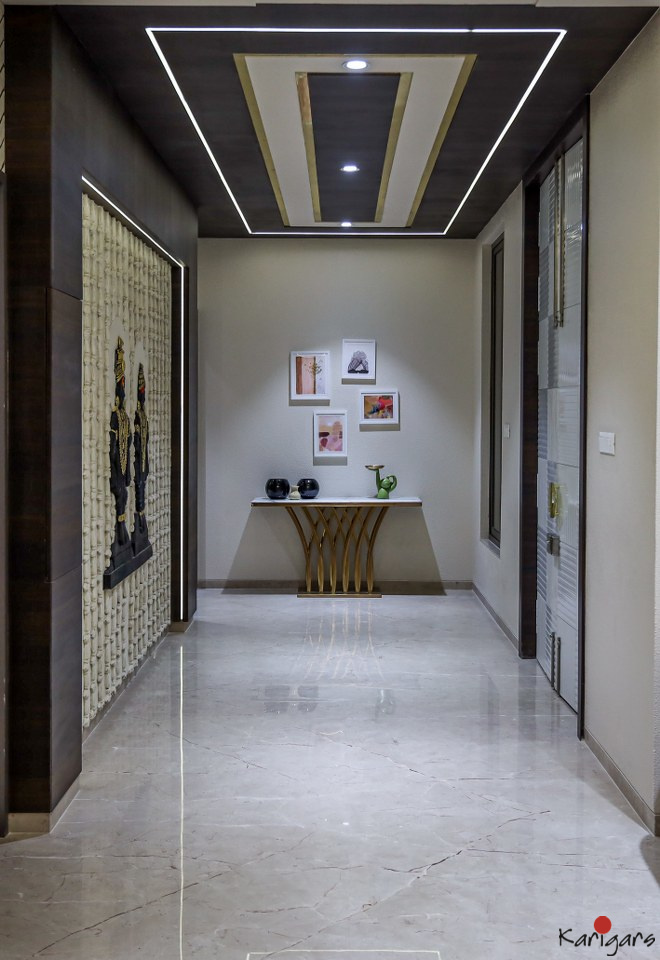 As soon as you enter the residence you see a 3d 'Vitthal Rukmani' art carved in siporex block by local artiest yogesh welcoming you at entry foyer. This space initially was to be designed in colorful metal flowers same as that of toran you see in picture above the main door entry  but the family's devotion in Pandurang and client insist to use it at entry made us to rethink on the design and we came up with this magnificent design.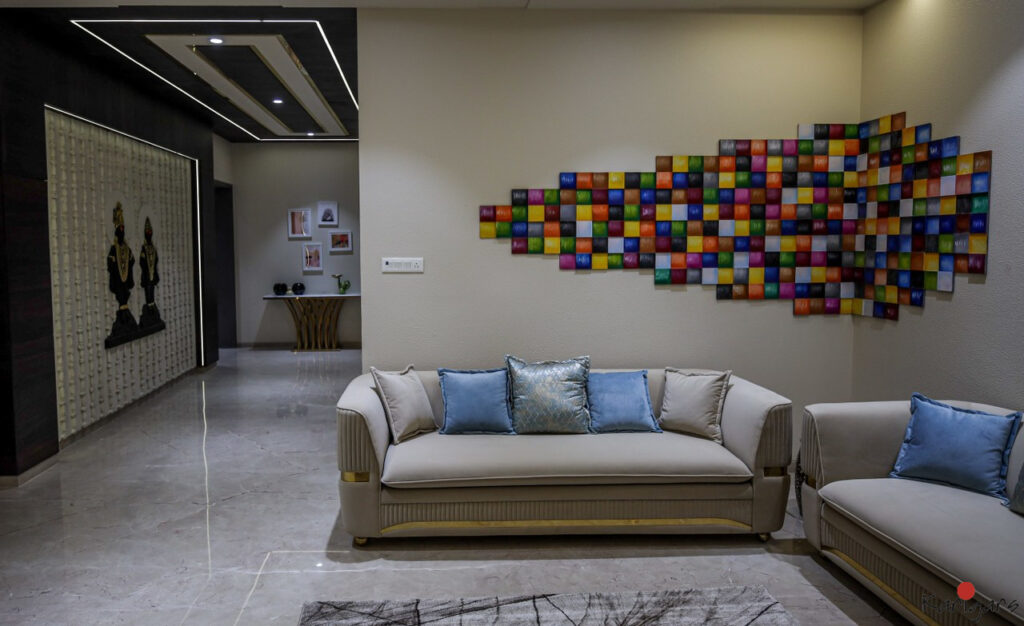 Living area interconnected to the entry foyer invites the guest with its subtle colours and colourful wooden mosaic L shaped wall art (custom designed at site and painted with local artiest rameshware) add warmth to this space again balancing the monochrome.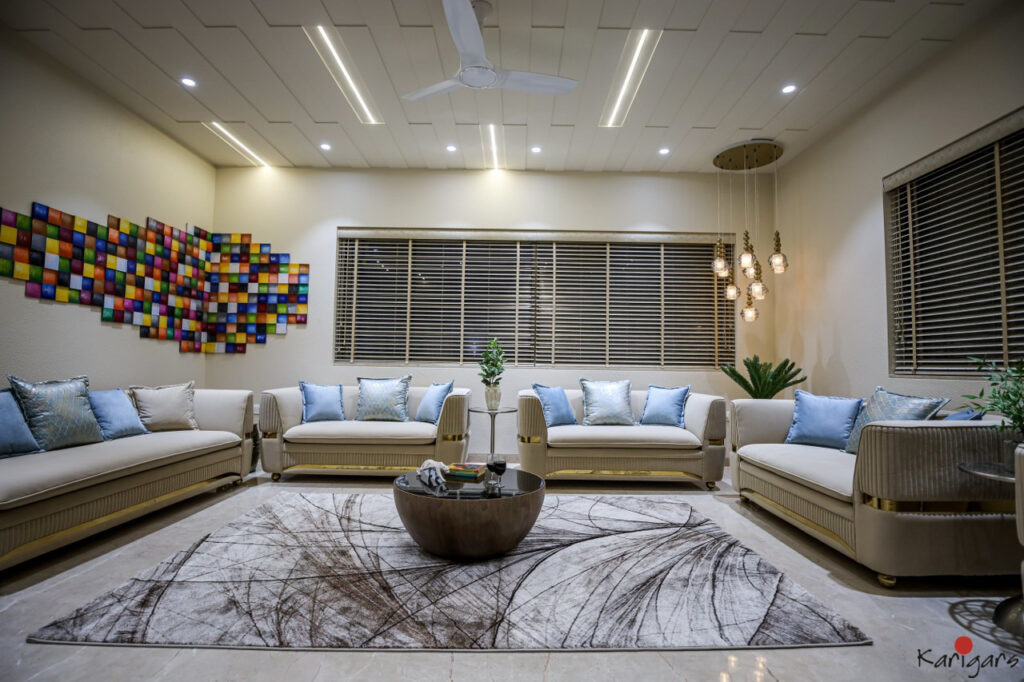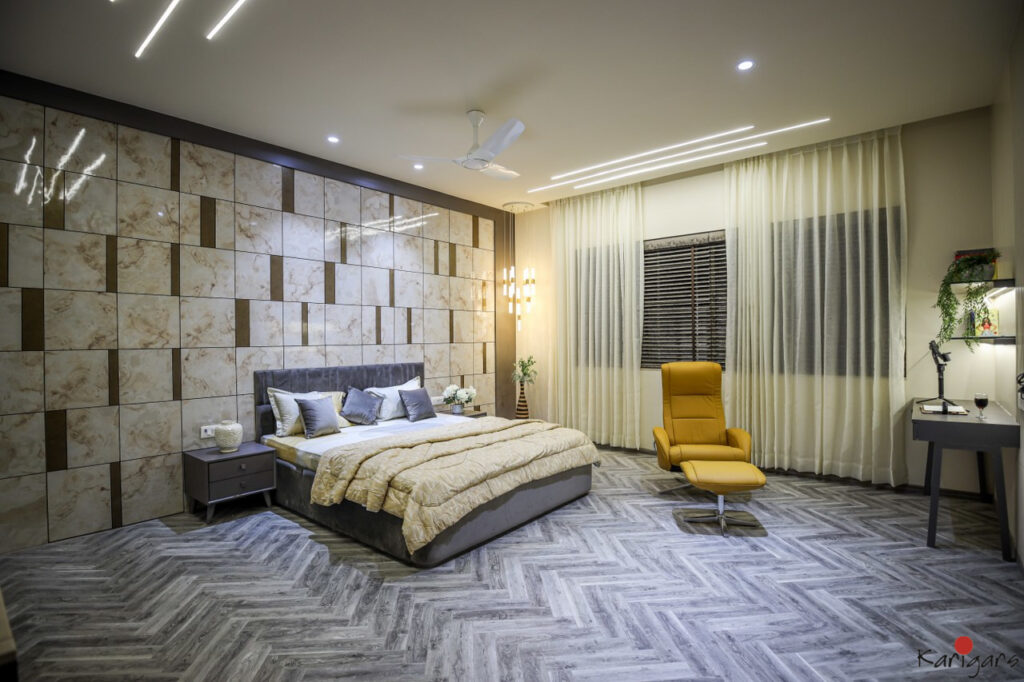 We espoused an approach of 'minimum furniture with maximum style. And as an effect the outcome is GF master bed room (parent's room) having the stylish mustard colour recliner. The bed back partition is having dressing entry door merged in design so to maintain the continuity of design.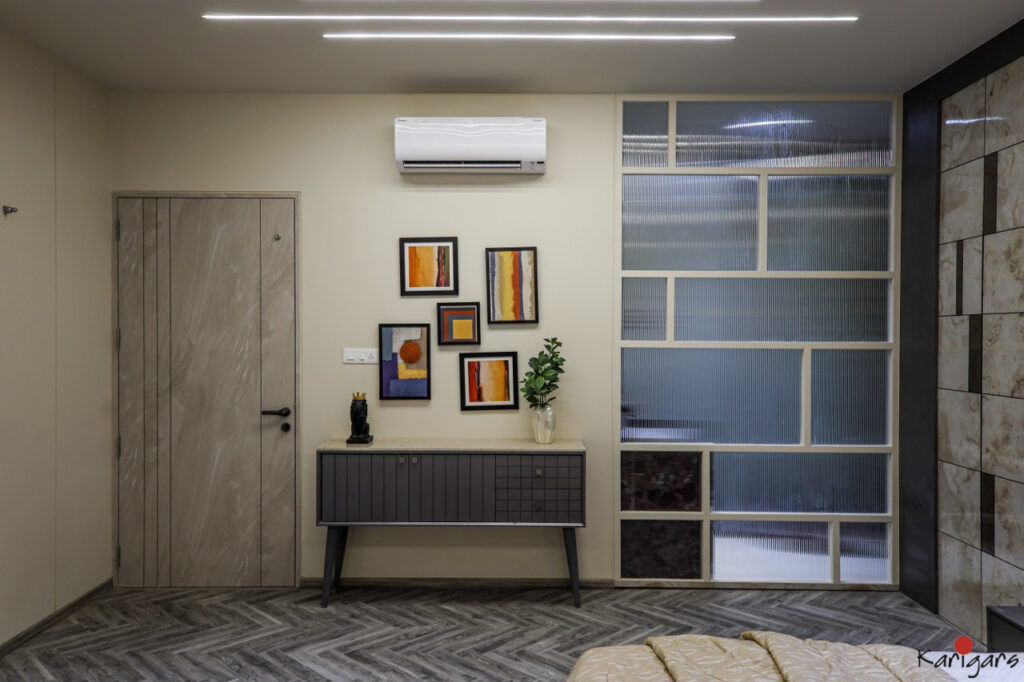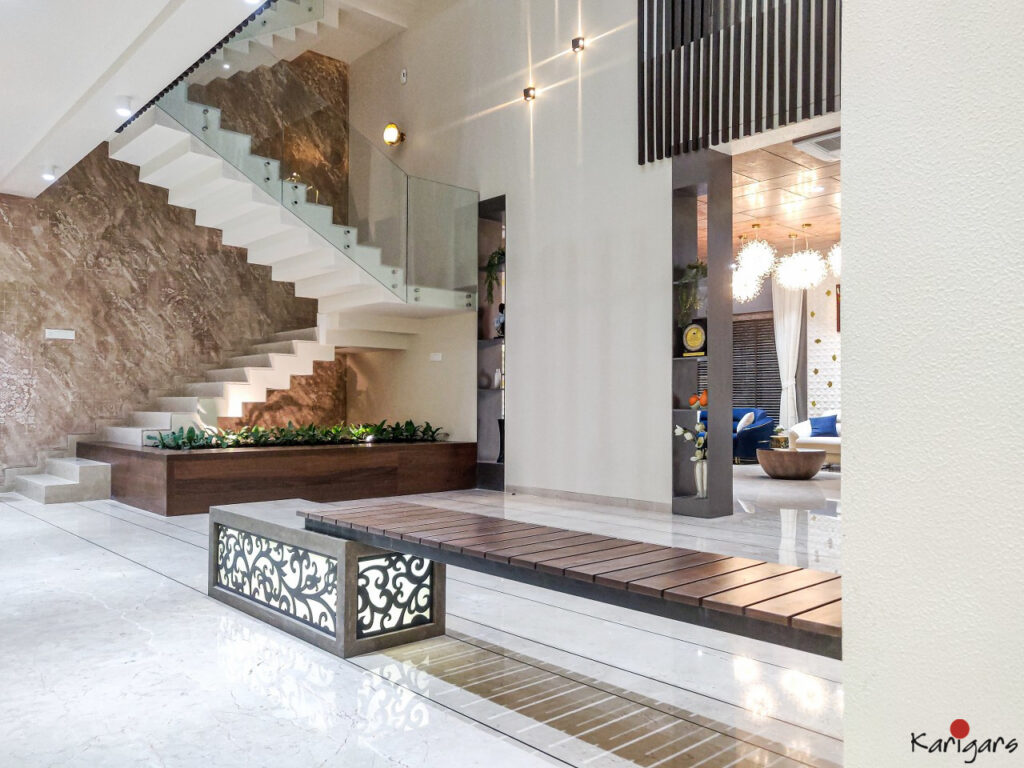 The family room space is design inter connected with courtyard which is an interconnection to the house horizontally and vertically that is all floor rooms are well connected to each other making it easy to communicated within the residence space.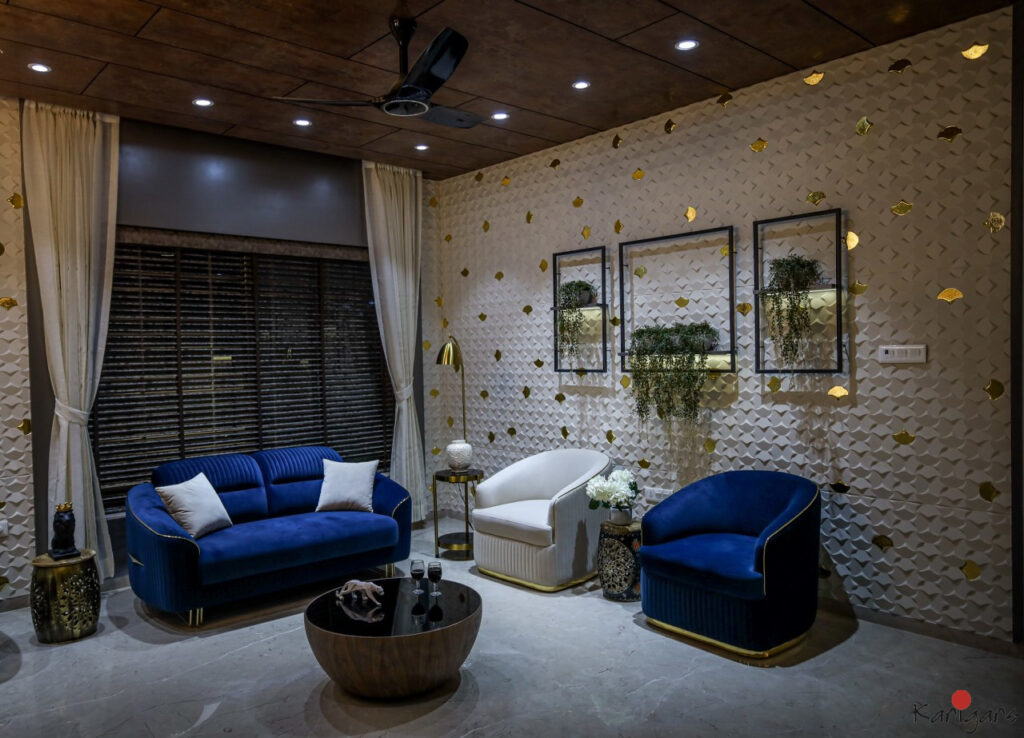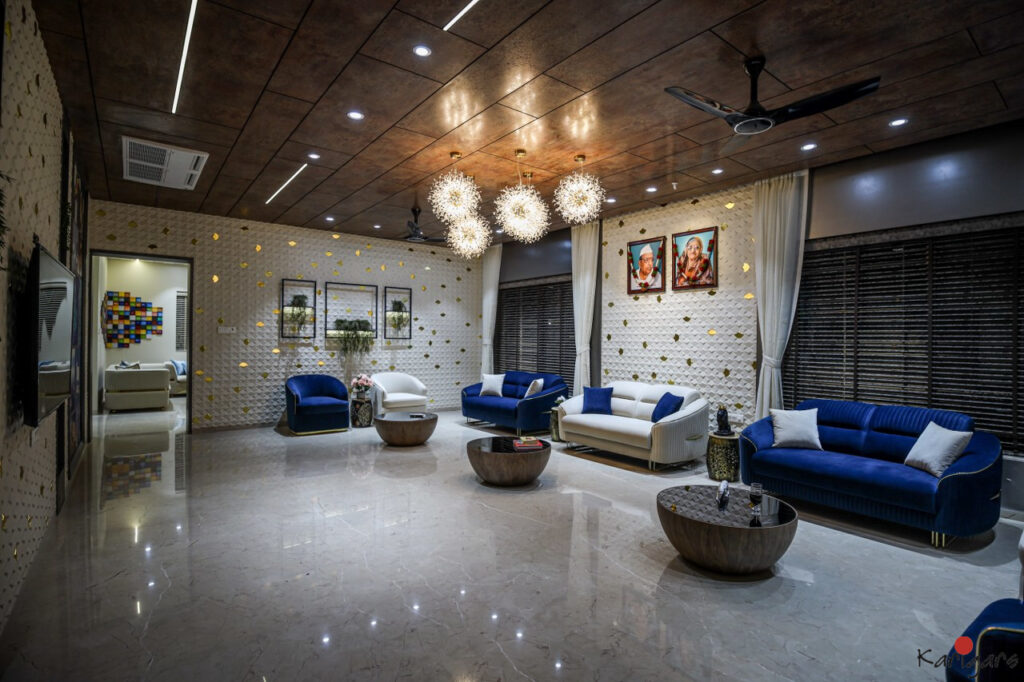 The walls of family room are paneled with charcoal sheets deco finished and the golden leafing work is done randomly on it to break the monotony. The costume designed side wall MS frames having space to keep artificial creepers act as creeper stand and wall framed art. Beside TV unit in family room huge collage painting from floor to ceiling was done in costume designed printed canvas wall paper.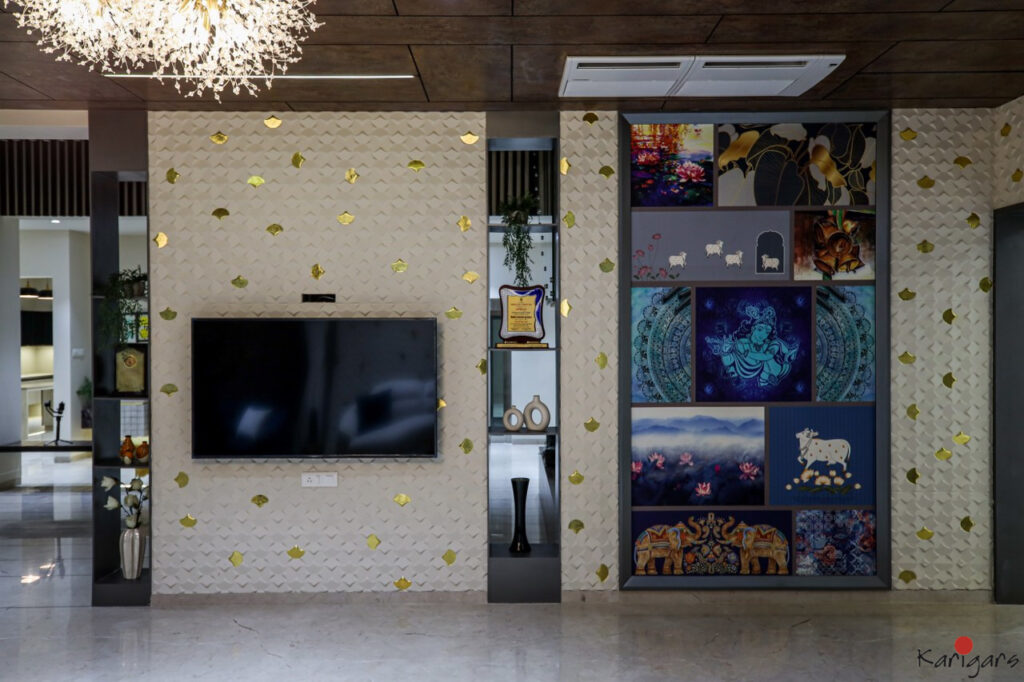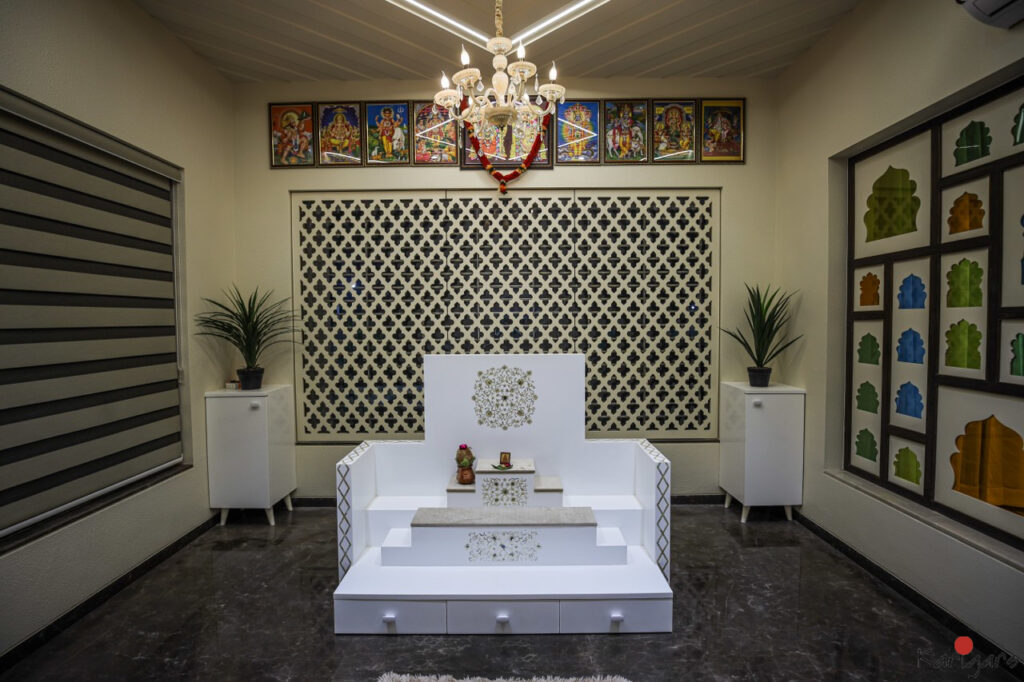 The puja room was designed keeping the puja area away from the wall instead of keeping it touched to the wall. The back window is covered with jali cutting in the east side window thus adding playful morning sunlight to the space. Puja area is done in solid acrylic material inlayed with mother of pearl.
And back wall is done in wall paper of cows having feeling of emboss effect. And the partition dividing the puja room and dining area was done in glass with warmth colours having zharokha cuttings which delightfully merges the traditional and modern forms.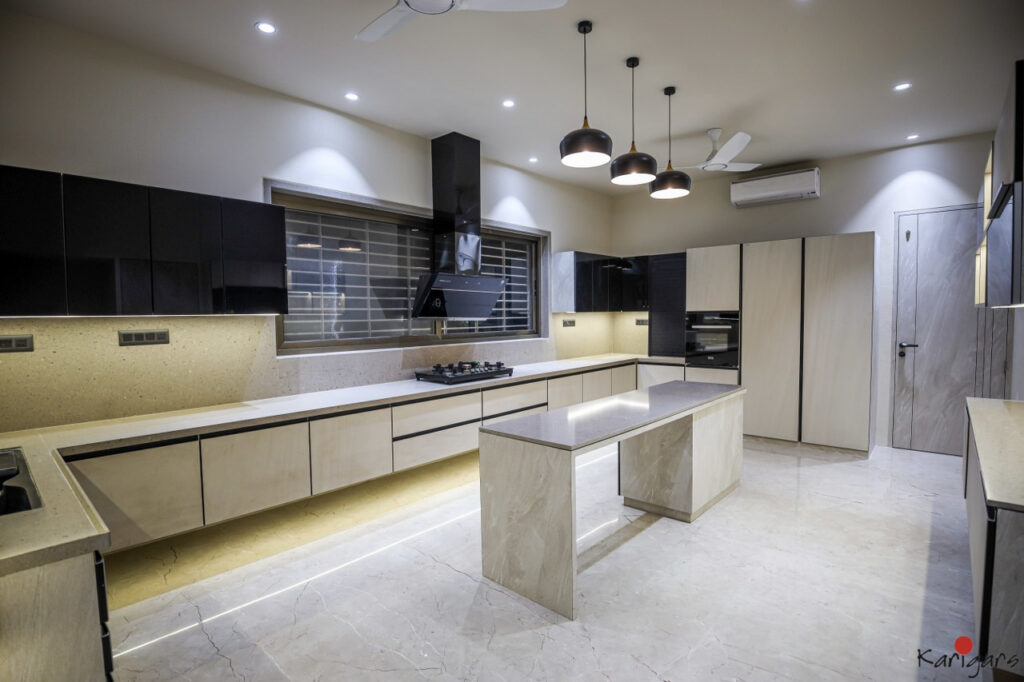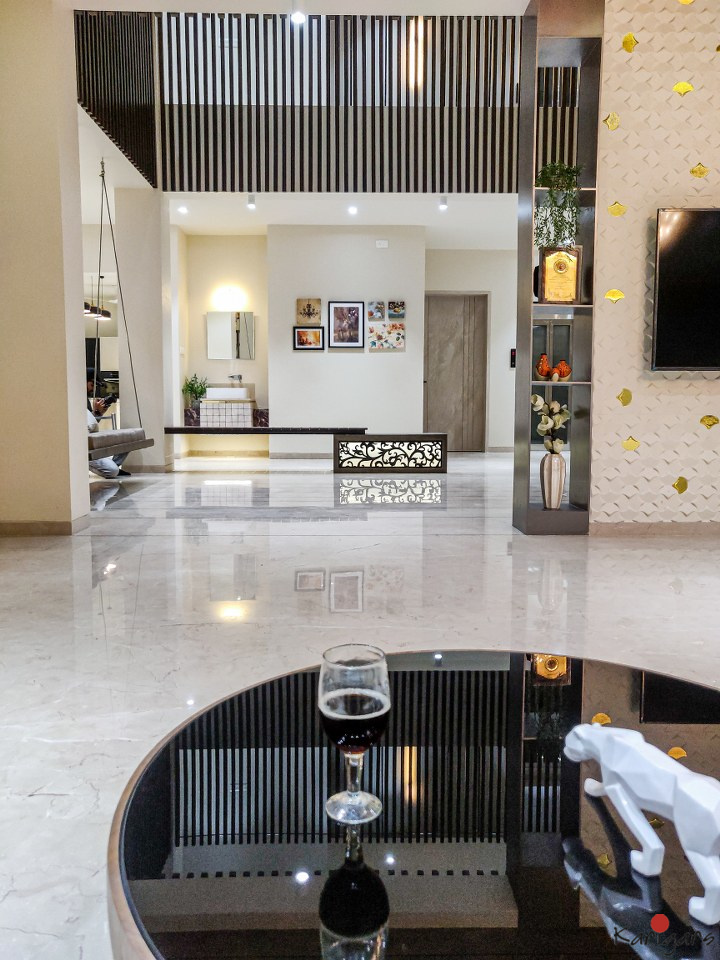 The prime attraction of house is the triple height central courtyard (brahamsthan) that starts with a stenciled texture painting from Asian paints and concluded with skylight on top situated in this central courtyard.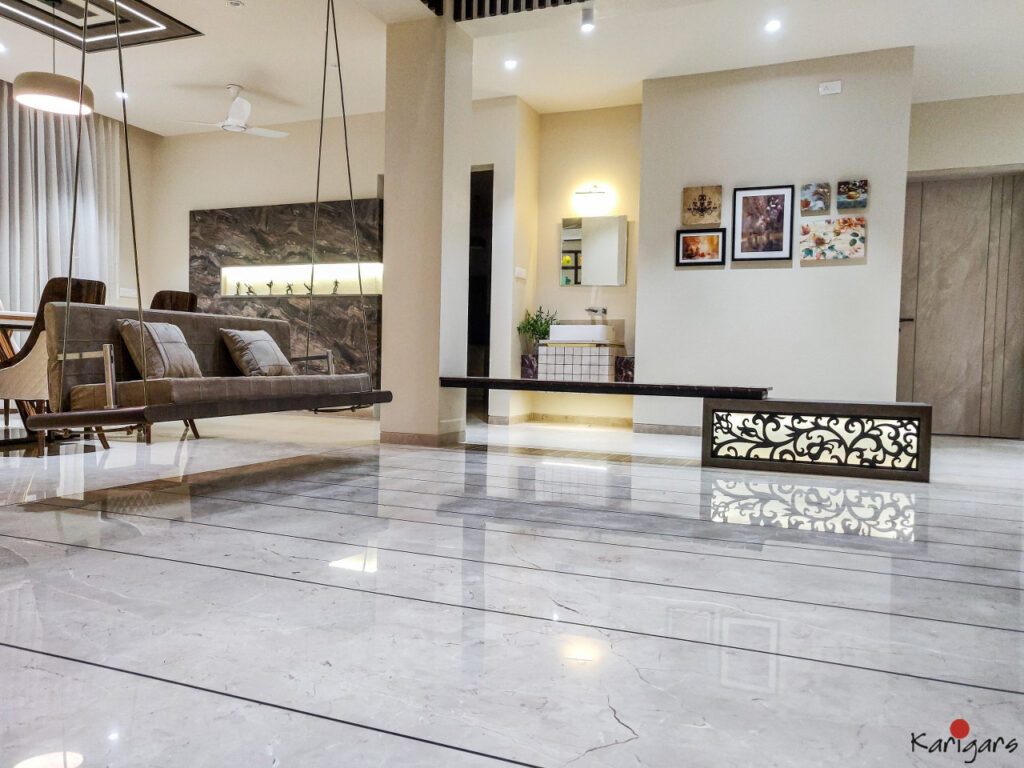 Tastefully designed folded staircase which is extended at ground floor below the second flight to create the landscape and sit-out. And the opposite side is having a custom designed zhulla with 180 degree rotating backrest. And beside the zhulla there is fix bench sitting resting on column on one side and backlit laser cut zali box on other side.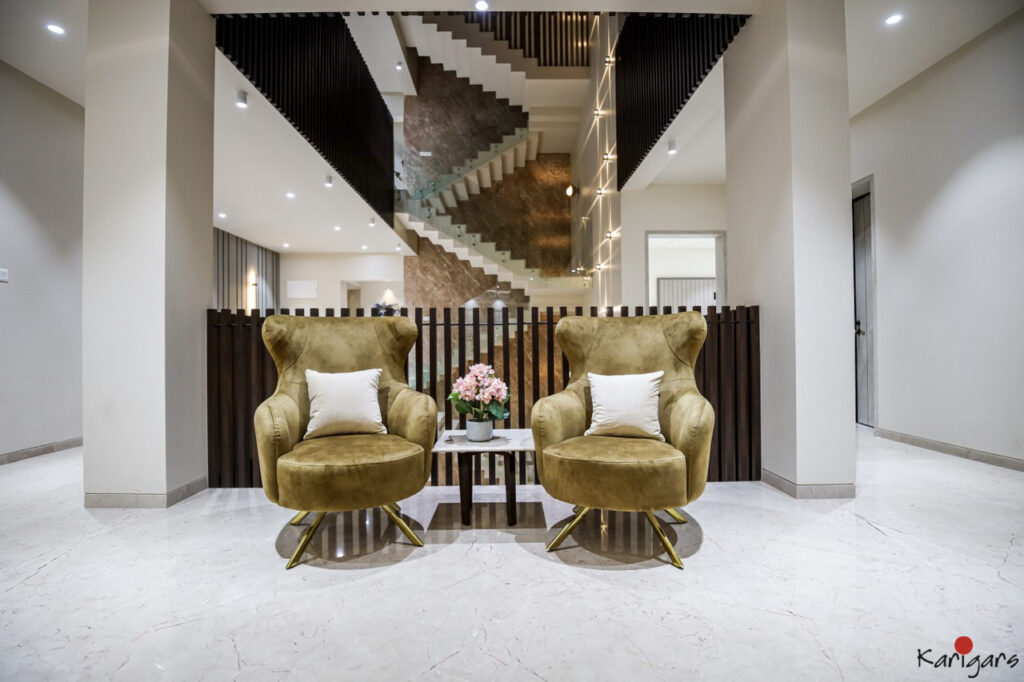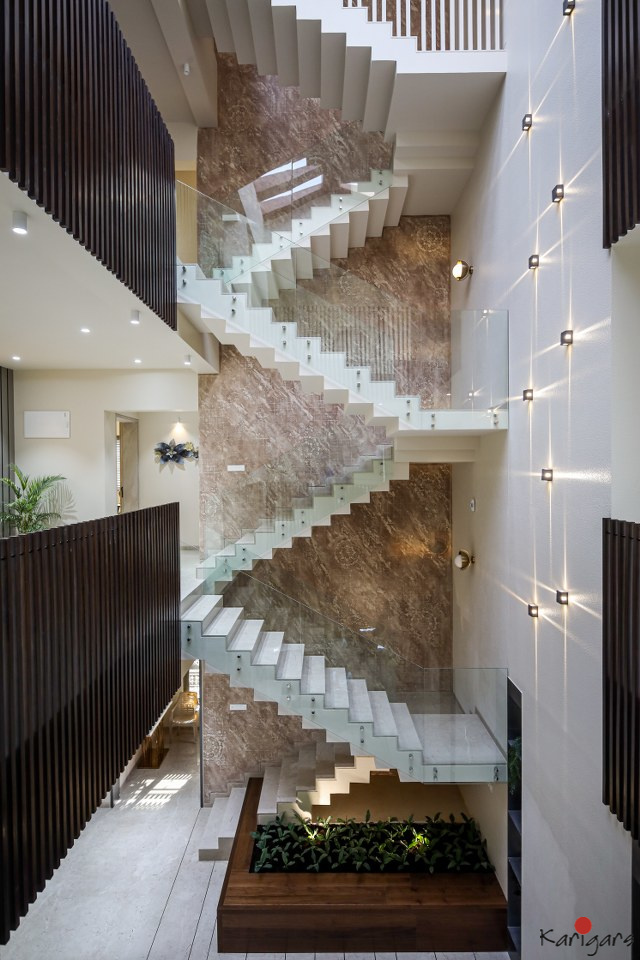 Thus makes the perfect place for the family gatherings. Italian marble flooring in courtyard is inlayed with black granite which helped in breaking the continuity of the Italian marble in ground floor.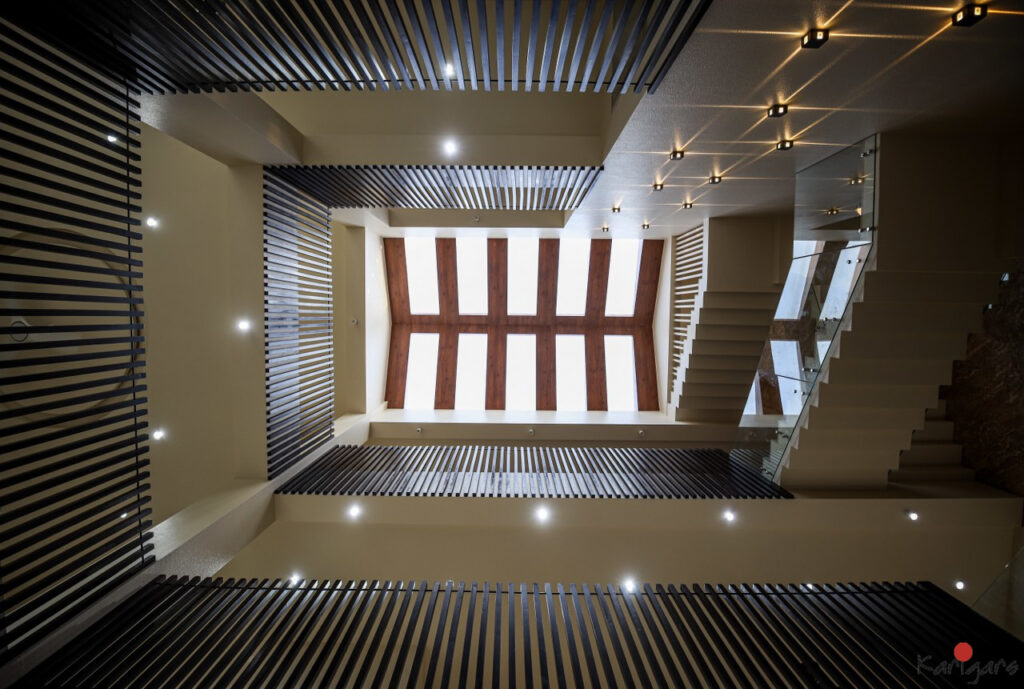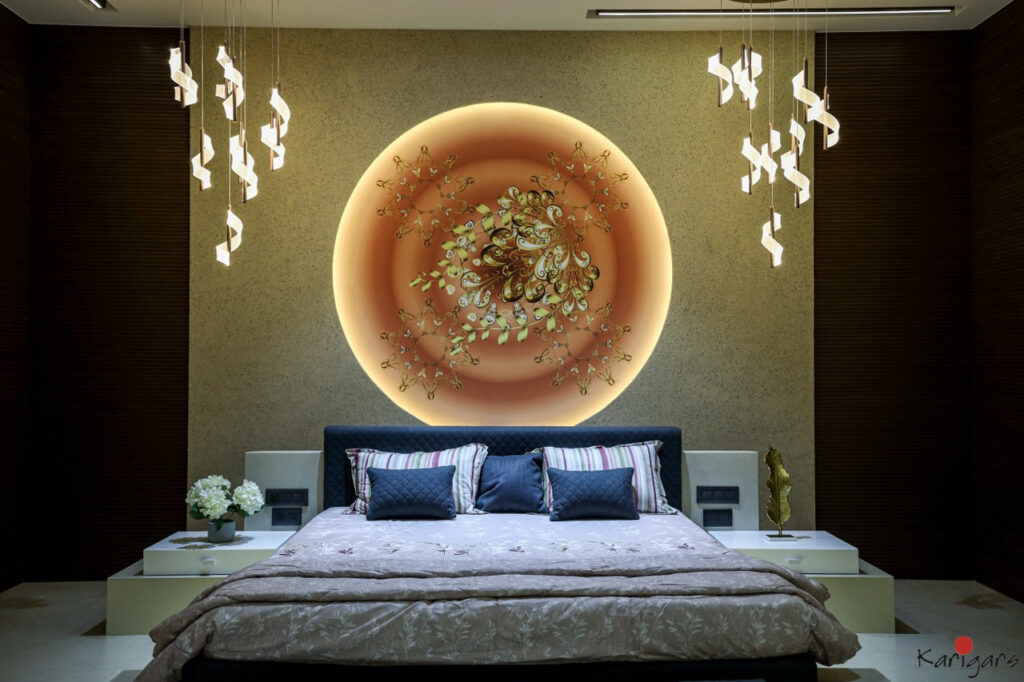 Ritesh bed room is having a floating bed supported from both sides. One side rest on side table box and other side on the sit-out in front of bed. The most striking feature of this room is the printed canvas painting in full circle and two half circles, behind the bed and above the console table respectively, surrounded by sand faced texture which again is sided with wooden louver. Thus, the multiple different finished and material with the balanced use give the room a dramatic look.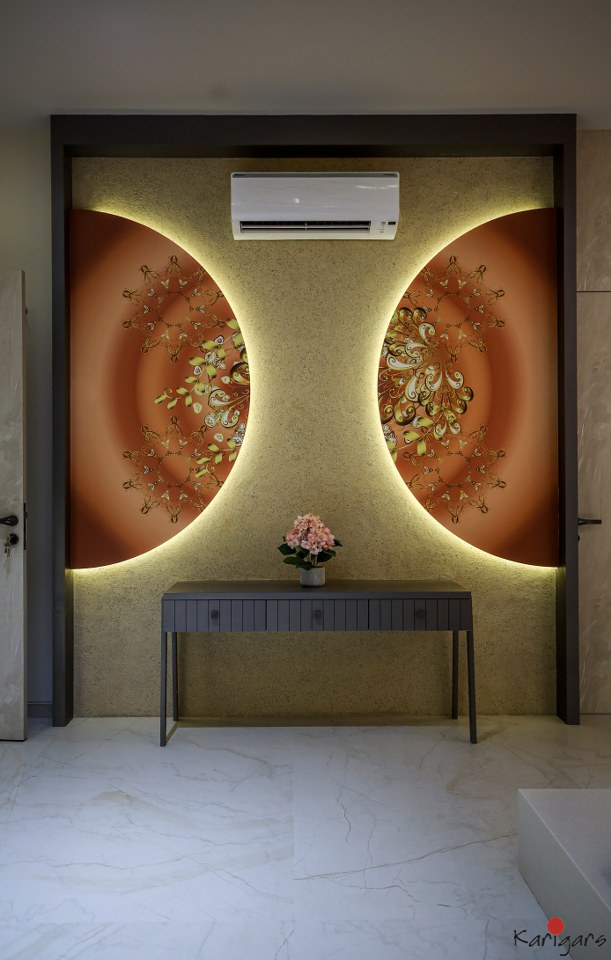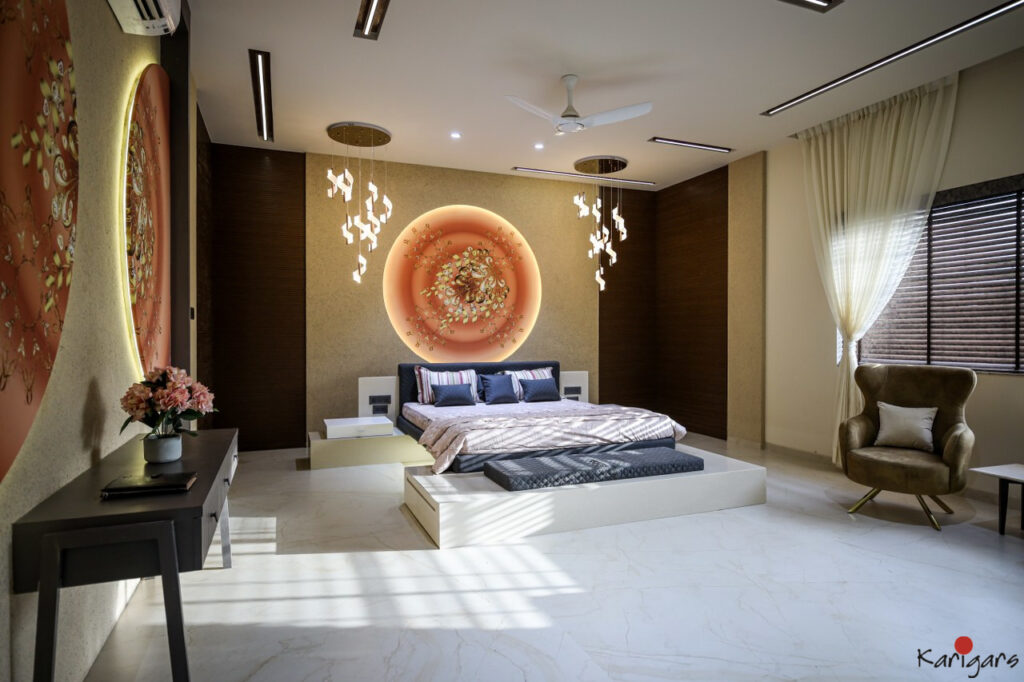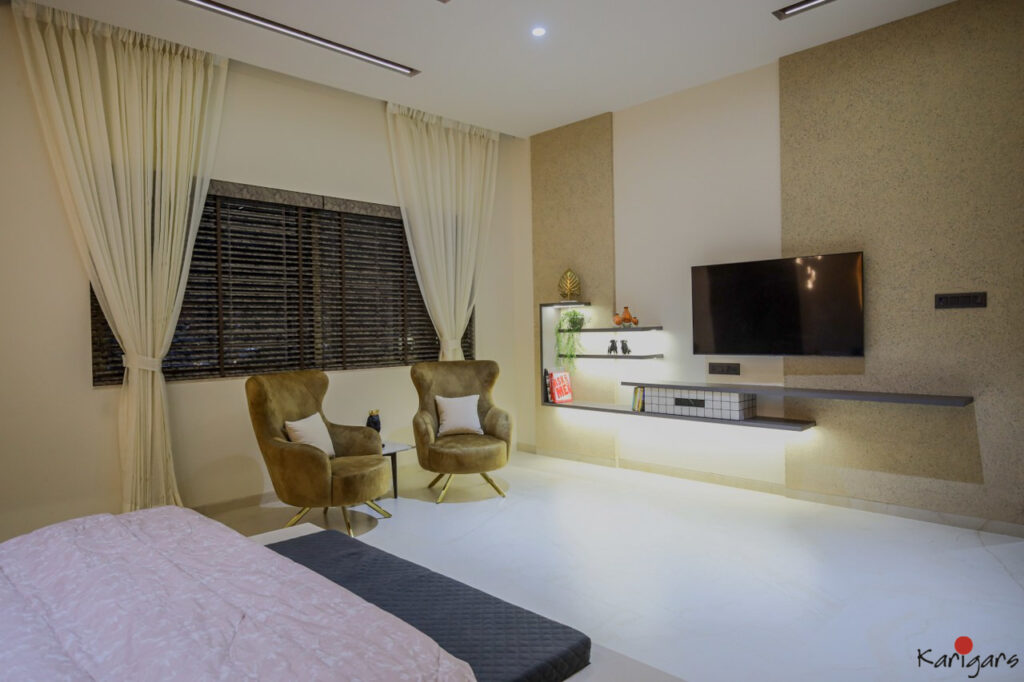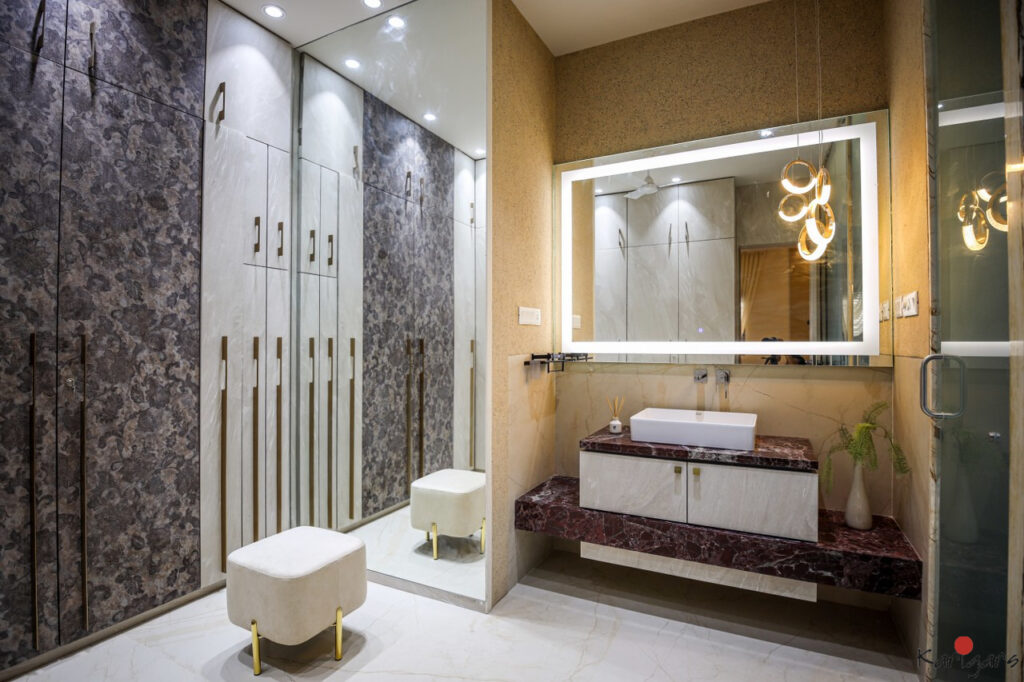 Bharat bed room is having the platform bed which is designed keeping in mind the client's requirement to accompany his two small kids with them. The bed back wall is having louver paneling continued to the ceiling, to break the design continuity the white deco paneling with painting on it is used.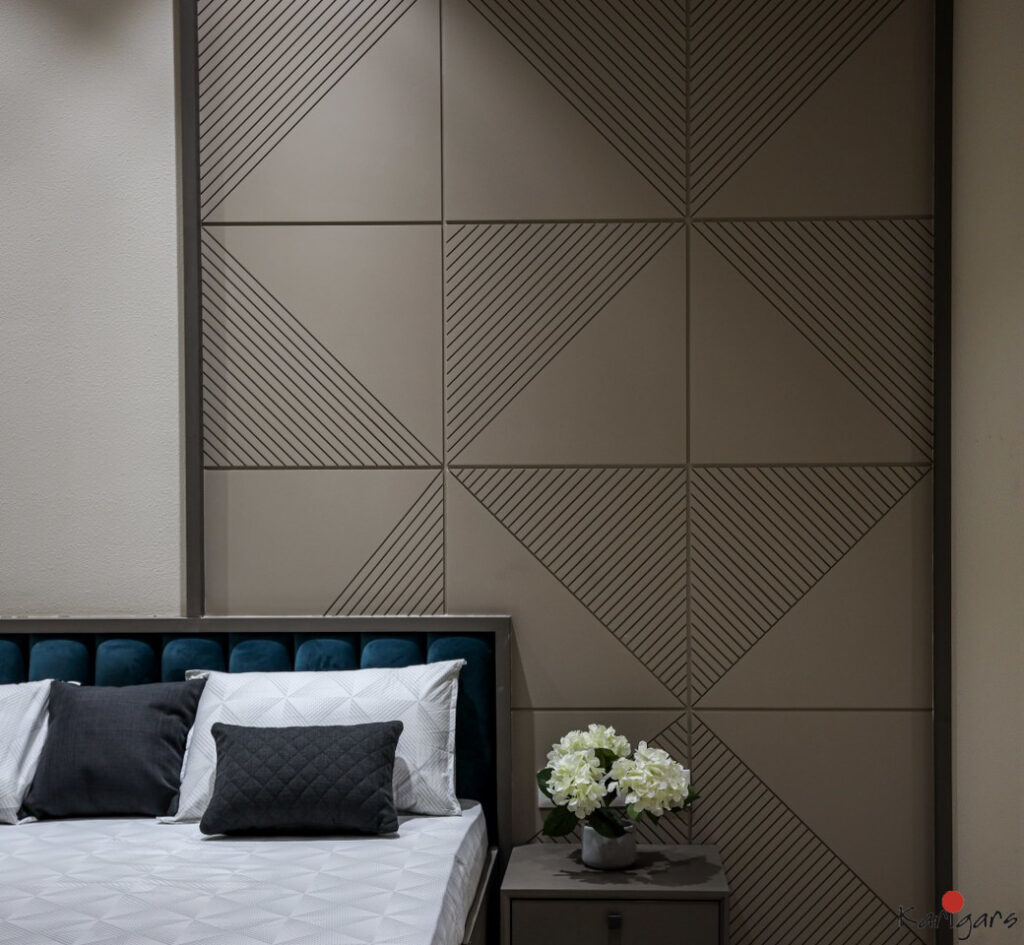 All bed rooms were designed keeping in mind the age group using it. The balance was very well kept between the neutral and warm color combination so that it won't over take the simplicity of space. Thus, making the space accentuated for the couples.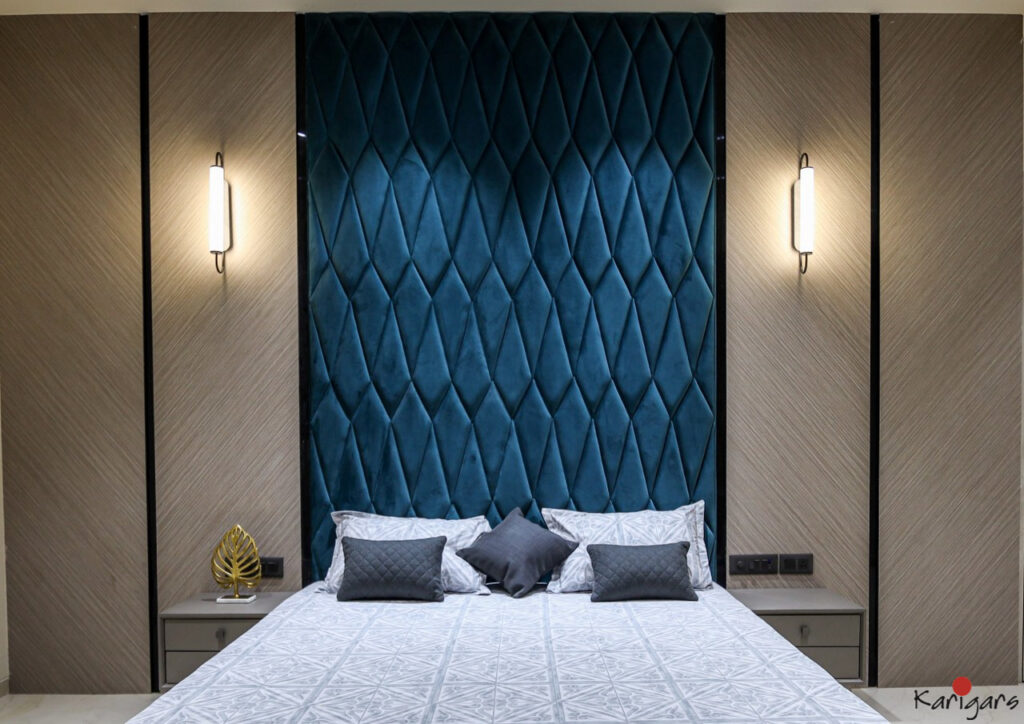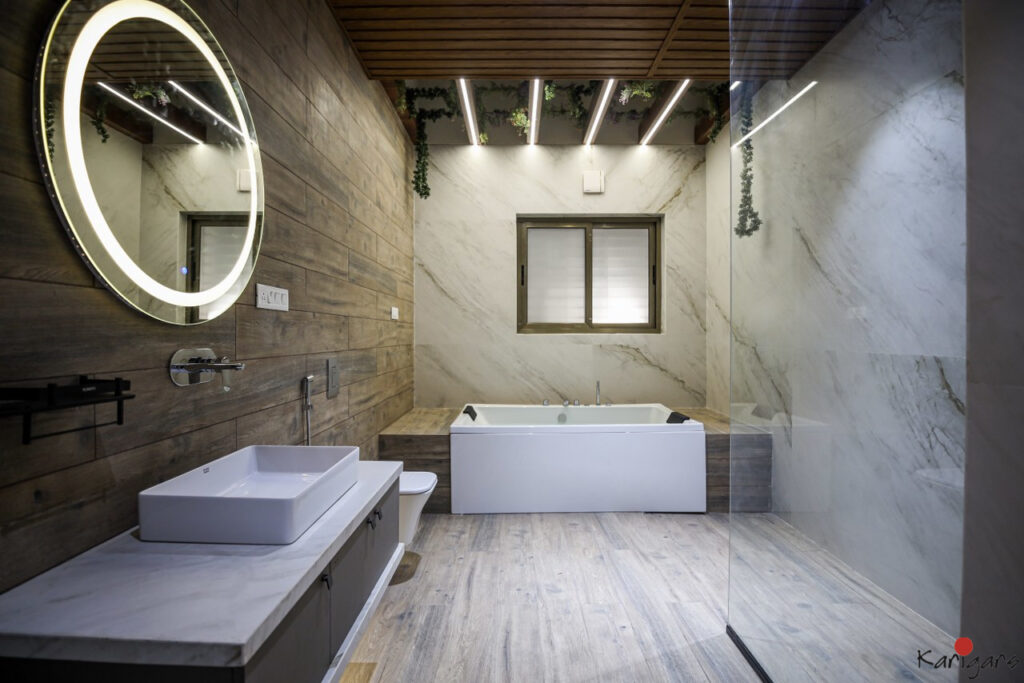 The children room is designed with a paly of colours and shape. One wall is covered with customized wall paper in orange and black.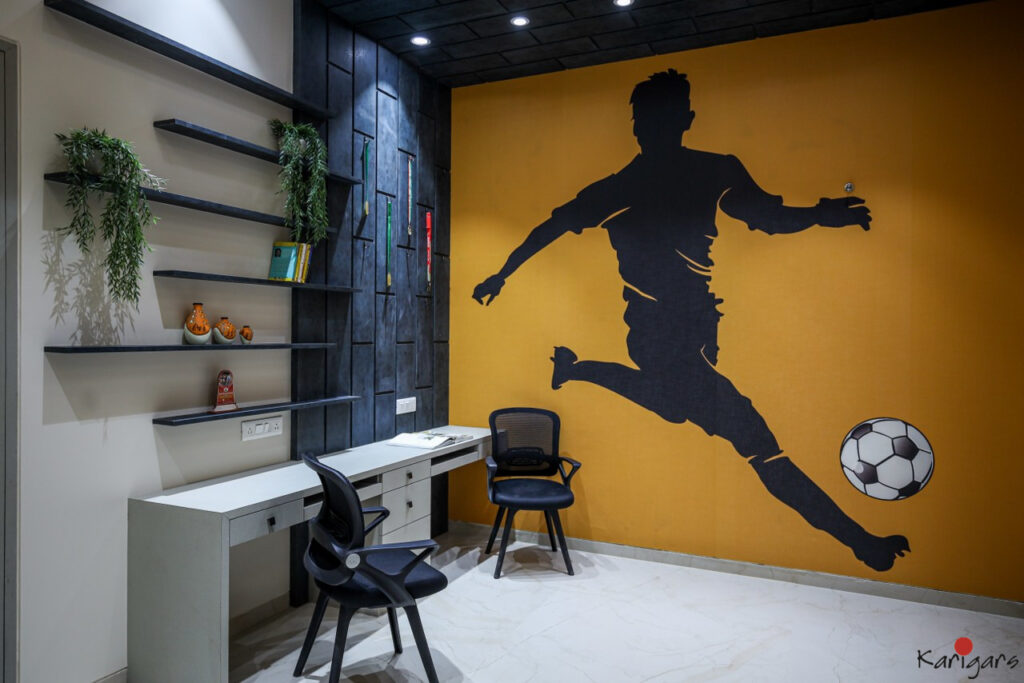 Exterior landscaping with water body back side and water fountain in front side add elegance to the project. The grooved bubble texture and stamped stone texture add depth to the building elevation.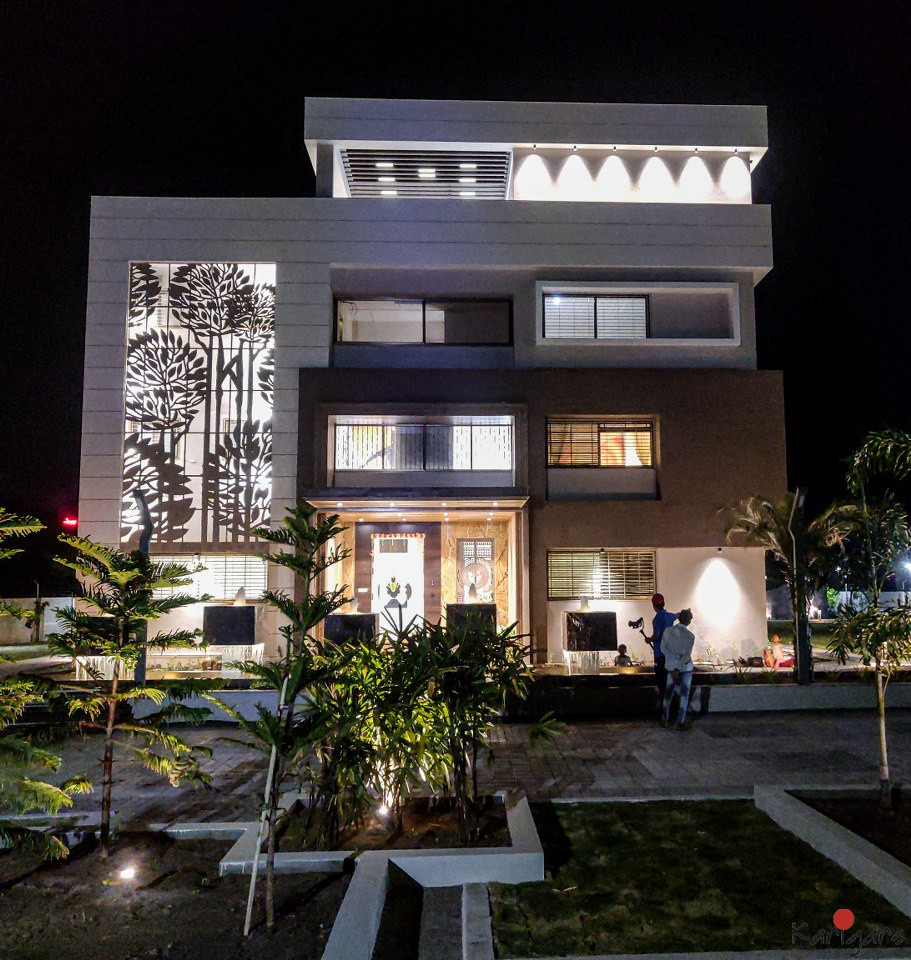 The design is close to our heart and also the most challenging part of the project was to cleverly hide the odd windows of wash room in west side's front elevation, which was achieved after some trial prototypes samples and then approved by us and client to do the composite sheet back-lit grill in west elevation of the project which was also supposed to look appealing in day time even without back-lit. Which later became an alluring effect of the elevation.
Designed by : 'KARIGARS'
Project Type : INDIVIDUAL BUNGLOW
Project Name : 'SAMADHAN' RESIDENCE
Location : JALNA, MAHARASHTRA
Year Built : 2022
Duration of project : 16 MONTH
Plot Area : 52800 Sq.ft
Built up : 14200 Sq.ft
Project Cost : 4.5cr
Principal Architect : VIKRAM KAPOOR
Team Design Credits : PRIYANKA KAPOOR
Products / Materials / Vendors : Lighting – WHITETEAK / Sanitaryware – GROHE & AMERICAN STANDARS / Facade Systems – ACP LOUVER REYNOARCH, BUBBLE TEXTURE, STONE TEXTURE / Windows – DOMAL SECTION ALUNINUM ANODIZED WINDOW / Furniture – COUSTOM DESIGNED FIX FURNITURE Flooring – ITALIAN MARBLE, GREENPLY WOODEN FLOORING, SIMPOLO, RICCO COLLECTION TILE Kitchen – HETTICH HARDWARE AND MAKWANA SHUTTERS / Paint – ASIAN PAINTS & TEXTURE / Artefacts – ARTEVENUE.COM, DEKORCOMPANY.COM, PURE HOMEANDLIVING.COM / Wallpaper – COUSTAMIZED PAPAER / Hardware – ENOX, HETTICH.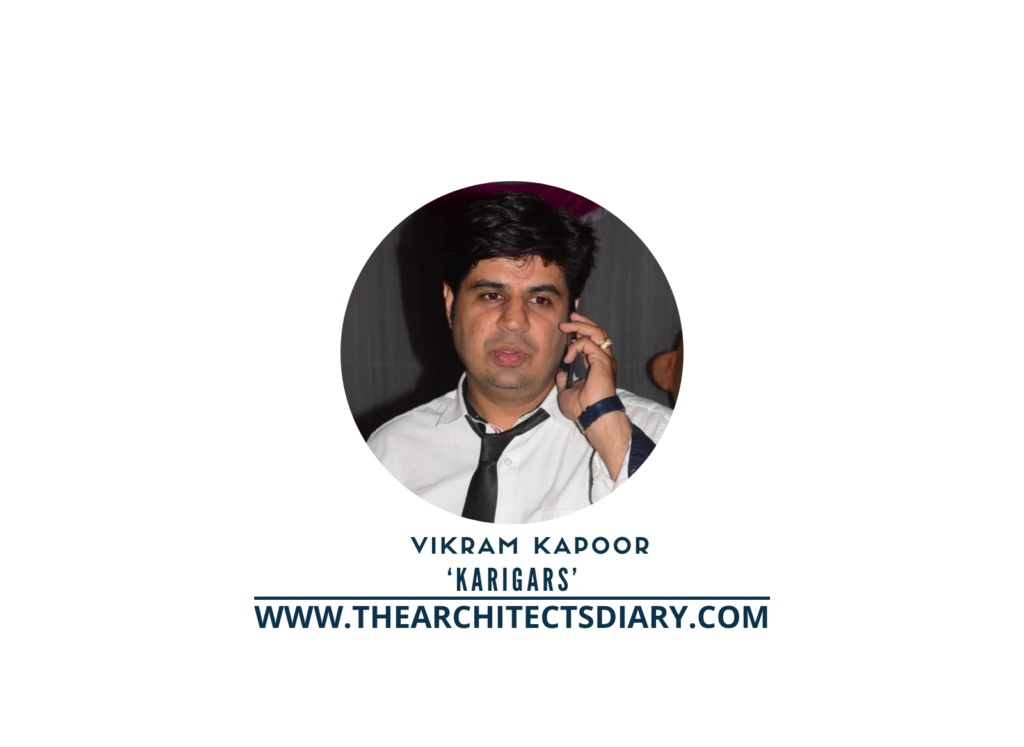 Firm's Instagram Link : 'KARIGARS'
Firm's Facebook Link : 'KARIGARS'
For Similar Project >> THE RIGHT BALANCE OF THE TRADITIONAL AND THE MODERN DESIGN