&nbsp
This 2200 sq ft residence is located at northwestern region of Ahmedabad at Panchamrut greens society. The built form if discussed through architectural lens, is based on modern contemporary style. The client came up with the brief for having a residence that has traditional touch with the contemporary touch. Considering the brief, we came up with idea of syncing both the styles and through different elements, coexistence of both styles can be done. The home is designed for the family having three generations and simultaneously all their values must be reflected in their residence.
Indian Contemporary Artistic Residence with Play of Hues and Texture | Studio Invoke
Visit: Studio Invoke
Main door beholds the traditional elements and makes the entrance for the viewer to get acknowledged about coexistence of different timeline elements. The viewer is guided through diagonal lines running along the floors towards the complete spatial arrangements. Kota and jaisalmer stone combination are used for flooring.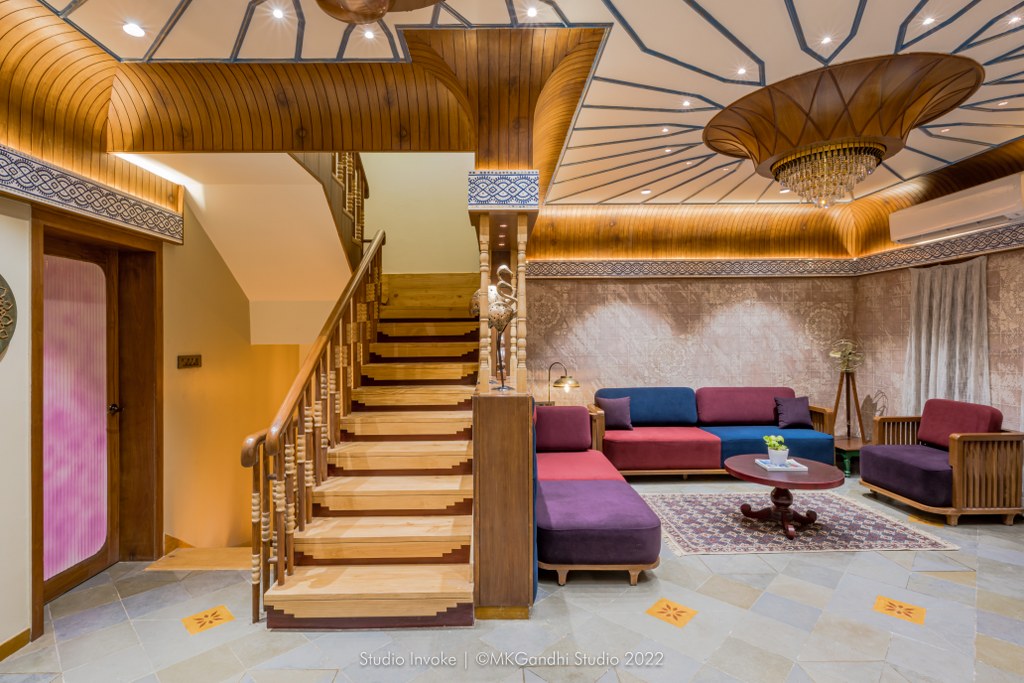 Diagonal lines are expanded in the ceiling too. Lines in the ceiling get dispersed from the centre curve structure, acting as focal point. The ceiling subconsciously guides users towards the center of living area and have their activities. Peripheral lining has been made of convex curves which shows the continuation of expansion of the centre curve element, making space seem wider. Wooden, colourful fabrics , textured walls , and artistic elements combined together to create a warm and cosy environment with a tinge of stimulating coloured upholstery.
Through walls, ceiling and artistic styling elements traditional touch is added. Staircase leads to the first floor and second floor. Indirect light has been used for better visibility which enhances the aesthetic value of the stair. Staggered railing pattern module inspired from sankheda furniture can be seen.
Through the living area, the kitchen can be distinguished through reclaimed wooden columns and brackets. They act as space dividing elements. Basin base has also been made of reclaimed columns which clients have sourced through their ancestral home. Kitchen workstation has been kept modern with all the utilities and traditional touch is given through dado material , colours and reclaimed columns, creating a drama in space.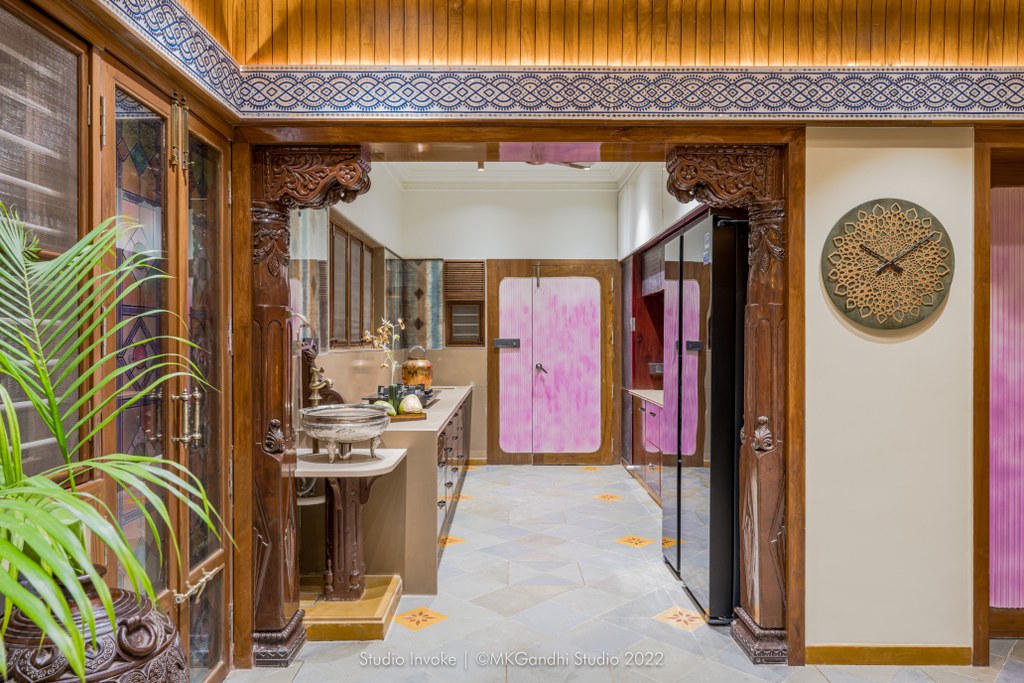 Every Bedroom has a different story to tell, it reflects the personality of the user of the room. Overall design language is Indian contemporary style. Wall colour and textures are the highlighting factors in all the bedroom spaces. Bed back are kept simple with solid hue fabric. Luxury, warmth, and sense of openness, such intangible aspects are kept intact in all the bedroom spaces. Different textures and elements are used in different rooms.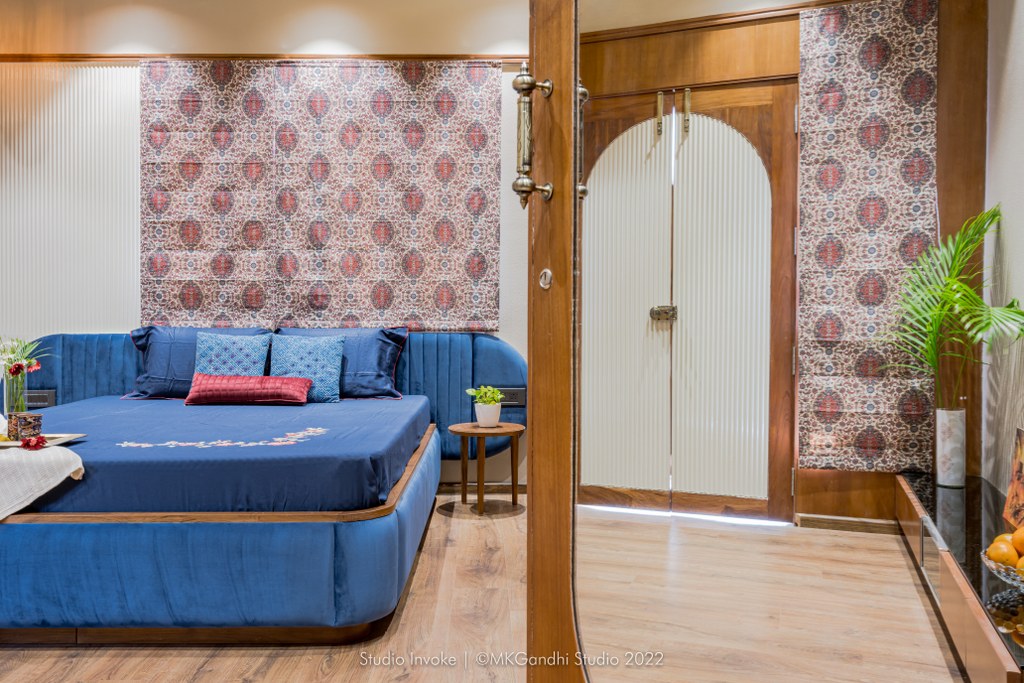 Master bedroom
Master bedroom reflects the owner's admiration for curves and flexibility. Composition of arches has been done in this space. Arches showcase modernity and the printed fabrics and textures add a traditional aesthetic to the space.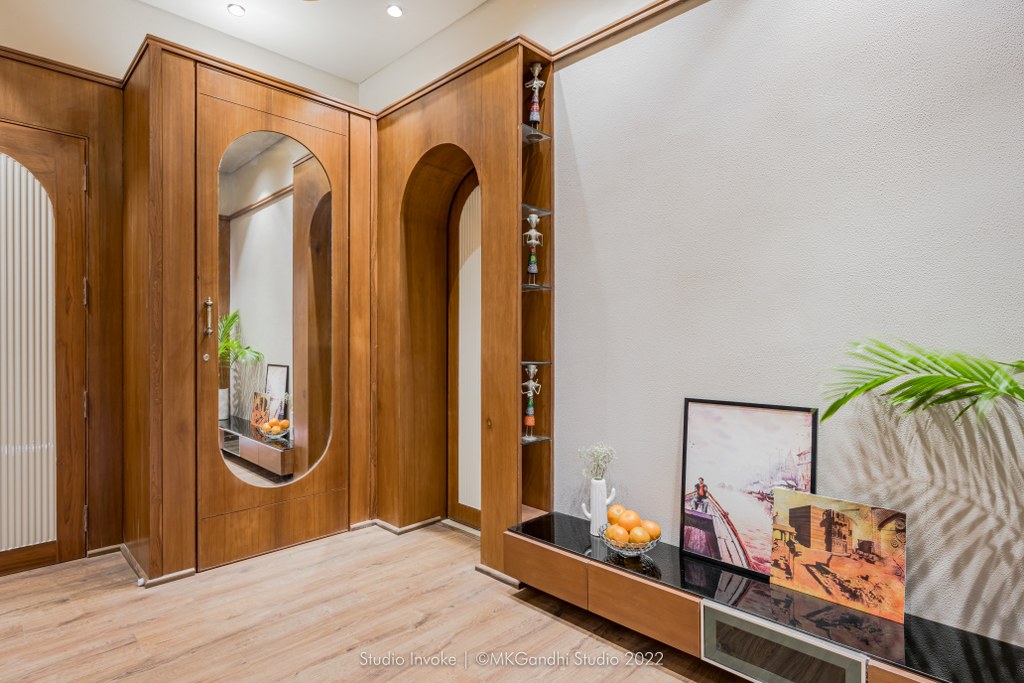 Guest bedroom
The approach towards guestroom was minimalistic. The sense of cosiness has been achieved through material like cane and light brown wood. Ceiling has been designed artistically in grid pattern and wicker mat has been used in ceiling with wooden grid.
Parents' bedroom
The complete room is reflected in the motif of bed back wall. The white palate used in room gives a sense of calmness. Symmetrical motif is used along with the mirror. Few parts of the wall are kept busy and for balancing it other parts are kept minimally simple. Two different approaches of design coexisting can be seen.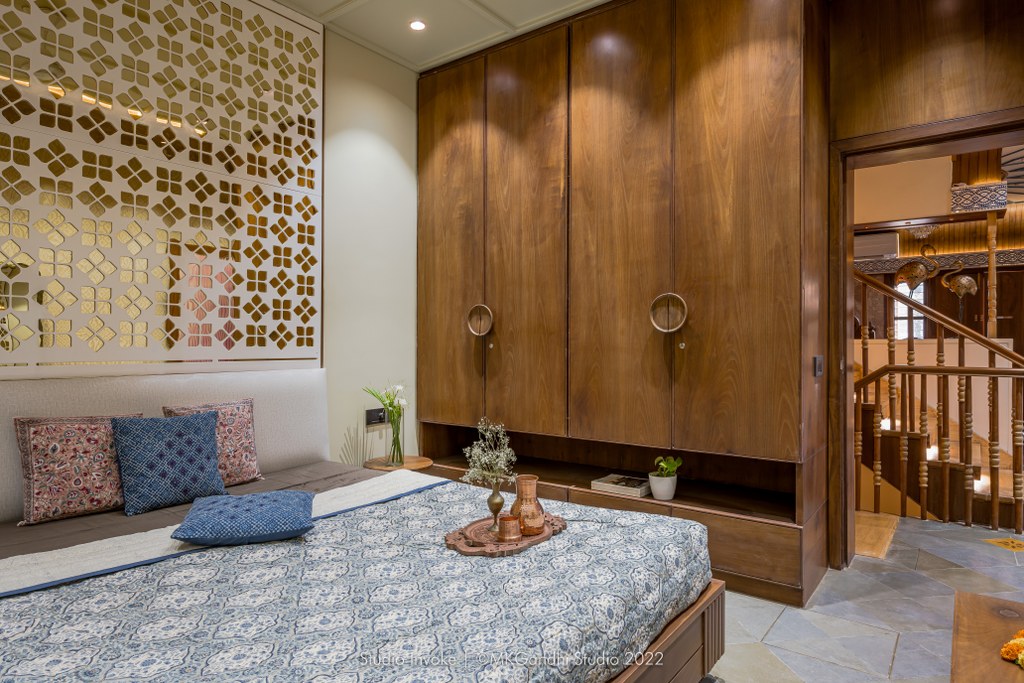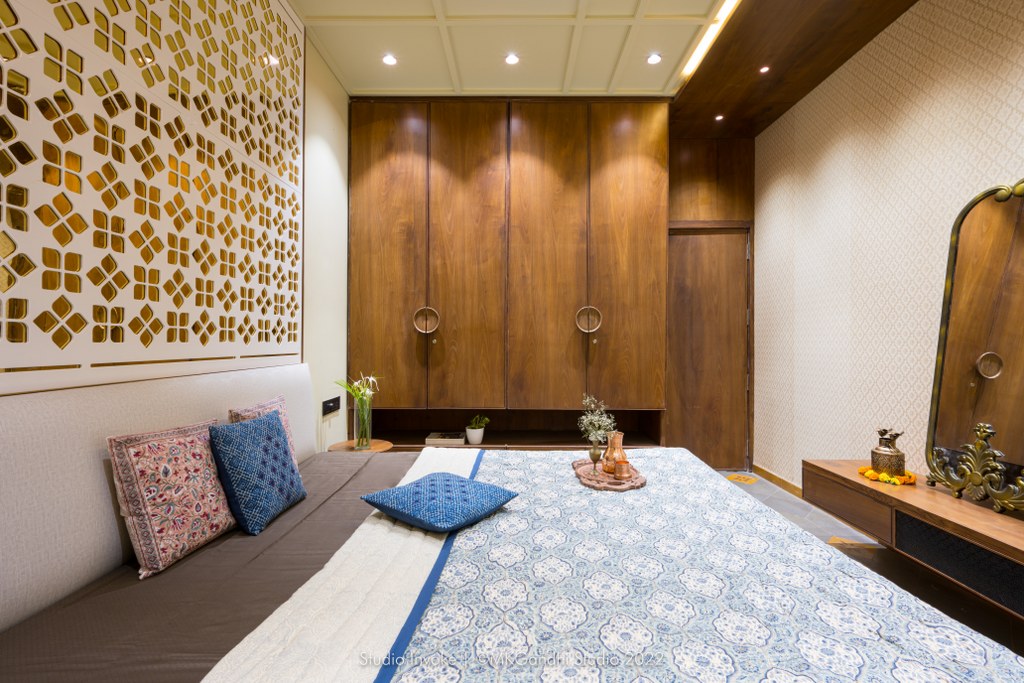 The Puja area is designed in an artistic manner, such that it reflects continuity throughout the dedicated space. Floral wallpaper has been used as backdrop for temple. The vibe of nature has been translated through the use wallpaper.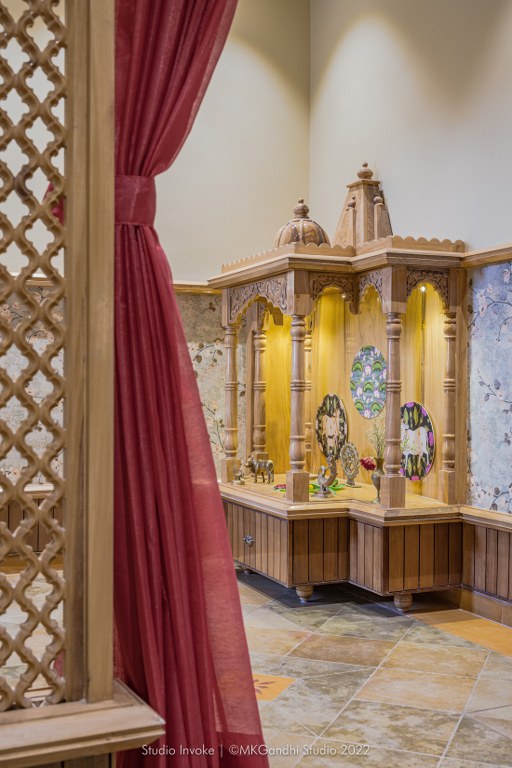 Son Bedroom
Duality can be seen in the son room, where two different experiences can be gained. Traditional arch composed windows with tinted glass are seen merging with the wardrobe and ceiling pattern. Traditional intricate floral Carved mirror has been designed in such a way that it can be used as reading corner too. Green and wine palate has been used.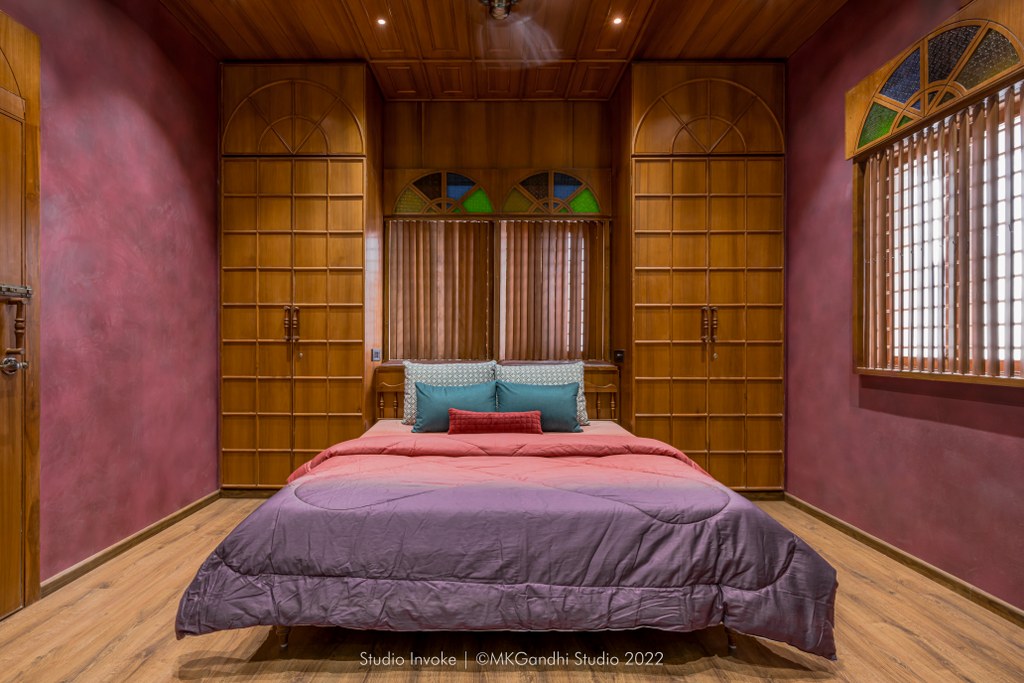 Fact File
Designed by: Studio Invoke
Location: Ahmedabad, Gujarat
Year of completion : 2021
Project Size: 2200 Sq.ft
Principal Designers : Ravi Dave & Anushi Shah
Design Team: Kartik Panchal, Arth Patel
Text credit: Hetal Mehta
Photography Courtesy : MKG Studio
Firm's Instagram Link: Studio Invoke
For Similar Project>>Resurgence Of Traditional Design Elements With Contemporary Elegance