Indian Bungalow Design | Vyanjan Kale Associates.
We were commissioned to renovate an existing Ground + 2 floor bungalow with a family of 5 members. The bungalow was originally built in 2009. Over the period of time, the life style, needs and aspirations of client changed, their children grew up, so they realized their home needed a complete change to suit their today's needs and taste. After visiting the site we suggested some changes in their ground floor plan. A lift block was added that would go up to 2 floors. Internal walls were removed, living room & dining area is converted in one space.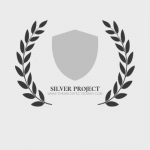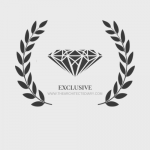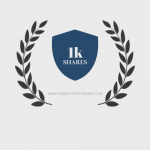 Visit:Vyanjan Kale Associates.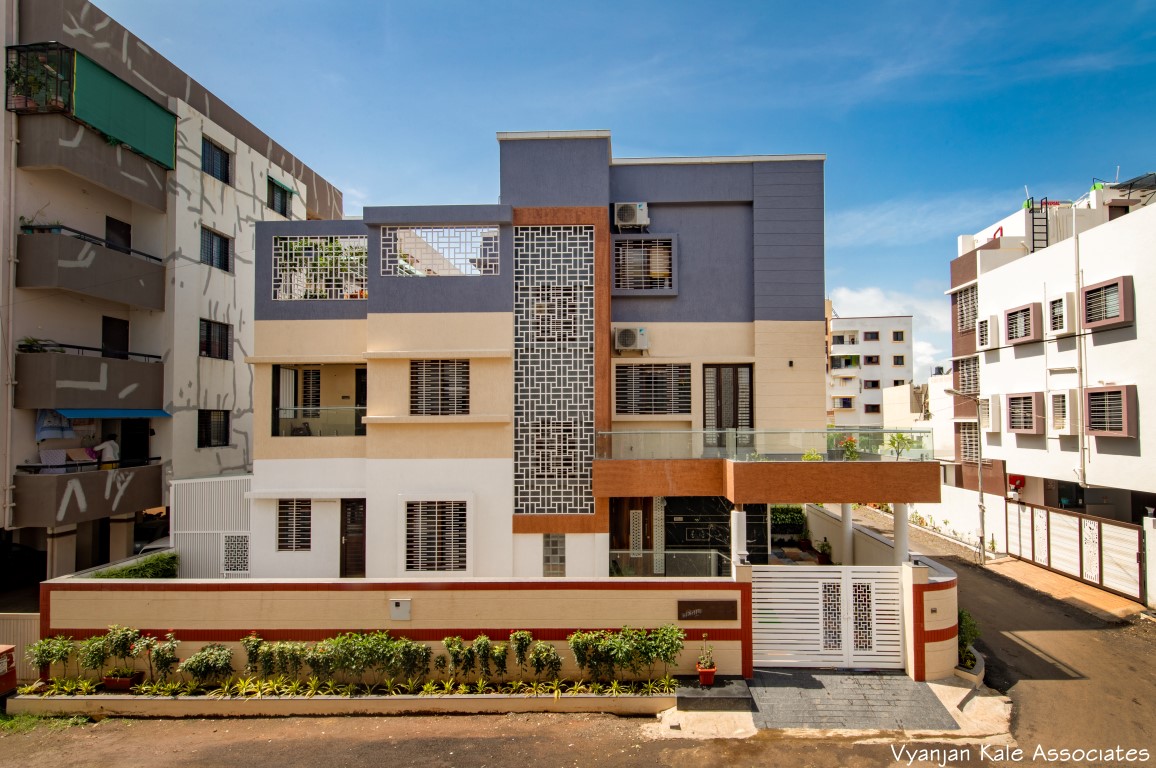 The main door was designed as a welcoming element; it consisted of black lappato finished granite, on wall and flooring, which is complimented by veneer, faced main door and natural planter. Main door is made in veneer, customized MDF jali.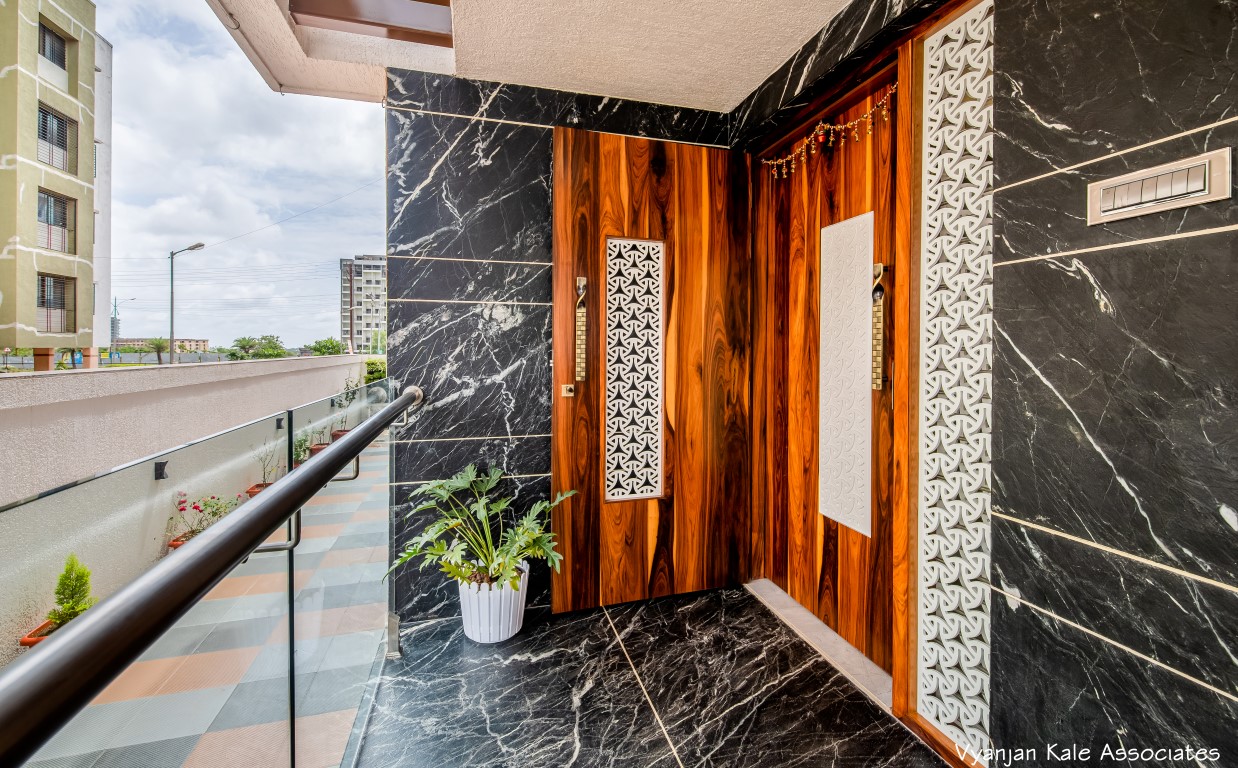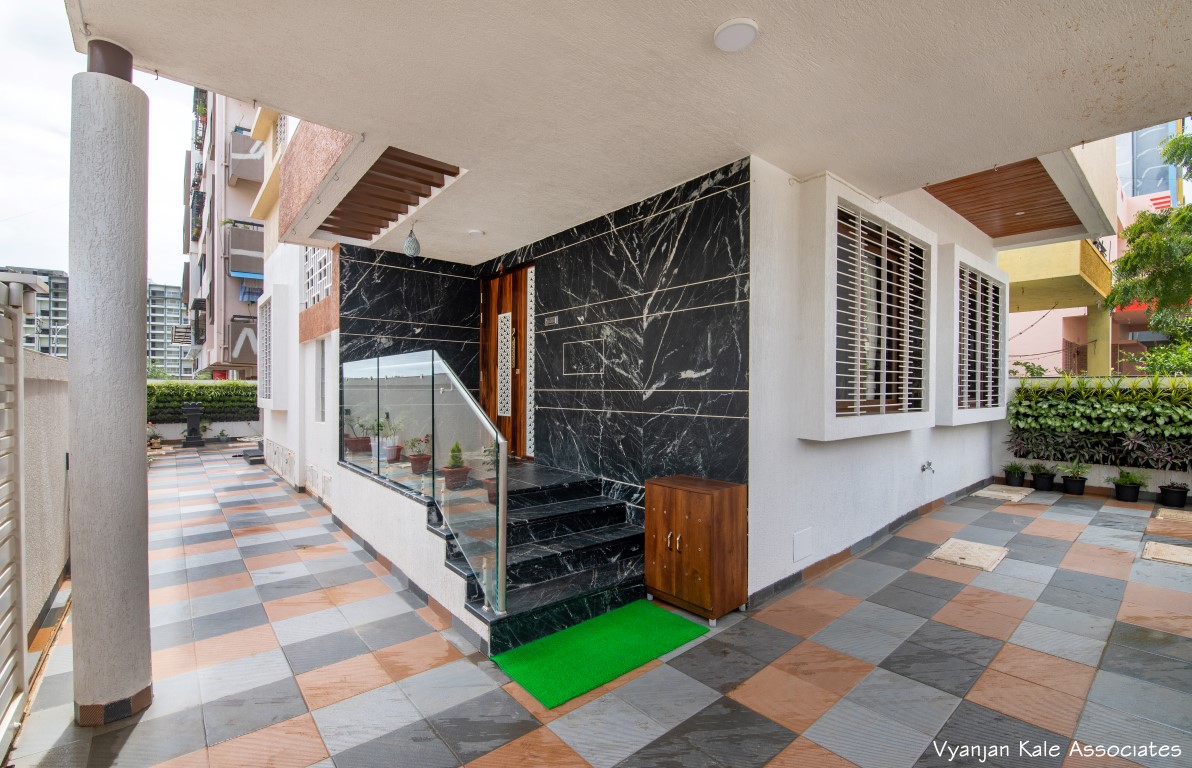 On entering the living space we see 3, 3-seater sofa and beautifully articulated TV unit. Huge sofas were added, as clients brief was to accommodate his friends and family when they all come together for functions. Sofas were purposely pitched in bright colours. Living room is a combination of veneer, MDF sheet, wallpaper and morning glory colour on wall surfaces.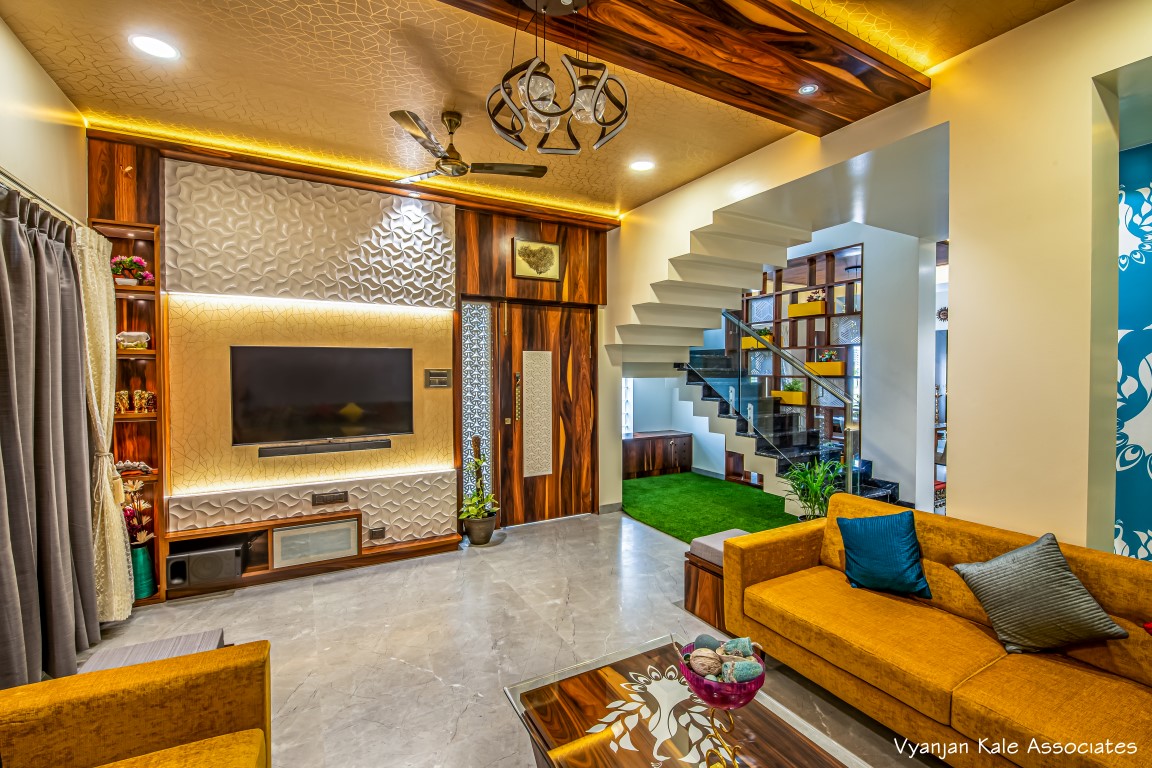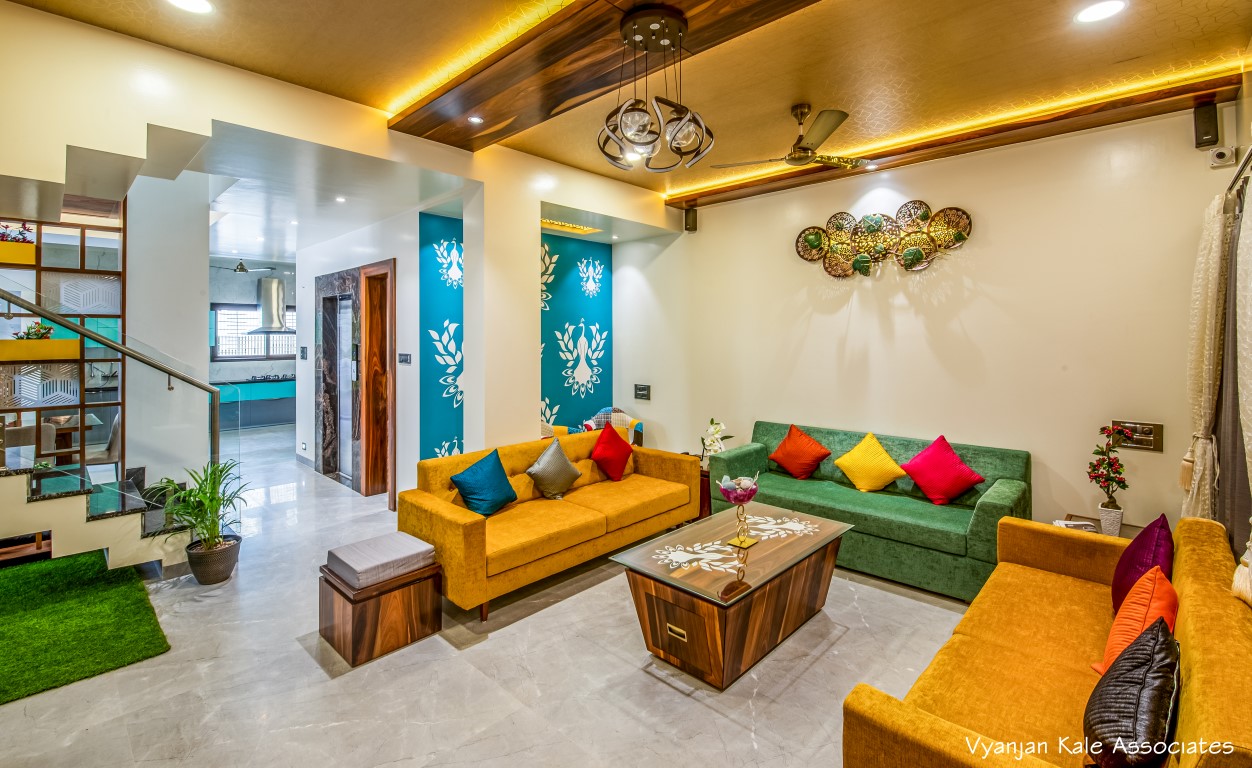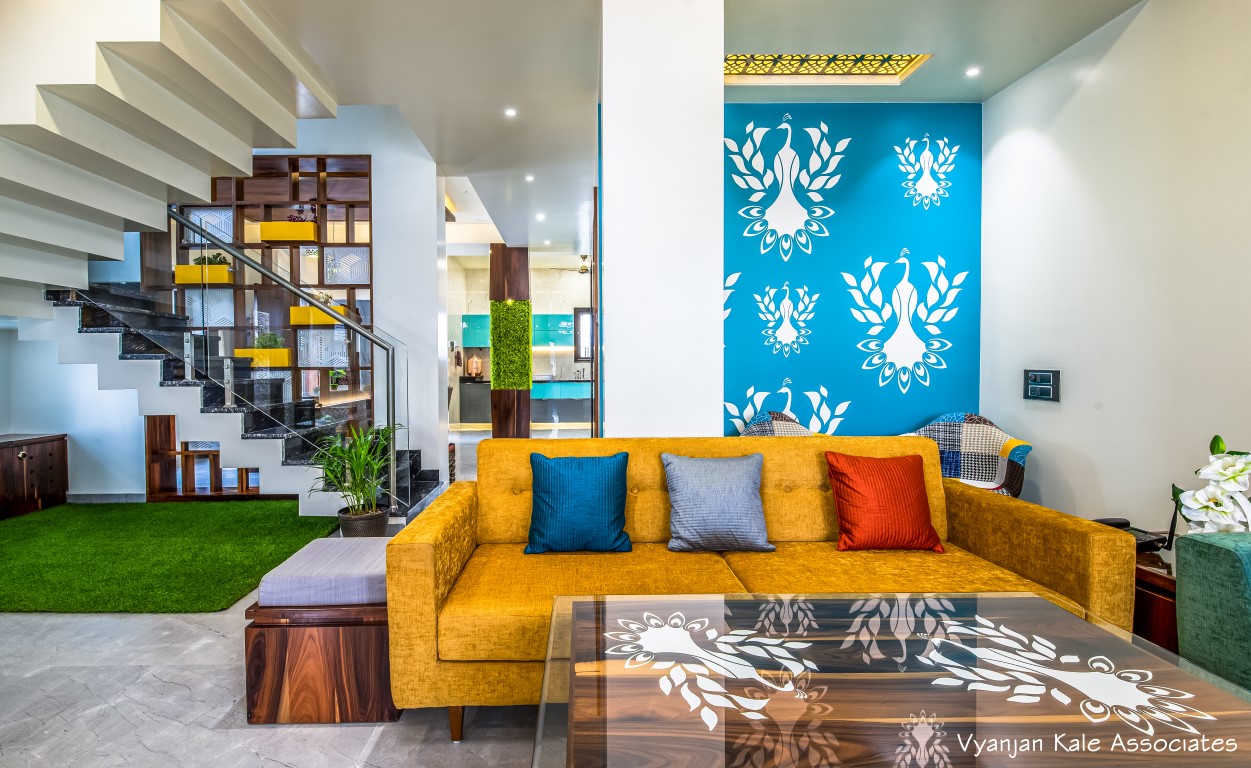 A wall is highlighted with peacock blue colour tint, with peacock motif on it. This peacock motif is reflected on the center table within the living room.A monotonous staircase element is a part of space between dining area and living area. To break this monotonous effect a partition element is created. This partition element creates visual privacy between living and dining area. Partition element is decorated with natural flower pots and bright yellow colour.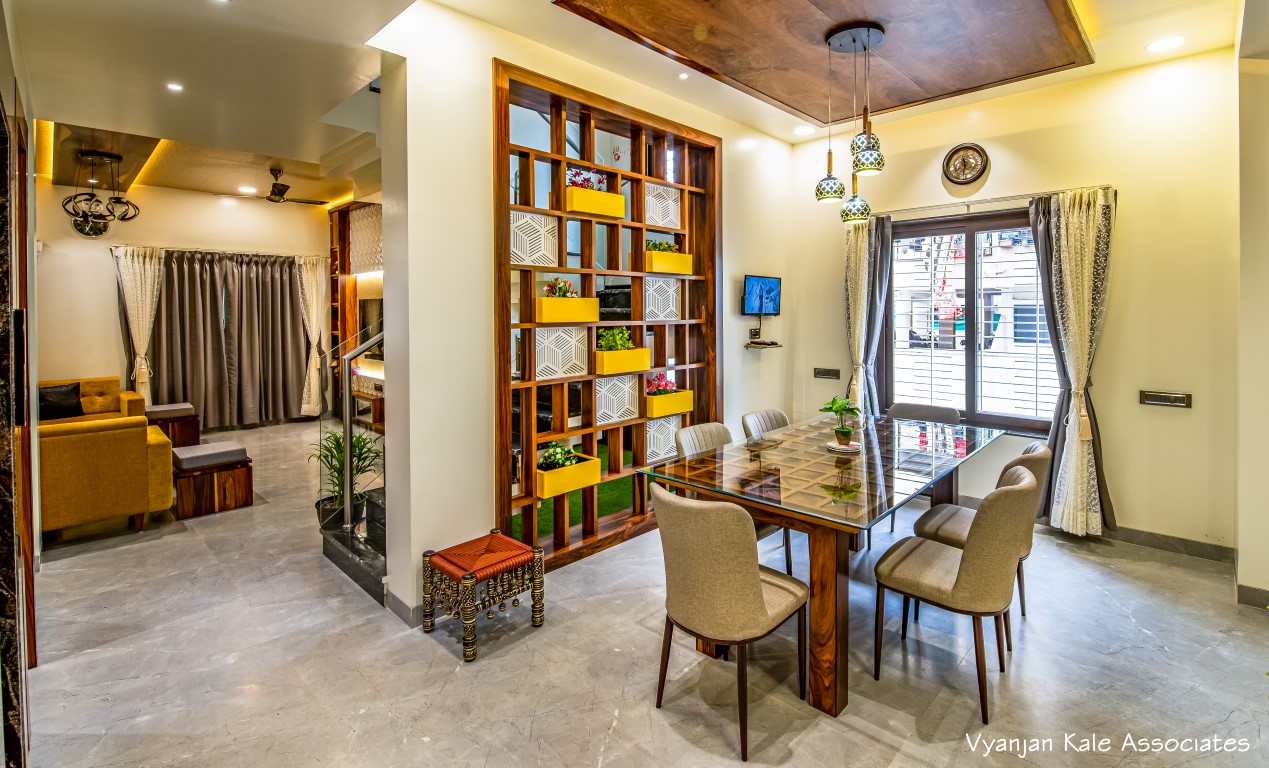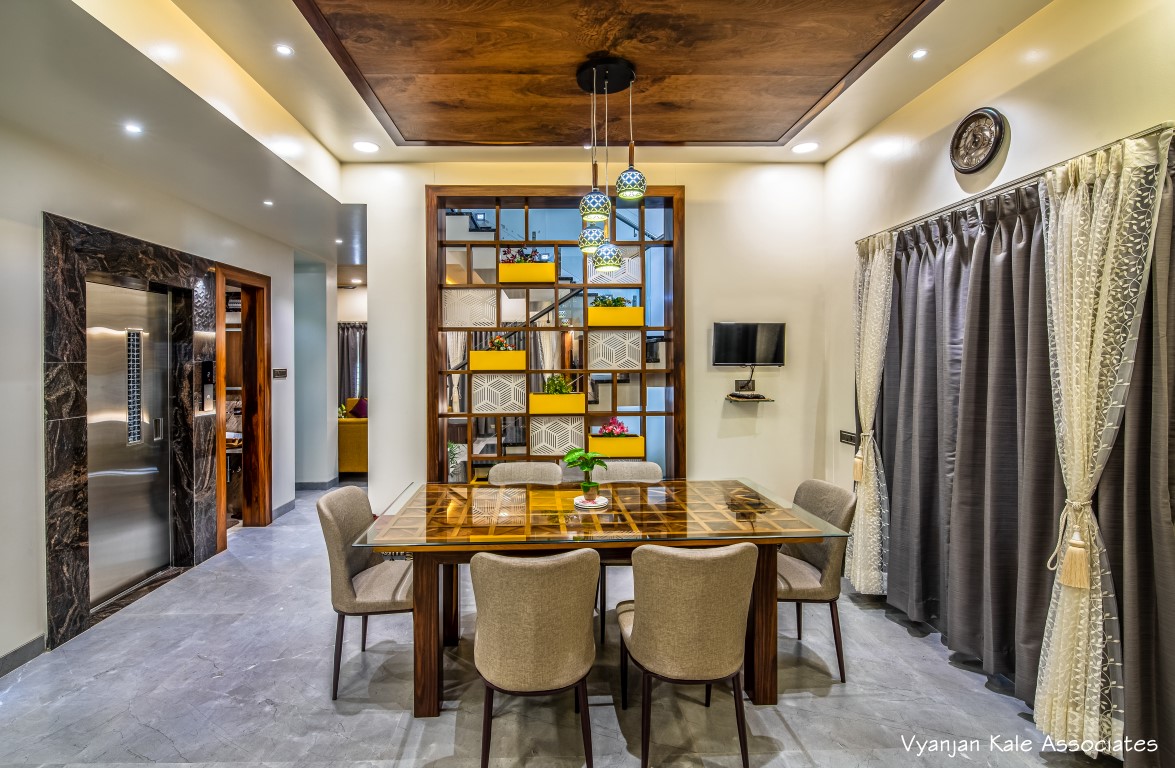 Dining area is designed to accommodate whole family. The use of grey colour for curtains, veneer for dining table and wooden ceiling gives it a cozy feeling in dining area. This space is completely a family space, which accommodate mandir, kitchen and dining area within itself.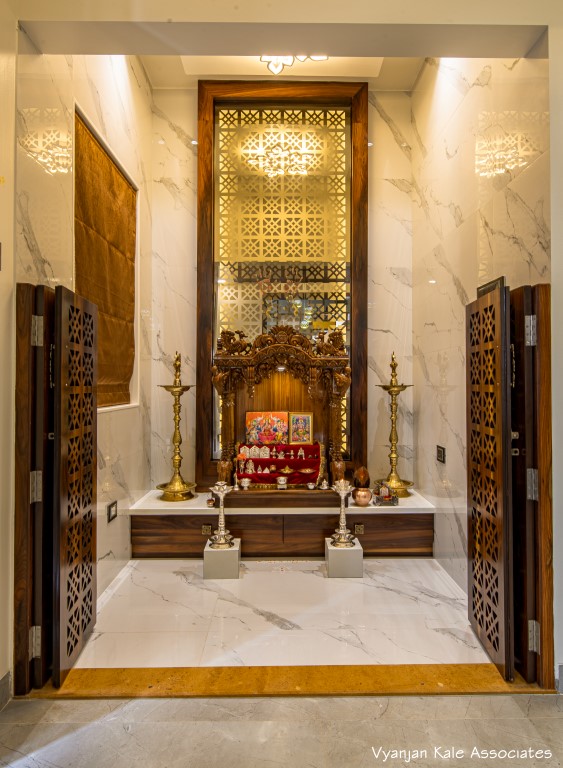 Mandir is designed with white and wooden colour theme. Walls are covered with Italian marble. Mandir is made of real wood with beautiful carving. A huge brown back painted glass is added in back to provide a huge space feeling within a compact space.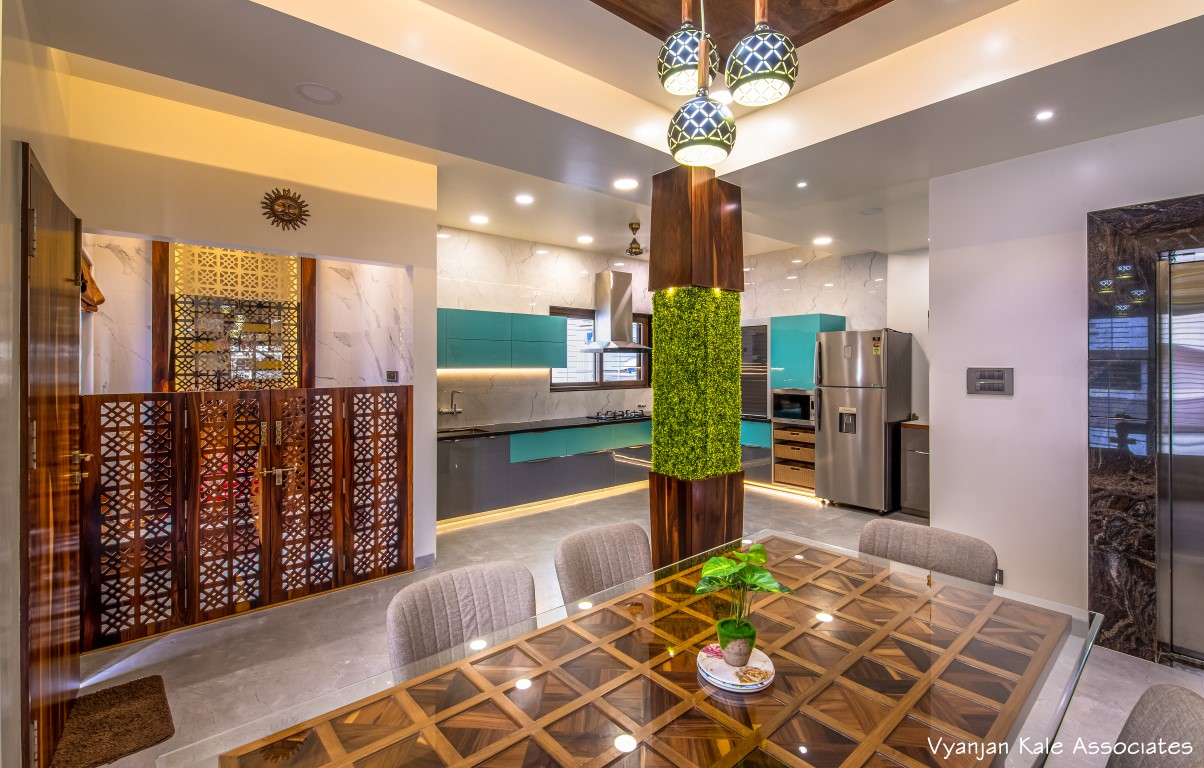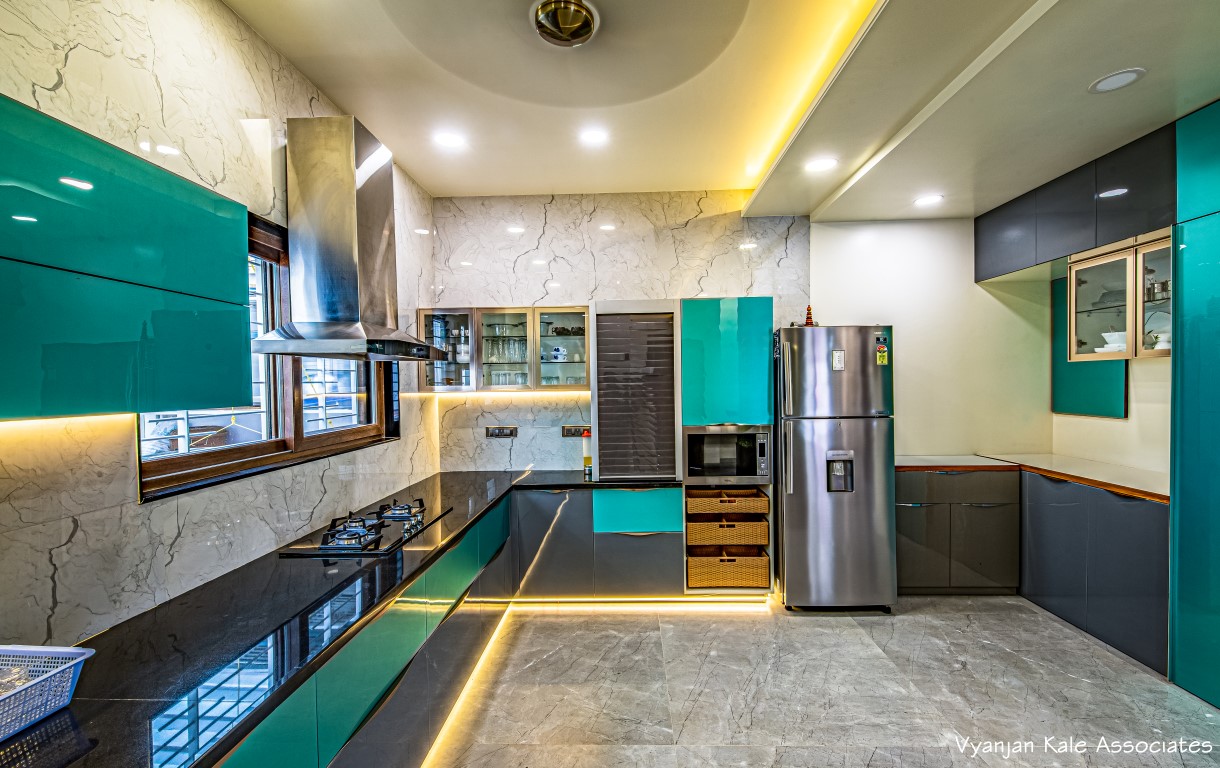 Kitchen being the core of house for family members, it is designed in turquoise and grey colour, with pleasant Italian statuario wall tiles. The colour gives it fresh ambient atmosphere during day and night. Each bedroom is designed with individual identity and colour scheme that suits their age group.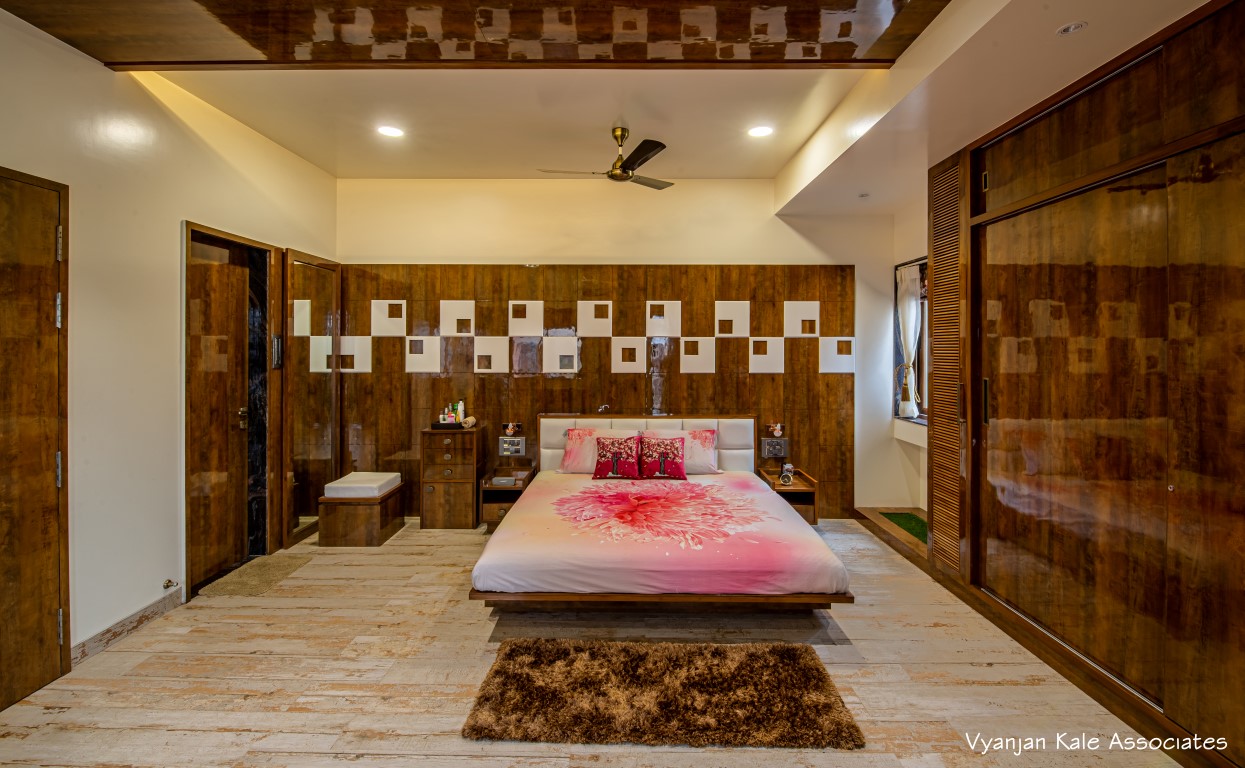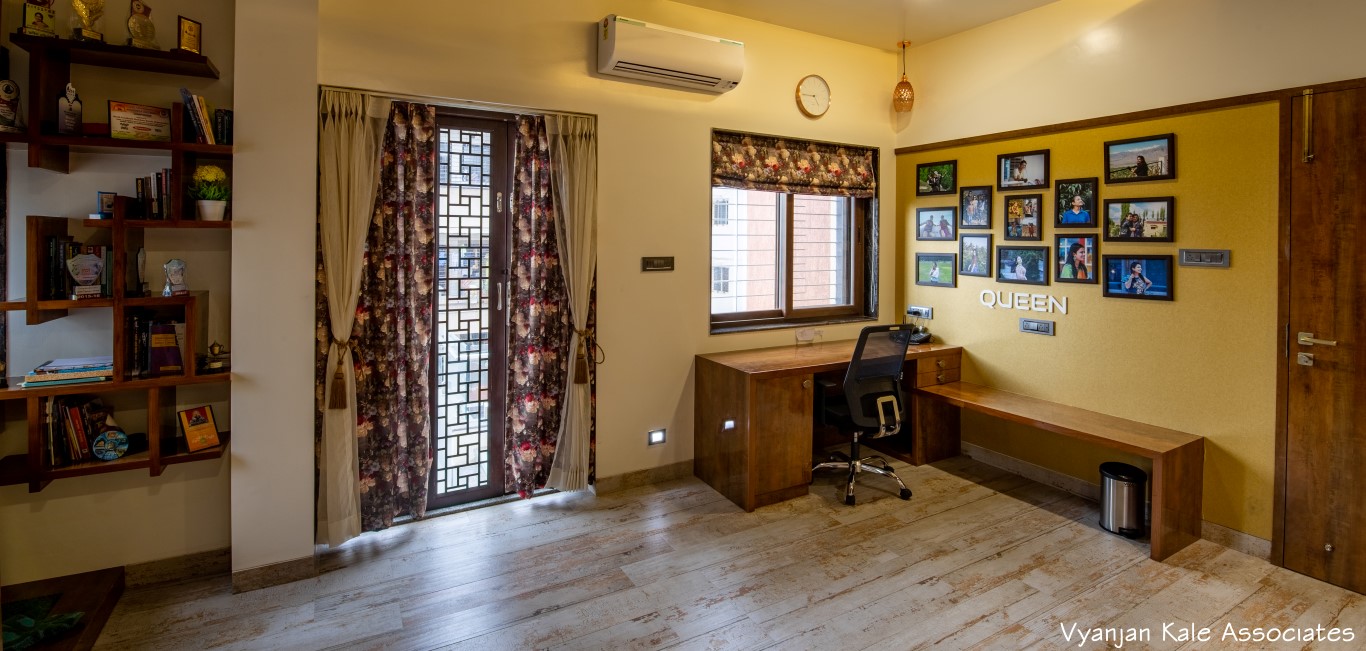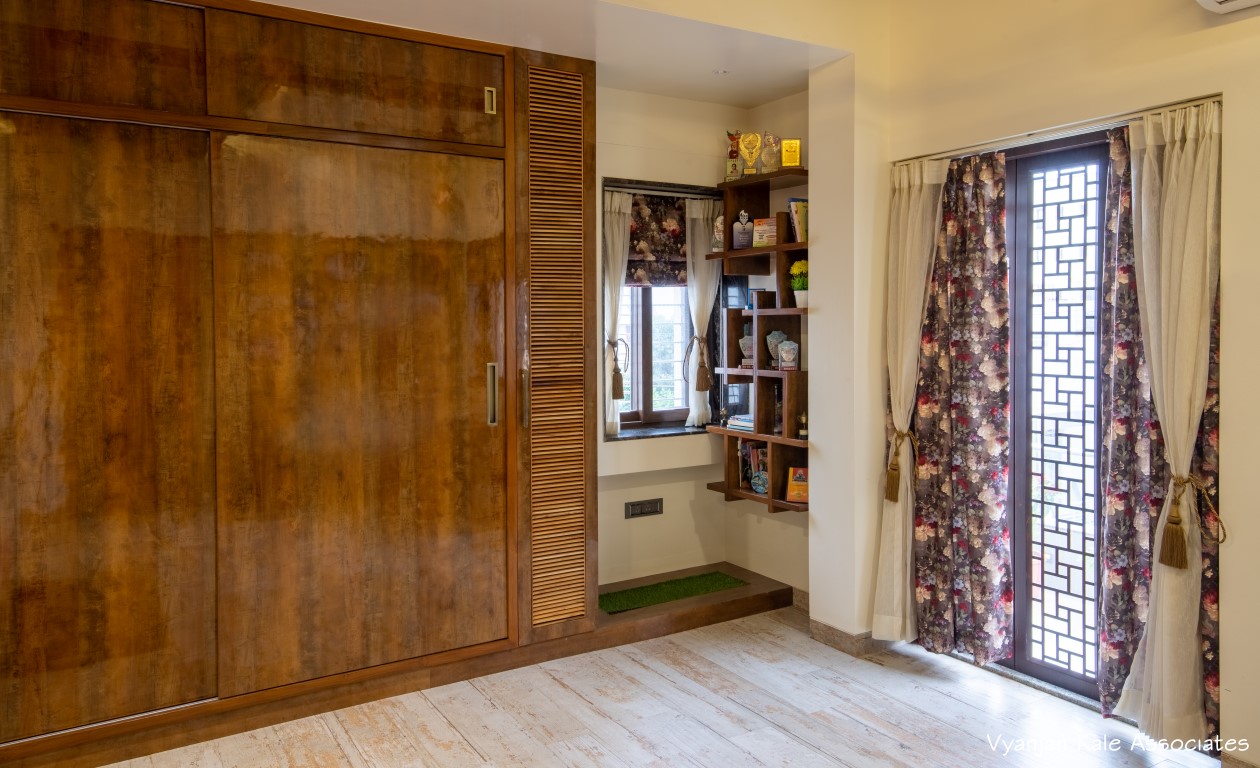 Daughter bedroom is designed with glossy brown laminate, with white deco finished MDF for backrest. Colour element is added in the form of bright floral pattern curtains. It accommodates her queen size bed, wardrobe, study area, along with photo mural wall of her photos and a reading space for her.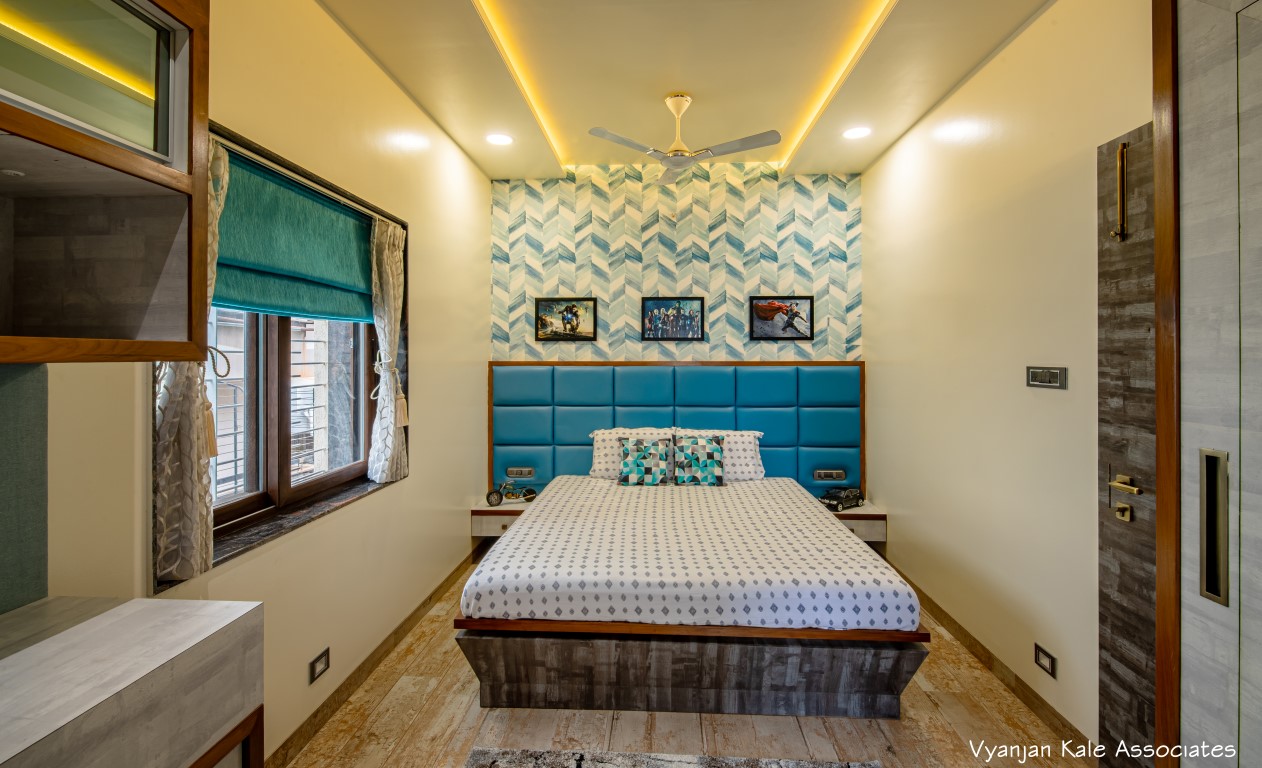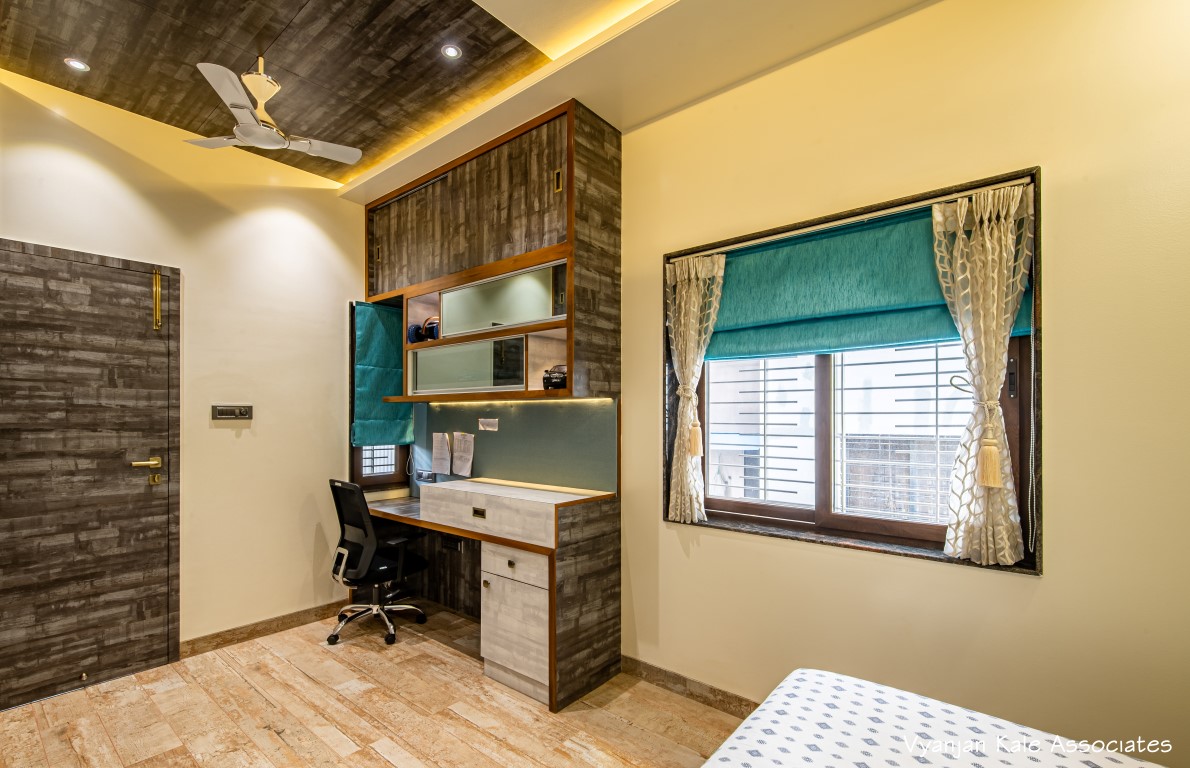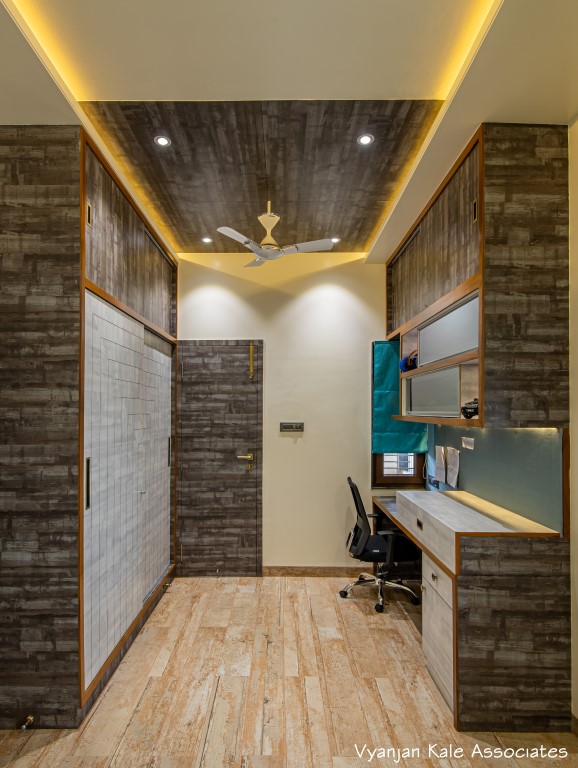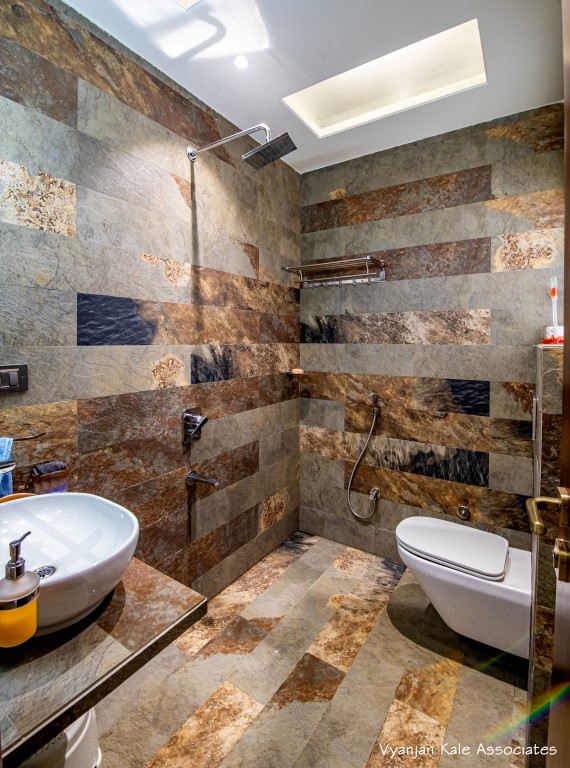 Son being age 10 years his room is designed with vibrant blue colour, in the form of high backrest and curtains. To balance this, grey and white laminate are added in his adjoining furniture elements.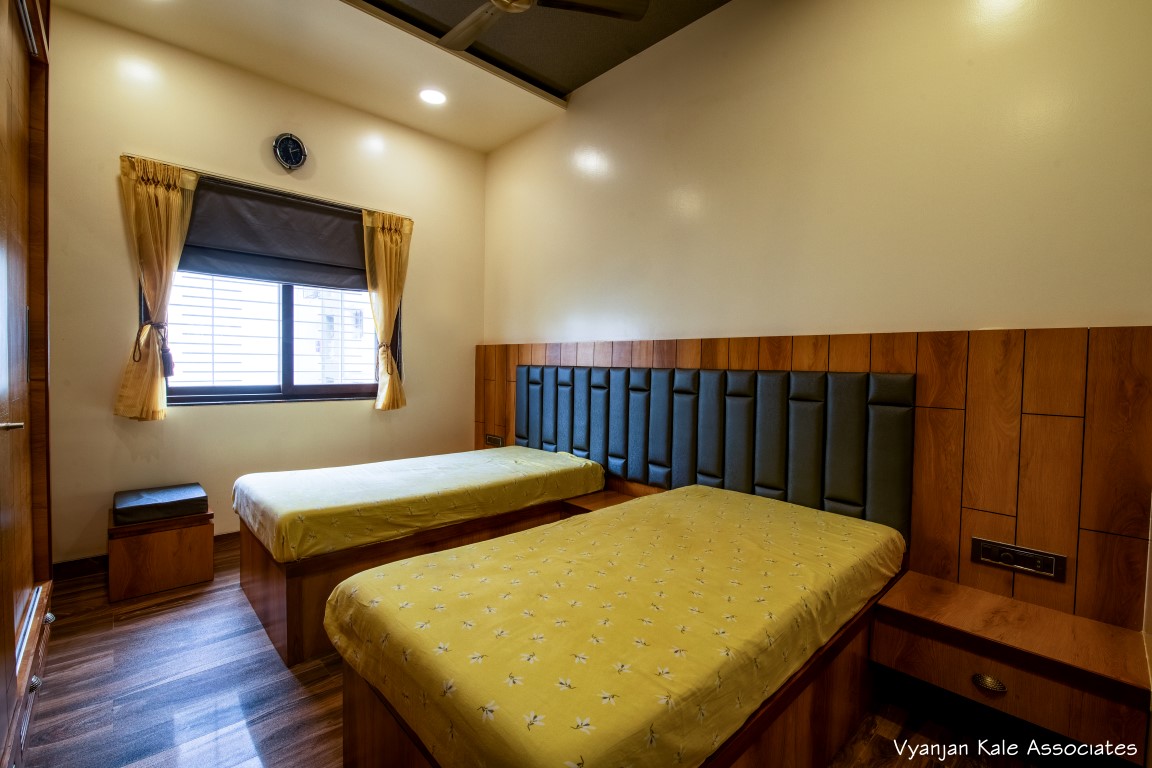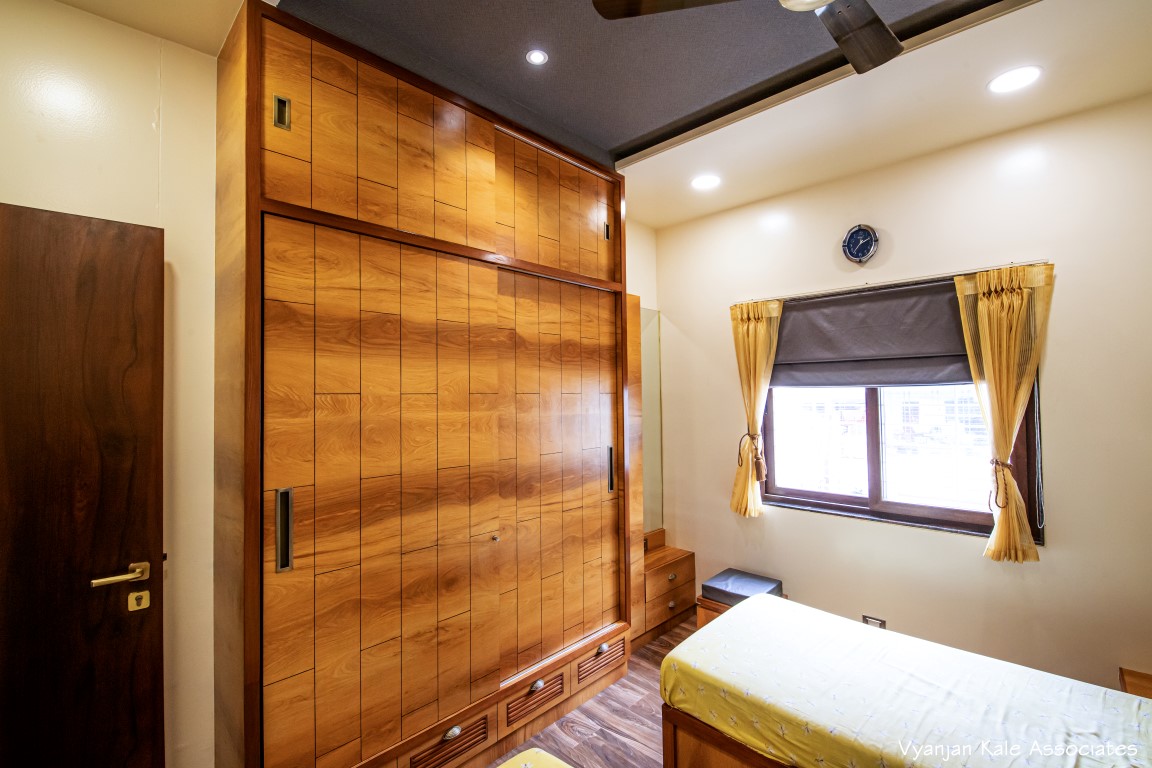 Parent's room is designed to accommodate 2 persons with individual beds. High back rest with grey colour theme and light wooden laminate are the colour theme in this room.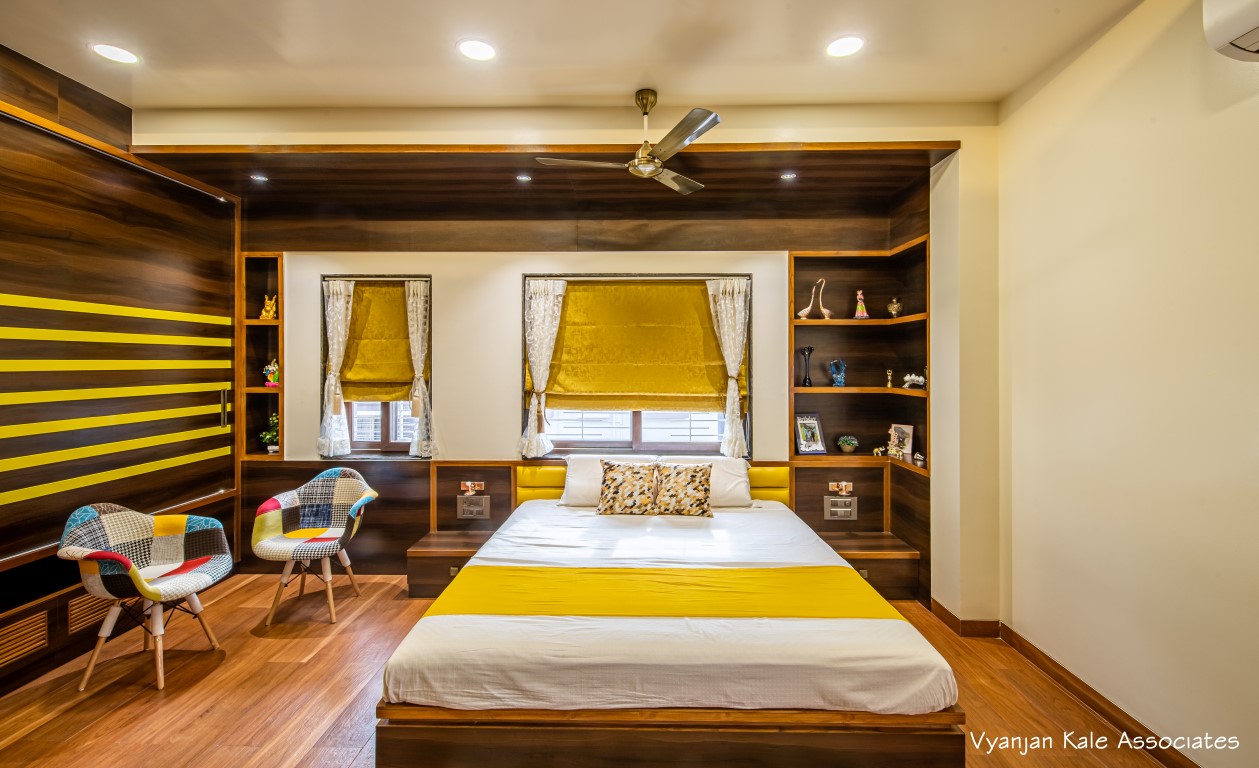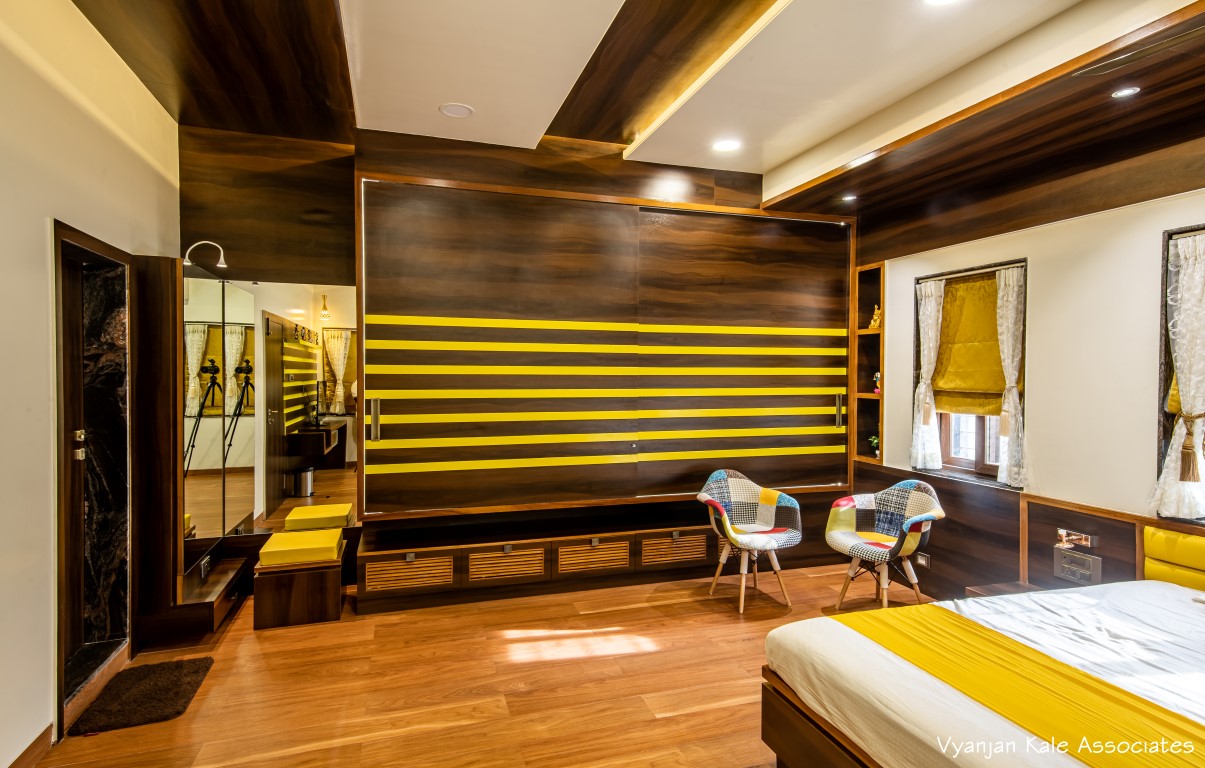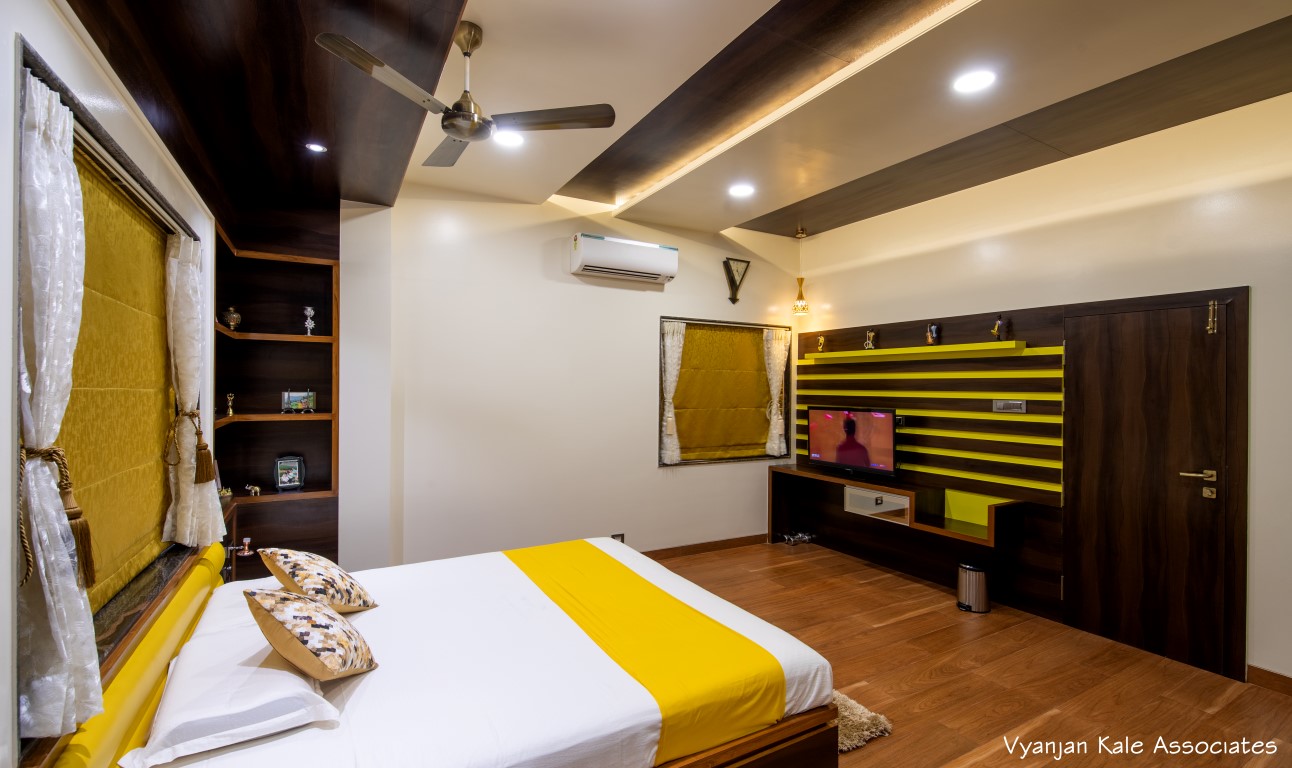 Master bedroom has a colour scheme of yellow, dark brown and white colour. It has a king size double bed, a huge wardrobe and dressing area. Wooden flooring compliments the colour scheme used within the room. A seating space for the lovely couple is also given within the room itself without any clutter.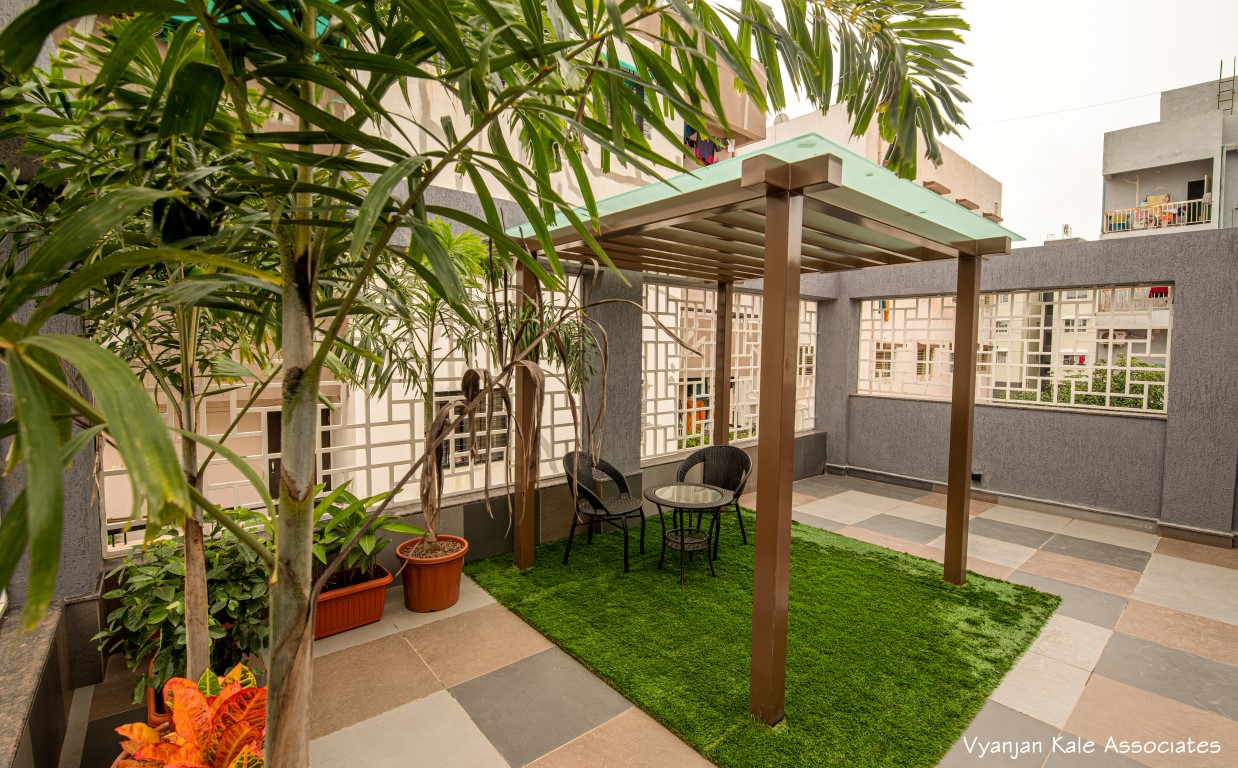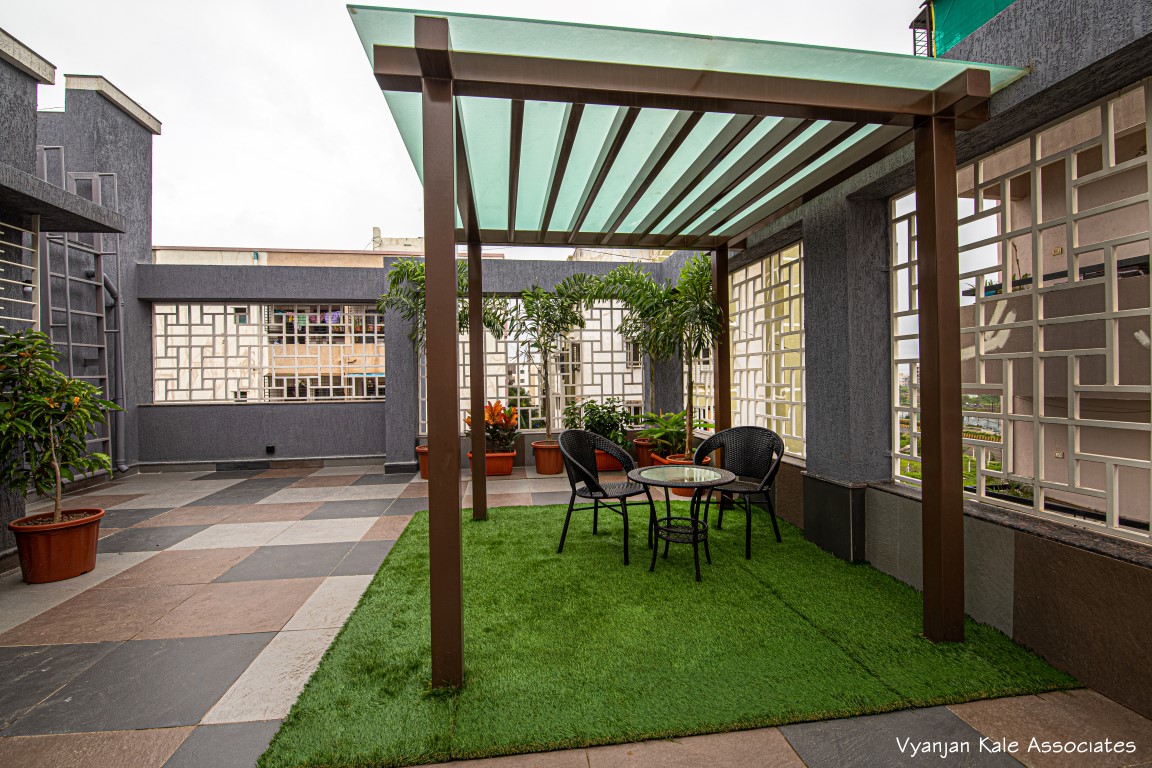 A small gazebo with fabrication and toughened glass is provided on terrace area, so that client can spend some quality time with his family.
FACT FILE:
Firm– Vyanjan Kale Associates.
Area– 3000sq.ft (ground +2 stories)
Project Location– Nashik, Maharashtra.
Principle Architect- Ar. Vyanjan Kale, Ar. Pallavii Kale.
Photo credit- Vikrant Dashputre.
Text credit- Ar. Pallavii Kale.