Tata-Sky Office In Mumbai | CANVAS Design
Tata Sky is India's leading direct broadcast satellite television provider and content distribution platform. A canvas designed the Tata Sky office to reflect its core values of leadership, enthusiasm, innovation, decisiveness, agility, teamwork and integrity. The facility features a bold move in breaking the barriers of cabins and cubicles, thus resulting in a completely open workspace architecture with no fixed desk for any employee. Vibrant and welcoming reception features a home-styled backdrop of a TV cabinet airing TATA SKY.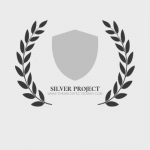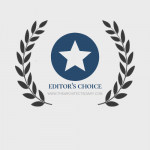 Visit – CANVAS Design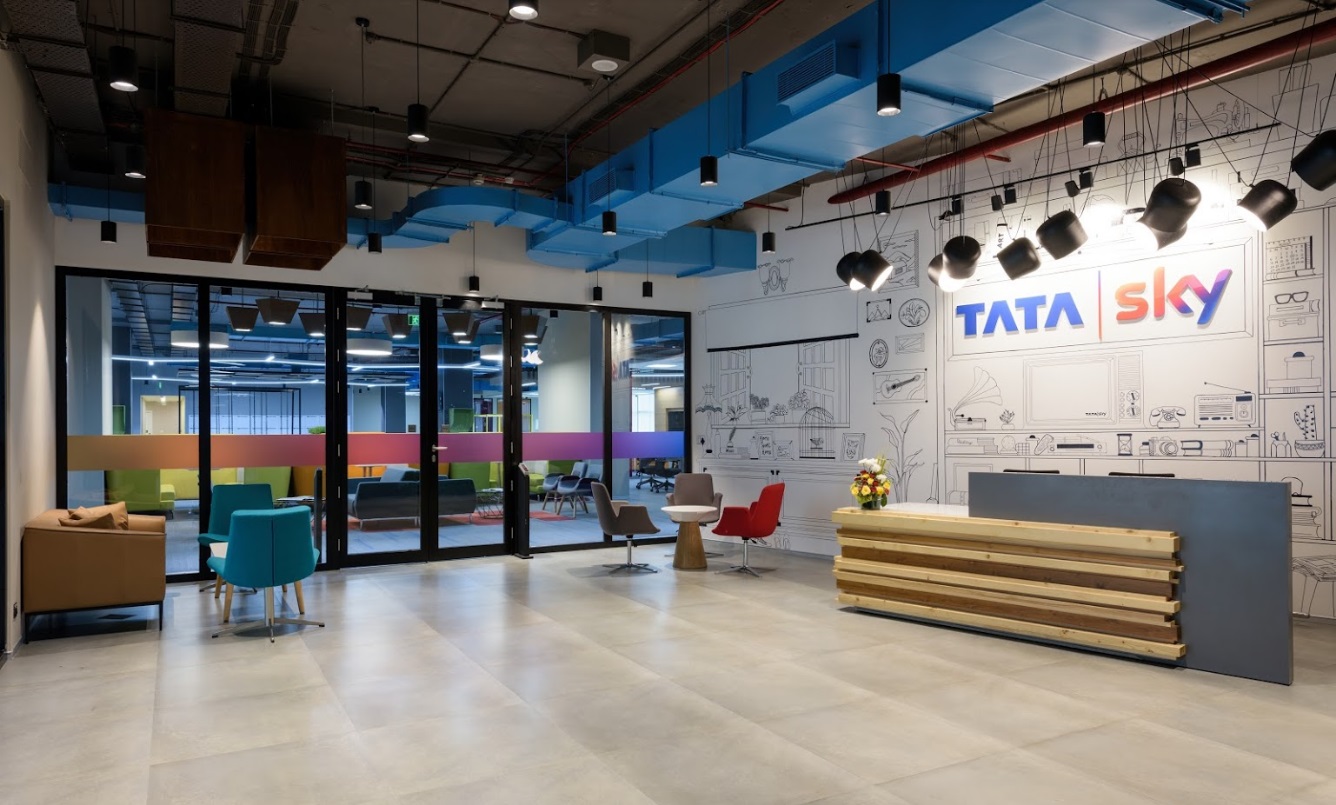 It has multipurpose rooms that switch quickly between the meeting room and training room, courtesy the adaptable furniture. It allows employees to sit in any given corner at any point of the day and execute their tasks using a mix of seating pods, nests, linear workstations, collaborative seats, and high desks.
You enter the facility with a vibrant yet welcoming reception, with the homestyle backdrop of a TV cabinet of every household airing TATA SKY. Once you enter and look to your right, you are welcomed with an unending series of seating nests and informal meet and greet places framed by videowall bound by green pastures all around. Moving to your left leads you to the work at welcomed by discussion pods, collabs with swings, high tables, mediascapes and countless areas with a difference serving the same function.
You can swiftly move across the facility enjoying the coffee points and cafeteria. The overall user experience explains how comfortably anyone can sail through the facility without affecting his workflow. This in return gives back much to the society with a satisfied employee/visitor going home as he never feels away from home.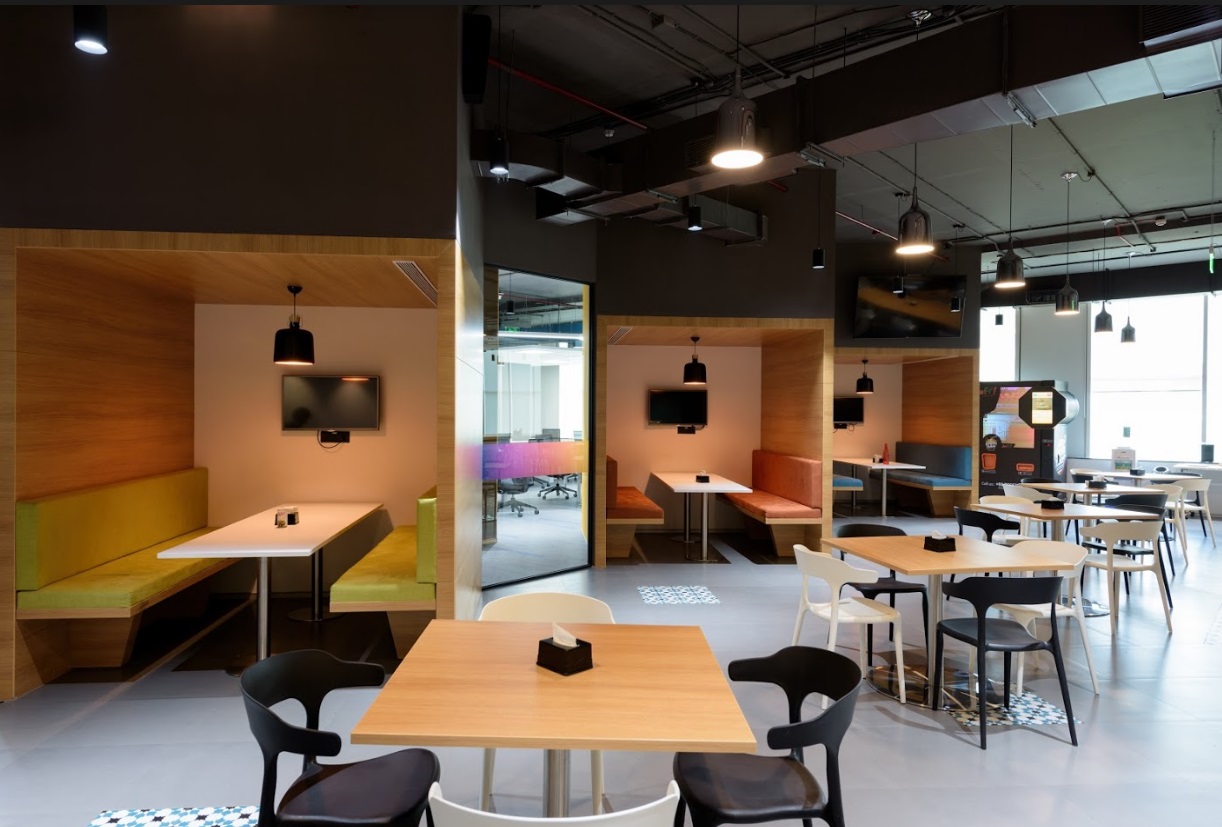 Architectural details
Vertical Green Wall
Wall Mural
Acoustic Fabric Panels
Hand Painted Tiles
Wooden Flooring
Laminate Panelling
Acoustic Hera Board Bafal Ceiling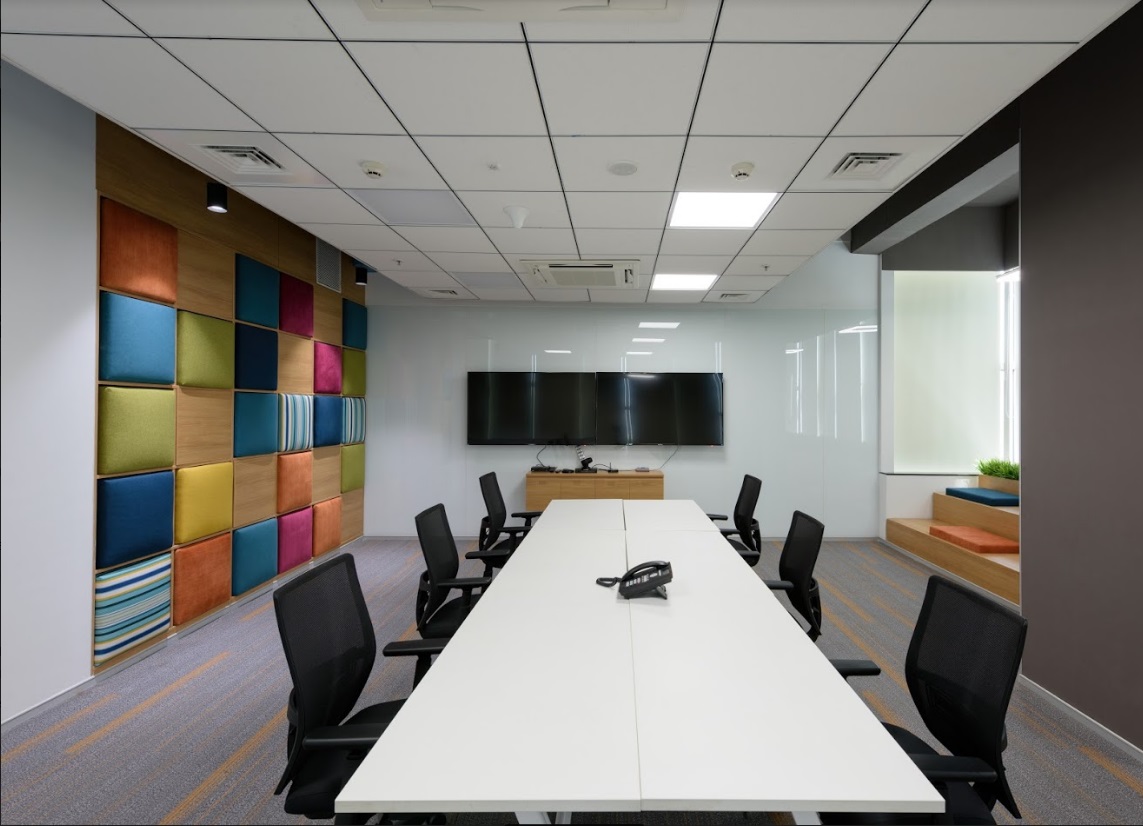 How was the project accomplished: In terms of designing with the expected flawless operational outcome, we worked closely with the facility head of the workspace. His inputs helped us to foresee the menace of the operational challenges in terms of cleanliness, maintenance, and longevity of any area and any product. His feedback was strong enough for us to overcome challenges which they would foresee soon or in the long run. Factors included all the scenarios of the facility – being used in rains -the wet walks, umbrellas, etc. With all the operational challenges, the aesthetics were always the prime focus. The originality of the facility was an outcome of the evolution of ideas, brainstorming sessions with the design tanks and continuous client feedback from various stakeholders.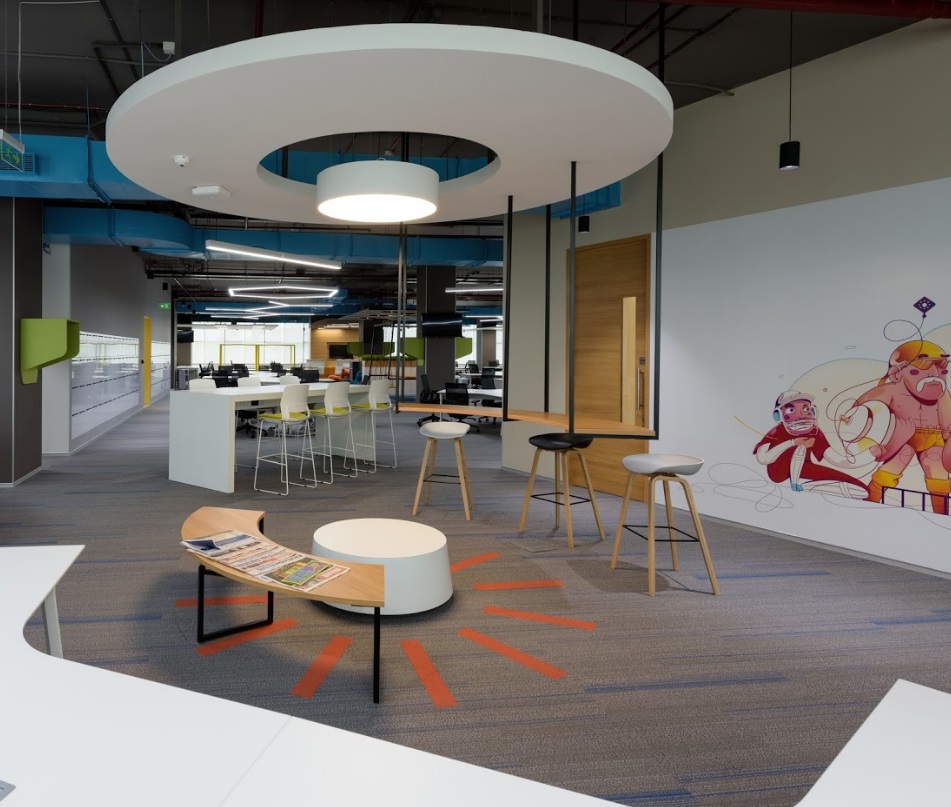 Any sustainable/green element: We used an agile workstation that is self-sufficient with its light and infrastructure. So when they don't have a huge number of people working on a weekend or a day only a specific workstation gets light up saving the energy of the entire office.
Any unique architectural/design element: We had designed a multipurpose room. This multipurpose room switches quickly between the meeting room and training room thanks to furniture that's easily moved and changed. It can also be used for brainstorming sessions. It has additional pouf seating stacked in the wall cabinet smartly designed for additional seating. It's no surprise that in recent years the number of benefits of natural light in the workplace has only increased. From employee's health to productivity, overall mood to energy costs, natural light plays a major role in the overall feel of your office space. Hence we have allowed natural light to pass across the office by open office concept and planning solid masses smartly across the office.
FACT FILE
Architecture firm: CANVAS Design
Project Name: Tata Sky Office
Project Location: Mumbai
Principal Architect : Ms. Sapna Khakharia
About The Firm:
 Launched in 2019, The Canvas is a Mumbai based independent design studio. The company specializes in Architectural & Interior Design and Real Estate Strategy. The Canvas has an impressive roster of highly reputed clientele across the corporate and hospitality sectors. They offer customized design solutions for all their clients and do not follow the 'one size fits all' method. The Canvas, in a very short span, has already established itself as one of India's leading design studios which leverages physical space as a strategic tool to attain organizational objectives. They partner with their clients to create workplace environments that inspire collaboration, employee well-being, and aid in increasing the productivity of their workforce.