Choosing a room's color is one of the most significant home improvement decisions you can make as the homeowner. While you may think that picking a great color is only for aesthetic value, you're definitely missing the bigger point. The color of your living space can greatly affect your daily life. A mere bad choice in color can impact mood and motivation.
With this in mind, here are some tips to consider when choosing the right paint color for your home's interior living spaces:
DIY vs. Professionally-Made
Before starting with your color hunt, you should initially decide if you're doing the painting yourself, or hire experts to do the job for you. With DIY painting, you'll definitely save more from paying for commission. You will also have more control on what specifications you want on your spaces without having to explain them to someone. However, your amateur painting job will look less precise and accurate.

&nbsp
House painters, on the other hand, are seasoned for any painting job. The painting job will look clean and professional, and it will surely last for a long time. These results make it a worthy investment.
Moreover, professional painters can also help you decide which paint colors to choose. They typically bring color samples so you can visualize the colors into your room before spending money on paint.
Find An Inspiration
One of the things that might have inspired you to put new colors on your space is when browsing pictures of room makeovers. While these living spaces are achievable, it can be difficult applying them into your own, since you have a different set of furniture, space, decorations, and the like. Finding inspirations that are closer to your own living space can help in choosing the right colors.
In terms of decorating inspirations, here are some places where you can search from:
Furniture retailer websites
Paint companies
Home and lifestyle magazines
Social media platforms such as Pinterest, WeHeartIt, and Instagram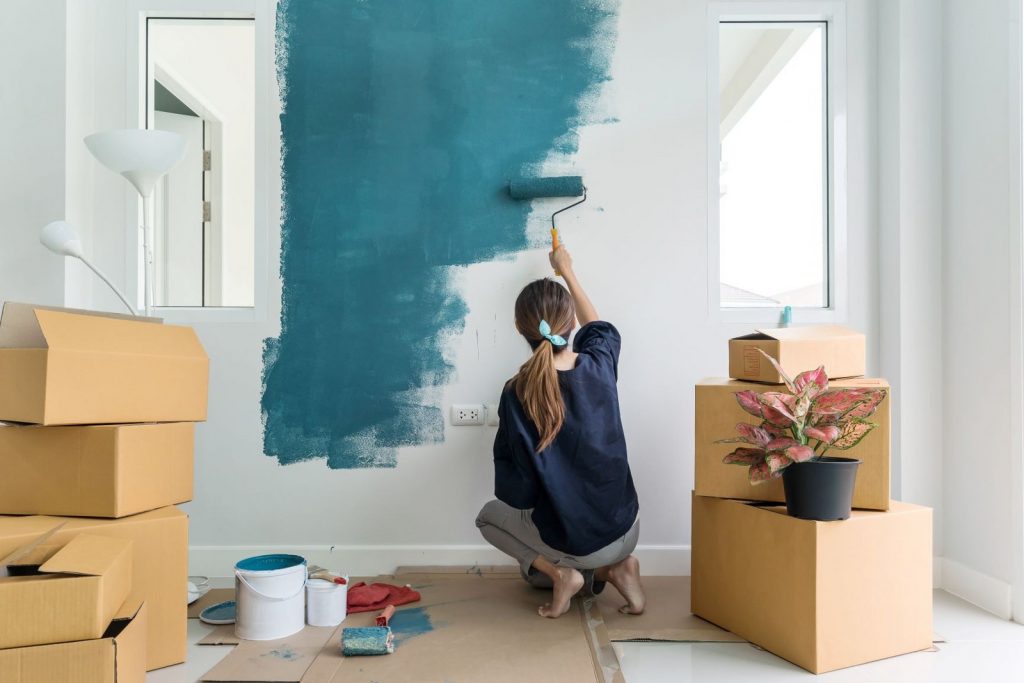 Look At The Room's Function and Ambience
When it comes to choosing a paint color for your home or office, there are a few considerations that need to be made. You should consider what kind of room you have to work on. In general, you need to consider how much light you have in a given space. Dark walls can create a sense of claustrophobic feeling when you have very little light coming in, so you might want to choose a color that will allow for some light to filter through.
Since you spend a fair time in your kitchen every morning, painting the space with bright, sunny colors will make you feel energized and motivated while having your breakfast. These colors also reflect the sunlight well. These colors are light and high-energy, which make for a great way to start your day.
Also, you should take into consideration how much light is coming into your interior space. A lot of the time, you will find that the popular colors are those that are light and airy, and homes with smaller interior space greatly benefit from this. On the other hand, dark colors emit warmness and sophistication, creating an intimate, cozy, and inviting ambience inside the room.
Make A Color Scheme
Following a specific color palette gives you an opportunity to mix and match colors, but at the same time have a coherent theme within the space. A great advantage of making your room's color scheme is that there are plenty of existing color schemes you can choose from, and it's your choice if you want to make some tweaks.
Take note of the following color schemes that you can consider:
Monochromatic
Analogous
Complementary
Split-complementary
Triadic
Tetradic
Square color
Moreover, your color choices should complement other pieces of furniture in the room. If you have cabinets in the room, it's a good idea to choose a shade that is in harmony with the cabinets.
Since your bathroom is a large area that often gets little to no attention, you should prioritize the color scheme that's going to work best for space. Many people choose a basic color combination of white, black, and gray that works well for most bathrooms. The key is to choose colors that will help to set the room apart from your regular bathroom, and the colors you use should match your bathroom's other decorating choices.
Add Textures and Finishes
For an absolute space makeover, always keep in mind that you shouldn't restrict yourself from using colors only. Relying on color as the mere aspect of design, your room can feel monotonous and boring. Therefore, it's worth adding textures and finishes to create visual effects on your walls and ceiling.
For instance, painting two adjacent walls with a satin finish on one wall and semi-gloss on the other will create a velvet or corduroy effect as the light hits these walls. Alternatively, you can paint the ceiling with a semi-gloss finish and make the walls simple with satin, making the ceiling more reflective to light than the walls, creating an illusion of a higher ceiling.
You can experiment on which finishes and textures will work best on your space. Just keep in mind that the more gloss you add onto the surface, the more it'll draw attention. With the right choice of colors and texture, you can highlight the best assets of your interior.
Take A Sample Of Your Chosen Color
Now that you've chosen the colors for your living space, it's ideal to paint a sample on a small portion of your surfaces to see how it actually looks. This is a simple rule that most homeowners tend to overlook. Refusing to test color could lead to unexpected results, which would mean a big waste of money, time, and effort.
Once you've already established your desired colors, don't immediately purchase gallons of paint that you'll use up for these surfaces. Buy the smallest size first for each color and perform a testing on your walls. Upon seeing the results and deciding to go against it, at least your money won't go to waste.
Conclusion
If you're looking to redo your interior and want to know how to choose the right paint color for your indoor living spaces, this guide will help you with that. With so many different colors to choose from, you can be overwhelmed with all these options. The trick to figuring out the best color for you is to remember that there are plenty of colors that will look great and fit your style. These new colors will remain in your living space for a long time, so make sure that you perform an excellent paint job.

&nbsp