If you're working on a DIY project at home, especially if you're working with some kind of resin, chances are pretty good that you're going to need some resin. Resin is a wonderfully versatile material that you can use to create furniture, jewelry, and other home crafts. However, if you're going to make a project that involves resin, you're going to need to be able the resin. Depending on the size of the project you're working on, you need to be able to properly measure out the correct proportions of materials, supplies, and any chemical products you will be using. Luckily, this is where scales come in.
Traditionally, a scale is a device that uses counterweights of designated quantities to measure the weight of an object. Some places still use mechanical scales, such as those you used to encounter at the doctor's office when you were young. However, nowadays many people have switched over to using digital scales. A digital scale is very convenient and is usually more reliable when compared to the old ones. Before buying a digital scale, you must do some research and see what features it has. In digital weighing, you also need to pay attention to the precision of the scale. A digital scale will tell you how much an object weighs based on the number of digital readouts that are displayed.
Picking the best digital scale for resin might be a challenge, but we are here to help you out! Listed below are our five best picks of digital scales for measuring out resin. 
1.Max US Scale

&nbsp
Portability and accuracy are the top features of this digital scale. You can freely bring this with you wherever you plan to go to as this comes with a hard plastic carrying case. What's amazing about this is that this provides true accuracy which is important with resin scaling. This measures to 1/100th of a unit, unlike with other scales that can only measure up to 1/10th. Along with those great features is that this scale is also sensitive, resulting in less lag time between the change of volume.
This comes with a backlight display that adds enhancement which allows you to have a better view especially when you're in a poor lighting area. This is cordless and runs on battery so you do not have to worry about looking for outlets to plug this into. 
2. GlassCast 10kg Digital Scale
If you're looking for a large capacity digital scale, this is your way to go. This can accommodate up to 10kg of resin, which is ideal if you are measuring heavier weights. This also comes with an easy-to-read illuminated LED display that allows you to read even when you're in a poorly lighted area.
You can measure the resin in two different modes. Either in metric (grams) or imperial (lb/oz), which allows for better accuracy and a wide range of measurement. This is also portable and battery operated so you would not have to worry about looking for outlets. 
3. Greenlight Surfboard Supply Epoxy Measuring Digital Scale
With this digital scale, you can switch to two different modes from grams to ounces. With ounces mode, you can see two decimal places for better accuracy while grams have one decimal place only.
This digital scale can only measure up to 3kg and it can fit up to two  and a half qt mixing bucket on the deck. Along with this, they provide an epoxy measuring ratio chart for resins so you could have the perfect mix for the best result.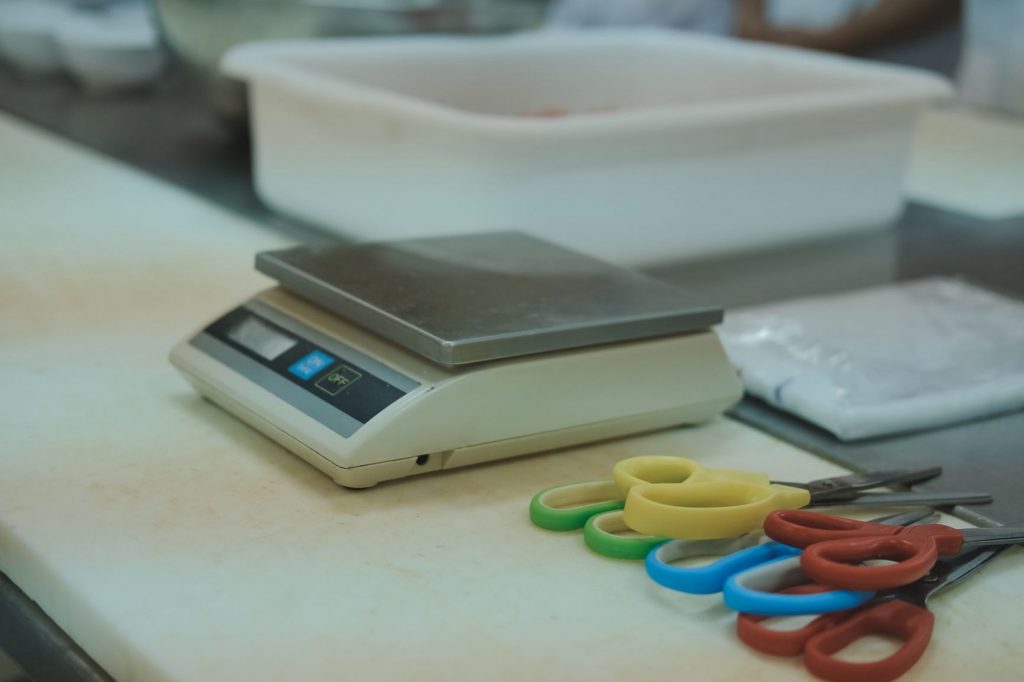 4. Funshowcase Mini Electronic Scale
If you're looking for a compact digital scale, this scale is the one for you. If you're not measuring anything too heavy and just plan using small amounts of resin, this would do wonders for you. It's compact and light and easy to use.
This provides different units options such as grams, ounces, and carats. This also comes with cover protection so you do not damage the scale when not in use and great for storing as well. Aside from resin, you can use this to measure the weight of any object such as pills, herbs, and jewelry.
You can also create jewelry using resin. You'll just be needing the right mold for creating the perfect accessory. You can also make a business out of it.
5. Alamould Superior Digital Scale
This digital scale can only measure up to 3kg and will indicate if you're trying to measure more than 3kg by providing an overload function for you. This has a backlight LCD which allows you to see clearly and better even with poor lighting. This is small and compact so there would be no issues with trying to store this in your garage.
If you're running low on batteries, this will indicate when the best time is for you to switch batteries. This digital scale only needs two AAA batteries.
Conclusion
Measuring resin is critical as they need to be in perfect measurement so that you can produce the perfect resin quality as they are designed to last long. With the perfect digital scale for resin, you'll be able to achieve perfect hardwood tables or floors. The use of resin does not only add beauty to any floor but it stands as protection making your floor last longer minimizing the possibility of replacement over time. 
Not only that it adds shine and protection, but resin also helps to clasp two objects together beautifully and sturdy. They're also used for electronics and electrical systems as resin is an amazing insulator and helps to protect your belongings from dust and moisture. That's why measuring your resin accurately is strictly critical to maximizing the resin's potential into protecting anything.
If you're looking to get more into home DIY projects, a scale is a great addition to your tools. They're fantastic for measuring resin, and also for measuring other kinds of materials for other projects. Just look for the scale that fits the scale of the work you're looking to complete.

&nbsp