&nbsp
Suspended Office | DIG Architects
This 1,200-sq-ft office site, located in a low-lying precinct of suburban Mumbai, was one of those yearly victims of the rains; being usually submerged at least twice a year in up to two feet of water. These field conditions shaped the architects' response to a call for refurbishment for a functional workspace for around 30/35 staff and a training room facility which could be accessed independently by in-house staff as well as guests.
Visit: DIG Architects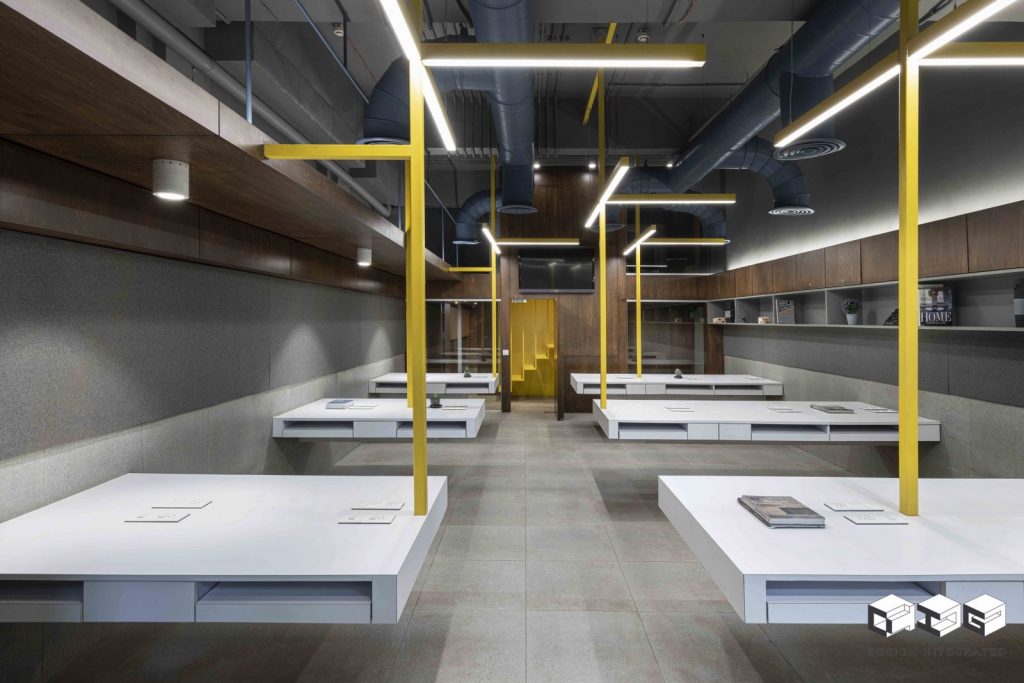 Attempting a present solution that was contextual and meaningful rather than being merely functional and aesthetic, the new flood-resilient design disregarded the floor for any sort of permanent placement of elements and centered its strategy on the suspension to ensure minimum damage to the property and data.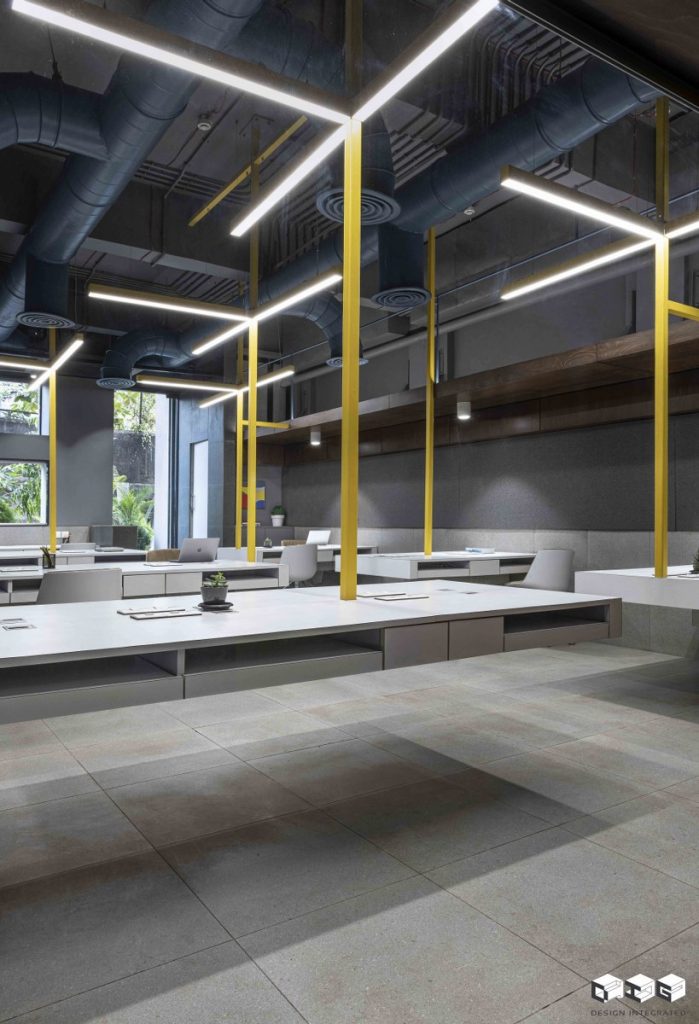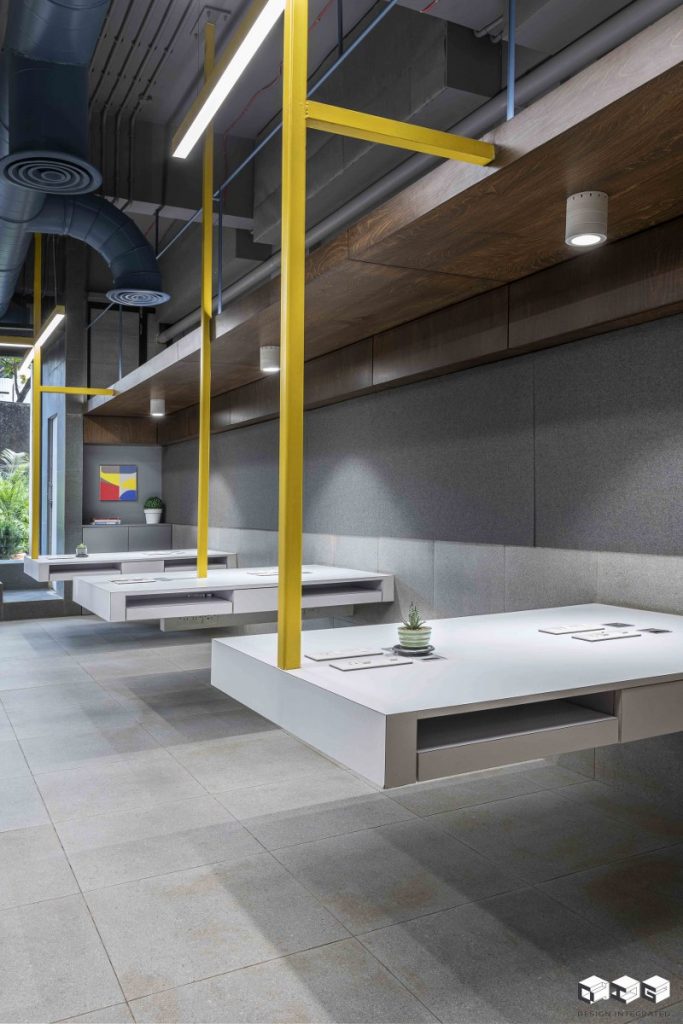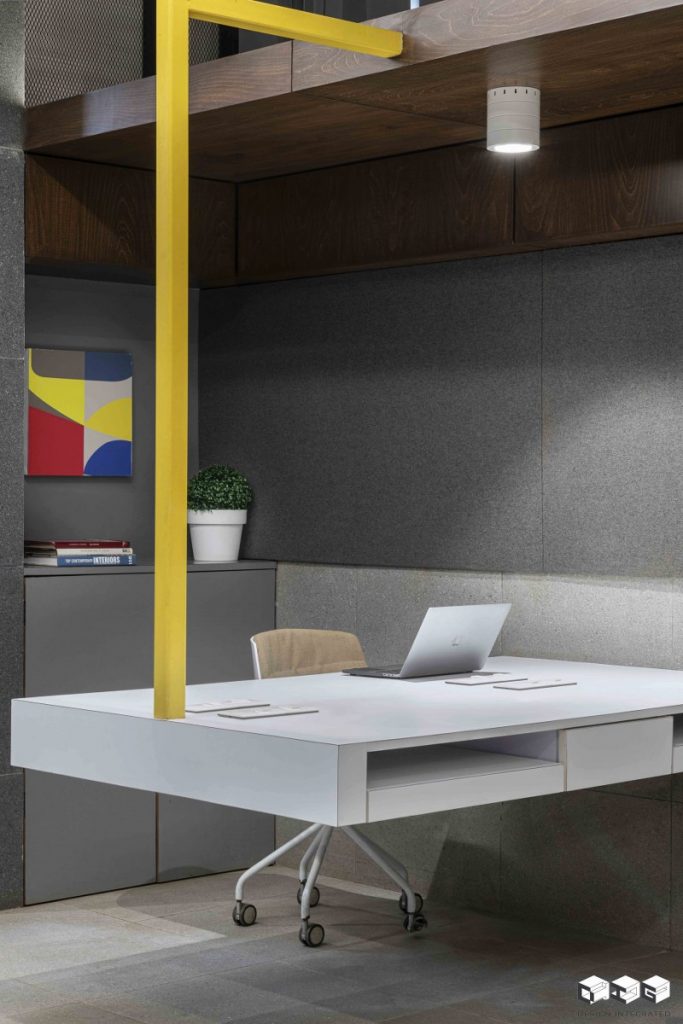 This central idea is impactfully articulated as an arm that tethers each legless workstations to the ceiling, giving the project its name — Suspended Office. Colour — a bright yellow — is used on the suspension members to draw attention to them, making them ever-present and assertive markers of their own raison d'être, as well as injecting brightness into dreary, rainy days. While the walls and floor of the workspace were seamlessly waterproofed and then cladded with vitrified tiles till the height 1 mt, the tiles of the training centre were replaced by water resilient carpet which also bettered acoustic quality of the space.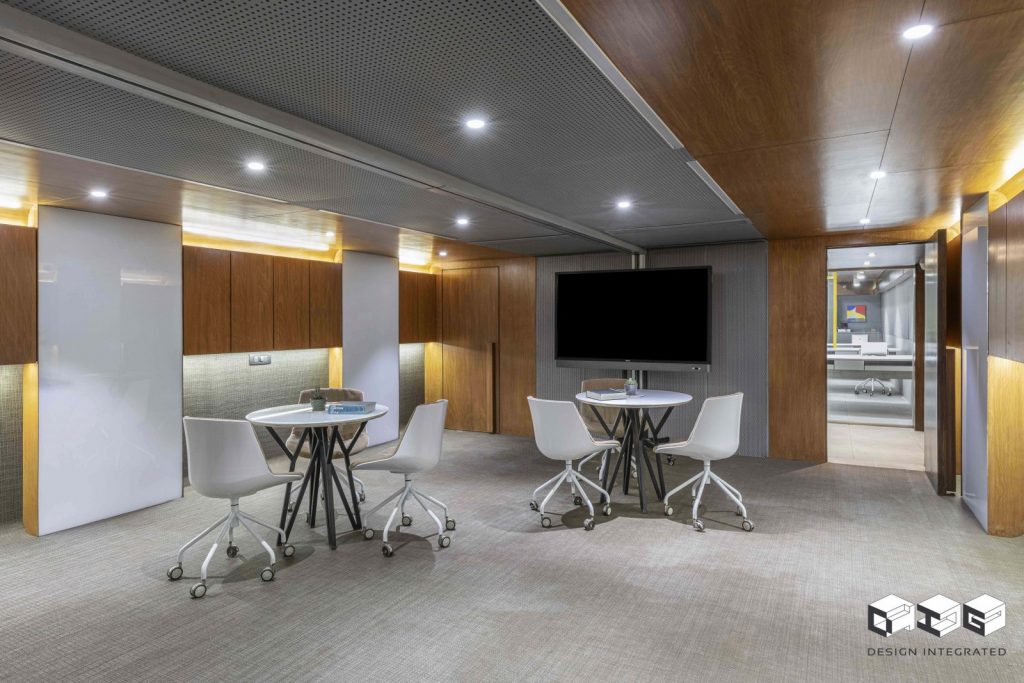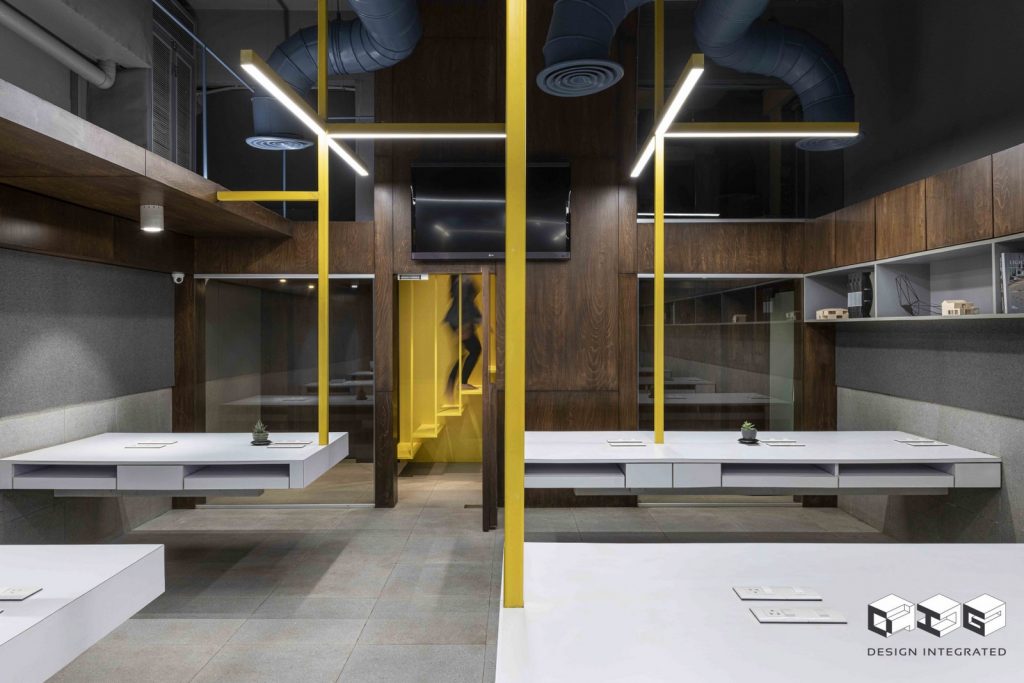 Elements of design, woven into the central 'suspension' strategy, make the visual narrative of the Suspended Office more interesting and complex. The action, so to speak, is concentrated off the floor, on the upper portion of the volume where the legless, levitating workstations occupy center stage. The suspension members that connect them to the ceiling 'bloom' mid-way into three-armed LED lights, catering to the functional requirement of lighting in an effortless, aesthetic manner.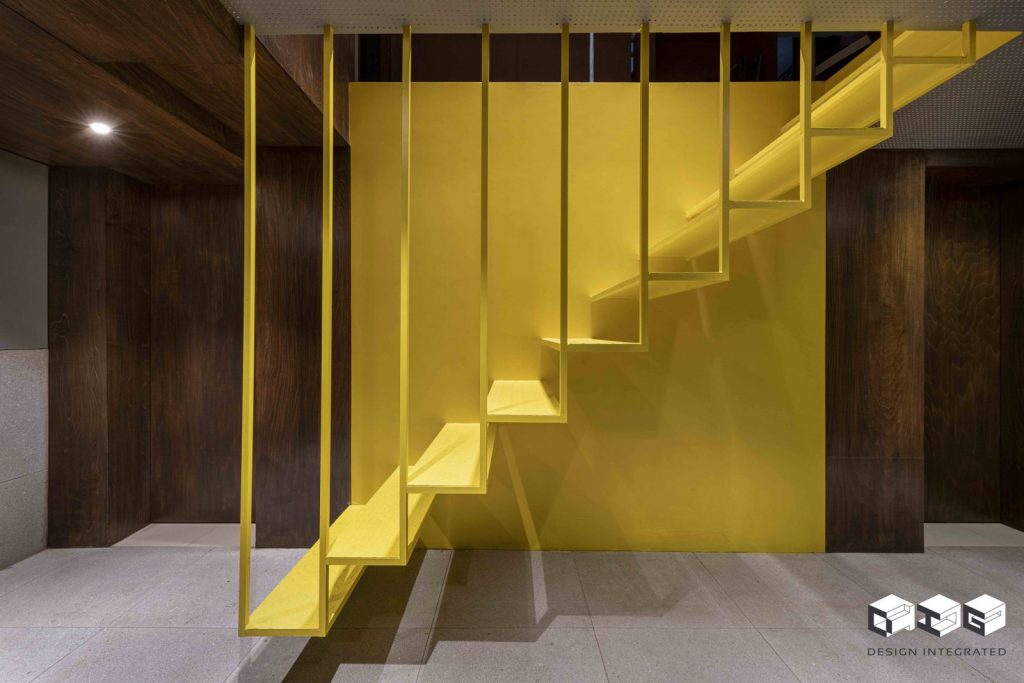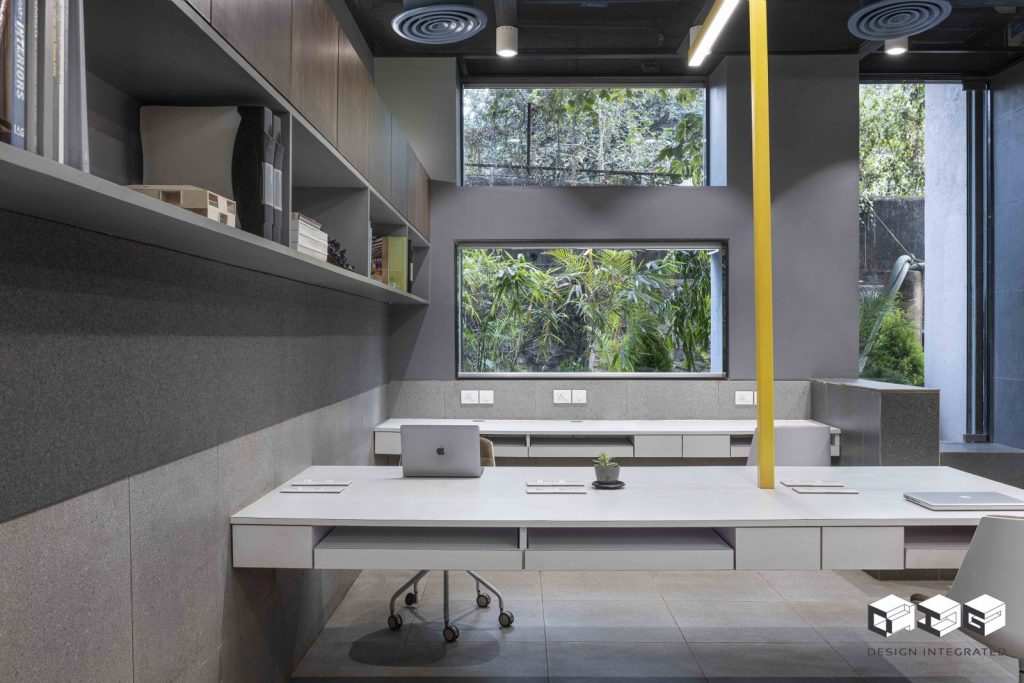 Services and materiality contribute to the visual interest in an uncontrived way as well — the geometry of the electrical conduits and the blue AC vents, together with the brown of the marine ply, the grey flooring and the yellow of the suspension members and the floating staircase that leads to the upper level, lends a pleasant graphic flavour to the interior environment.
FACT FILE:
Design firm: DIG Architects
Project: Suspended office
Location: Santacruz (E), Mumbai
Area: 1,200 sq ft
Principal architects/founders: Advait Potnis and Amit Khanolkar
Photo Credits: Photographix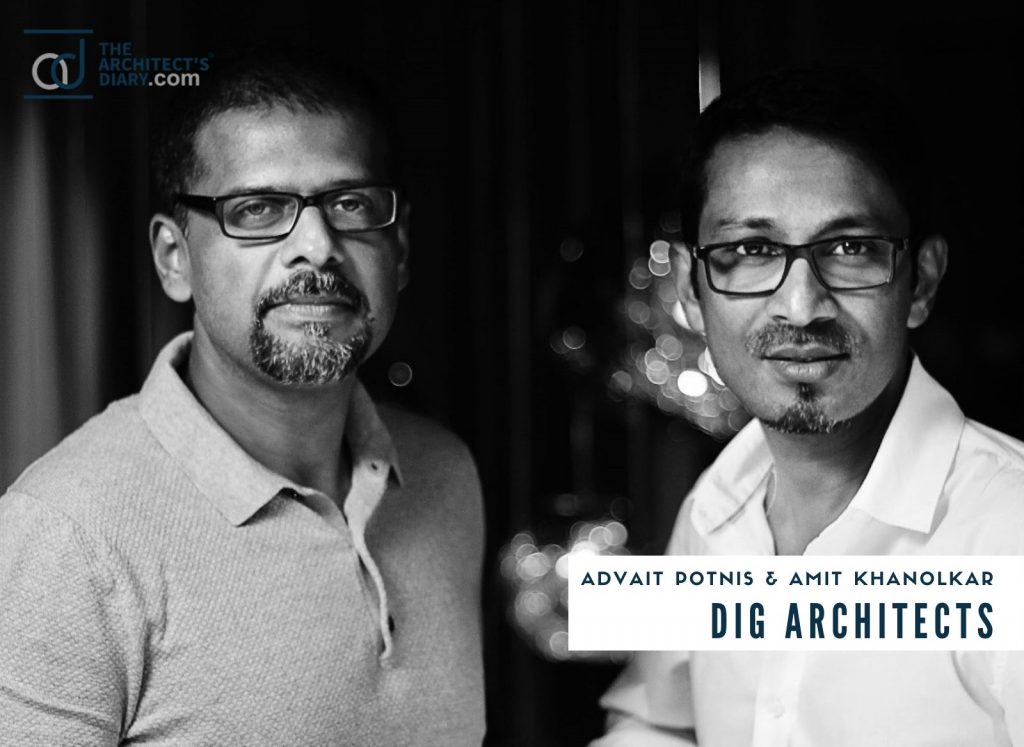 Website: http://www.digarch.net/
Facebook: https://www.facebook.com/digarchitecture
Instagram: https://www.instagram.com/design.dig/