This 1650 sq.ft. rectilinear plot residence, surrounded by residential plots on three sides with west front street, is situated in a small town, Jetpur in Rajkot District. Thriving for business in textiles and trade in exports, this town has more of a growing settlement, setting the architects up with a unique challenge of creating an appealing and contemporary architecture that stands out entirely.
Visit: IKS Architects
House of Sailing Planes : Exploring the Transitional Contemporary | IKS Architects
As one enters through the main door a lavish living room with timeless interiors welcomes with the courtyard sight at the end. The first thing that catches the eyes in the living room is a artistic barrier of t.v. unit that divides dining with living, yet just visually. Grey Italian marble paints whole canvas with a contemporary touch with eclectic/impeccable designs of TV. unit.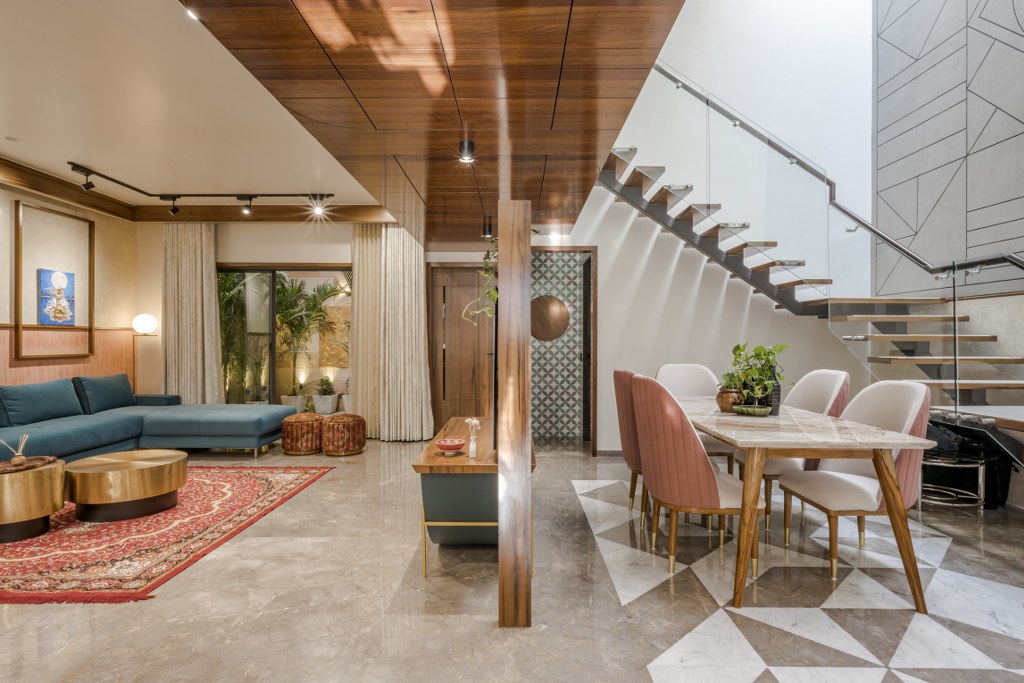 A blue sofa is cheered with brass centre table with a traditional touch rug matched with the stucco plaster of the living room back wall. Minimal approach of sofa and play of textures, colours & light showered double height wall surprises with its artistic geometry.
Kitchen and wash room tucked in the corner with a corner window monitoring the entrance is a corner in beige with statuario white platform. Kitchen has a neutral palette with modular furniture and classy bar chairs with wooden hanging lights. The multifunctional floor space has twists and turns with eye catching elements at every corner.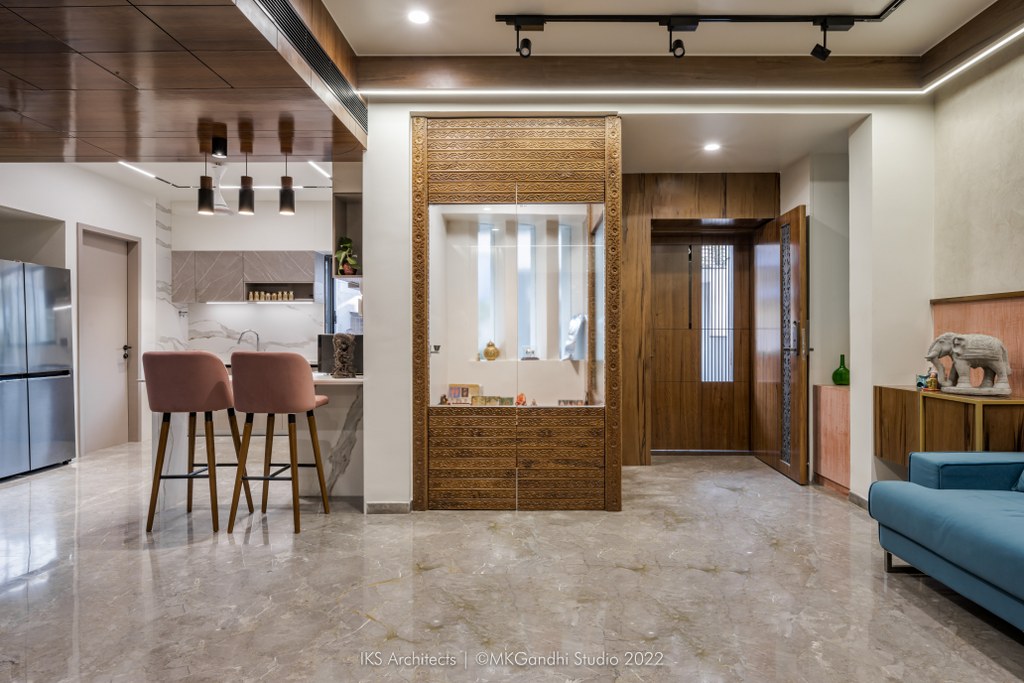 A special veneer faced sitting deck has been crafted near full height windows visually connecting the drama of natural stone cladded in the courtyard. Flawless carpentry adds up the details to shine at every junction.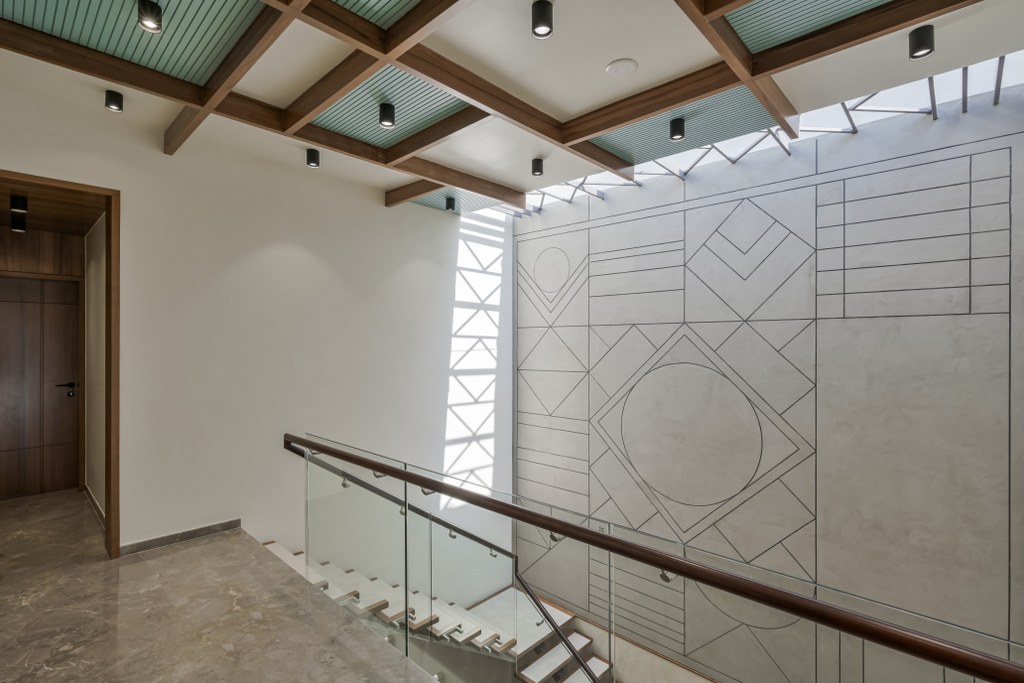 The son's master bedroom are touched with theme of white and blue hues, parents room with beige and evergreen marble cladding and the guest rooms with mix of colours with textures. A colour palette of white, blues, wooden, grey brings a sense of calm the space. Lavish bedrooms and vanity corners bring one of a kind space to the bedrooms.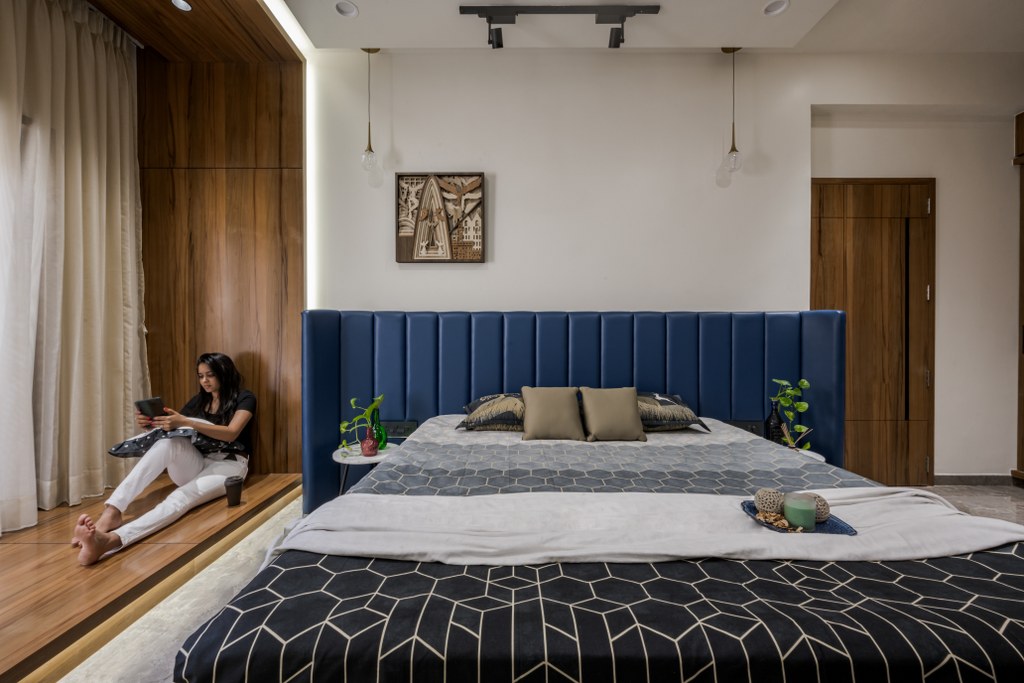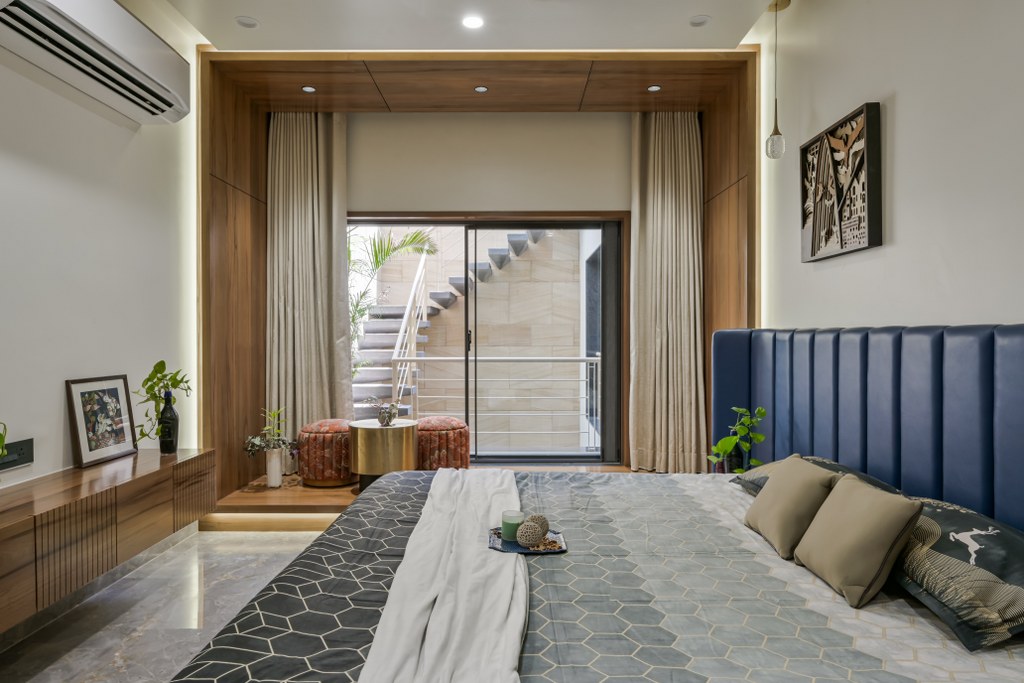 Each bedroom has a special space for leisure. The repetition of stucco textures with different colours gives harmony to different furniture and functions. Fabrics of headboards are imitated with overall decor of the room.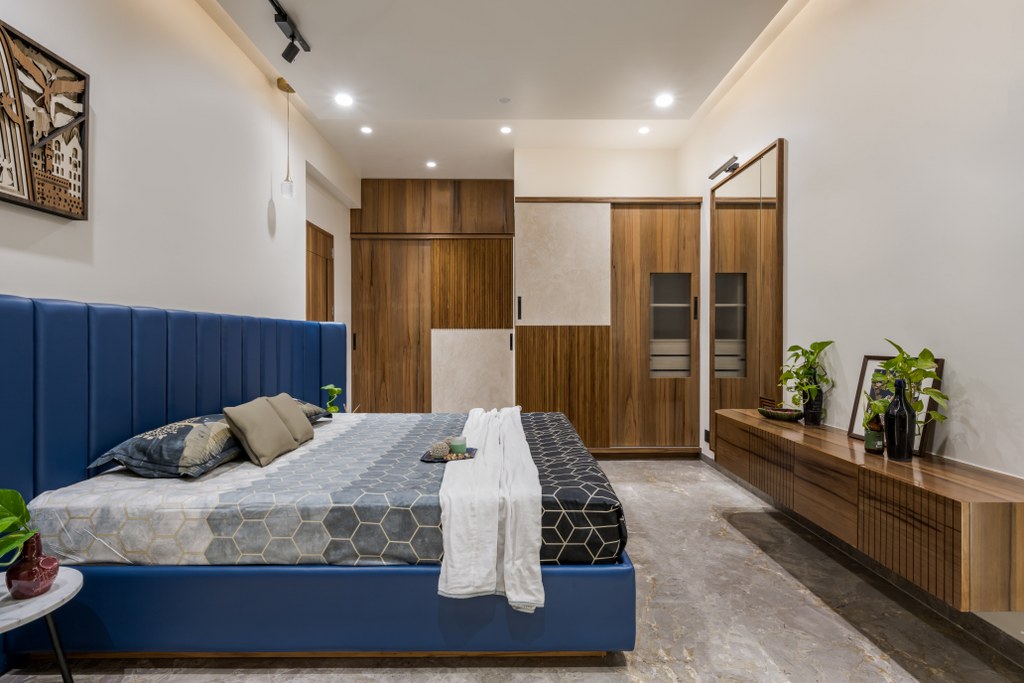 The bedrooms on the upper floors define a private space with two light source and minimal interiors. The bedroom area features a modern bed with a rich, fabric headboard and a stark black accent wall behind. The chic bedroom also features a lounge area, which perhaps is its most interesting feature. With a view of the lush outdoors beyond, this is the ideal space to kick back and relax after a long day.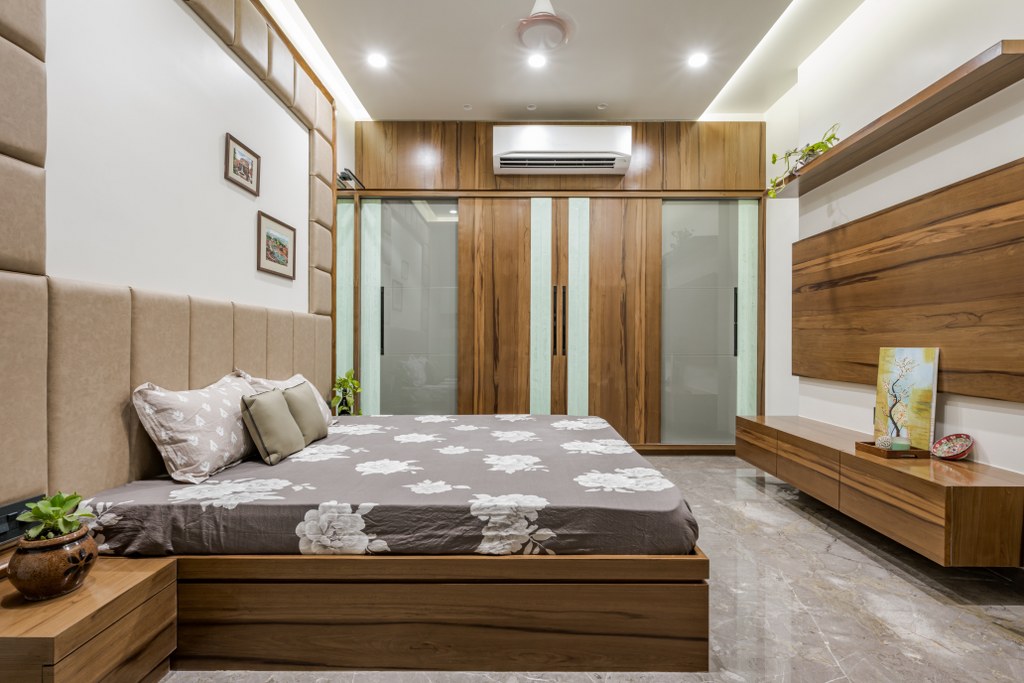 Splashes of invigorating blue are seen in the room through the headboard and upholstered sofa. Two master bedrooms are decorated with white and blues giving a calm view at every sight. Both rooms have a special sitting luxurious corner with veneer embedded décor to have a classy look.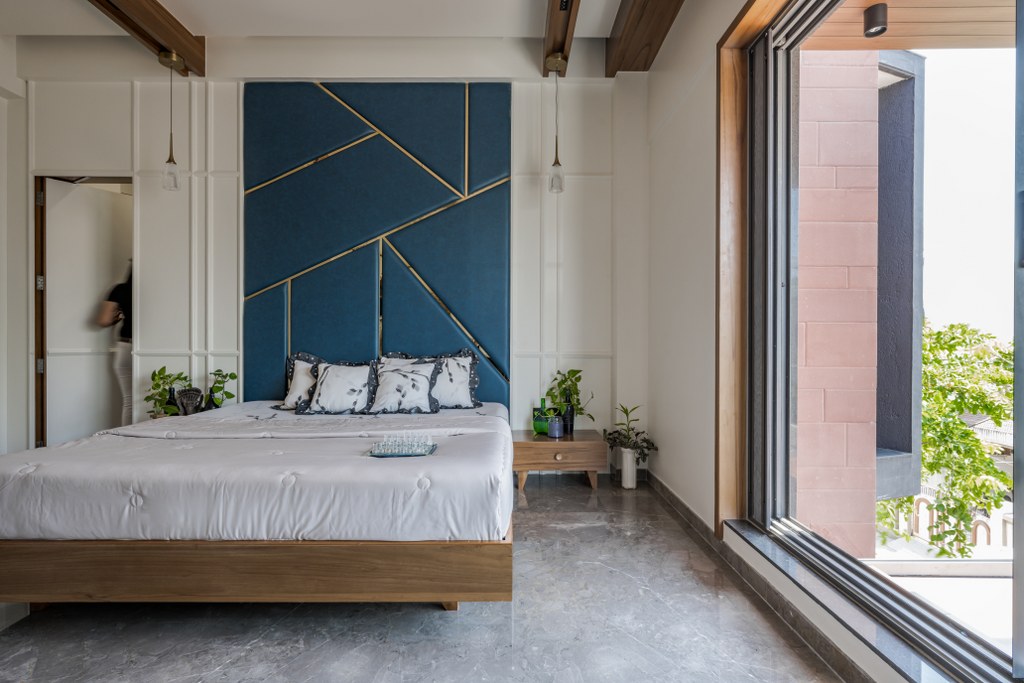 Cupboards are detailed with v beading Patti and textures on doors. Bathrooms are cladded with special handmade tiles in green and grey shades.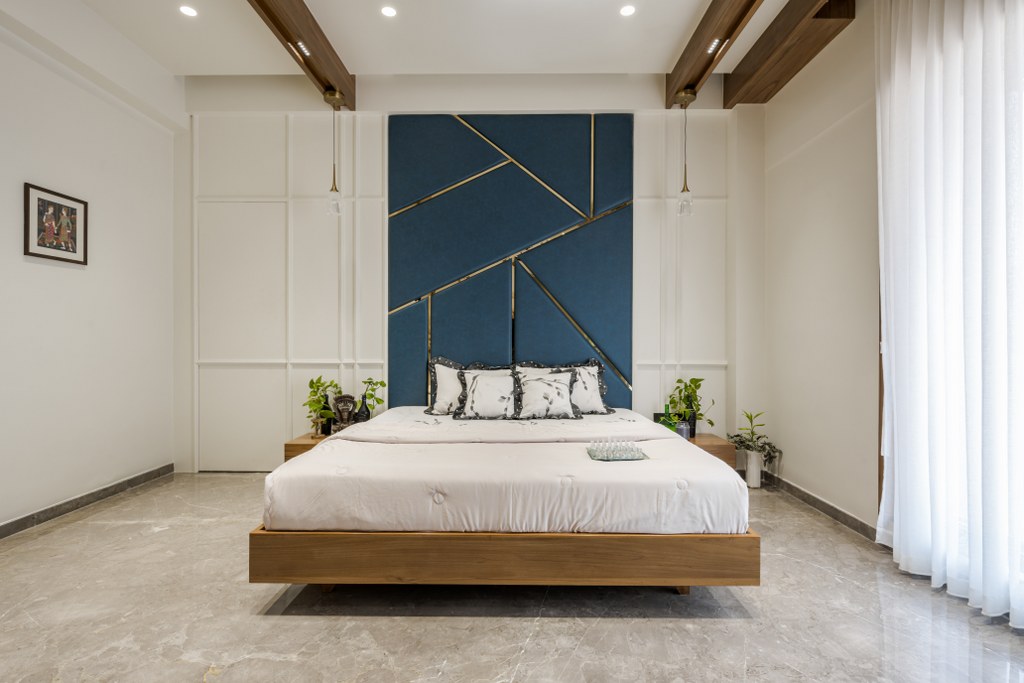 Each bedroom has reigning colours matched with the personalities.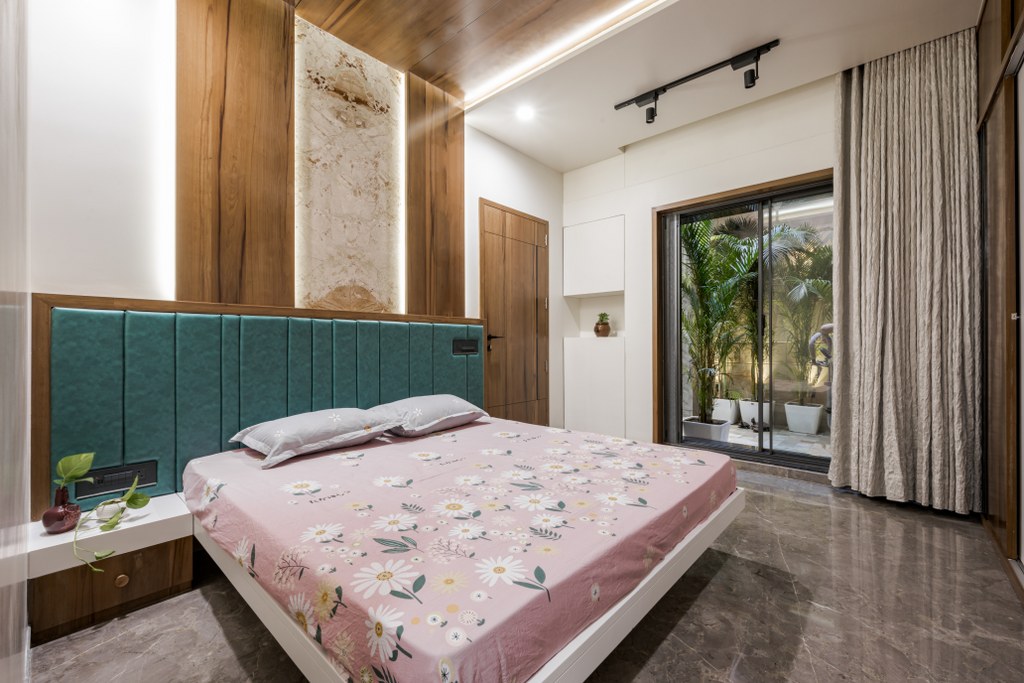 The client's brief was simply stated with requirement of 5bhk house in such a tight plot. With the limitation of light source from just one side, this triggered to a desire to create an abode that flourished green with internal courtyard and double height volumes with striking patterns dancing on the walls throughout day.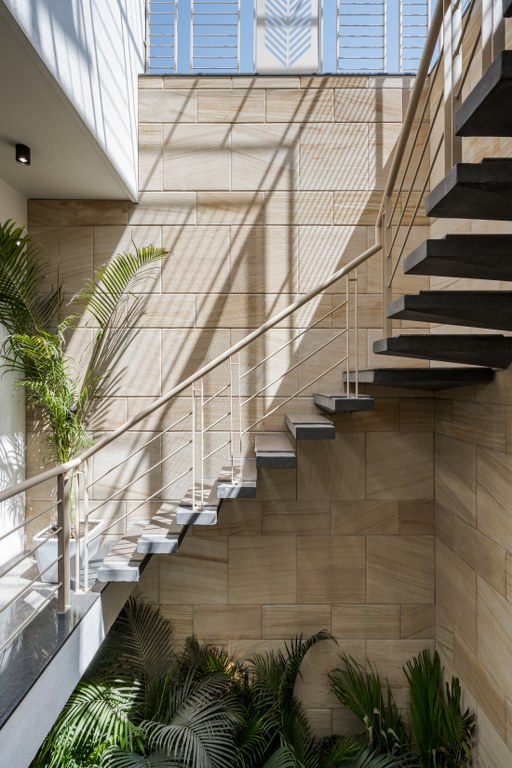 We endeavored the volumes of floating frame and triangular mass for creating diverse experiences and dramas within its physical form. With the idea of minimalistic approach, architecture was purely influenced by honesty of materiality typified by geometrical shapes, bare natural materials, playful colors and textures and a serene experience.
Fact File
Designed by: IKS Architects
Project Type: Residential Architecture & Interior Design
Project Name: Sailing Planes House
Location: Rajkot, Gujarat
Year Built: 2022
Duration of project : 2 Years
Plot Area: 1650 Sq.ft.
Built up: 3300 Sq.ft.
Project Cost Appx : 1 Crore
Principal Architects: Kushal Shah, Ishita Shah
Photograph Courtesy : Murtaza Gandhi
Products & Materials: Lighting: Yadav Lighting-Abbey | Sanitaryware: Hansgrohe | Flooring: Om Italian Marble, Motto Ceramics | Kitchen: Fucntions & Fittings | Paint: Asian Paints | Wallpaper: Shreeji Home Decor-Asian paints | Hardware: Hardware khazana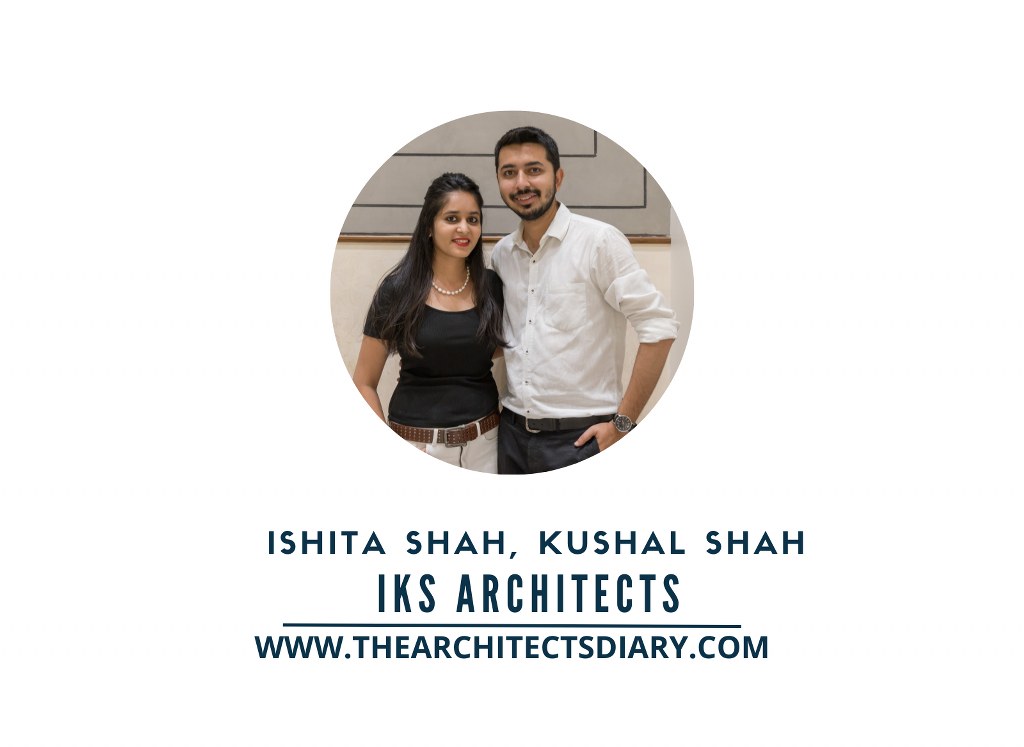 Firm's Instagram Link: IKS Architects
For Similar Project>>Exemplary Spatial Experience Redefining The Paradigms Of Contemporary Design