Functionally Aesthetic Office Space Following Crisp Design Language | Sharan Architecture + Design
A good office interior design will make you feel more comfortable with your daily job. Today an office interior design is important too as same as home interior. When people don't like their workspace! We as a designing firm had the challenge to create our own office space in such a way that every client and visitor should be amazing, fascinate by seeing the designing scope of the space, as it's a very compact area.
Visit: Sharan Architecture + Design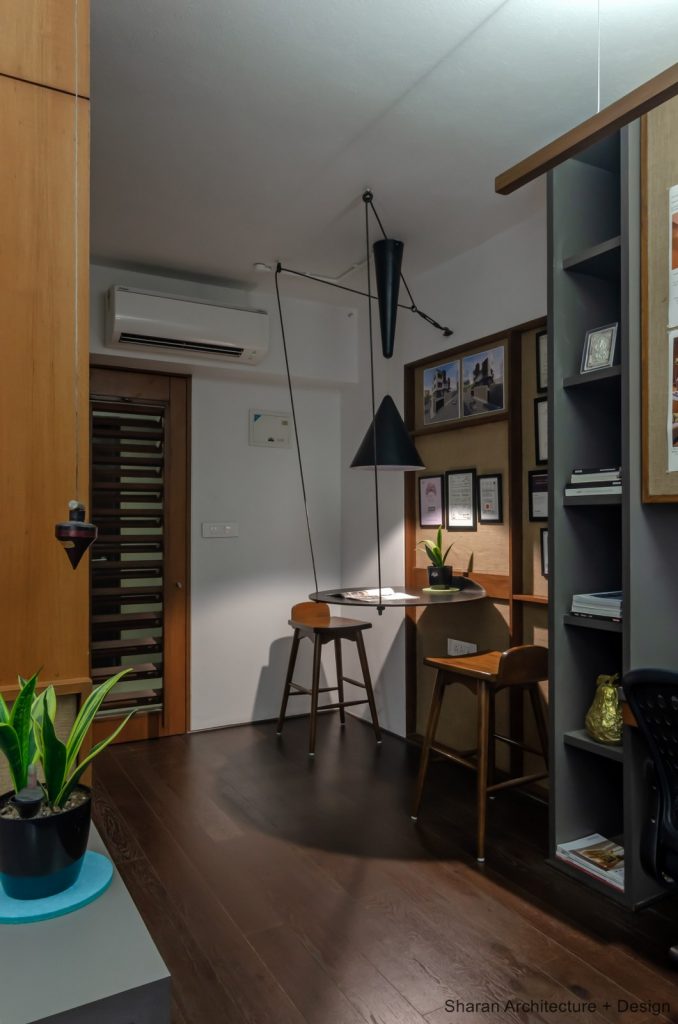 Our office is situated in a posh area of Surat. The concept of designing the space was to create a lively environment which encourages our staff to work there, this space caters to a range of different work modes. We designed and delivered an open plan and collaborative workspace helping to bring together the team. A free-floating table hangs from the ceiling is always better than a mass of chunks.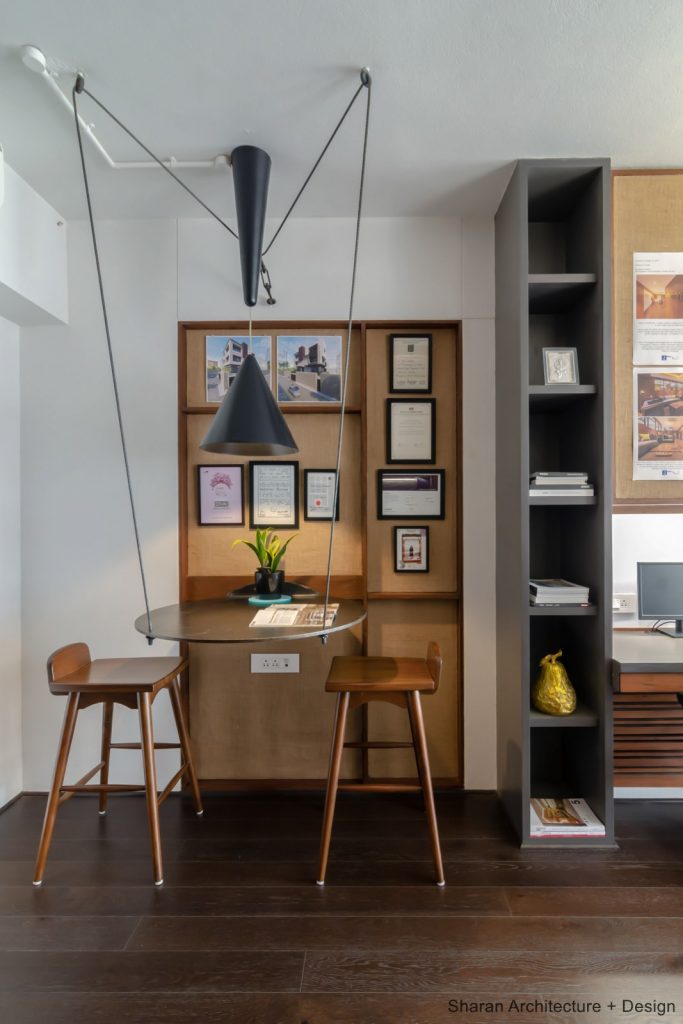 In this small office, we wanted to create an element that could become eye-catching and make the visitor feel the WOW effect, that some kind of techniques and mechanism is done. As in daily life when we hear the name Table we all visualize it as a solid mass with all the utilities. But here we have come up with the new idea i.e. a table hanging on rods through the ceiling, which is quite an amazing option, as it looks so slick, delicate, free, easy to install, reusable, can be shifted anywhere, and most important get more open space.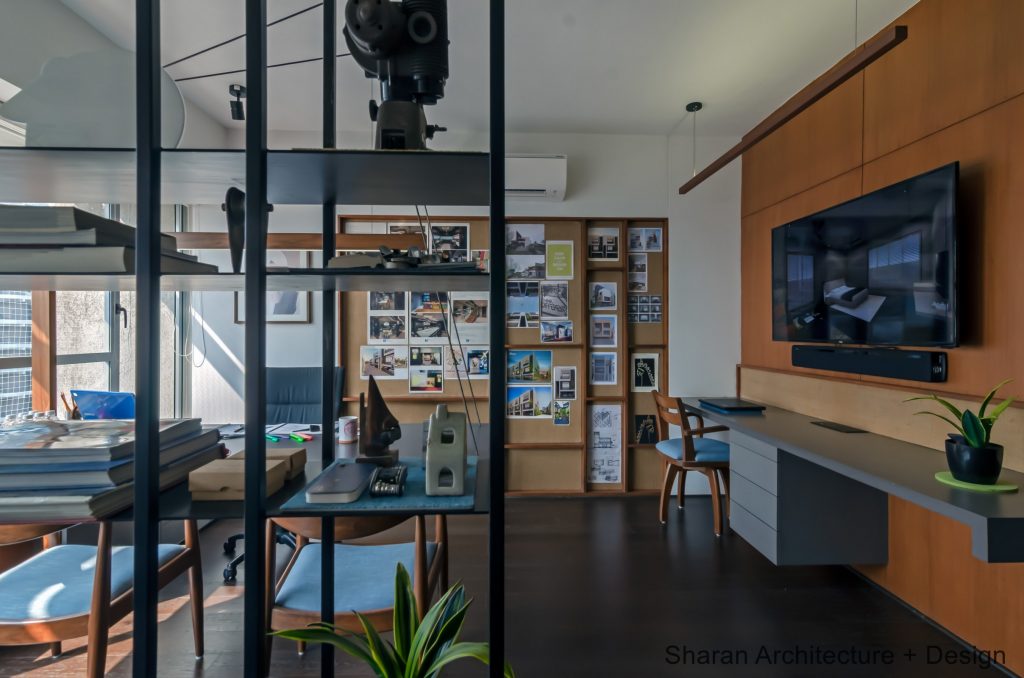 Workstation is suspended from the ceiling upon cable- appearing to "float "above the ground plate. Horizontality is prioritized in the banding of lighting and used as a graphical device to elongate the sense of space in a small interior. The design is not about features, but rather a crafted and delicate composition of elements, the result of applying a macro scale strategy to the micro-scale. Workstations with focus horizontal lighting on the table appear to hover in the space. The 12 mm thick MS plate table with 150 Kg weight hanged on two cable rods on the ceiling which is a thrill to watch. Hanging tables are a great way to save space and a very imaginative way.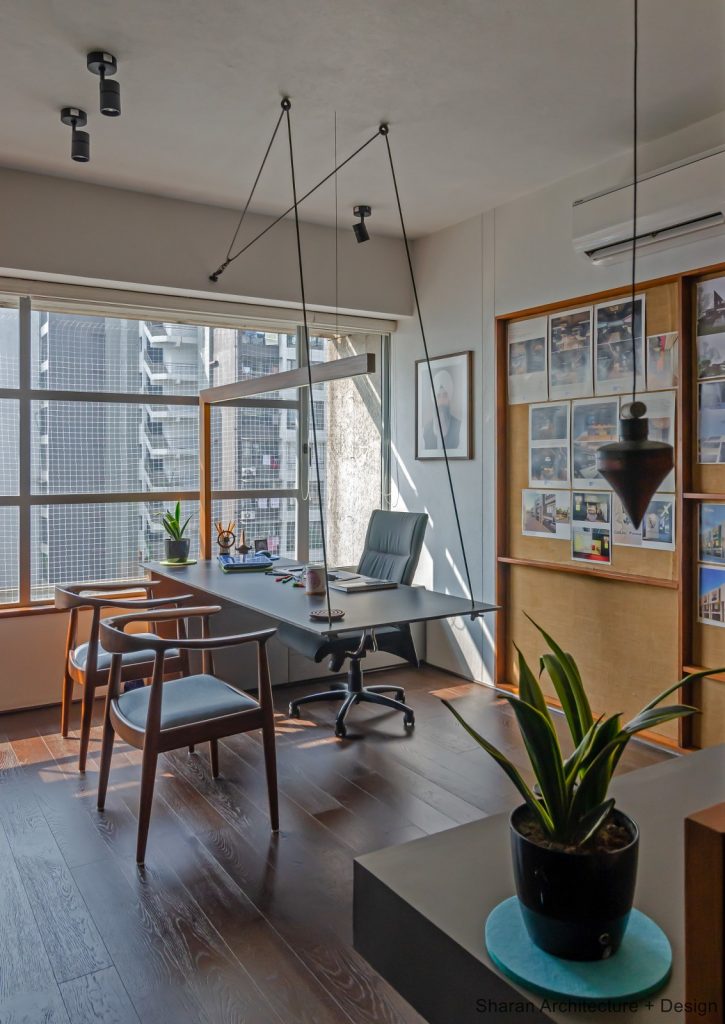 This compact office design tests the limits of space conservation. It's a multipurpose space and a super-efficient layout. Simple decor and streamlined furniture keep the interior feeling bright and uncomplicated – a dream for any fan of minimalist design. It opens with a look at the versatile main foyer with waiting area cum discussion table, a cozy reading area and also our lunchtime masti can be done, it caters all day-to-day needs. We chose a simple cantilever design with a pair of two wooden bar stools which enhances the beauty of the space.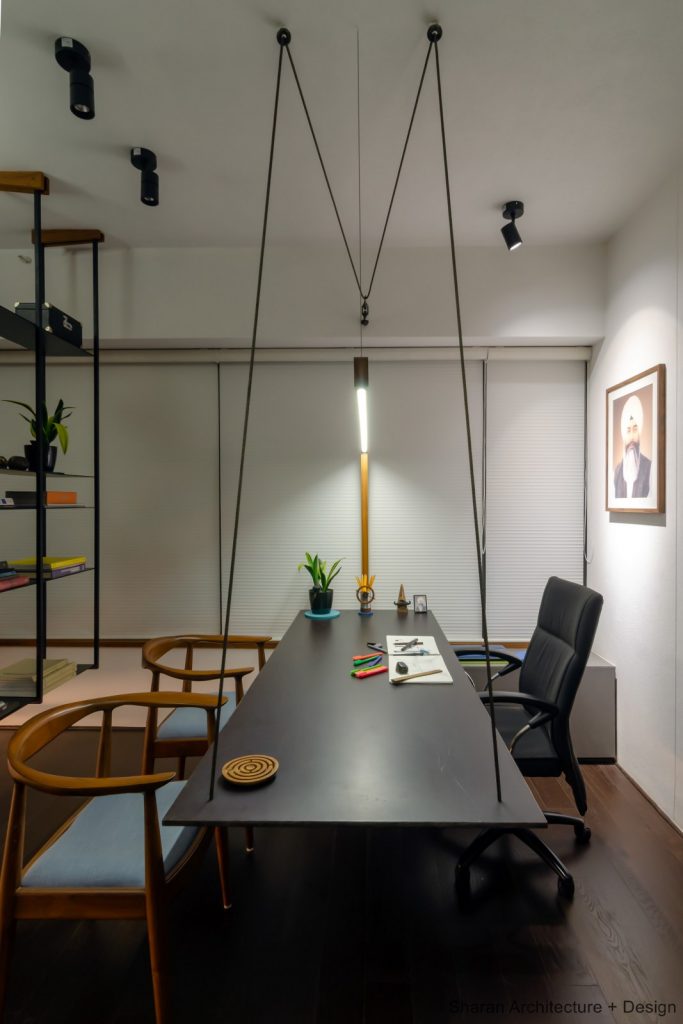 The idea of designing light above the main table comes up from the set-square instrument which is used by the carpenter. We have used only two materials in the interior i.e.: metal and wood, the combination of raw metal with warm wood looks very attractive and even timeless. Whereas metal is reflective material and on the other hand to make a balance we have use jute fabric which absorbs all the reflective surfaces. These jute surfaces are used as a soft board and have utilized each and every corner.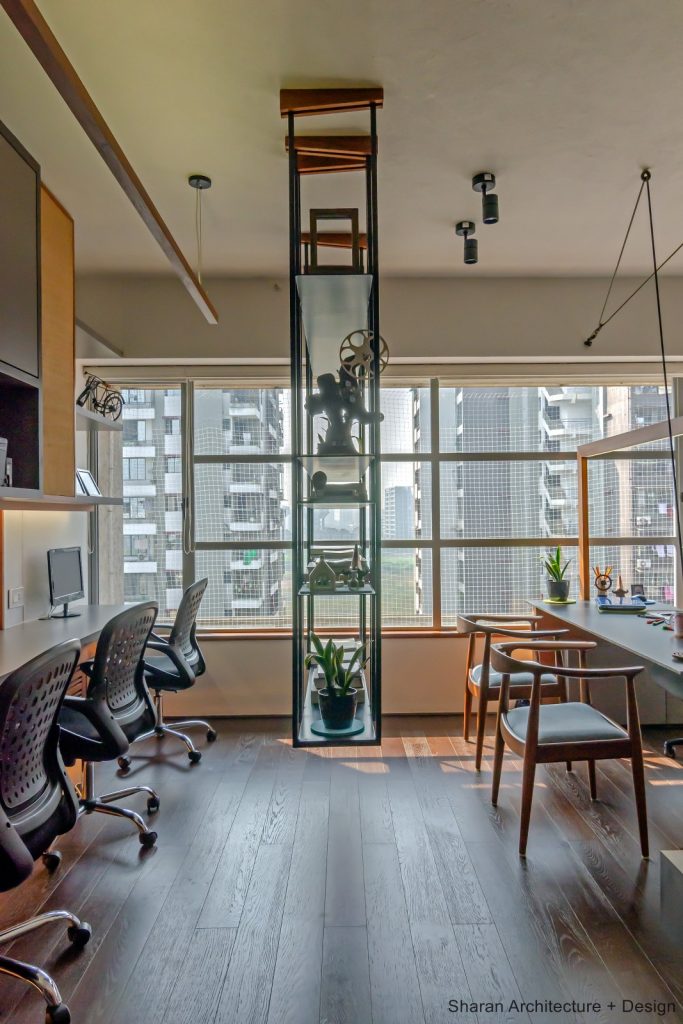 The designing nature of this office space is based on clarity and simplicity with a modern approach, which is functionally aesthetic. Space is designed in a subtle, clean language with beige and brown being the dominant colors that are timeless and make a solid, earthy look.
FACT FILE:
Name of the Firm : Sharan Architecture + Design
Project Type :Commercial Project
Name of the Project : Sharan Architecture+Design (Studio)
Carpet-Up Area : 335 Sq.ft
Location: Surat, Gujarat
Project Completion Year : 2019
Principal Architect: Vipul & Kruti Sukhadia
Photography Credits: Nimisha Dakoria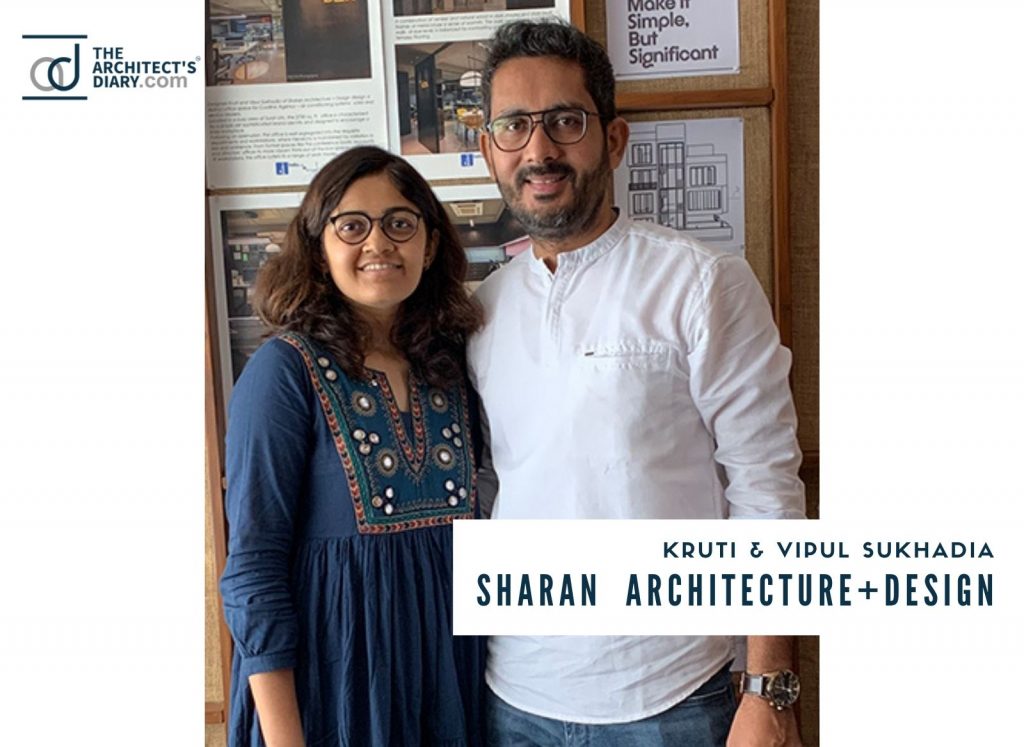 Facebook: https://www.facebook.com/Sharan-Architecture-Design
Instagram: https://www.instagram.com/architect_design_sharan/