The design of this villa in a plot area of around 6400 sq. ft. keeping in mind minimalism, the elegant view, contemporary theme and classic look. It is located at the most developing area of the Vadodara city – Sevasi. The site is surrounded by ample greenery providing peace and calmness from the eventful life of the town.
Fine-Tuning the Classic Union of Minimalism and Chic for this Home in Vadodara | Viviana Interio
Visit: Viviana Interio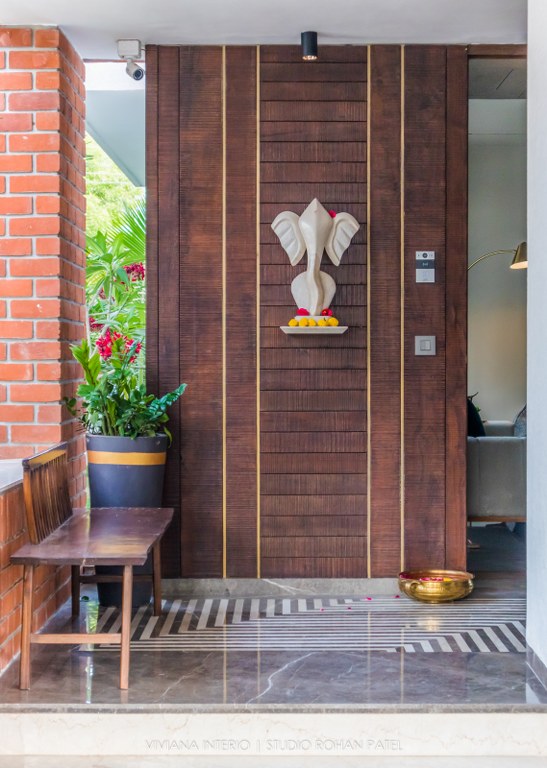 The designer, Priyanka Choksi designed the owner's description into a tangible reality that can be cherished over time. From overall design to minute details, the house designed by Viviana Interio metamorphizes into fresh and clutter-free design.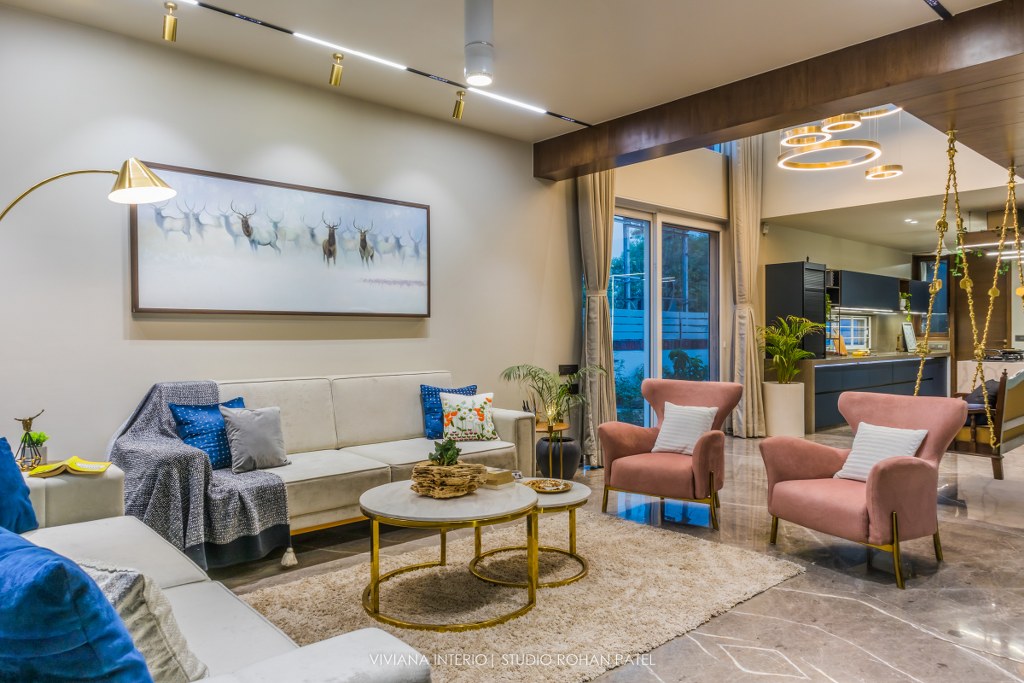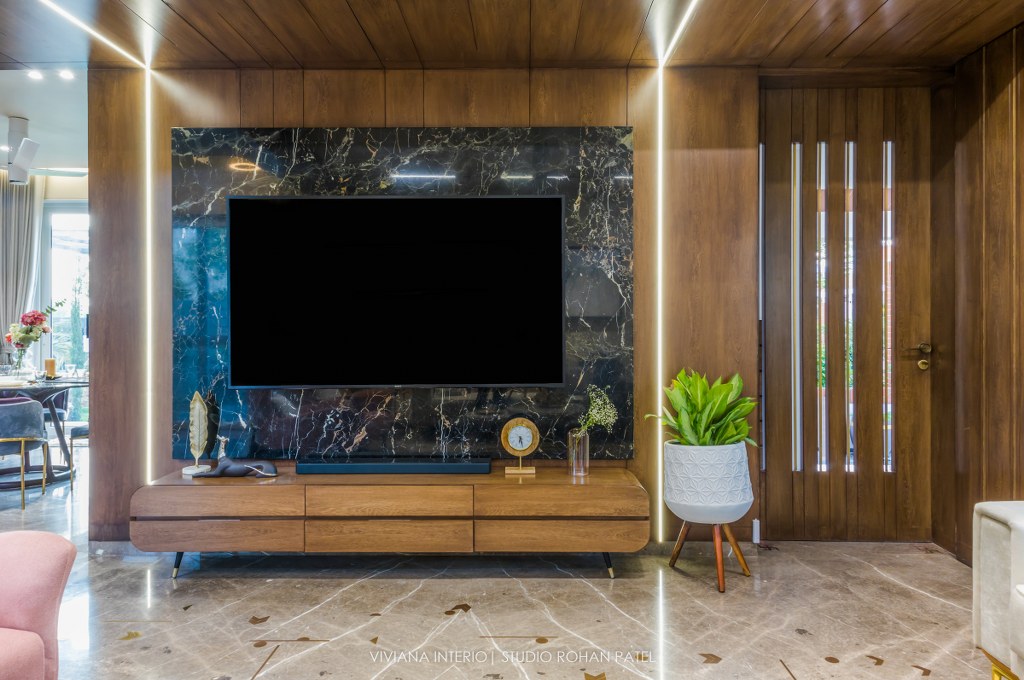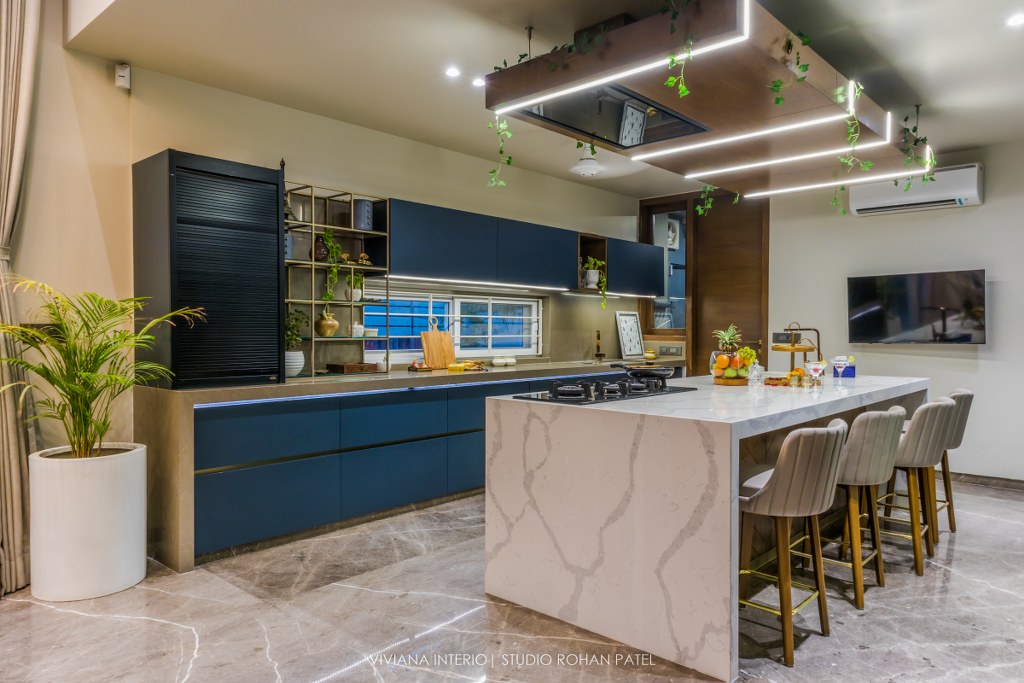 On the ground floor, the foyer walls and main door is designed with raw wood and brass. Ground floor flooring is of Italian stone. The grey Italian marble is continued in the living room with brass inlay in the flooring. Island kitchen platform is provided. In between the living room and kitchen, there is a double heightened ceiling where an elegant customized chandelier is placed.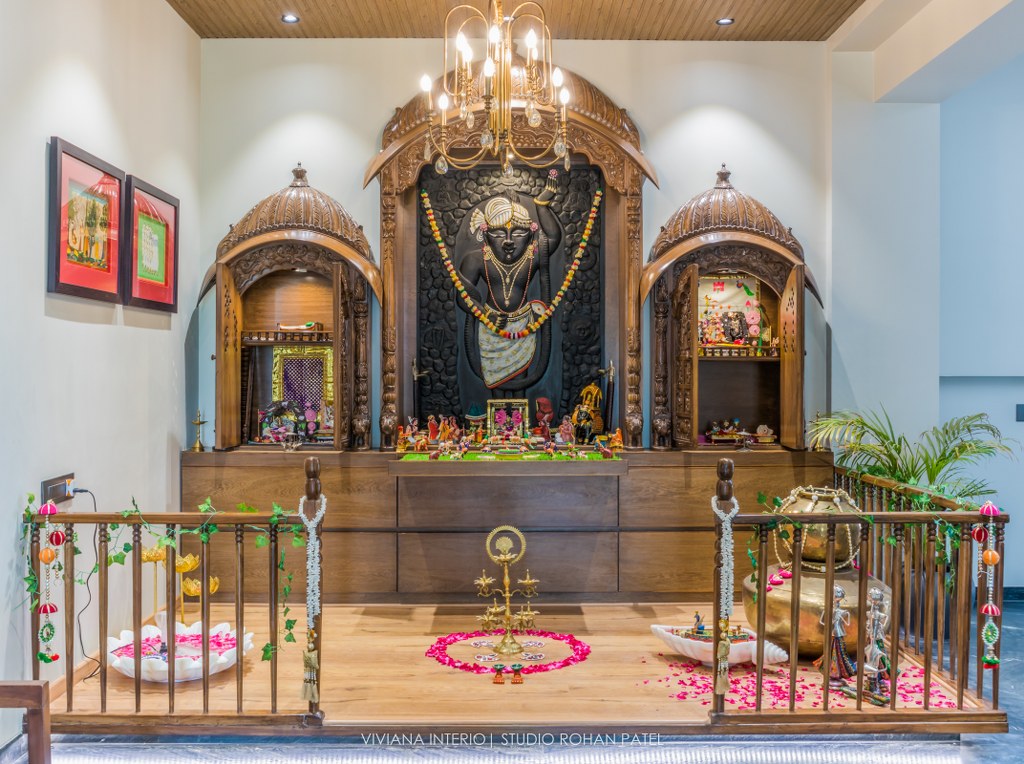 Out of total plot area 0f 6400 sq. ft., plinth area is of 2200 Sq. ft. comprising of a Living room, Kitchen, Dining area, one Guest bedroom on the ground floor, one master bedroom, one kid's bedroom, one guest bedroom, and pooja space accommodated on the first floor and one master bedroom with gazebo sitting on the second floor. The area of about 4200 Sq. ft. is covered with Landscaping, kitchen garden, fruit garden and swimming pool.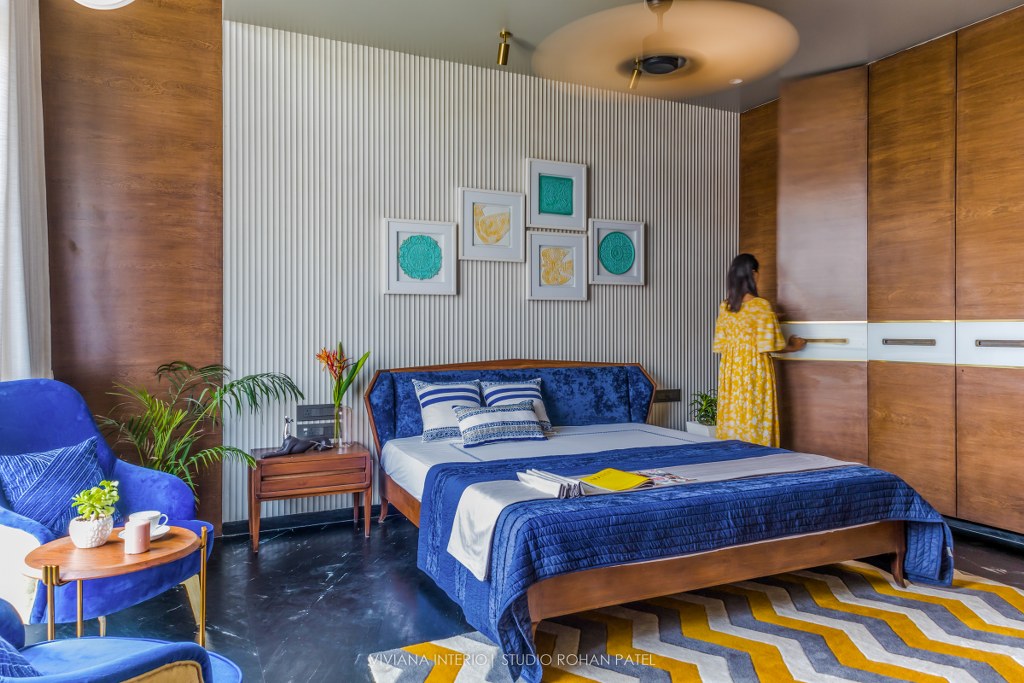 On the first floor, the flooring material is black slatestone which provided warmth inside the house. The floor comprises the master bedroom, kids bedroom, second guest bedroom, and mandir. All the spaces showcase their individuality, yet are conjunct. Simplicity in the ceiling and embellishments on the walls makes the space more mature and unique.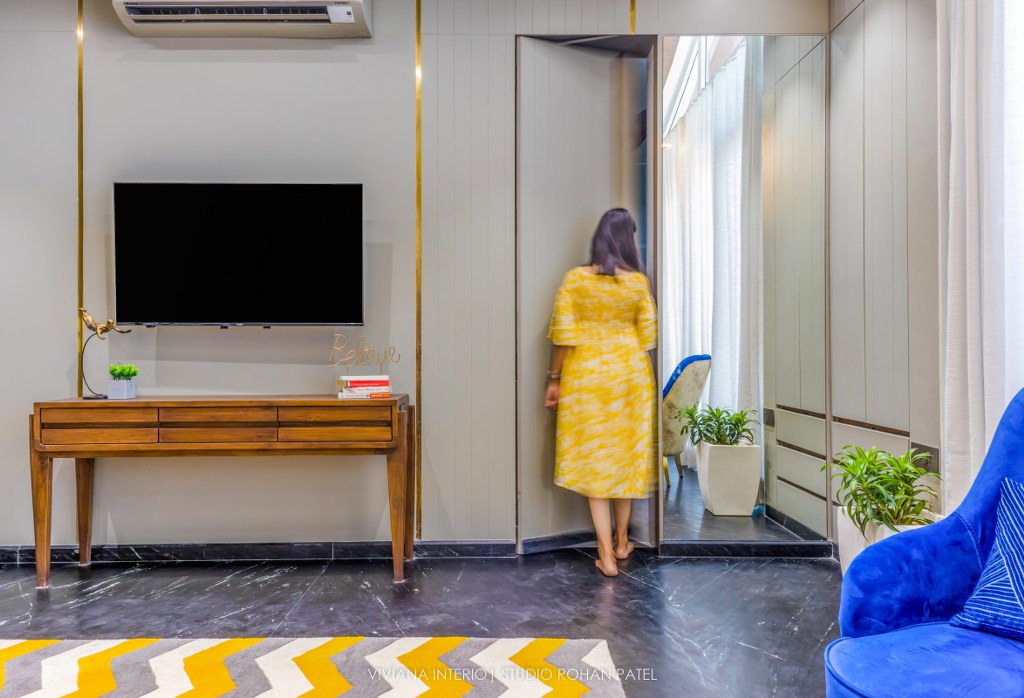 The second floor is a private zone composed of a grand master bedroom with a gazebo sitting. The bed is made up of hand-carved wood practicing a combination of minimalism yet classic elements. The perfect details superiorities the room feel. The bathroom has an island dressing console with a round hanging mirror.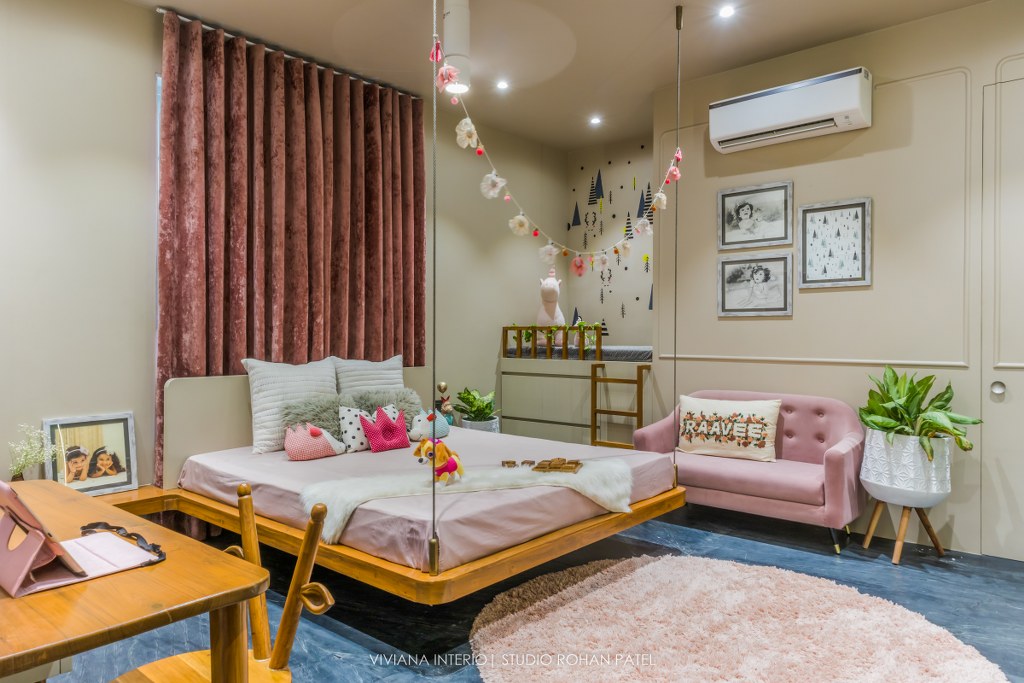 All the materials such as stone, fabric, veneer, laminate and wood are handpicked for the client. The twilight view sets the mood of the evening with revolving bricks and handcrafted bells providing soft chimes along with the birds chirping.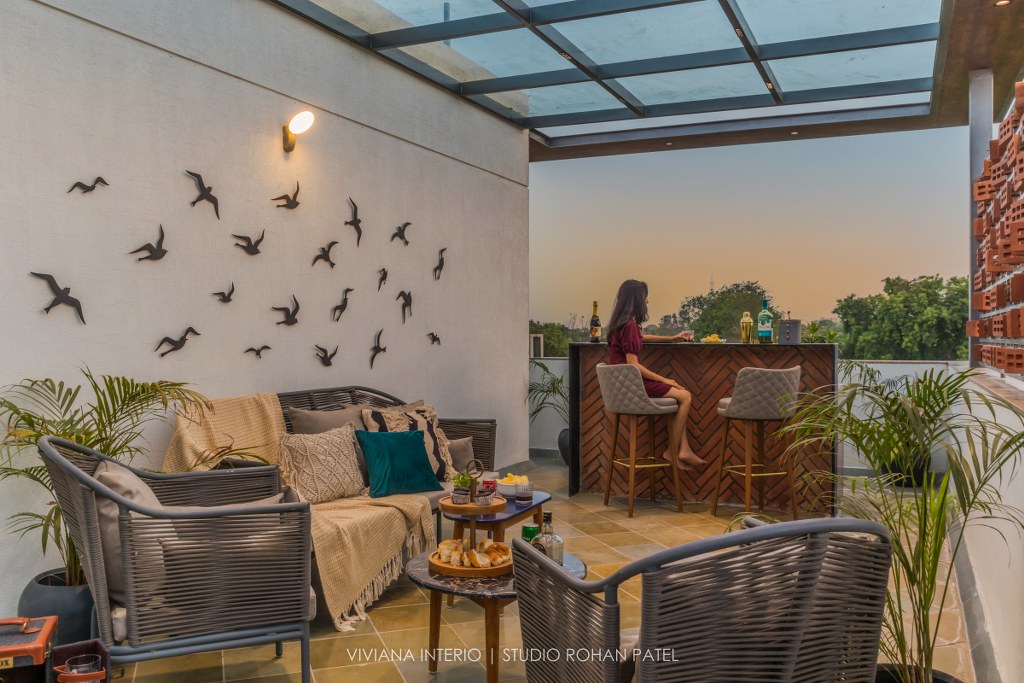 Fact File
Designed by: Viviana Interio
Project Type : Residence Interior Design
Project Name : Vee Villa
Location : Vadodara, Gujarat
Year Built : 2021
Duration of project : 6 Months
Plot Area : 6400 Sq.ft
Built up : 5500 Sq.ft
Project Size: 3500 Sq.ft
Project Cost Appx : 1.72 Crore
Principal Interior Designer: Priyanka Choksi
Team Design Credits: Vidhi shah and Kuhu Singh
Photograph Courtesy : Rohan Patel
Consultants for the Project
Landscape Architects: Kelivan Landscape
Products/Materials: Finishes/Flooring: keyadecor | Wallcovering / Cladding: Shreejiceramica | Lighting: Kesha.lighting | Artefacts: Satyam Plywood
Firm's Website Link : Viviana Interio
Firm's Instagram Link : Viviana Interio
For Similar Projects >> An Amazing Sunset View Corporate Office Design in Vadodara