&nbsp
The office design is a space where an organization and the employees work to support the objectives and goals of the organization. Recently Viviana Interio completed a well-designed a corporate office for an Indian MNC in the prime area of Manjalpur in Vadodara, Gujarat. This office is located on the 6th floor of the La Majesty complex. Ample natural light and ventilation are received directly through the front façade in this office. The front façade has an amazing sunset view with the city lights at night.
An Amazing Sunset View Corporate Office Design in Vadodara | Viviana Interio
Visit: Viviana Interio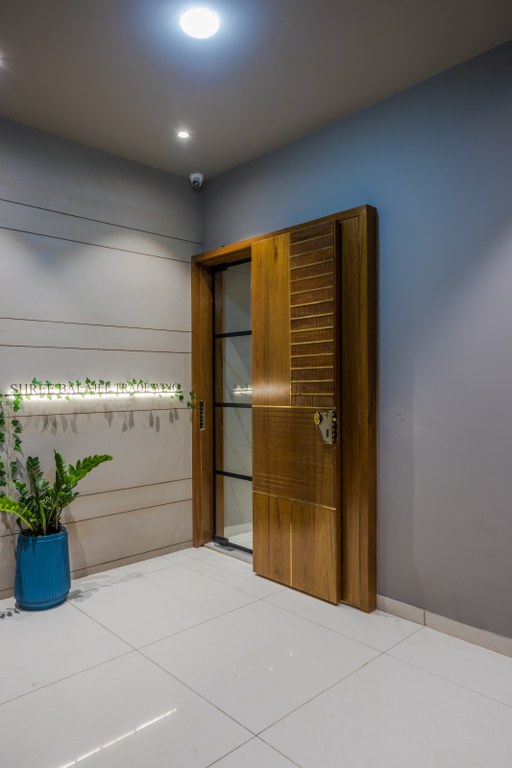 Another challenge was the columns in the grid format. All the columns were 24"x18". The designer channelled those columns into storage units and partitions.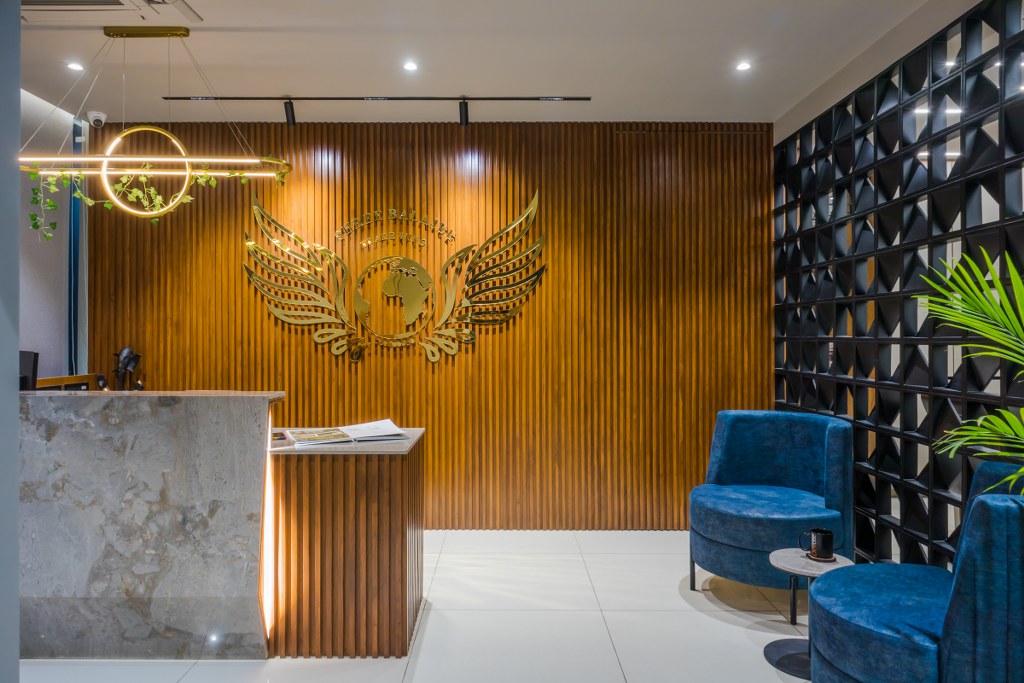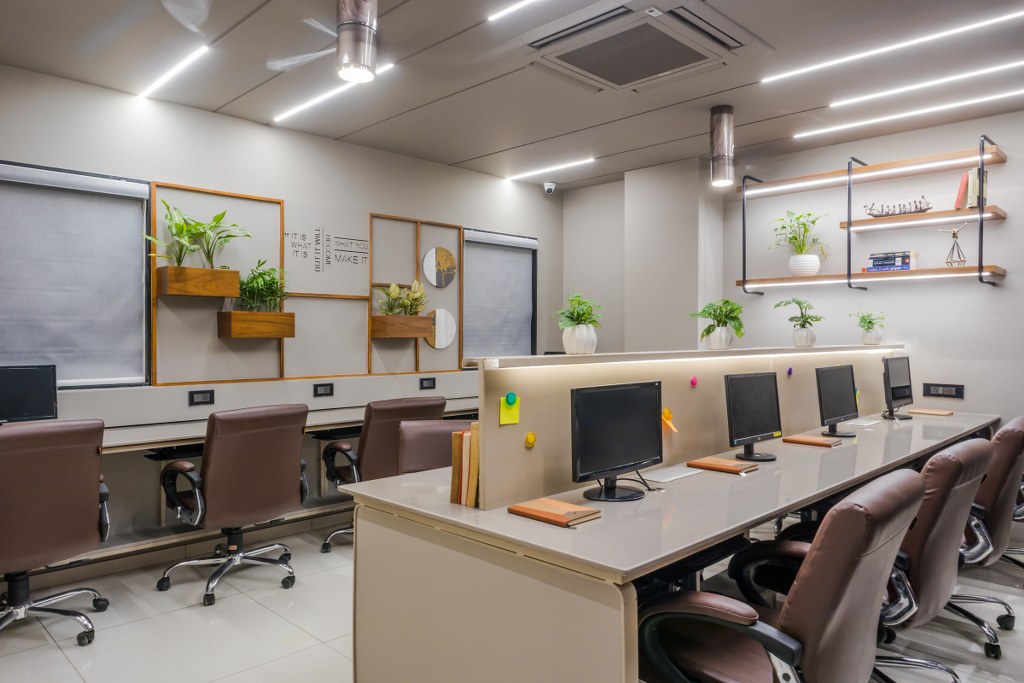 During the process of design, the challenge was to consider the requirements of the user who has multiple clientele globally. The major challenge for the designer was the approach to bringing everything within the 2090 sq. ft of carpet area. The office space includes workstations for its employees with 2 cabins and one master cabin, a conference, dining area, accounts and logistics, and an attached washroom.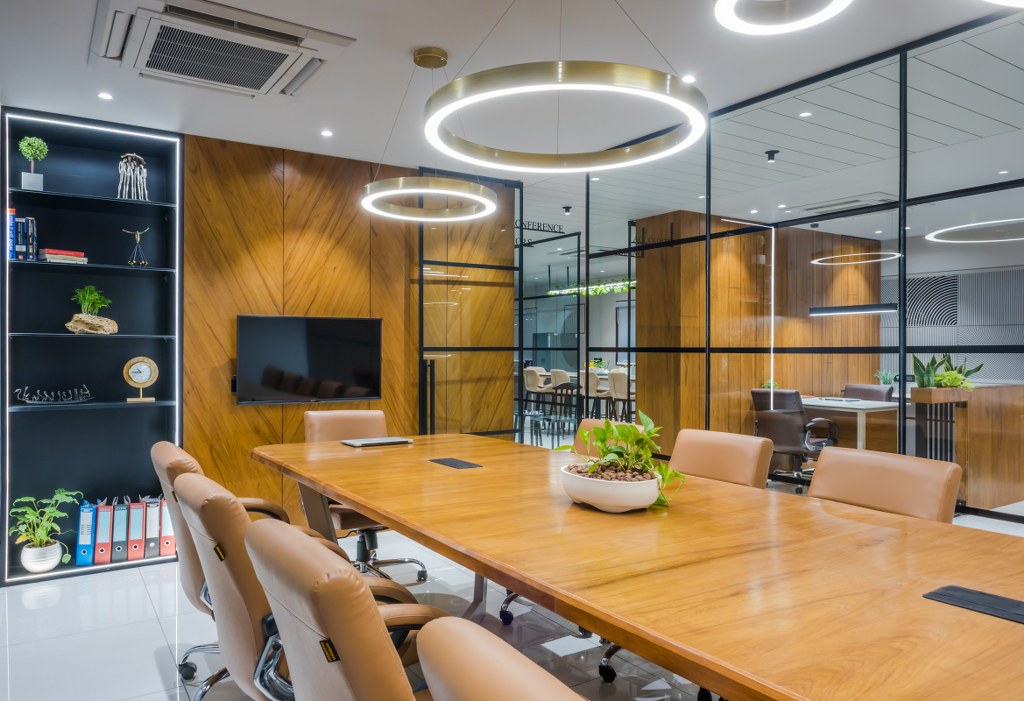 The reception for the office space is a welcoming one. The reception counter is of Italian stone with brass edge detail. The wall panelling has teak wood cut into strips with a brass design sheet as a highlighting element. The minimal hanging above the reception table enhances the experience while entering.The right side of the reception table has terra cotta blocks, which divide the reception and the work station providing a see-through partition.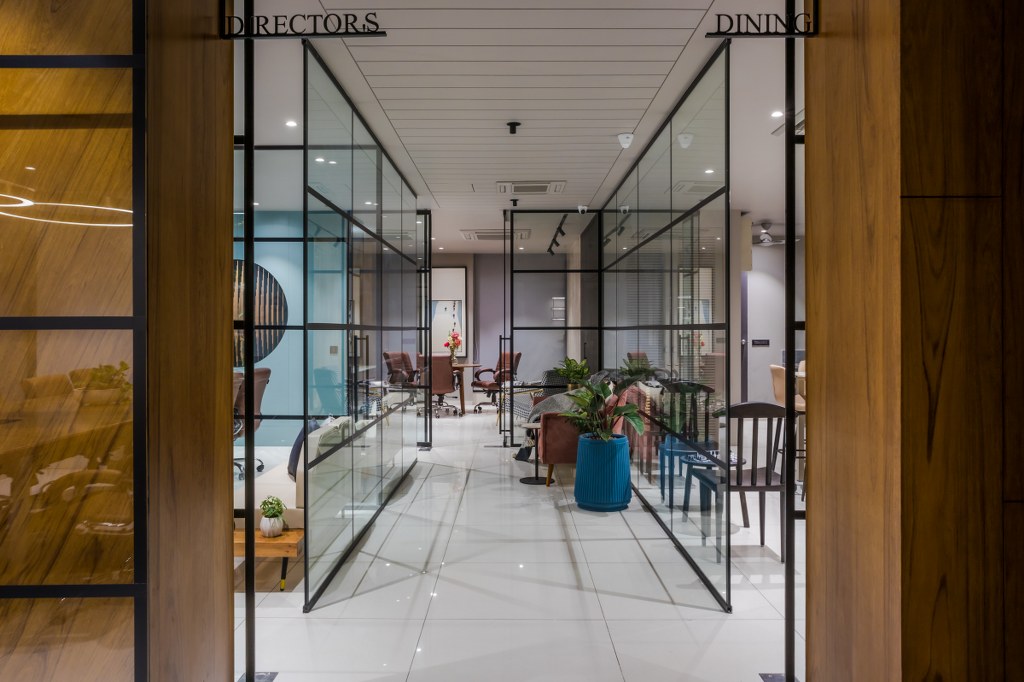 Plenty of planters has placed in the workstation which offers a pleasant environment for the employees. The designer focuses to give the best outlook with the furniture and sitting arrangement. The tabletop is of stone and the partition is of the magnetic board. The sitting arrangement is very comfortable as per the needs of the clerk.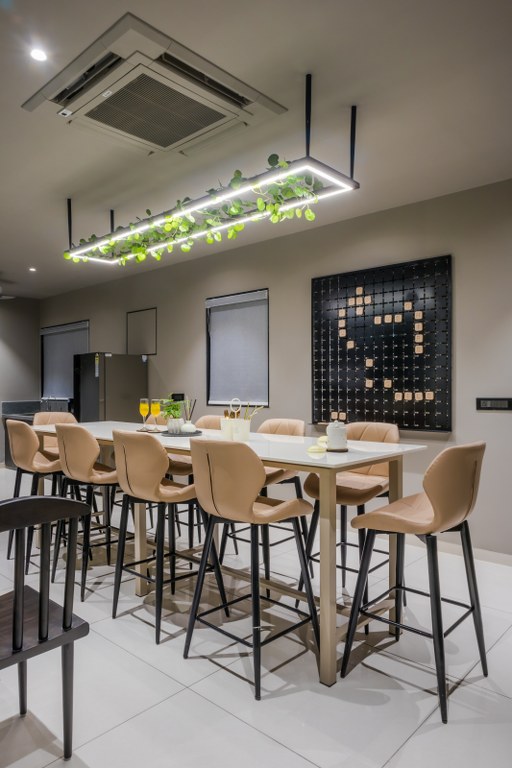 The dining area is designed by keeping in mind the employees which would enlighten the space and provide the employees a recreational space. It consists of a magnetic crossword and some board games.
The master cabin is fixed with the profile glass door. The cabin uses veneer with brass details furniture. The discussion table consist of rough wood and brass detail with Italian stone top. The backdrop uses roman blinds and metal CNC. The round metal CNC was designed keep in mind the visual view span from the reception to the dining area.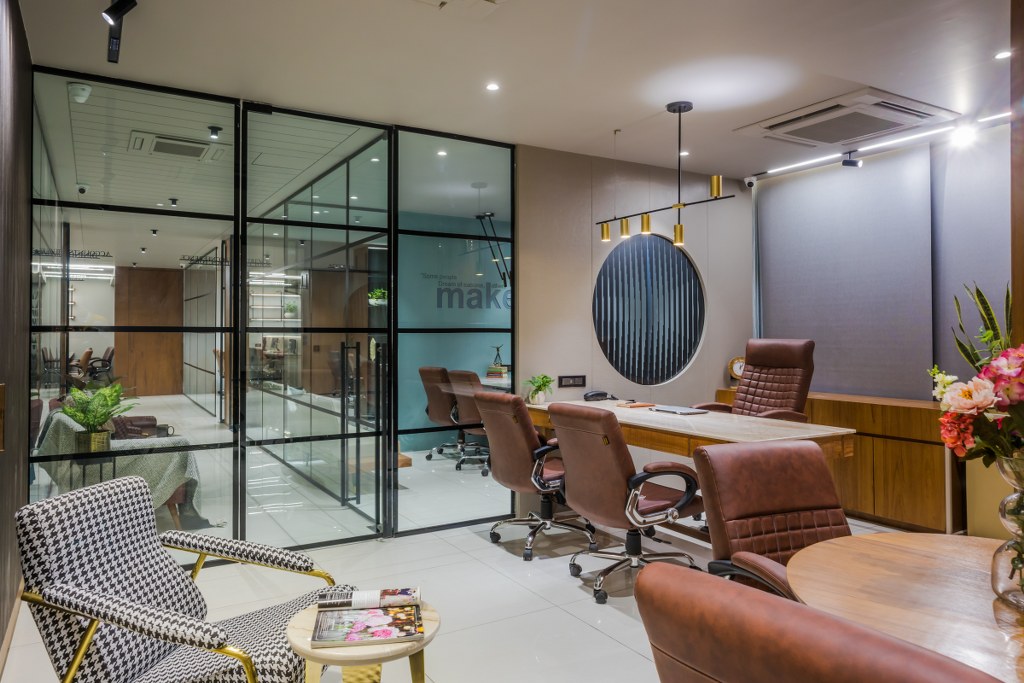 The designer keeps in her mind to use the perfect soothing colours in the office interiors which set the right mood and tone for the space. The lights are 4000K luminous which gives a warm look to the entire space.
Fact File
Designed by: Viviana Interio
Project Type : Corporate Office Interior
Project Name : SBT House
Location : Vadodara, Gujarat
Year Built : 2022
Duration of project : 6 Months
Project Size: 2090 Sq.ft
Project Cost Appx : 65 Lac
Principal Architect : Priyanka Choksi
Team Design Credits: Vidhi shah and Kuhu Singh
Photograph Courtesy : Viviana Interio , Rohan Patel
Consultants for the Project
Landscape Architects: Kelivan Landscape
Products & Materials: Finishes/Flooring: Keya Décor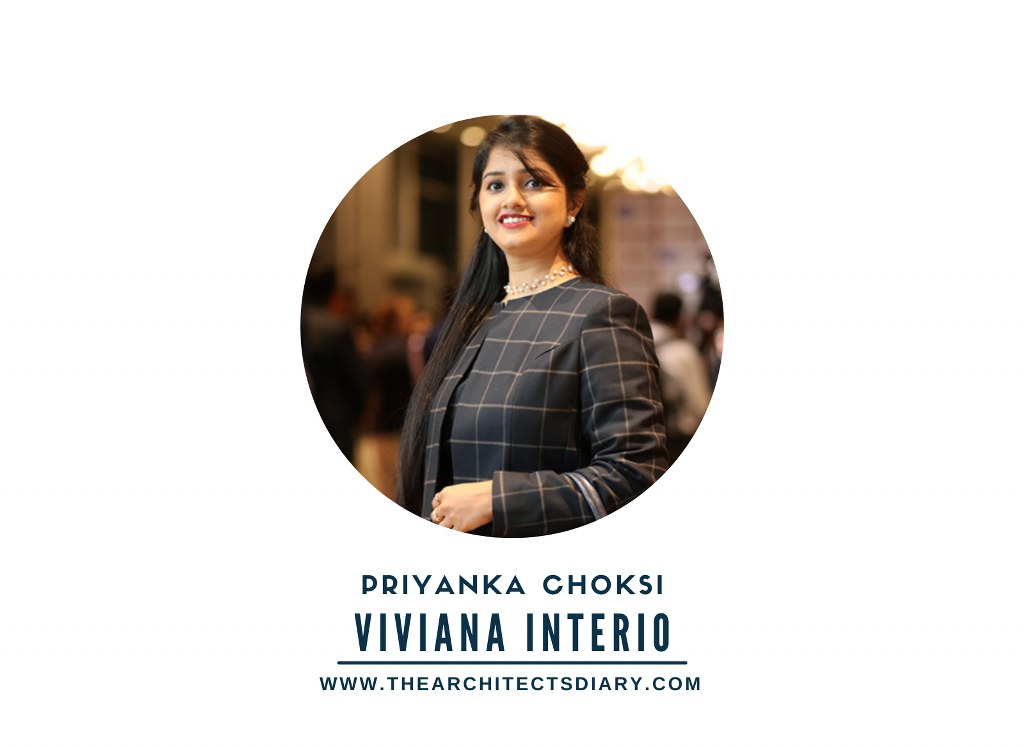 Firm's Website Link : Viviana Interio
Firm's Instagram Link : Viviana Interio
For Similar Project>>Mesmerizing & Motivating Office Design for Byju's