Facelift 3.0: A Revamped Office Space And Work Studio | i2a Architects Studio
The i2a Architects Studio's facelift 3.0 design features the revamped office and work studio. It's free structural elements, concrete slab, and other pre-existing elements perfectly adapt to create new collaborative designed spaces. i2a's primary intention was to create a larger, more comfortable space to work together with the team in a common area separated from a lounge and conference room for the clients. To achieve this, three rooms of various functions were designed.
Visit: i2a Architects Studio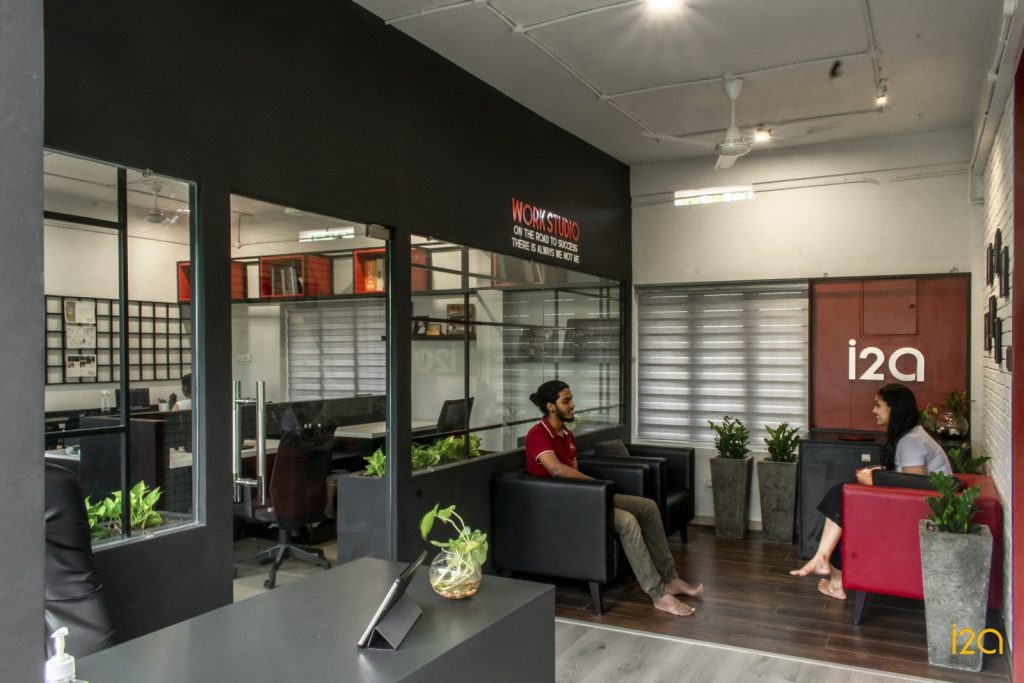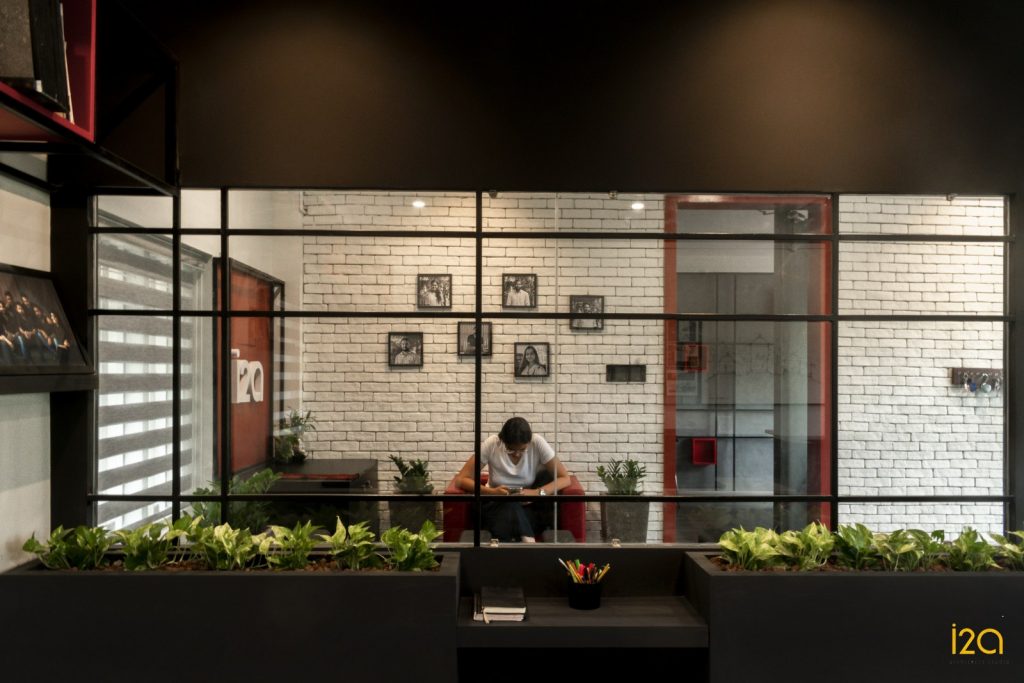 The first division – the office part with workstations, storage, pantry, and printers is located to the left of the entrance foyer. These functions occupy half the space and have a calm and strict functional orientation provided with a large glass opening overlooking the greenery outside. The second division is predominantly the public part that includes the entrance, reception, and the waiting lounge with modular sofas, small side tables, and planter pots.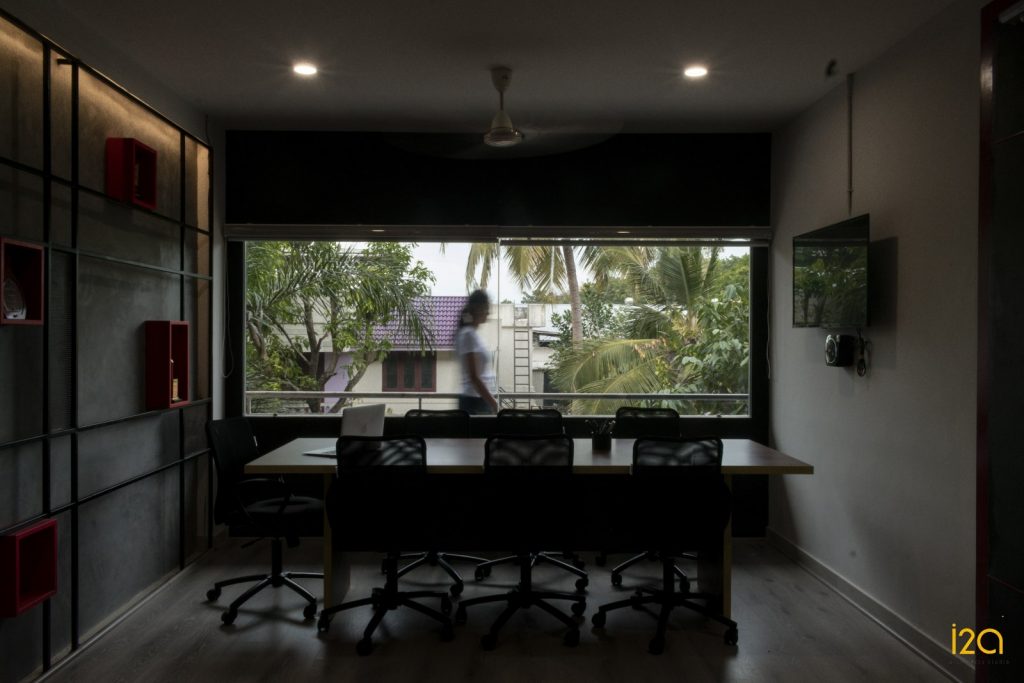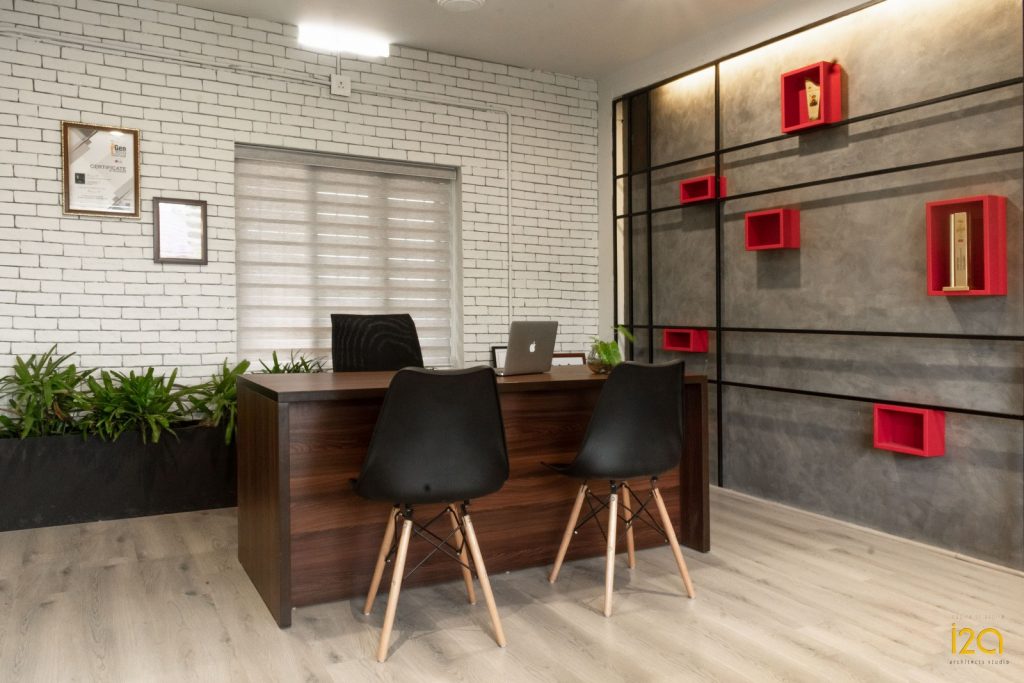 This area functions as a transition zone and is designed to feel cozy and comfortable like a domestic drawing-room. A metallic frame with glass panels separates the lounge from the work station maintaining the visual connectivity yet providing a physical separation. When opening the door on the right is the third space which includes the principal architect's office and conference table. Large clear glass partitions are used to encourage dilation and take advantage of the natural light without compromising the privacy of the spaces.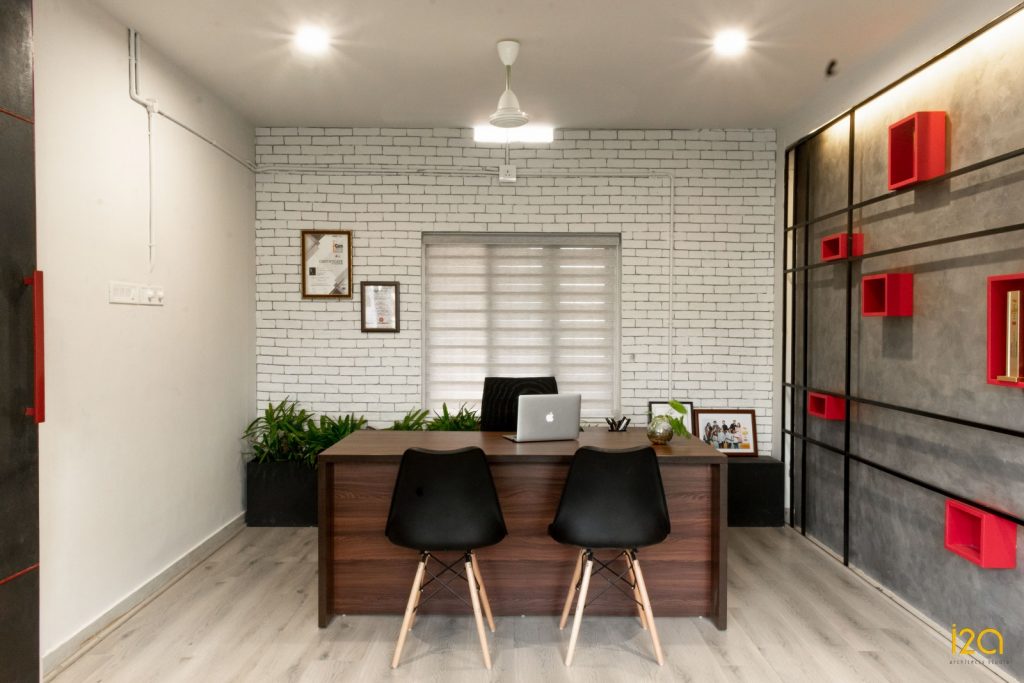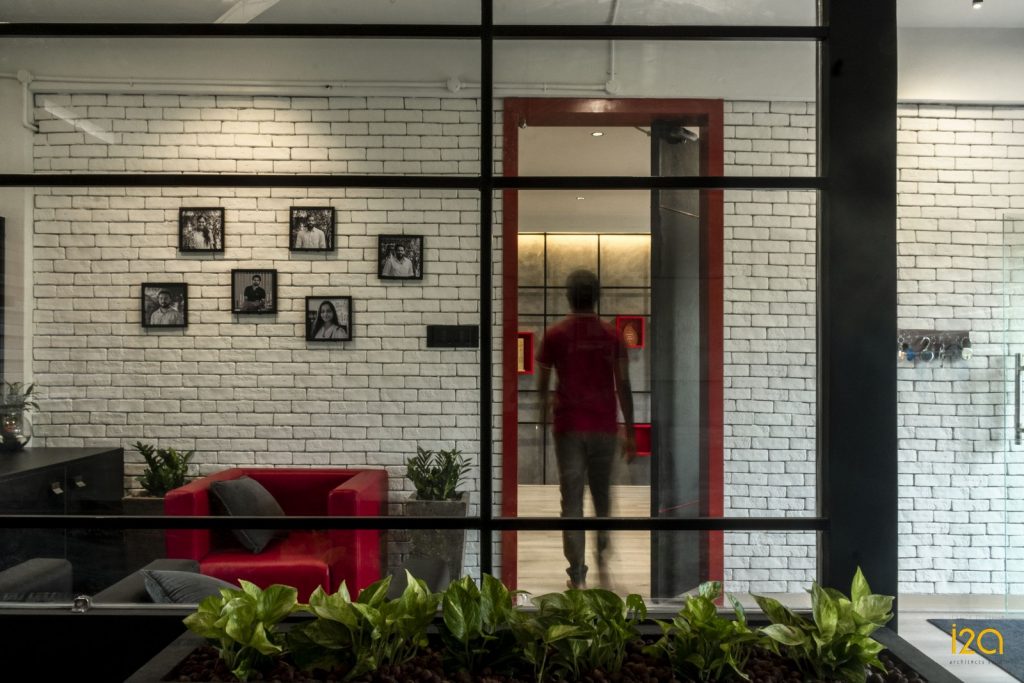 Through a rational yet innovative design language and the application of lightweight materials helped in turning the furniture into an integral part of the space itself. The presence of natural materials, such as wood veneer, linen, metal, and direct lighting on the panels, baseboards, and carpentry brought more charm to details that normally are not out of the ordinary. The interiors are in shades of black and white with striking red here and there. The guiding theme is formed by monochromatic GI grid frames.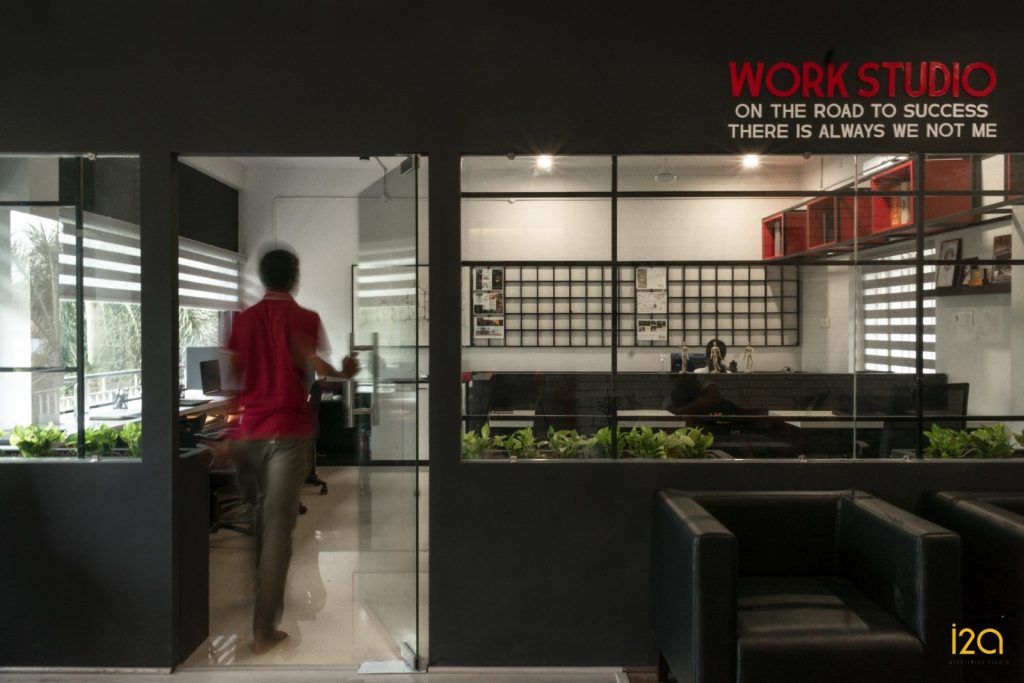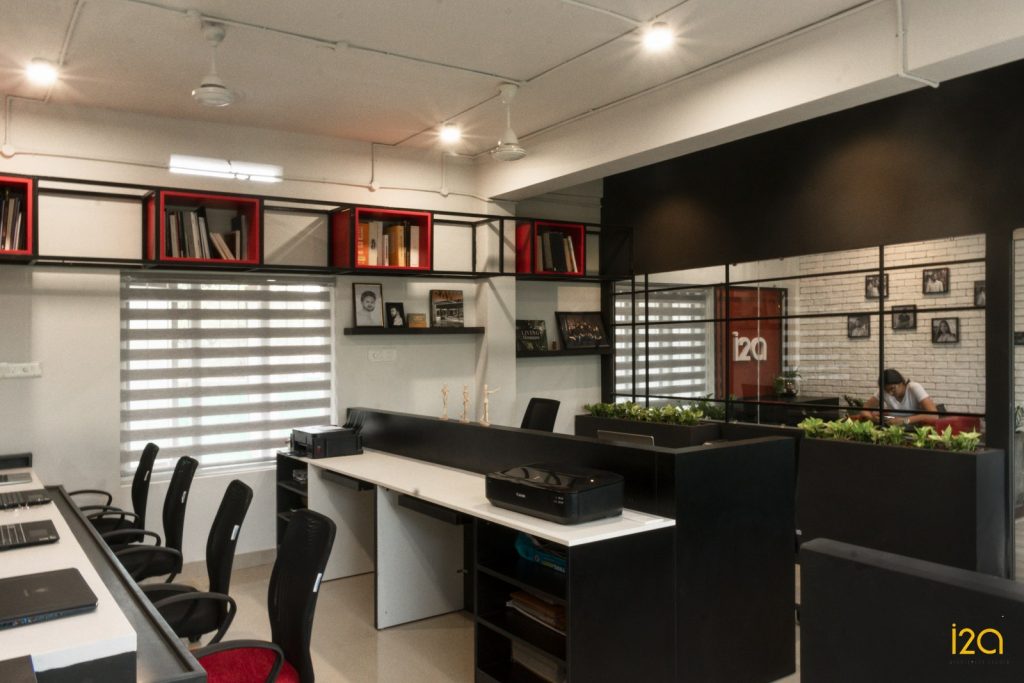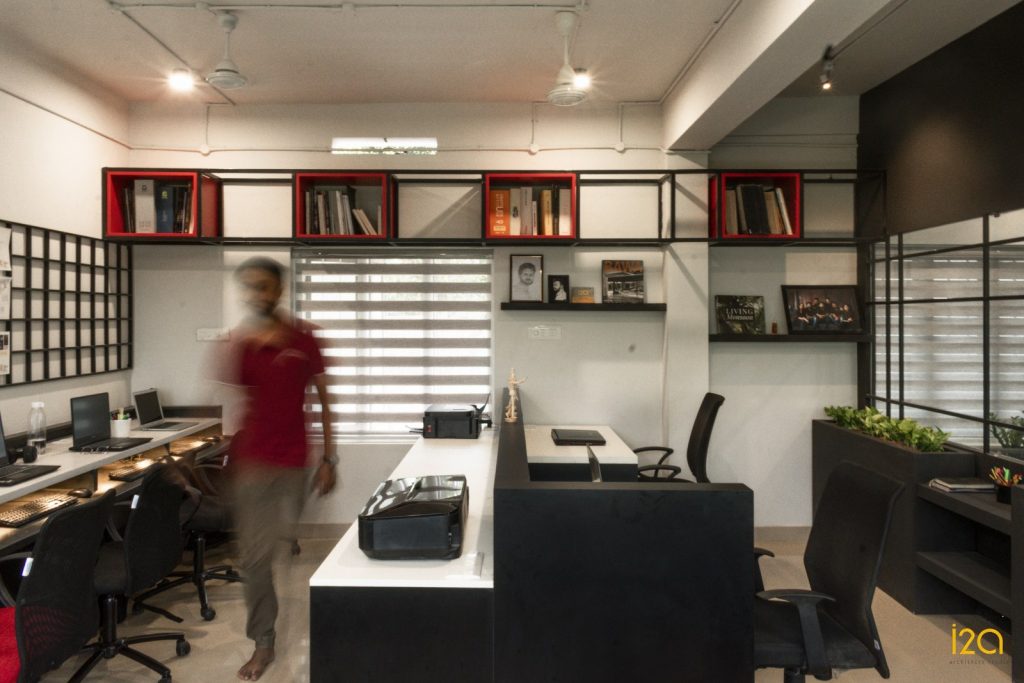 These unfinished black frame structures are filled in with popping red units. These red divisions are composed of a series of simple plywood-finished open boxes functioning as shelves for awards and books. Planter boxes further divide the space into work and functional areas. The subtle black and white theme elevates the unique additions to the design interiors and empowers those that inhabit the space and create a sense of community and equity.
FACT FILE:
Firm: i2a Architects Studio
Project Type: Interior office
Project Name: Face Lift 3.0
Location: Thrissur
Year built: 2020
Size: 750sqft
Project Cost appx: 2 Lakhs
Principal Designer: Ar.Manuraj CR
Design Team : Ar.Albert Jose & Antony Joby
Interior execution: 1000 kitchen & interiors
Photograph courtesy: Antony Joby
Website: https://www.instagram.com/i2aarchitects/
Facebook: https://www.facebook.com/i2aarchitectsstudio
Instagram: https://www.instagram.com/i2aarchitects/