Ecolab – Workspace With Eudaimonia Design Concept | Zyeta
Project Description:
As the world has turned more urbanized and connected, a company's workplace needs to evolve as well. Gone are the days of walled cubicles that defined offices. Now, it's about creating a place that reflects a robust and progressive environment. This was the vision for Ecolab – an open and collaborative workspace distinguished from the rigid offices that have long-characterized the corporate world. With an area of 28,000 square feet and a carpet area of 19,000 square feet, the Ecolab office project in Bengaluru afforded a new opportunity for an open space workspace design.
Visit: Zyeta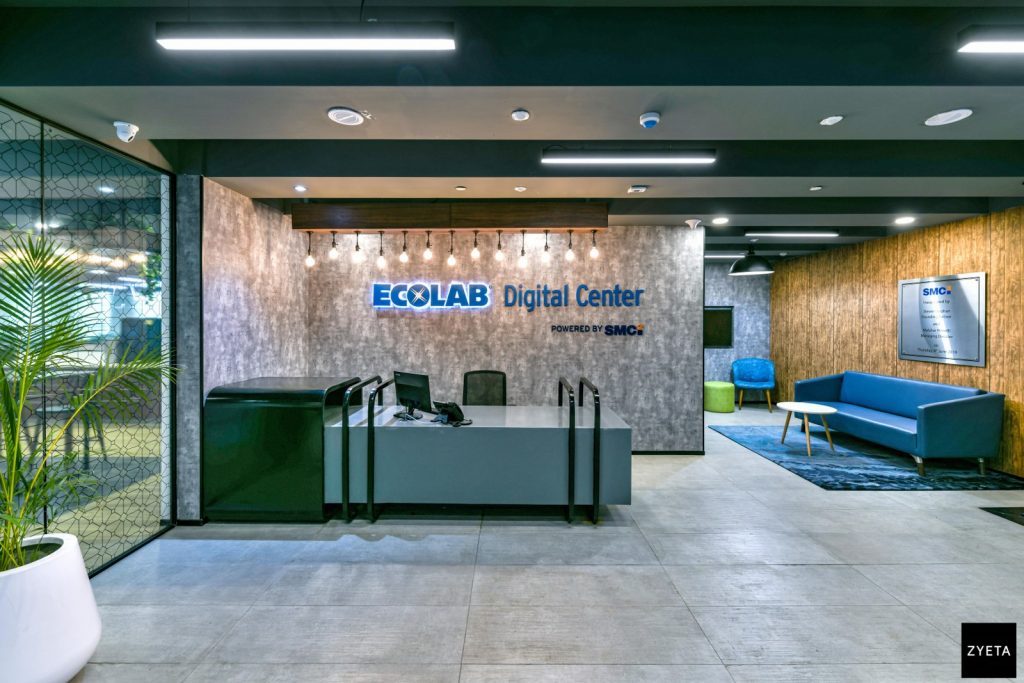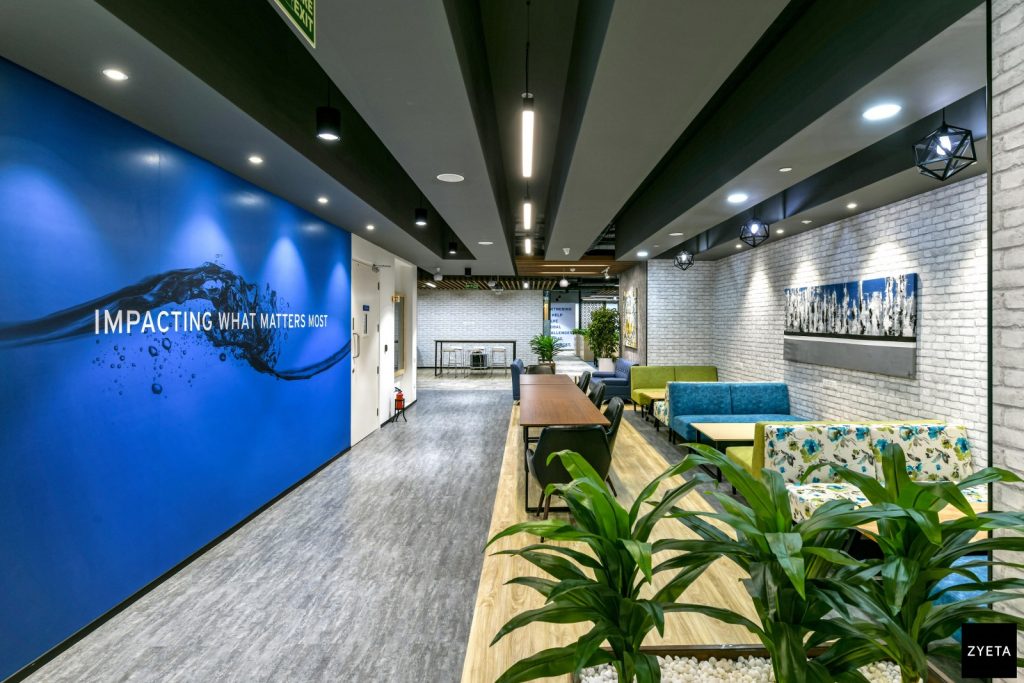 The Design Brief
Ecolab is an American global provider of water, hygiene, and infection prevention solutions. They wanted their new office in Bengaluru, India to be modular, purposeful, and employee-centric. They also wanted a place that mirrors their international brand standards and yet feels connected to the local-city vibes. Therefore, to align with the company's image as well as to give their employees a unique work experience, Team Zyeta decided to go for a modern-day design theme—Eudaimonia Design Concept. Eudaimonia, derived from a Greek word, refers to a state of having good vibes. The design concept follows a streamline flow of multiple segments. Each of these segments creates distinguished work-environments that keep the workplace design structure versatile and non-monotonous.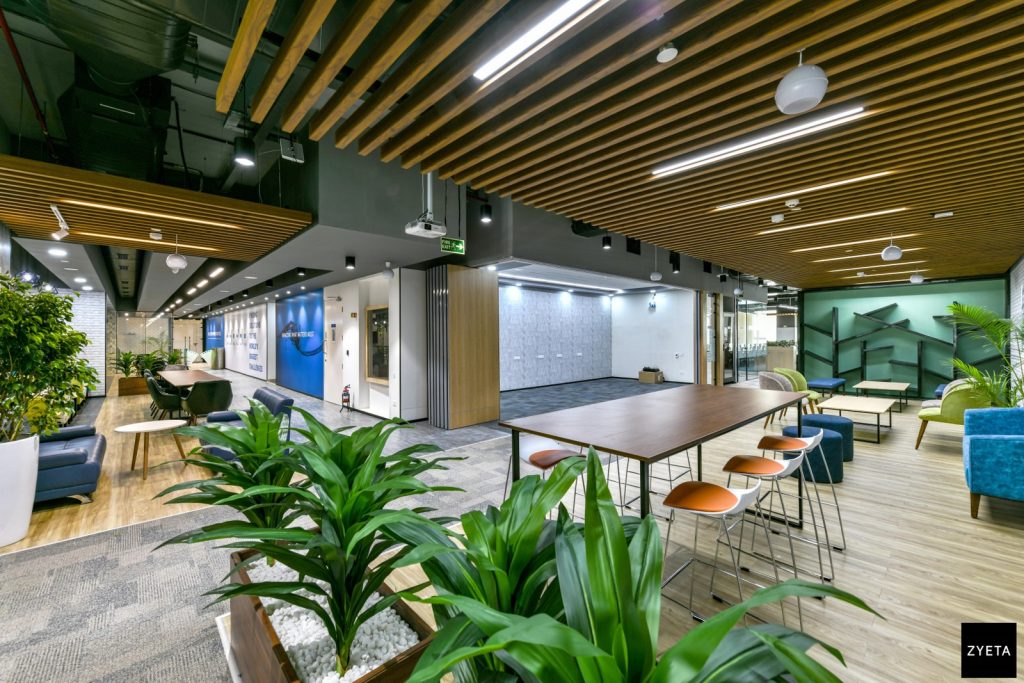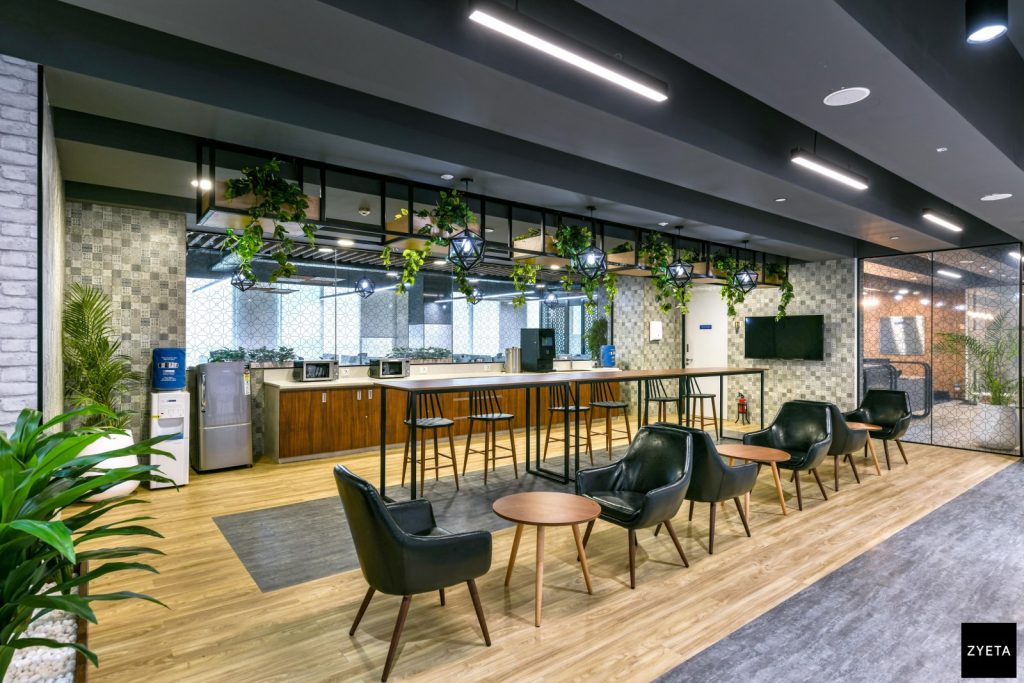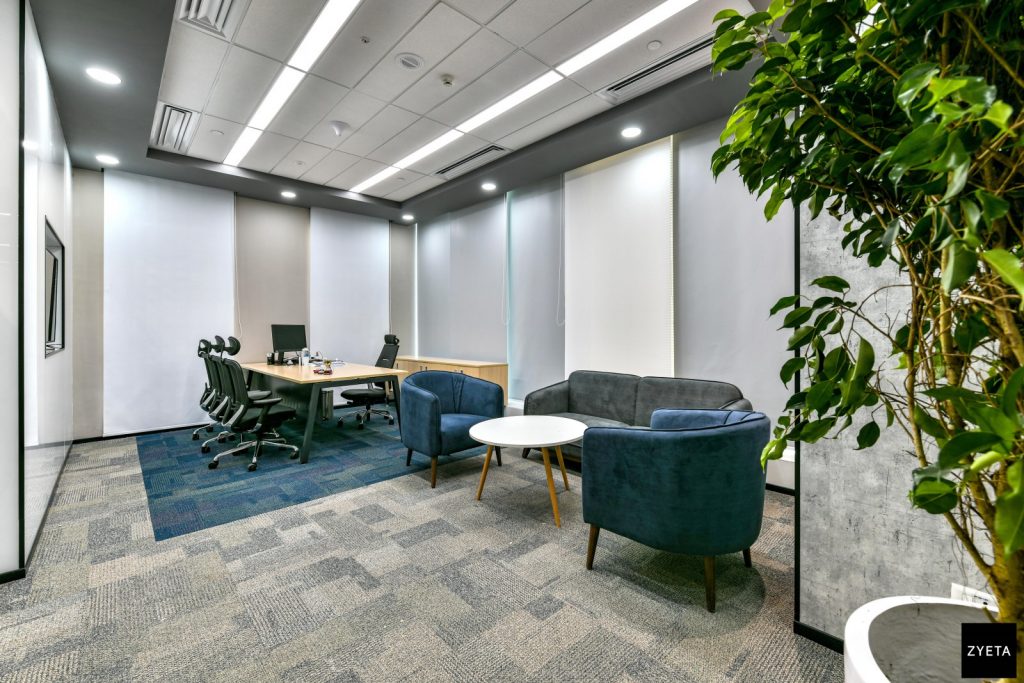 Reinforcing the Company's strong ethos towards sustainability, Ecolabs' team also wanted a dynamic workplace with an environmentally conscious design. Thus, the entire design blueprint was crafted highlighting biophilic elements like natural light and green indoor plants.
The Design Concept
To match Ecolab's brand image and create a unique design layout, Team Zyeta chose the concept of Eudaimonia as the design theme. Similar to open space design, Eudaimonia design is an art-form that tries to minimize the limitation of open space. Ecolab's new office layout is basically linear with design breakouts that maintain a smooth transition from one segment to another. In this paradigm, there are five segments that take an employee from a casual space to progressively more formal spaces.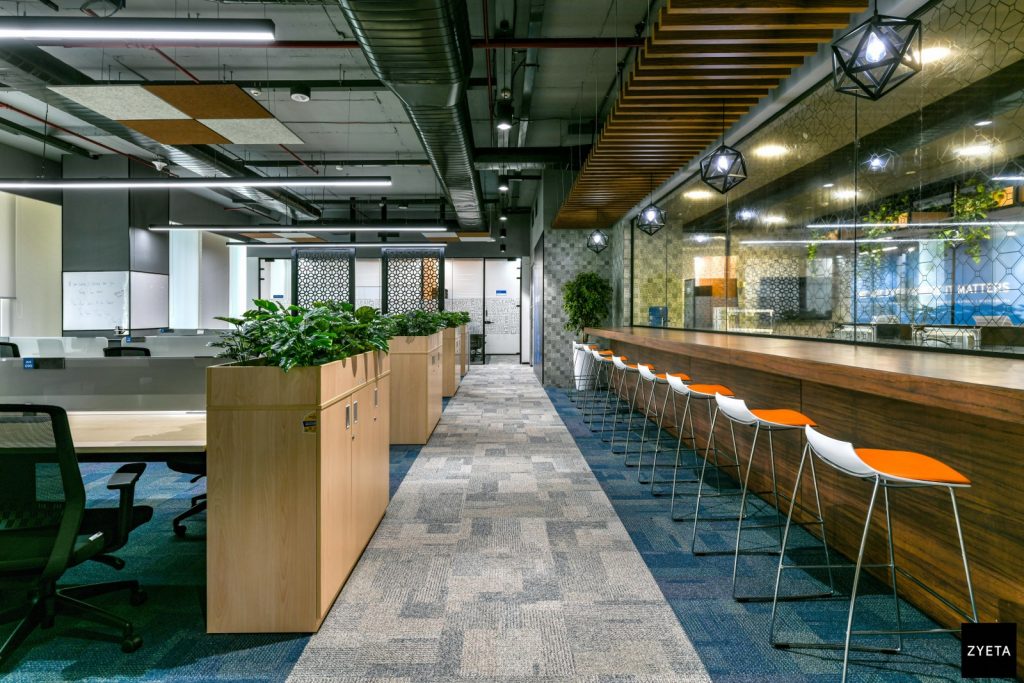 The five Eudaimonia segments as per Ecolab's design journey:
Gallery- comprising the reception area
Salon- comprising an open bar styled cafe area
Library- comprising a Town Hall
Office- comprising varied types of workstations, including linear and L-shaped workstations
Chamber- comprising meeting and discussion rooms
While Ecolab's "no wall" open layout promotes collaboration and team member interaction in every possible way, there are also several neighborhood pockets to enable socializing among the employees.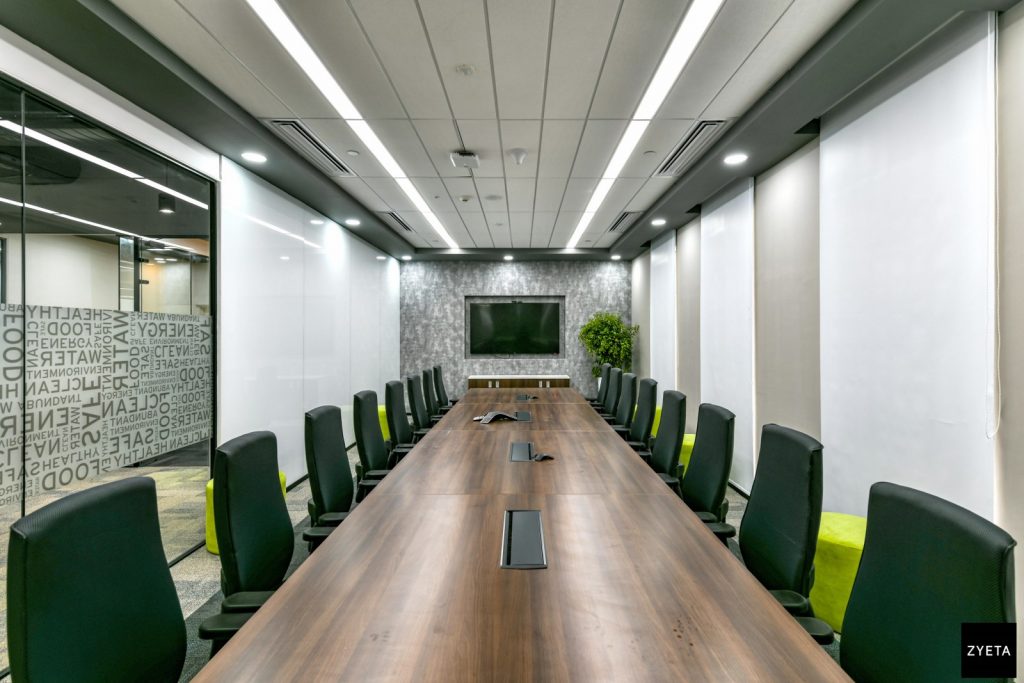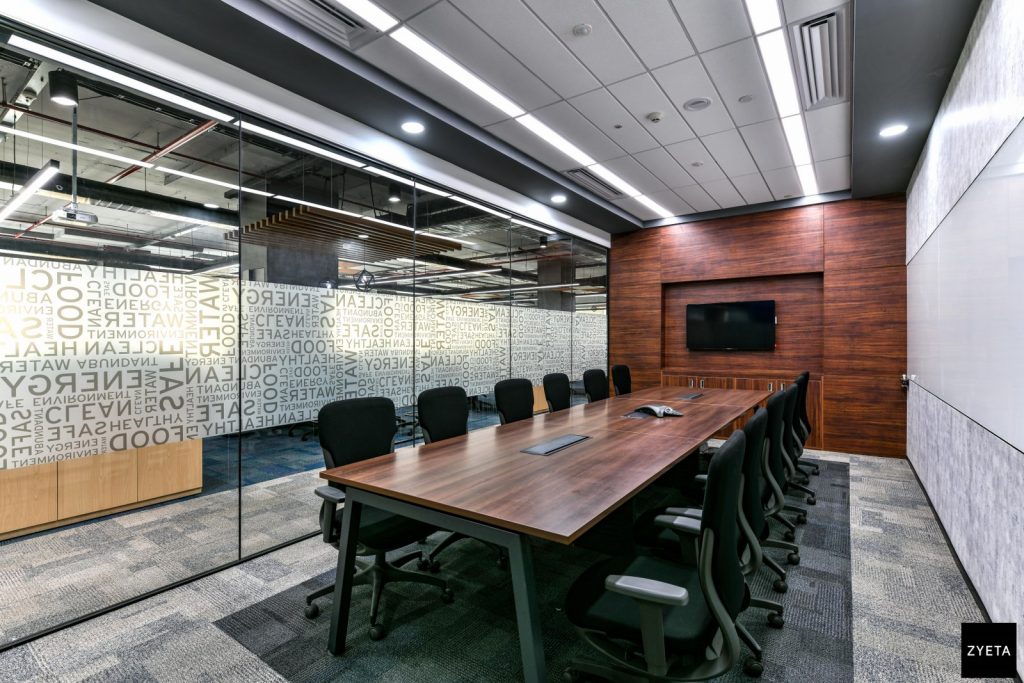 Design Highlights
One of the highlights of the project is the 'Town Hall' area of the office that can include nearly 300 employees at a time. The office has two wings that converge to form a central space, leading to the Town Hall. These wings act as multi-faceted spaces with modular partitions, to easily segregate the wings and form separate sections.
The other highlight of the project is the uber-cool open café area that also serves as the chilled working space filled with natural design elements. Ecolab's new office in Bengaluru mirrors its global standards, whilst boosting teamwork and individual reflection by providing ample opportunities for discovery and innovation Overall, the place imbues a people-first, open work-environment that facilitates flexible and safe working.
FACT FILE:
Designed by: Zyeta
Project Name: Designing a People-first Workplace for Ecolab
Area: 28000 SFT
Industry: Water safety, energy conservation, food security, and health & healthy environments
Location: Bengaluru, IN
Firm Role: Design & Build
Lead designer: Monika Roula
Workspace Design Credit: Monika, Atanshu , Shilpa , ShwethaNadgir, Syed, Rashmi, Prathamesh, Nithin, Sailesh, Chetan, Naveen, Jagdish, Ramesh, Ashish, Anbu, Vignesh, Chaitra, Sumanth
photo Credit: Prashant Bhat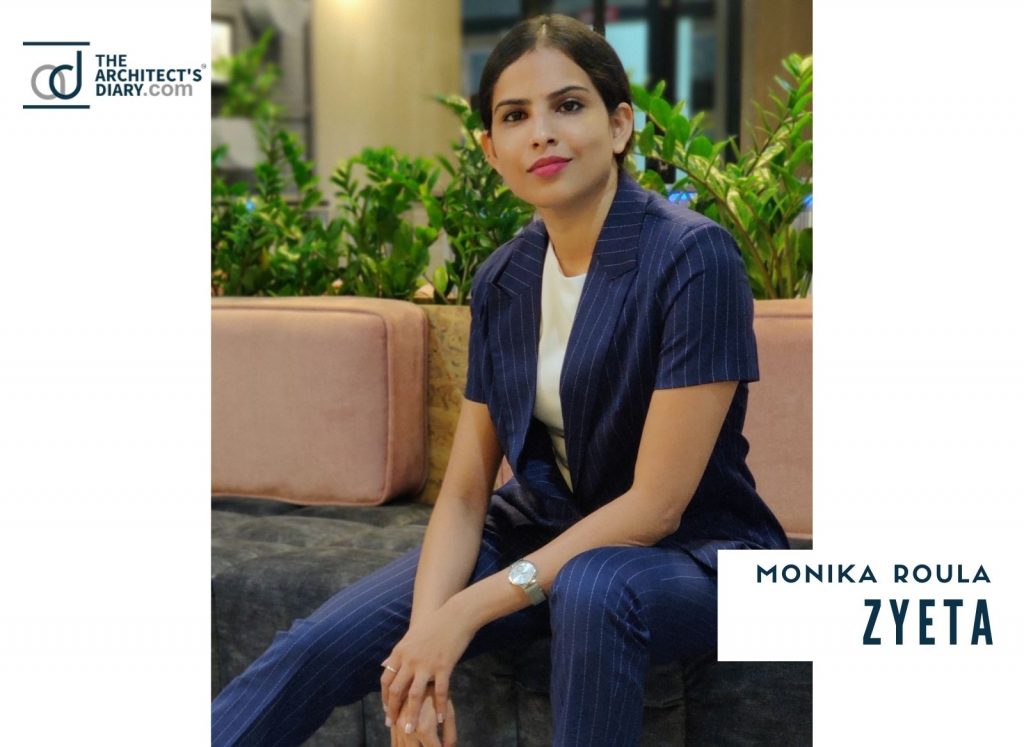 Website: https://www.zyeta.com/
Facebook: https://www.facebook.com/Zyetaglobal/