Dhyan House: Residence Design with Unhindered And Expressive Spaces | BplusK Architects
The "Dhyan House" is a design that coalesces a variety of elements to form an expressive space that meets the desires of the client and stands out as a piece of architecture. The site context was of utmost importance during the conceptualization stage. With the approach road on one side and houses on the other three sides, it called for astute design development.
Visit: BplusK Architects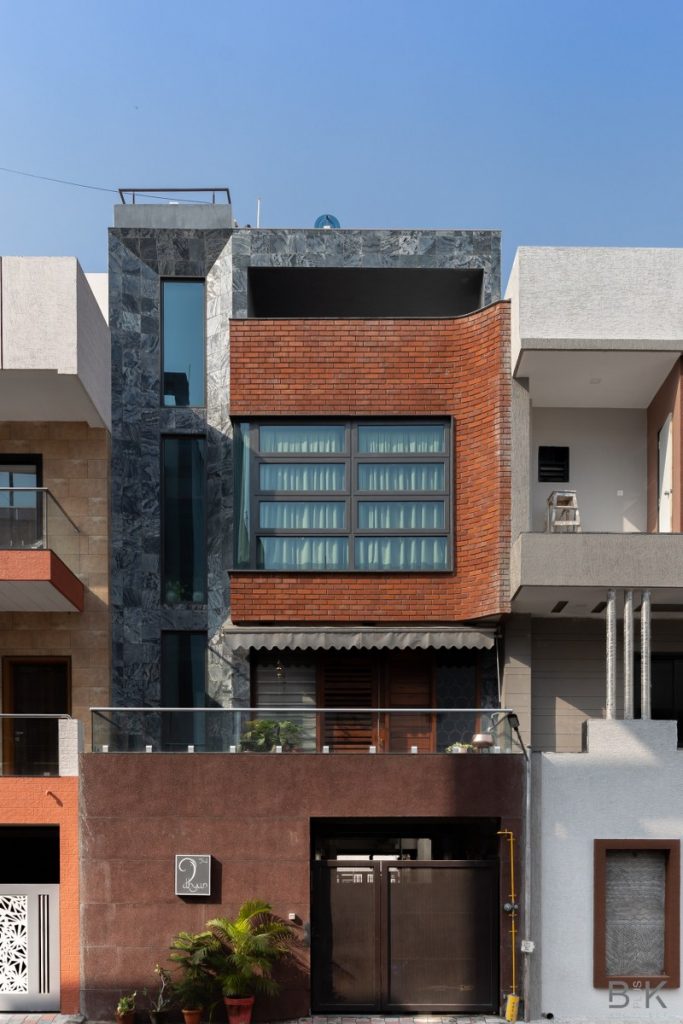 From the exterior, the two-storeyed structure stands with poise and distinction. The elevation was imagined as a break in the monotony of flat cuboidal facades. To achieve this vision, tactful projections and depressions are carved along the linear vertical edges. These are clad in different materials to give each section a different identity and make it stand out. Deep textures afforded by exposed brick and slate stone build the foundation of an earthy material palette that is followed throughout the residence. The exterior elements, like the fabricated staircase, are positioned in a way to maximize light penetration and cross ventilation.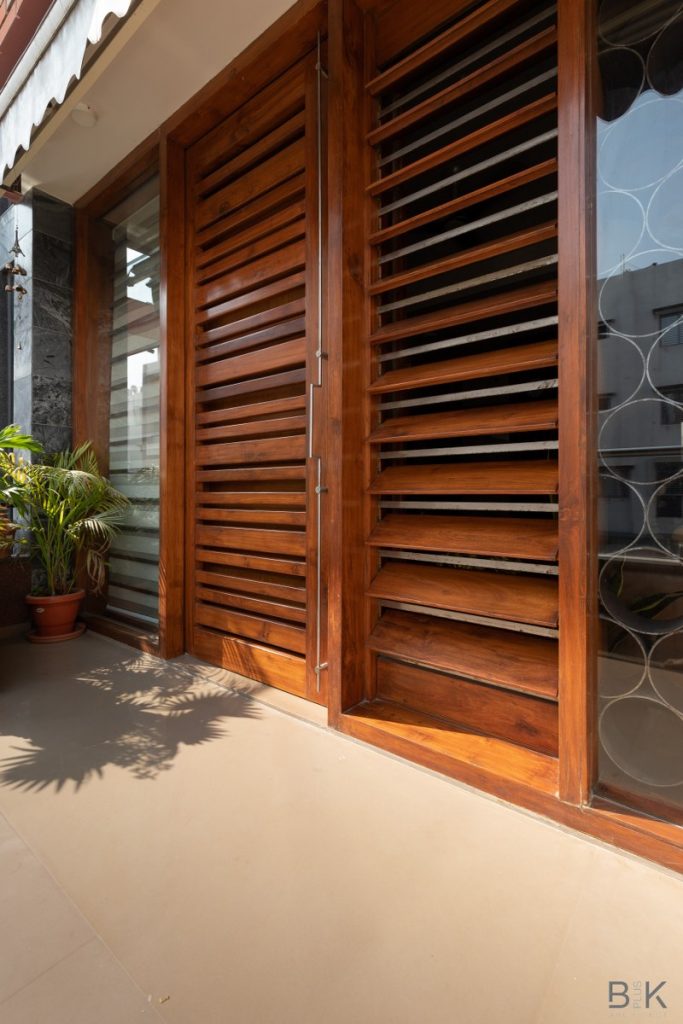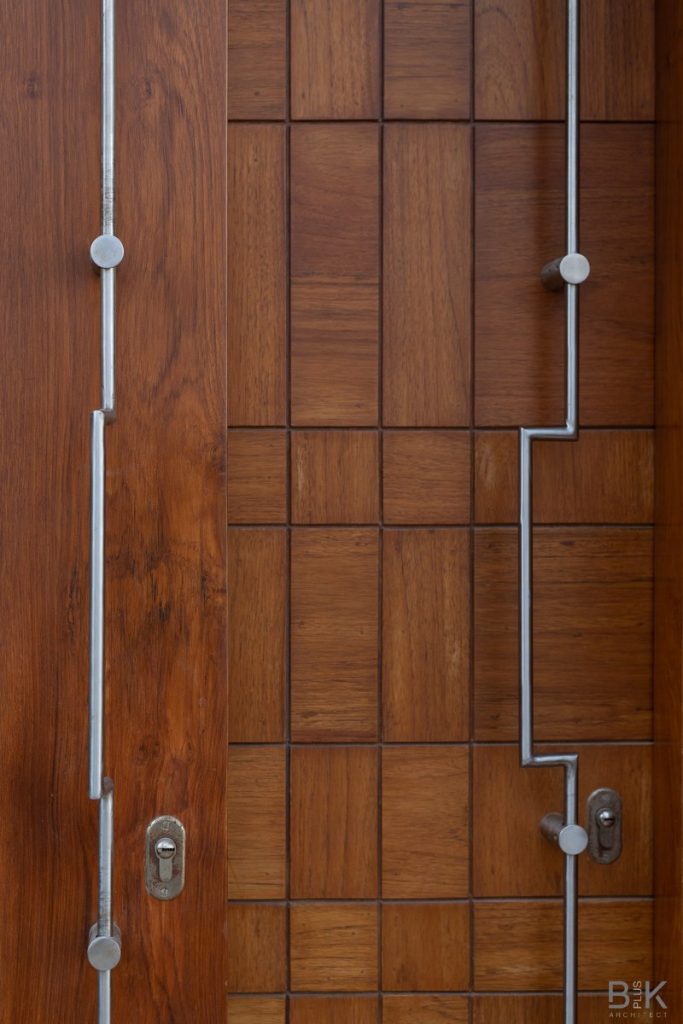 Following a pragmatic layout, the ground floor has been used to house a lily pond, a car park and guest room with external staircase entry. Creating segregation between semi private and private spaces, the first floor has been dedicated to the main living area and kitchen activities, while the bedrooms are on upper floors. The common theme running throughout the designing process was to create unhindered and airy spaces that flow seamlessly.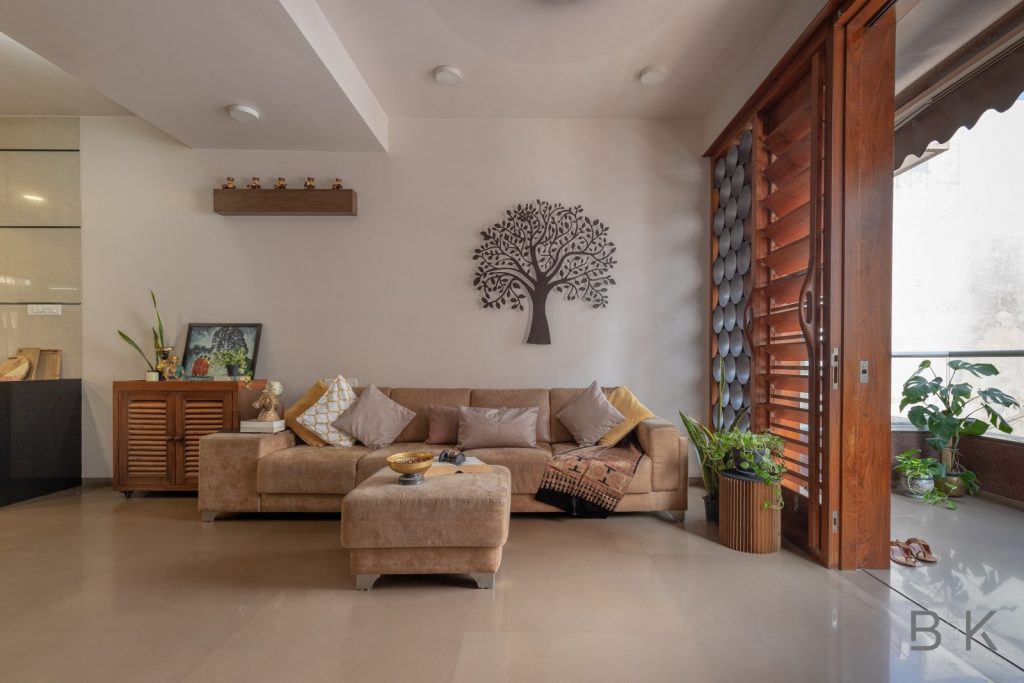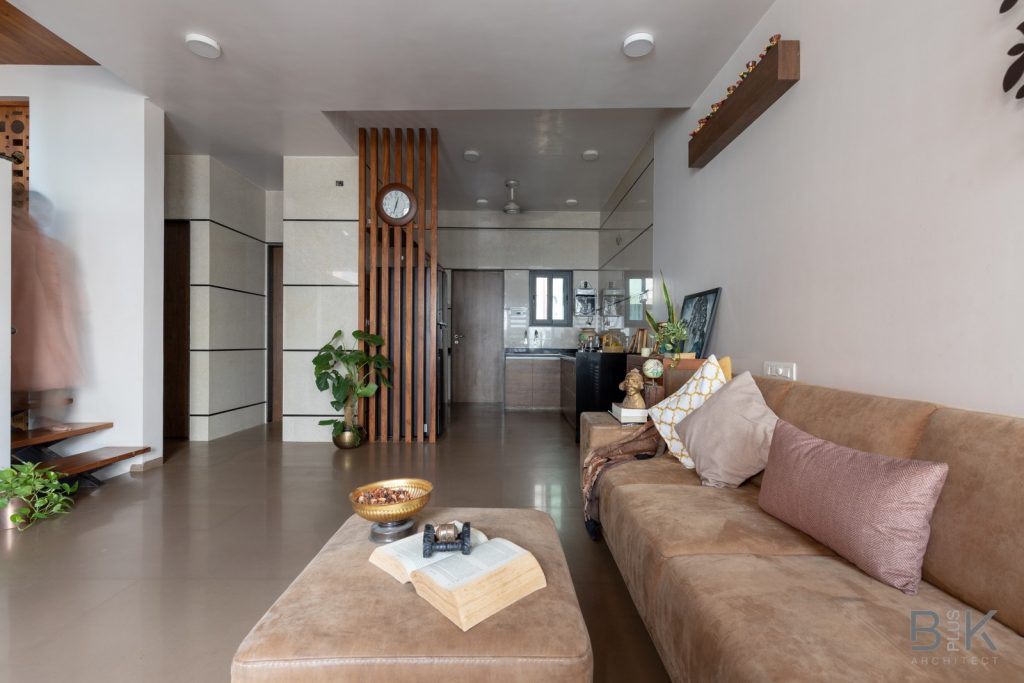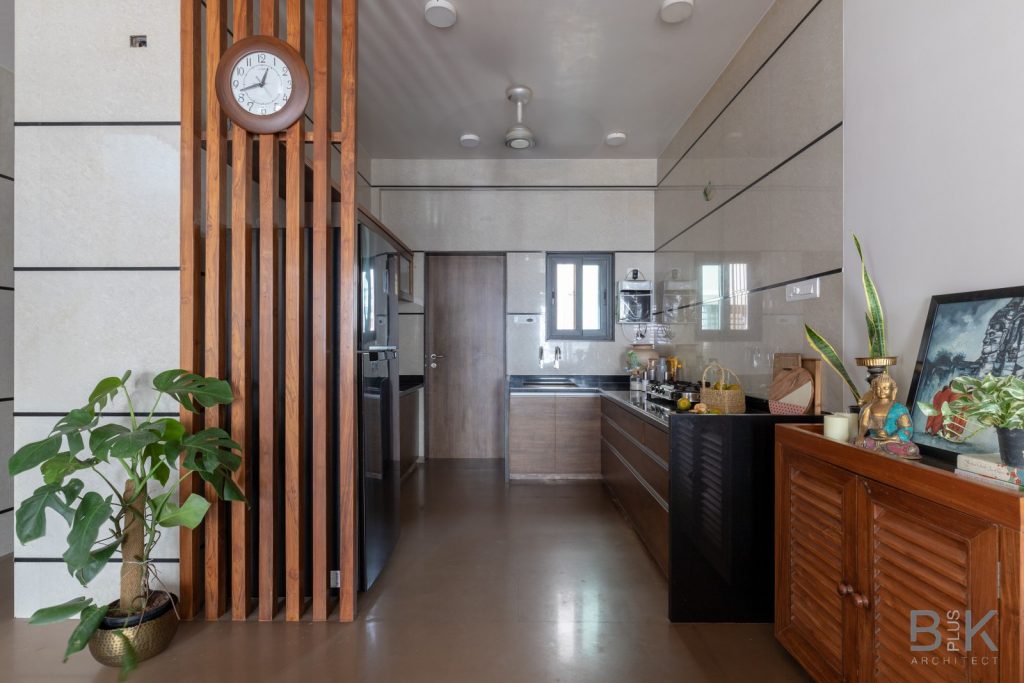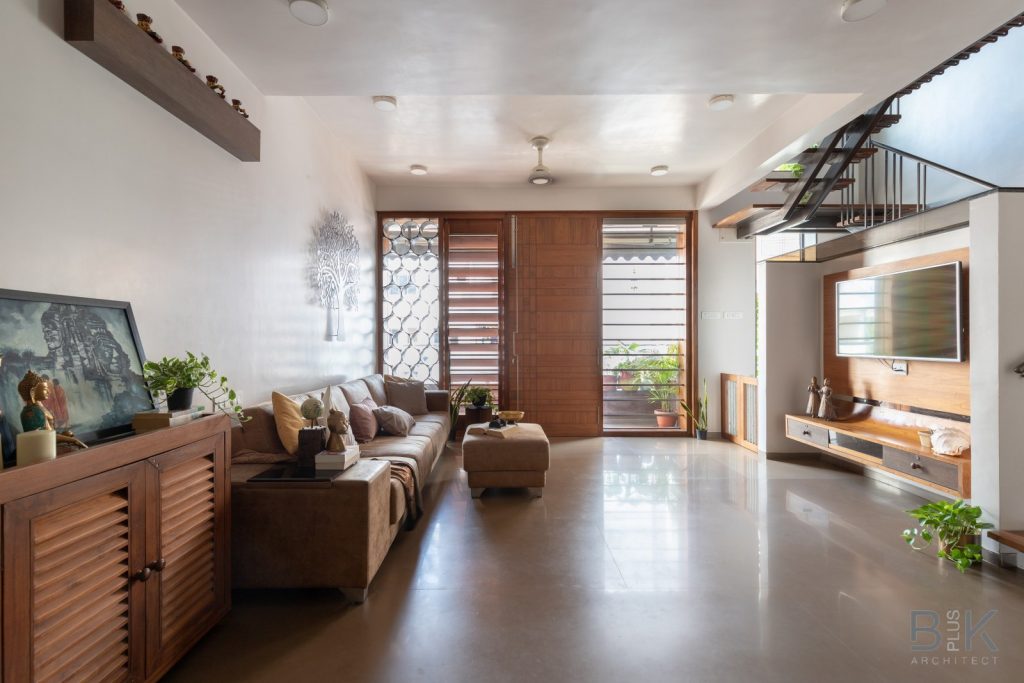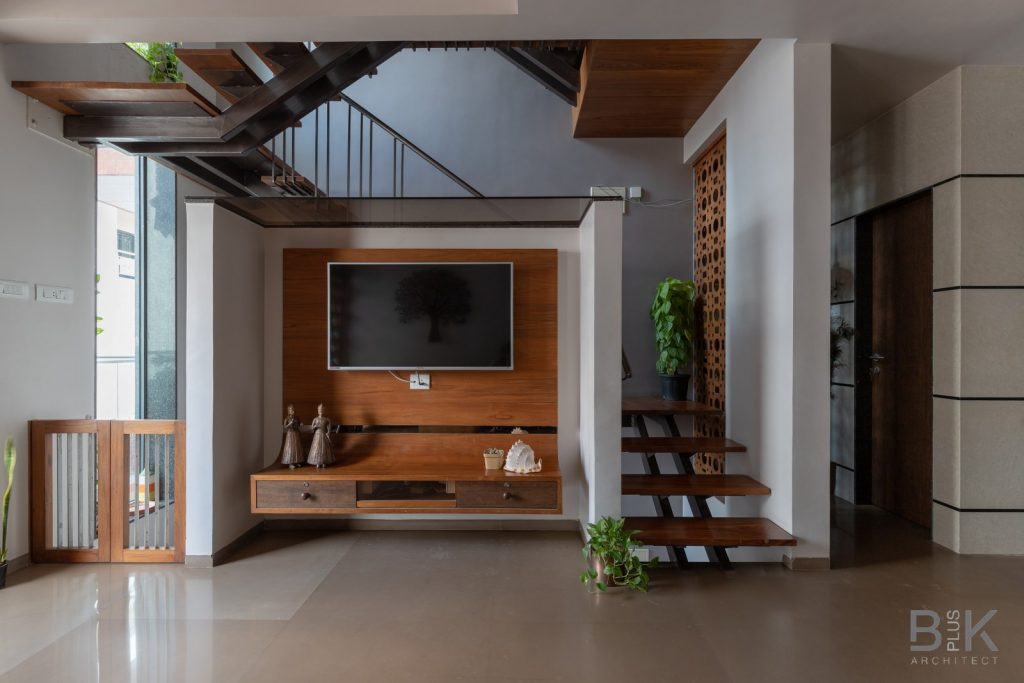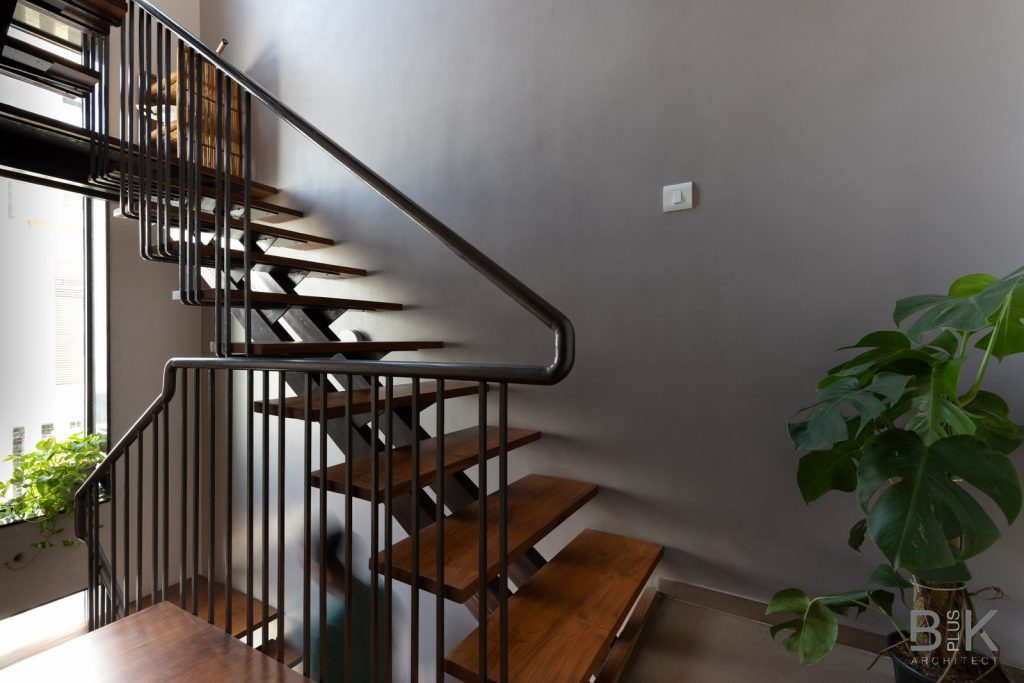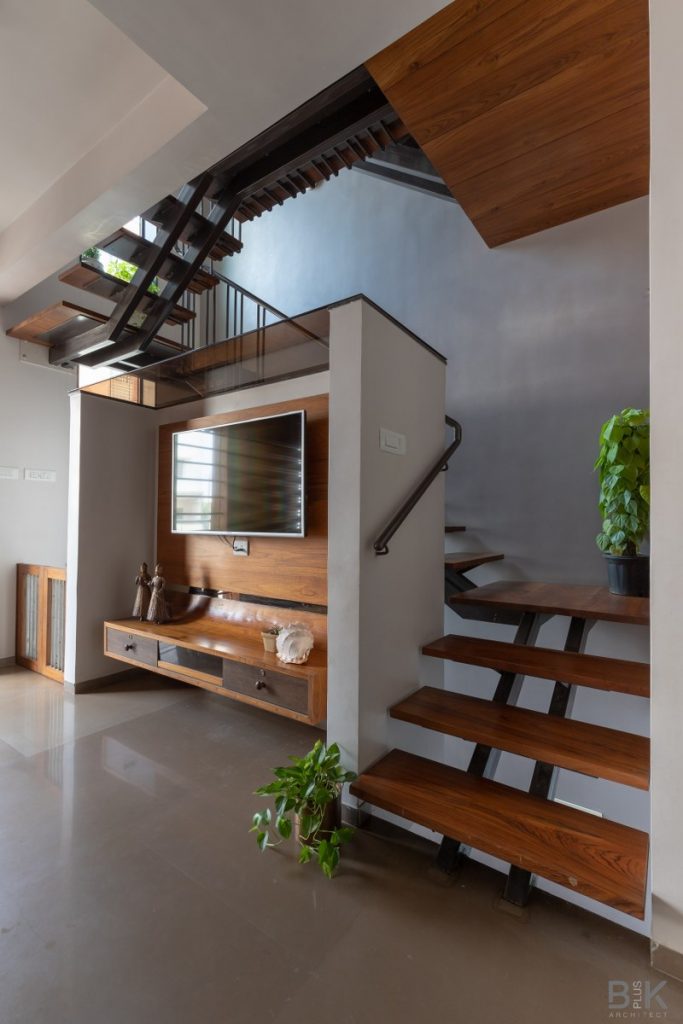 The spirit of the house is strongly Indian in character and is expressed by the use of natural and earthy materials like brick, slate stone, and sandstone as a backdrop for the wooden furniture. These warm exposed textures and tones in the interior along with minimalist furniture make the spaces inviting and comfortable. The entrance door with a louvered screen makes an interesting portal with its wooden body accented by a unique metal handle. Wooden and metal louvers and circular jalis allow diffused and regulated natural light to enter while also acting as screens to ensure security and privacy.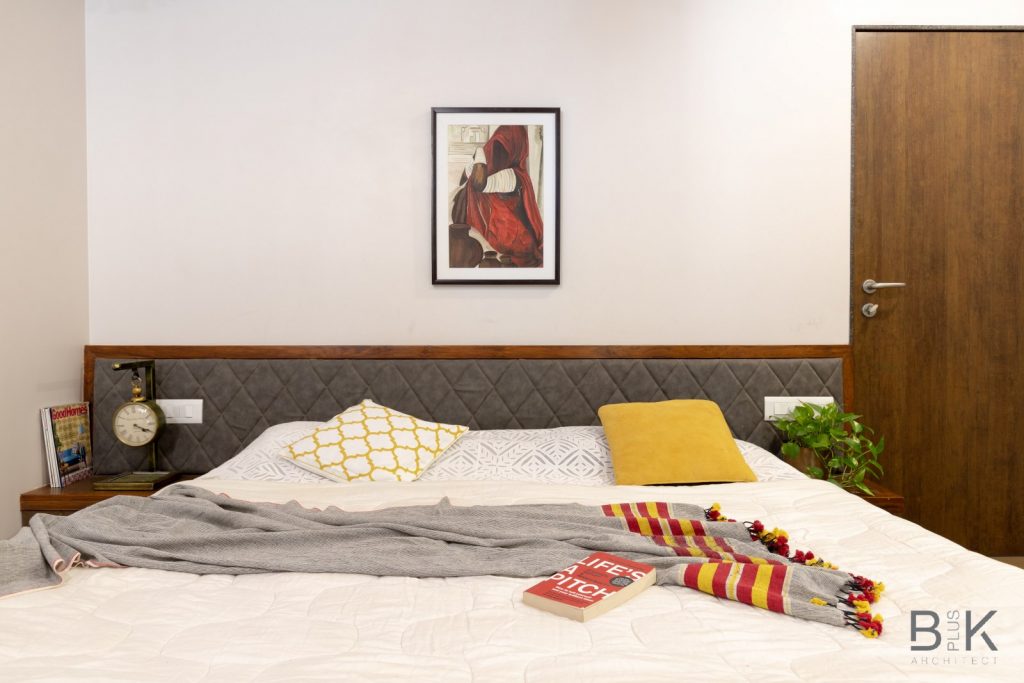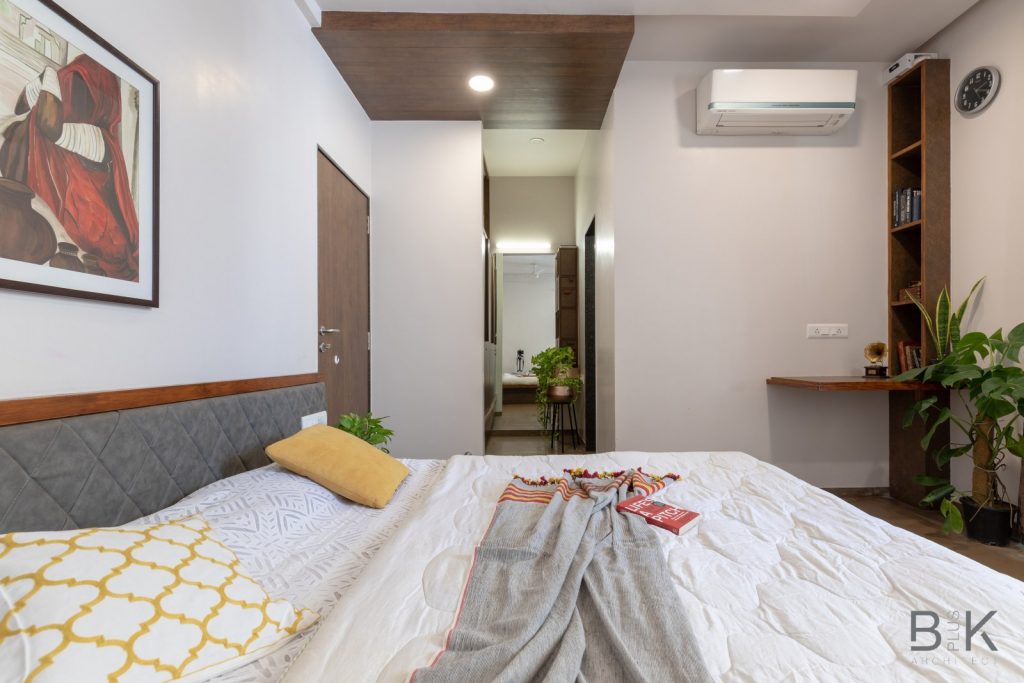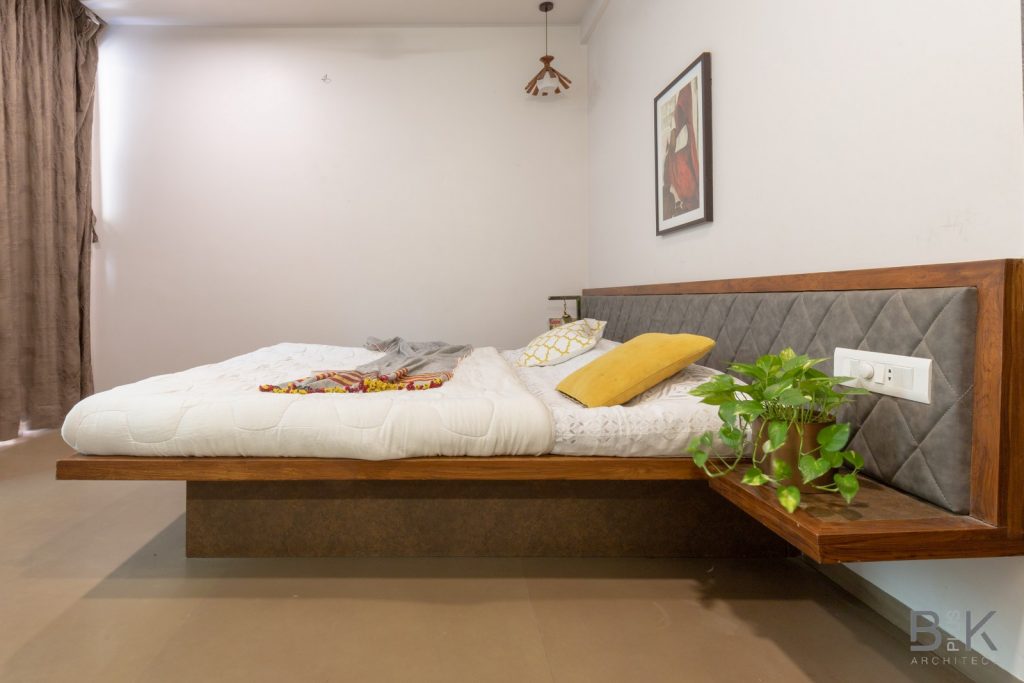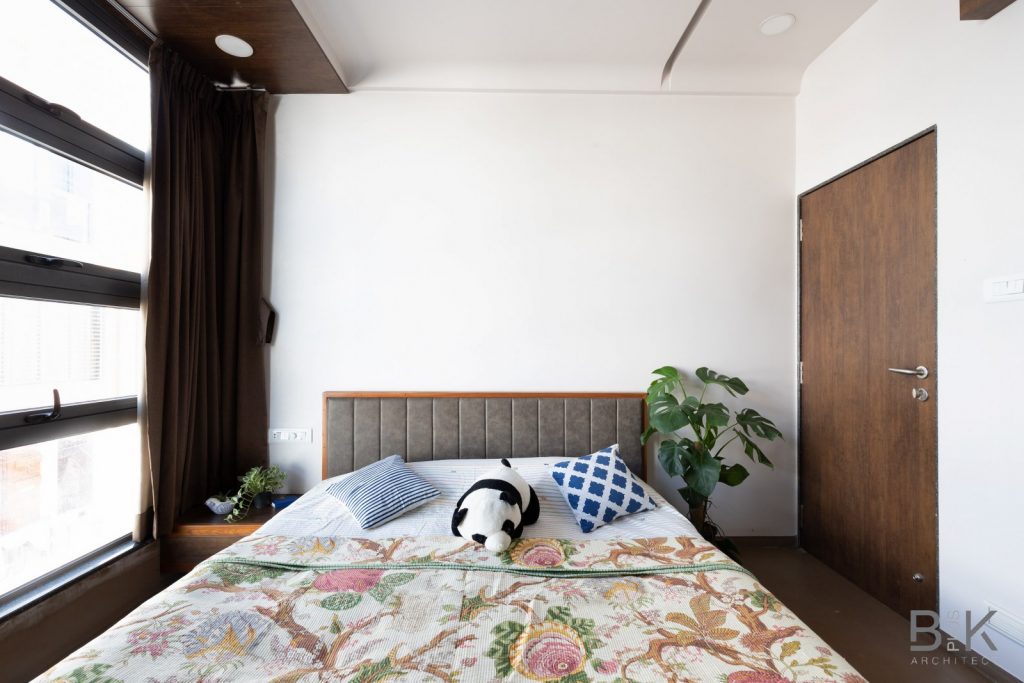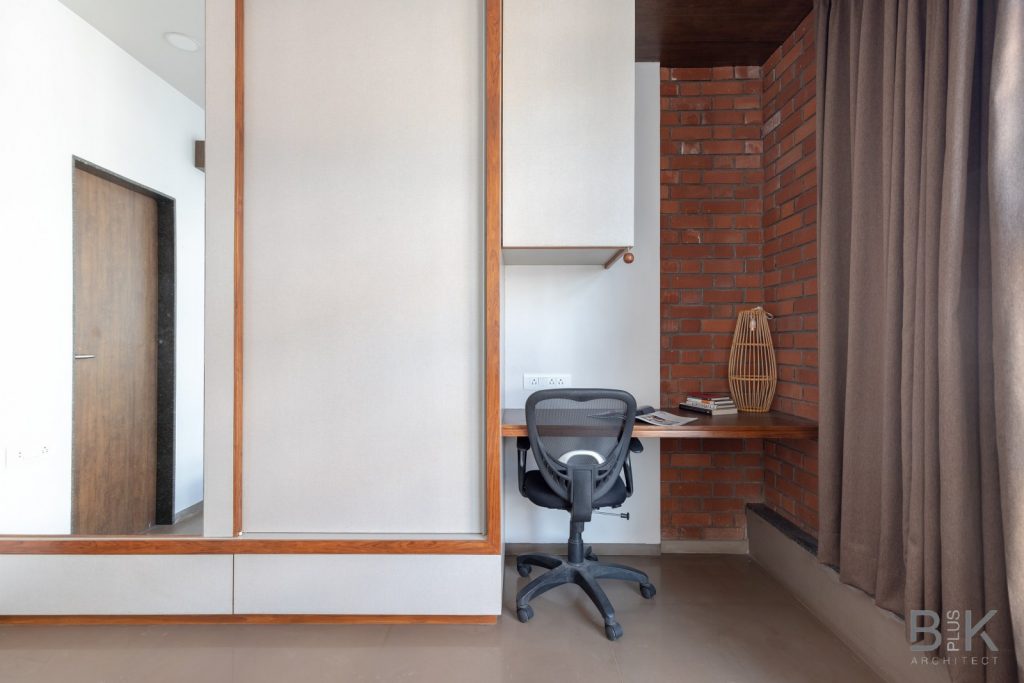 Details such as custom spherical handles on the desk, subtle curves added to the railing and other wooden frames, elevate the interior spaces up a notch. The use of intricate components and materials, utilization of natural lighting and ventilation, an efficient layout, and the vision to create an eloquent home collectively bring this striking residence to life.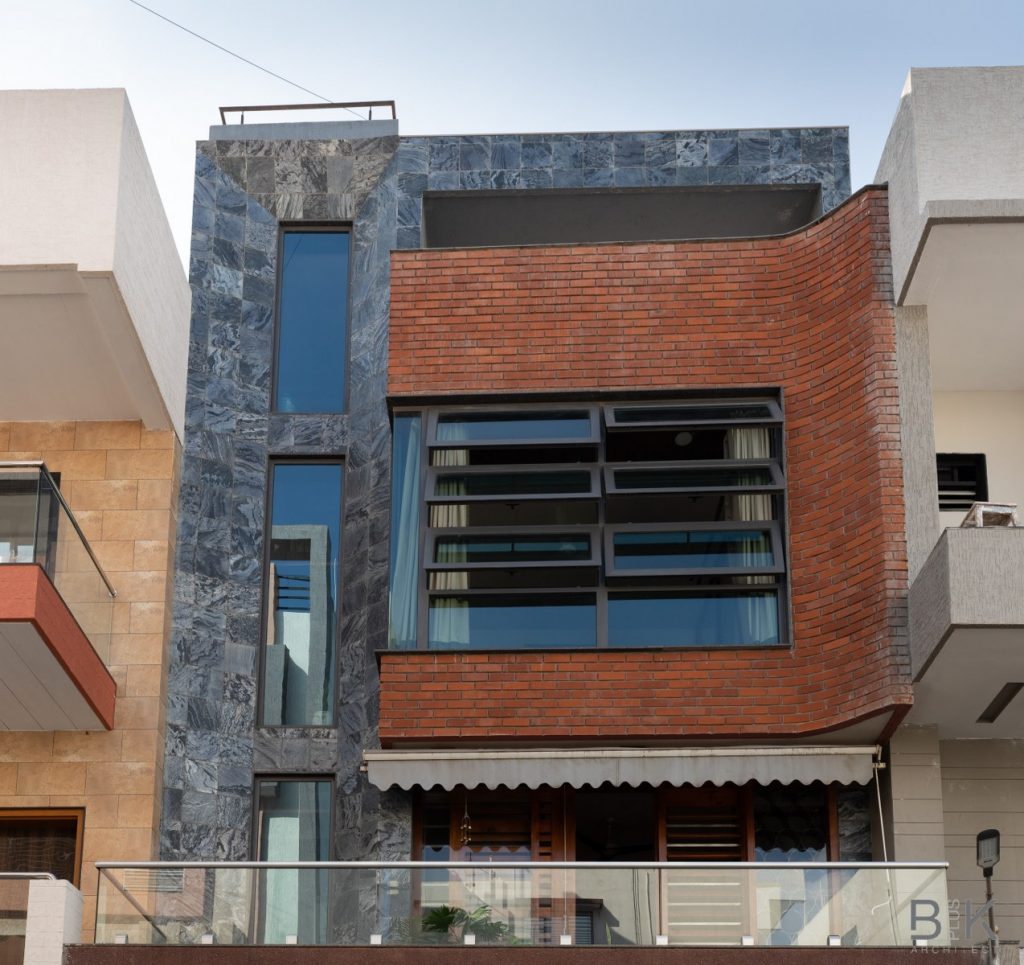 FACT FILE:
Firm: BplusK Architects
Project Title: Dhyan
Project Location: Jahangirpura, Surat, Gujarat, India
Built Up Area: 1566 Sq.Ft. (145.48 Sq.Mt.)
Principal Architect: Bhavessh Patel
Design Team: Bhavessh Patel & Mitesh Suthar
Total Cost: 40 Lacs
Photo Credits: Prachi Khasgiwala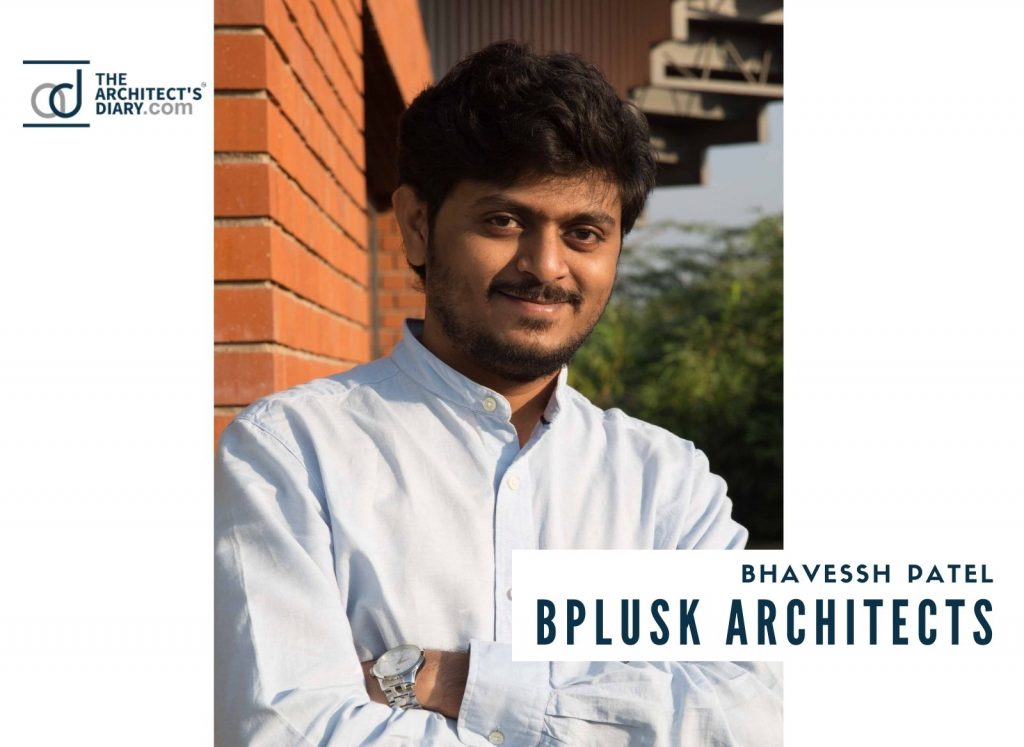 Website: https://www.bplusk.in/
Facebook: https://www.facebook.com/BplusK-architects
Instagram: https://www.instagram.com/bplusk.in/