Devam-The Luxury Store in Mumbai | Limited Edition Design Studio
Even though the retail store, it was located inside a commercial complex as its Store specially designed for their privilege clientele in India. The Store also acts as their Support office for their exports to the main store in USA.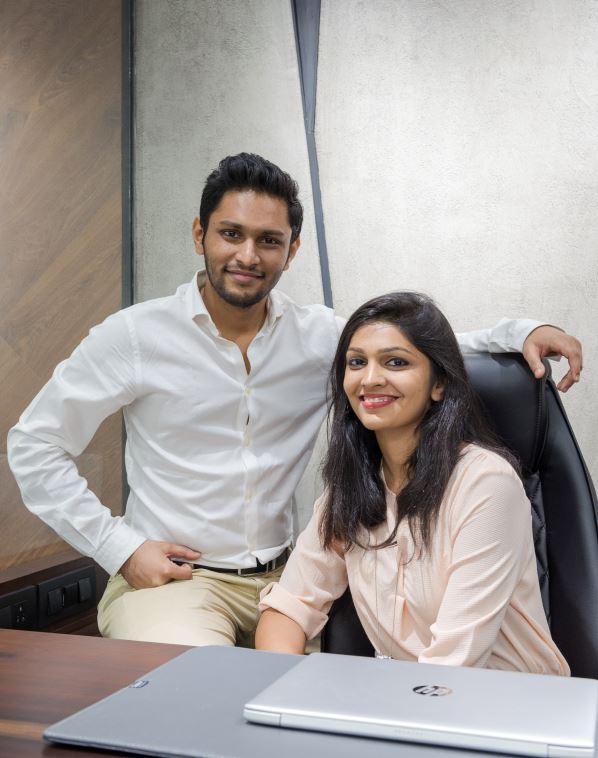 Physiological aspects that impact the built form.
Kindly throw light on the contextual design elements that have been incorporated in this specific project.
A block of 800 sq.ft. was been assigned to us for its first Indian fashion and jewelry atelier in India !! With the freedom to design a luxury store for their all their clientele in India, we derived upon using their products as our concept. We took inspiration from the jewelry and created these huge vintage jewelry boxes, also Indian handloom pattern was used in a unique way for the ceiling which represented their clothing section.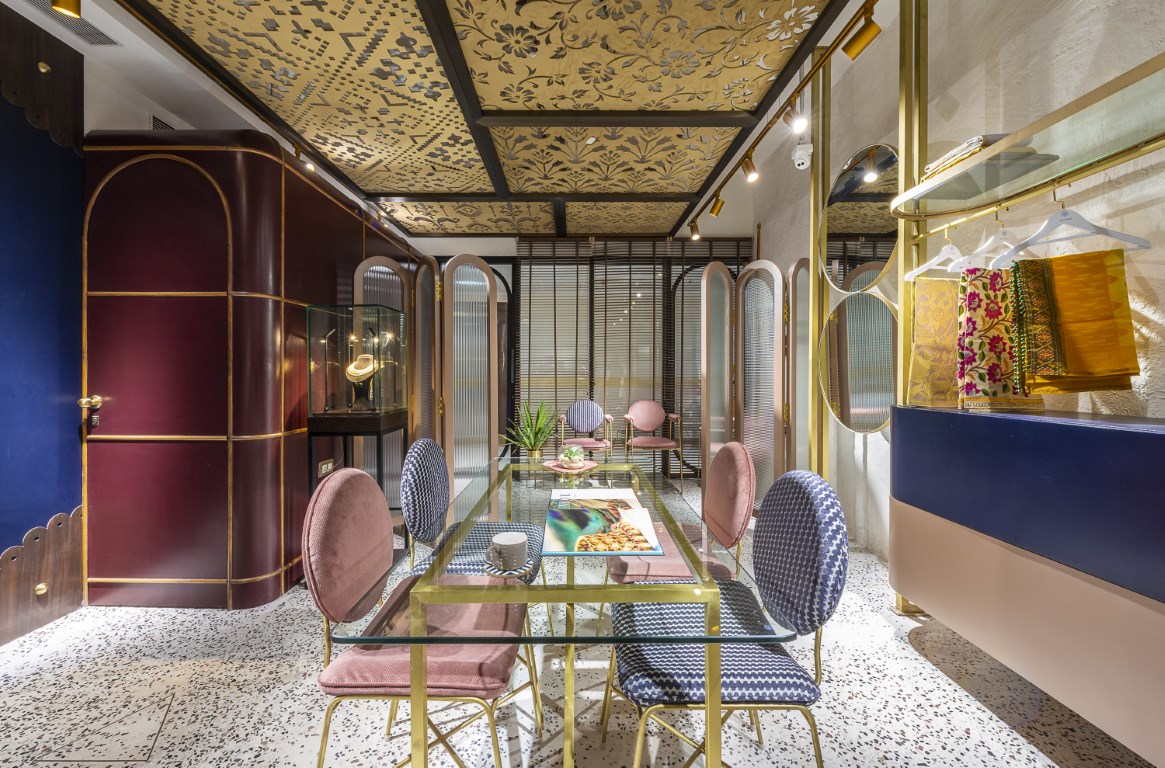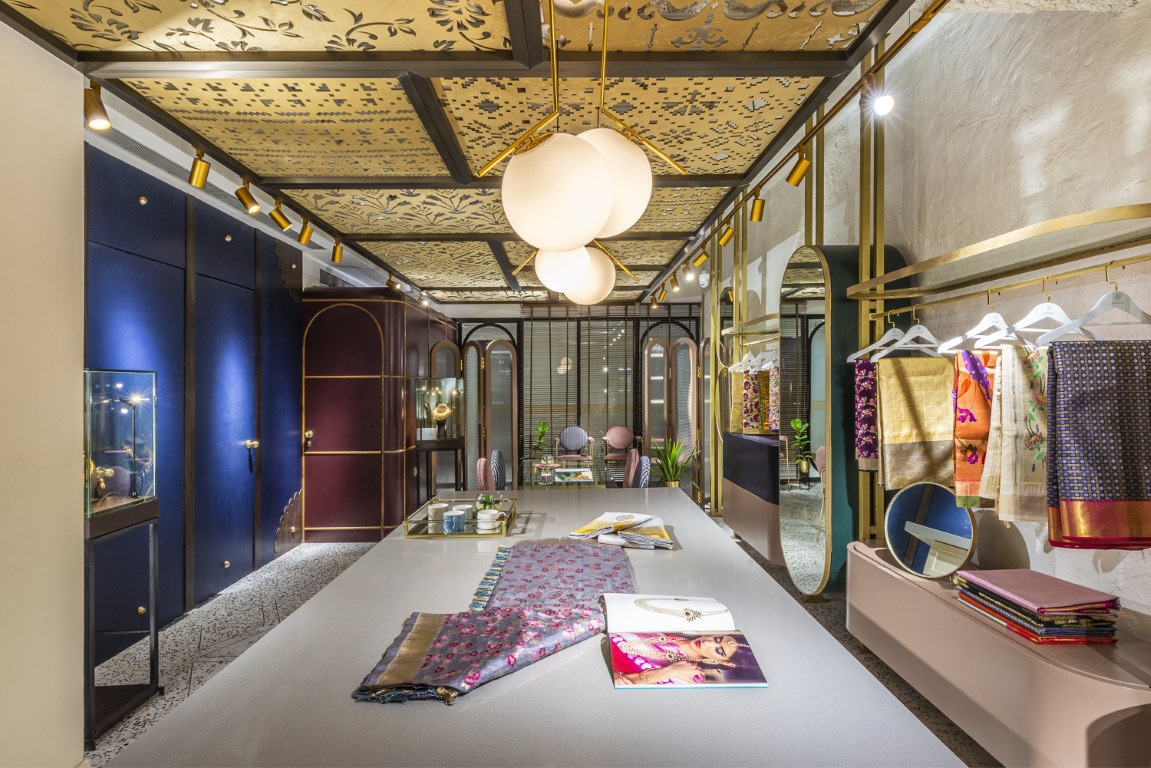 Is the project a fresh one or a refurbishing assignment?
It was a fresh project.
Is this an architectural or interior assignment or both?
Only Interior project.
Project statement:
Concept and treatment/ design response
The concept of jewelry boxes was one of the main element in designing. We created 3 unique jewelry boxes which were the base to the whole design. Then we let in the fine handloom patterns which used on our ceiling. Right from banarasi, bandhani, patola, ikat to pathani every panel was designed, laser cut, framed and hung from the ceiling to add depth and grandeur. Full ht brass Stands were designed for display for clothing and storage on the lime plastered walls. Terrazzo flooring tied the whole concept together. We created a clear wide entry to the store in a very dull passageway for viewer and visitors to feel intrigued about the Store. Movable low Ht Dividers were used to create a partial view of the store from outside and to create the curiosity for passers to enter the store.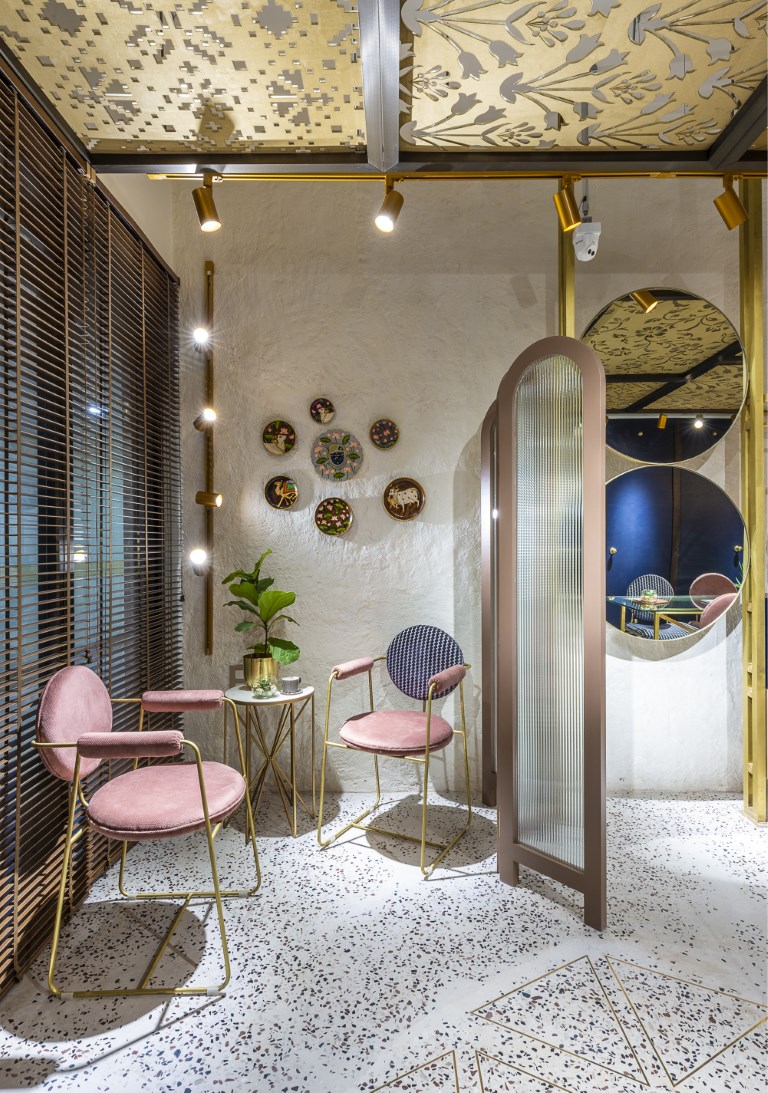 Major design and planning objective
Major designing was evolved around the 3 jewelry boxes and the fabric ceiling, rest all was adding fine touches and details to the concept. Our boxes were planned on elevational walls of the rooms. Huge Ruby Jewel Box with fluted golden oak strips marked as visual treat and point of conversation in a dull passageway and was also our MD Cabin. The cuboid acts in contrast with subtle arched black frames creating a grand entry to the Atelier.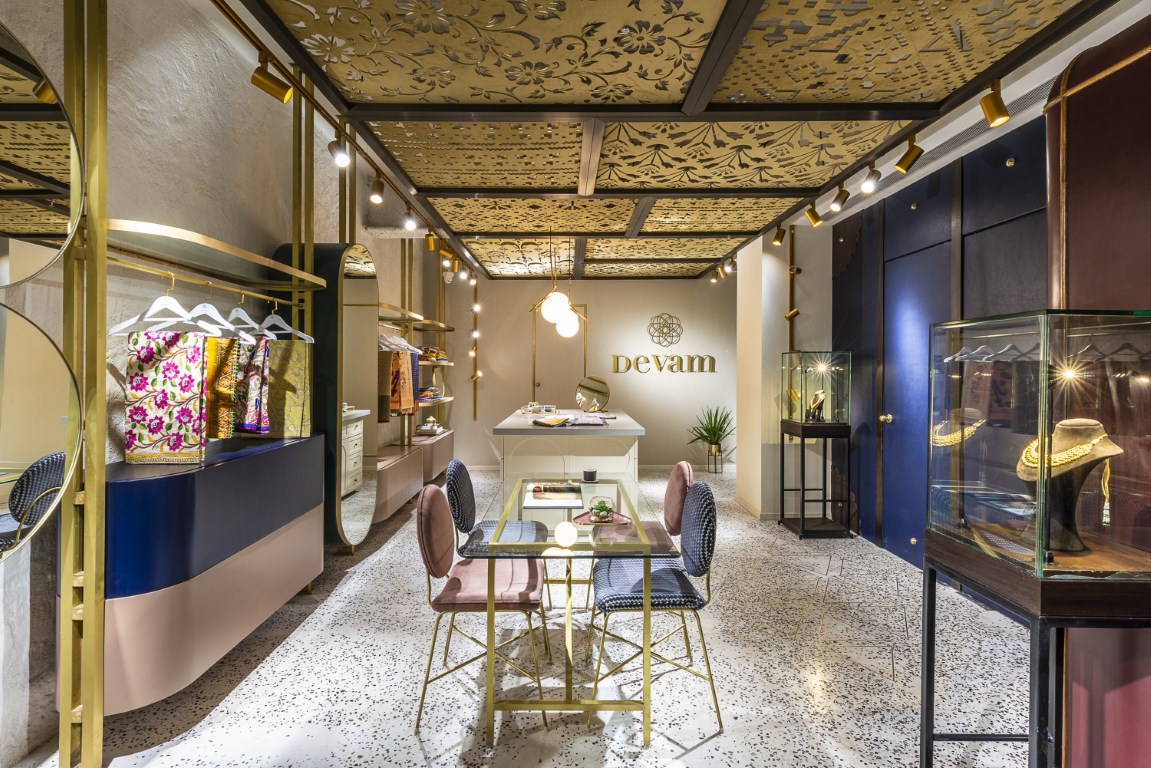 Our second box was a Vintage Sapphire Box with wooden corner trims and brass studs. It also acts as an entry for staff and storeroom. Our third box was a Sleek Vintage Emerald Box which also acts as an entry for the fitting room and finishing room. A lot of planning, research, trial, and error were done for the ceiling. Many patterns were finalized but had to cancelled due to large cutwork which would not work out. We custom designed the MD cabin table in burl maple veneer, leather and brass to keep in continuation with our concept. The dressing room was finished in floral wallpaper with beautiful brass work on the mirror.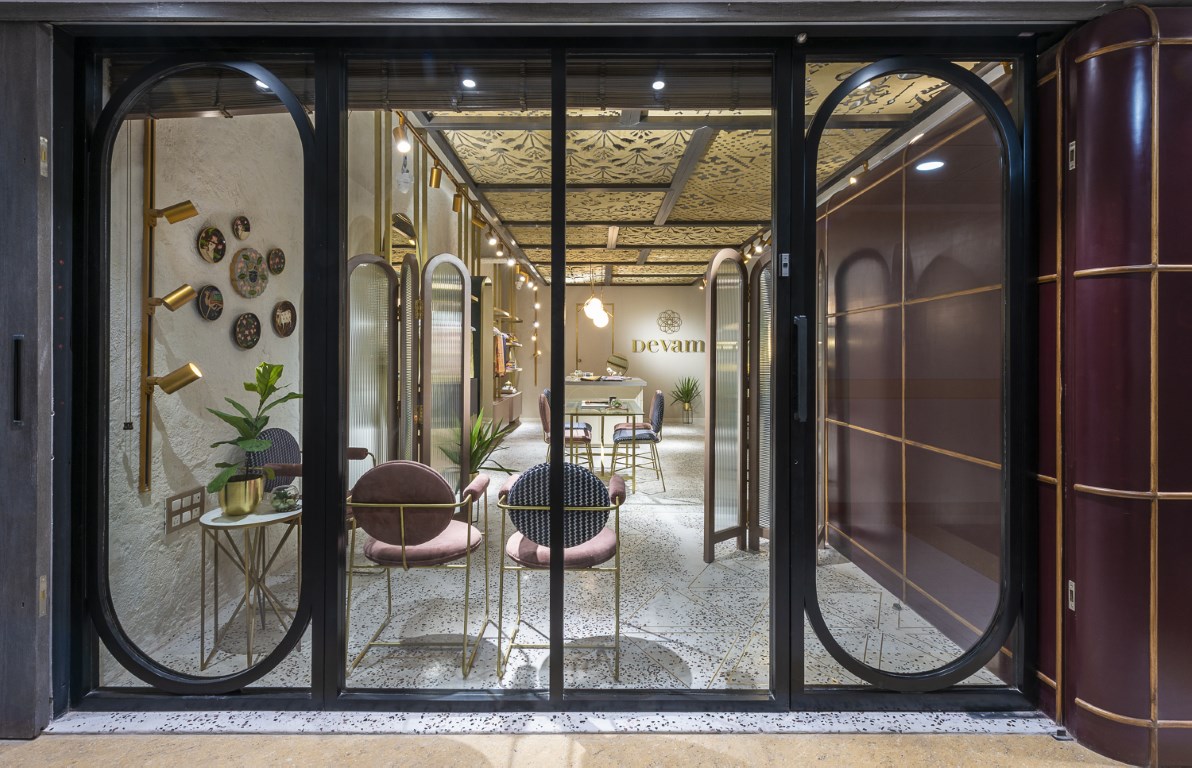 The highlight of the project
Our Fabric ceiling and the boxes were the overall highlight and concept of the store.
Any unusual restraints or opportunities and how they were handled?
Our concept was finalized on the first go itself. The only restraints we had was a budget we had to steer clear for it.
Mandatory information:
Jewel tones were used for boxes.
Ruby box was finished in pu and oak wood strips.
Blue and emerald box were finished in leather, brass, and wood.
Golden Suede in the ceiling was used to compliment the boxes without losing its own beauty. Light grey Terrazzo with red and white marble chips was done in situ. Lime plastered wall along with brass stand was a subtle design point.
Special techniques used in construction/ structural engineering/ facade etc.
To hang our ceiling from the composite slab we had to call for a special hanger to which our aluminum sections were joined. The fabric was glued to acrylic and then was laser cut and placed on sections.
Wall and suspended track light were used for overall and ceiling lighting.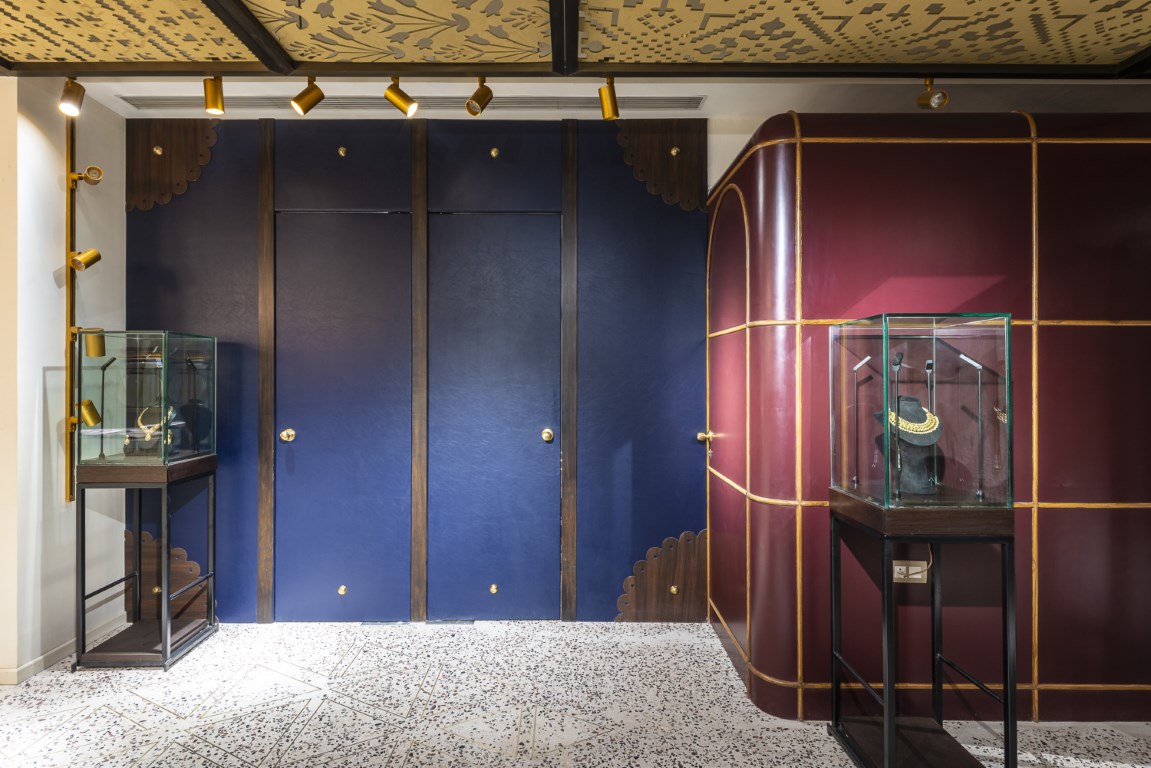 Carpet area and other factual details.
Carpet Area – 800 sq.ft
Main Display Area – 376 sq.ft
Md Cabin Area – 100 sq.ft.
Toilet and pantry block – 95 sq.ft
Any other interesting details that can enlighten the reader in respect of the design.
Our clients home is in USA so, We had met them only twice, once for planning and other tym for a concept . Clients had only visited the site once it was complete, all of our other conversations were done on calls.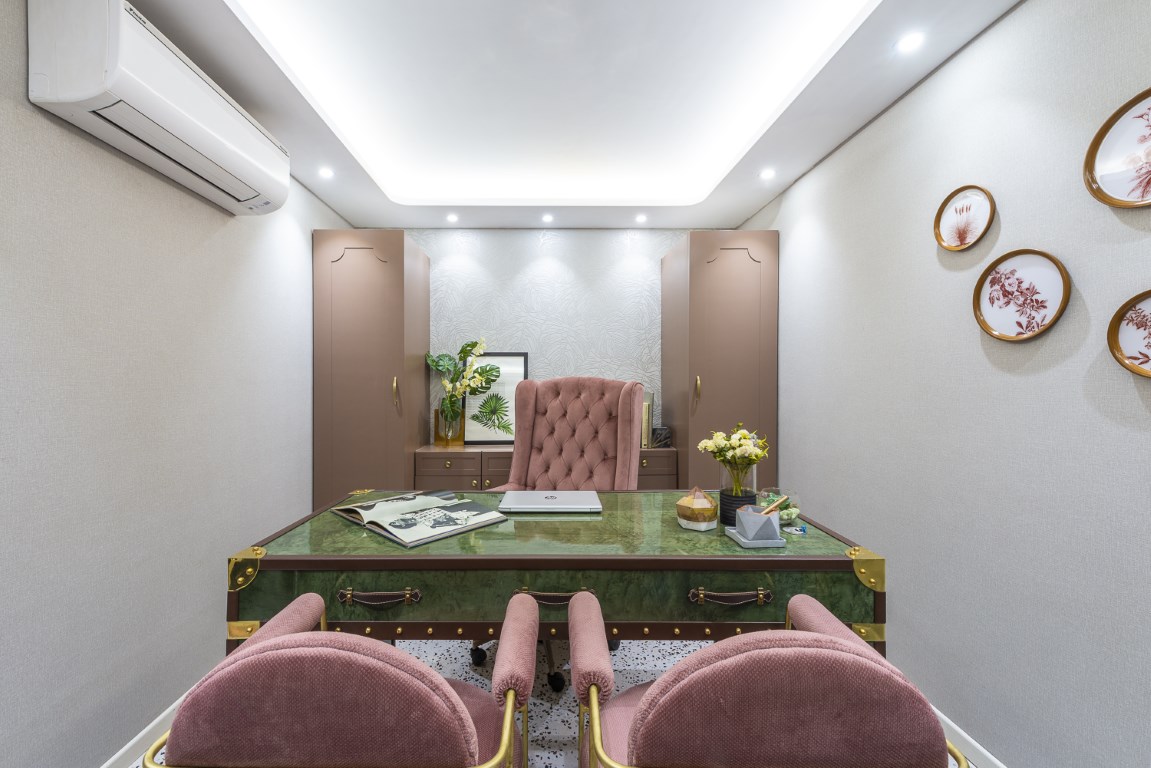 About the client:
A brief statement about the client – his design brief
Our Clients had given us the basic requirement for displaying his products, enough storage space, a huge table for proper inspection of products, Md cabin, Table for 3 accounts, Pantry and toilet.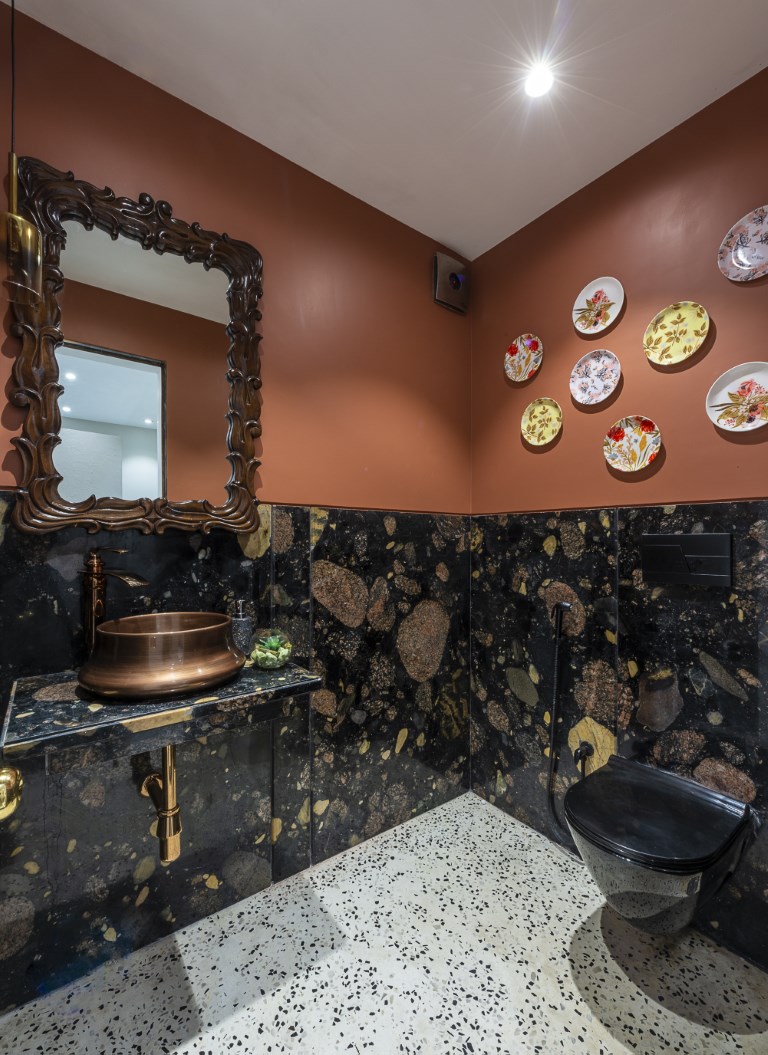 Immediate requirements
Long term requirements
Nature of business
Devam is a 6 generation old family run venture who designs exquisite jewelry and Indian clothing for their clientele all over the world with origins in India.
of employees and such other factual details that are imperative to the project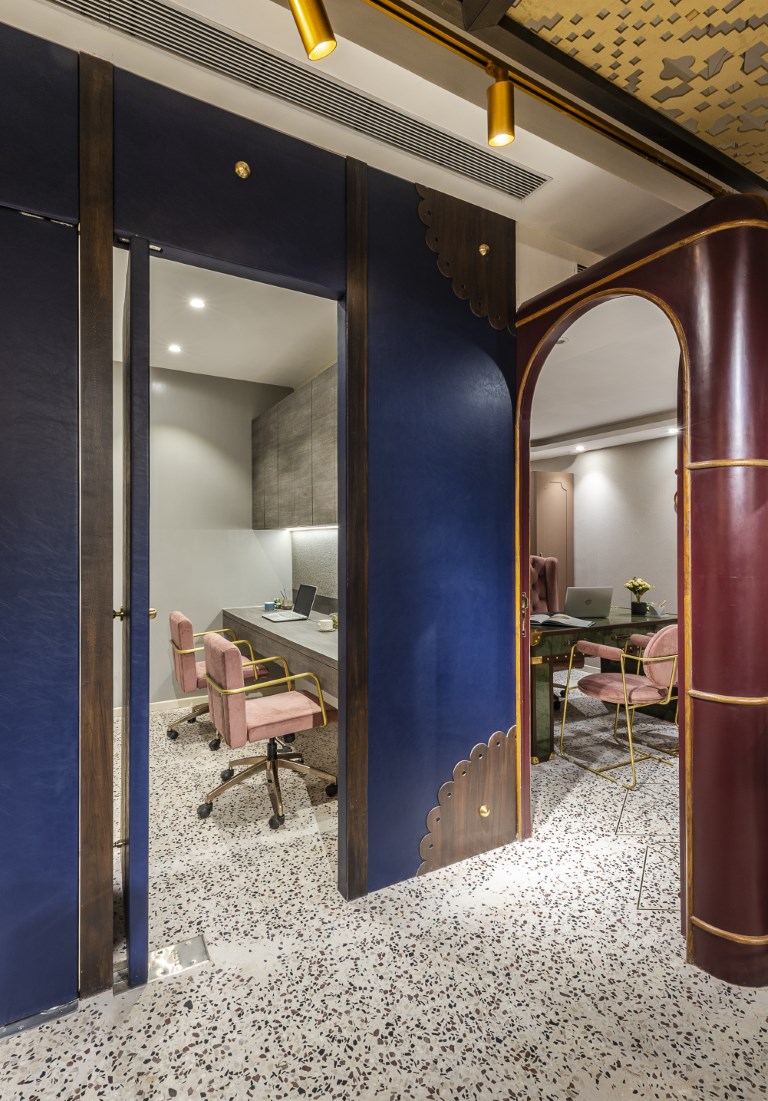 Fact File:
Client: Devam: The House Of Luxury
Location: Devam-The House of Luxury, Hubtown Solaris, Andheri – Mumbai.
Design Firm: Limited Edition Design Studio
Principal Designer/Architect: Bhumika Patel and Chintan Patel
Carpet Area:800 sq.ft
Firm Location:  Vile Parle (west), Mumbai
Photography credits: Phx India