If you were to rank some of the most important spaces in your home, then the living room would definitely feature among the top. This is a place where you gather with your friends, family, and guests for formal or informal meetings. During a hot Saturday afternoon, this is where most people choose to relax and socialize with other members of the family. Therefore, as you finalize your interior design, make sure to keep in mind all the different purposes a living room can serve.
Not sure what to include in your living space? This article will help you make the right choices and avoid wasting money on things that might not be useful in the whole process. The aim is to have a glamorously looking living room that has everything necessary to complete its looks. Read through all the picks below and make an informed decision.
1.Couch
Perhaps, the most prominent item that every living room should have is at least one couch. Of course, the number of sofas you can have in your space will depend on the size of the room and your budget. They're among the first things someone will notice when they walk into your home. Therefore, you need to find the best combination of colors and materials to make your living room as glamourous as possible.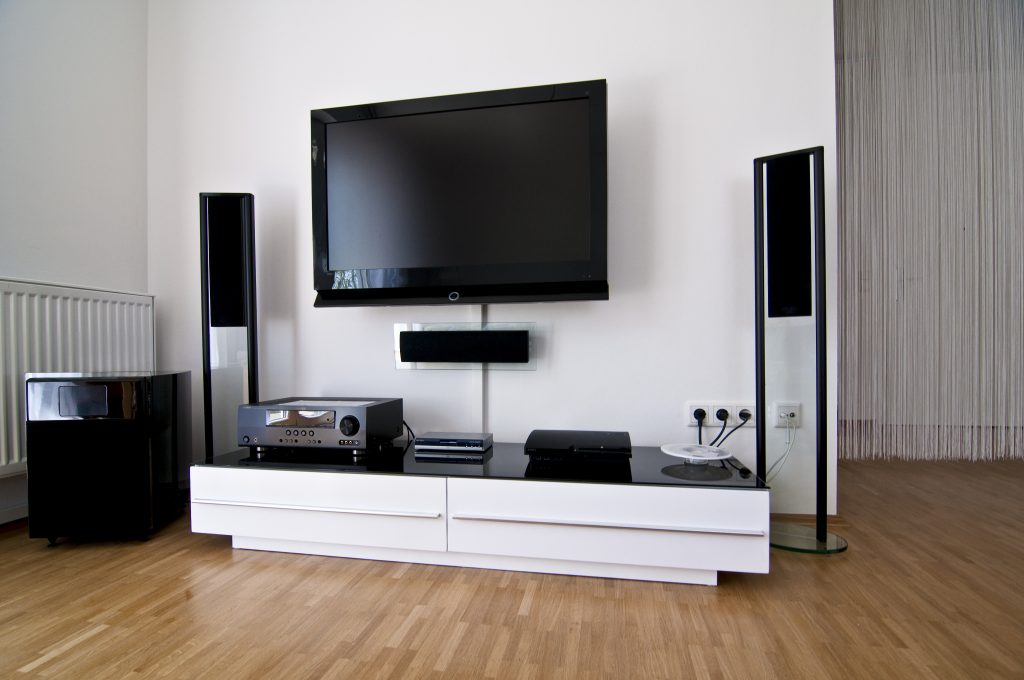 There are a lot of sofa designs that will give your living room a classy look. Since they might use up a significant percentage of your budget, it's important that you make an informed decision before buying any sofa. Also, keep in mind that the rest of the living room will be organized and designed with reference to the type of couch you buy. So, what should you consider when purchasing this item?
The design of the arms—modern picks are fitted with straight arms, with the same height as the backrest
Decide between standalone and sectional sofas depending on the main purpose
The fabric material used
The amount of wall space
Your budget
2.Compatible Center Table
As you already know, furniture makes up the most significant part of your living room. Apart from sofas, there's a need for a beautiful center or coffee table. It provides a central surface to place your magazines, glasses, or TV remotes. Since it has become a tradition in many homes, a coffee table gives your living room that 'complete' look. However, it's a matter of personal preference since others may prefer an open area rather than a table at the center of the room.
3.Window Treatment
Your home design isn't complete without the right window treatment in place. One thing about windows is that they don't take the center stage of your décor, but they'll attract attention if not done the right way. Every design photo has curtains or blinds fitted with matching colors. Not sure where to find the right blinds for your new home?  Consult online manufacturers, like makemyblinds.co.uk, and make a decision with reference to all the available designs.
All window treatments are designed to block out sunlight, but their installment and aesthetics may vary you can check visionbedding for several options . They are categorized into four groups: blinds, drapes, valances, or shades.
Drapes (curtains): These are the most commonly used types of window treatment because of their simplicity. Curtains hang from a single rod above the window, and they come in a variety of textures, patterns, and colors.
Blinds: These ones fit inside the frame of your window and are distinguished by slats, either vertical or horizontal. The slats are adjusted to let in a given amount of sunlight. You'll mostly find them in offices, but they can also be used in your living room.
Shades: They also fit inside the window frame, like blinds. However, the difference is that shades are made of a fabric sheet. To let in sunlight, you'll need to roll them up to a certain height.
Valances: This type of window treatment is comprised of decorative panels of fabric fitted like curtains. However, valances conceal the curtain rods and other hand mechanisms used.
4.Plants And Nature
Make the space lively by including some indoor plants, such as a fiddle leaf fig tree or any plant that's appealing to the eye. Again, this is a matter of personal preference, and you can replace it with any other form of décor that will give a similar feel to your living room. However, if you decide to go with plants or flowers, choose the ones that are easy to maintain, but, at the same time, offer a beautiful scene.
5.Personal Or Family Photographs
Nothing gives your living room a more personalized appearance than a set of personal items displayed around the space. Frame some of your favorite photographs and place them in strategic places within the room. In any living space today, you'll find all sorts of photographs hanging on the wall or perfectly placed on the shelves. It's, therefore, a tradition that you can't afford not to take advantage of, especially if you like personalized décor.
6.Favorite Art Pieces
Do you like art? Show your love by exhibiting some of your favorite pieces around the room. Although it's sometimes taken for granted, art has a lot of impact in a person's emotions. It can cheer you or your family up after a bad day. Artwork can also be a source of inspiration depending on what you display. You don't have to fill all walls with fine art; one or two pieces can do the magic.
7.Entertainment Units
Today, any home isn't complete without a set of entertainment units. The most important devices you should have in your living room include a TV and music system. These will keep your guests entertained and give them a nice experience. Remember, everyone is used to this type of technology and might find your living room a little awkward if it doesn't have at least one entertainment unit.
Conclusion
A living room is one of the most important spaces in your home. Many guests will judge the rest of your house using the current state of the living space. Therefore, including items like entertainment units, center table, couches, and flowers can go a long way in building a good reputation. Art and photographs will also make your home look classy. Of course, some of these things are optional and can be left out if they seem unnecessary.