Contemporary Apartment With Minimal Furniture | Newangle Design 
The key factors were to maximise volume, light, and privacy to space, weightlessness and freedom are important characteristics that have been achieved by the use of glass, clean walls and large openings. The apartment has an air of freshness which is achieved by the use of primary colours.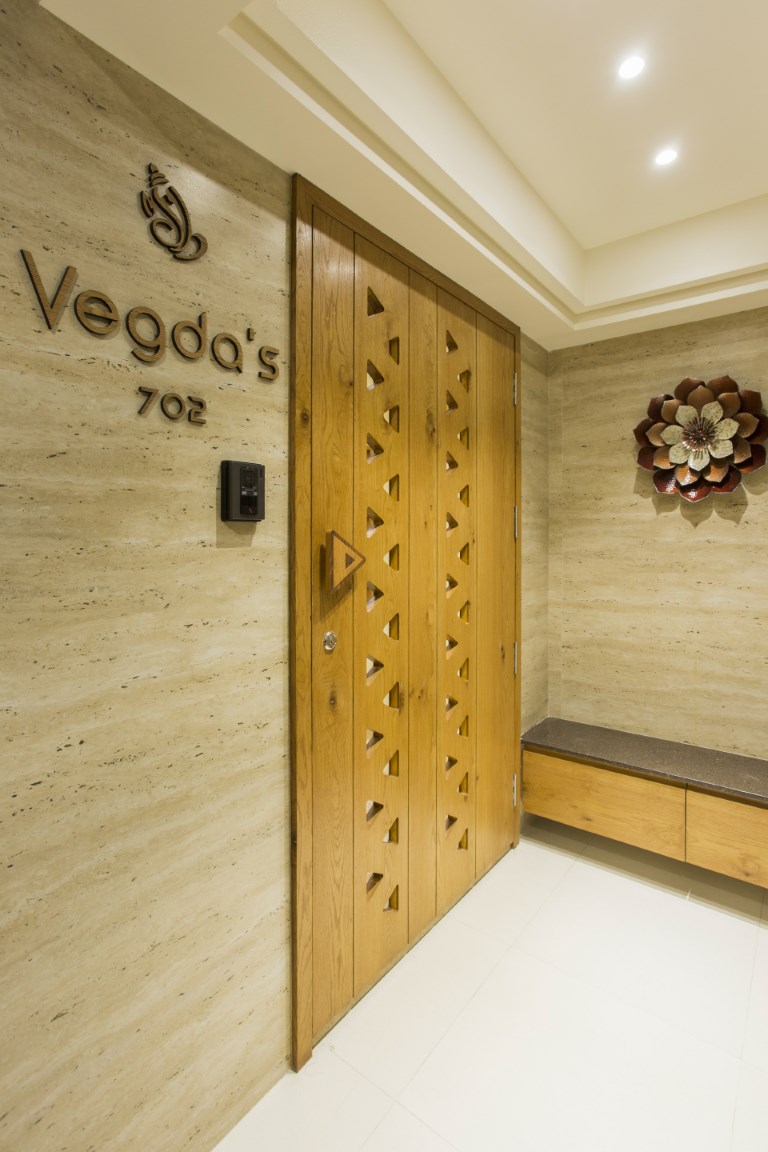 The main door opens into a vast open white space with minimal furniture in contemporary styling. The living room layout affords a huge empty space with formal seating placed at the far end.
The partition has demarcations for living and dining spaces and a kitchen tucked away in the corner offers no distraction from the main/ public areas. The kitchen has a streamlined look in back painted glass finishes.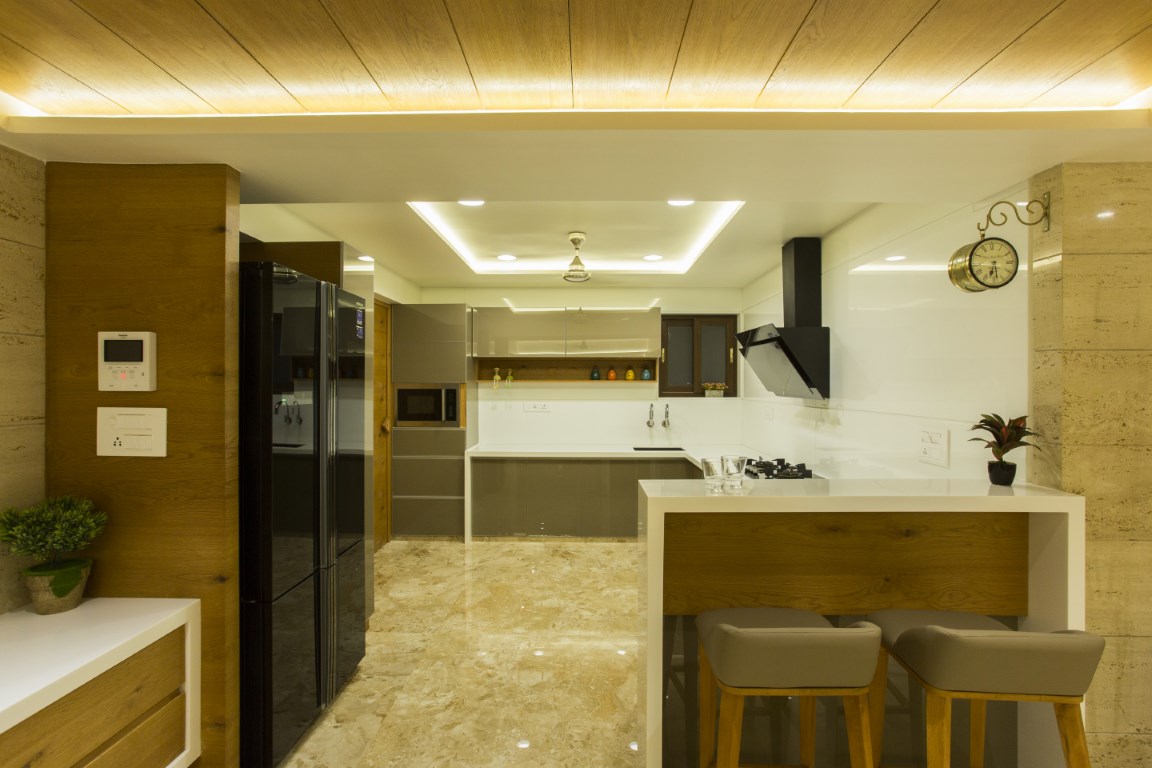 The partition has natural wood and lacquer colours wood triangle and t.v.unit has Italian marble with wallpaper & sofa made with good quality of tapestry all together gives the elegant look of living area.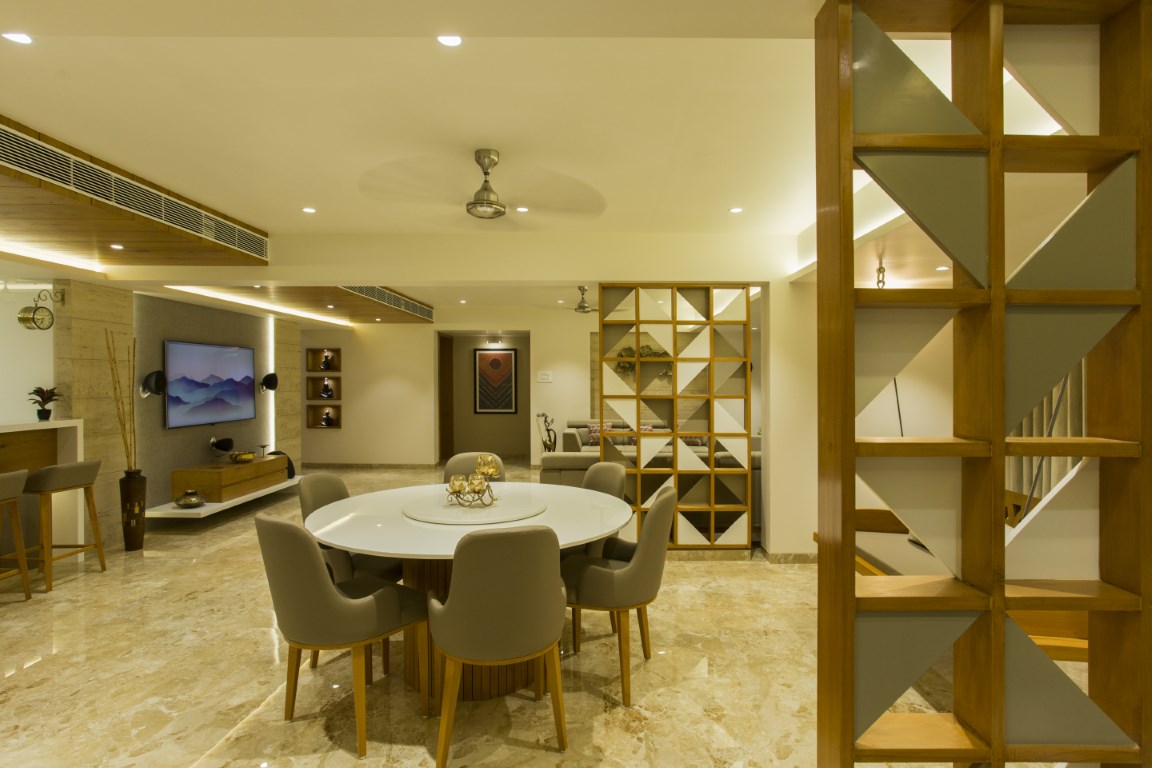 The design in partition extended in room doors and main door also, it gives the similarity and uniqueness. Main door has burned effect with same design gives ultimate look of all the living area.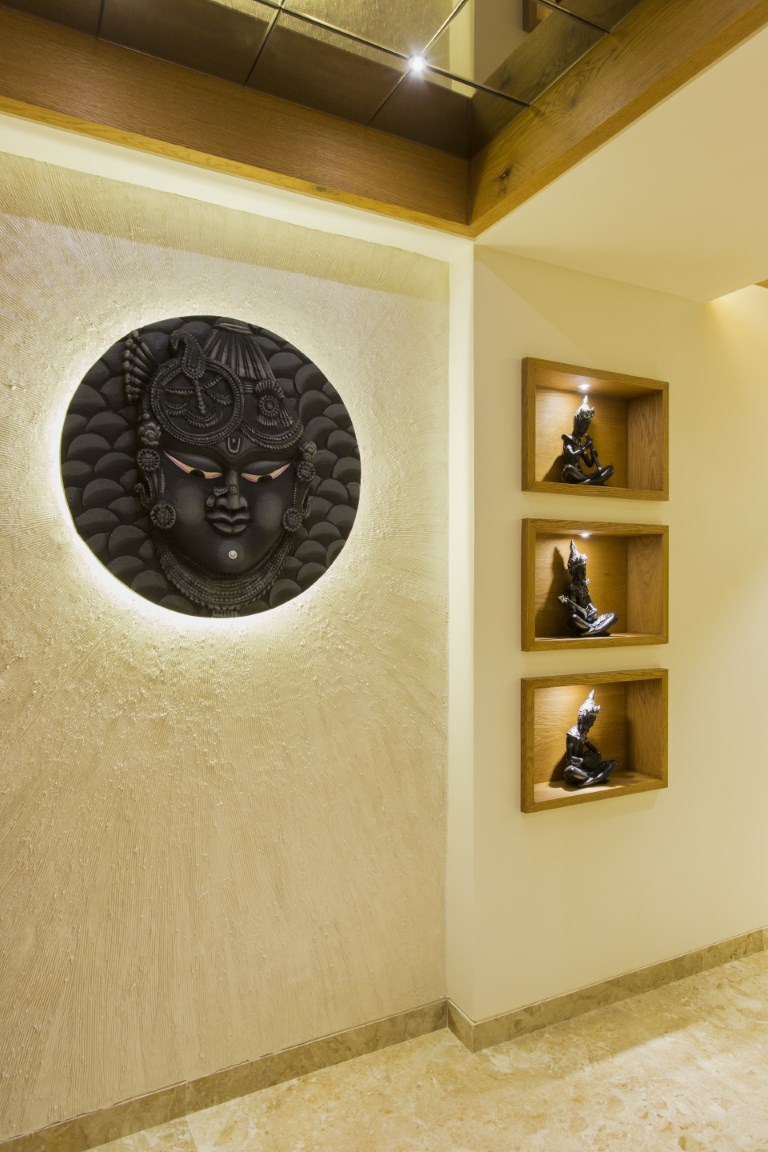 The room is treated with white colour paints, light coloured natural veneer and the ceiling has white colour with texture gives simple look of room.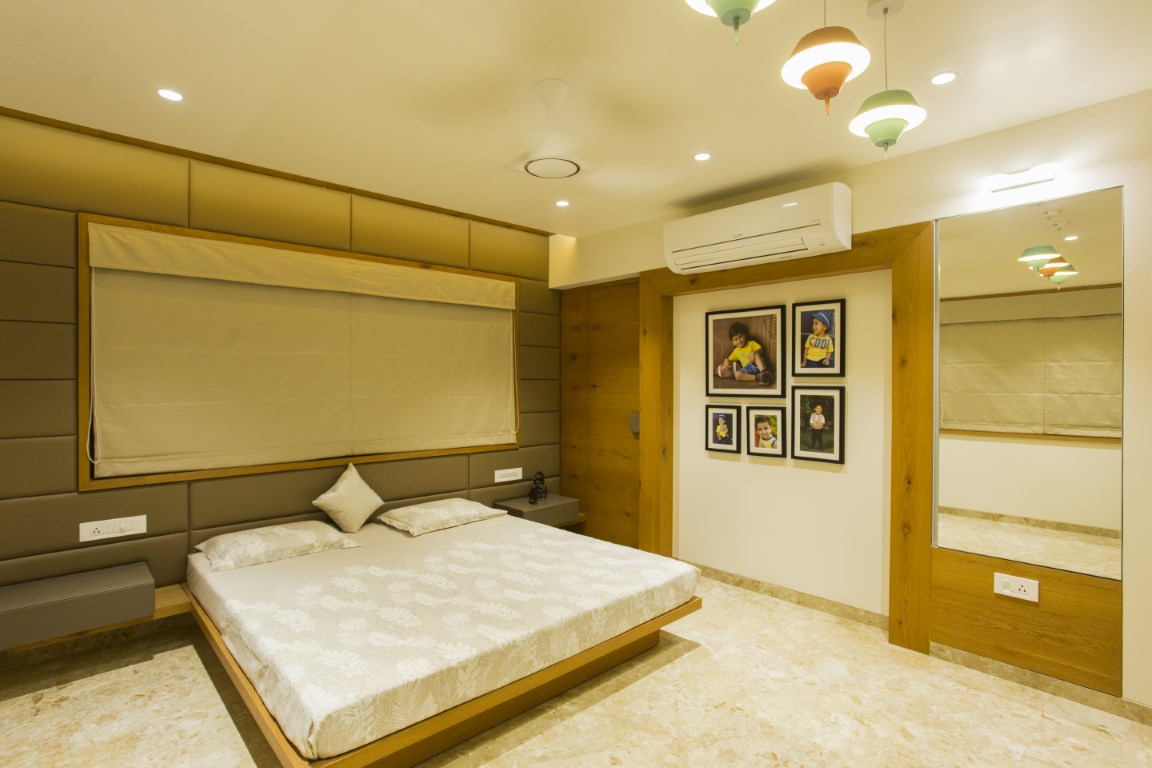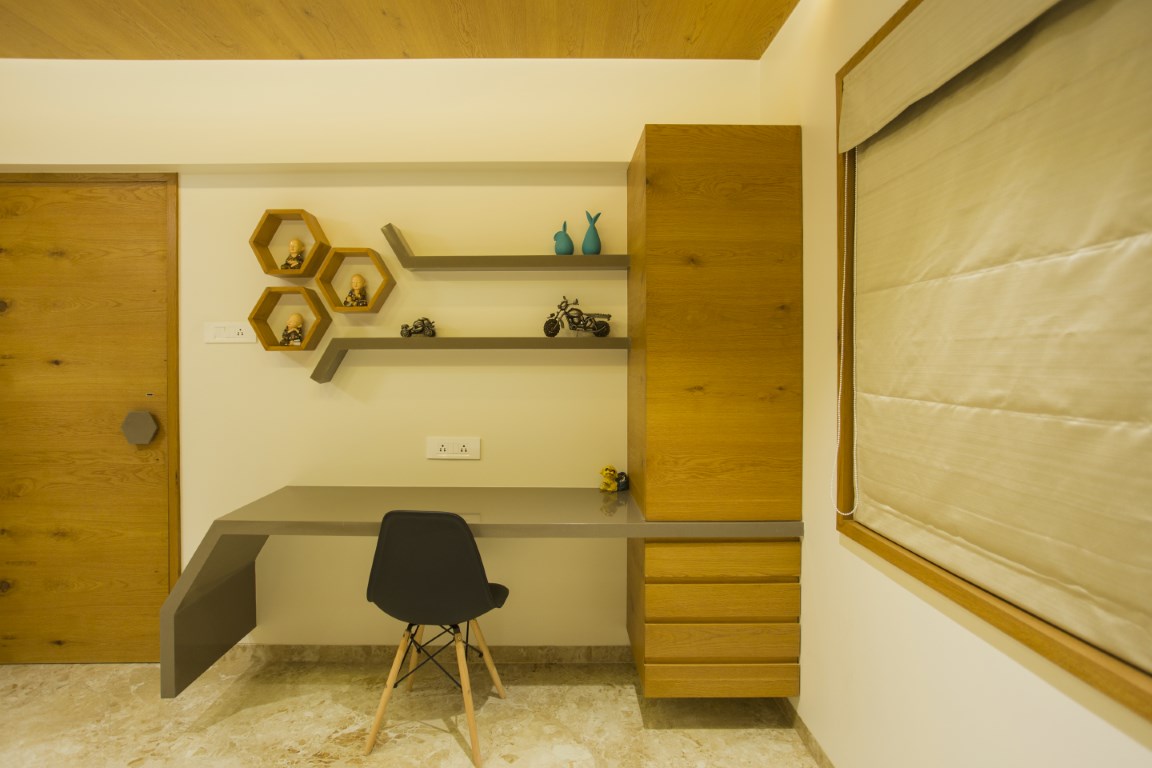 The master bed room itself is a spacious area, taking up the full width of apartment.it has white ceiling and is decorated in oak veneer and white matt glass and white colorway, Arranged backside of the bed decorated with pista green & off white colour fabric and wall painting made by local artist.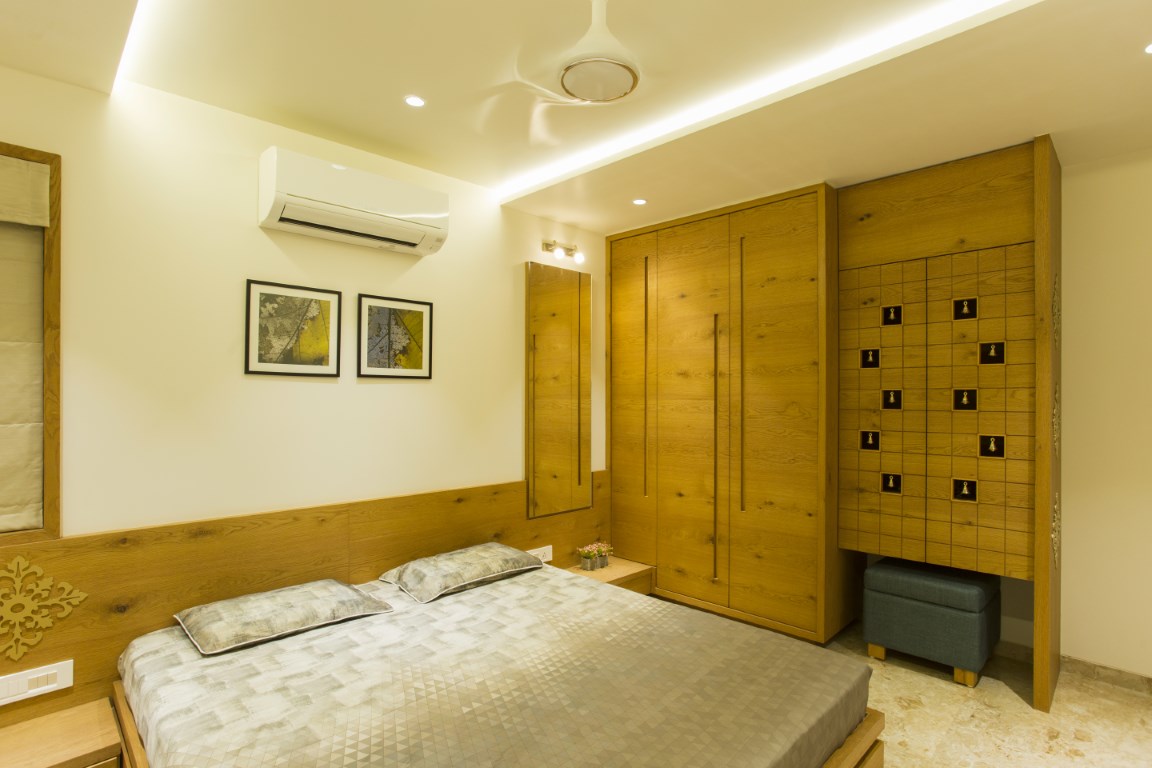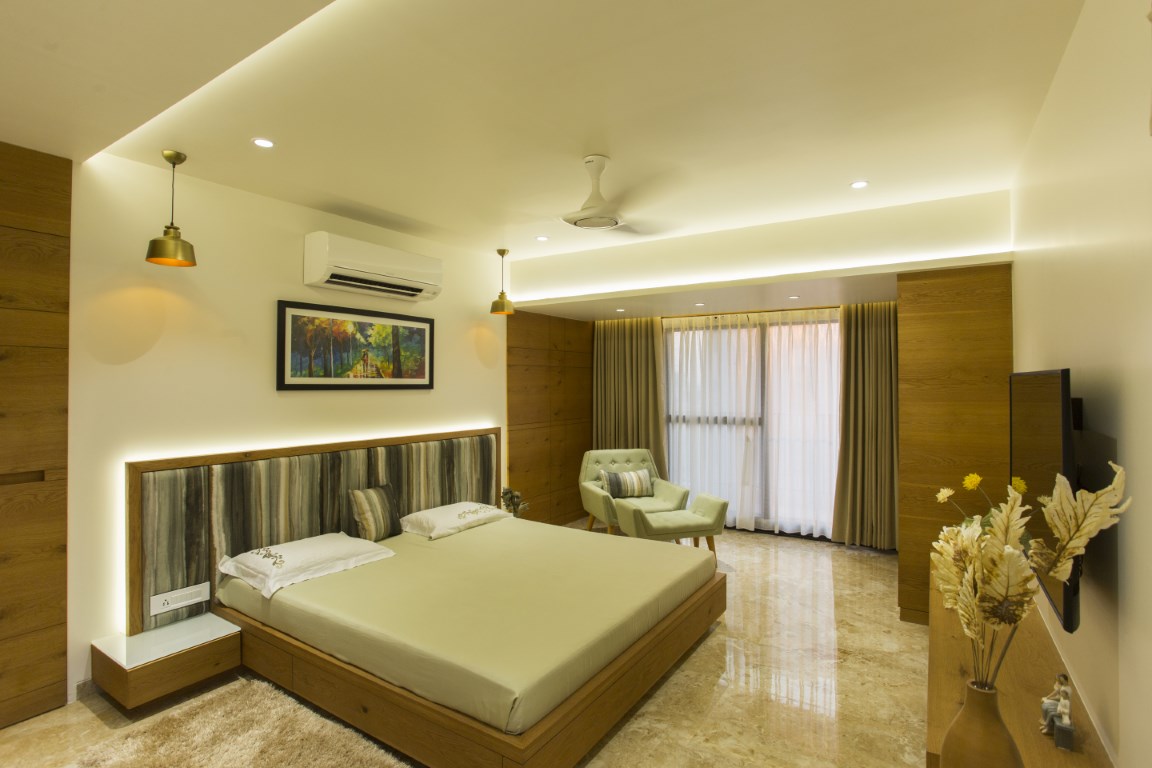 The apartment draws a primary colours, pop of colours used in control to give the apartment a calm environment.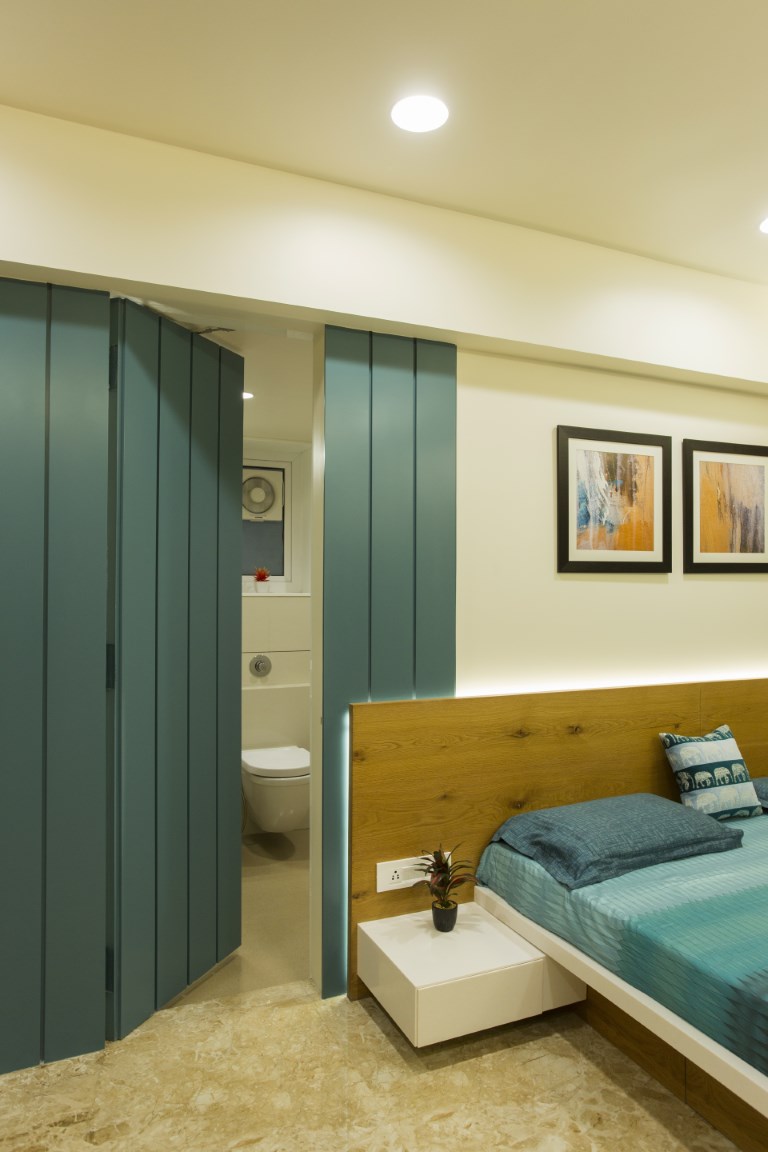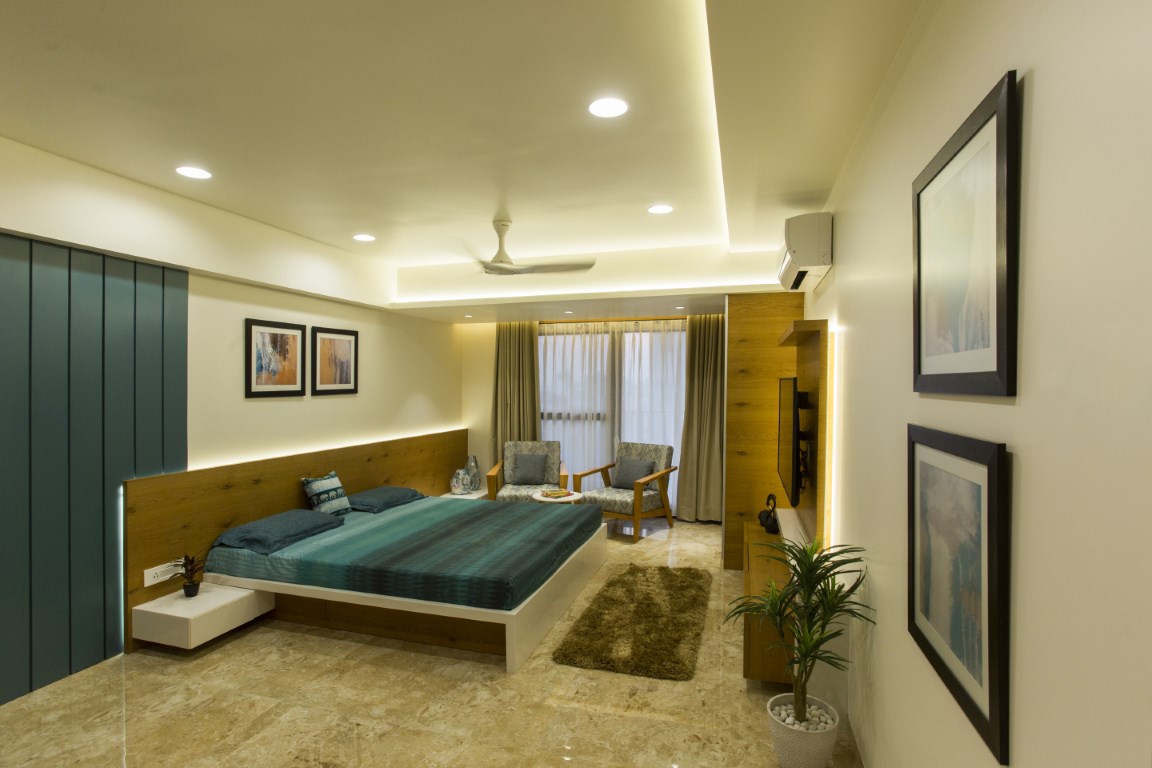 Context
The site was a residential apartment located at Rajkot when we were hired for the project the developer had already completed the basic civil work and we will start the flooring and designing work.
Client brief
The clients brief for designing this apartment to create a simple and comfortable space. His brief was clear, he wanted a simple home with white colours. An apartment which reflects and resonates with his personality. The client didn't need much furniture, hardware and Italian marble but he need the look of flooring like Italian marble, so we used G.V.T. tile with Italian marble figures and he need the little privacy for living and other part of an apartment. The client wanted a Morden house with warm hues and clean lines along with soft shades of primary colours. They wanted it to be their dream home with elegance and style as the dominating elements of the decor.
Material
The materials used were off white paint, multiple elements like N.R.back painted glass, veneers, G.V.T.tiles, lacquer color
Flooring:- G.V.T. tiles big size with Italian marble figure. Toilet &
Kitchen wall tiles was white finished.
Furniture:- ply with veneer, back painted glass & solid surface, glassy white stone, burning effect on doors
Kitchen: – Modular kitchen ply with back painted glass with fitting by hettich.
Toilet: – fixtures by toto and ceramic tiles.
FIRM DETAILS:
Rachesh Pipaliya started his consulting in year 18 years back in 2001. Done his Interior Designing from Reputed L.S. Raheja School of Architecture,Mumbai.
His firm ' Newangle Design ' not only acts as a design consultant, it also provides complete solutions. Over little more than 18 years, the firm has extended an impressive range of prestigious projects. These span an entire spectrum-urban residences that are symbol of fine living, corporate project speaks of an understand elegance and hospitality projects that have become cool hangouts for the young at heart. His design exudes energy and spirit in a delicate and subtle fashion and his signature style has won his much global recognition and long list of accolades for his project at the national level as well.
FACT FILE :
Name of firm                                     :                Newangle Design
Director                                              :                 Rachesh Pipaliya (Interior Designer)
Location                                             :                 Rajkot
Building Type                                   :                 Apartment Interiors