&nbsp
Apartment With An Eclectic Combination Of Tradition And Contemporary Environment | The Little Studio
A humble abode for the family of eight perched on the 6th floor in the city of Ahmedabad has been conceived as a house of translucent boundaries. The house is an eclectic combination of traditional elements infused into a contemporary environment to evoke a heightened sense of warmth.
Designer: The Little Studio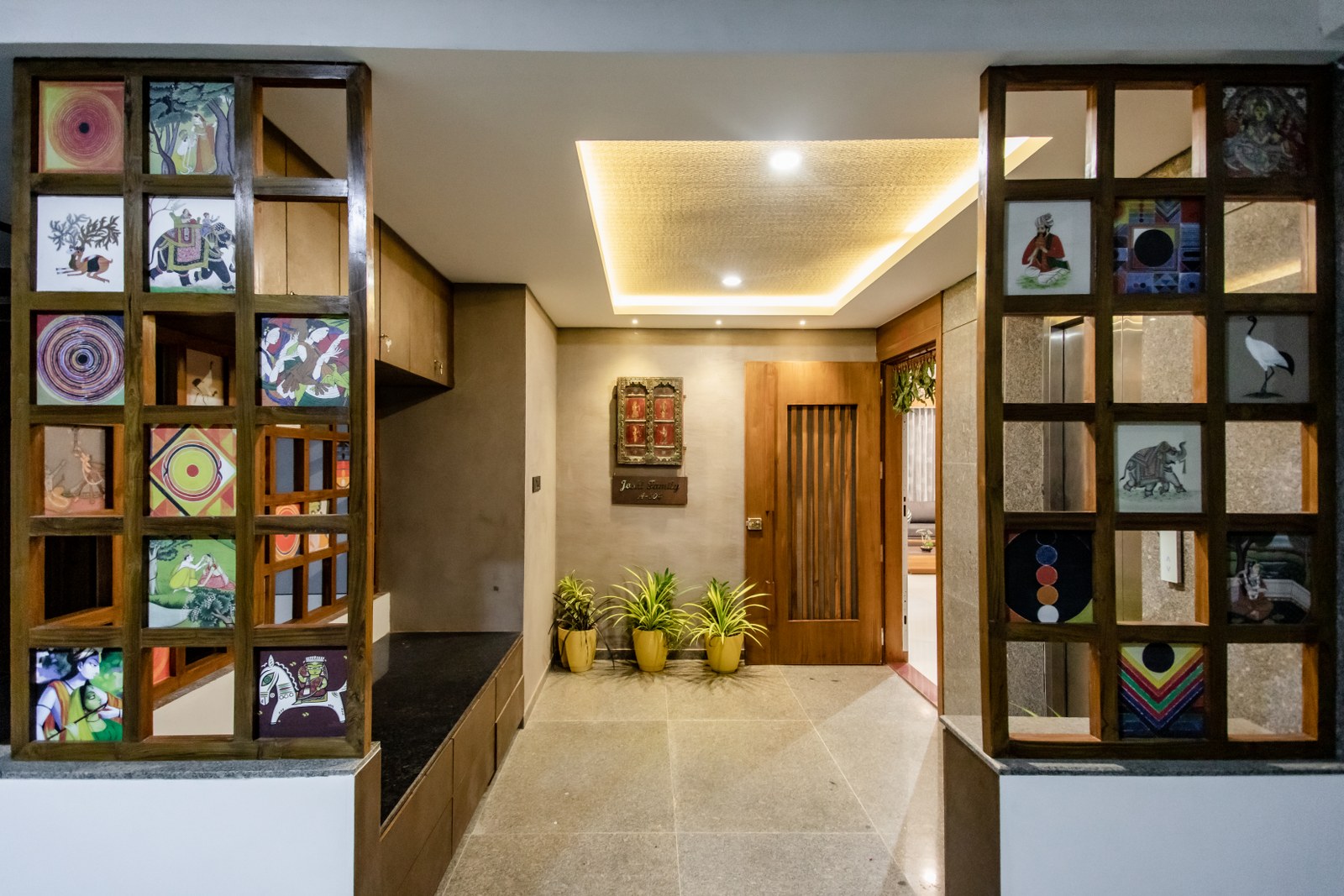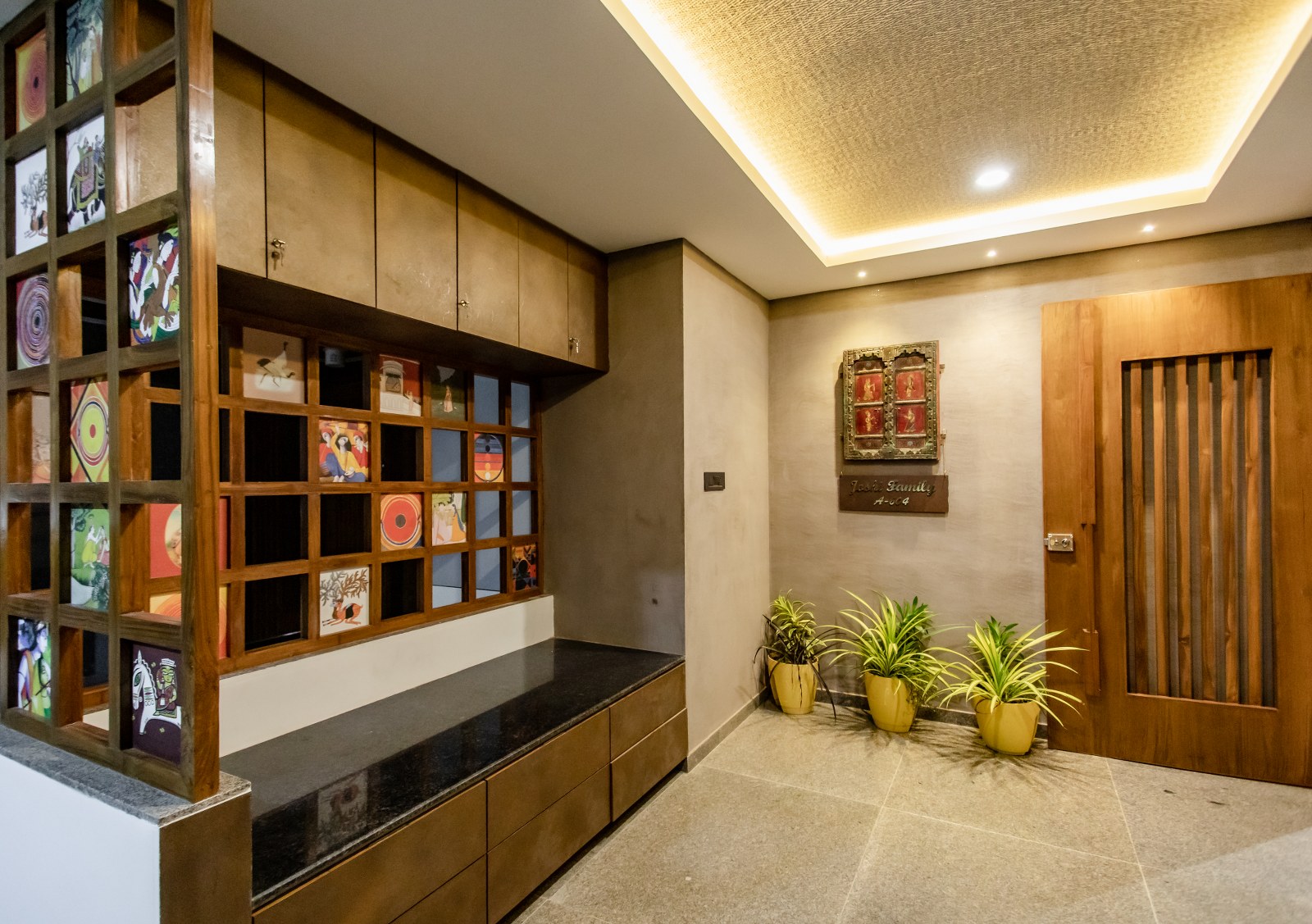 Pichwaai artwork in various proportions has been one of the major two-dimensional graphics, paired up with darker shades of wood to add a tinge of traditional drama into space.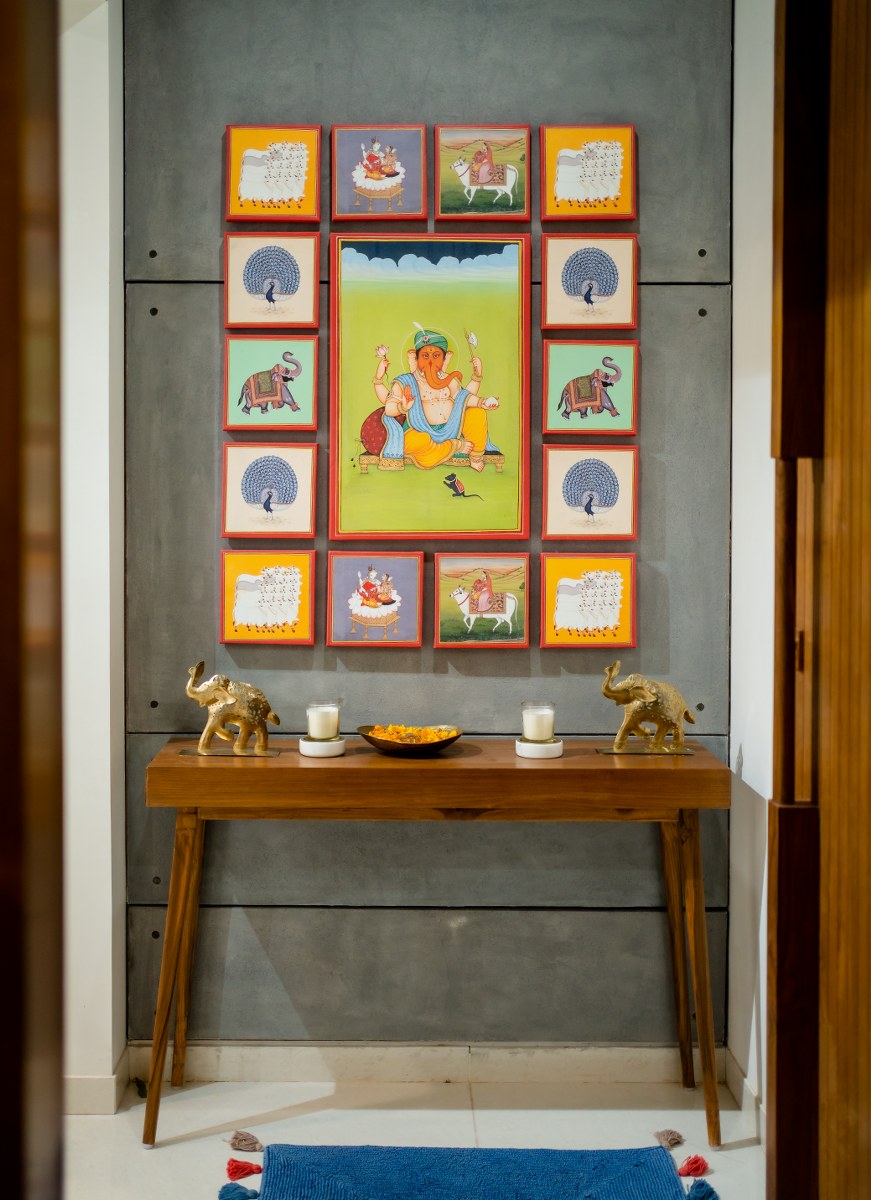 Entrance And Vestibule:
At the entrance awaits a faux traditional window paired up with a semi-transparent partition composed out of a square grid. The grid has been carefully manipulated by keeping a few squares empty allowing room for spontaneous décor, while the others have been covered with pichwaai graphics. The idea of a square grid has been carried forward into the vestibule wherein square frames with graphics adorn the wall, along with a sleek wooden console.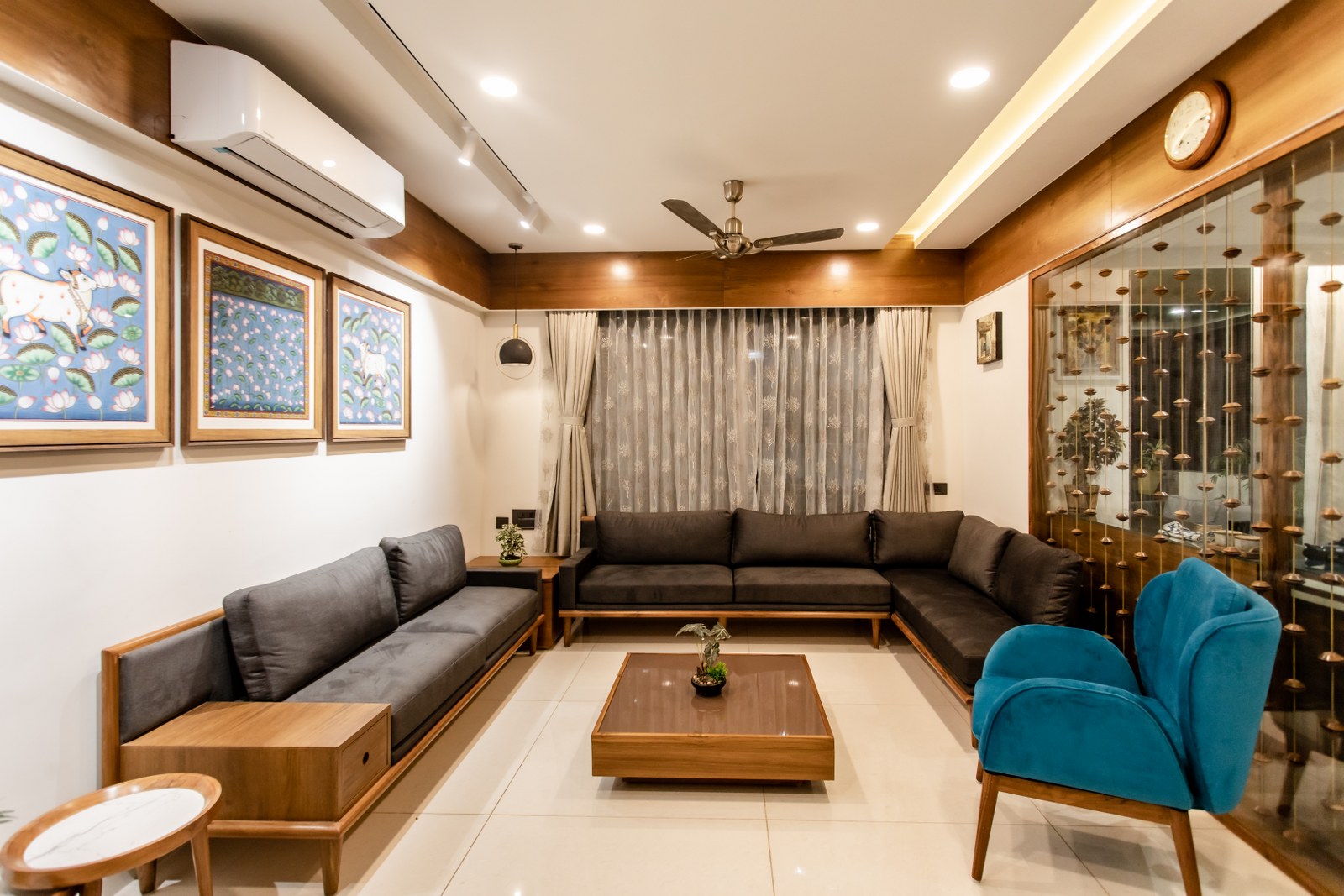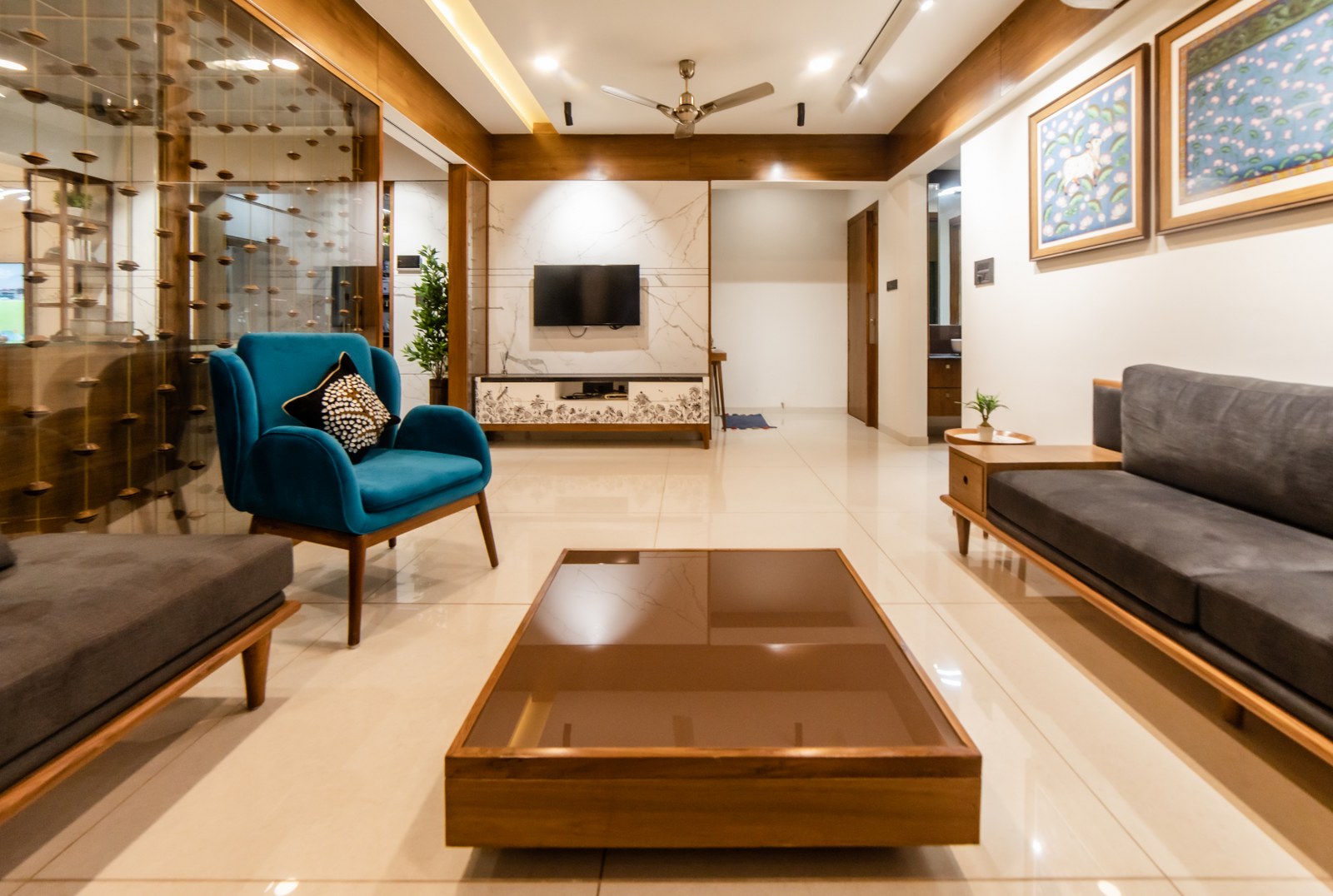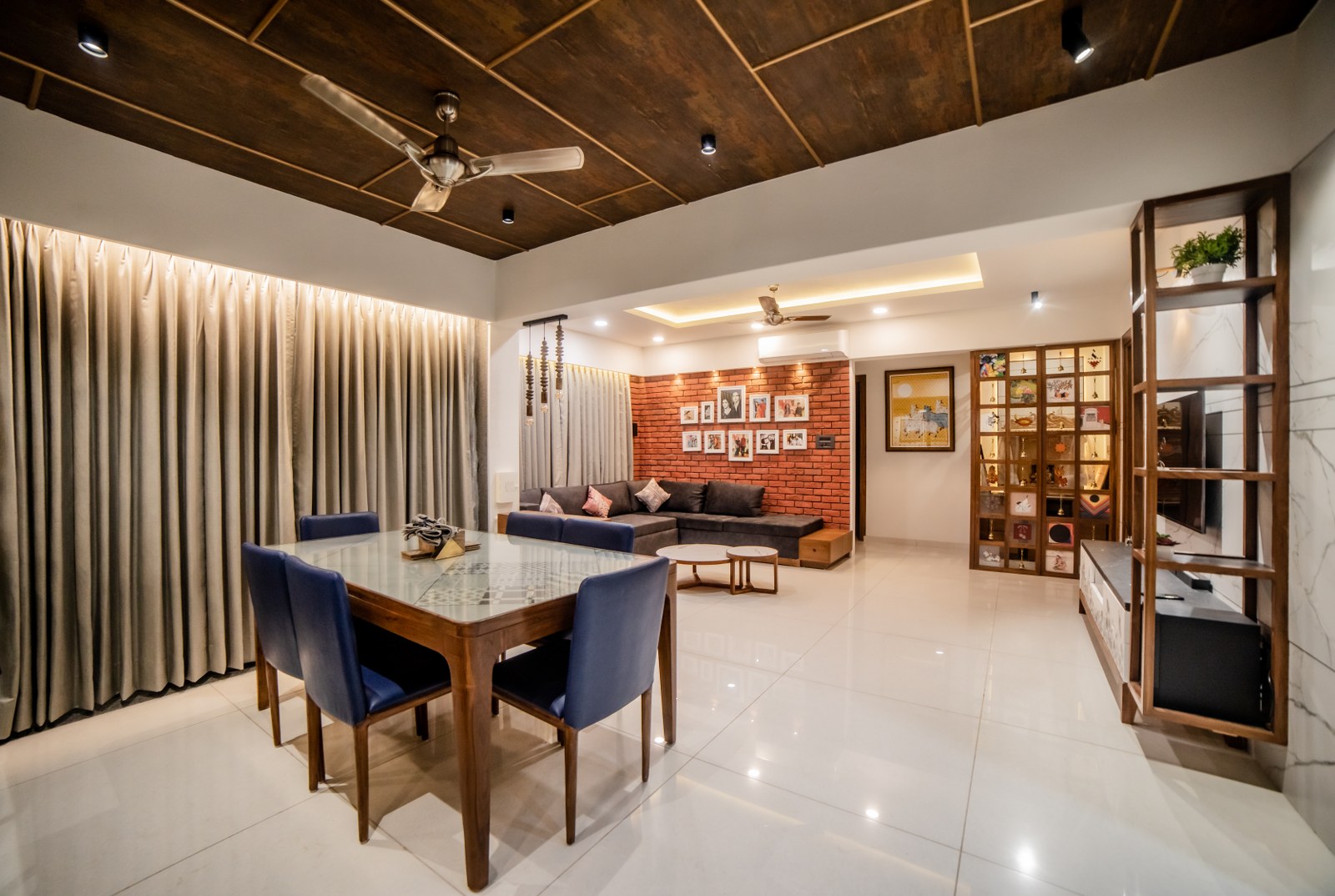 Formal, Informal  And Dining Area:
Formal and informal living spaces are more dramatic in their visual aesthetic. Darker hues in furniture upholstery and wood have been toned down with bright lights and white walls. Pichwaai artwork makes its way into these spaces too, decorating the walls alongside personalized picture frames, a punch of traditional influx into a contemporary feel. The dining and the living spaces have been divided with yet another translucent veil of tiny carved wooden pieces woven into jute ropes.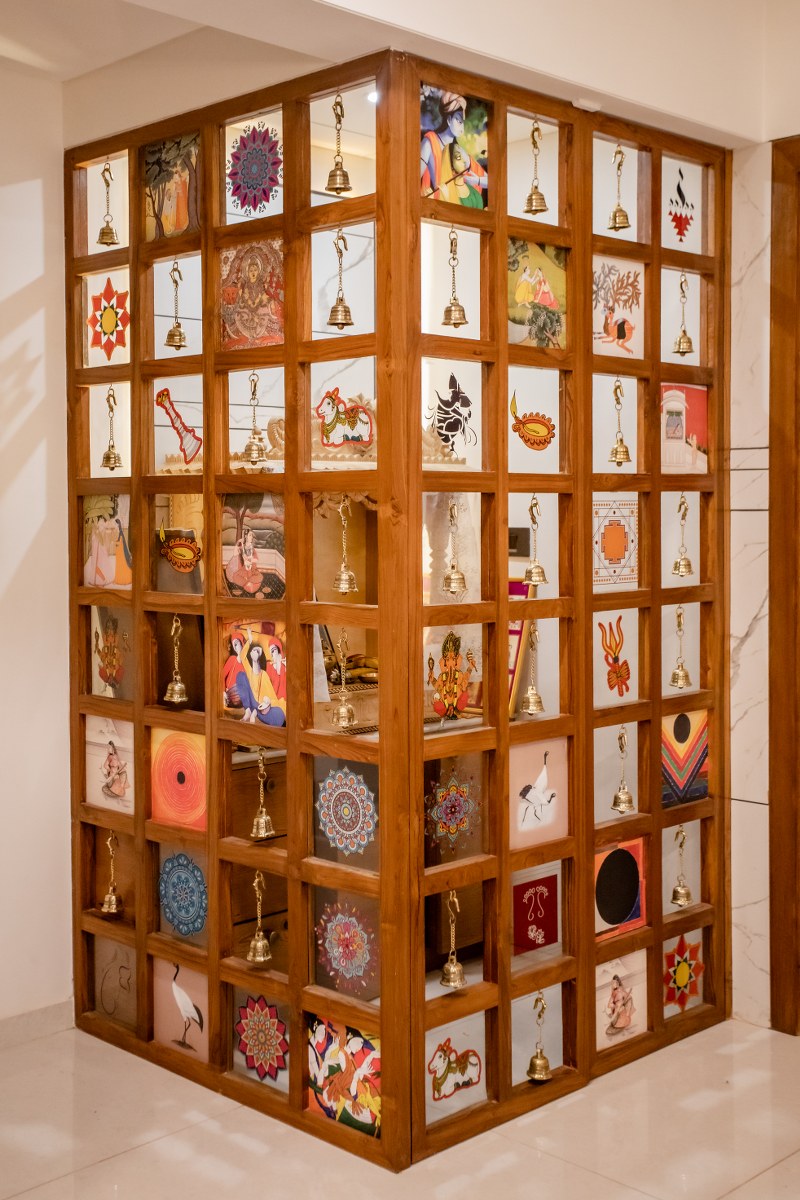 Mandir:
The mandir follows the same square grid language as the entrance. Breaking the conventional notion of a mandir partition, the element is adorned with spiritual visuals printed on glass, paired with tinkling bells in empty squares, enabling a sense of transparency and interaction in space.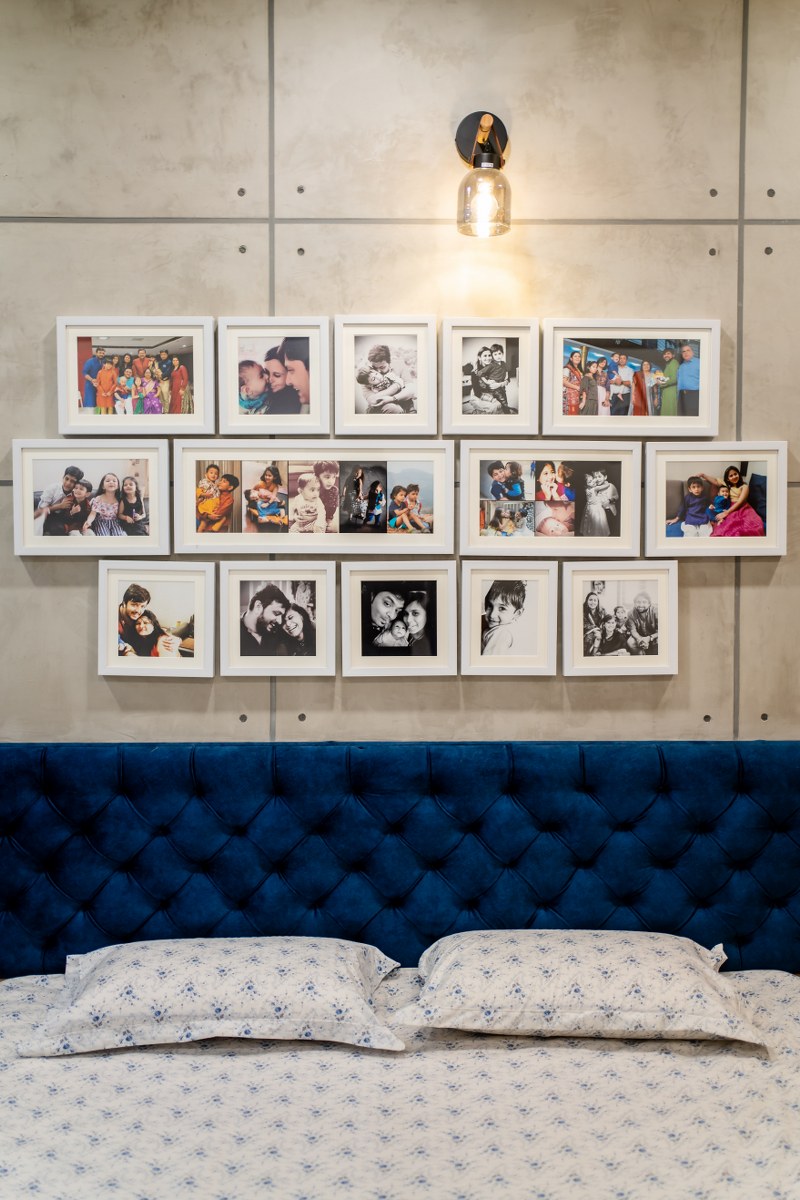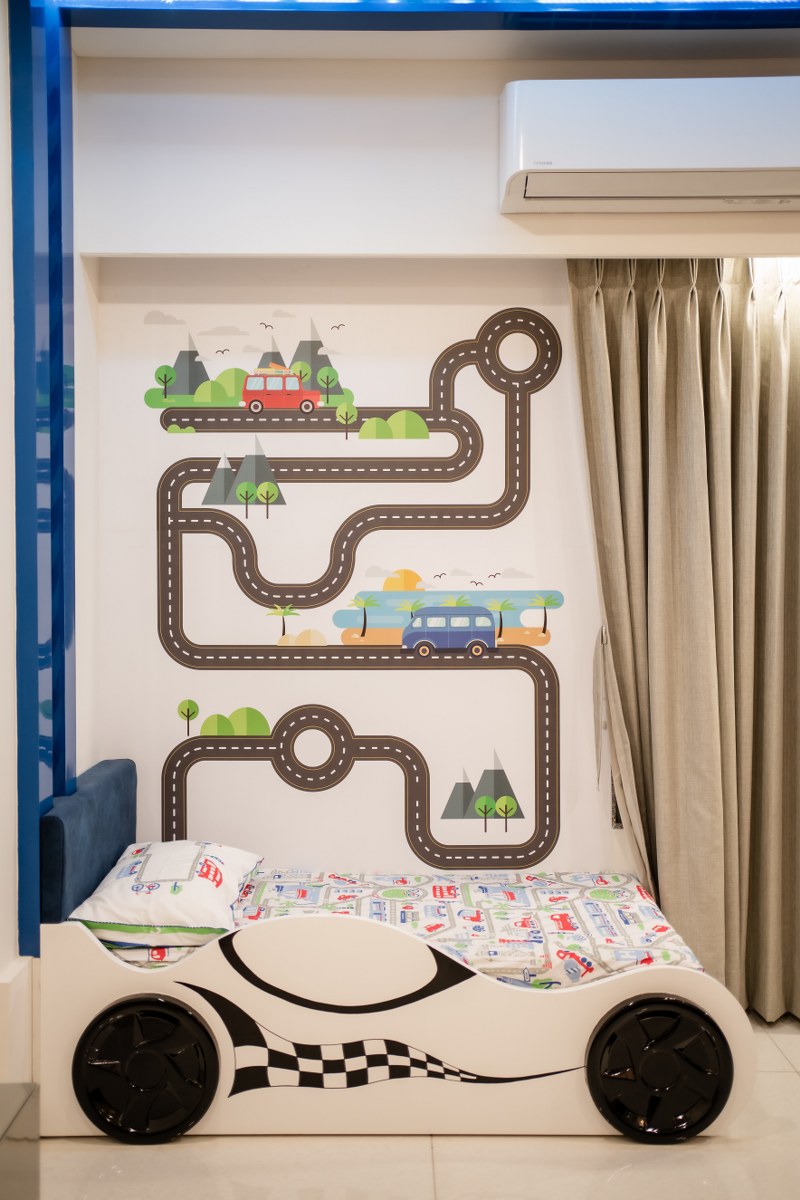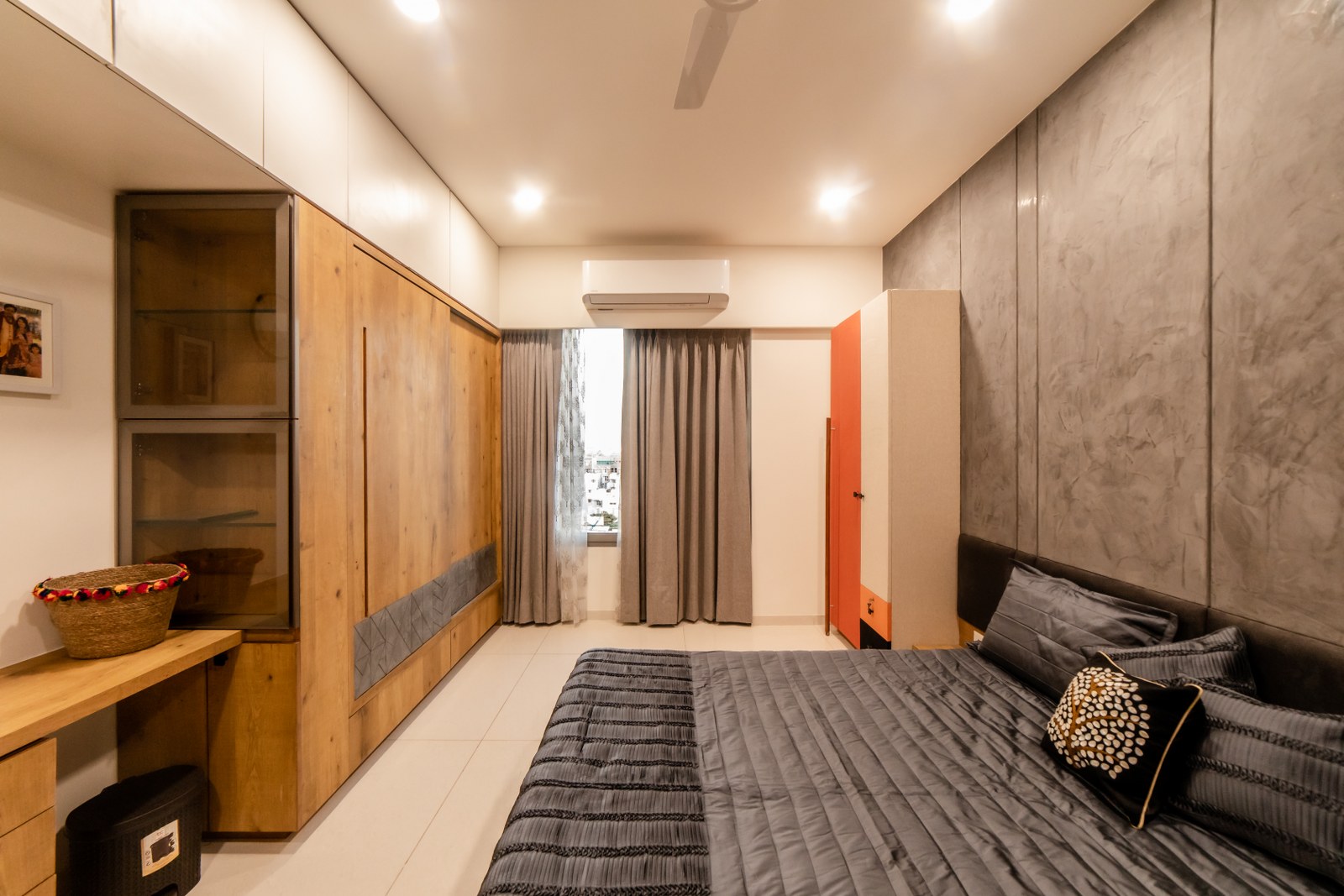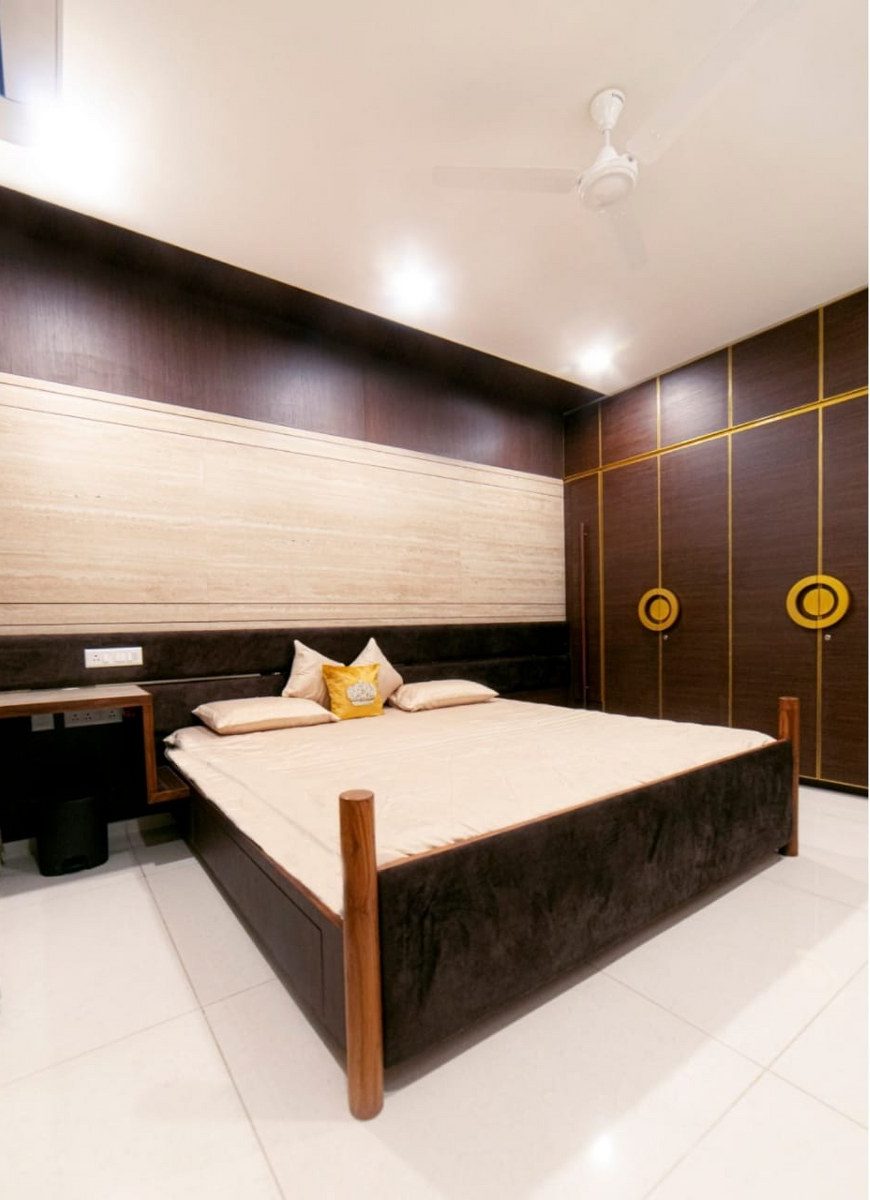 Bedroom And Overall Space:
The bedrooms are simple and elegant, with darker tones in furniture being balanced by subtly textured grey walls. A series of hand-painted artworks are also a part of this dwelling: the TV consoles in the living spaces with monochromatic graphics, and the balcony walls with lush green graphics of plants. Every space has a focal element strategically adding a pop of color, the blue chair in the living room, the orange wardrobe in the master bedroom, and the yellow handles in the grandparents' room. Designed and planned in the most optimal and functional way, the home is a perfect amalgamation of the identities of its occupants and a personalized designer's touch.
Fact File: 
Design: The Little Studio
Interior Designer: Helly Patel, Shivangi Sharma
Location: Ahmedabad
Photography: Aman Bhandari
Write up: Priyanka Kapoor
Facebook Link: https://www.facebook.com/thestudiolittle/
Instagram: https://www.instagram.com/thelittlestudio_/?hl=en