&nbsp
Apartment Interior With Use Of Screens as Element Of Surprise | The Brick Tales
We were commissioned to design a home for a family of six. The brief  demanded a house that was earthy, timeless, peaceful and elegant, fresh and vibrant at the same time. Each person was different and hence the individual rooms had to tell different stories and the over all house had to form a coherent one.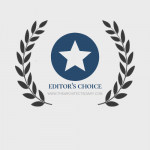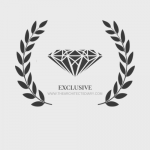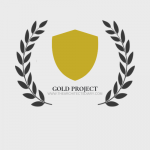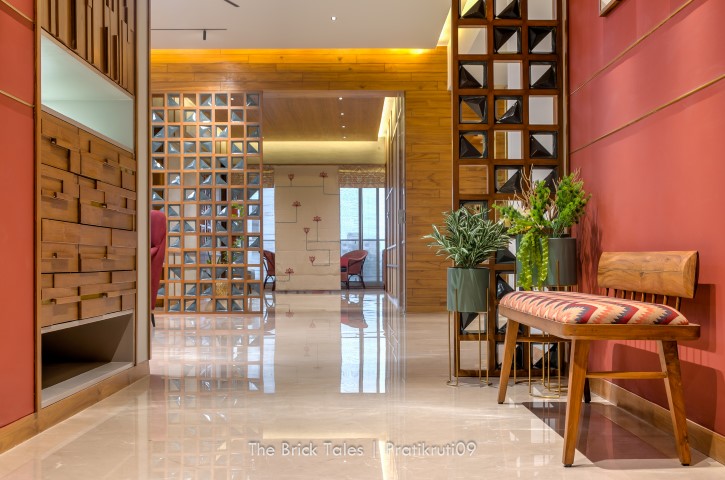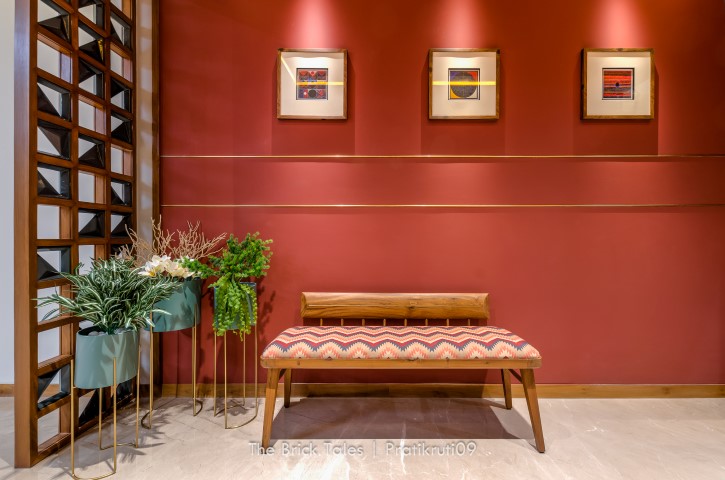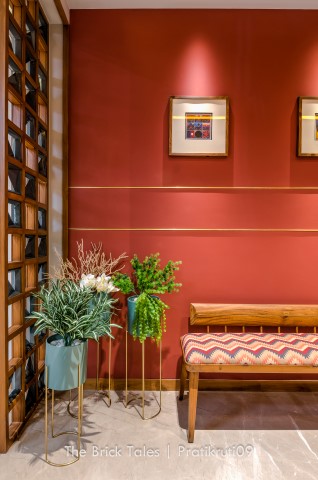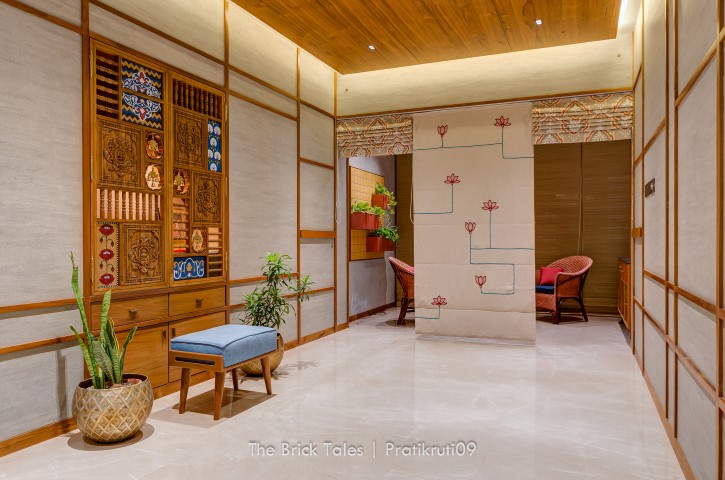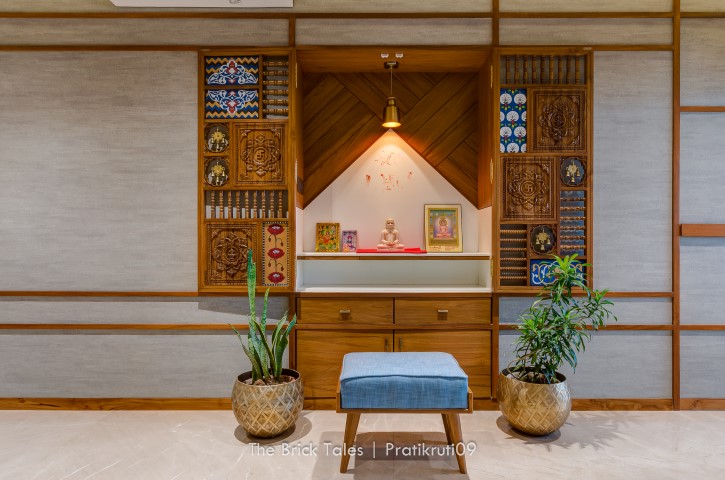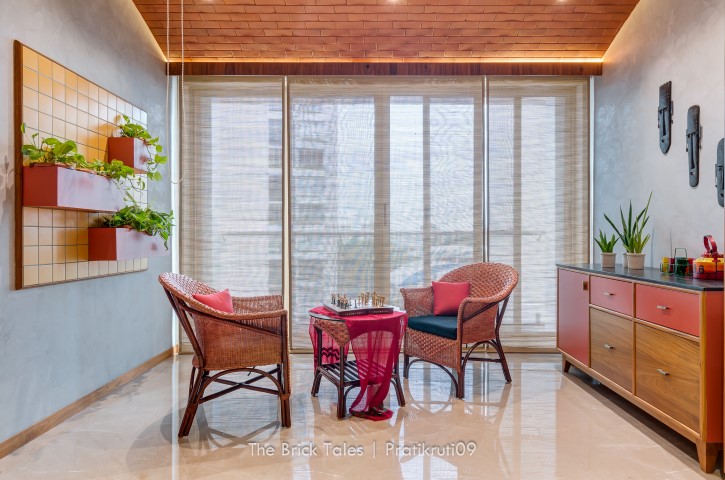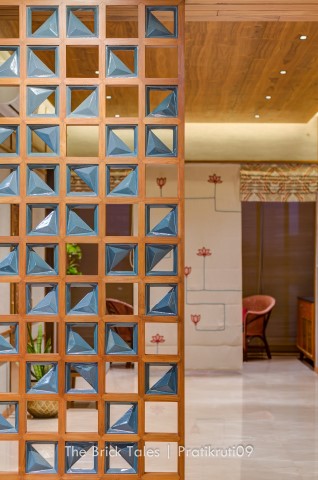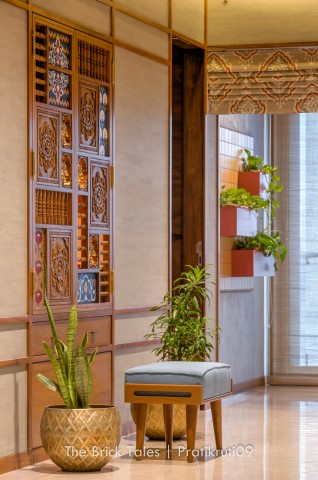 The spaces are visually connected using different kinds of screens to be able to create a curiosity and continuous feel to the whole house but at the same time retaining the privacy of each space to be used. This has brought in a great openness and depth to the spaces literally flowing into each other which otherwise were contained in four walls.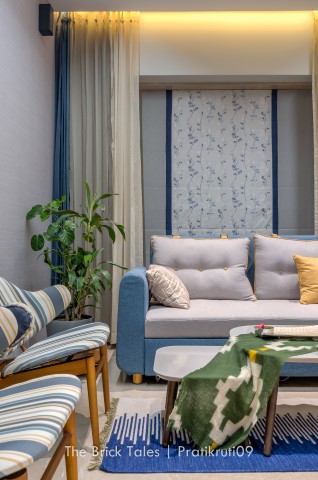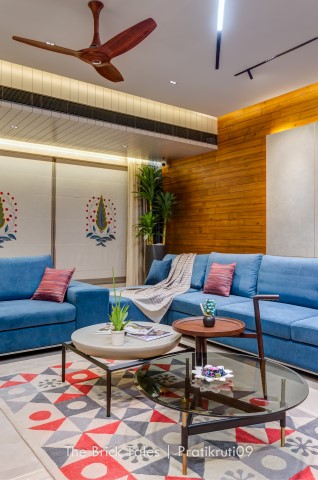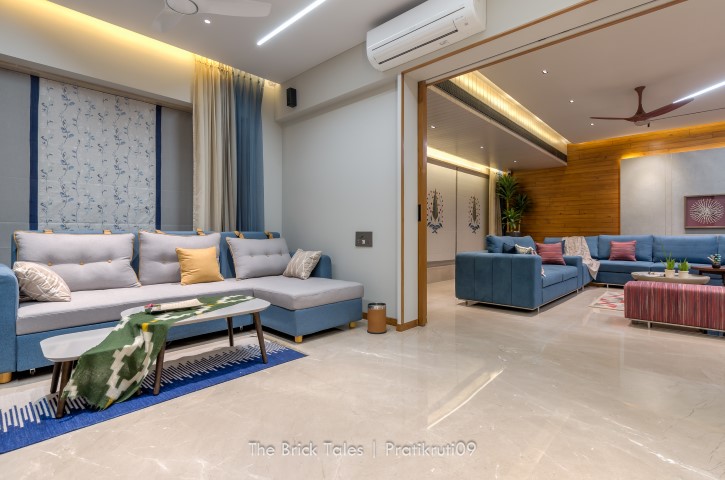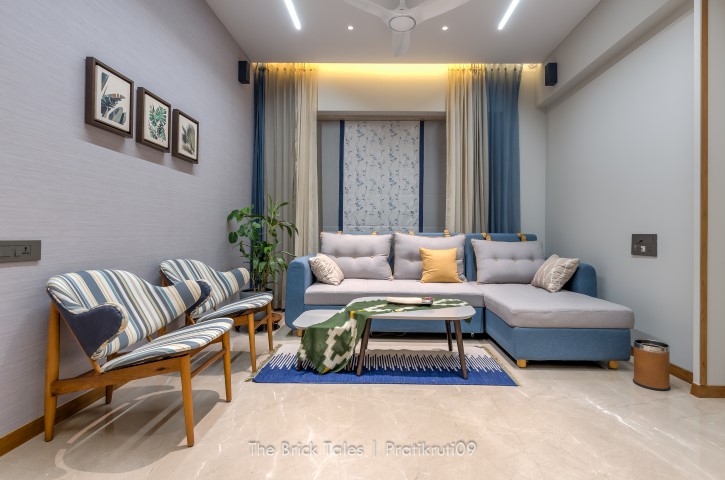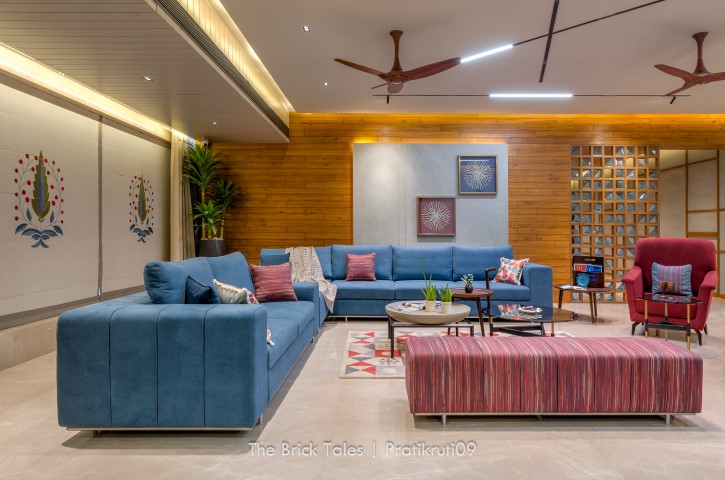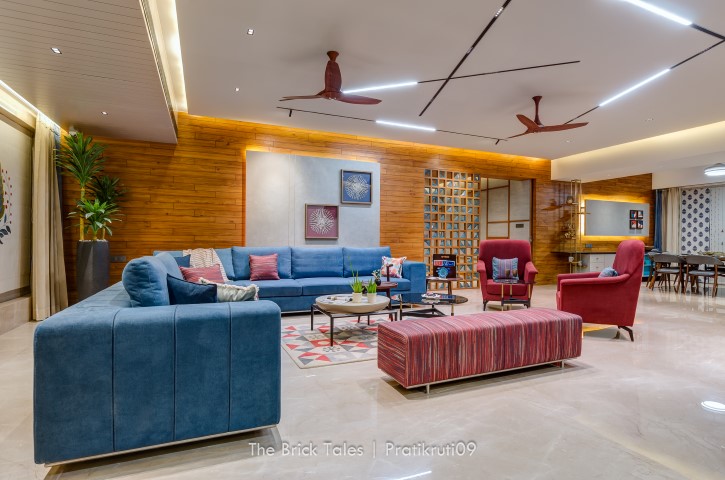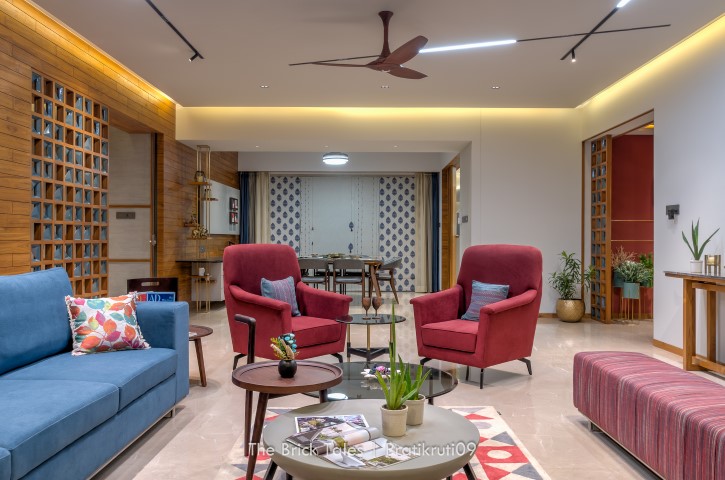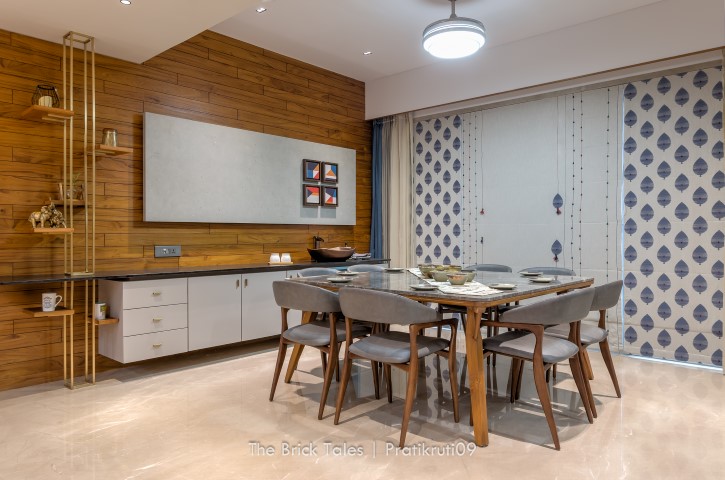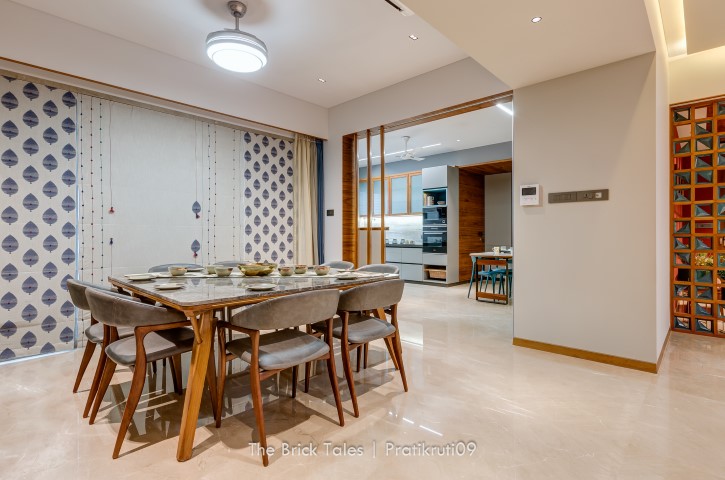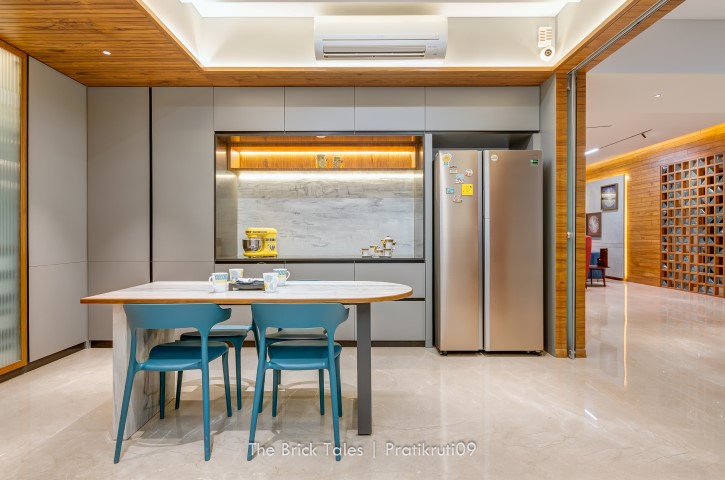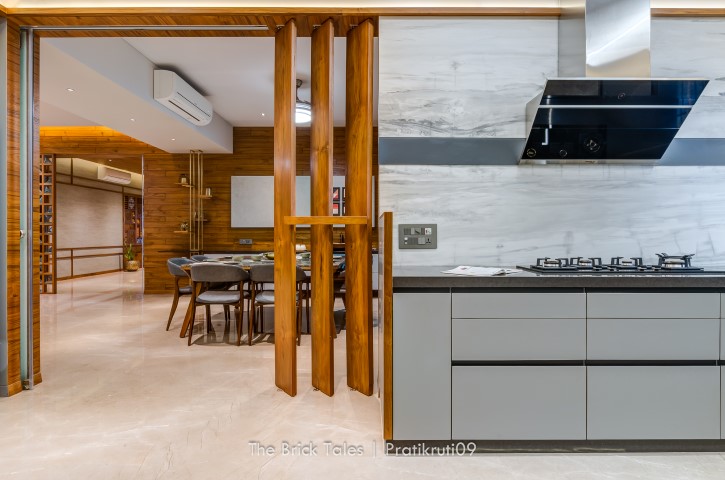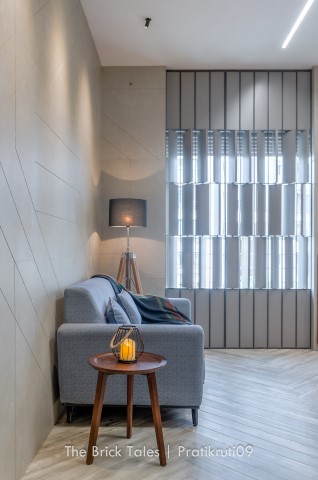 Knocking down the walls and converting them to screens translates the traditional Indian way of living where different spaces are interaction points where the members of the family come together. This also answers to the modern way of living where privacy and individual space is equally desired. Ceramic Jali, hand embroidered curtains, wooden louvres, fabric infused glass partitions, etc. have been used to create this relationship of part to whole.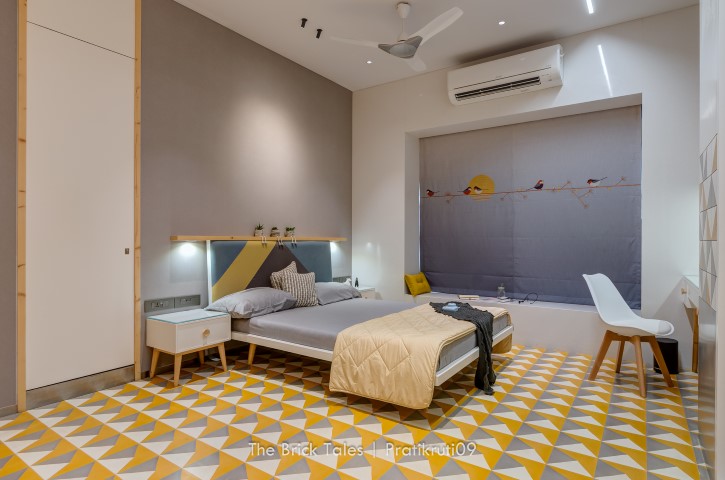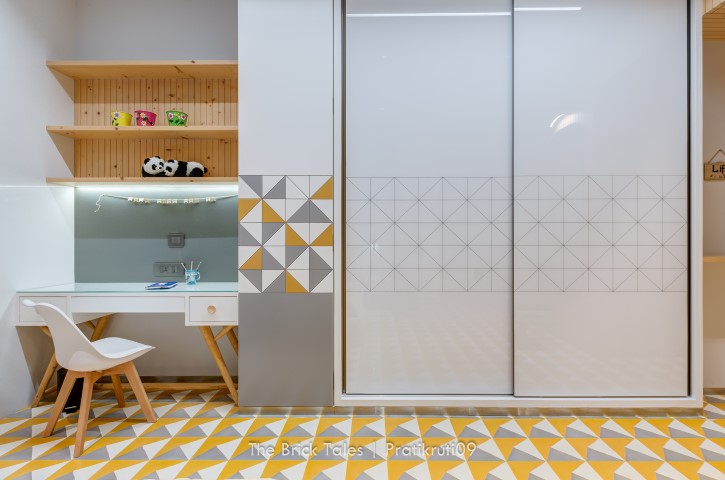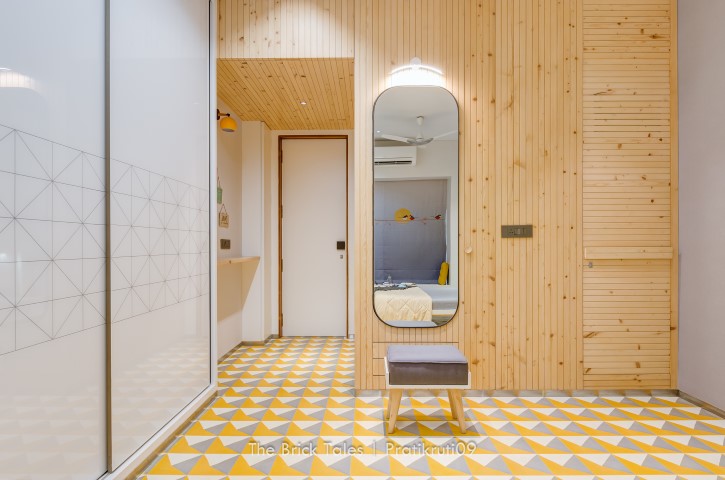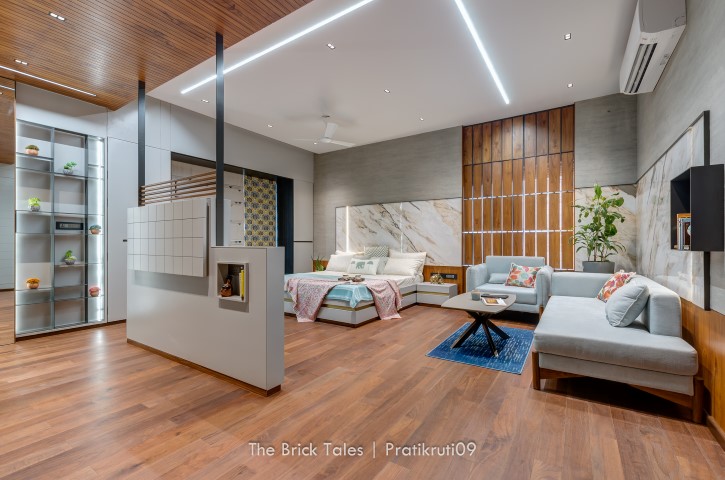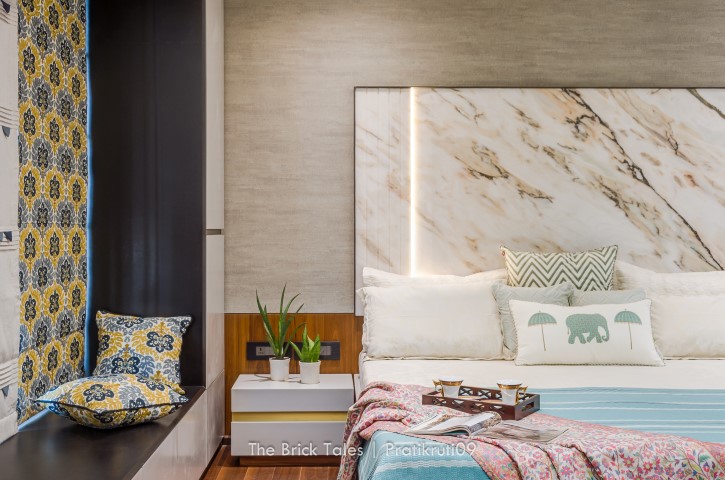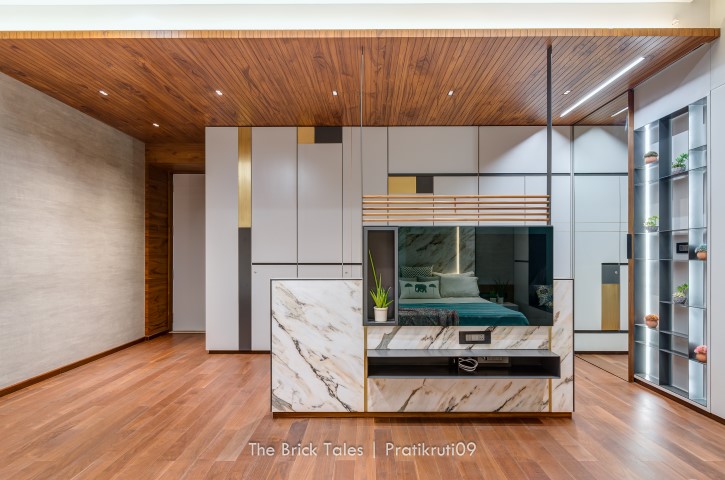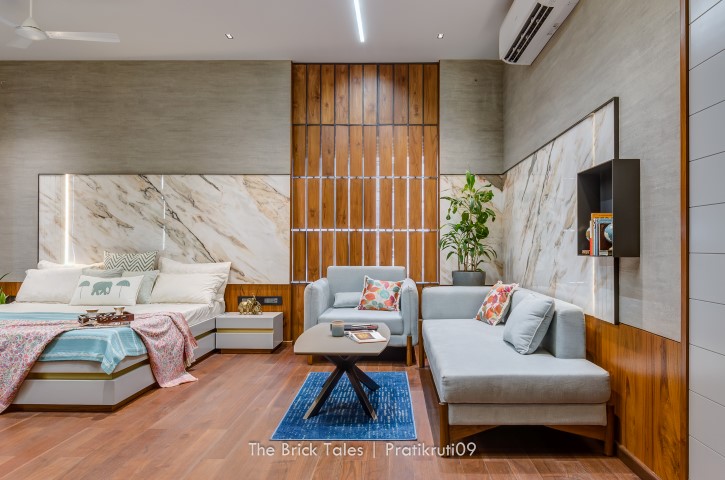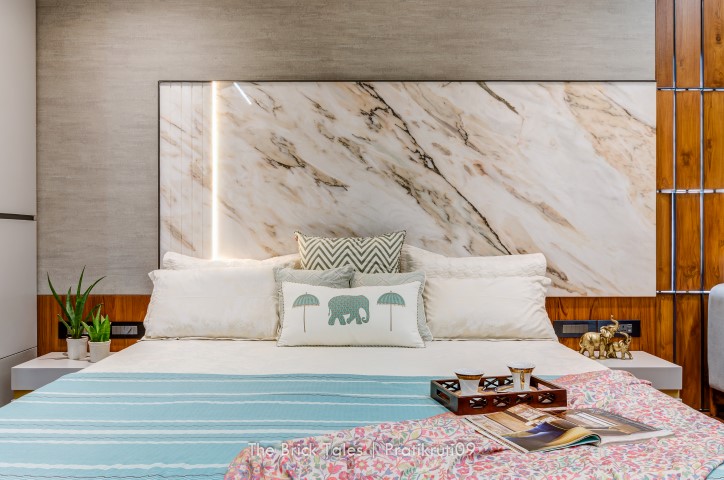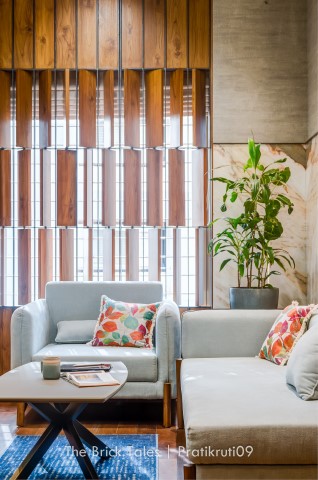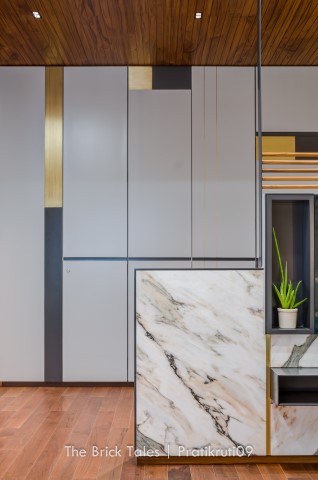 Being in an urban context, the neighboring buildings were too close hampering the privacy and hence the curtains would always have to be shut. To prevent blocking the light, air and view permanently from these window openings, sliding shutters in metal with rotatable wooden louvers were installed. By adjusting them various possibilities
opened up to maintain the privacy yet be connected to the outside.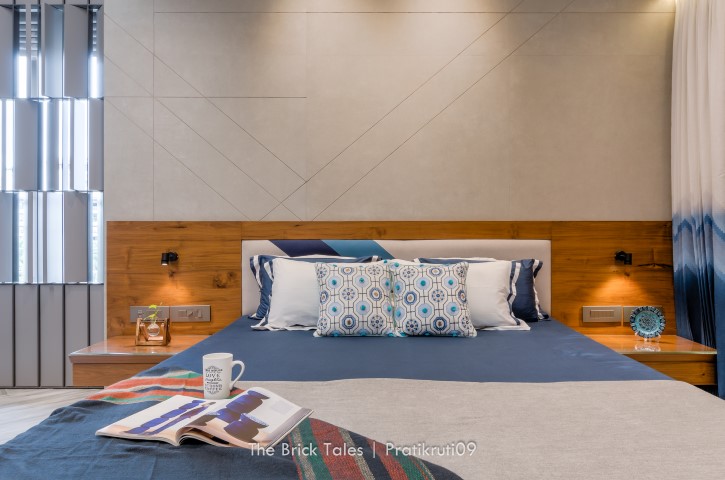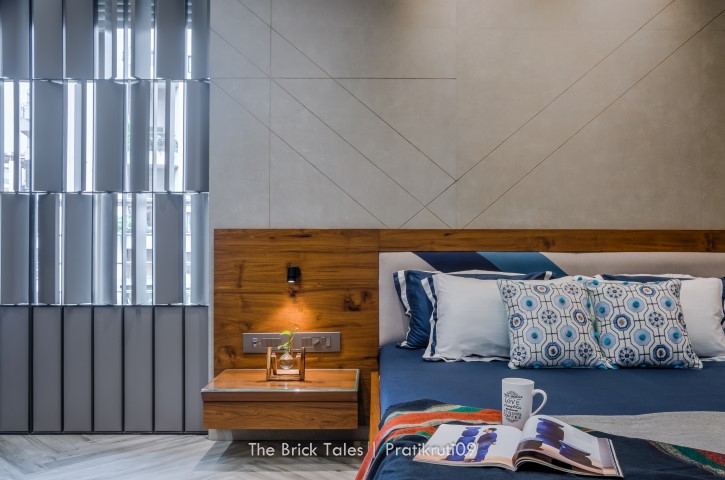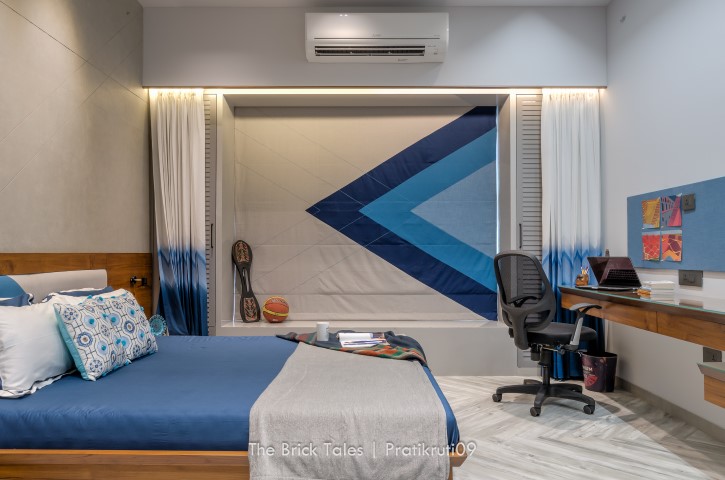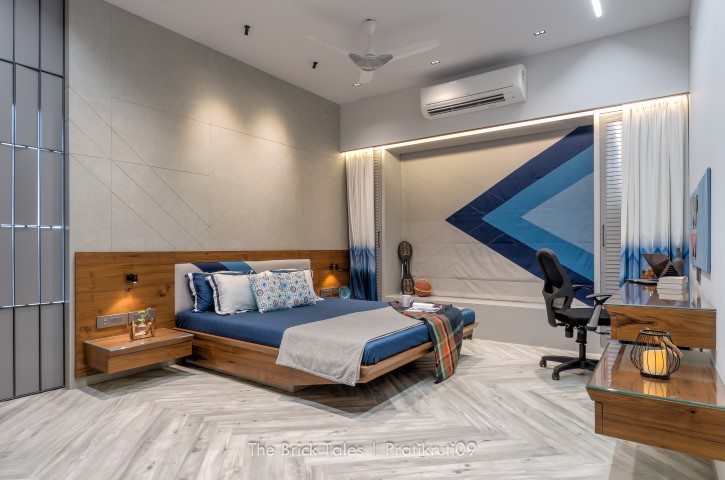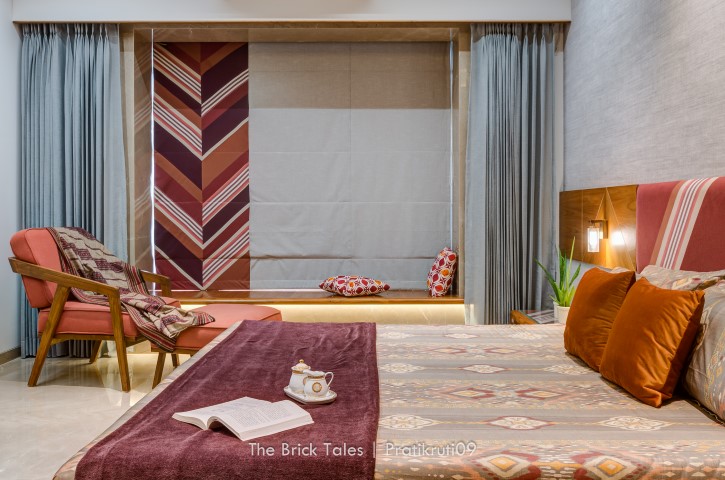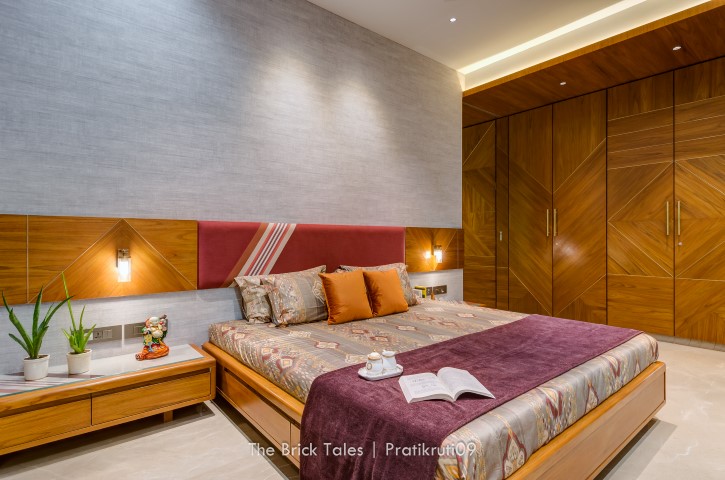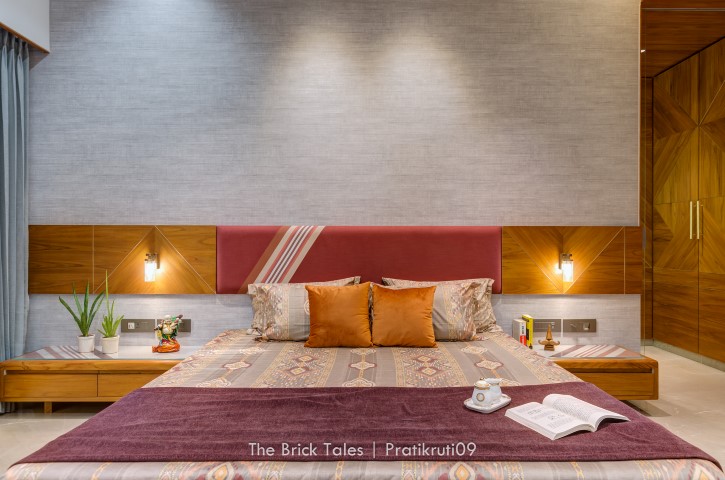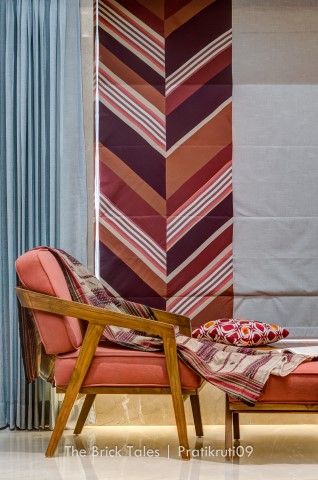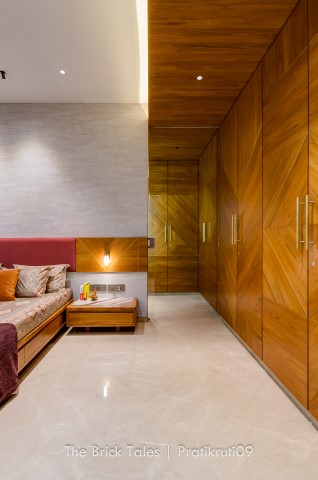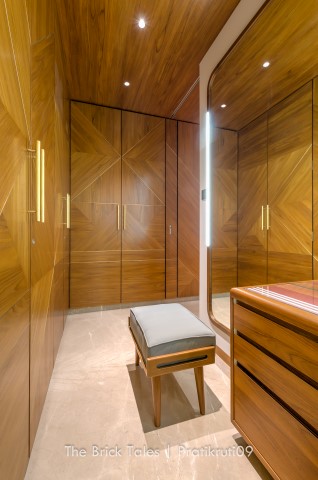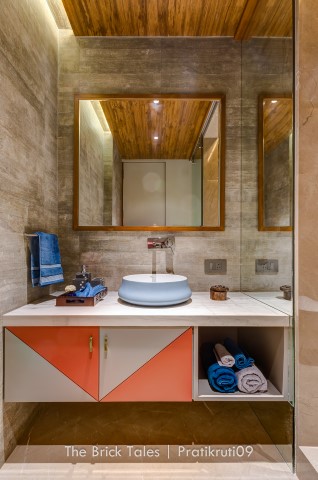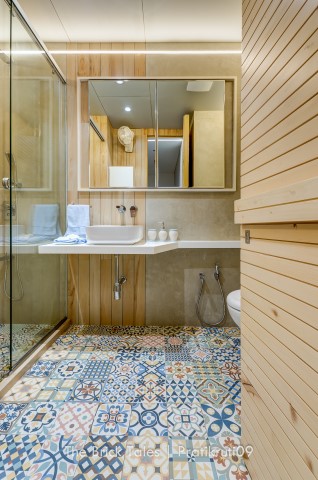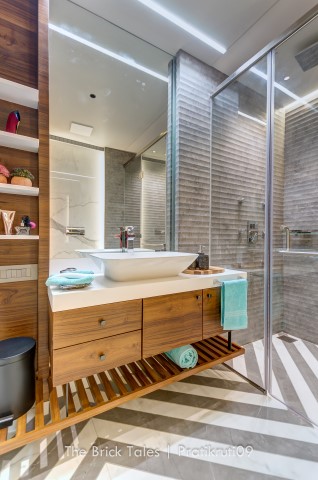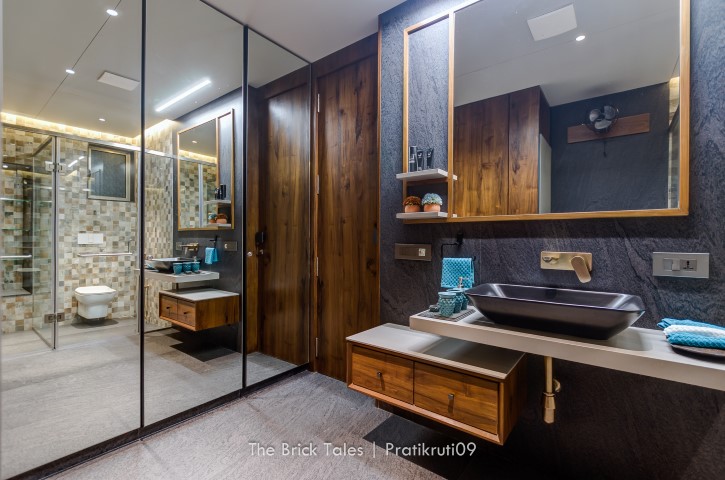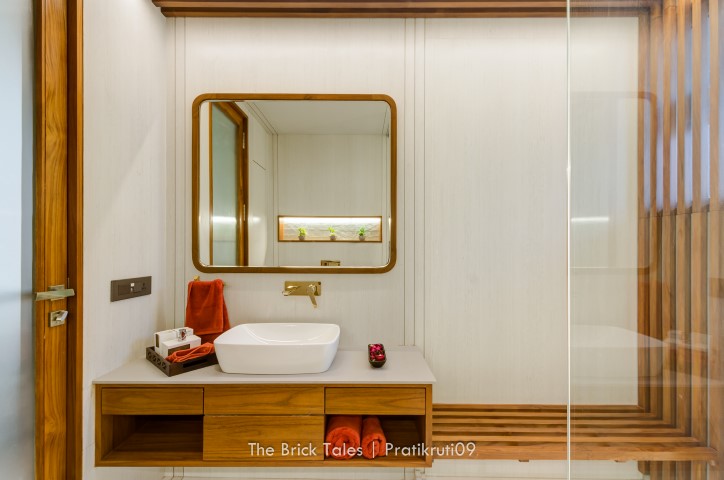 MATERIAL PALETTE:
A very neutral material palette of wood, concrete and greens was maintained in the overall theme of the house. It helped in bringing a very calm, peaceful, earthy and timeless over all experience to the spaces. Adding pop of colors: Each space is defined by the use of vibrant colors to bring in vibrancy, freshness and liveliness to the spaces. Use of
colors was done intuitively to add a new experience every time a new threshold is crossed. Brass: To enhance the over all elegance of the spaces, hints of brass detailing have been used to add an elite richness to the overall earthy
feel which eventually will weather naturally and add to its timelessness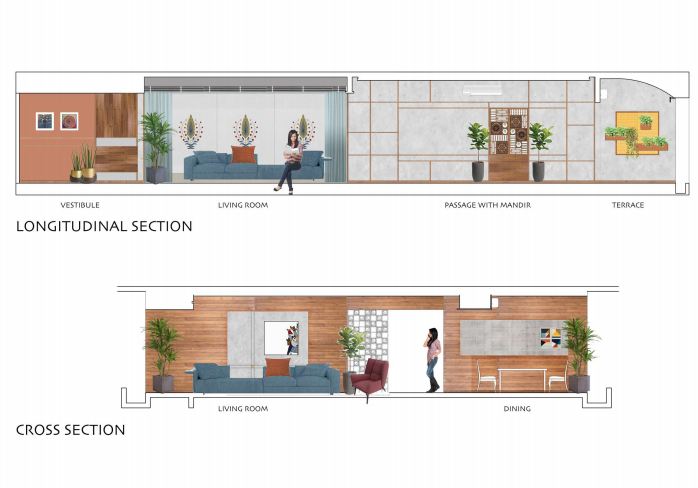 FACT FILE:
Project Name: Saket Residence
Project Type: 5BHK Apartment Interiors
Project Location : Surat, Gujarat
Area: 3700 SFT
Project Completion Year: August 2019
Photography Credits: Pratikruti09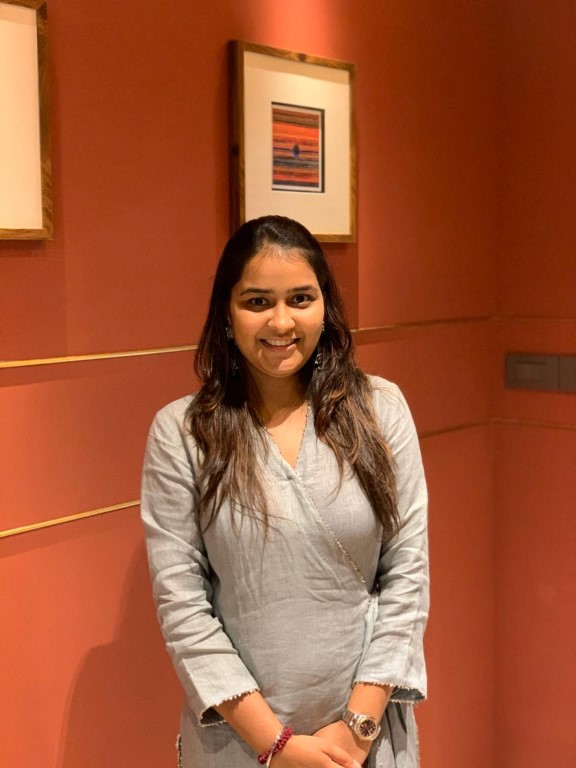 ABOUT FIRM:
The Brick tales is a young, intensely design-oriented architectural firm headed by principal architect Rini Singhvi, founded in 2017. We believe that form not only follows function but also fiction. It elevates architecture from mere construction to meaningful encounters. We trust that design is capable of telling stories; stories of people that live in it, stories of people that built it or may be ideas or prototypes of how one a space presents itself to its users. We at The Brick tales, pursue in designing experiences for its users paying attention to the minutest details as tools to narrate these stories. We engage in building extremely user-oriented spaces that builds a direct relationship of the users to the spaces. We strive for simple, unpretentious and bold designs that speak to its users and do not age with time. Coherence and balance in design is the fundamental key we adhere to.