An Urban Apartment Interiors Having Essence Of Ethnicity And Chic Look | Archi Hives
Stepping into this maneuver urban apartment is sure to caress your soul with its ethnicity and chic look. This 4BHK luxury premium sample flat is designed for Cleocounty Gold by a 30-Year-old Delhi based firm, Archi Hives. The main inclusion was to make it universally appealing for visitors from various walks of life to claim over these sets of homes. It is modern and classy, marveled using a muted and softer material and color palette to curate a soothing yet metropolitan experience. An urban luxury imparted into a spacious expanse infusing those tranquilizing vibes – is the concept the design revolves around.
Visit: Archi Hives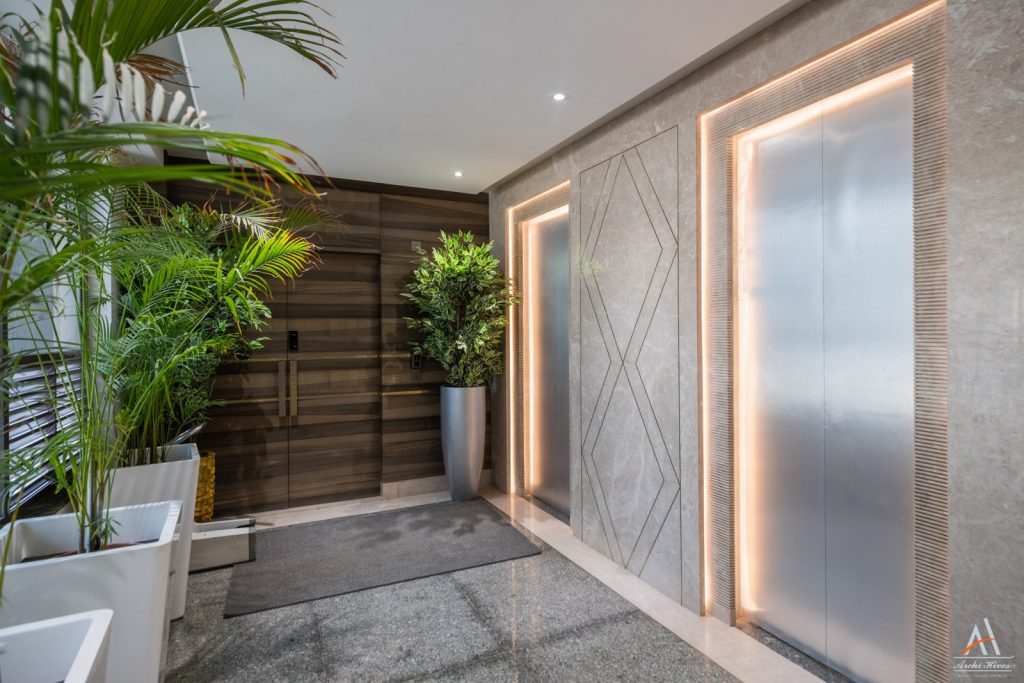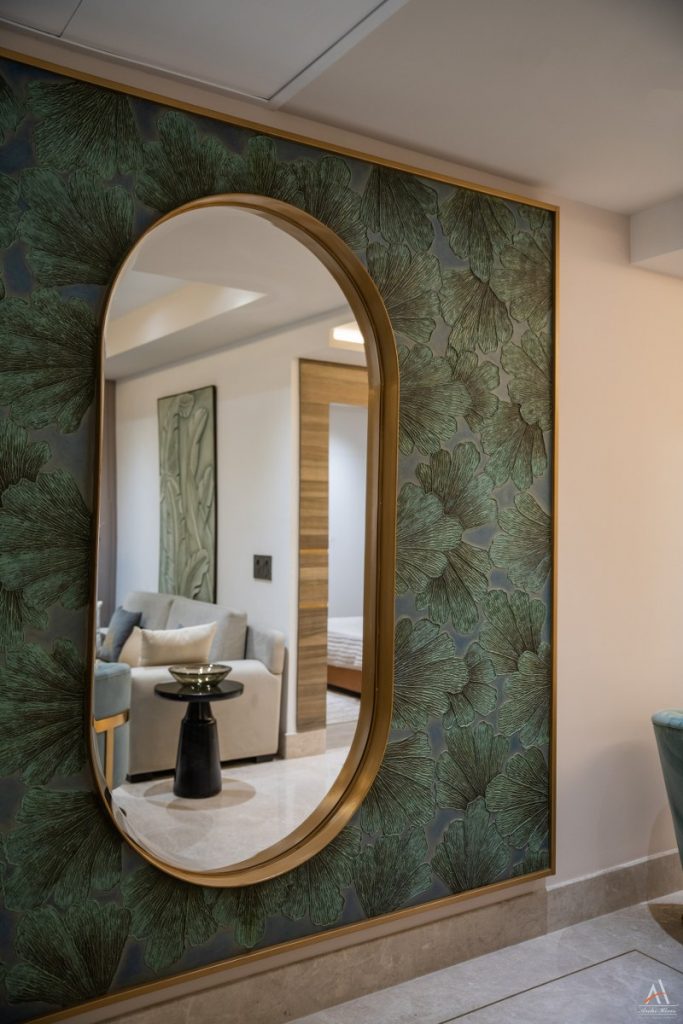 A lavish vestibule sets forth the first impression of the apartment with a centralizing brass framed mirror flushed in a beguiling green artwork acting to justify the color scheme for the whole arena.

&nbsp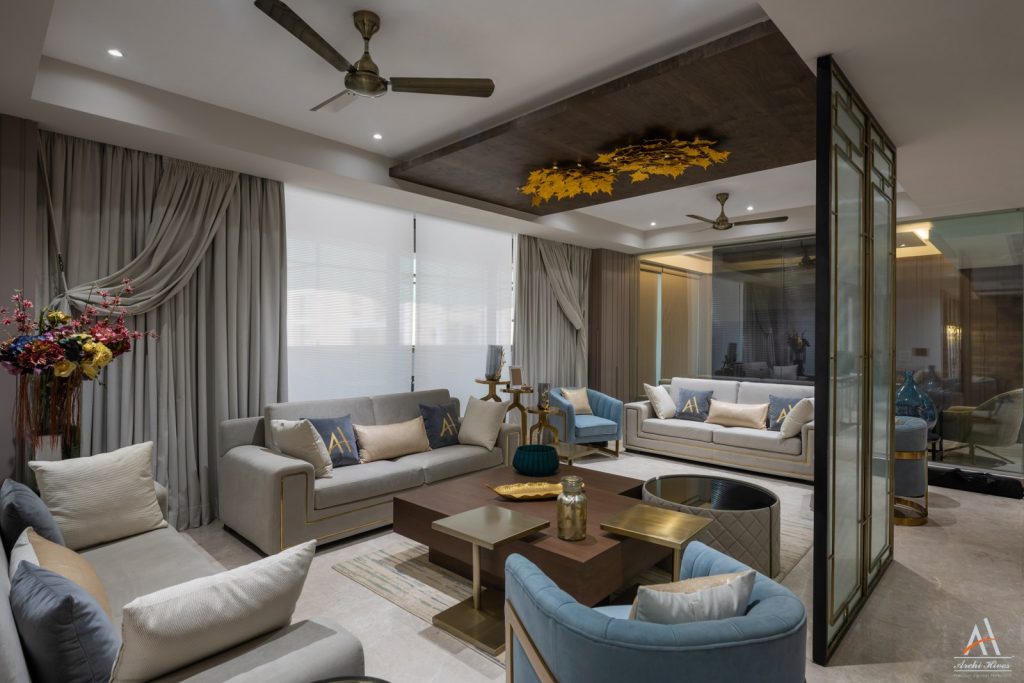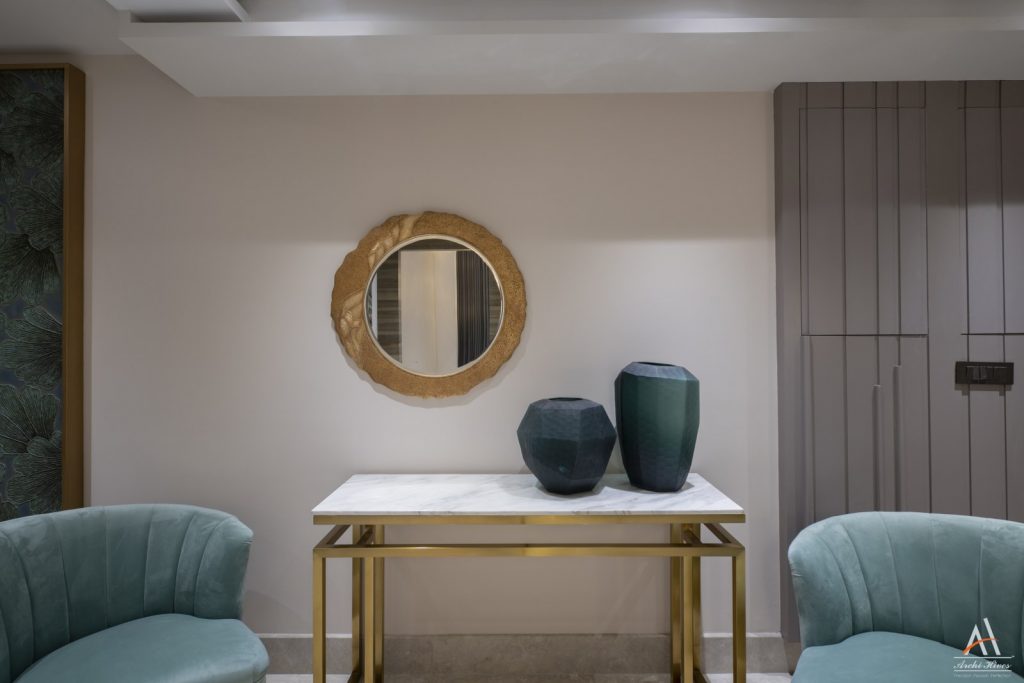 The formal living, family lounge, dining, and the kitchen make the core of the house sharing a common space for the meet-ups. Glass partitions harmoniously weave these spaces while efficiently permitting their territorial and functional aspects; gesturing an established sense of space. Moreover, they take up a muted color scheme with exquisite use of fabric to exemplify those luxurious and spatial attributes– while reflecting the natural light dangling onto the surfaces.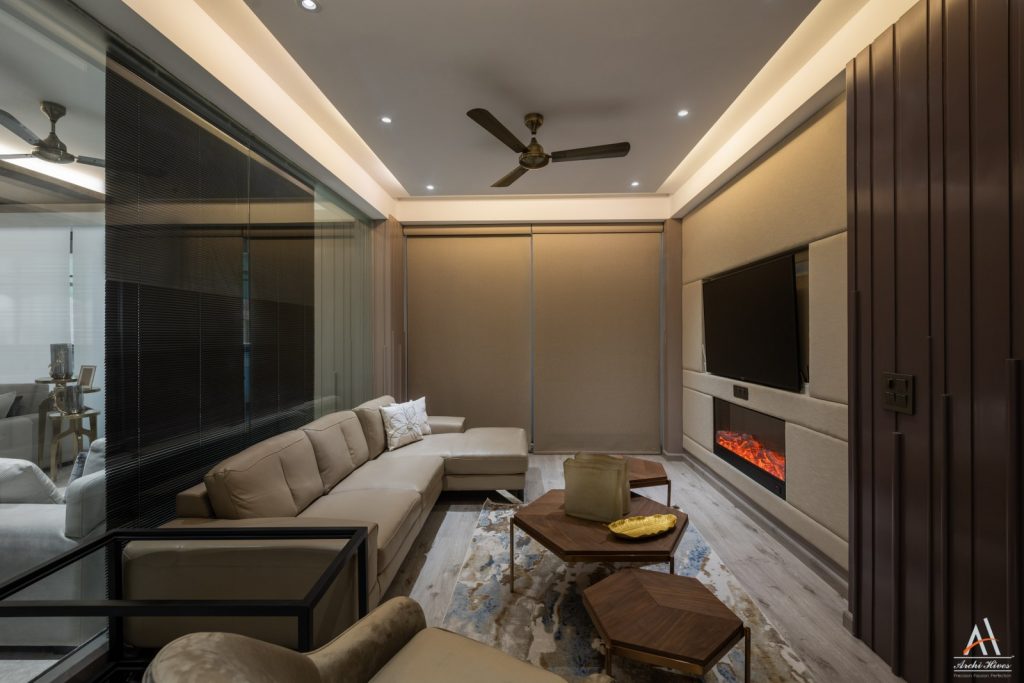 The formal living room speaks of its balance with its cozy and snug nature- with plush furnishings and a centralized arrangement. It is laid on a neutral color scheme to enhance its sober attributes and opulent appeal. A gist of gold for the abstracted tea-poi and customized ceiling lights transude a new spirit into space.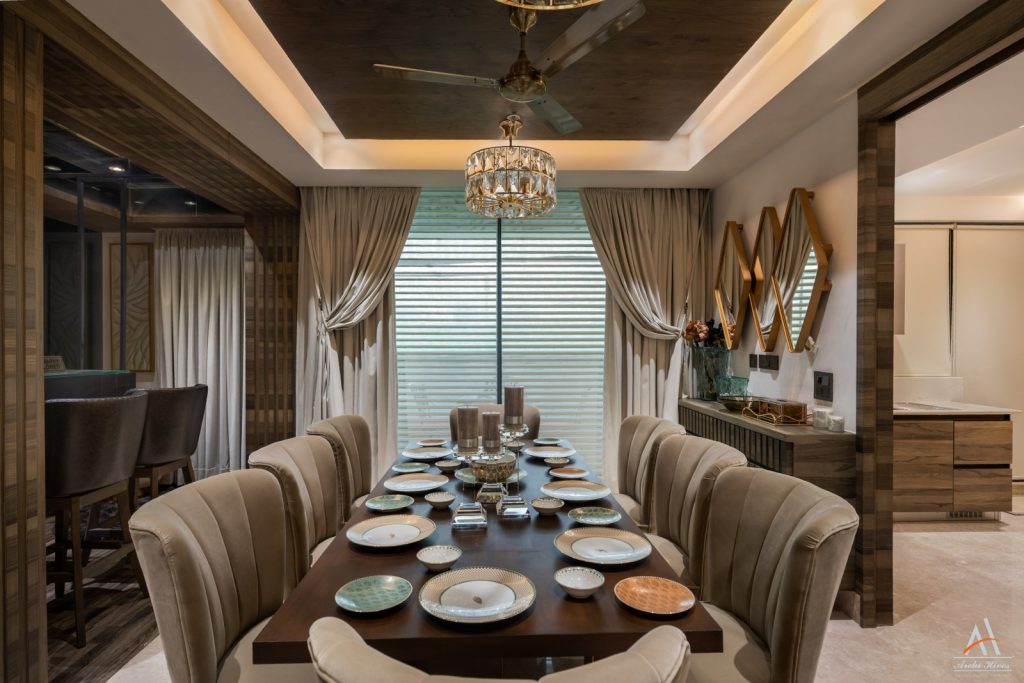 With its empirical aristocracy, the dining space is chic and classy with its robust royal looking chairs stationed against an eloquently long wooden table. Space gets articulated with appropriate use of deep rustic toned veneer to bring out an affluent feel for a timeless stay. A warm bar acts as a plug-in for the dining with its bold mien. The family lounge is minimal, homely, and affable with a fabric paneling for the TV wall concealing a fireplace. Two polygonal wooden tea-poi juggles around the comfy ivory seating in this otherwise plain setup.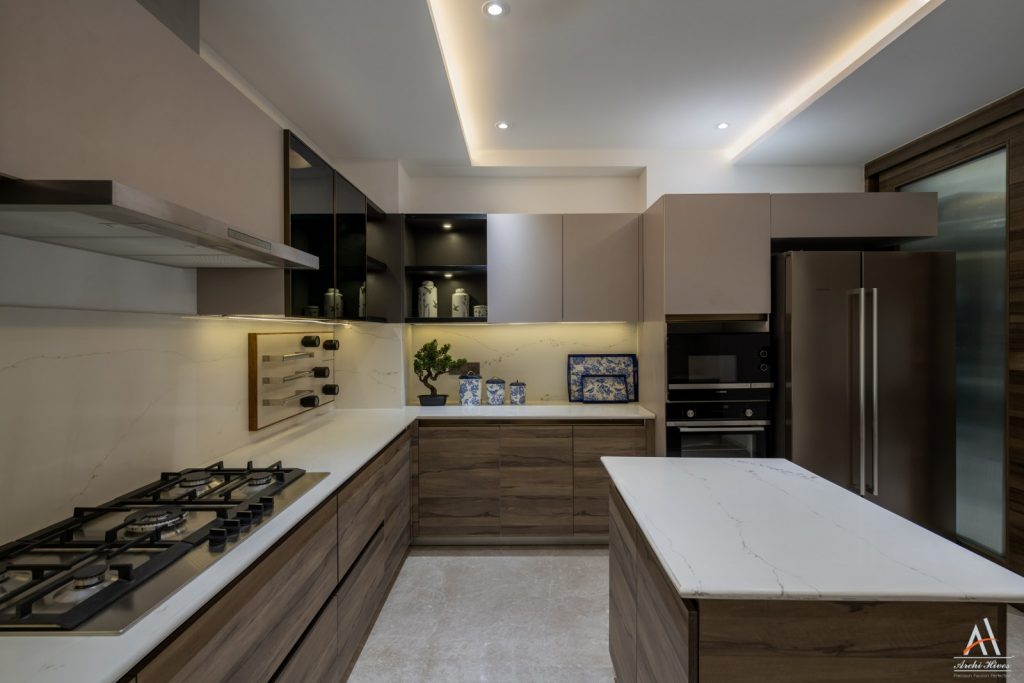 The kitchen corners a design strategy with an efficiency to get repeated across all flats on a client basis. It is a convenient space with an island platform alluded with its white marble top. A natural colored veneer drenches this space in its earthy finish and feel. This modern setup predominates with its adequate shelving and minimal bearings to bring out a pleasant cooking experience.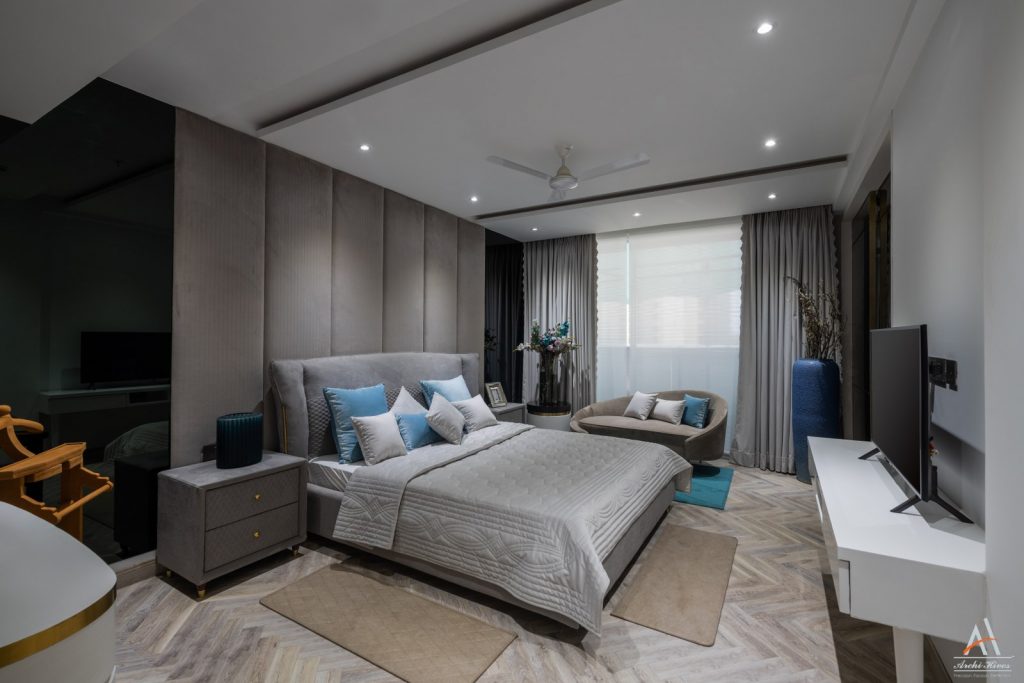 The master bedroom is tranquilizing with its soft and subtle outlook. A snug sofa takes its place against a wide window wall adding to the soothing vibes of the space. Over the top, the styling introduces the space to other compelling hues such as blue and aqua- thus, nullifying the tedium.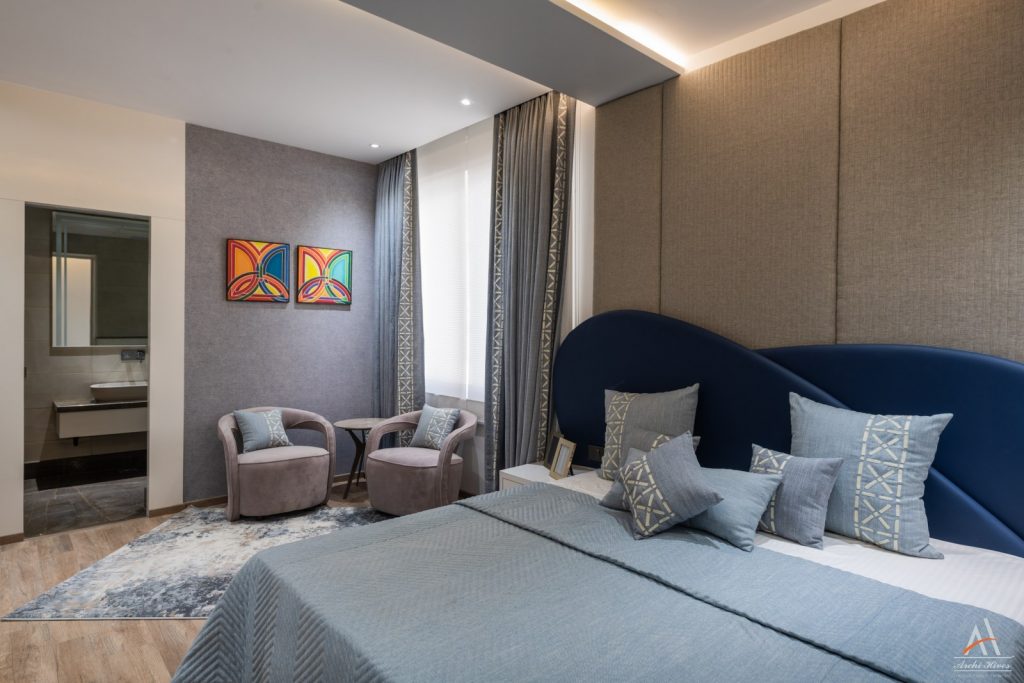 A double bed is centralized in this children's bedroom with its free-flowing royal blue bed back, to further get backed by a full-height fabric paneling. The wooden floor imparts uniformity in this poised white space. Furthermore, the essences of blue instill a calm and soothing sense of space. An interesting fabricated shelf hangs from the ceiling adding just the right tonal value with its duet in yellow and black.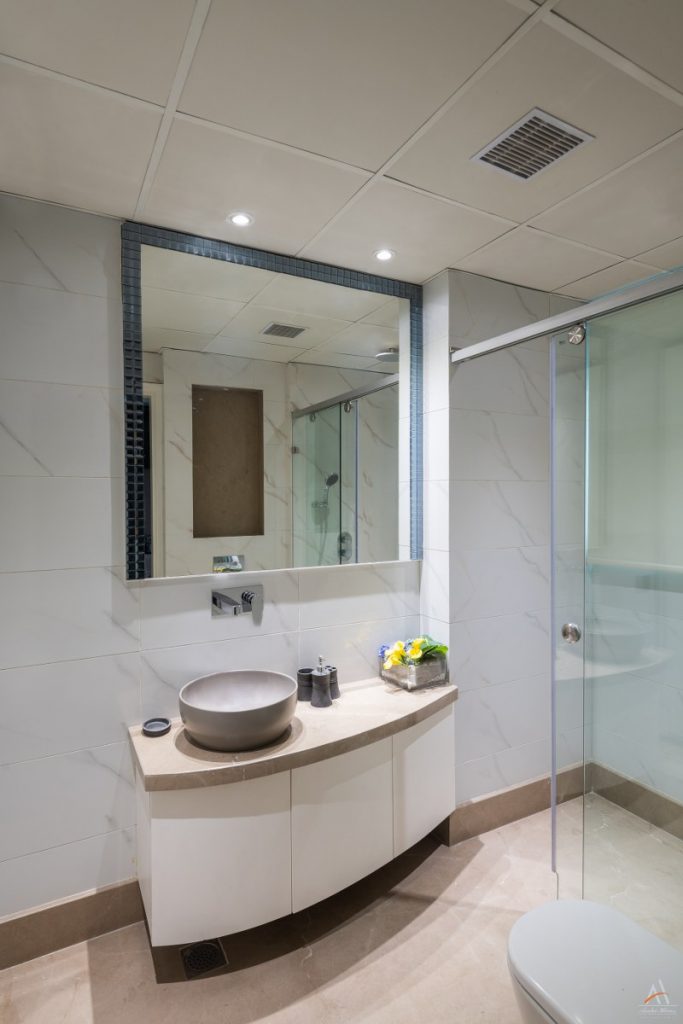 The secondary master bedroom follows the same concept with its classic designing and cardinal styling. The color scheme being neutral and reflective with its lighter tones, imparts a sense of equilibrium onto the users. The mirrors above the fabric headboard work to perceptually magnify the spatial characteristics of the room.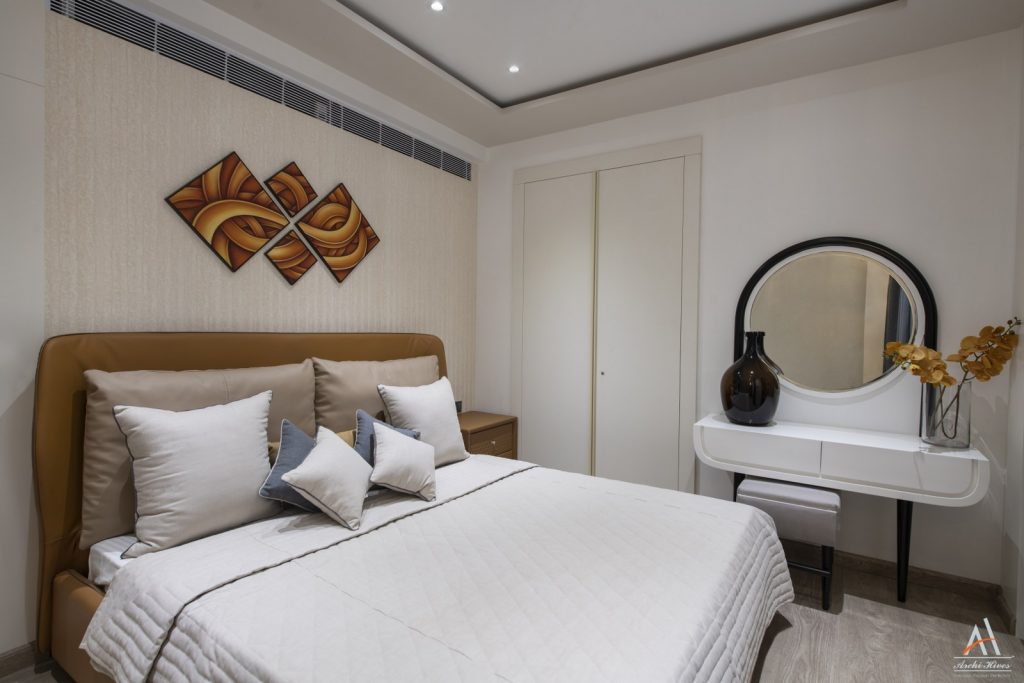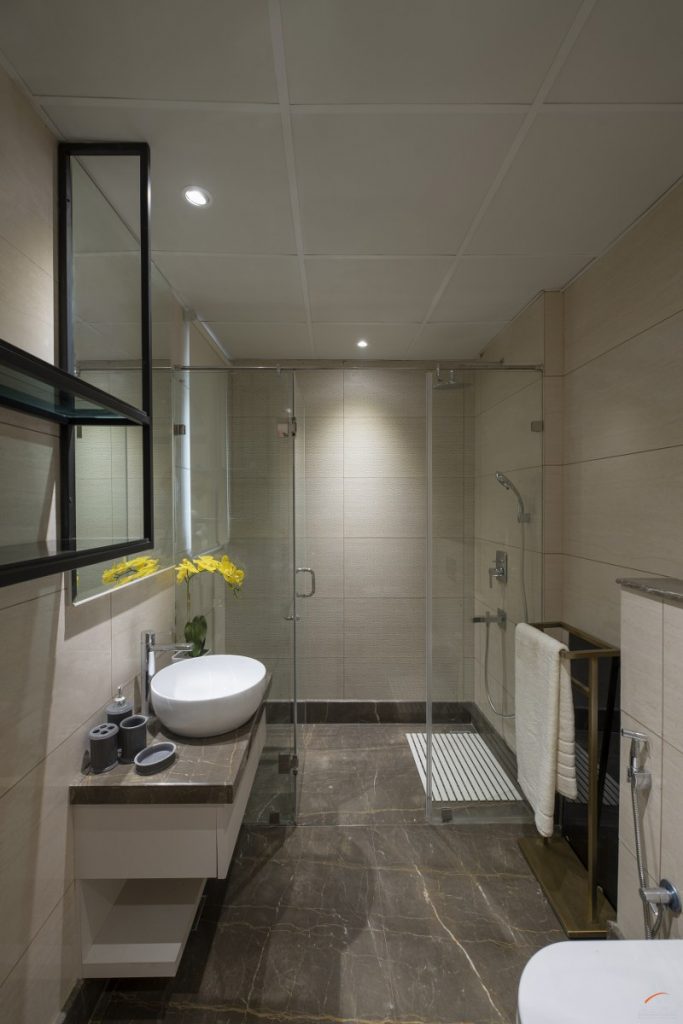 A tanned leather envelope the bed and the side table with its vivid and lively hue in the guest bedroom. The room is left with its modest language to let the elements of design speak for themselves. Again, with minimal bearings and neat designing, there cannot be a dull moment in this brightened space.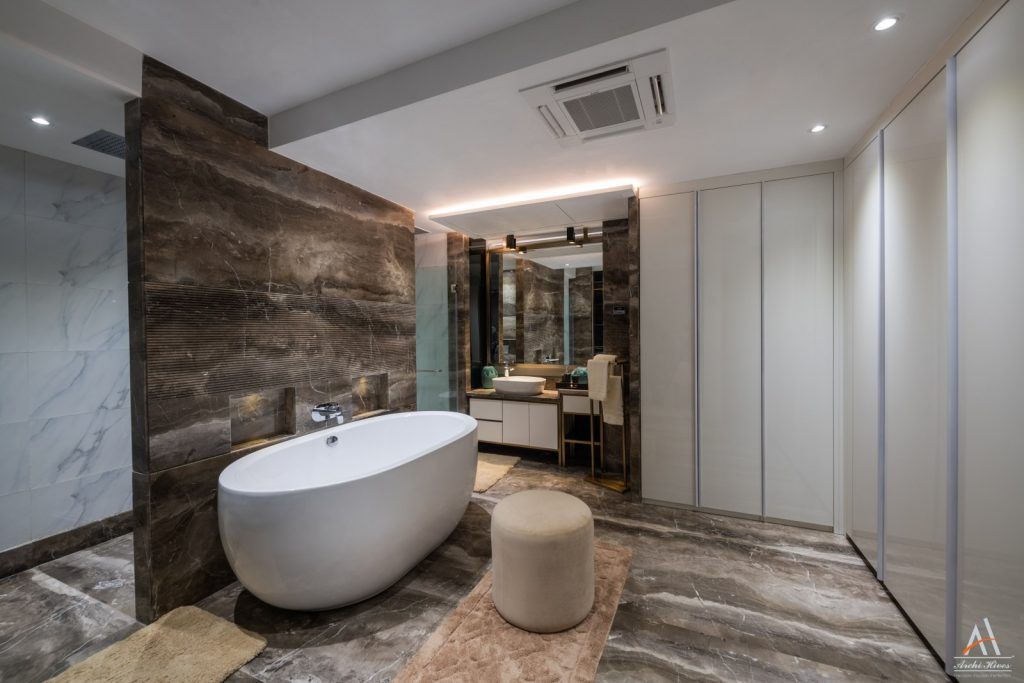 The bathing spaces are lavishly designed- with judicious use of the budget while also, not compromising on the intended experience. Amalgamating stone and tiles for the bathroom interiors is a good stand- aiding to the budget and maintenance. They also promptly deliver efficiency with large wardrobe spaces within.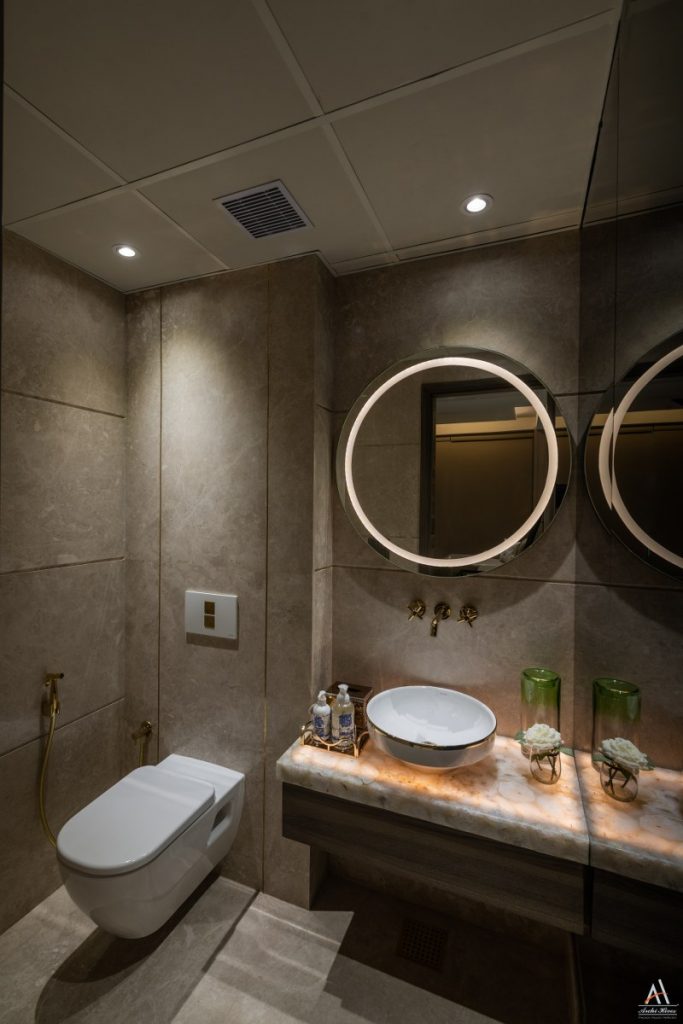 Hence, curating a design that appeals to everyone diving in is a task in itself. It has to touch the right chords generating appropriate vibes and tranquility. This design has efficiently achieved the task it was meant for!
FACT FILE:
Firm: Archi Hives
Client: Cleo County
Location: Noida
Design Team: Harsharan Singh, Gurjeet Singh, Ruby Singh, Gagan Arora
Photography: Bharat aggarwal
Text Credit: Megha Hirani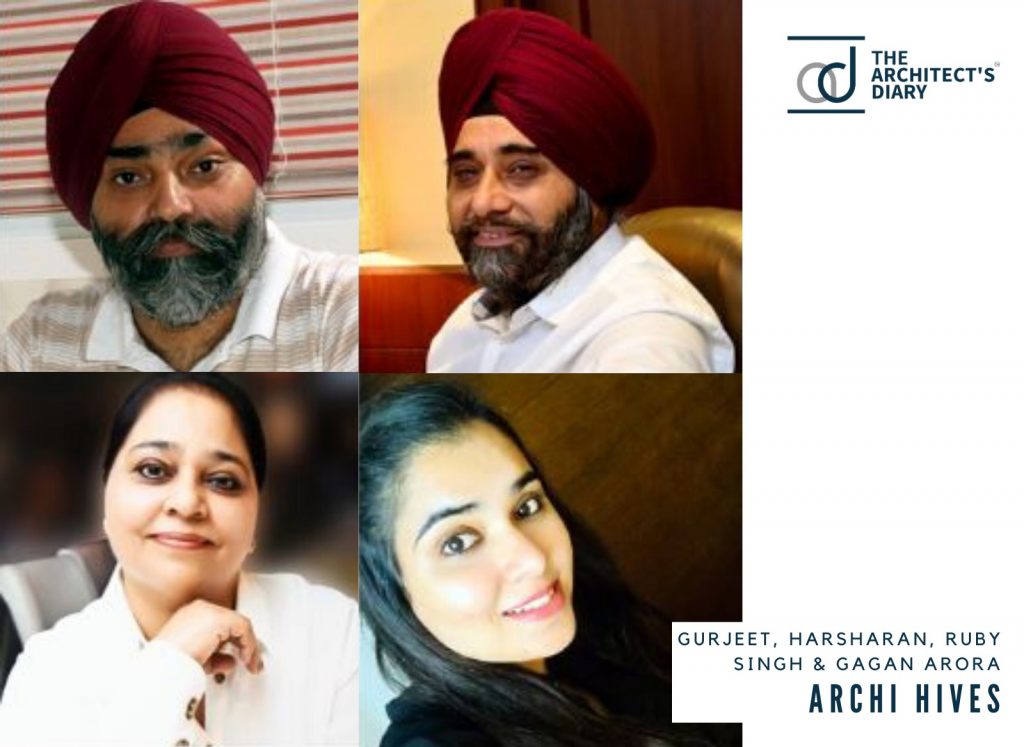 Website: http://www.archihives.co.in/
Facebook: https://www.facebook.com/ArchiHives/
Instagram: https://www.instagram.com/archihives/