The concerns for Small workspaces are typical, mostly revolving around how much money is being spent on creating it, how soon it can be used and how efficiently it can be improvised as a user-friendly system. The office for Aatreyaa International was no different. When 3 brothers decided to fly head-steadily, as it were, they needed things to be actioned quickly — and economically. In interior designer AdityaIndurkar of Anagram Studios, they found a kindred spirit — in that, being a young designer Himself, he was perfectly aware of how much anxiety such issues could cause. Turning the 100-square-Meter premises rented in geometry downtown Nagpur.
An Open-Style Spatial Configuration with Bursts of Colours and a Play of Simple Geometry | Anagram Studios
Visit: Anagram Studios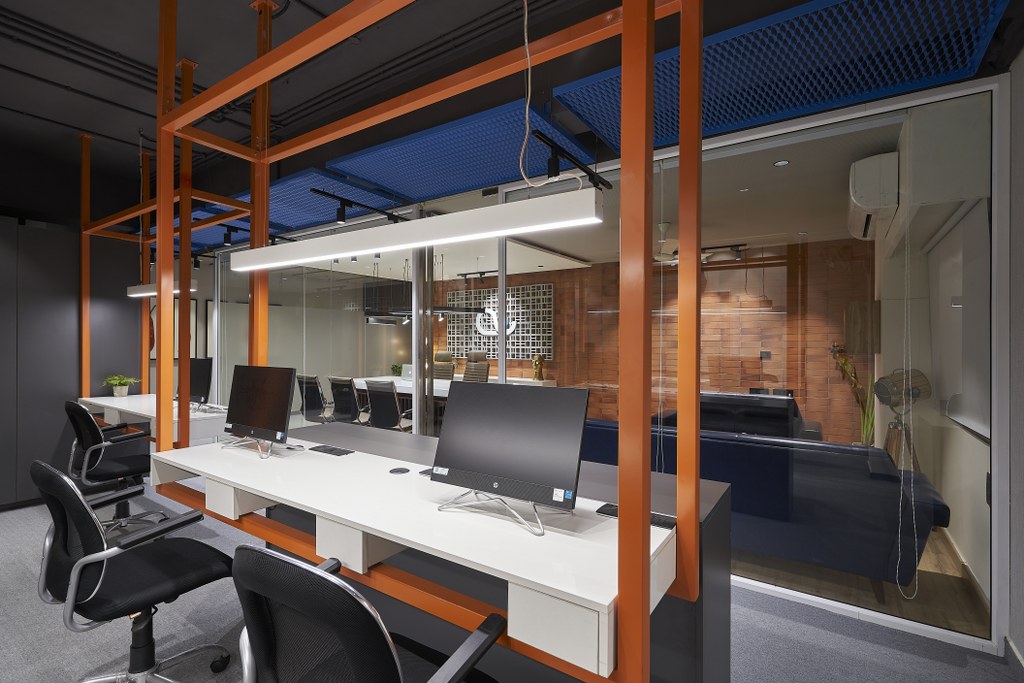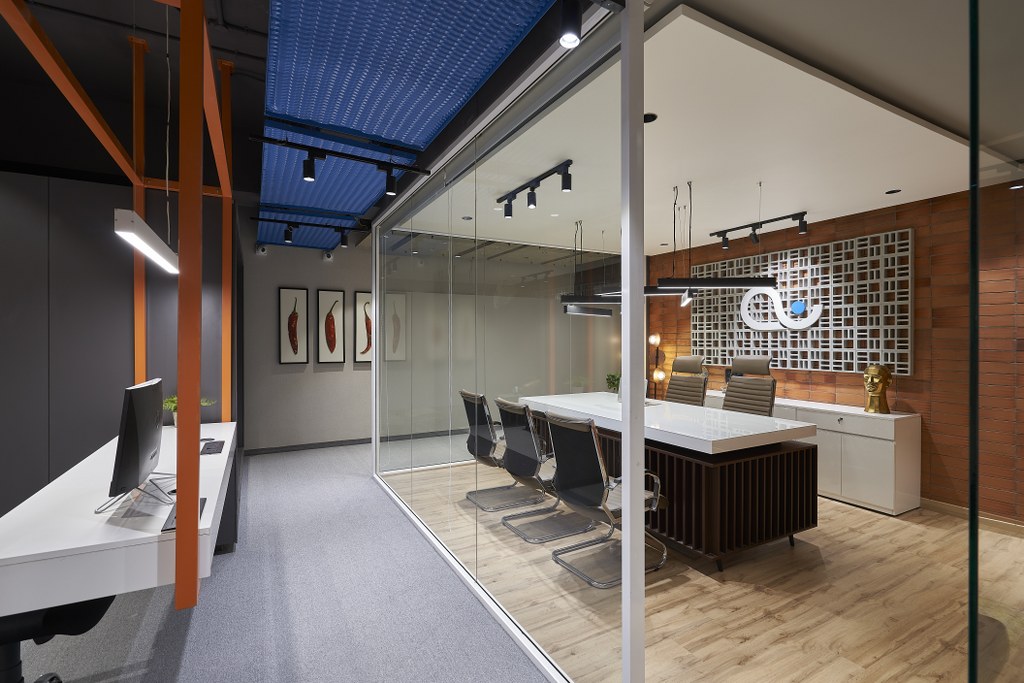 "I had to pick my battles when it came to this project. If I used mild steel somewhere, for instance, I had to offset that cost and time by using a material that was quicker in application and easier on the pocket elsewhere," recalls Aditya, who swears by user-centricity and attention to detail for creating spaces that are individualistic, personalized and bespoke. "We aspire to deliver spaces that are hallmarked by an experiential flavour — which can be truly admired not merely by seeing, but by using," he adds.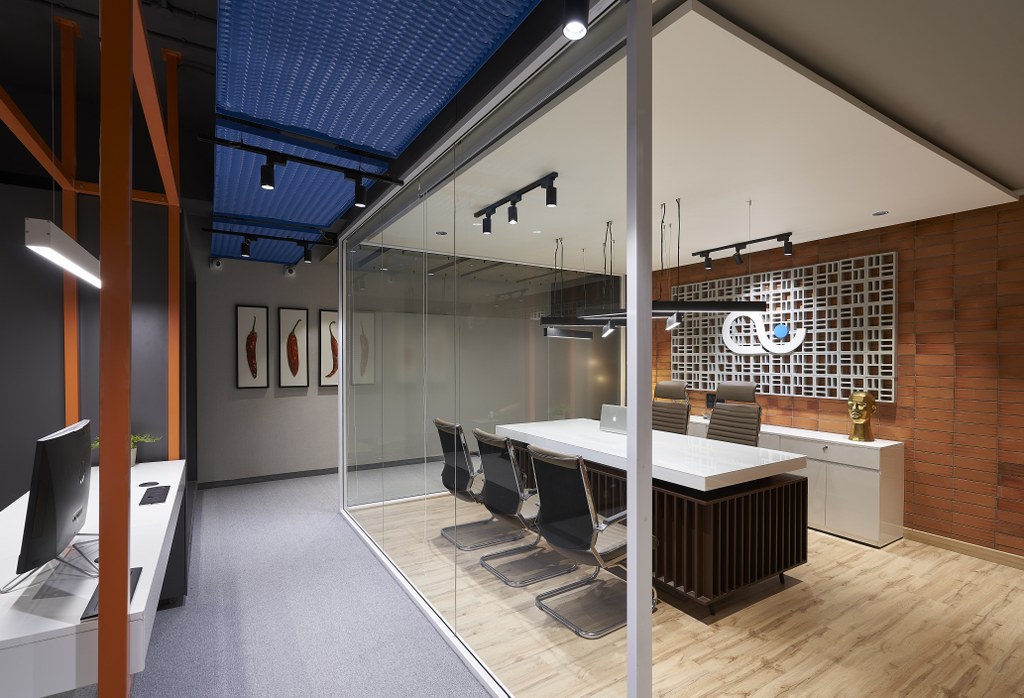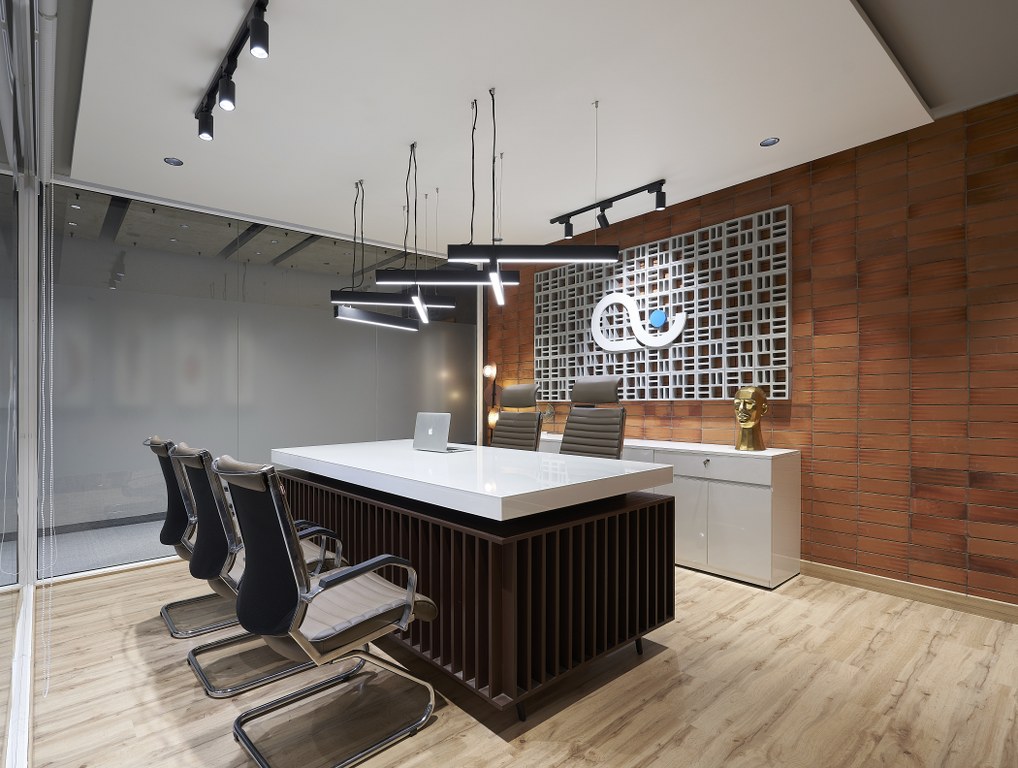 The primary design thought was directed towards making the work-life of people lively and interactive. This was manifested through an open-style spatial configuration, bursts of colours and a play of simple geometry. The first item to be checked off Aditya's list was contextualizing the space to fit present requirements. Ergo, the designer gutted down Single big master cabin that fragmented the floor plate to liberate the space.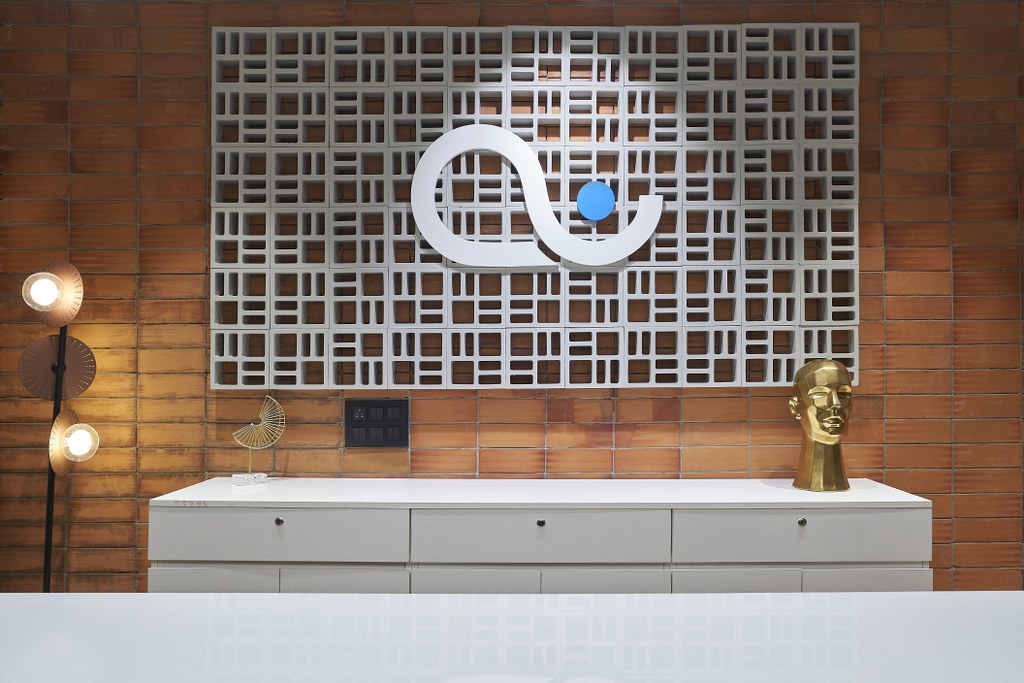 With the budget and timeline being paramount, the designer wisely decided to incorporate modular structures like the suspended working desk frame, custom made work stations. Materials were selected based on cost and how quick the application could be. Wallpapers, laminated floor and Carpet tiles, therefore, seemed natural choices for walls and flooring respectively.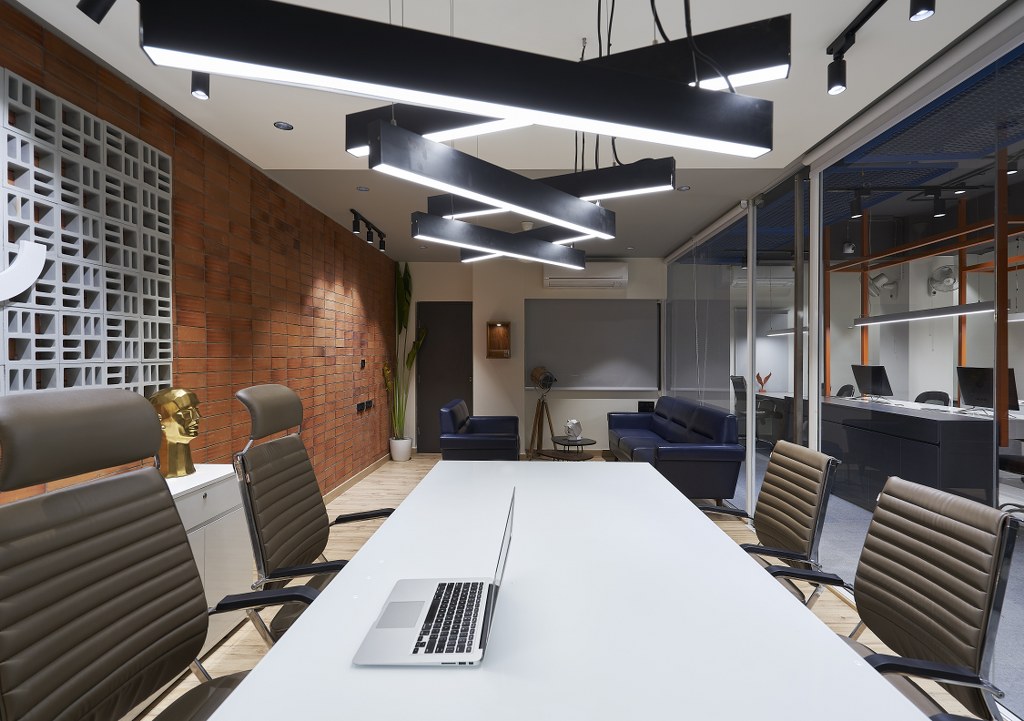 An abridged waiting areanestled in Grey box cocoons the visitor. The entrance hallway personified with theRaw melamine coated Cement sheets suspended with visible rivetstogether with Red-Chilly artwork showcasing the primary business of the firm, welcomes the visitor.The Terracotta wall at the master cabin backdrop classically contrasts the ever modern theme of other areas, energising the client's persona.
While the short timeline precluded customization of furniture, the designer ensured a curated selection from purveyors of quality pieces. The lighting strategy was kept simple: a two-layered configuration featuring functional lighting alongside a few decorative hanging lights and floor lamps. Chromatically speaking, black and white formed the base of the colour scheme, punctuated by bursts of Orange and cobalt blue mesh at ceilings.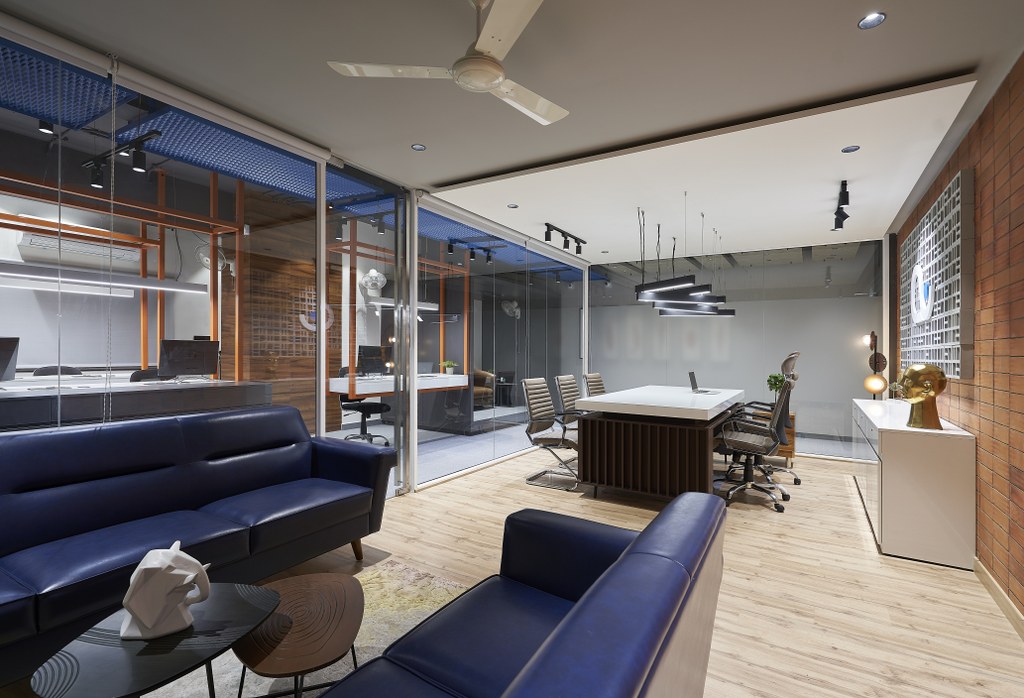 The project exemplifies the sensitivity of the designer to the constraints and challenges faced by the clients, and the endeavour to circumvent them through contextual, thoughtful design. With a judiciously selected material palette that kept the budget in mind, reuse of elements and a short turnaround time of 45 days, the designer ensured a spatial realignment that minimized financial outlay, giving the Business a good head-start!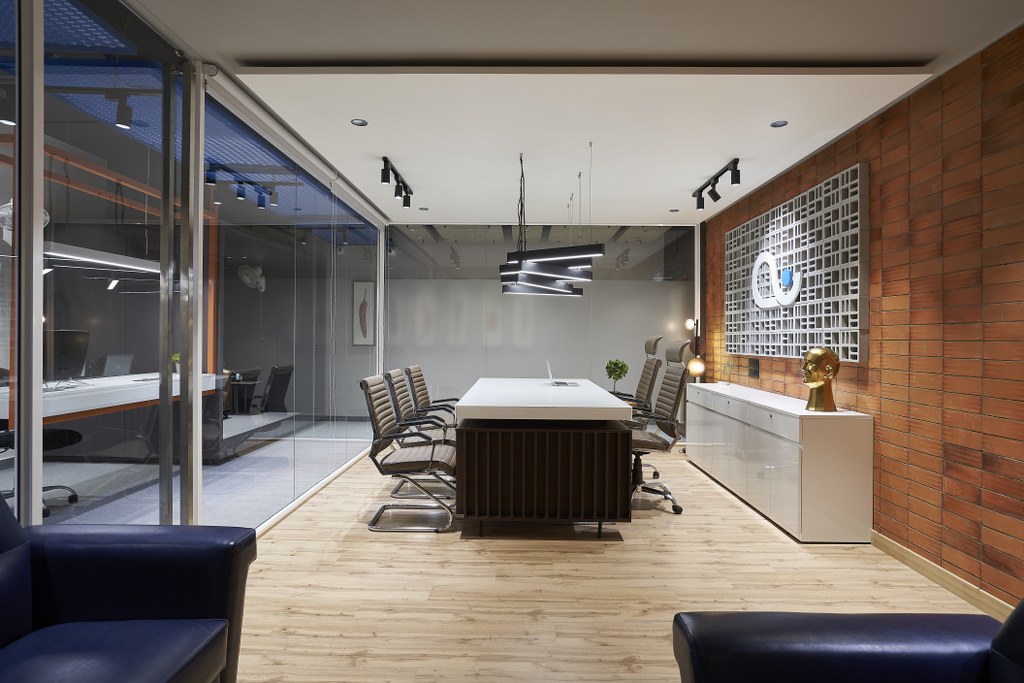 Fact File
Designed by: Anagram Studios
Project Type: Office Interior Design
Project Name: Aatreyaa International
Location: Nagpur, Maharashtra
Year Built: 2022
Duration of project: 45 Days
Project Size: 1000 Sq.ft
Project Cost Appx: 16 Lac
Principal Architect: Aditya Indurkar
Team Design Credits: Pritesh A. & Parag k.
Photograph Courtesy: Mr.Ashish Bhonde
Products & Materials: Wallcovering / Cladding : Excel | Lighting : Leedos | Doors and Partitions : Domal | Sanitary Ware: Jaquar | Furniture : Kuka | Flooring : Ego floors | Paint : Asian Paints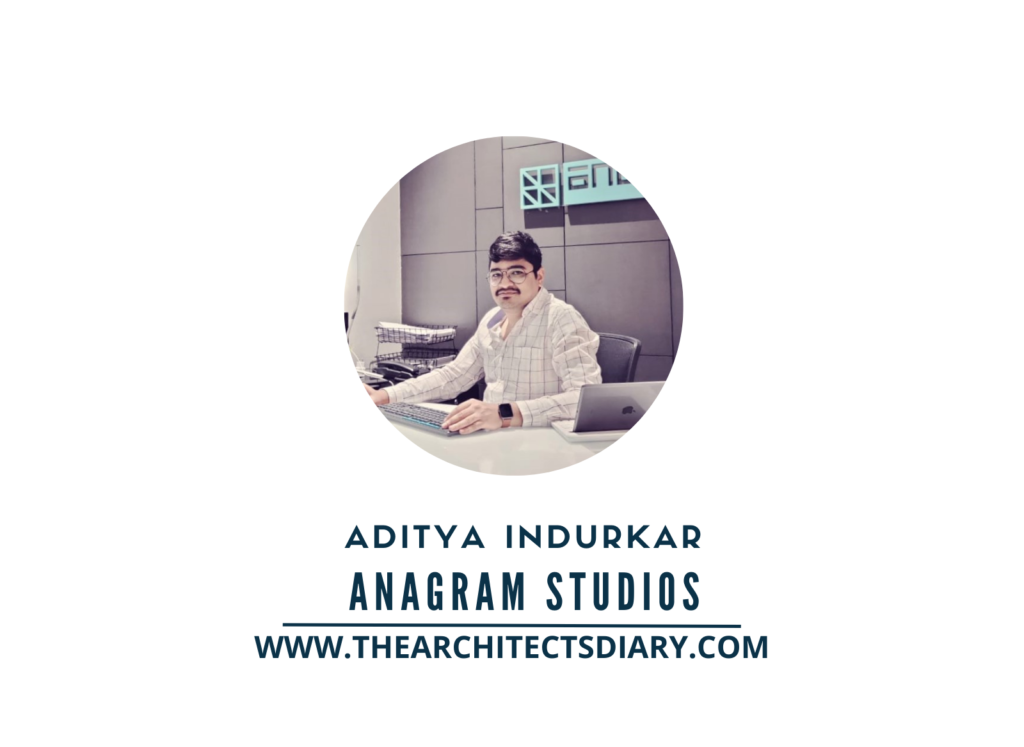 Firm's Instagram Link: Anagram Studios
Firm's Facebook Link: Anagram Studios
For Similar Project>>>Contemporary Architecture with a hint of Luxury