&nbsp
The brief from a client was to have an open airy space with minimum maintenance, a traditional look and connected to nature. As there was no furniture before, they wanted ample storage for all kinds of needs and a specific system in place. Transformable spaces along with minimal design and a welcoming environment were the basic needs of the client. A seamless amalgamation of contemporary nuances with traditionally rooted sensibilities, drawing out the best of both worlds was the ideology of this project.
A Seamless Amalgamation Of Contemporary Nuances With Traditionally Rooted Sensibilities | Spaces by FaB
visit : Spaces by FaB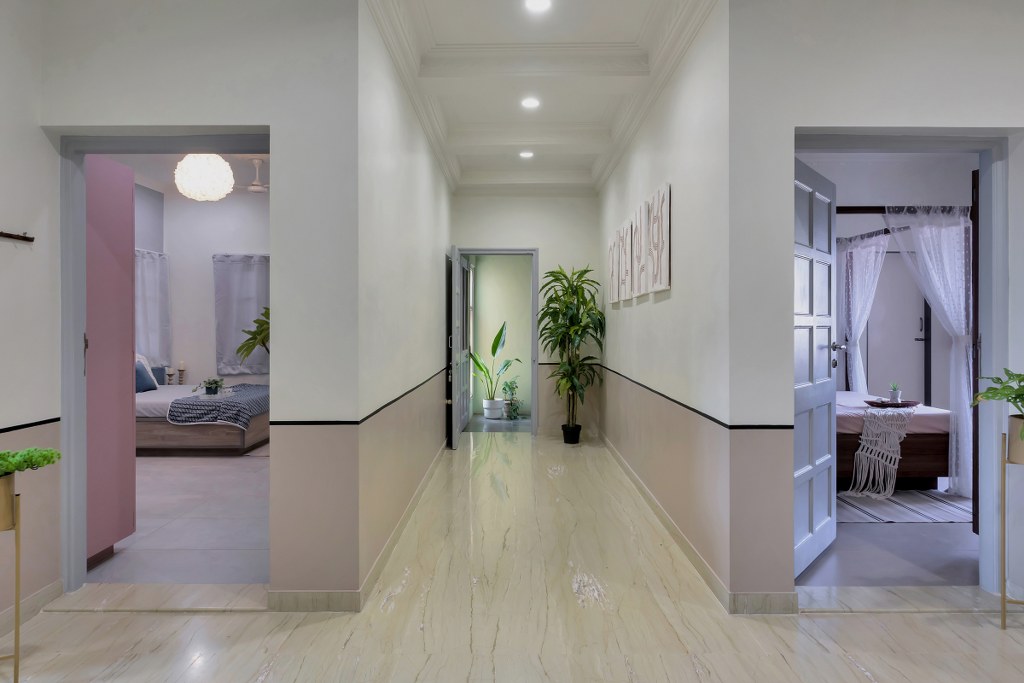 The intent of this project was to take advantage of the home's classic traditional elements, bring in additional natural light and utilize a combination of traditional and contemporary furnishings and accessories to achieve a comfortable but eye-catching ambience! The main concept was to frame every corner with textures and patterns in a subtle yet significant way and work with zesty organic materials in a colour palette of English blue, coral pink, sage green and greys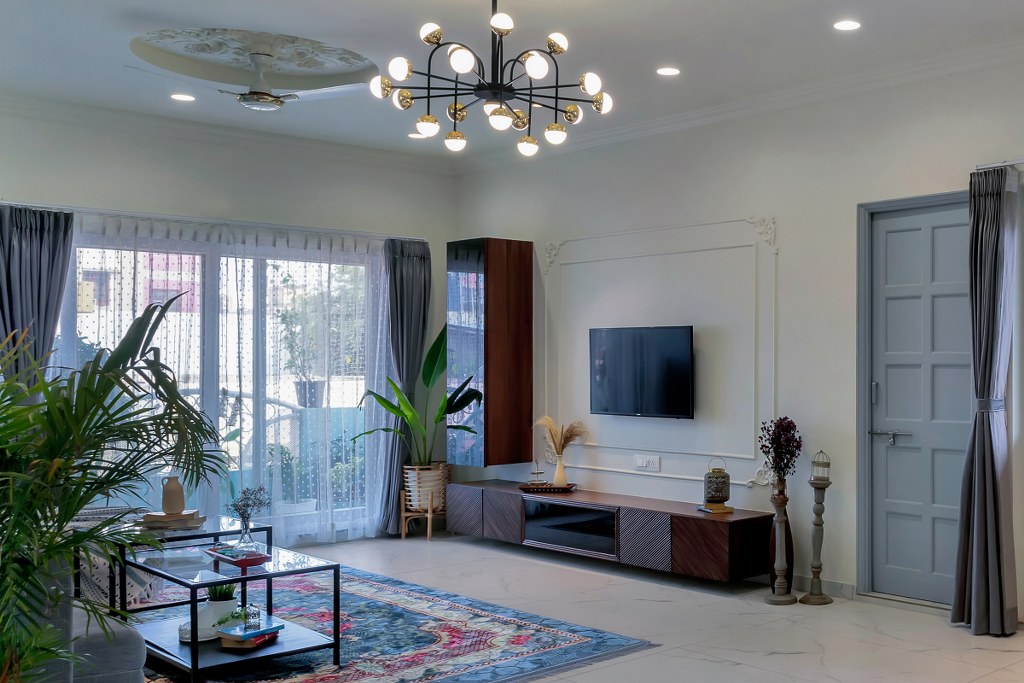 The entryway to the home has been made interesting by the two-toned wall, interspersed with artwork that suggest movement and then flowing onto the colour matched ceiling. The divisions in the ceiling allow for well-placed concealed lights that brighten up the space while a touch of nature is introduced through the plants both in and out of the home.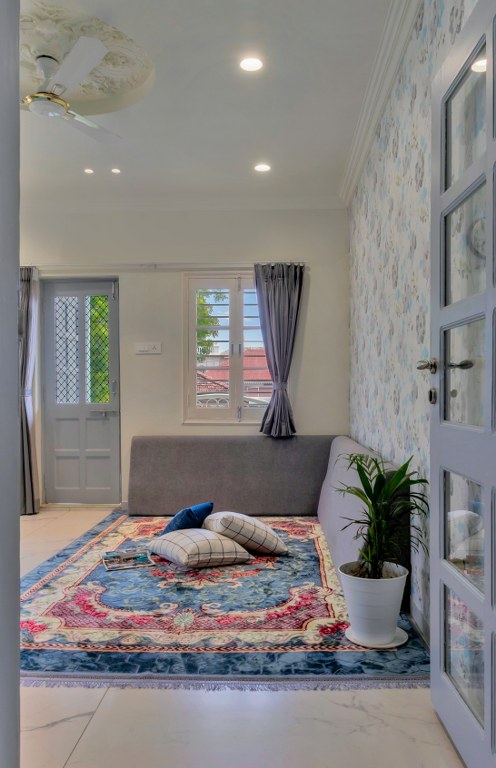 The drawing room is an excellent showcase of a home for a family of Today. A nod to traditional design and décor is brought about through the use of moulding on the walls, a gorgeous POP medallion around the fan and the stunning Persian carpet. Contemporary hues and cosy, functional furniture and décor add the connect of belonging to today. A home to return to at the end of any kind of day, a space to unwind as well as one which can provide a trendy backdrop to celebrations and festivities.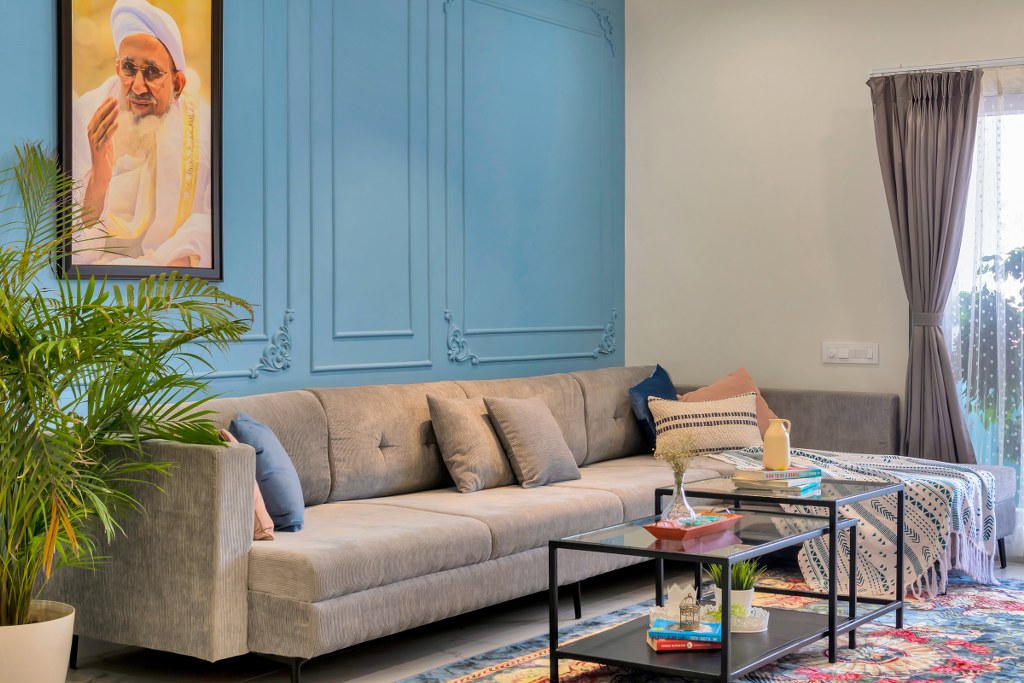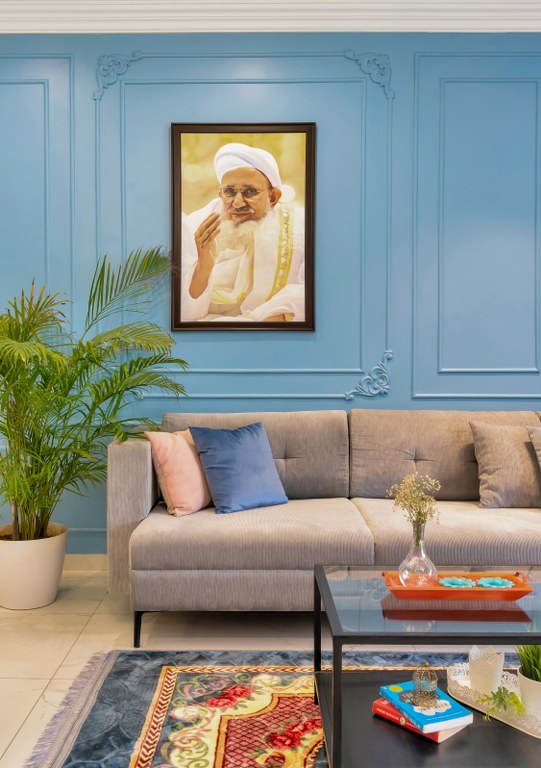 The seating arrangement of the living room is bifurcated into two segments, one is grey velvet upholstered sofa for a lounge effect and on the other side, cultural Indian seating. Traditional wooden mouldings and paneled walls painted in English blue along with white painted mouldings on false ceiling and matte black fixtures create the necessary drama. Also the transformable breakfast/dining nook which can also be used as console was the most loved space by the client.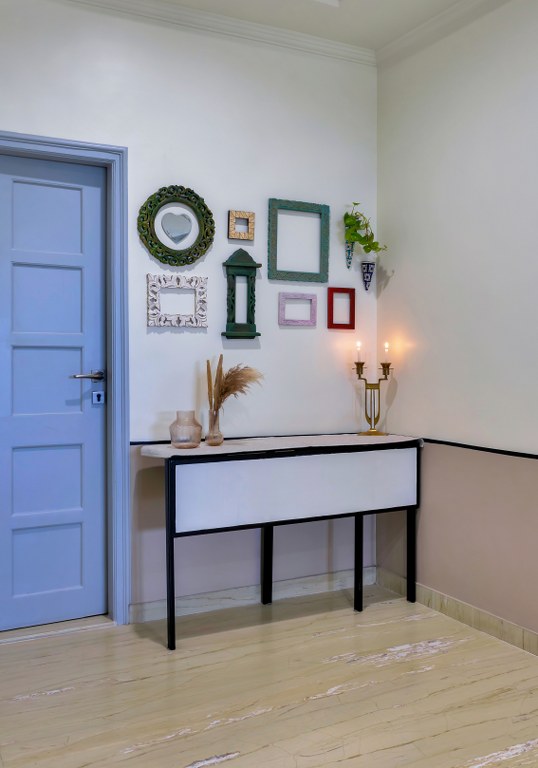 A kitchen that connects to nature through its use of natural-looking materials in earth's neutral tones brings in a feeling of airiness and a refreshing, energizing vibe making it a room to enjoy working in. Well-designed storage, optimally placed equipment and focused lighting all add to the productivity of the space.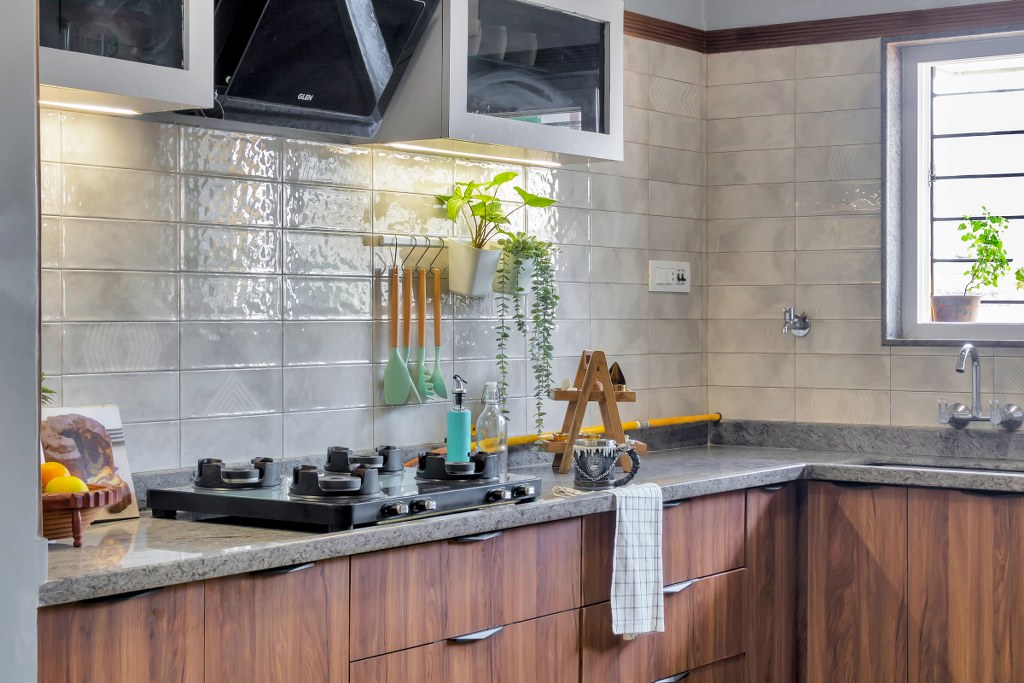 An elegance that intertwines different eras – traditional forms and crafts with contemporary ones, trending contrasts of materials and textures, and a vibe of youthful maturity; all combine to create a space that is soothing to the soul, beautiful to the eye and relaxing to the mind.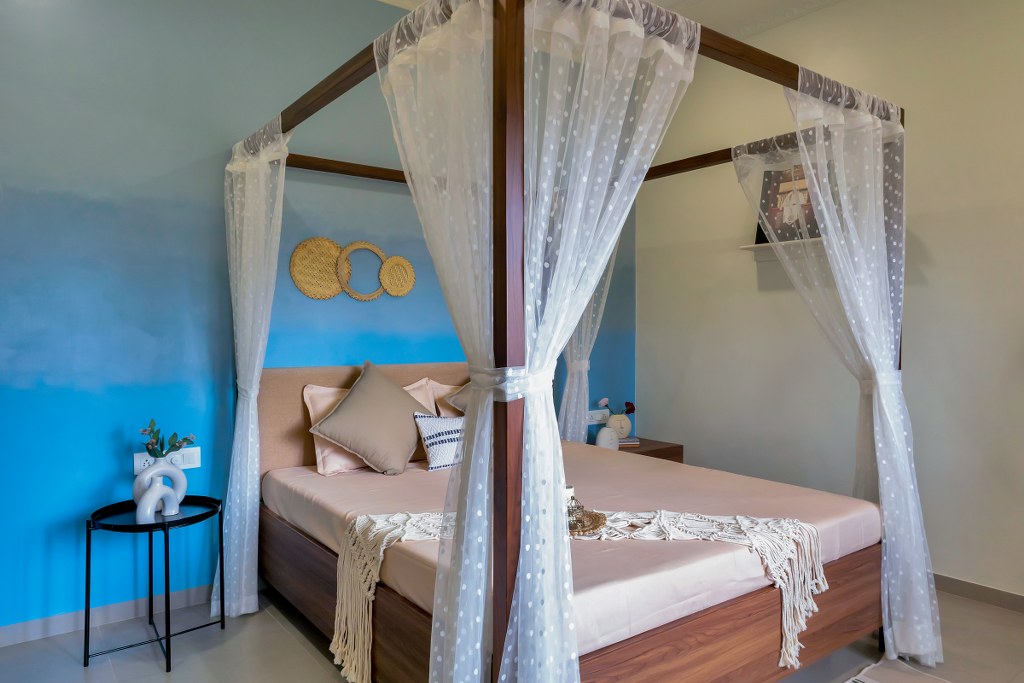 The master bedroom places paramount emphasis upon the optimised utilisation of space and comfort. The room is characterised by a four poster teak frame bed perched against ombre wall, gentle aura, and a soft light that streams through the sheer curtains.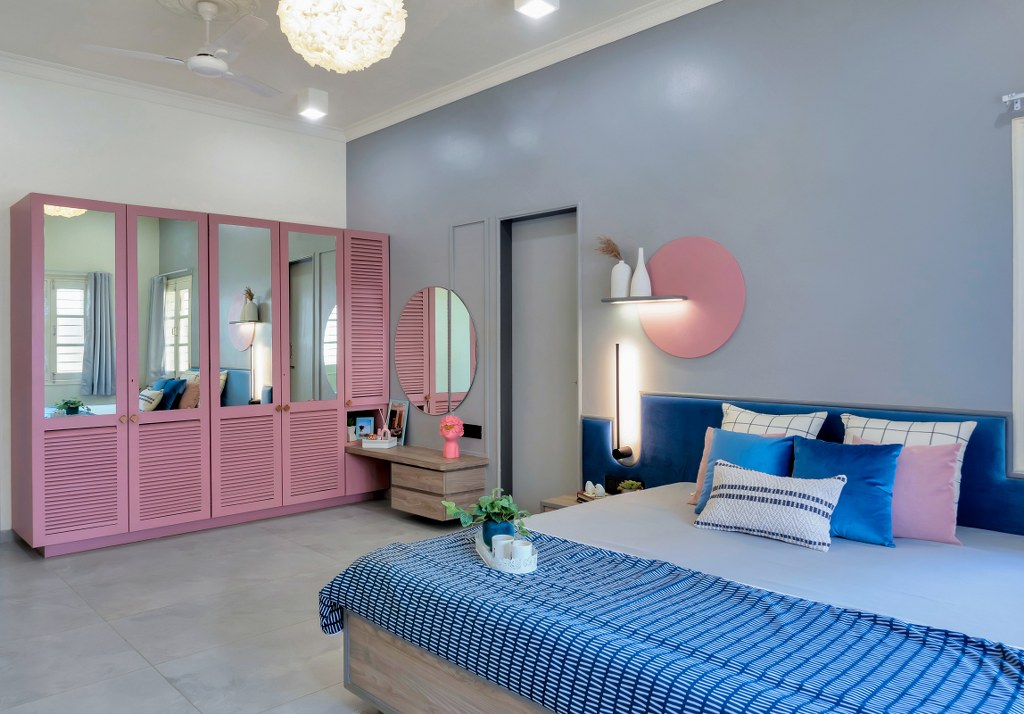 Trendy vibes and functionally adept, all that a bedroom should be. The juxtaposition of coral pinks and blues and the inspired use of forms, patterns and textures elevate the space into a contemporary one with a multi-generational feel.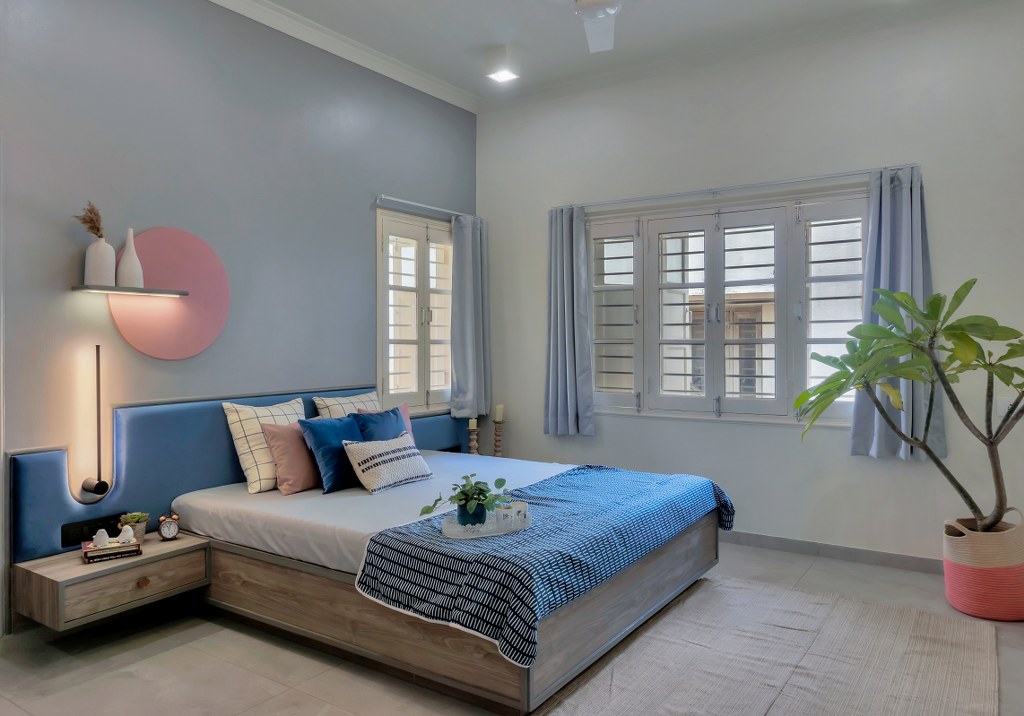 The son's bedroom is both vibrant and neutral, thanks to the blue velvet bed back and textured wall. The colour palette of blue, pink and muted tones of grey prevents from feeling cluttered.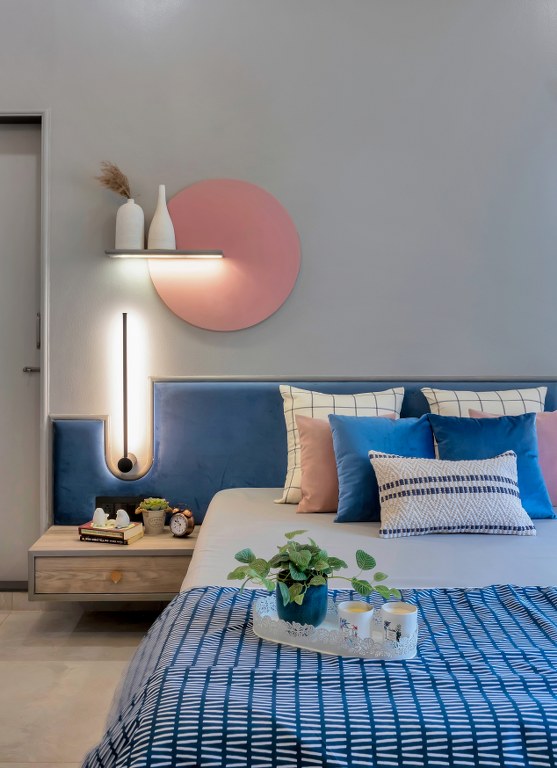 FACT FILE
Designed by : Spaces by FaB
Project Type : Residential
Project Name : Own Abode
Location : Dahod, Gujarat
Year Built : 2022
Duration of project : 6 months
Plot Area : 2300 sq. ft
Built up : 1800 sq.ft
Project Size : 1300 sq. ft
Project Cost : 14 lakhs
Principal Architect : Fatema Jamali & Badrul Ambawala
Photograph Courtesy : I.D. Rohan Patel
Products / Materials / Vendors: Wallcovering / Cladding – Nilaya wallcoverings / Lighting – Lightmode_6119 (Mr. Rakesh sheth) / Sanitaryware – Zybrid studio (Mr. Abhay) / Flooring – Zybrid studio (Mr. Abhay) / Paint – Royal Asian paints / Artefacts – The Copper (Vadodara) & Vadodara Décor Rental /
Wallpaper – KDL VADODARA
Firm's Website Link : Spaces by FaB
Firm's Instagram Link : Spaces by FaB
Firm's Facebook Link : Spaces by FaB
For Similar Project>> MODERN ELEGANT APARTMENT WITH A TIMELESS REFINEMENT