This residential space is spread across a sprawling 2,600 sq. ft. area with 4 bedrooms, 1 formal lounge, and a dining space with bar area attached with open and spacious balconies in every room. Our design has a modern take on the home interiors with earthy tones in some areas and soft pastels in others; subtlety in one corner and opulence in another.
A Modern Take On The Home Interiors With Earthy Tones | OCUBE ARCHITECTS
VISIT : OCUBE ARCHITECTS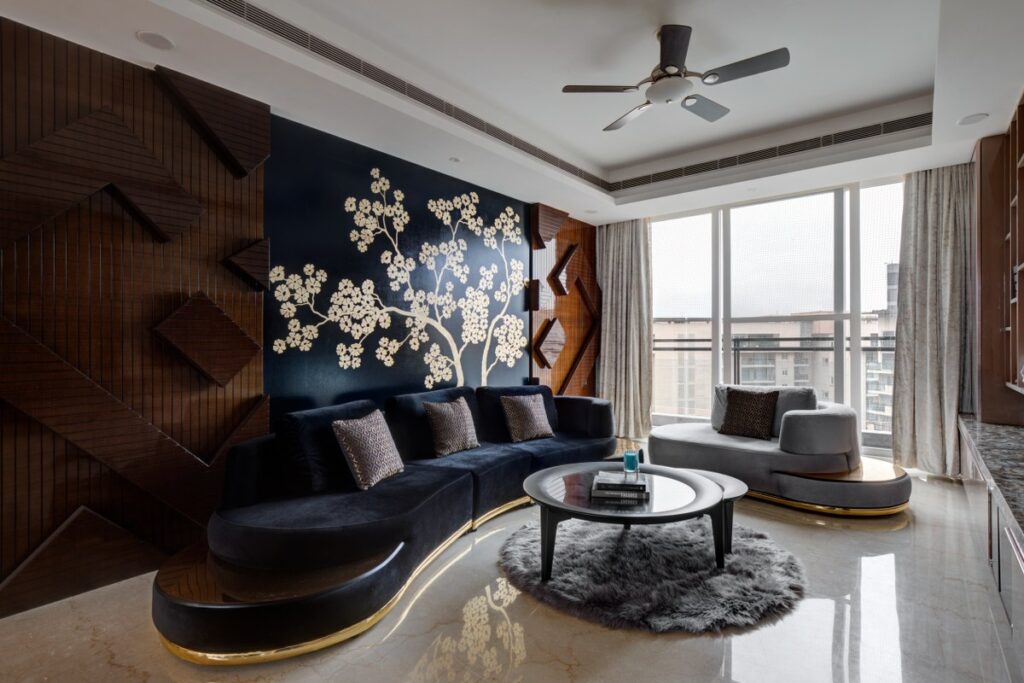 The common areas captivate one's eye with beige grey colours cladded with richly patterned and translucent onyx stone as a decorative accent on counter top which infuses exquisite luxe into the space. The wall behind the dining space gives a sense of artistic play of geometrical pattern with mirrors were incorporated which makes the space more interactive.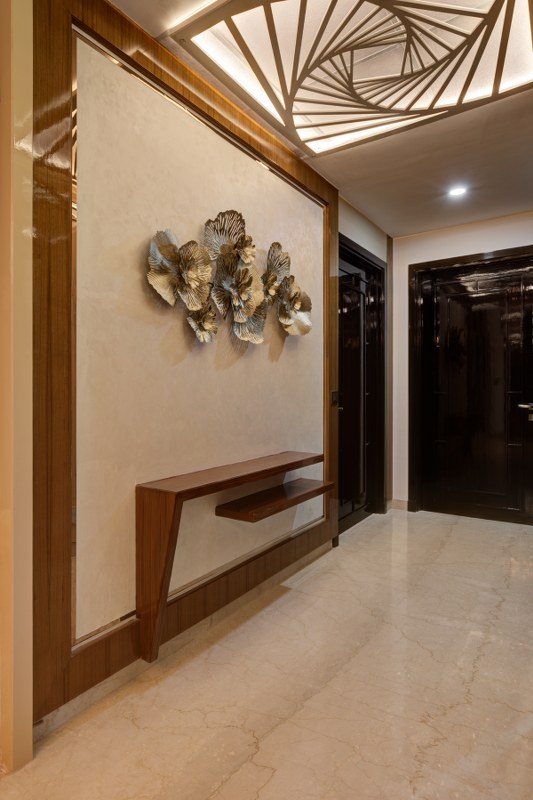 The accent wall in the formal lounge has hand- painted gold floral motifs over a royal blue coloured wall. The contrast of blue helps gold to deliver better visual performance. The royal colours of the art work uplift the mood of the entire space, and traditional motifs create a balance of transitional geometric shapes in the modern setting.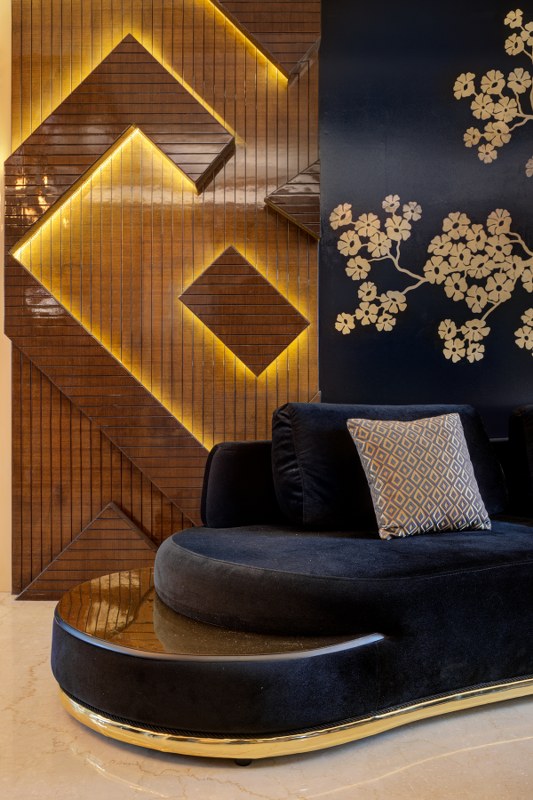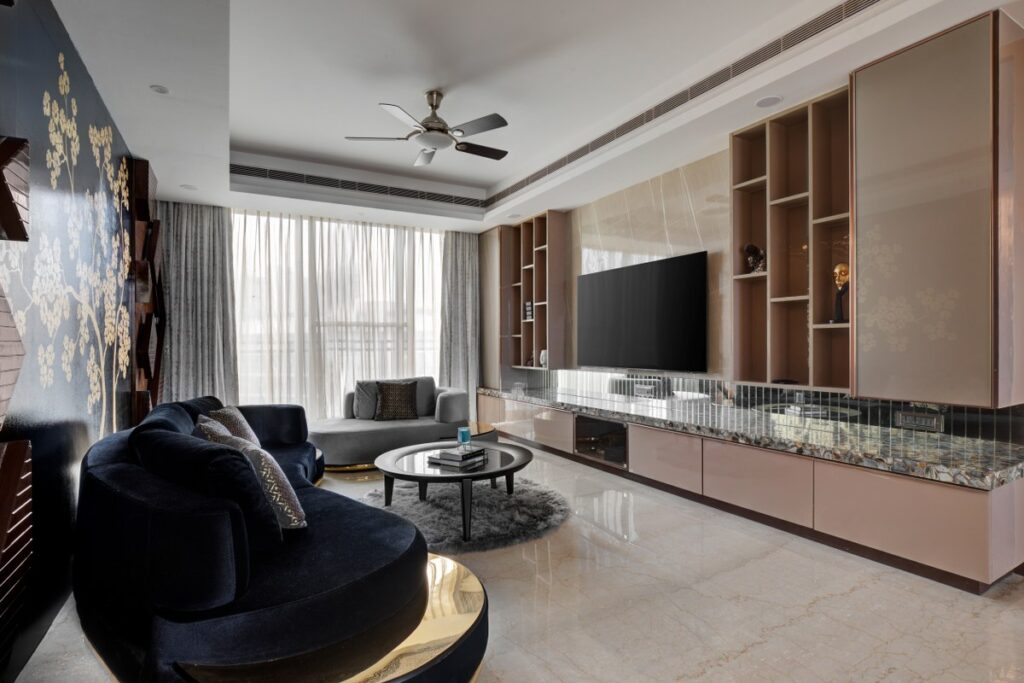 Keeping the theme of the house uniform but adding a varied element to each room, the design seamlessly varies across each of these spaces.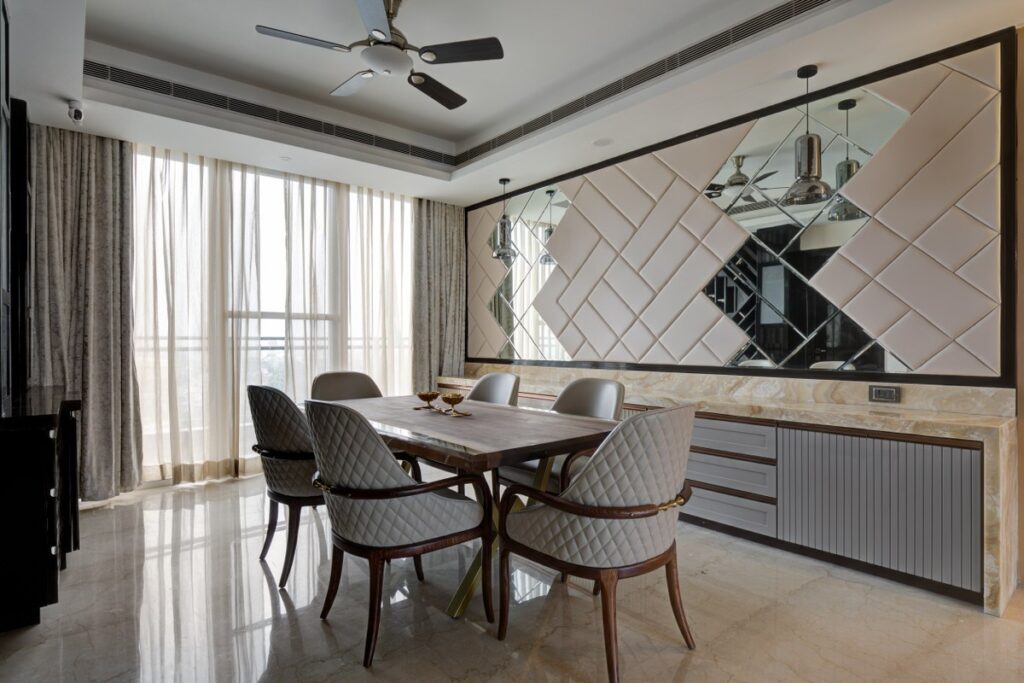 The Master bedroom has a palette of earthy tones with hints of white used in furniture. The headboard is upholstered in rich leather, the bed side table has marble stucco paint finish and the design is matured with the use MDF beadings on the side and beige stone on backdrop.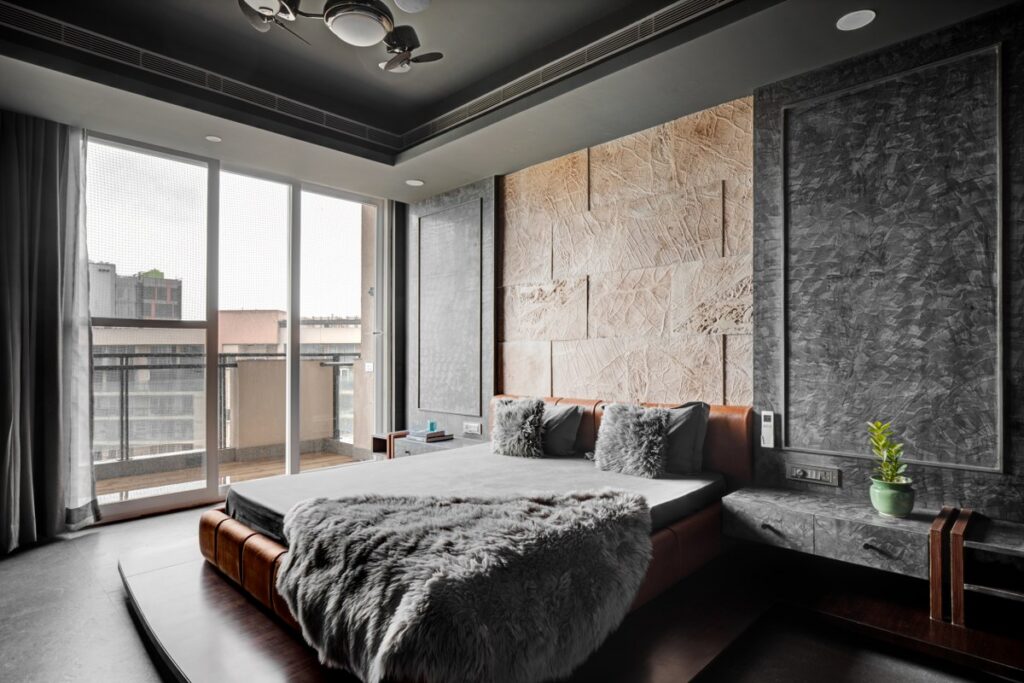 The back wall of the TV console is highlighted in grey marble stucco paint finish and grey suede cushioning on the sides adds the earthy look to the frame.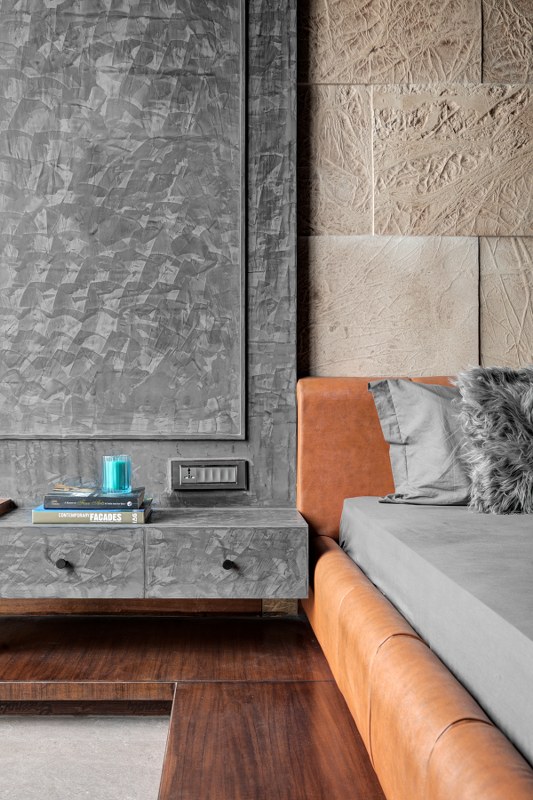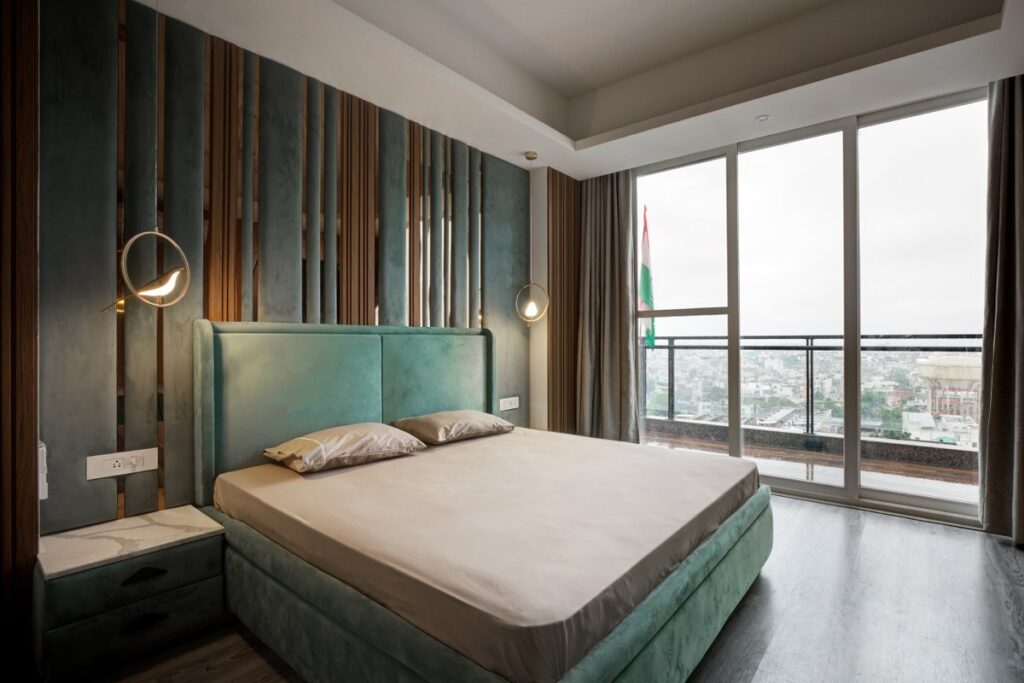 In the Parent's bedroom, the bed is upholstered in teal velvet finish. The bed side table has an Italian marble top, and is also upholstered in teal blue velvet finish. Inclusion of mint green console with woody tones lends a fresh look to the room.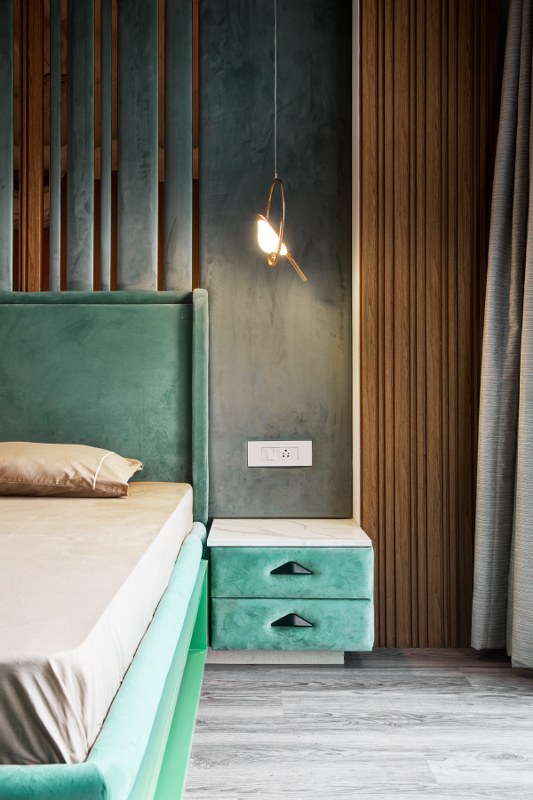 The kid's room is painted in the pastel shades of salmon pink and lavender with a common theme of arches being incorporated in various spaces like the headboard, TV wall, side table panel and the dressing mirror. The colors give contrast to the room and the massive window gives a wide view of the landscape and fills the entire space with a lot of natural light.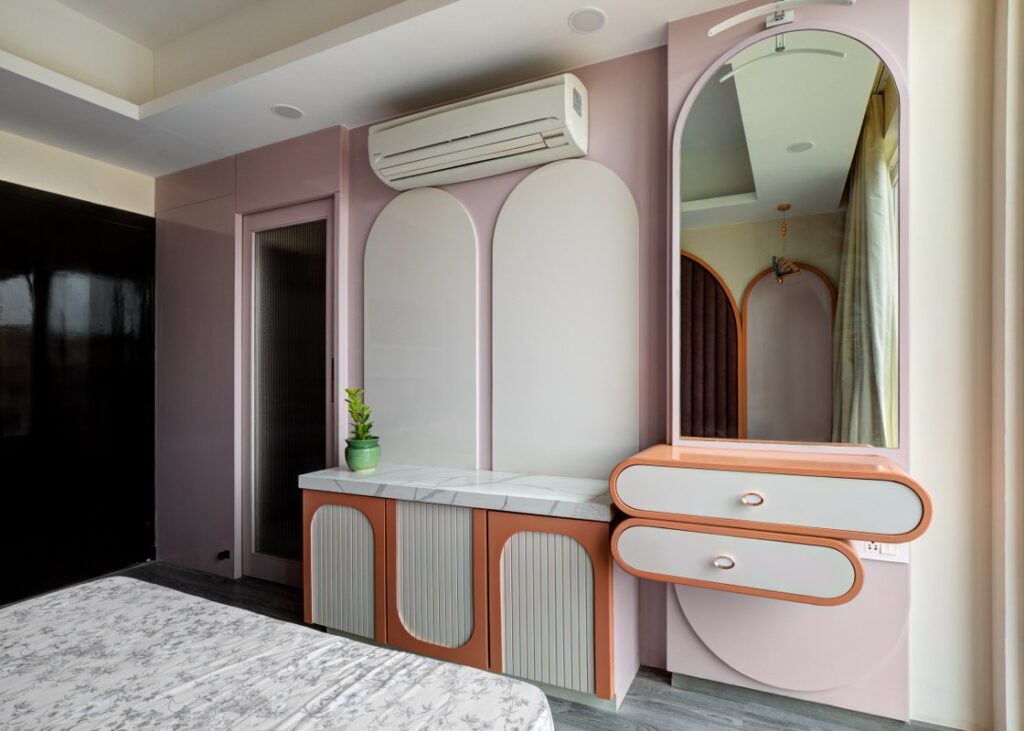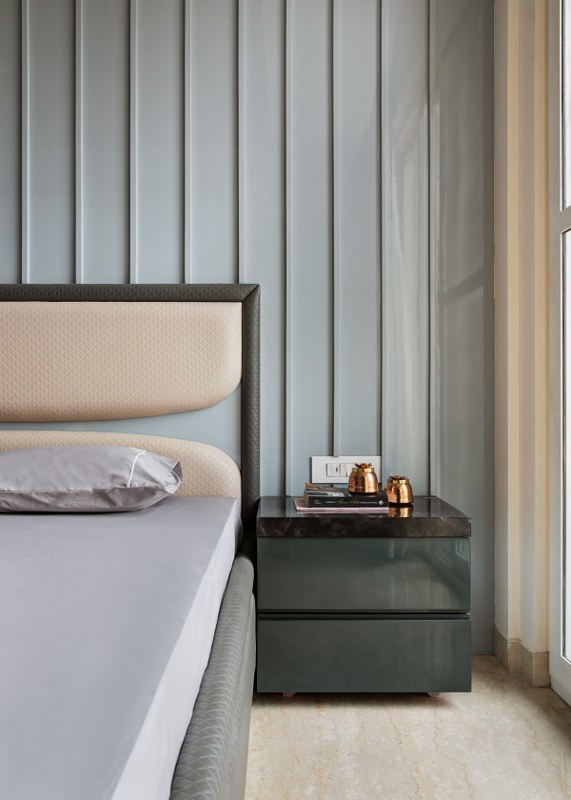 FACT FILE
Designed by : OCUBE ARCHITECTS
Project Type : Apartment Interiors
Project Name : E-1402, JOI
Location : Jaipur, Rajasthan
Year Built : August 2022
Duration of project : 1 year
Built up : 2600 sq.ft
Project Cost : 1 Cr.
Principal Architect : Ar. Mohit Chordia
Photograph Courtesy : Studio BluOra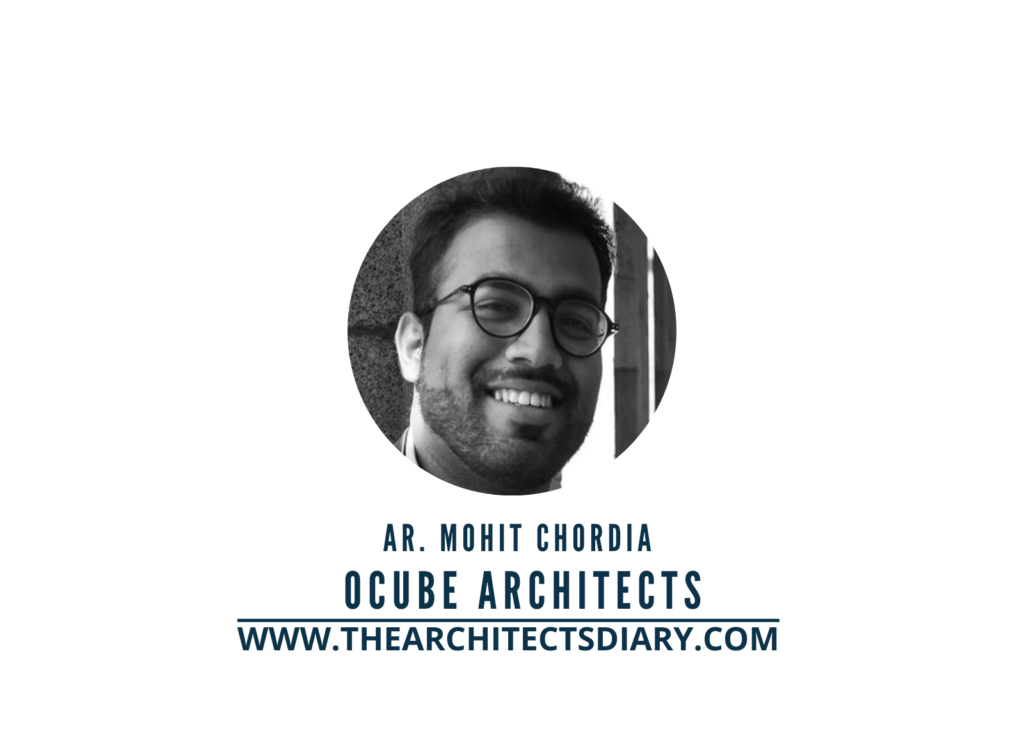 Firm's Instagram Link : OCUBE ARCHITECTS
Firm's Facebook Link : OCUBE ARCHITECTS
For Similar Projects >> APARTMENT DESIGN:GEOMETRIC TWIST WITH A TOUCH OF ELEGANCE