&nbsp
A Modern Home With Bright, Cheerful And Filled With Color | SPDA
When a young family of four approached SPDA to design their apartment in Dwarka, we were up for the challenge of transforming a dark and dated looking apartment with heavy cornices, oddly shaped ceilings, and arches that didn't belong, into a modern space that made use of every inch available. During our interaction with the family, it was clear that this family was fun and outgoing, and they wanted a home that reflected their personality. So while they wanted a modern home with clean lines, they also wanted to incorporate color into the design scheme. They were very clear that they didn't want a space that was beige or white, but bright and cheerful and filled with color.
Visit: SPDA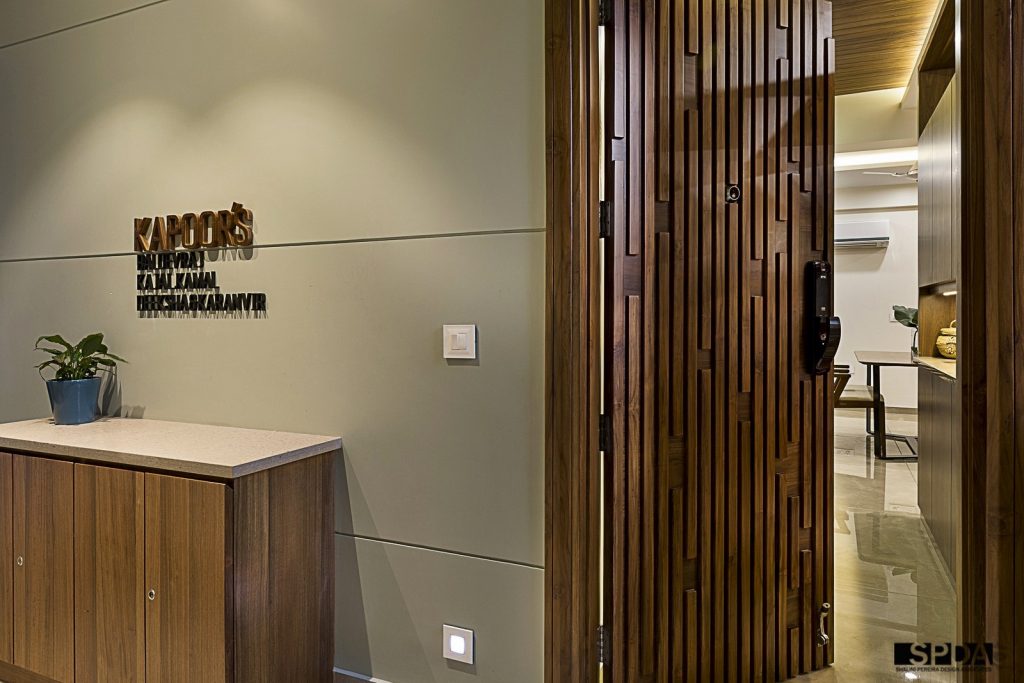 The first step of the design process was to strip away all the unnecessary elements in the apartment, and expose the 'bones' of the place. The next step was letting natural light into as many spaces as possible, by creating openings wherever the structure permitted. We also decided to give the kitchen a more open plan. In terms of the material and color palette, we decided to use a lot of textures, warm wooden tones and colorful furnishings to add the element of color and fun.
As soon as one enters into the apartment, one can't help but notice a storage unit that also doubles as a screen, giving the element of privacy to the drawing room. This unit serves an important functional purpose, providing plenty of storage to this small apartment, but the bright orange, almost neon screen adds an element of playfulness, while being balanced off by the somber wooden element of the storage unit.
To the left of the foyer, hidden behind a sliding door, is a small entertainment room. Boldly paneled in a stunning black stained smoked veneer we sourced. This is meant to be a very casual room, so we really went all out in terms of color, with ochre sofas, and a peacock blue used in the inbuilt bookshelf.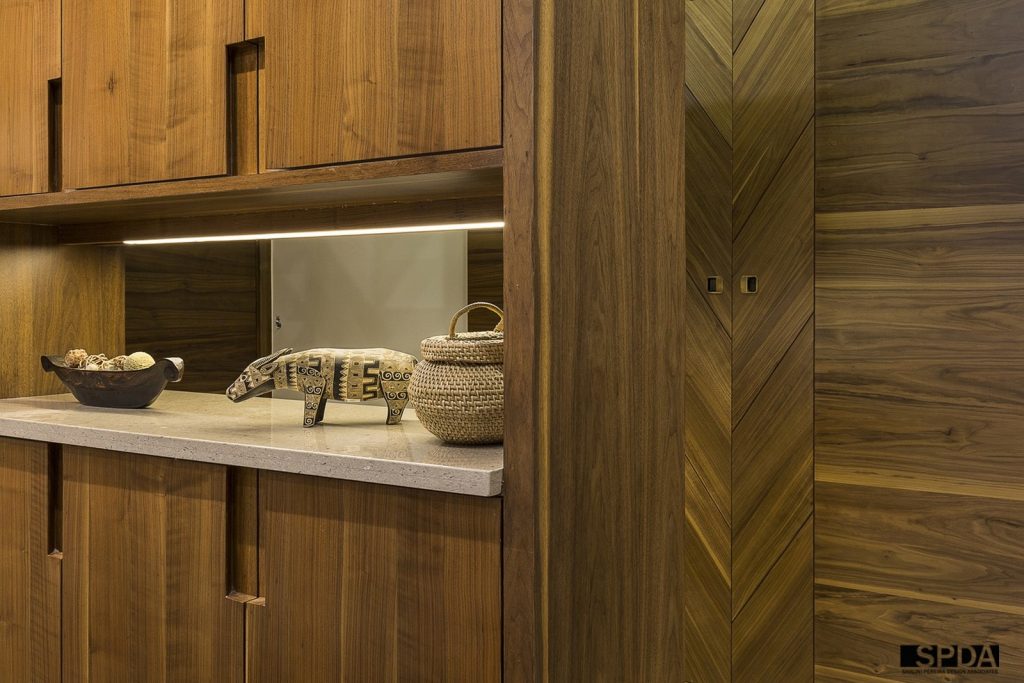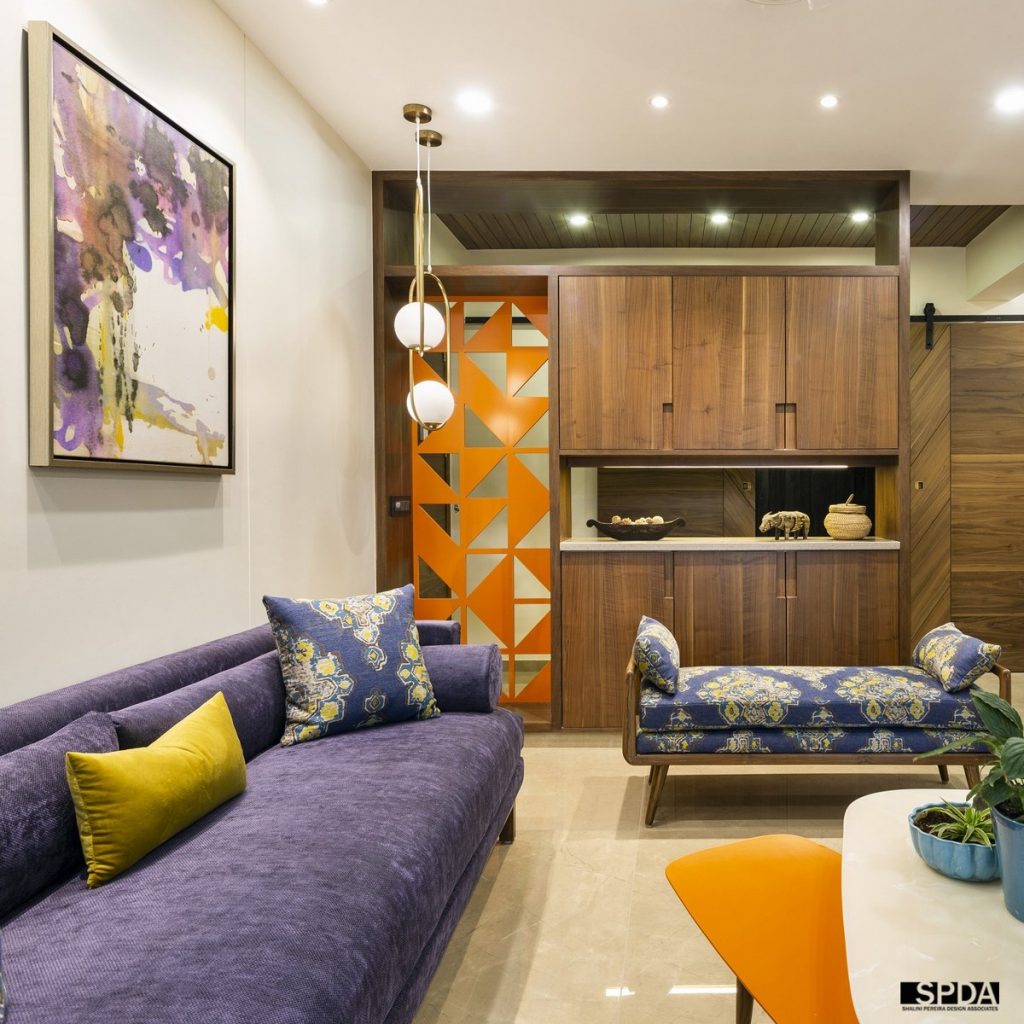 This playful feel carries into the drawing-room, with purple sofas making a bold contrast with the bright orange screen and colorful abstract art. While the colors used are bright, the rich wooden tones of the walnut veneer offset these colors nicely to give a balance to space, keeping it from being too over-the-top.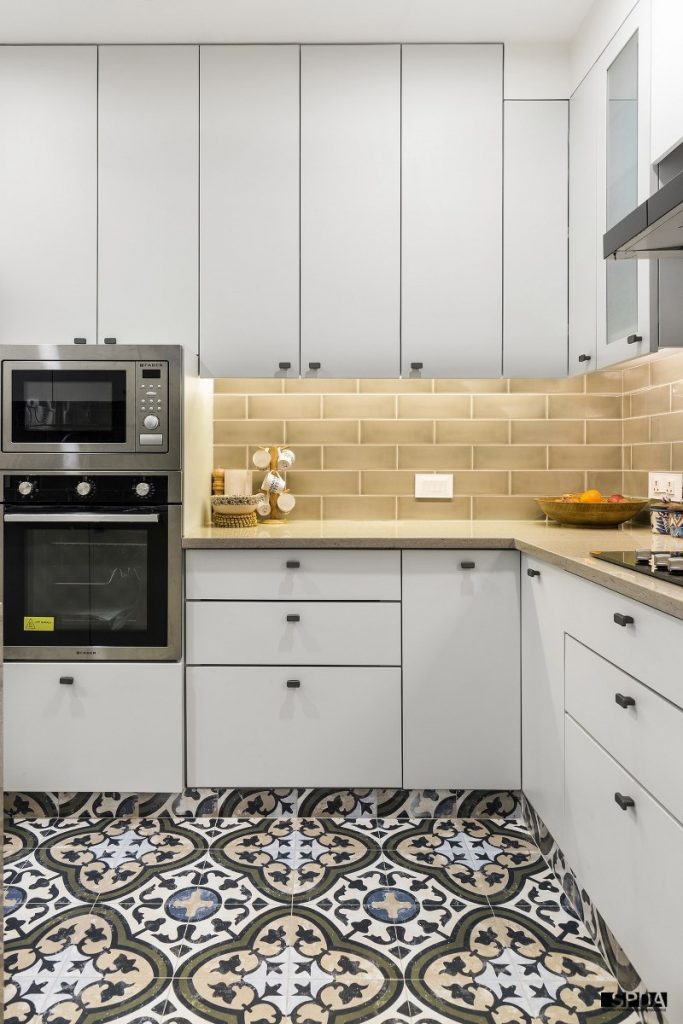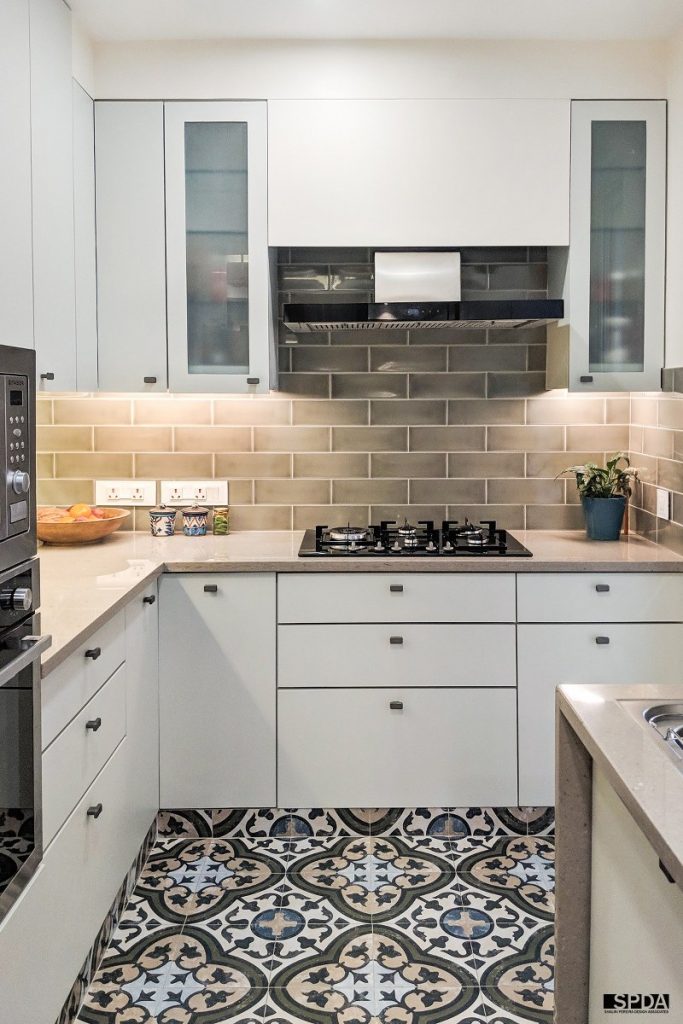 The kitchen is bright, airy, and cheerful. The Moroccan printed ceramic tiles on the floor provide an interesting and fun contrast to the cool light mint color on the kitchen cabinetry and splashback tiles. The light colors, open plan, and the natural light make this small kitchen look bigger than it actually is.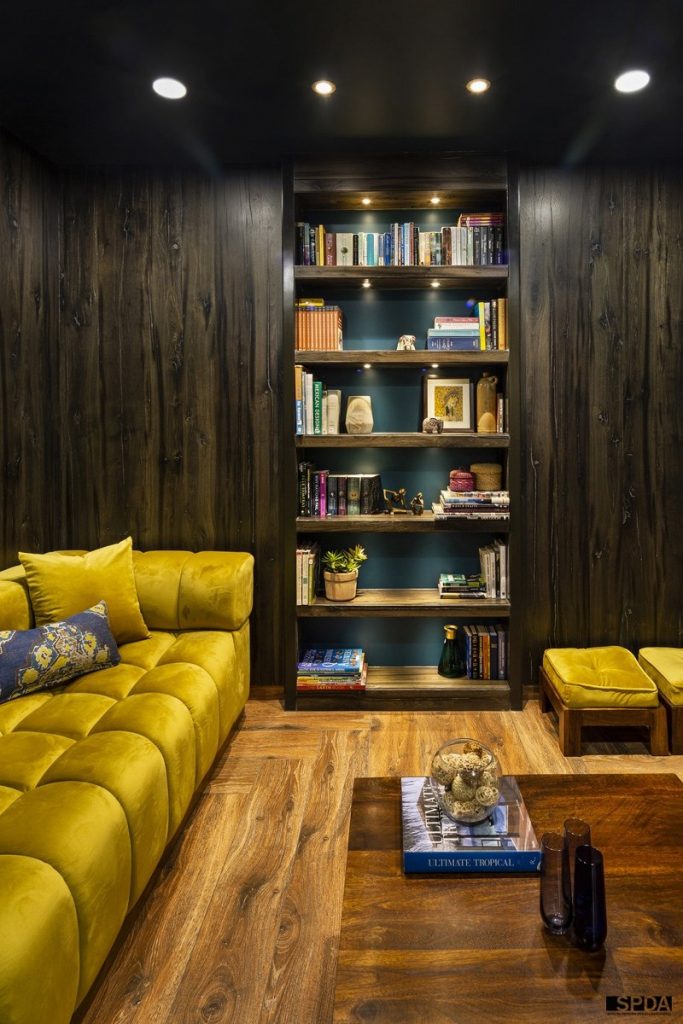 We knocked down the wall between the daughter's room and the dining room, in order to be able to provide a space for a crockery storage unit. This storage unit incorporates a sliding pocket door, so that every inch of the small room can be fully utilized. We used some beautiful exposed brick tiles on the bed back wall, which added an element of texture in a very subtle way. We are also able to create a window seat in this room which adds a cozy nook to this compact room.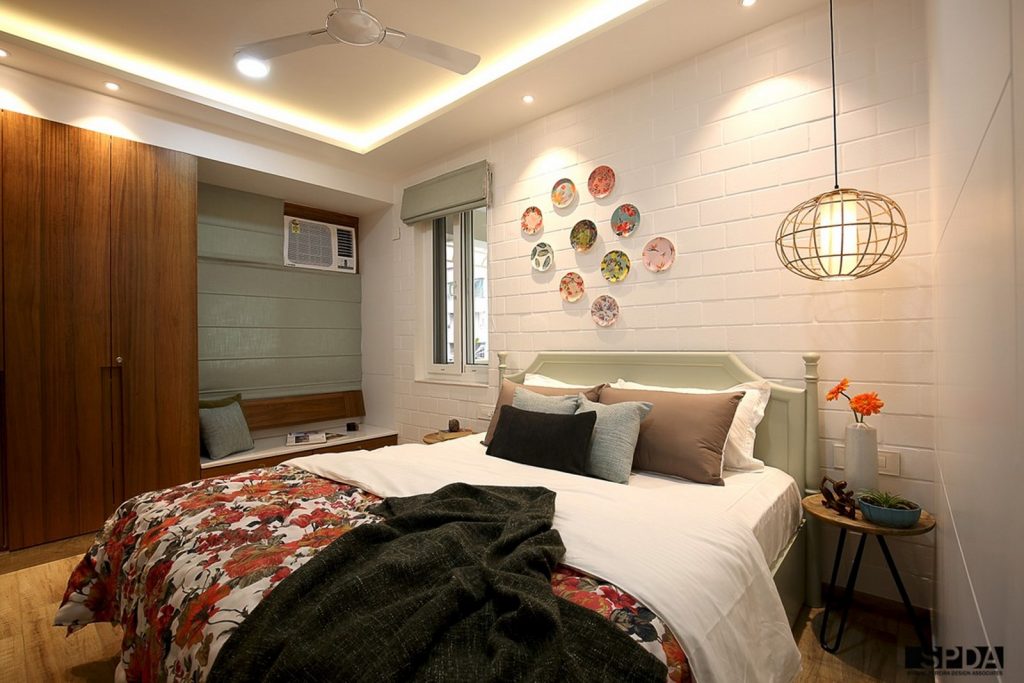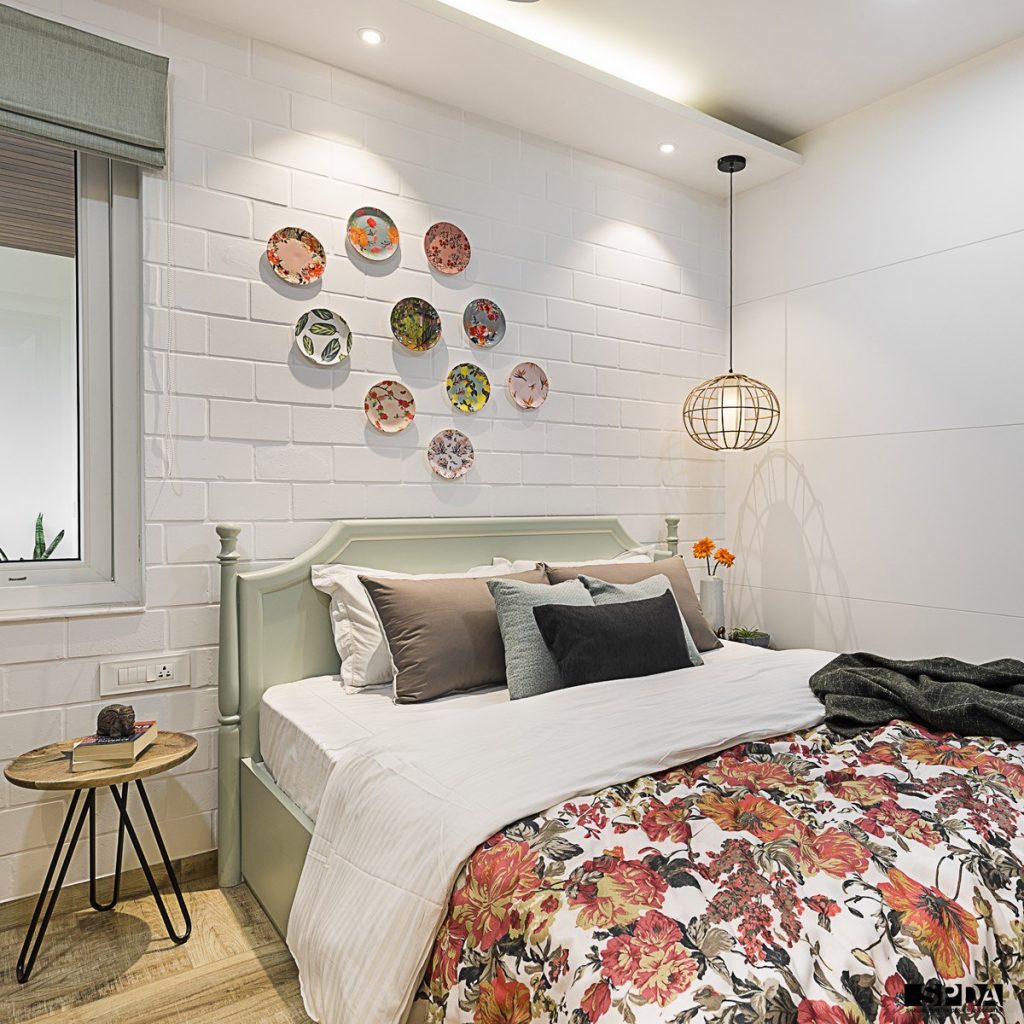 Because their son was at an in-between age, we didn't want to make the room very theme-based. It needed to be such that it could grow and be modified with him as he gets older. We played with a neutral powder blue color on the wardrobe and study table and kept everything else quite simple.
One of our favorite spaces is the master bedroom. Here we used a warm walnut veneer wall paneling on the bed back wall and continue this finish on the wardrobe surface so that the wardrobe is concealed behind a paneling for all intents and purposes. It's quite a woody room and is not for everyone, but we were very happy with the end result, which was bold, cozy, and contemporary.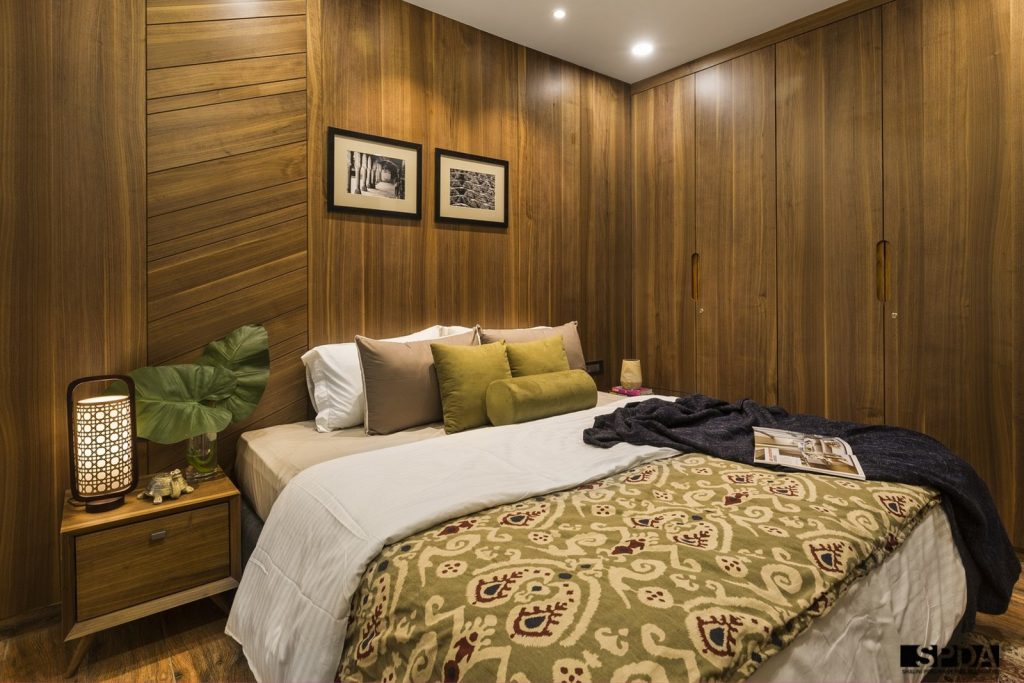 FACTFILE:
Firm: SPDA
Project Designers: Shalini Pereira & Anubhuti Mewara
Duration: 1 year
Location: Dwarka, Delhi
Photography: Rohan Dayal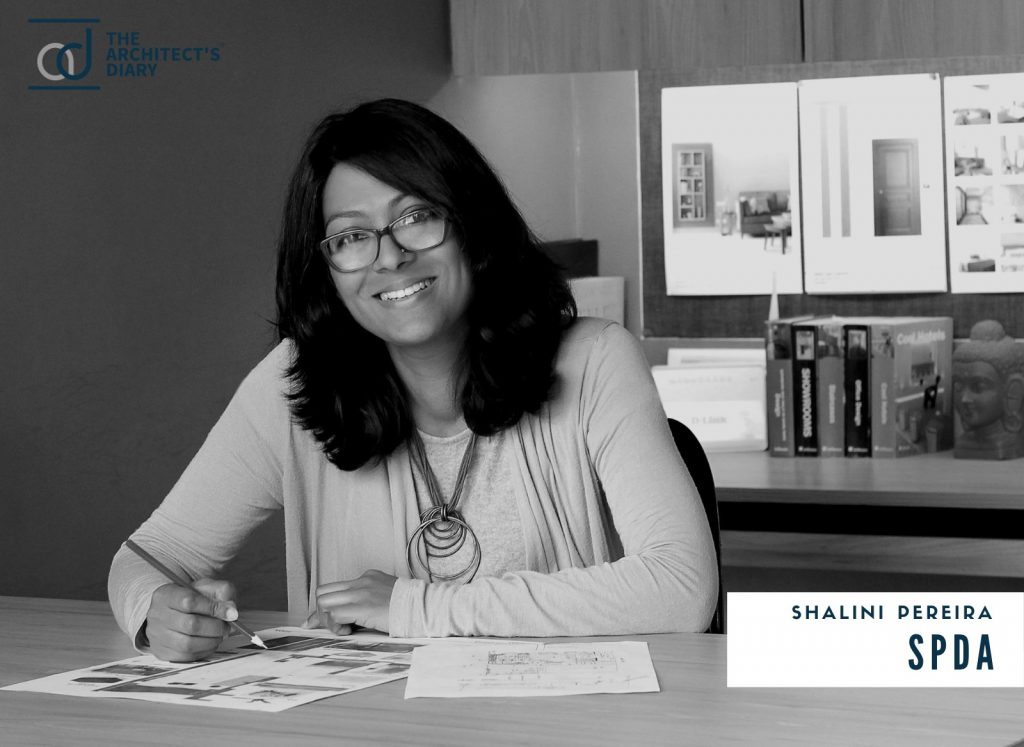 Website: http://www.spda.in/
Facebook: https://www.facebook.com/spda.in
Instagram: https://www.instagram.com/spda_design/