With a legacy of over three decades, Studio SBJ has covered a niche for themselves in stylised occasion wear as well as Made to Measure Industry in India. This standalone boutique, designed by Shivani Agrawal, Interior designer and space planner, has been designed keeping a minimalistic and earthy material palette. It is a men's wedding apparel showroom that helps to meet the need of premium range of wedding collection. The client looked for an offbeat yet classy space that reflects their designer products.
A Minimalistic And Earthy Material Palette | Shivani Agrawal Interiors
visit : Shivani Agrawal Interiors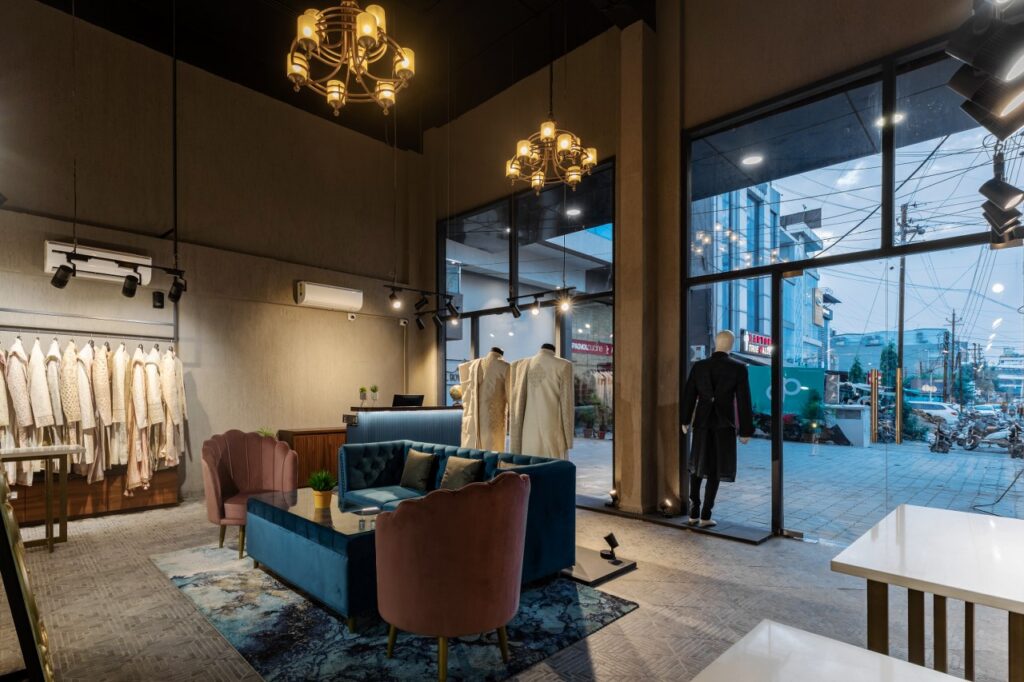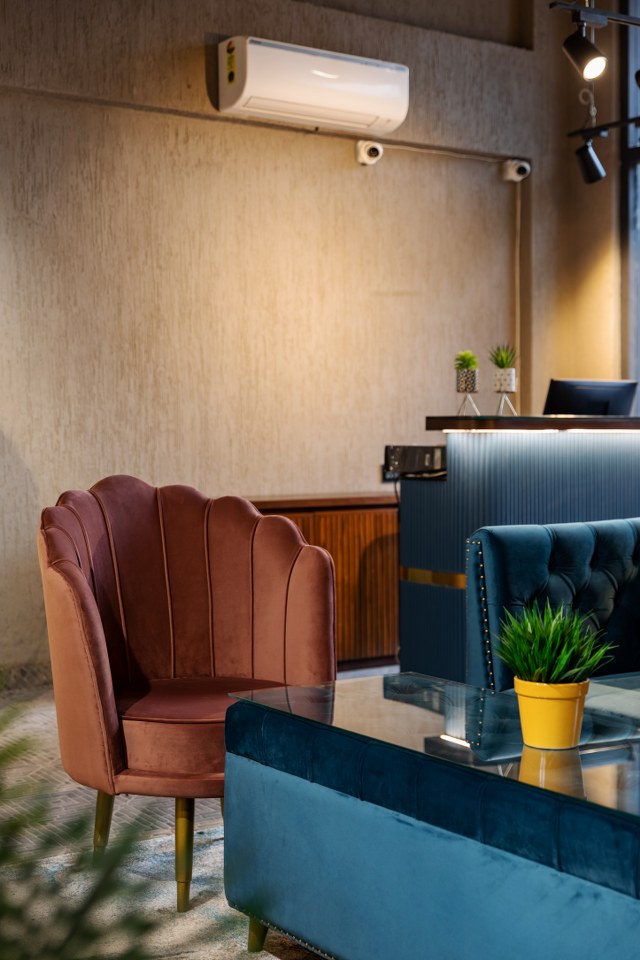 The massive double height entry with entire glass facade marks a gigantic entryway to the studio which is an absolute wonder and grandeur to the showroom. The subtle play of concrete texture on walls throughout, along with black matt metallic hanging for display creates a dramatic statement.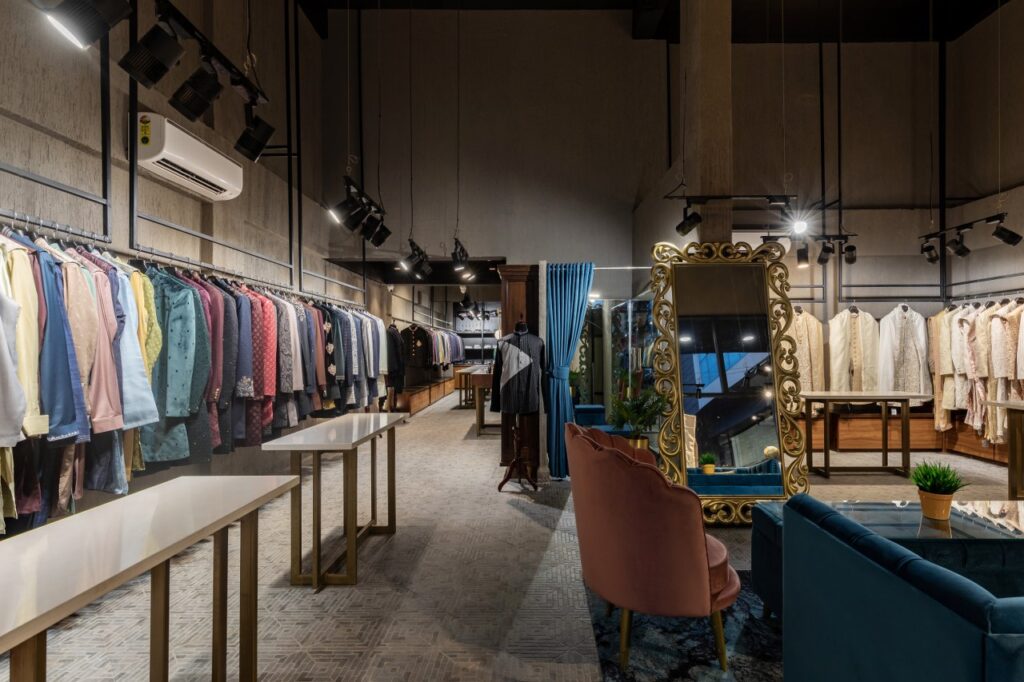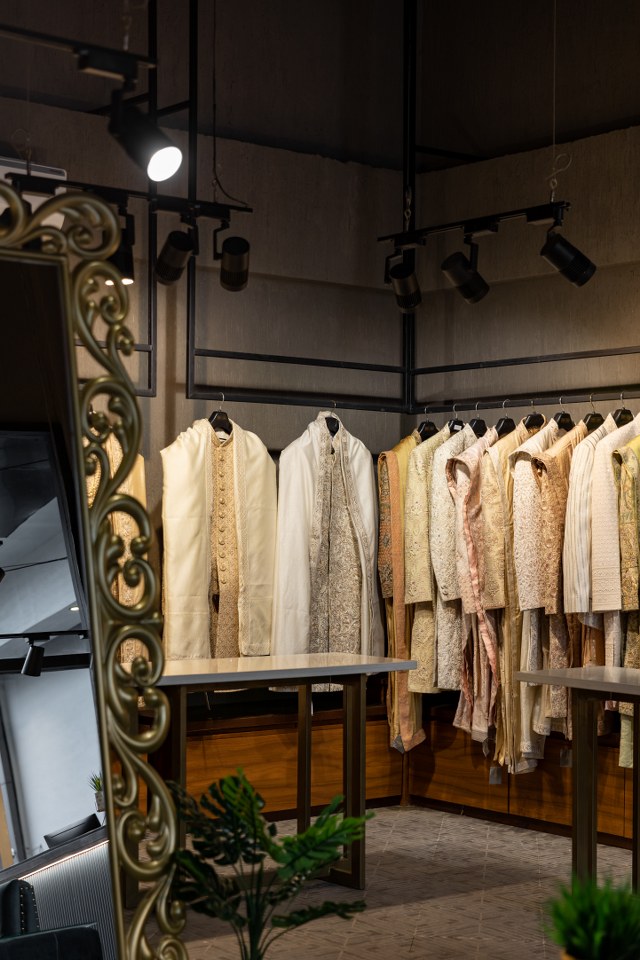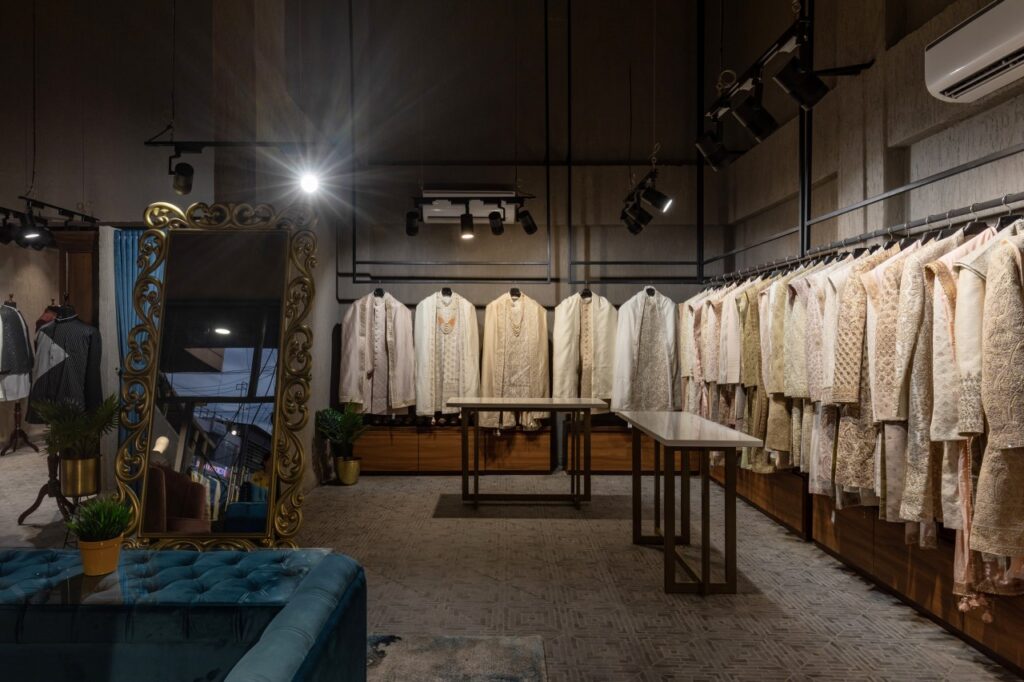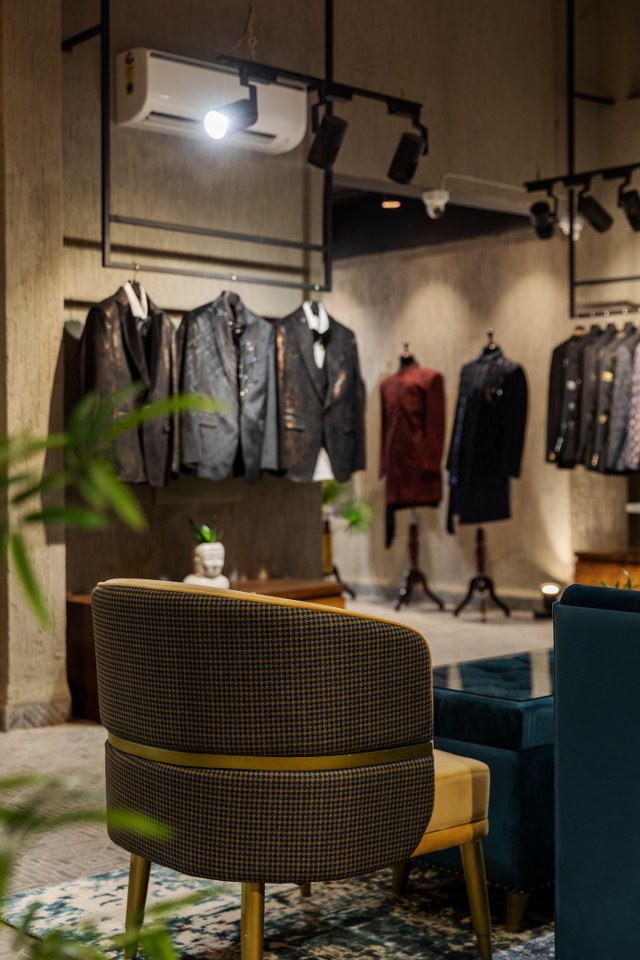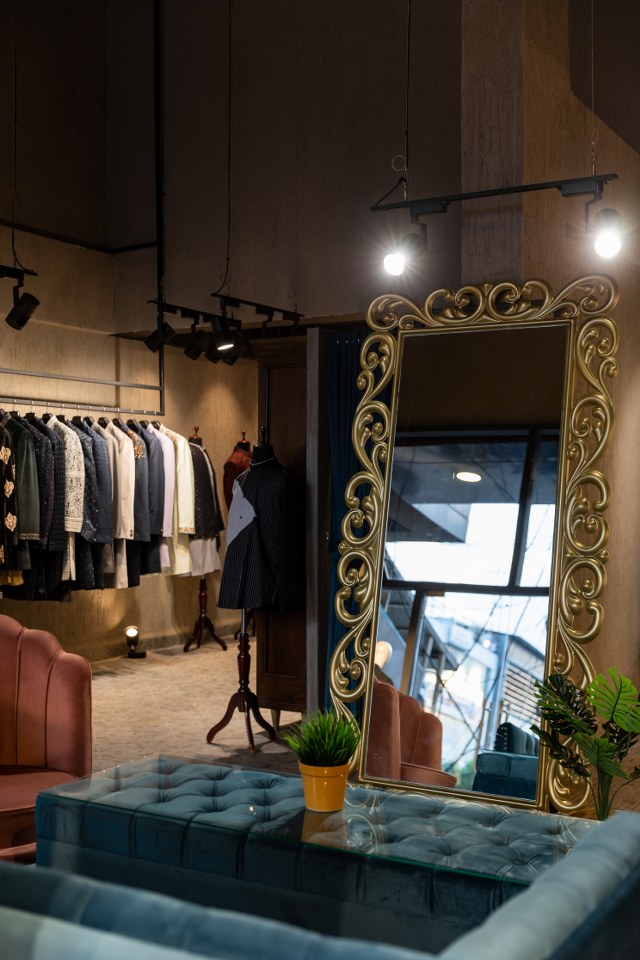 Blues in furniture and storage spaces add charm to the space along with the wooden finish furniture. Accessorising the space with the antique mirrors, which are set in champagne gold frames, gives a shimmer aspect to the space.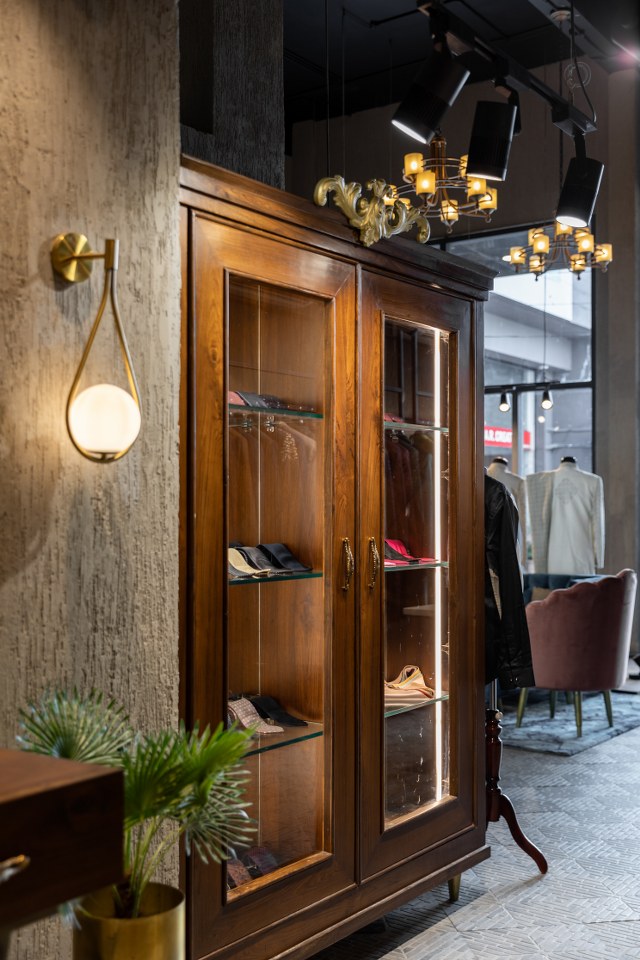 Trial rooms are playfully created and are covered with pleated curtains, satisfying the need and adding colours to the walls with giving a vibrant feel to the earthy tones of the showroom. The whole space is accentuated by placing plants at strategic corners to render a natural freshness.
The basic layout of 'Study By Janak' is essentially an open plan to make the store to easy access and look spacious and uncluttered.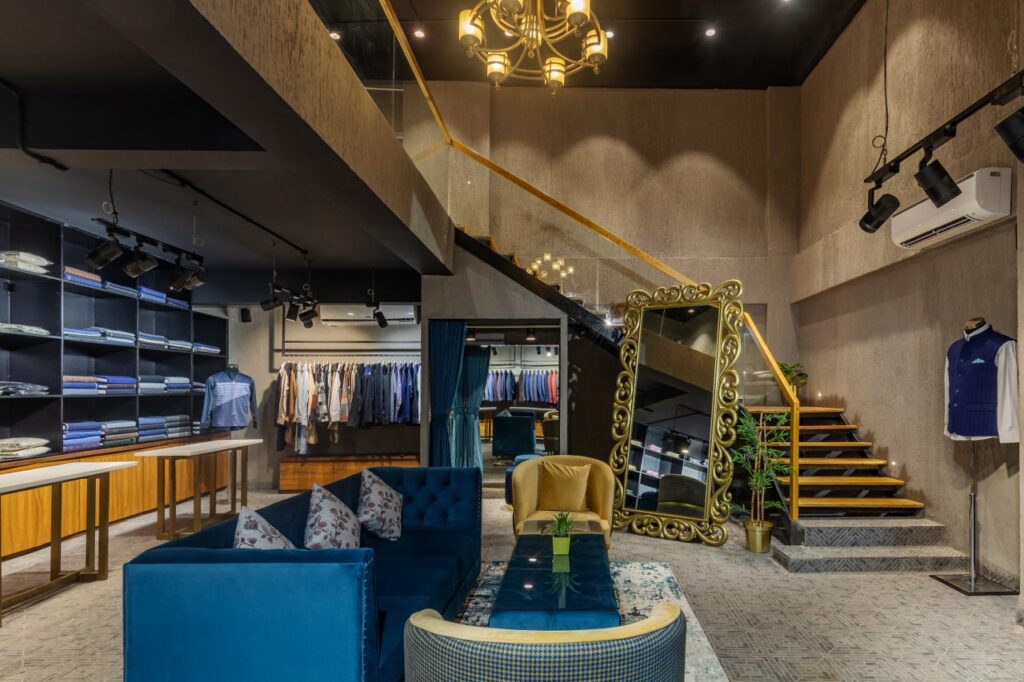 We created a preference of Indian Contemporary in a way that it creates something unique to state a character of it's own. The pallete adopted is earthy colours fused with bright colors to enliven the space. The whole space is done up in the most minimal manner, going in for natural lighting as opposed to the dazzle.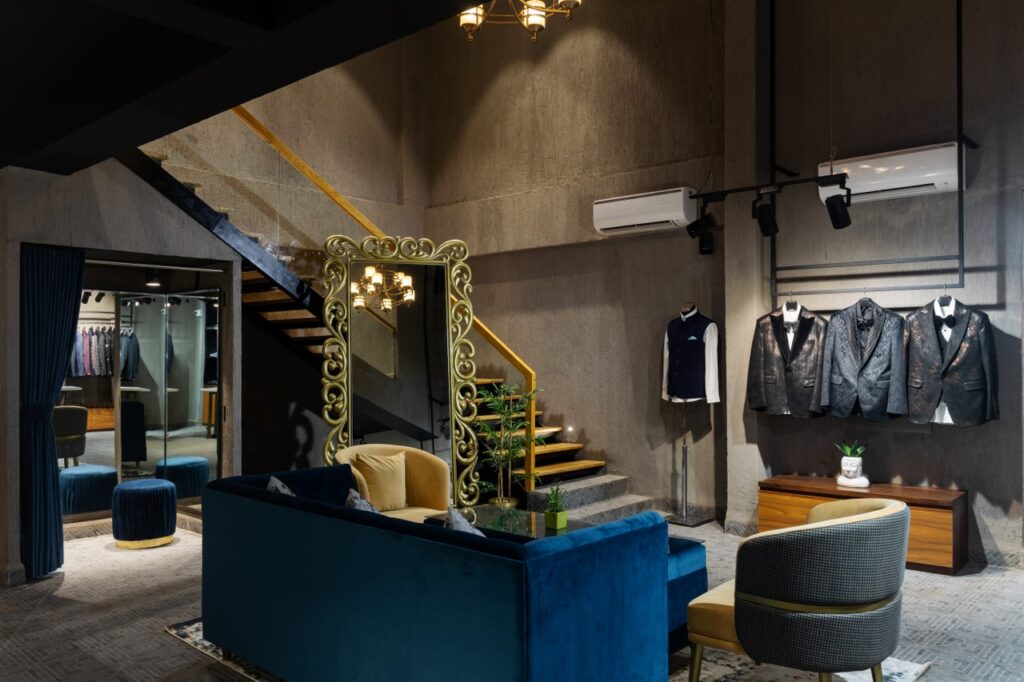 The cool sofa is a Focal Point in this spacious store. The addition of Cushions gives it a comfy yet
formal look.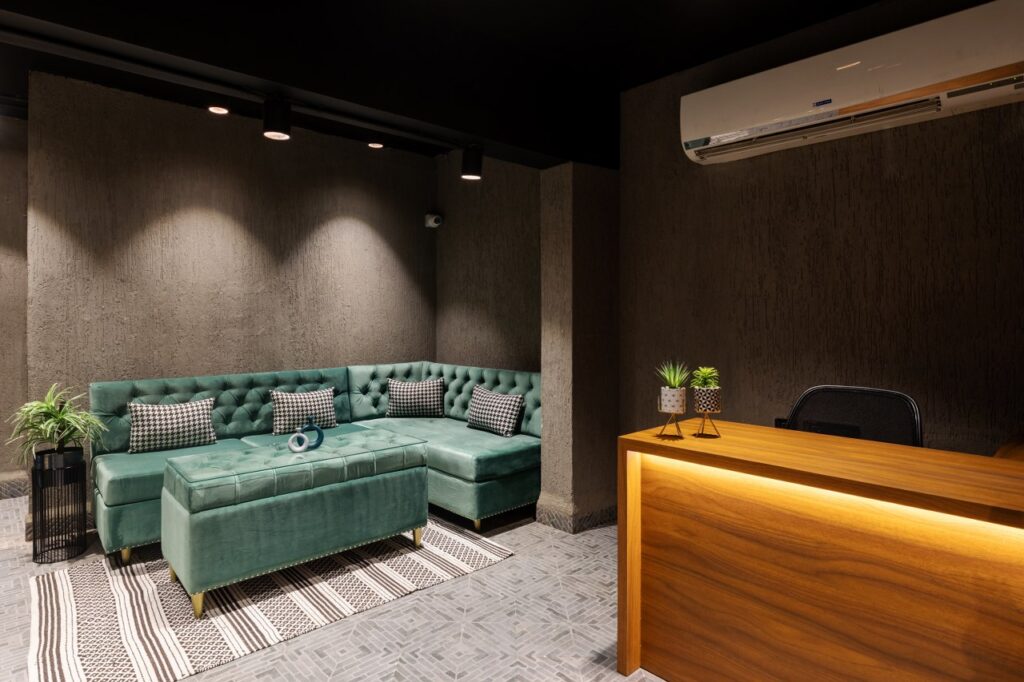 The overall color palette of the store largely remains at greys, browns, blues and gold, and this continuity in color is further exaggerated by the usage of raw tiled floor and wall textures. This canvas forms the setting to highlight trendy and quality-driven products in an undisturbed manner.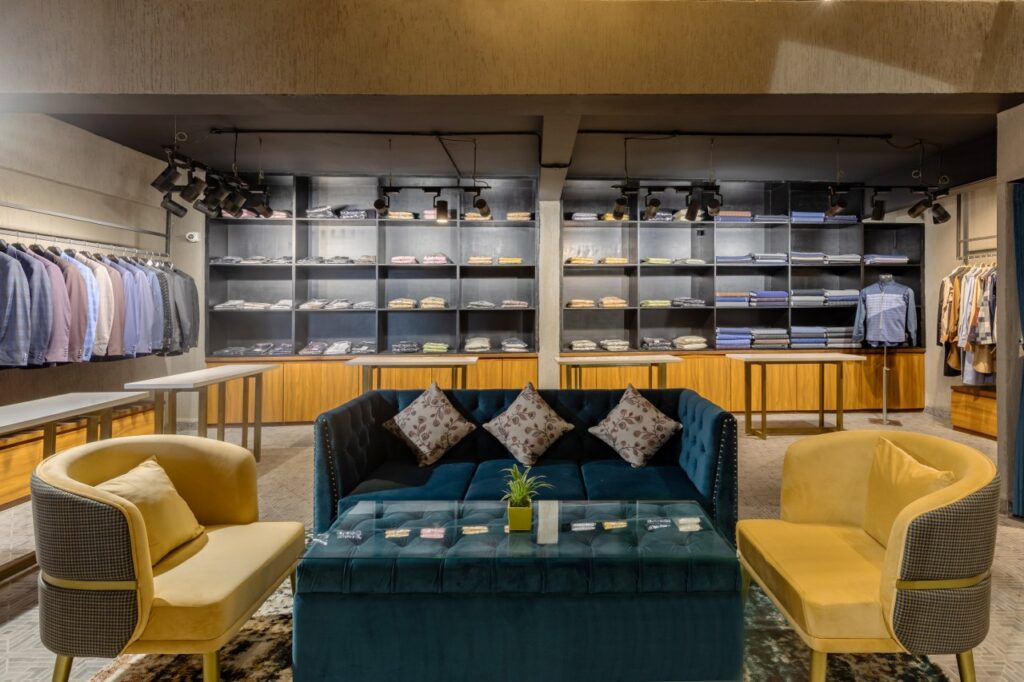 The lighting of the showroom, one can imagine is of utmost importance. The team sought to keep the tone of light natural so as to understand better colours which adds beauty to their product. The grand chandeliers adds luxe and oomph factor to the space. Intricately designed with rustic palette and embellishing it with golden hues adds a finishing touch that's a nod to designer's ethos.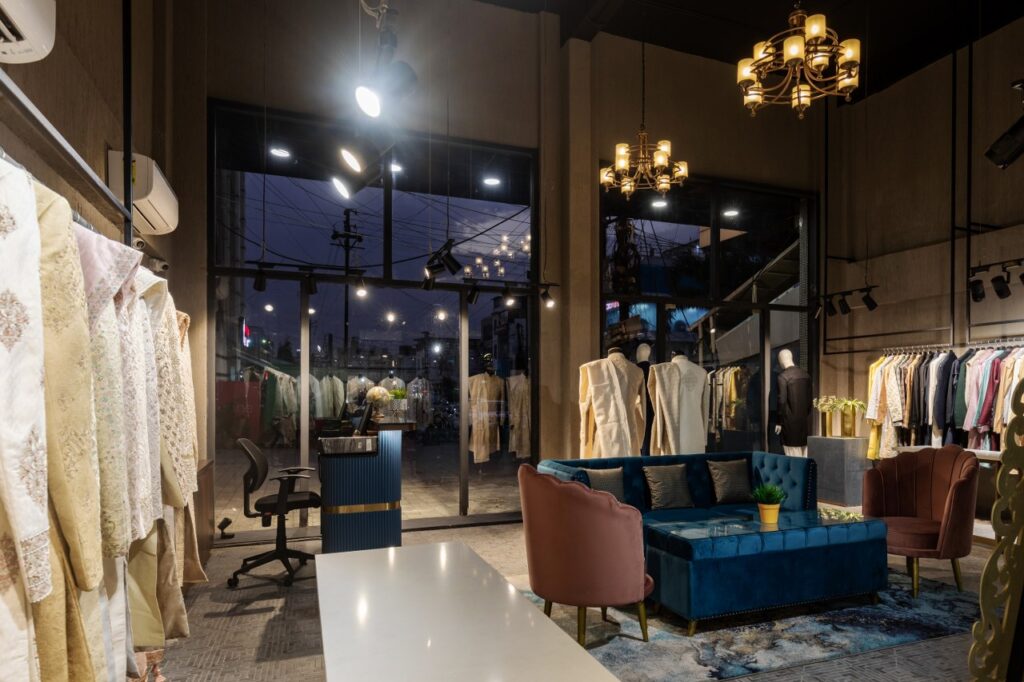 FACT FILE
Designed by : Shivani Agrawal Interiors
Project Type : Commercial Interiors
Project Name : Study by Janak
Location : Indore
Year Built : 2022
Duration of project : 6months
Plot Area : 6500 sq.ft
Built Up : 9000 sq.ft
Project Size : 6250 sq.ft
Principal Designer : Shivani Agrawal
Photograph Courtesy : Ruuhchitra
Products/Materials/Vendors : Finishes – Metallic PU finishes on furniture / Wall covering / Cladding – Concrete textures by Asian Paints / Lighting –Jaquar Lightings / Sanitaryware –Toto / Facade Systems Glass by Saint Gobain / Windows – Fenesta / Furniture – Custom Made / Flooring – Nitco Tiles / Paint –Asian Paints /Artefacts –Procured Pan India / Hardware -Hettich.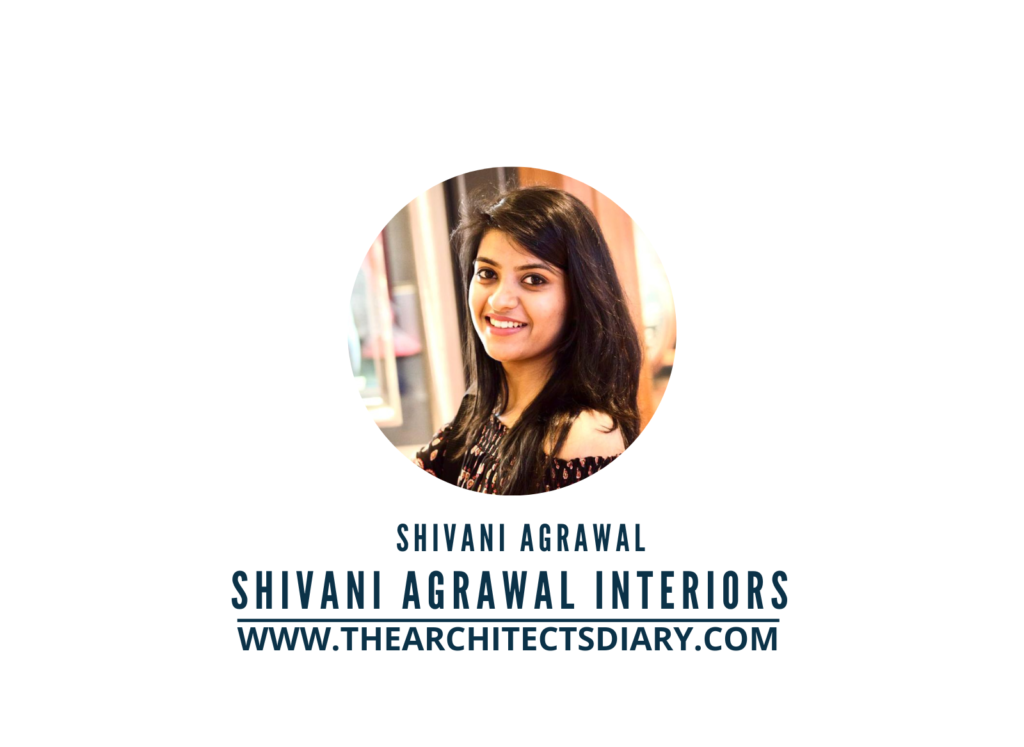 Firm's Instagram Link : Shivani Agrawal Interiors
For Similar Project>> MODERN-ETHICAL BRIDAL WEAR SHOWROOM INTERIOR