Rinkoo Gupta, the founder and principal designer at Design Boutikk, poured her heart into crafting this 4BHK home in South Bangalore for a family of seven. Clients brief right from beginning were 2 words "Elegance & Simplicity". This home came with a huge balcony overlooking the most breath-taking view of Hulimavu lake. Gupta aimed to create a home that looked simple modern and yet timeless!!
4BHK Home In South Bangalore For A Family Of Seven | Design Boutikk
visit : Design Boutikk
This sprawling 3,300-square-foot home is laden with thoughtfully harmonized decor. As a result, every space flows into the other seamlessly whilst maintaining a distinct character of its own. Adhering to the client brief, the design grammar is soothing and swathed in natural light. Design Boutikk worked with materials and layering them beautifully and ultimately fused natural materials that age gracefully over the period.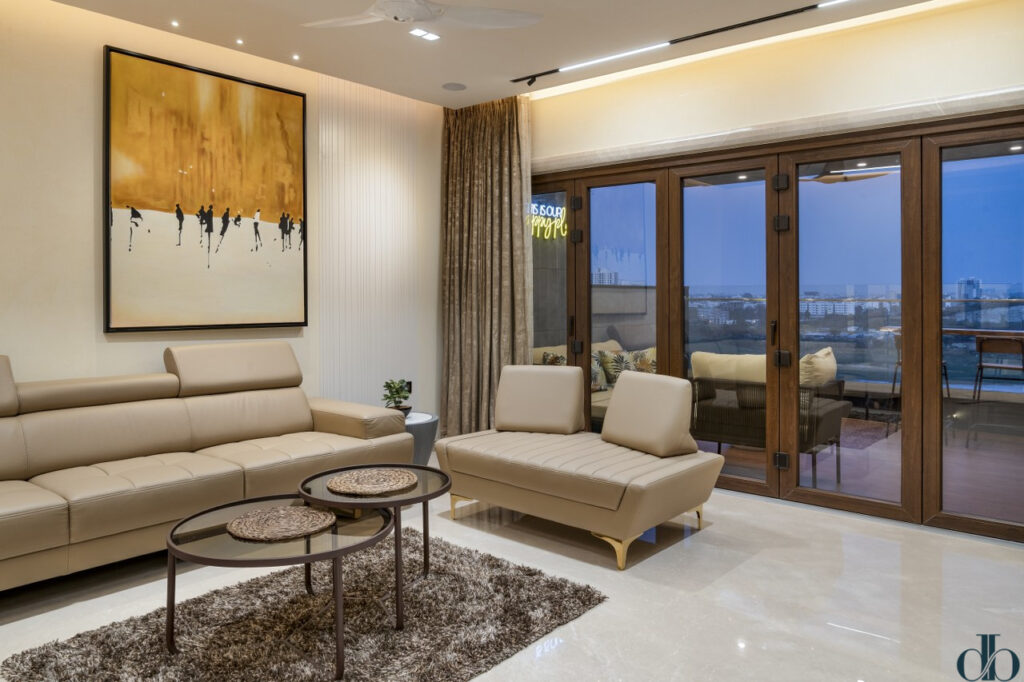 Originally, the apartment came as a bare shell which was then converted to four spacious rooms. Design Boutikk made a lot of changes to the layout. Cleaning up these tiny spaces into larger layouts and razing everything to the ground and making it bigger, spacious, and more functional which lead to extremely gratifying experience for the clients as well as the designer.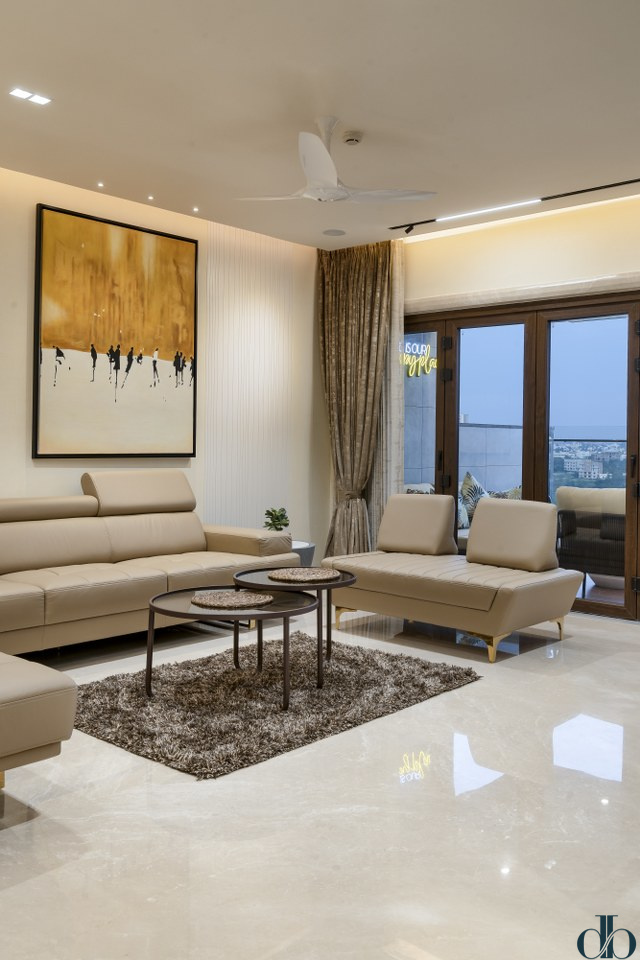 The living room is an airy, light-filled space with minimalist, modern furniture, a muted colour palette and sophisticated details such as textured walls, fluted patterns, and subtle bright artworks.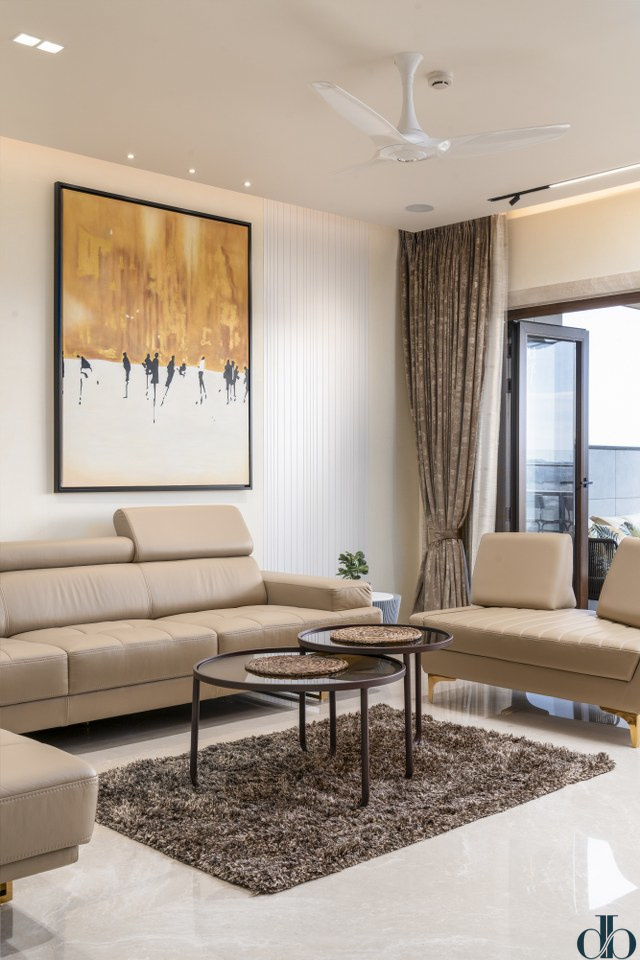 The beige leather sofas add a chic touch to the space and the wooden rafters suspending from the ceiling creates a beautiful partition between living which provides a backdrop for TV unit one side, while at the dining area side the space accommodates a quiet corner for a beautiful Pooja thus tying up the whole space gracefully.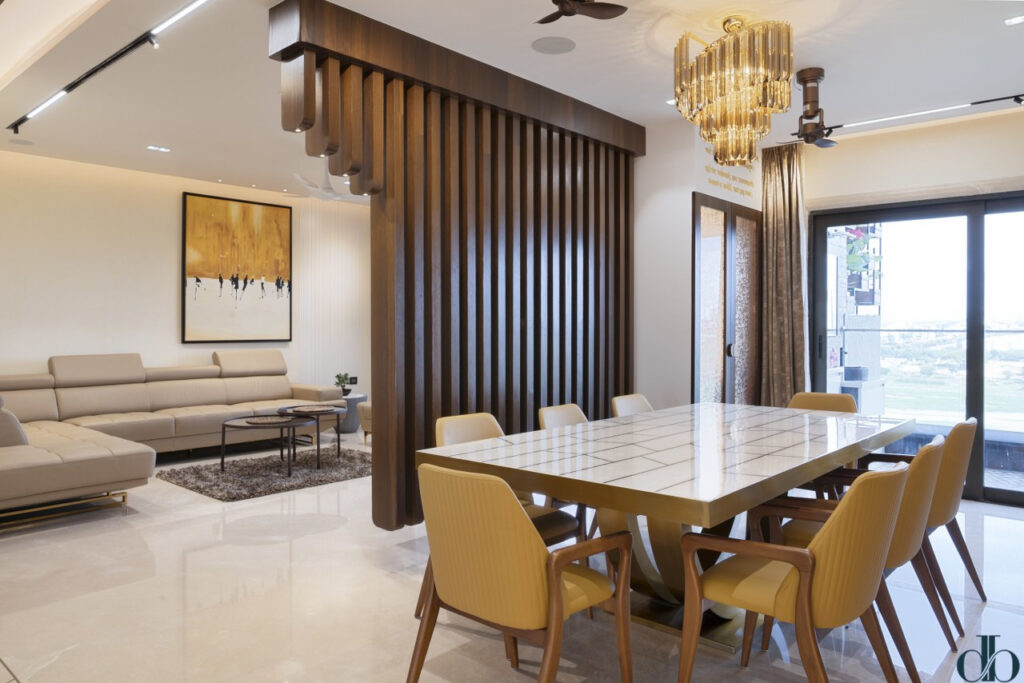 A striking, modern chandelier hangs above the 8-person dining table which was custom-made with onyx & brass inlay pattern. The dining area is blessed with large windows, which let in plenty of natural light. This dining space has ample of storage making it an ideal space for hosting.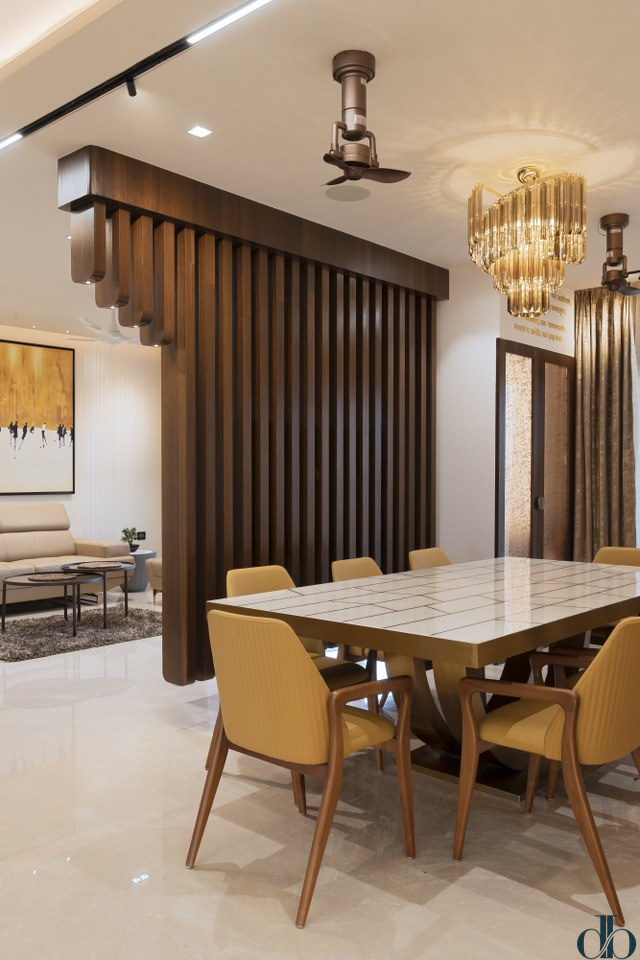 The kitchen is a bright space featuring sleek champagne colour polymer cabinets with ample storage, off-white countertops, state-of-the-art appliances, and a floor-to-ceiling storages. What more can one ask for!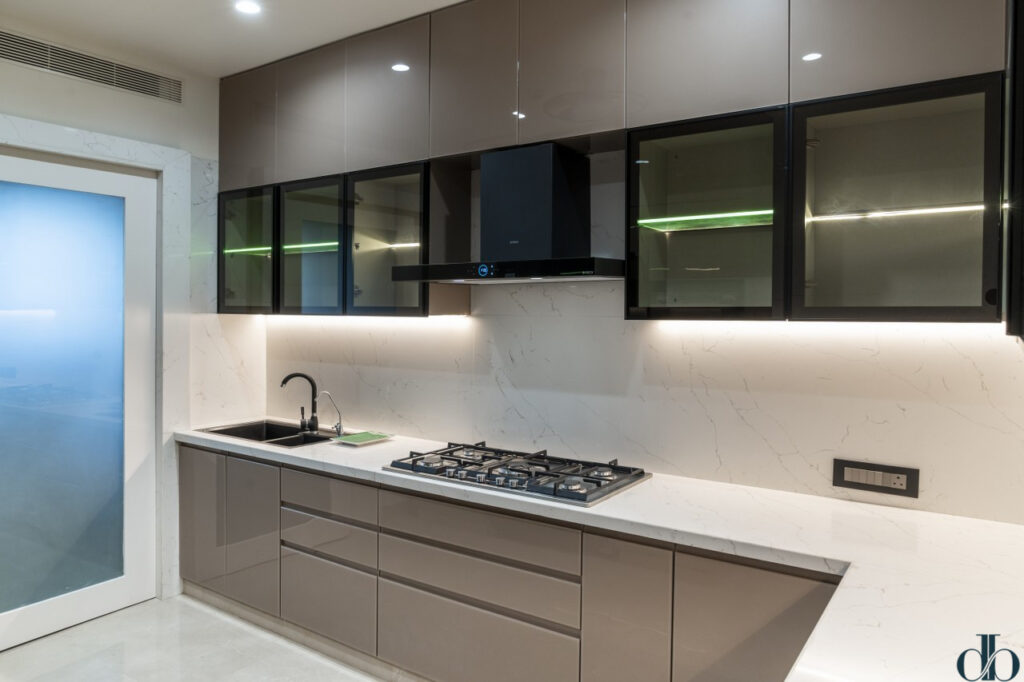 The passage has beautiful custom-made floor inlay using marble ad brass inlay patterns- as soon you enter through the main door a bathroom door was visible which was causing as an eye sore to the design, Design Boutikk used its creativity to smartly camouflage this door and the metal Mural of the giving tree looks perfect in this space making the place pretty and stylish.
The master bedroom has subtle, charming brown undertones and practical furniture. It is a welcoming space with the same contemporary design aesthetic as the rest of the home.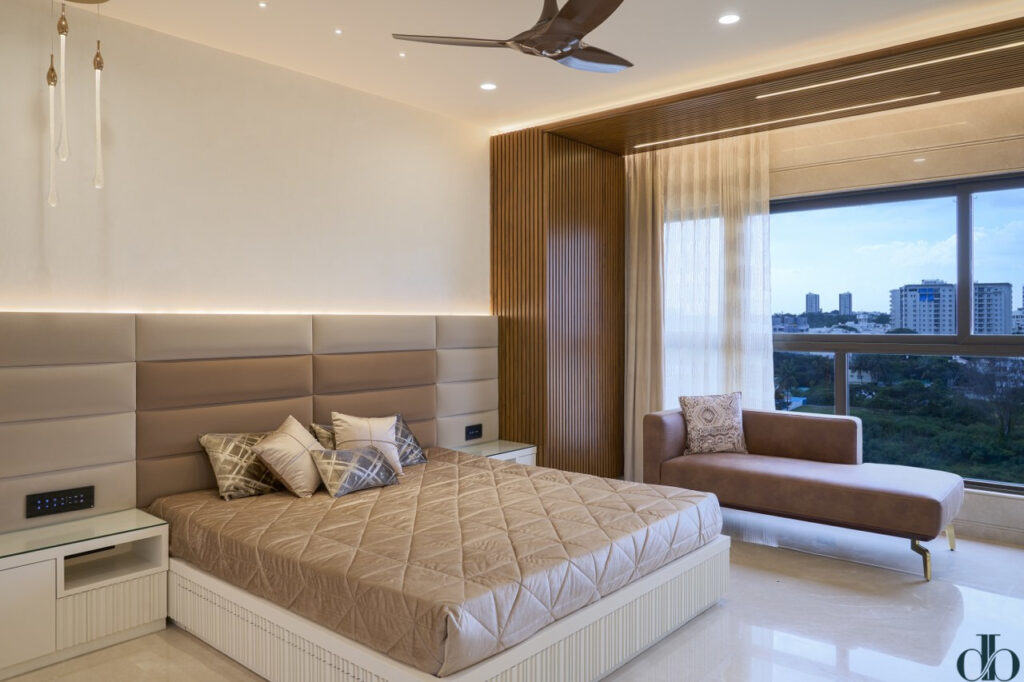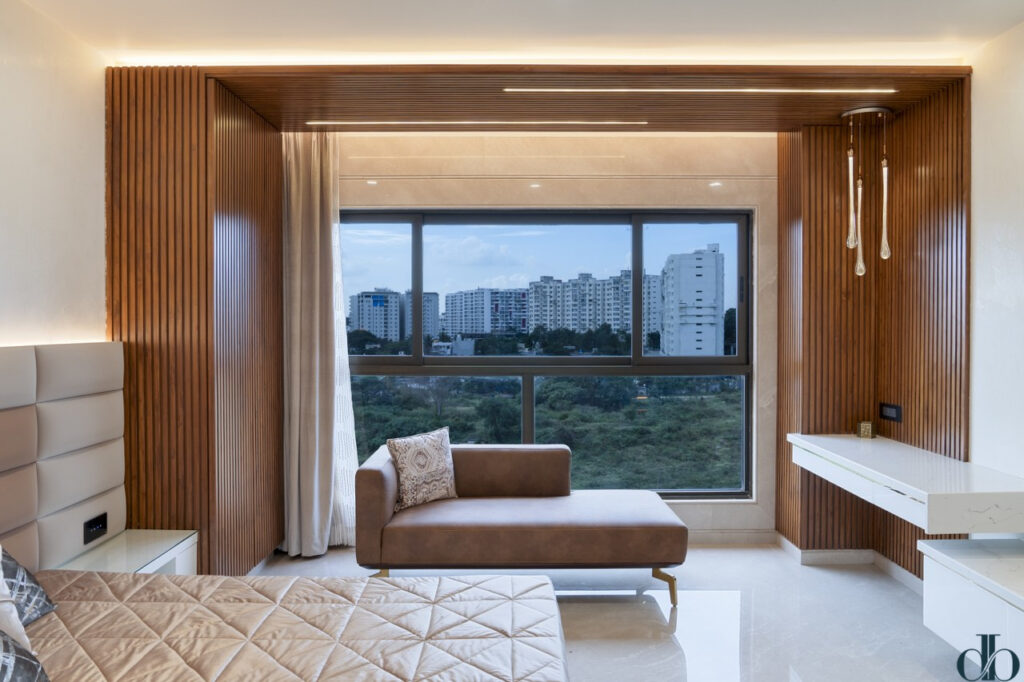 The room remains warm thanks to additions such as a fluted wooden panelling wrap up from ceiling to walls, textured wall, contemporary pendant lights, and soft furnishings.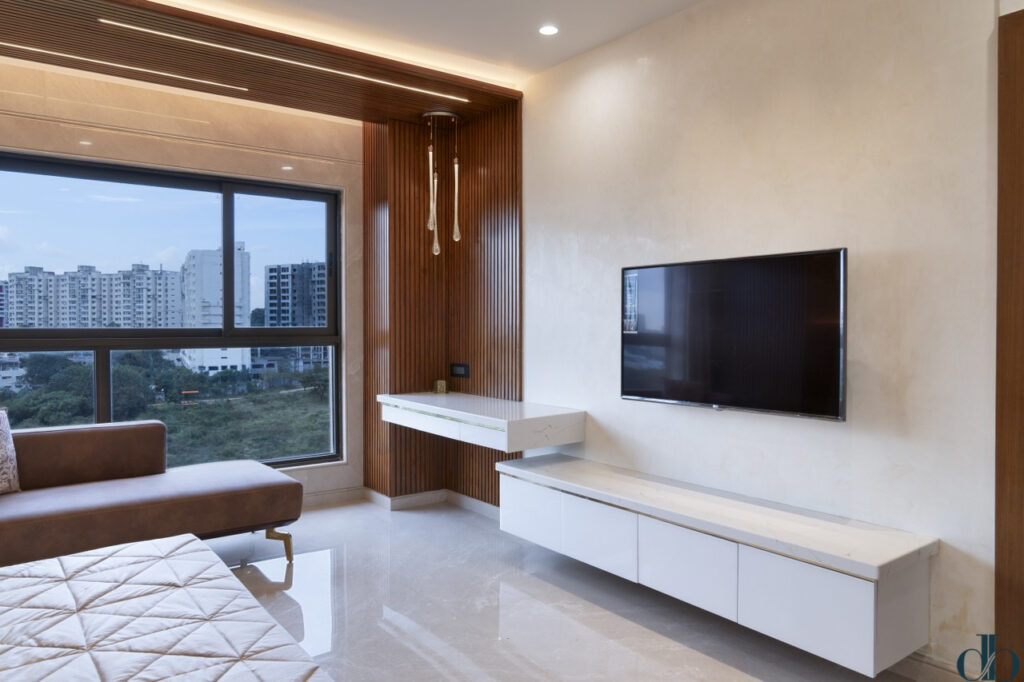 Moreover, as the client loves dressing up, the bedroom houses an elegant custom deigned walk-in closet to accommodate all her clothes and accessories.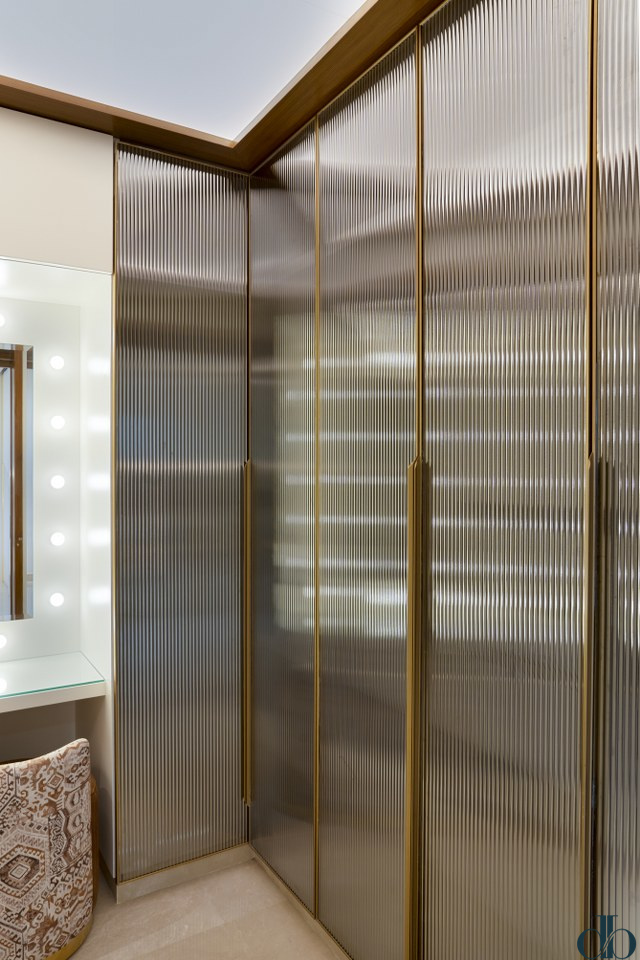 The Master bathroom features an elegant & luxury premium look. The combination of muted tones of marble panelling with custom designed brass fittings, accessories add a touch of Lux to this space.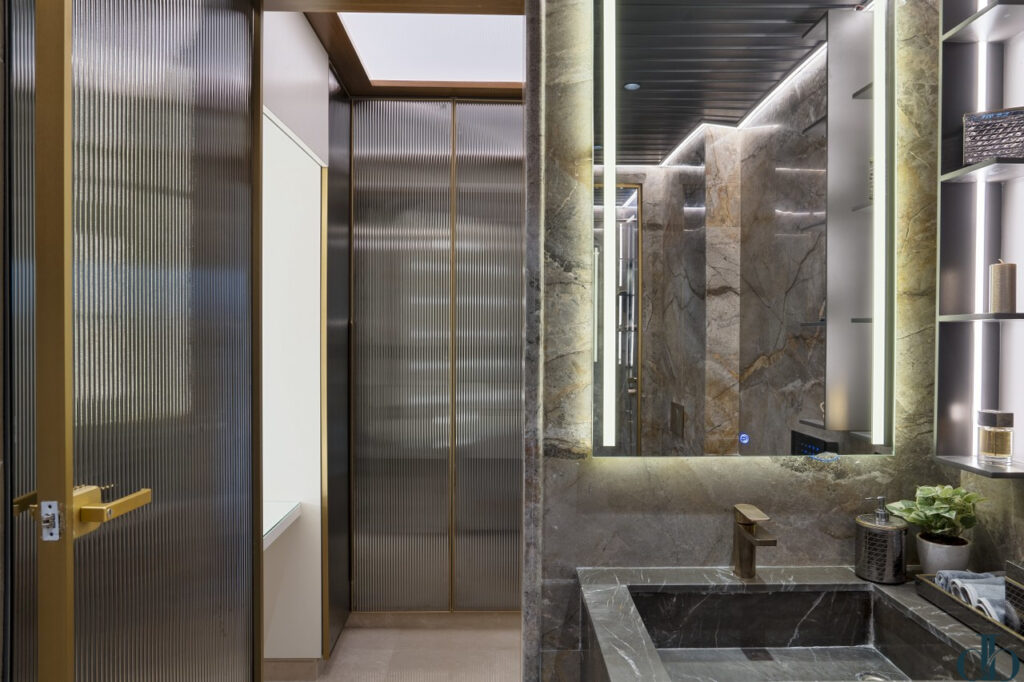 Reflects the couple's personality- grounded and effervescent. Each furniture piece takes to journey of simpler and unpretentious things. Level Of Comfort in The Space was the prime focus of this room. As they grow their requirements starts decluttering, that's just the look we tried to achieve for this room.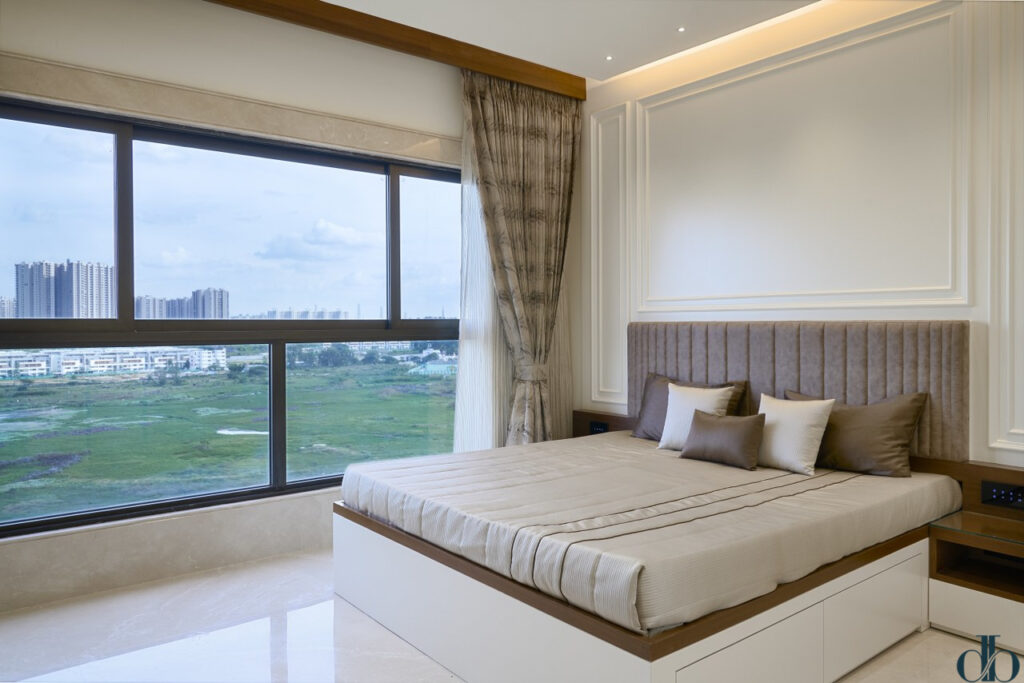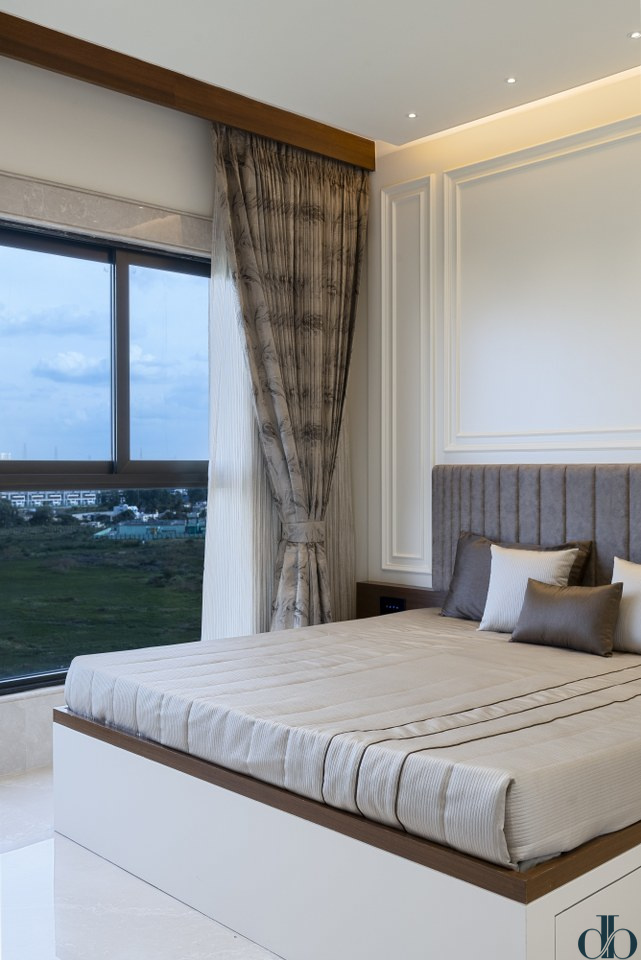 Focus more on natural lighting through large windows, bedside lights, dim night lights with two-way light switches, recessed & cove ceiling lights planned to avoid overstraining their eyes were taken care seamlessly.
This bedroom features a custom bed a beautiful wall covered panelling backlit these vertical stripes create a stylish focal point for the room. We paid attention to those small things Client Preeti is a travel enthusiast who loves the colour pink- she had many souvenirs and other memorabilia from places visited. We designed this room keeping in mind her personality, we gave a space where she could display those fridge magnets, stickers, and endless photographs that she took from every vacation. Her wardrobe also has a band of her favourite skyline in her favourite colour.
6 years twins Veer & Vidhi wanted everything what 6 years desire, at Design Boutikk we pay special attention to tiny minds. As we really believe if kids are happy then the family is happy We wanted to design this room to not be gender specific rather we wanted this room to have the ability to grow as the kids grow! White is the predominate colour with a splash of neutral colour that made this space look spacious and dynamic.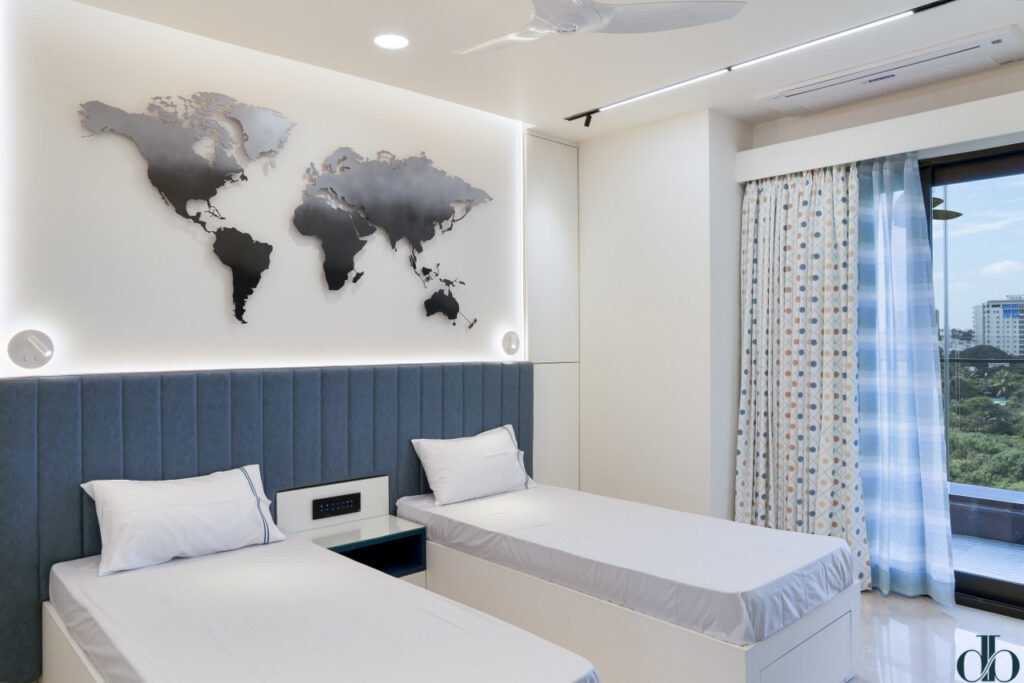 Veer loves world map, so we gave him that, a huge metal map custom made by DesignMint.net is hung on the wall. There is nothing more exciting and uplifting to wake up with a future holiday plan with the family next for Veer now.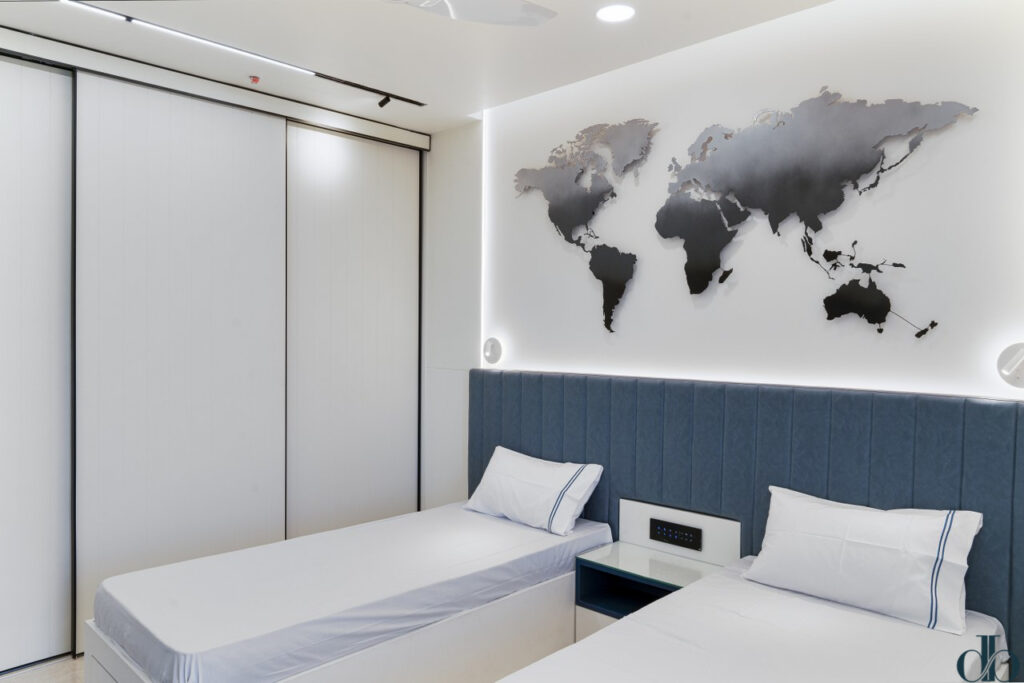 Vidhi wanted big mirror and space for dressing, although the room is compact, we were able to give Vidhi her dream dressing. The sliding wardrobe merges beautifully with all the furniture designed in the twin bedroom.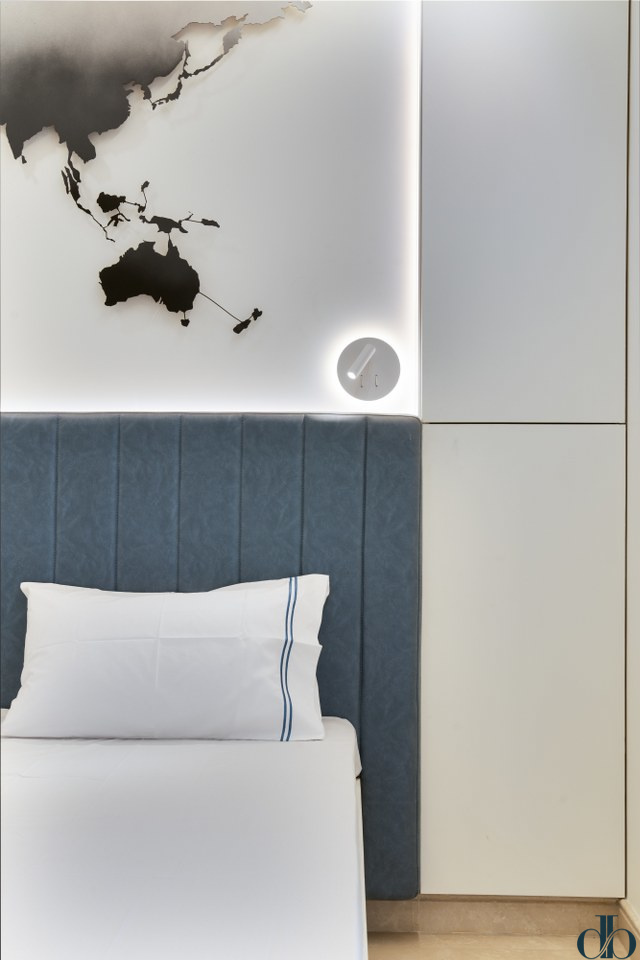 Kids balcony had lot of negative spaces & huge duct areas, Gupta smartly cleaned up the space and gave the kids good size Art pull up table with lot of storage. This balcony is brightly designed with a cute reading nook! We are told that kids absolutely love this space they spend many hours here.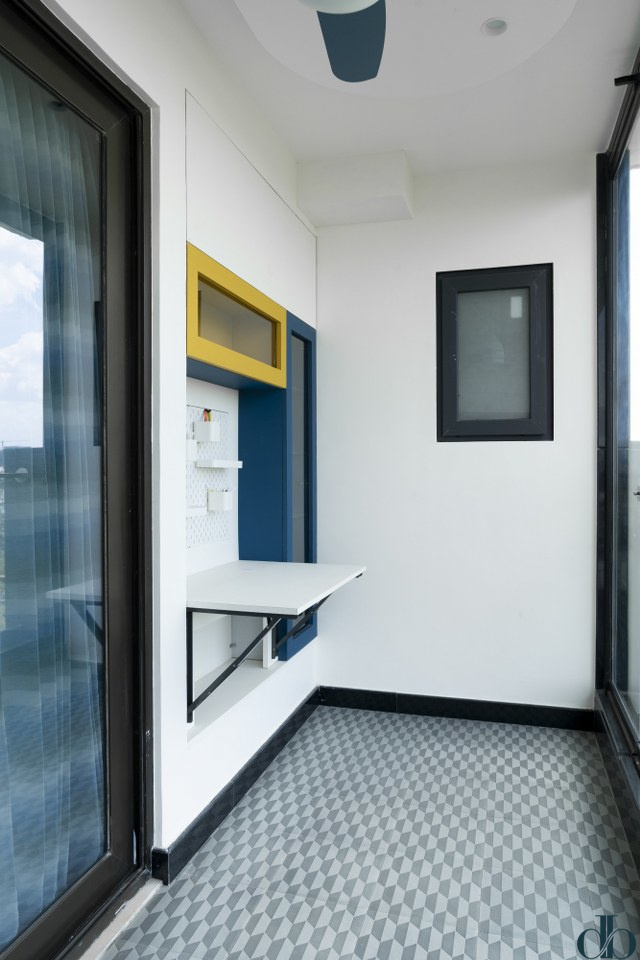 This home came with a huge balcony overlooking the most breath-taking view of Hulimavu lake. This balcony with a cosy contrast bar unit is a perfect addition to break the earthy colour palette. The beautiful outdoor furniture by Outer Space Studio makes the balcony the perfect place to hang out with friends and family.
The wall has peppy message in LED lights. The words "This is our happy place" are great reminders to be happy daily. An innovative Privacy grill with planters adds greenery to the space to make it look complete.
Finally, the live edge Bar counter overlooking the lake makes this balcony look spell bound in every way!! We are told guests love this place totally 😊
This modern master bathroom is all about style and storage. A mix of in-built organisers and drawers, custom-made tower rack with shelf & the use of silver marble adds a touch of luxury to this space along with functional element. A floating vanity with drawers, A shower area with a glass partition with gold profile, A tall custom-made shelf with built in light adds a touch of drama. Shower niches to store personal care essentials with built in light.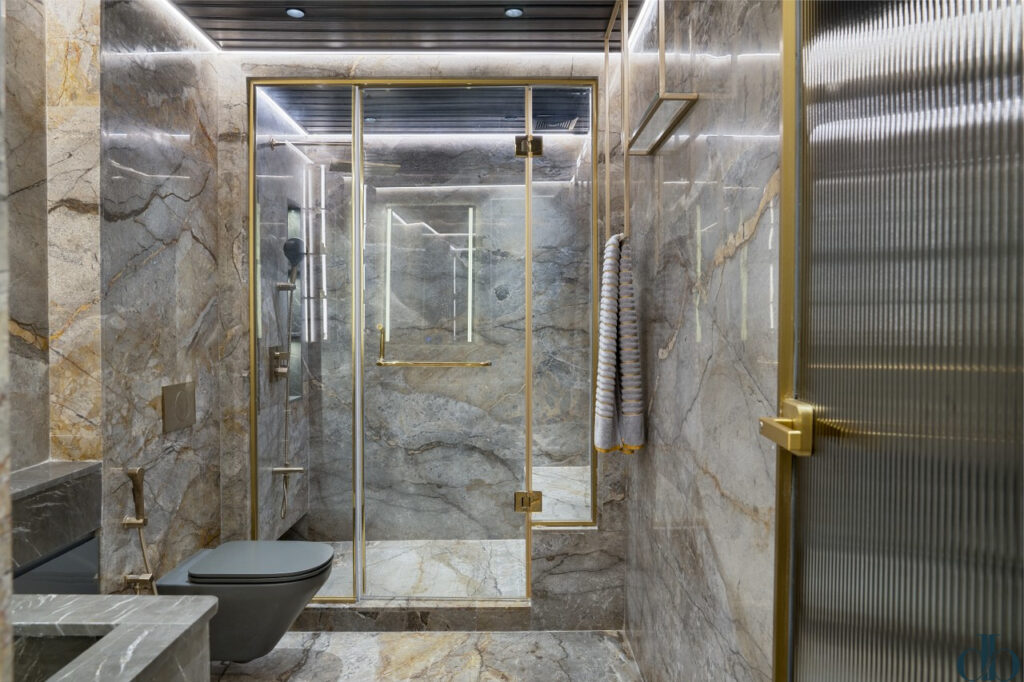 Tall mirror makes the whole space looks larger and prettier. At the end this home reflects the style of every member living here and caters to everyone needs and style A beautiful journey from walls to home!!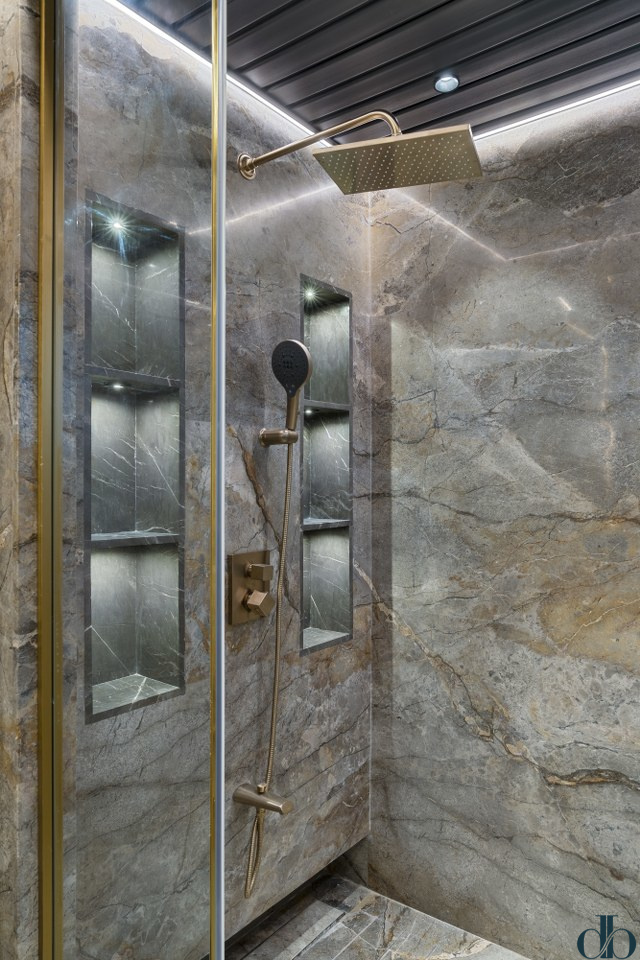 FACT FILE

Designed by : Design Boutikk
Project Type : Residential Interior
Project Name : Anuja & Rohit
Location : Hulimavu Lake, Bannerghatta, Bangalore
Year Built : 2022
Duration of the project : 12 months
Built-up Area : 2800 Sq.ft
Project Size : 3300 Sq.ft
Principal Designer : Rinkoo Gupta
Carpenters – Akshay & Team
Painters – Rams team
Photograph Courtesy : Anushree Bhatter
Products / Materials / Vendors : Finishes – Polycoat, Veneer, Deco, Textured wall, Polymer shutters / Lighting – Aditya Lamps, White Teak lighting / Doors and Partitions – Custom-made / Sanitaryware – Kohler / Windows – Orion / Furniture – Home story, Outerspacepatio / Flooring – Custom designed Italian marble- Moon Crema / Kitchen – Custom-made / Paint – Asian paints / Hardware – Blum, Hafele.
Firm's Instagram Link : Design Boutikk
Firm's Facebook Link : Design Boutikk
For Similar Projects >> AN ELEGANTLY STYLED APARTMENT DESIGN FOR A FAMILY OF EIGHT