4 Bhk Apartment That Combines Lifestyle With Tranquilizing Aesthetics | Nspire Architects
Designed for a family of 6 members this 4 Bhk residence is a contemporary apartment that combines their lifestyle with tranquilizing Aesthetics. For Nspire Architects this project has been a great exercise in establishing a design concept as per their client's intervention and following it through to create suitable Aesthetics. Our intention was to create a design that can be relevant and can be timeless.
Visit: Nspire Architects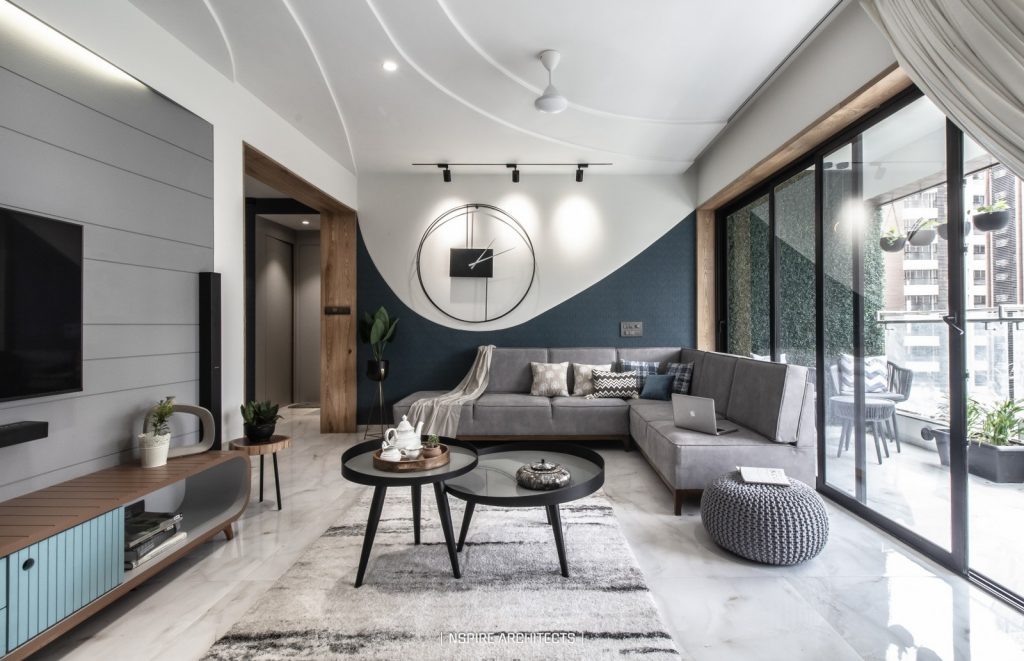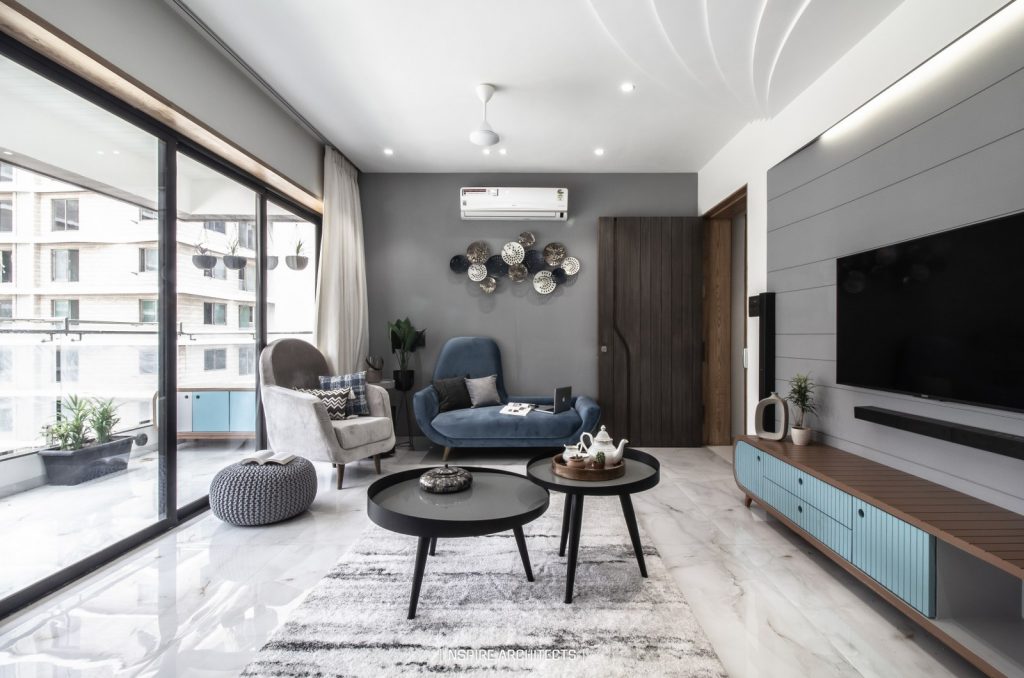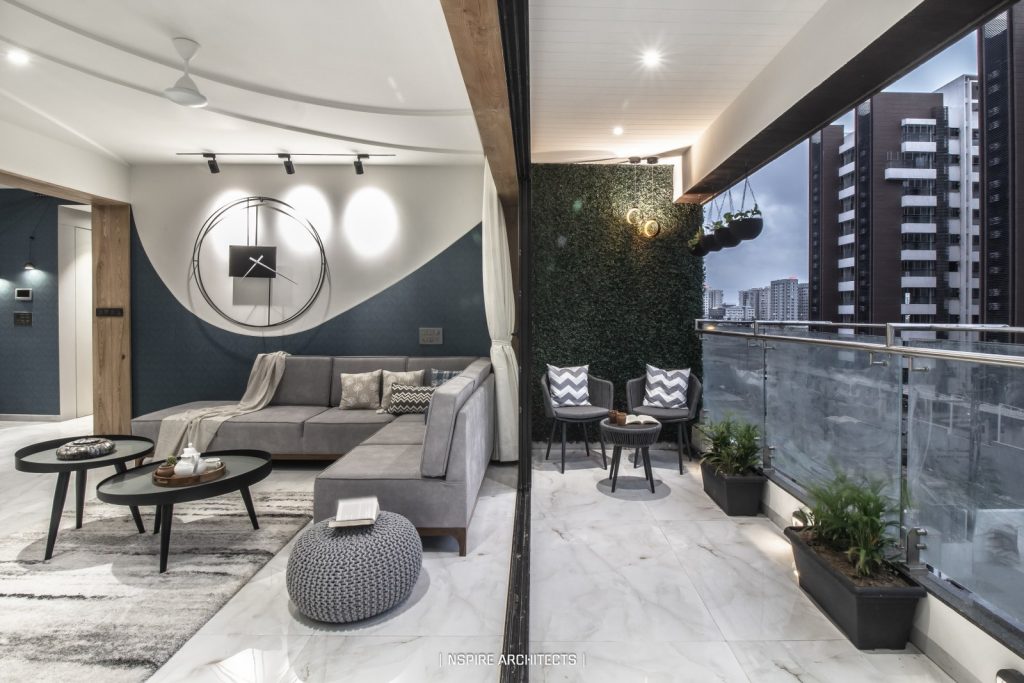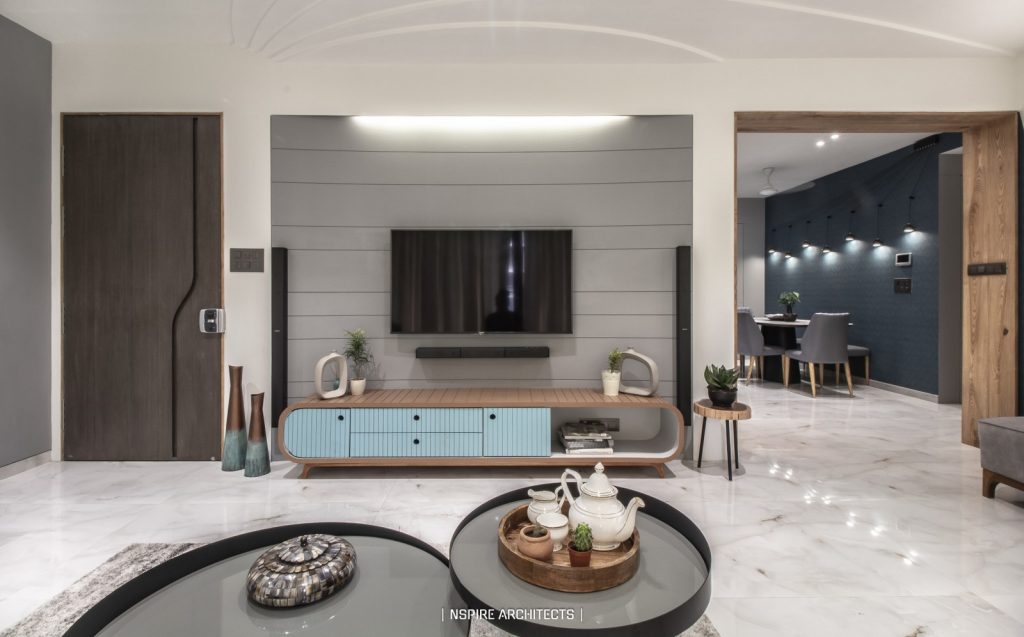 Scandinavian aesthetics are defined by the simplicity of forms and importance to functionality with a clean, bold fuss-free design Semantic. The focus was to make the space comfortable for family gatherings lifestyle, with relatives and friends dropping in. The idea in Master Bedroom was to make the tight space look spacious and open by employing parametric curves in the bed, ceiling, and Sitting which ends up in dressing.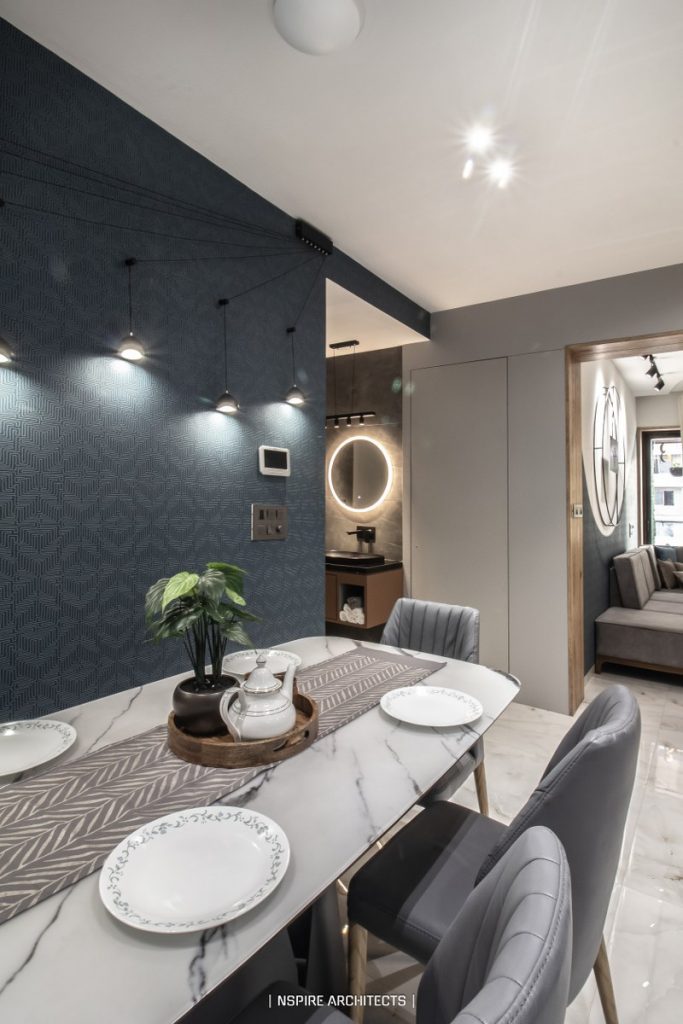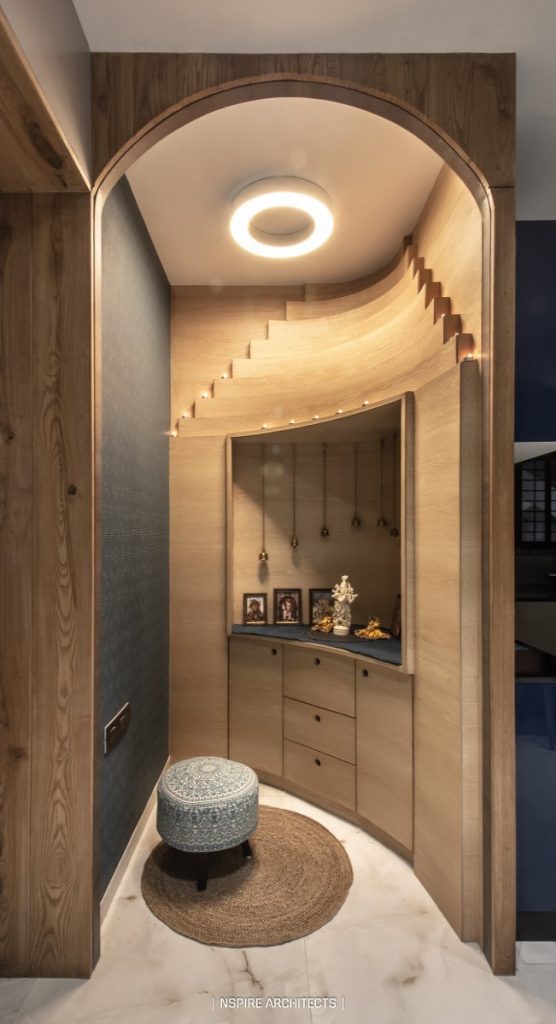 A uniform colour palette was used to make the house a calming space where members feel relaxed and at ease. The colour palette associated with Scandinavian style includes hues of white, grey, browns and blacks. White coloured ceiling and flooring runs through the house tying the space together.
Materials like White oak wood, pastel colours as greens, and yellows have been added in the furnishings and art work while the teal blue is the highlight colour which appears in the wallpaper. The huge scale clock was introduced as the sculpture and the product was designed and fabricated as the direction point with a curve in living space.The soft directional curves in the ceiling were designed to lead direction towards dining and balcony.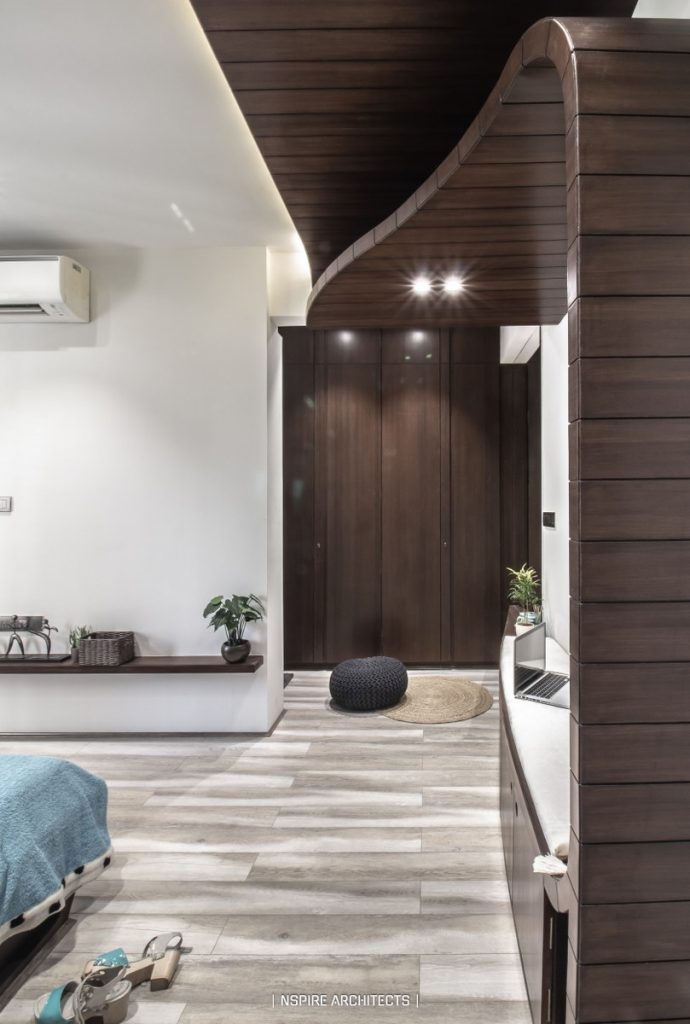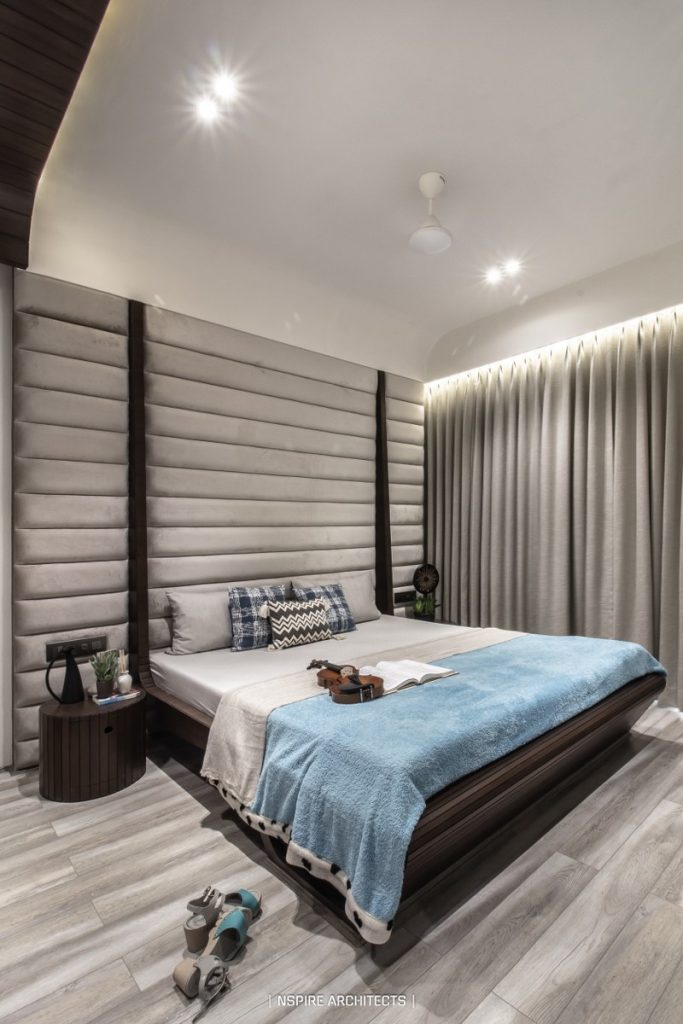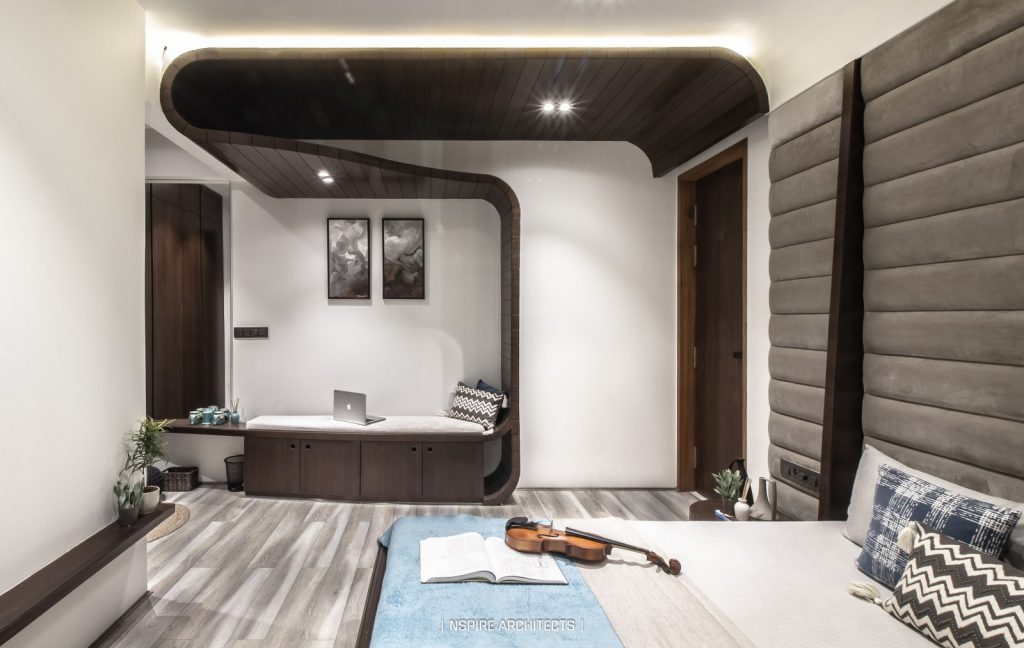 A beautiful white composite marble dining with polished wooden chairs was placed in front of the teal blue wallpaper with a pattern of pendant light to create a balance in that space. Our efforts were to make the design detail-oriented. The pastel palette used throughout the space keeps it subtle and tasteful.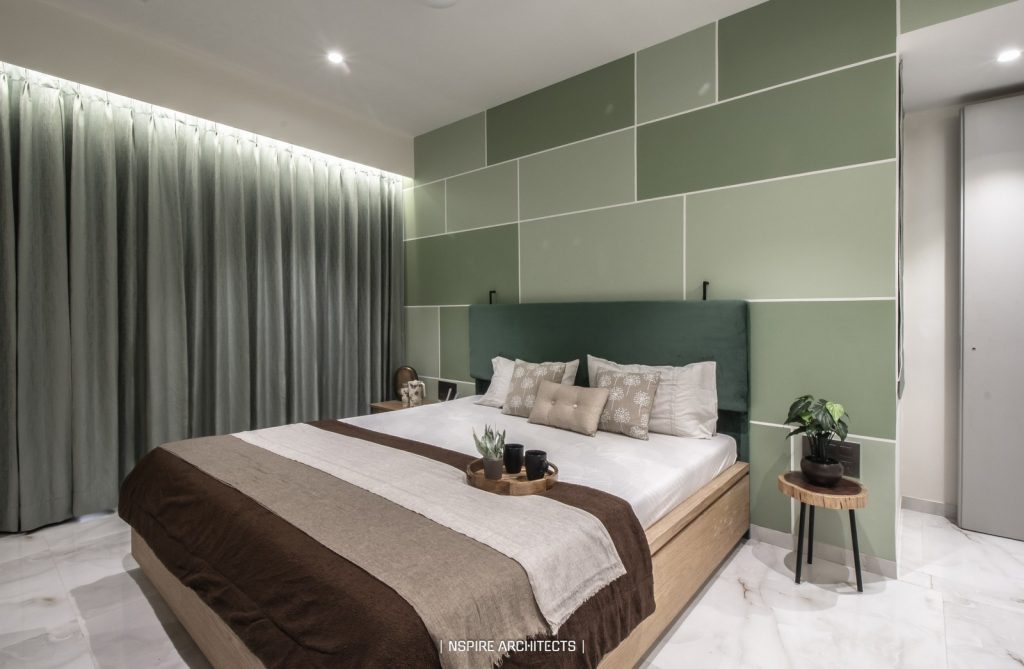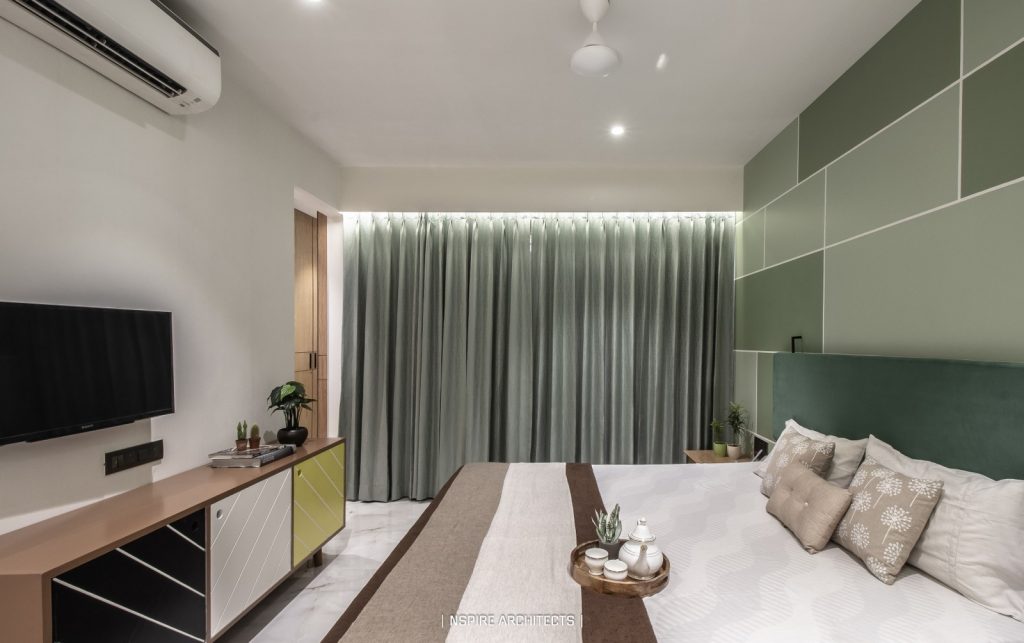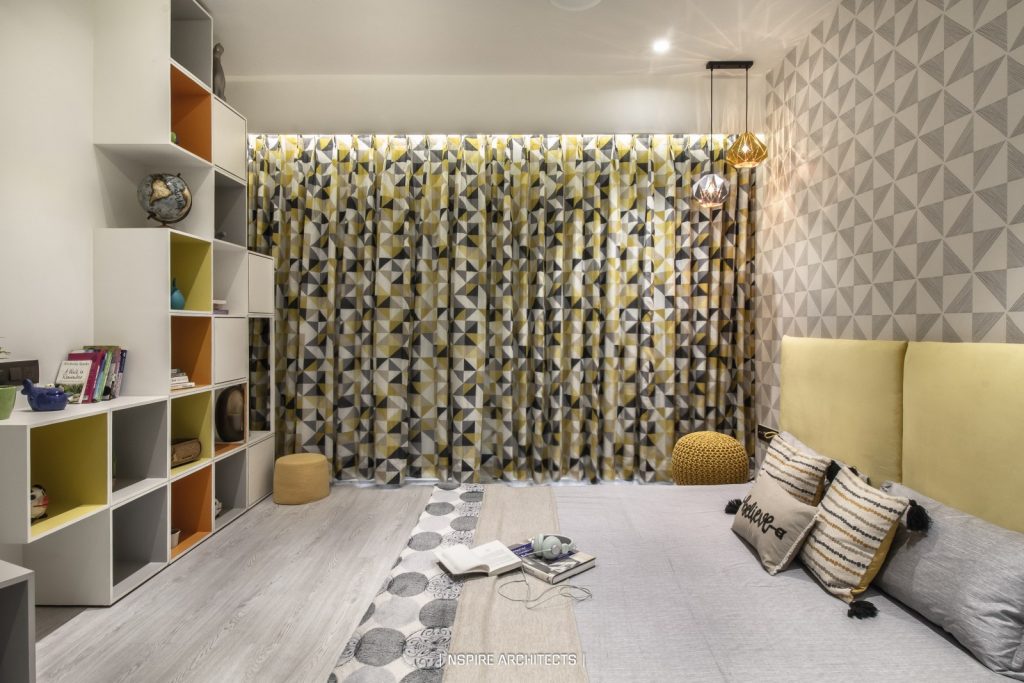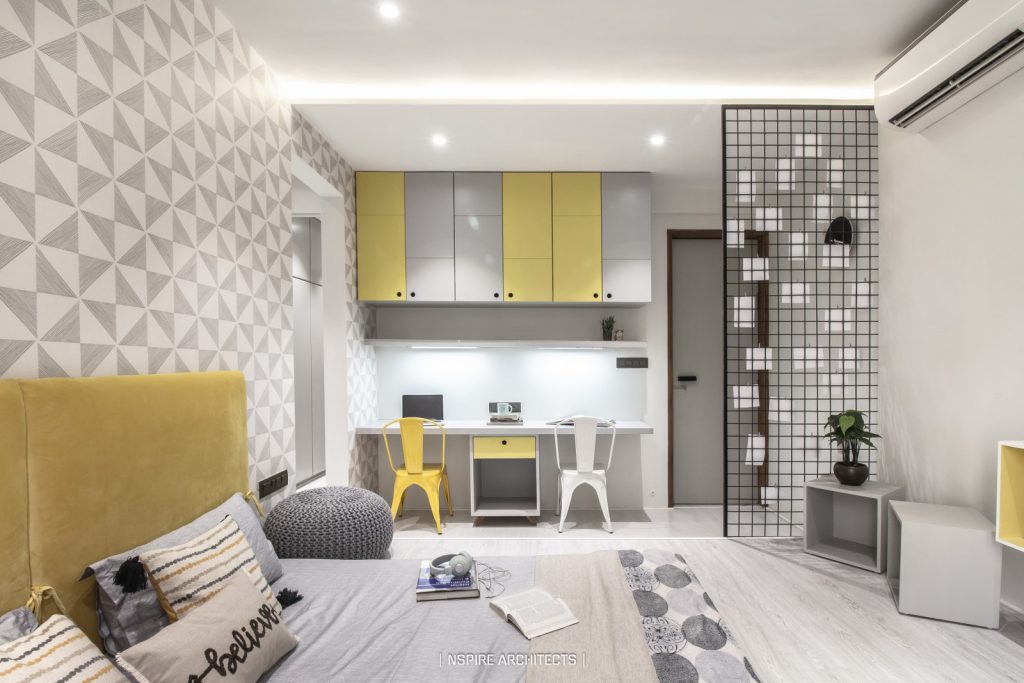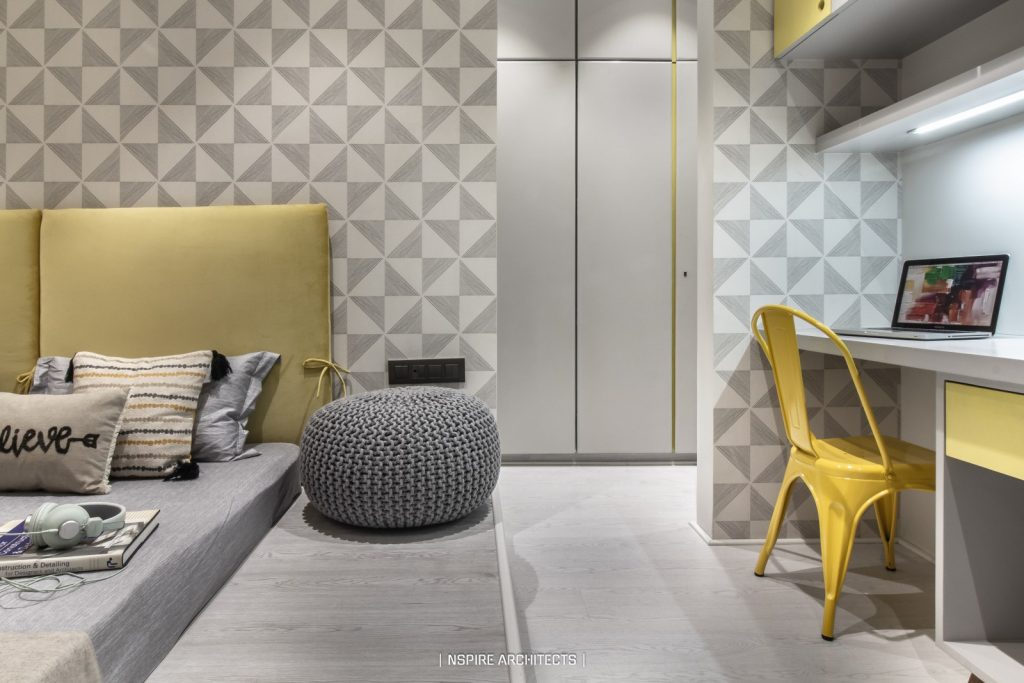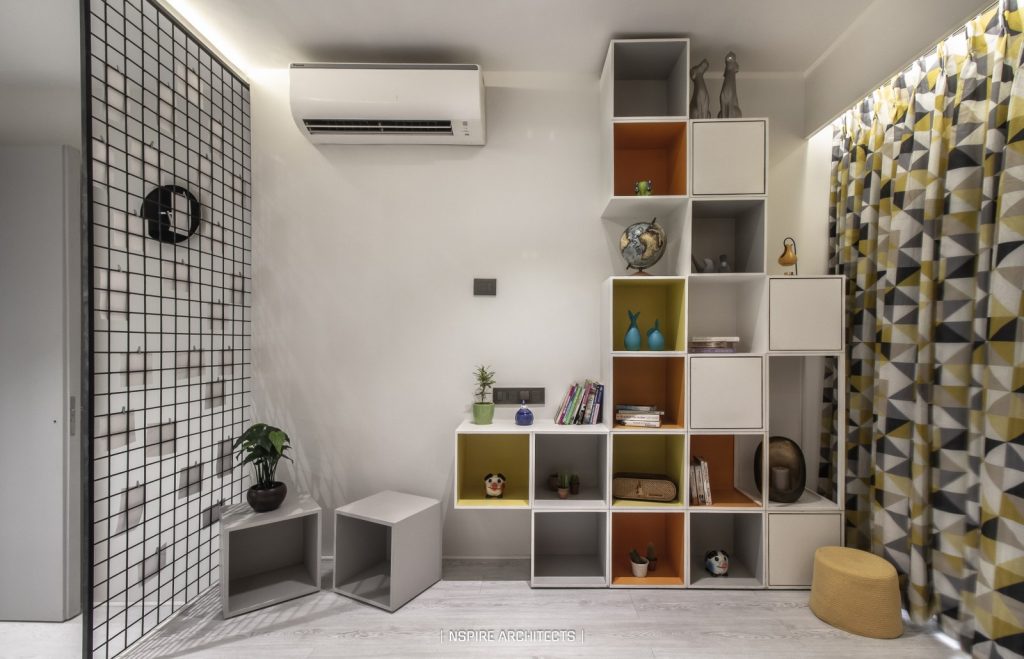 An ample amount of light was provided to flow through and reflect, Artificial light has been integrated using modern elements like geometric pendant lights and wall Pendant lights. Some of the geometric patterns were used in a way to give interiors a clean and fuss-free look which one will not grow tired of.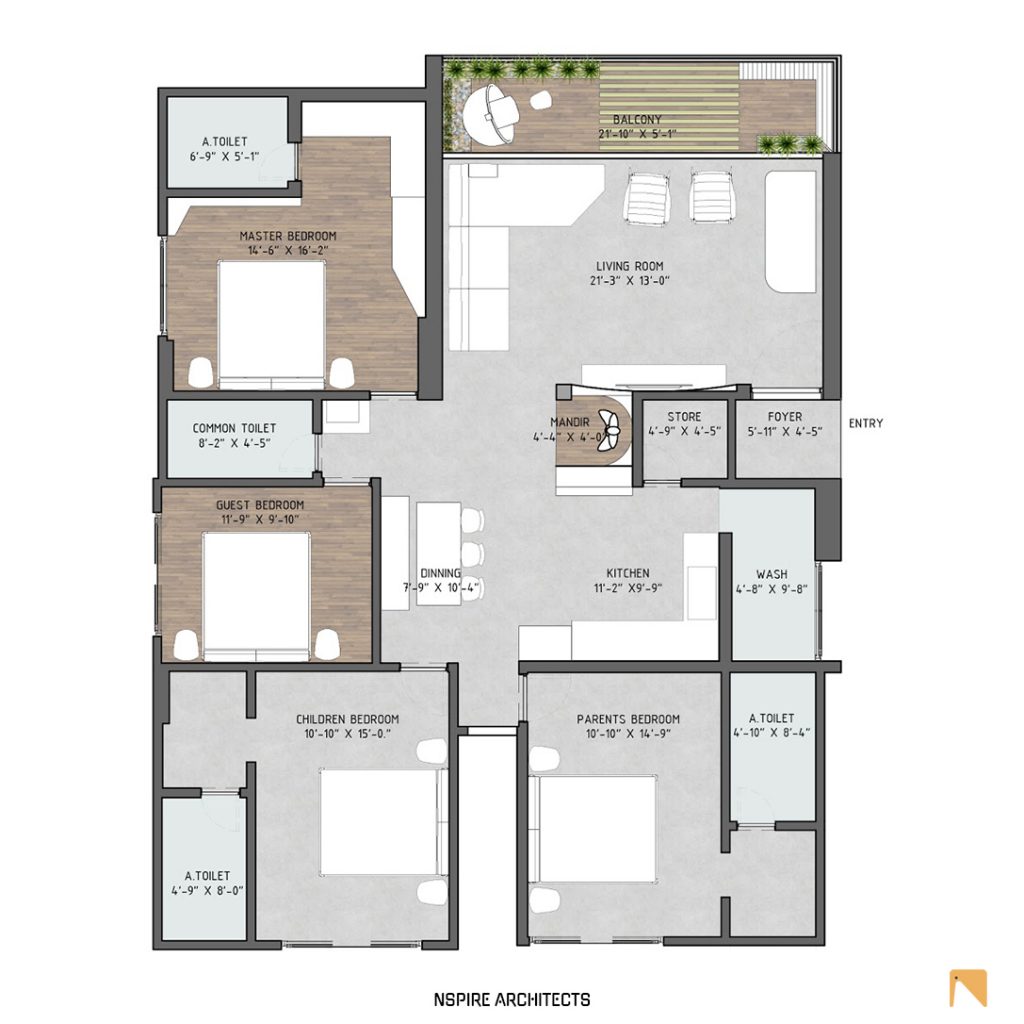 FACT FILE:
Designed By- Nspire Architects
Project- 4 Bhk Residencial Apartment
Client- Mr. Ritesh Kejriwal
Area- 1800 Sqft
Designer- Nihar Thakkar & Nupur Juneja
Location: Vesu, Surat
Photography- ArchiGraphIndia – Parth Khatri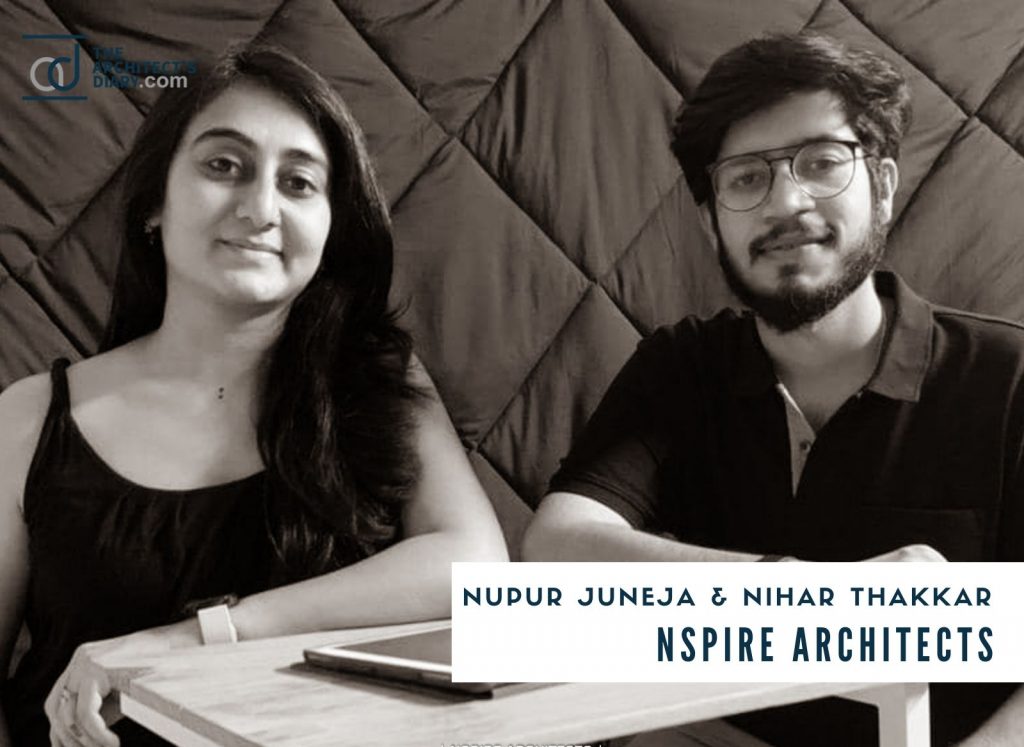 Website: http://www.nspirearchitects.com/
Instagram: https://www.instagram.com/nspire_architects/