Workspace Interiors – Simple And Effective| De: Tales
The Key to great design is capturing the spirit of the client and the essence of space.
Design direction of this commercial space was equally determined by the Clients' taste, preferences and personalities. Lab Medica Systems Pvt Ltd, the firm has introduced world's latest and state of the art ophthalmic technologies within the ophthalmic community all over India. One of the owner of the company was clear about what he sought from his workplace: to retain the tradition and natural portray setting "The Patang" as a focal point.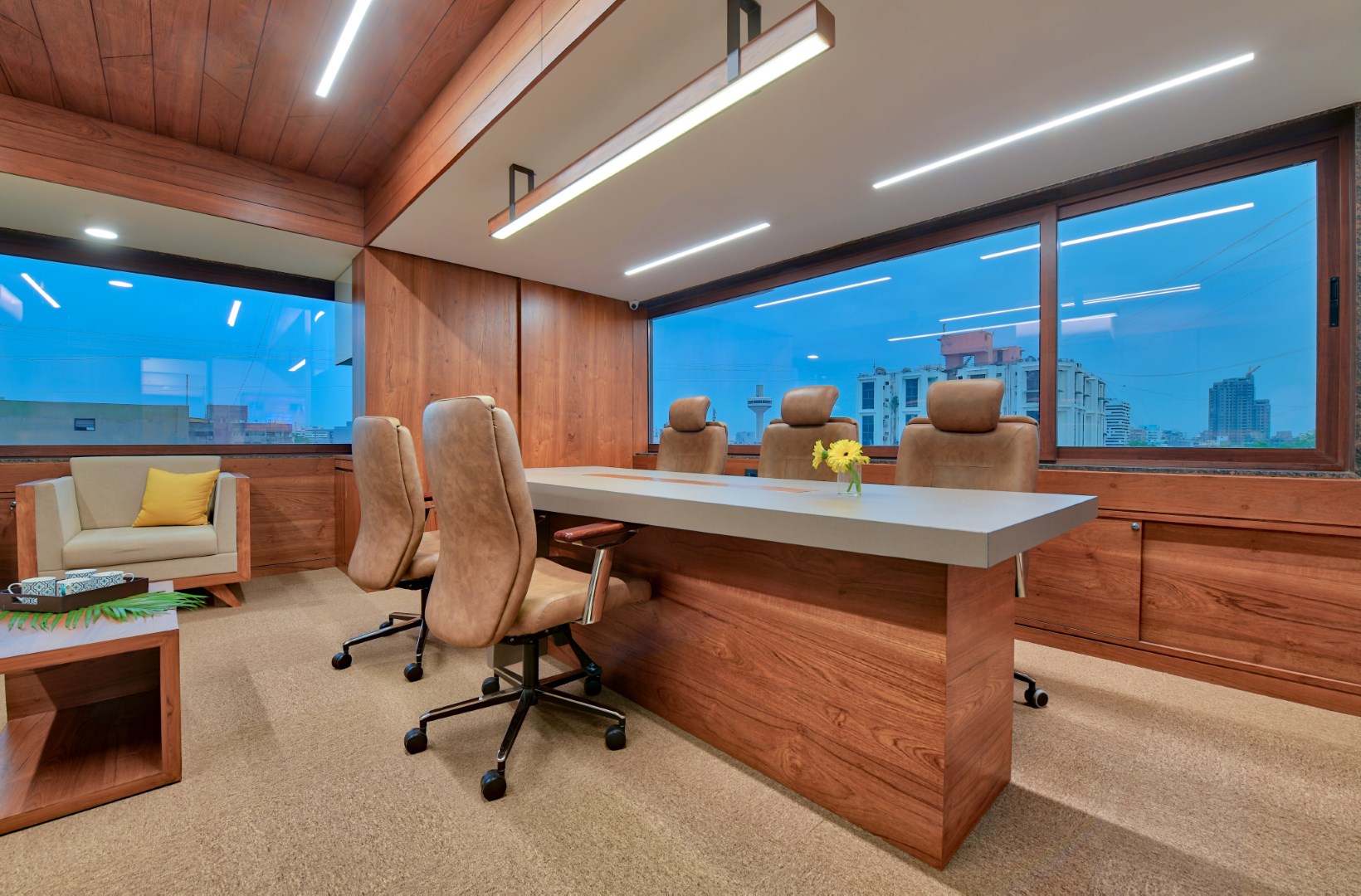 Initially there were three different offices for three different partners which were to be transformed into one attractive head office. Designer viewed this 1150 Sq.ft. of the space as a canvas and sketched out zoning of areas like MD Cabin to the extreme corner with view . One of the partner takes care of servicing of the machines so kept service cabin near to Md Cabin for quick communications with servicing staff.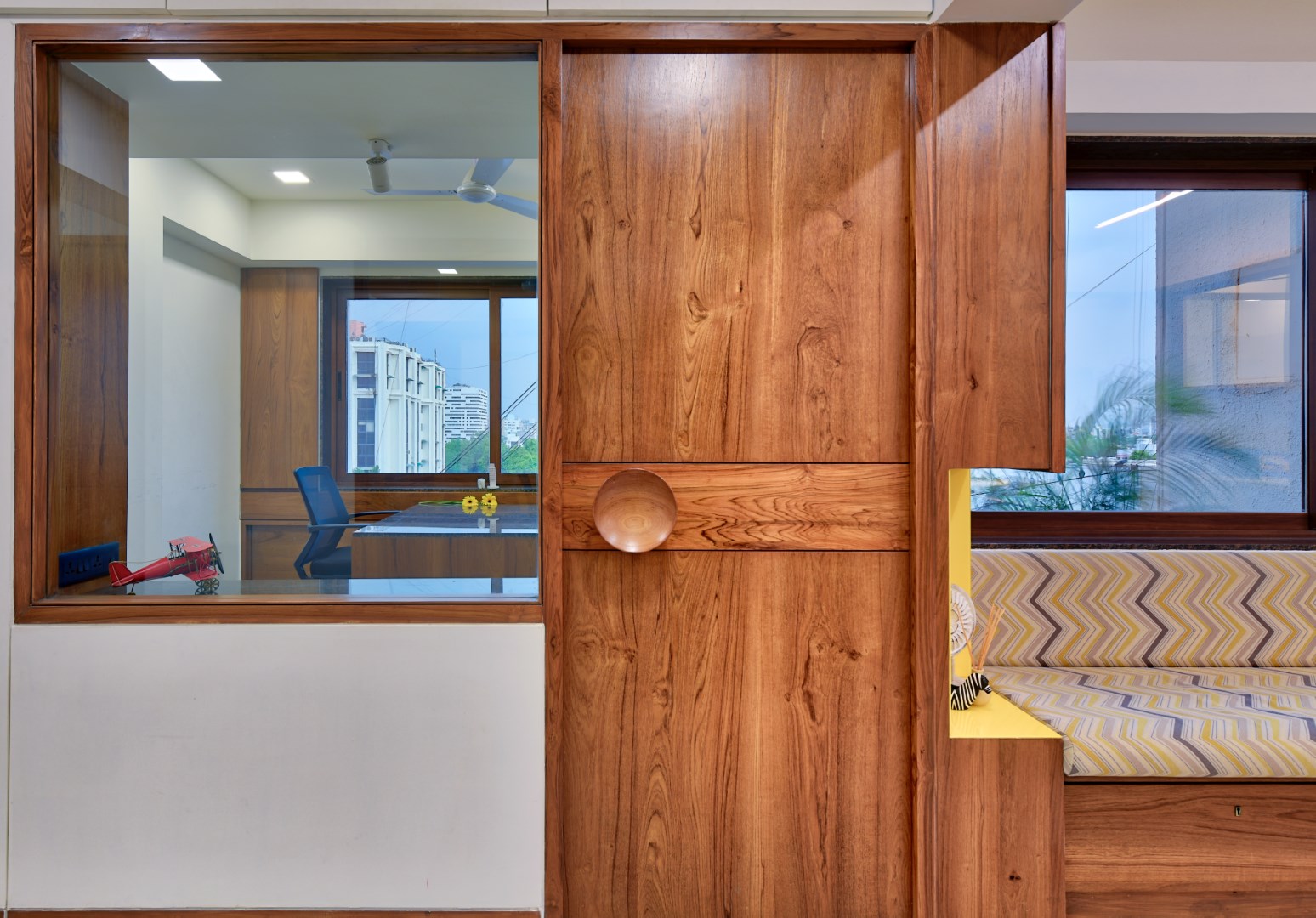 Reception, the main entrance and waiting lounge is kept in the centre of the whole space to divide public and private zones. The workstations for the staff and Accountant are set close to the Demo Cabin, but separated by a glass partition.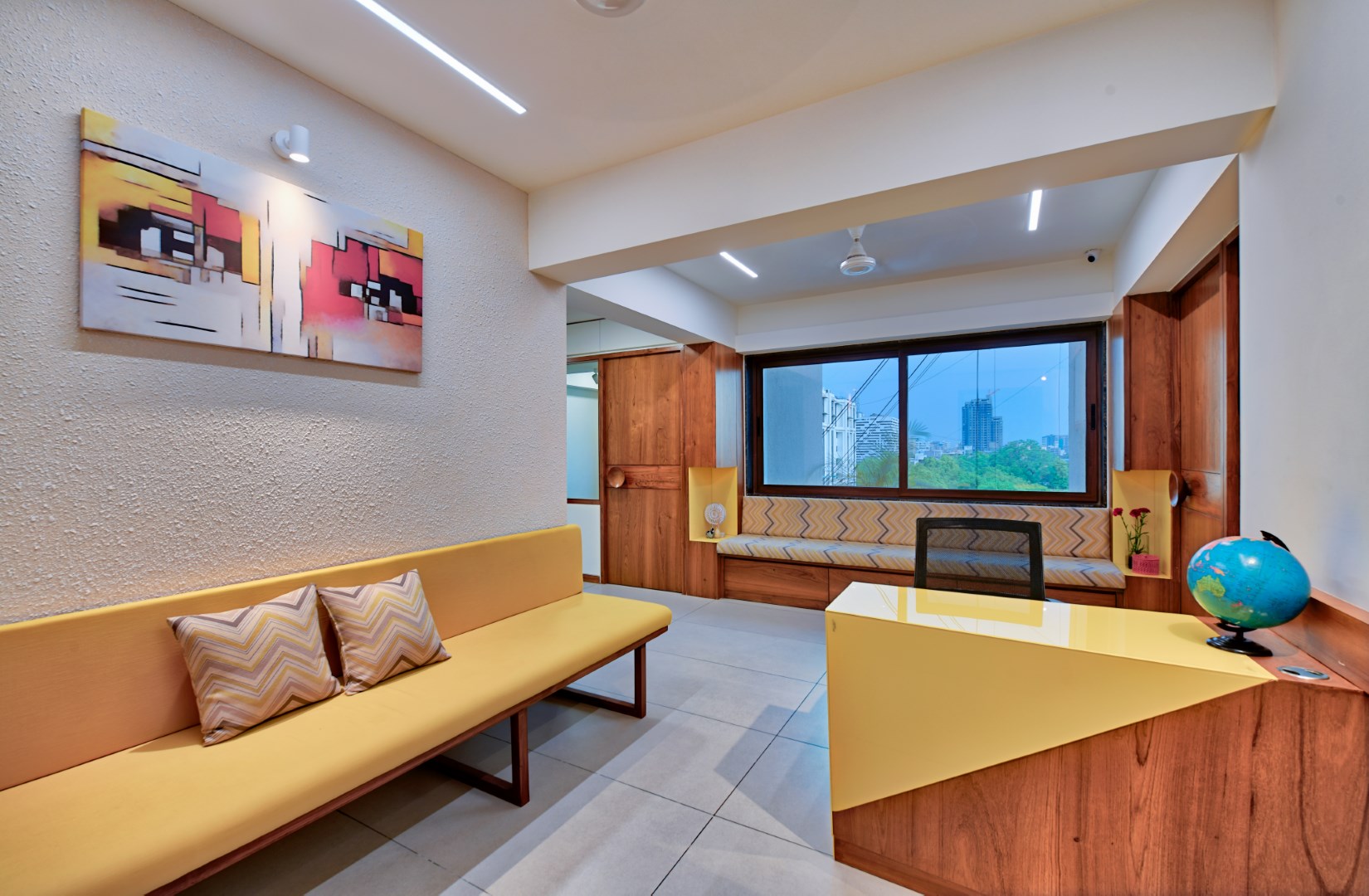 So staff always have keen eye on the visitor who all are having Demo of products. A pantry is located such that it allows common access from the staff and service area with one wall painted yellow and brightened by an abstract painting.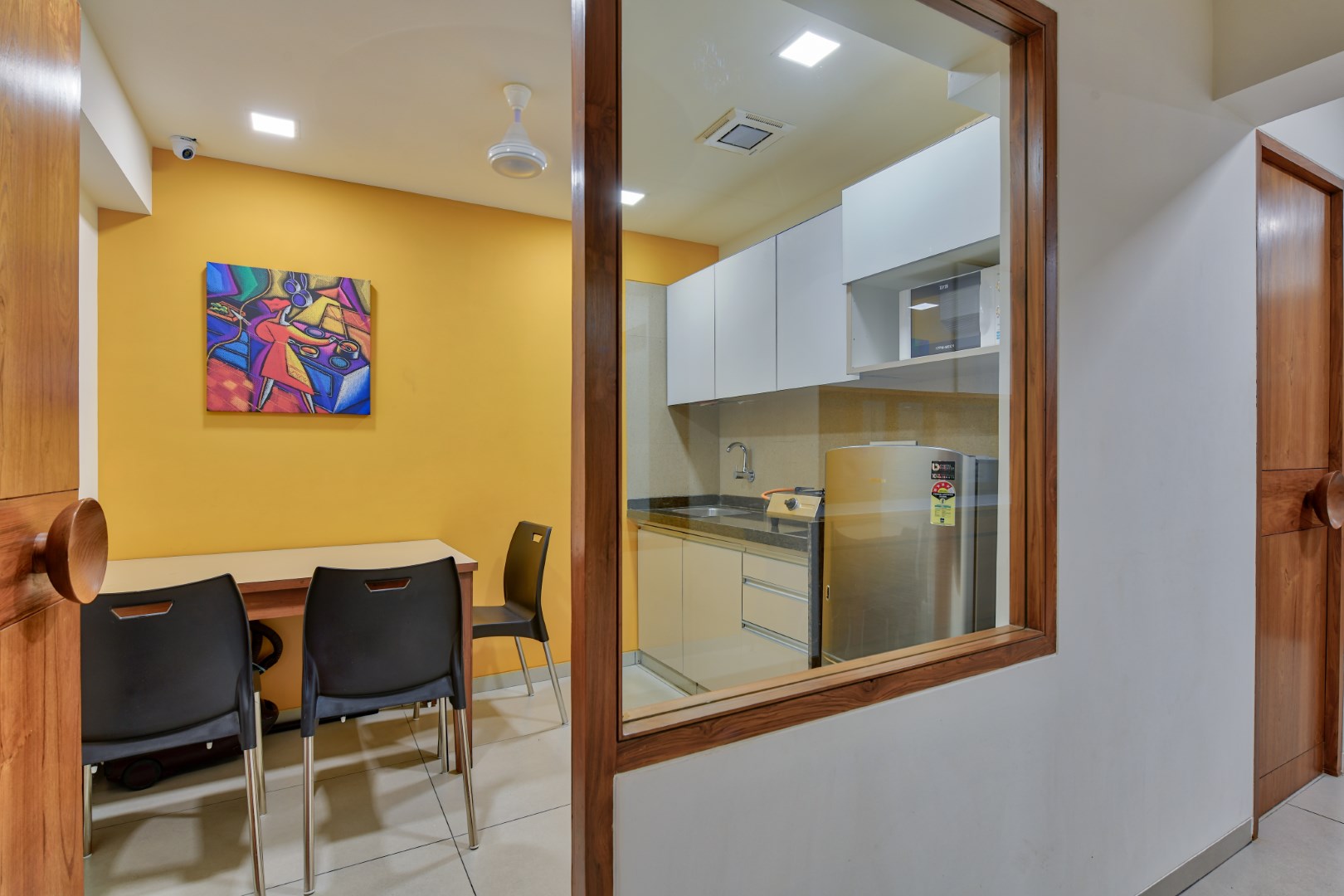 The designer's main emphasis is to get more natural light and ventilation in all the cabins and corridors of the office so the space planning was done accordingly and all the area are getting well lighted by natural light. In addition to this, lighting design also plays a major role in commercial spaces.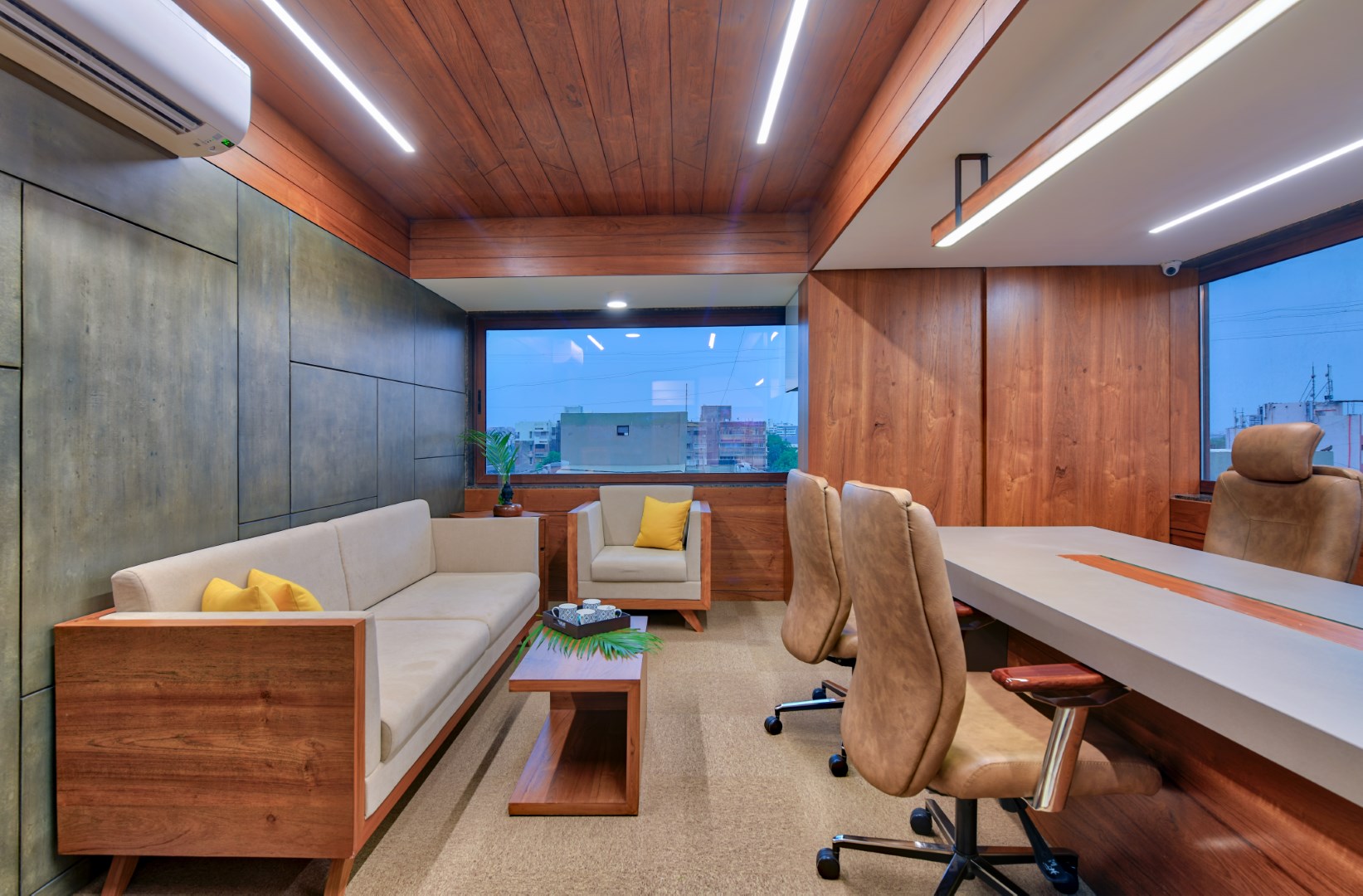 An interesting aspect of the lighting design of the office is that it offers three different colours from yellow to near natural and finally bright white light which is achieved through seamless concealed led panels with white light for working areas, sleek long linea profile lights are spreading natural light in reception area and MD Cabin. Yellow lighting is highlighting paintings through spot lights on wall fixtures.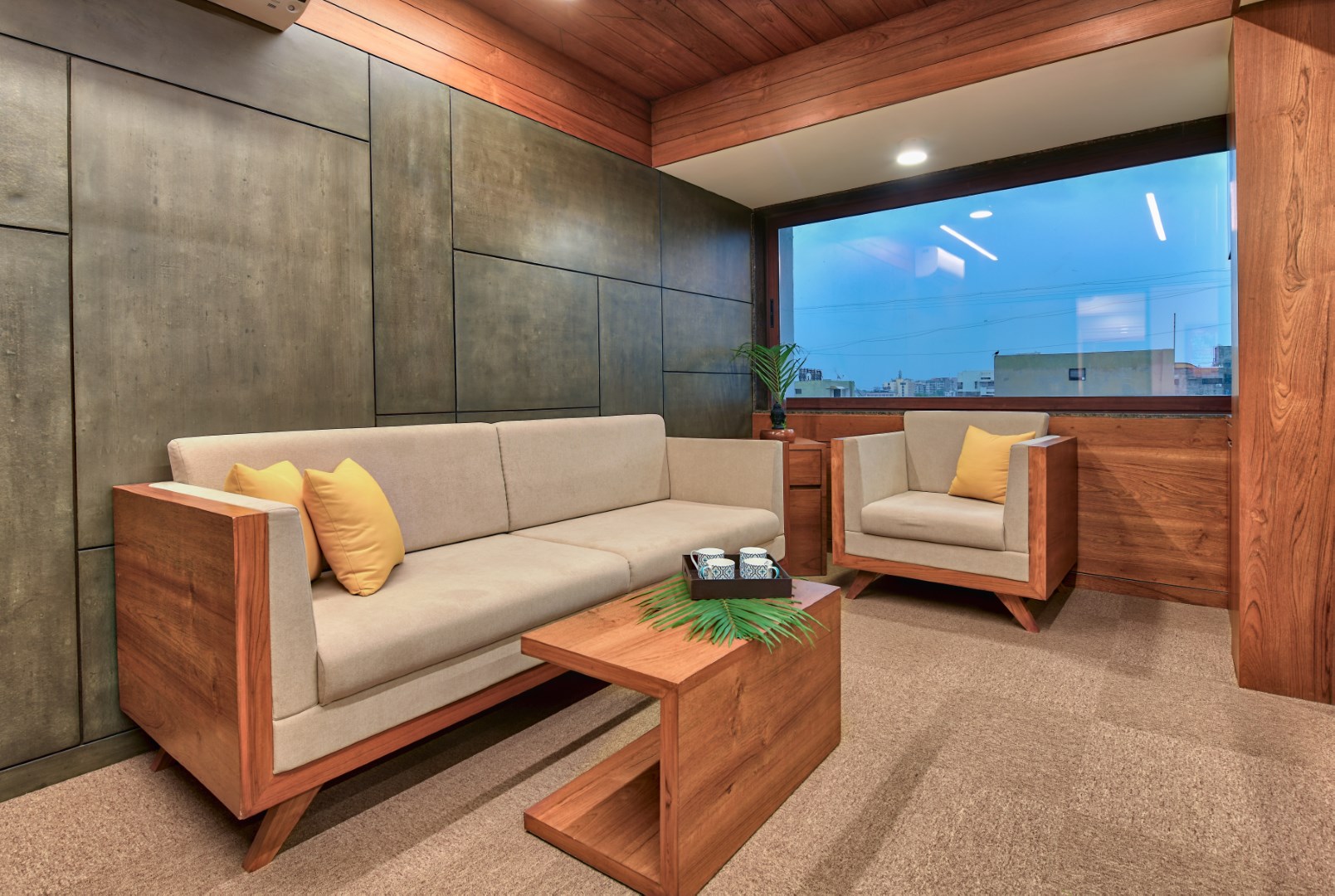 Designer's main concept was to create an eye soothing, simple and effective workspace with flawless approach which was attained through matt vitrified tiles in the shade of grey which is playing a shuttle role in bringing up the concept. Only the MD cabin flooring is furnished with carpet tile giving a look of enrichment and sophistication.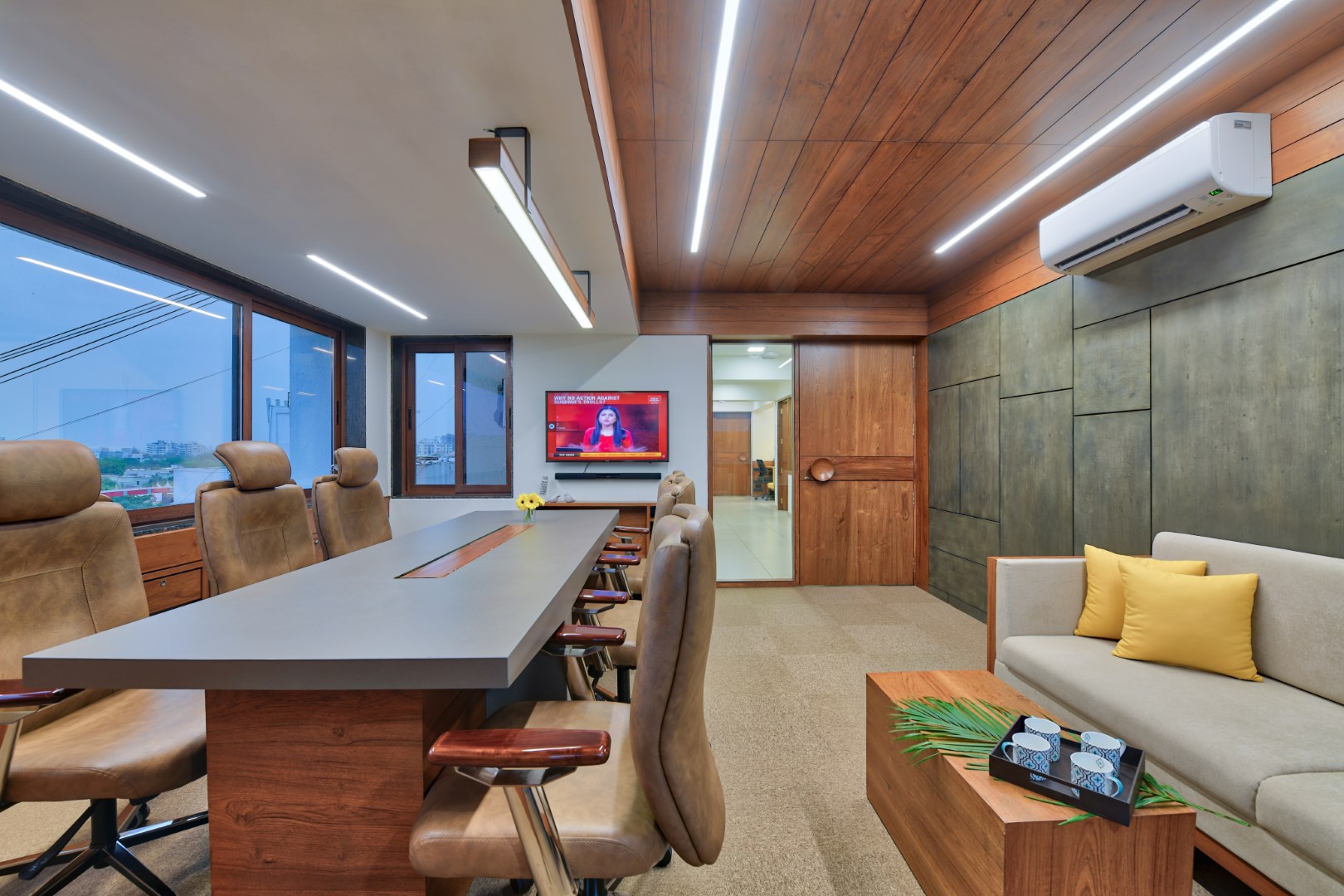 Ms. Shah chose an unostentatious and demur materials and colour palette which refers to the simple and humble personality of the owners. Timber and veneer, Cement sheet neolith and back painted glasses are teamed with  pastels and beige soft furnishing and also making sure the yellow colour would twinge of scintillation.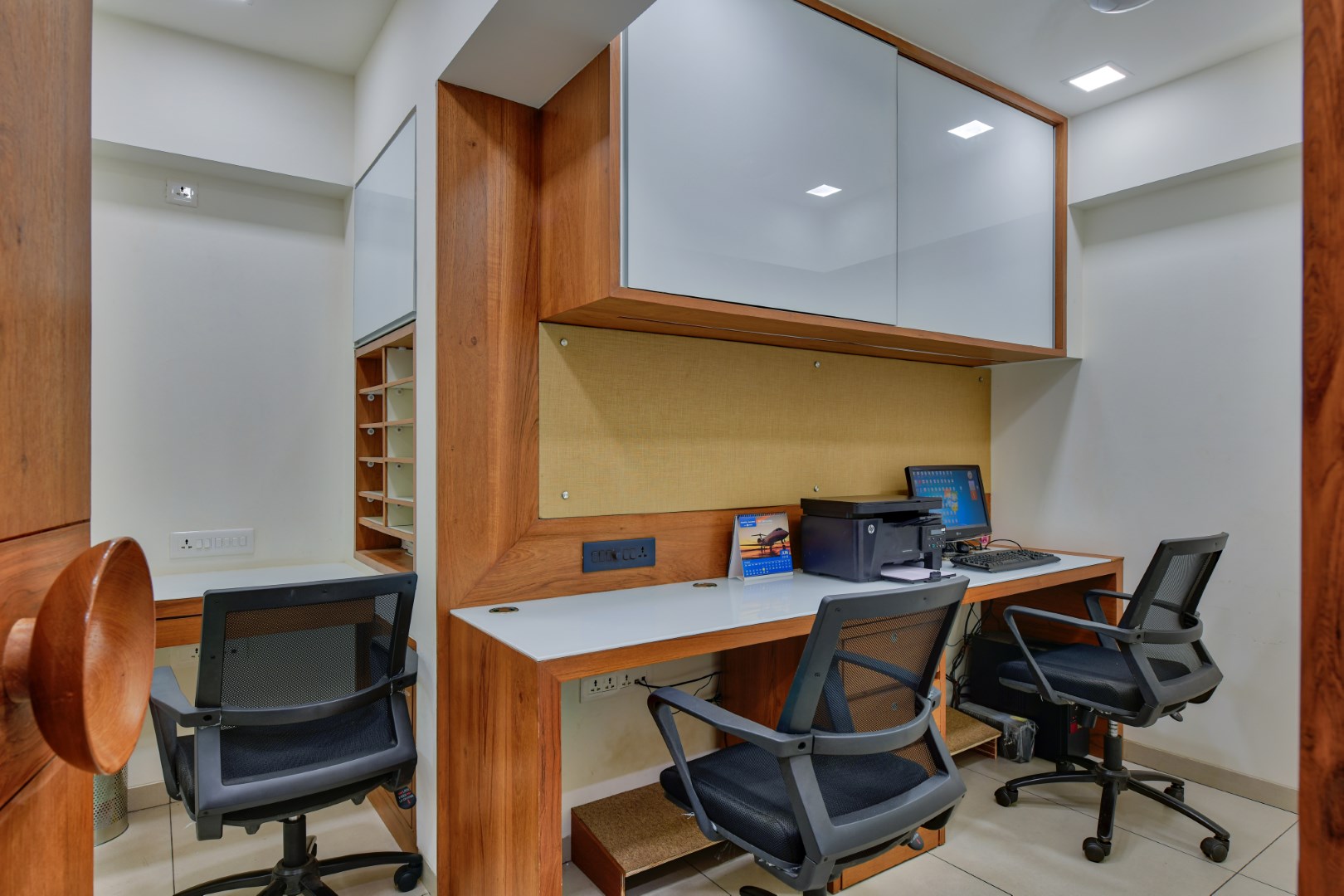 Staffs are assets for every firm, confronting their comfort, white back painted glass is used on table tops to get reflected light and making area coruscate. To have enchanting outlook cement sheets are used in wall cladding of entrance and MD Cabin.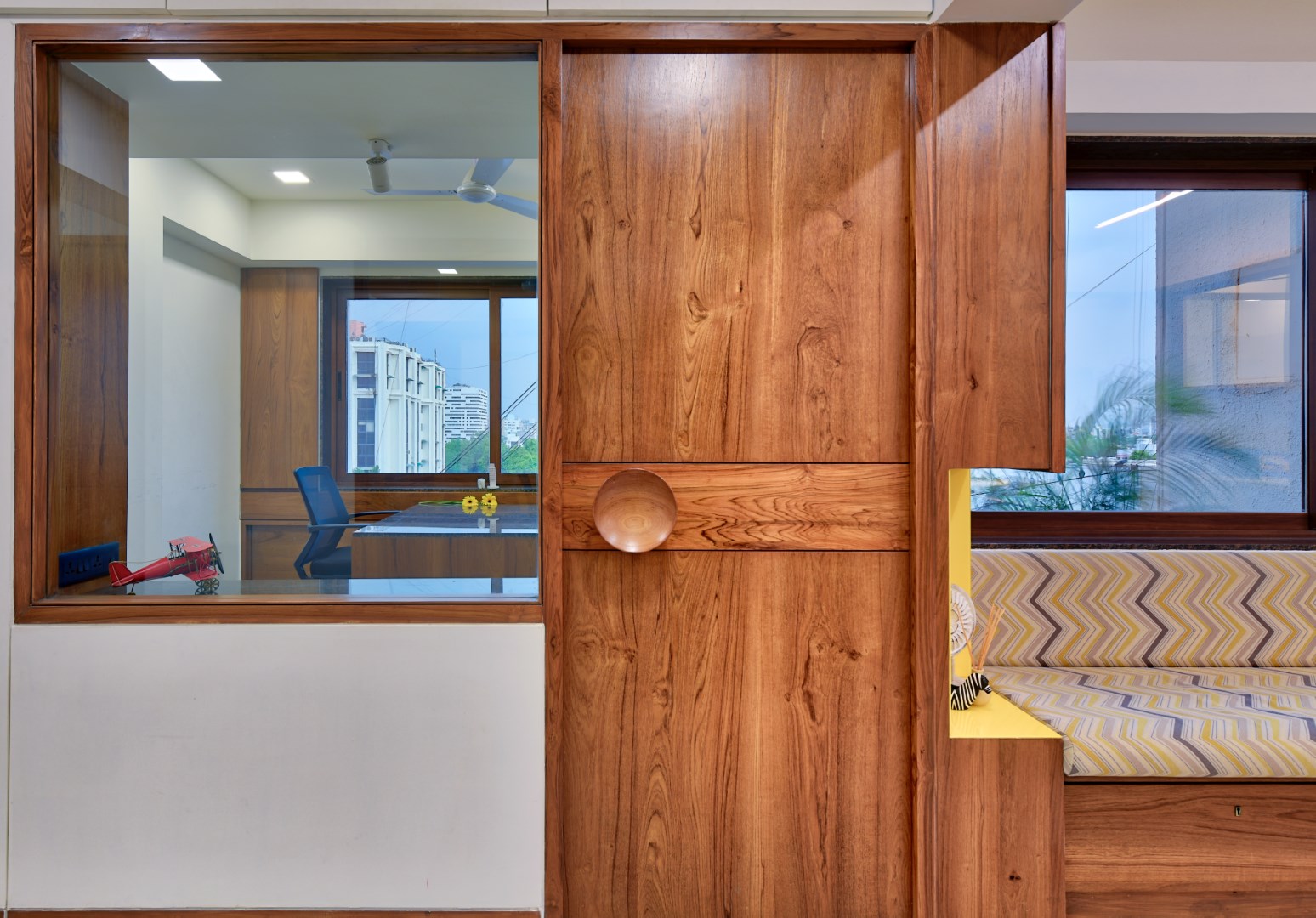 As we all know "change is the only constant thing in the world."  This project forced me to think out of the box and to travel beyond my limits. The main aspect I cannot forget to point out is the immense support from client to execute our visualisations into reality. I will like to conclude with "If you have conviction to get the things done, nothing and no one will hinder you!!"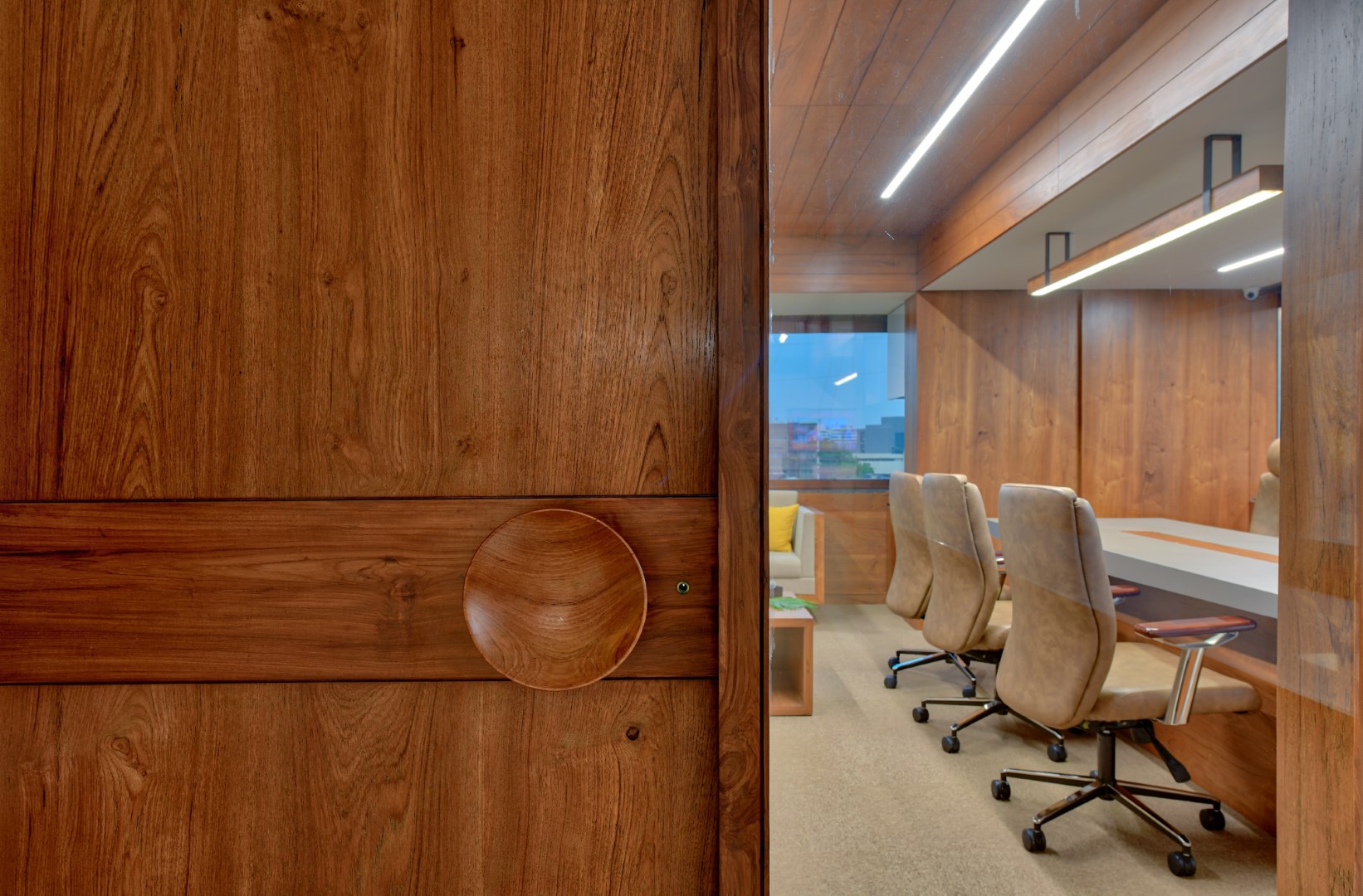 Architect : Ms. Nidhi Shah
Area: 1150 sq. ft.