&nbsp
The proper fencing can be a great addition to your home. Depending on your reasons for installing a fence, it has various purposes: boosting the aesthetics, security, or keeping in children or pets. Finding the ideal fencing for your property can be a challenge due to the variety of options available in the market.
Whether you need fencing for security or to prevent the entry of wildlife such as deer, several reputable providers are worth checking out, including Deerfencing.com, if you want to learn more about the available fencing options.
Before the installation or construction of your choice's fencing, there are several considerations to bear in mind. Let us check out essential factors when choosing the ideal fencing of your home here.
Maintenance
Once you decide to install fencing for your property, you should consider how much upkeep or maintenance you're willing to put toward it over the years to ensure that both appearance and function last.
Some fencing materials, such as PVC, are low maintenance and typically need occasional cleaning to keep it looking shiny and bright. Other fencing materials specifically wood require more maintenance, such as sanding and repainting, to maintain their appearance and stay durable. Some materials are prone to rust formation, while an aluminum fence can last for many years without facing this problem.
Appearance
Although every fencing material is available in various styles, each tends to have its distinct look. A good example is aluminum fencing which strikingly mimics the appearance of wrought iron. This type of fencing can impart a classic and elegant feel to your property. A wooden picket fence is the best choice if your objective is to emphasize your house's rustic charm.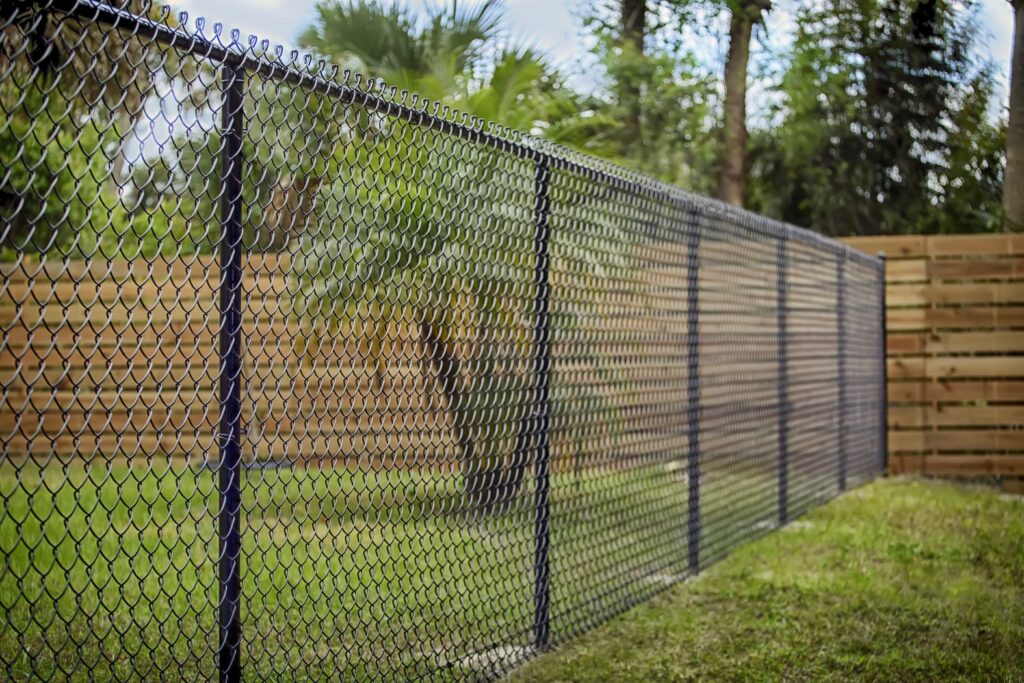 Function
One of the crucial elements when selecting the material for new fencing is the primary purpose of the structure. The installation of a decorative aluminum fence around the property is a poor decision if you want to keep a small dog in your yard. This type of fencing has several inches of space amidst its pickets.
An aluminum fence might be a good option for homeowners with children who needs a pool safety fence. If you plan to assemble a privacy fence, choosing materials such as PVC or wood is a good choice. Other fencing options such as aluminum and chain link aren't effective in providing privacy to your property.
Neighborhood Regulations
Before installing fencing, you should consult with the local authorities to determine any guidelines when it comes to fencing. The policies on setting up a fence vary from one state to another, where some can be simple such as the proper height, while others can be comprehensive.
Privacy
In most instances, homeowners prioritize their privacy. If you want to enjoy your outdoor or backyard activities away from the prying eyes of passersby or intruders, you can settle for vinyl fencing. It's important to note that every fencing system has specific components that lock together to block out noise and other external factors to allow you to enjoy the outdoors without any disruptions from the neighborhood.
Aesthetic Factor
Regardless of your reason for installing a fence, it would be best to consider the aesthetic appeal your choice of fencing provides. A superior fencing system imparts color and beauty to a structure. Remember that the design outlook of a fence will add value to your home and neighborhood. Make the right choice when selecting a fence for your home since it is an element that you and everyone else in the neighborhood will see at all times.
Security
One of the chief reasons why homeowners decide to install a fence is to keep their family's safety, including pets and other valuables. The security of your house should be a priority at all times. In case your main objective is to boost the security around your property and belongings, you should consider a firm material such as aluminum, PVC, or iron.
You might want to consider elevating the fence's height but make sure that it won't cause any conflict with the current laws in your state or neighborhood.
Pets
When you have furry companions, it's also a consideration when selecting the correct type of fencing. You should note down the capabilities of your pets, especially dogs. Dog breeds between three to five feet high might require a taller fence to keep them in your yard. Some dogs are likely to dig under the fence. In such cases, it might be best to bury the fence a few feet into the ground to prevent digging and escaping underneath. The durability of the material, especially a wooden fence, should be a concern, especially for owners who have dogs or pets that have chewing tendencies.
Weather Conditions
The weather is also an essential consideration for the installation of fence on your property. If you reside in a coastal region, a wooden or metal fence is susceptible to rust or rot. Make sure that the fencing material you'll choose can endure the weather conditions in your area. Generally, PVC and aluminum fencing are suitable options when it comes to durability. Take note that PVC fencing can withstand the UV rays of the sun and high levels of moisture.
Price Range
The price is always an essential element when deciding on the proper fencing for your home. Make sure that you understand how much you're going to spend on your fencing project. You can ask for a free quote first from this Round Rock website.
Decide on a reasonable budget if you want to get good-quality fencing. It's important to consult several providers so that you'll have an estimate to compare. Working with a reputable provider will provide a breakdown of the costs to have a clear idea of what you're paying.
Conclusion
A fence is a crucial element in any home. Aside from adding value to a property, it provides security and privacy at the same time. When selecting the ideal fencing for your property, there are some considerations, such as maintenance, material, and aesthetic factor. Taking note of these elements can guide you in finding the suitable fencing for your home that best suits your needs.