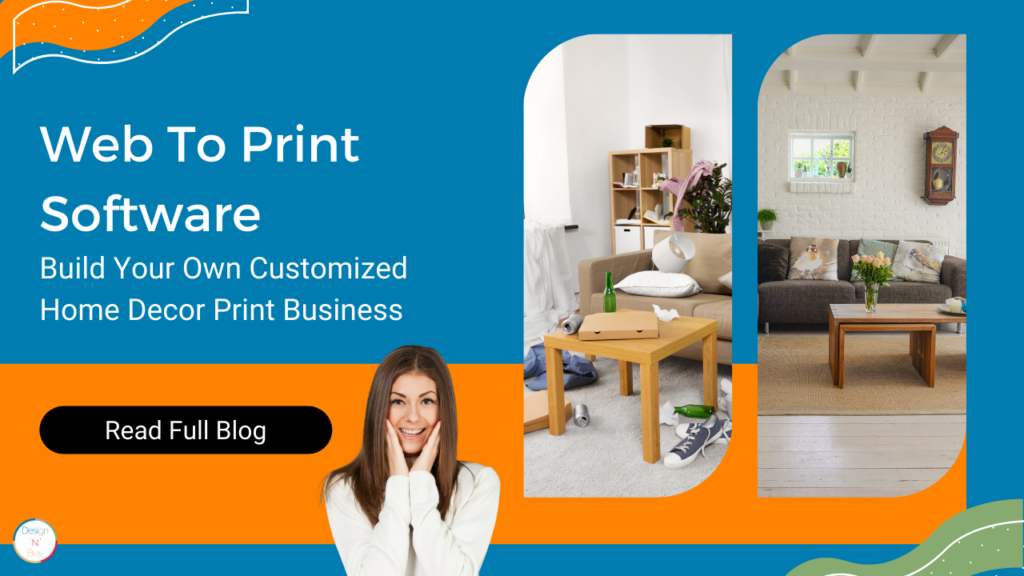 Create customized wallpaper designs with the help of web-to-print software. A digital print solution to mark your niche in the printing market.
The bright future of the online home decor design market
The home decor market is growing exponentially worldwide, with more customers now preferring an instant solution for interior decoration. Moreover, they don't wish to forage through the market and purchase materials or create designs by themselves.
That is why the global market for customized wallpapers is predicted to be worth USD 39.41 billion by 2026, with a CAGR of 4.99% projected from 2021 to 2026.
People now prefer just to make decisions regarding their designs and materials while they leave the rest of the work to printing companies. Technology has also made this choice process more straightforward, where customers can now choose the design and fabric online on the web to print storefront provided by the printing companies.

&nbsp
Customers can give multiple orders for wallpaper, curtains, bedsheets, and carpets, while the printing business will quickly process the order without manually designing everything.
How does web-to-print software work?
A web to print software is a system that provides a complete printing solution for a business over the internet. Customers can choose their desired designs and personalize them before ordering. The software generates a print-ready file as soon as a customer orders, which goes straight for production without wasting any time.
Not only does web-to-print provides a local print solution, but also printing businesses can reach customers worldwide through it. This builds the brand's identity and ensures less production time and cost for the printing business.
Benefits of designing through the web to print for home decor products
In this digital era, a business's online presence is kind of a necessity if the owner wants to increase its customer base locally as well as globally. The current personalization trend of home decor products points toward a need for a digital system that can keep up with the changing trends and customers' demands.
People need an instant solution to everything nowadays because they may have a hectic schedule, so they are inclined more toward online purchases. The same goes for home decor products. People now wish to have more control over their decisions on choosing and customising their designs from the sanctity of their homes. They want such designs to decorate their house interior, which they can proudly point out to be reflecting their unique taste to others.
In this scenario, web to print software can provide a perfect solution for a printing business. Whether a person wishes to start home decor print business or already has a printing business and wants to move it online, web2print software DesignNBuy can give it a competitive edge. There are several benefits to starting an online printing business that are explained here:
Web2print designer studio
The web-to-print designer tool can be integrated into an existing e-commerce website for an enhanced creative experience and has the flexibility to customize the design according to the customers' needs.
The studio also gives complete control to customers in choosing existing templates, editing them, or uploading their desired designs for a printing job. So customers can personalize all of their home decors products such as wallpapers, curtains, carpets, and bedsheets easily on one platform.
Centralizes the payment and shipping process
Due to the nature of its cloud-based system, the print owner and customers can log in from anywhere. Moreover, the software can handle multiple orders simultaneously, with different designs for each order. The designs are consistent and can be reprinted easily as all the information related to the printing job remains in the record.
Furthermore, web-to-print software saves management and inventory costs, and the owner doesn't need to hire a design team. The home decor materials can be purchased, designed, and shipped, and the invoices received simultaneously, saving time.
How to build a home decor print website and earn handsomely?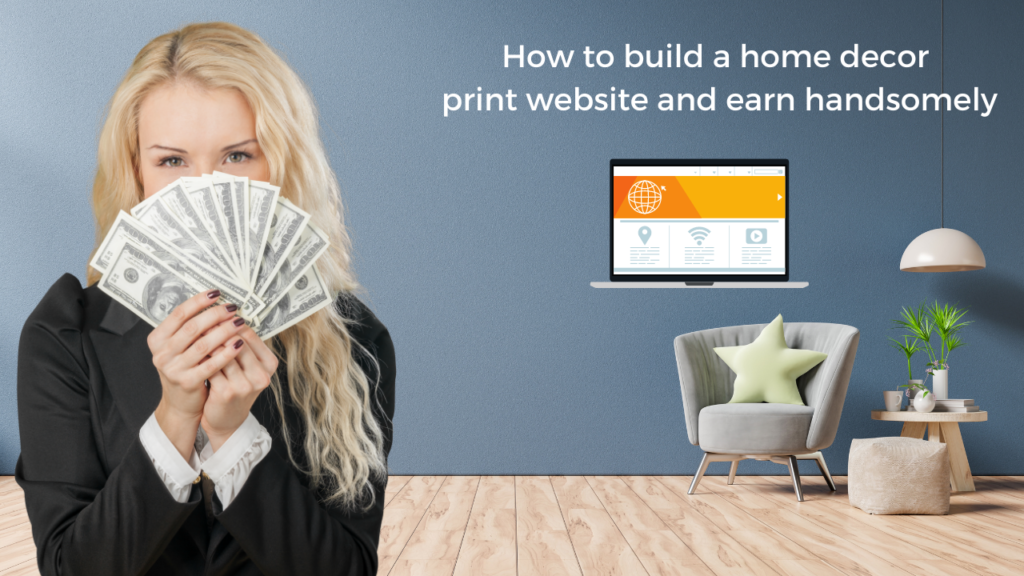 Before starting any business, it is vital to decide what products it wishes to sell and who its target market is. If a person wants to start a home decor print business, it is evident that they will be selling designs and prints for home applications.
While starting a print company from scratch, a website can save its initial costs and widen the business's reach. The website must have a fast loading speed, user-friendly, and have easy navigation to decrease the bounce rate, generate leads and increase sales.
Furthermore, analysing the home decor market, looking for pricing models, and competitors' marketing strategies will also inspire planning the online system of a home decor printing business.
The next step should be to create a catalogue of designs because home decor is all about visuals that can instantly attract customers locally and globally. The increase in customer base will generate more profits for a printing business. But devising marketing strategies and building contacts to promote the home decor business is equally crucial as it helps in search engine ranking.
Last but not least, integrating a web-to-print solution into the website will increase the efficiency, reliability, and trustworthiness of an online home decor printing business. It will also save time and management costs and provide an advanced solution to the growing trend and need for customized designs.
Conclusion
In this digital era, when people prefer to purchase online rather than from physical companies, creating an online presence for a printing business is necessary to survive in the competitive market.
Whether a company is small or large, every owner wishes to expand their business, increase their customer base, generate more leads, and improve sales. But only an advanced automation solution such as web-to-print software can mark a printing business's niche in the digital space.
As the trend for customization is growing and home decor businesses are exploding globally, web-to-print technology can keep the designs of home applications consistent and produce more quantity of prints with different images. It also saves administration costs and processing time for an online home decor printing business.
Furthermore, it provides complete control to customers who can customize existing templates or upload their desired designs and get print orders at an affordable rate.